Dear reader: This article contains links to products and services that I may be compensated for, at no extra cost to you.
When I first moved to Taiwan, I never imagined I'd end up living in Taiwan for 10+ years, marrying a Taiwanese, and having two kids. Sage and Lavender were born and raised there before we moved to Canada in 2019.
We never let having kids stop us from exploring our beloved Taipei (see my tips for visiting Taipei with kids here), and before both of them could walk, we were already taking them on trips around the island. When they were only 3 and 4, I took them on a solo full circuit of the island by train & scooter.
I simply can't recommend exploring Taiwan with kids enough. Below I'll cover why I think that, then give you my recommend two-week Taiwan itinerary with kids, with additional options if you have more time. With less time, you can pick and choose, but the route around Taiwan is the same. If you haven't already decided, here are my suggestions on the best time to go to Taiwan, and for more general information, here is everything you need to know to travel to Taiwan.
I'll also recommend the best kid-friendly hotels in Taiwan for each stop. Last but not least, I've got a similar but non-kid-focused guide to planning a 1 week, 2 week, or 2 week itinerary for Taiwan, which includes some places I skipped here.
For more trip ideas not covered in this article, see my articles on the 50 best things to do in Taipei and 55 best things to do in Taiwan. You can also read my detailed guide to moving to Taiwan, which includes a section on living in Taiwan with kids.
Why Taiwan is Awesome for Kids
I've been all over the world, and I'm convinced that Taiwan is one of the best countries in Asia for traveling or living with kids. I also consistently hear positive reports from other parents who visited or live in Taiwan with children. Traveling Taiwan with a baby is even very doable. So what makes Taiwan so suitable for traveling with kids?
For starters, Taiwan is one of the safest countries in the world. Second, Taiwan prides itself on being the land of convenience. There's a 7-Eleven on every corner (highest concentration in the world!), where you can heat up a bottle, take a rest in the AC, grab a treat, book a train ticket, etc.) Taiwanese cuisine is quite kid-friendly, cheap, and readily available everywhere you go.
Taiwan's incredible transportation system is praised by everyone who uses it for its speed, cleanliness, comprehensive coverage, and politeness of passengers, who on the MRT (metro) will ALWAYS let parents with young kids sit. Buses, trains, and the HSR (high speed rail) can get you to just about anywhere in the city or country, quickly and comfortably.
Taiwan also has some awesome festivals, including some aimed specifically at kids. Learn about these and more in my Taiwan festivals and holidays guide.
But the one thing that will stand out the most during your trip to Taiwan with kids is the sheer kindness and hospitality of locals. Most visitors to Taiwan rave about it, and it's something I've become used to after living here so long, but I'm still often taken aback at how locals are EVEN friendlier when you've got kids. Many Taiwanese are curious about foreign people in general and especially kids. Our kids are basically famous in our neighborhood people always go out of their way to help us.
Some minor downsides
One thing you should be aware of is that this kindness and curiosity sometimes takes the form of little gifts, so we do receive a lot of cookies and candies from strangers. I don't really mind, but some parents might. The most "Taiwanese" way to deal with this would be to accept these gifts and say thanks and then later do what you want with them, rather than politely rejecting the gifts and possibly causing offence.
Also, some locals may photograph your kids, with or without your consent. Again this doesn't bother us, but I know it does for some parents.
As with many countries in the world, you'll want to especially take care of your kids with the traffic in Taiwan. Cars have the right of way in Taiwan (not pedestrians). And even in night markets, which are meant to be for pedestrians only, the occasional scooter might rip through, so do watch your kids!
You can find great discounted online rates for tours, activities, transportation and more on Klook. If you sign up for an account with my referral link, you'll get NT$100 off your first activity.
Best Places to Visit in Taiwan with Kids
While I'm going to cover some of the best kid-friendly attractions in depth below in my itinerary for traveling around Taiwan with kids, you may want to jump right to some of my topic specific articles:
Getting Around Taiwan with Kids
Children under 115cm or under 6 travel free on the Taipei MRT. Parents should purchase an EasyCard for ease of swiping in and out and for discounted fares. Dark blue seats on all MRT cars are designated for the needy, including pregnant women or passengers with young children, but even if they are occupied, people in the regular light blue seats will likely give up their seats for you.
Parents should consider getting an Unlimited Fun Pass, which includes unlimited rides on the MRT and buses in Taipei and New Taipei City, five tourist shuttle buses to dozens of attractions outside of Taipei, and entrance to 16 major attractions. There's also a transport-only fun pass if you don't care about the attraction tickets. In this guide to the various Taipei Fun Passes, I explain how the passes work, whether they are worth the money, and whether kids need them.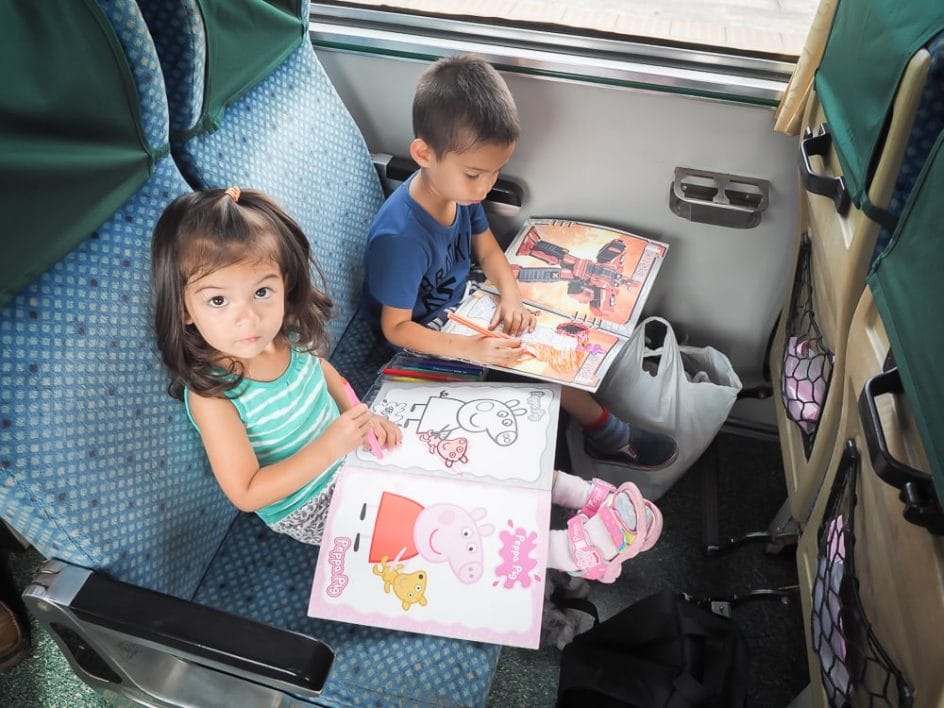 When riding the TRA (intercity Taiwan train) with kids, children under 115cm or under 6 are also free. However, if you want a seat for your child, you need to buy a children's ticket for him or her. Children 115-150cm or under 12 pay half price for a seat. Above 150cm and 12 years old pay full fare (above 150cm but still under 12, or vice versa, is still half price).
To share an experience, when I recently took my two kids around the country, I cheaped out on one four-hour train ride, from Taipei to Taitung. Both my kids are under 6, so I only bought a ticket for myself. Sometimes in Taiwan trains have some empty seats (more likely on weekdays), in which case you can sit in them until a person with a ticket comes.
However, this train ended up being fully booked. My kids shared our one seat, and I stood in the aisle beside them. This could have been a disaster, but ended up going smoothly. I wouldn't recommend doing this though.
You can buy train tickets from the ibon machine in 7-11, but I found it incredibly difficult (even on the English system, or with help from the 7-11 staff) to book a children's ticket. Therefore, I would recommend that you go to the train station to book children's tickets, or even better, reserve them online before your trip.
Trains often sell out in Taiwan, especially on popular lines like Taipei to Hualien, and ESPECIALLY on weekends or holidays. Online reservations open 14 days before the date of travel, at exactly midnight. So if you want to travel on the 14th, book right after midnight on the 1st, that is, 12 AM on the night of the 31st. If I ever need to buy a ticket for a weekend or holiday, I try the minute they go on sale, since they sometimes sell out in minutes.
Note that even when a train sells out, you can still always buy standing tickets (except on Puyuma or Taroko express trains) and stand anywhere or sit on the floor between train cars. With kids, we've done this for very short trips (under an hour), but I wouldn't suggest doing it for longer. On weekends, trains can be uncomfortably packed.
The same age/price/seating rules apply for taking the HSR/Taiwan High Speed Rail with kids. Reserve the HSR 5-28 days in advance to get the early bird discount of 10, 20, or 35% off, but for us, we usually just show up and buy a ticket at the station at the last minute, even on weekends. Cars 10-12 are always non-reserved, and we almost always get a seat.
You can also save money by booking your HSR tickets online. If you plan to travel around a lot on the HSR, I'd recommend getting the unlimited 3-day HSR pass or the 5-day HSR and regular train pass.
Even during Chinese New Year, by far the busiest time of year, we showed up at a station and got a non-reserved ticket. There was a long line for the train, so we didn't get on the first one that came, but only had to wait 30 minutes for the next one and got on.
The high speed rail is a much faster and smoother ride, but note that (besides Taipei) most stations are located quite a distance from the city center.
Traveling around the East Asia with kids? Also see this article on the best things to do in Hong Kong with kids!
Taiwan's Taoyuan Airport with Kids
The Taoyuan International Airport, where you will likely arrive in Taiwan, could definitely be regarded as one of the best family friendly airports in the world. If you depart from T2, don't miss the Hello Kitty check in counter for Eva Airlines (even if you aren't flying with Eva) at the back of the check-in hall. Both terminals have great kids play areas with playgrounds, and there is a skytrain connecting the two terminals.
Riding the new Taipei Airport MRT with kids is a fast, cheap, and easy way to get to Taipei Main Station. However, if you'd like to have a car waiting for you to go directly to your hotel, this private car from the airport is only NT799, cheaper than what most taxis end up costing.
A common question in the Taipei Parents group on Facebook is how to get a car with child seat. Well, the answer is that the above private car deal on Klook comes with one if you ask for it! Note that in Taiwan, nobody cares if you don't use a children's car seat.
1 Week Taiwan Itinerary with Kids
If you've only got 1 week in Taiwan, I would honestly just stick to doing Taipei, including day trips around the city or to Yilan County, which has loads of family-friendly activities. You could spend the first 2-3 days in Taipei, then chose from my 40 recommended day trips from Taipei for your remaining days.
A lot of people who only spend a week in Taiwan make a short trip to Hualien on the East Coast to see Taroko Gorge, Taiwan's most impressive scenic attraction. You'll want to spend 1-2 nights there to make it worth your time.
I've seen several parents come to Taiwan and do either of these choices, and be very happy with their trip.
To plan your time in Taipei, see my list of things to do in Taipei with kids, guide to the best areas and hotels to stay in Taipei, and my Taipei 2 day, 3 day, 4 day or 5 day itinerary for more information on how to put it all together.
If I could only do one day trip from Taipei with kids, I'd probably choose the cat village!
2 Week Taiwan Itinerary with Kids
With 2 weeks, it becomes more feasible to travel all the way around Taiwan with kids. This is how I would map it out (based on traveling to all of these places multiple times with my kids).
I've actually made it a little longer than two weeks, so you can pick and choose according to how many days you've got.
Days 1-3: Taipei
After arriving and checking in on your first day, spend a few days exploring this fascinating, bustling metropolis with your kids. Use my Taipei with kids article and Taipei 2 day or 3 day itineraries (all linked to above) to plan your trip. Also check out at least one of Taipei's cat cafes! I mention which ones are kid-friendly in the article.
Consider hopping on this double decker tour (kids under 6 or 115cm free), or make everything easier with this flexible tour by private car.
If you want to spend one of those days at the beach, check out my complete guide to the best beaches near Taipei. Also don't miss my super detailed guides to the best night markets in Taipei, in which I point out the best ones for kids, and the top Taipei temples.
You could use one of these days to do a day trip from Taipei; one of the most famous is this day trip to Jiufen (find out how get from Taipei to Jiufen and Shifen Waterfall here), but heads up that Jiufen as lots of stairs! You can also easily combine a trip to Jiufen with Houtong, the famous Taiwanese cat village, if your kids love cats.
Yet another option is explore the many family friendly places to visit in Yilan County, including several kid-friendly hot springs at Jiaoxi. If you're family is into hot springs, I have a section in this article on the best kid-friendly hot springs in Taiwan.
See the end of my Taipei with kids article for kid-friendly hotels in the city.
Days 4-5: Hualien and Taroko Gorge with Kids
Taroko Gorge, the "Grand Canyon of Taiwan," is arguably the country's most dramatic natural attraction. It is an absolute must-see, and nobody leaves disappointed. See here for my full articles on Taroko Gorge, other things to do in Hualien, and how to plan your Hualien itinerary.

The fastest and most convenient way to get there is to buy this flight from Taipei to Hualien, which departs from the Songshan airport right in Taipei City.
Is Taroko Gorge suitable for kids? Yes! We've taken ours twice now. There are several scenic stops along the narrow gorge that require very little walking, so even if you've got a baby in a carrier, it's quite doable. If you are brave enough to take your kids by scooter like we did, you can rent scooters at Xincheng or Hualien train stations for around NT400/day, license required.
The safest and easiest option with kids is to charter a private car for the day. That way you can pick the most suitable spots for kids, and stay at each for as long or as short as you'd like. You can also join a mini-bus tour, but then you'd have less freedom. Taking the infrequent local bus severely limits how much you can see and do.
From Taipei, you can travel to Xincheng or Hualien City by train. Xincheng (Taroko Gorge) station is one stop before Hualien. It is a small town much closer to the entrance of Taroko Gorge (about 10 minute drive, vs. 40 minutes from Hualien).
However, staying in Hualien may be more convenient for you because there are more choices for restaurants, hotels, and other amenities.
Taipei to Hualien is one of the country's most popular train routes, and getting tickets can be tough, especially for the faster Puyumu/Taroko Express. Try to go on a weekday, and make sure to reserve your train tickets in advance! If you want to save the hassle and stress about getting a ticket, you can book domestic flights from Taipei to Hualien here.

On day 4 you can arrive and check in, and visit Taroko Gorge on day 5. If you can manage to fit it in, our kids really liked playing with the pebbles at scenic Qixingtan Beach, in between Hualien City and Taroko Gorge, which is usually included in Taroko Gorge tours, or can be added if you ask.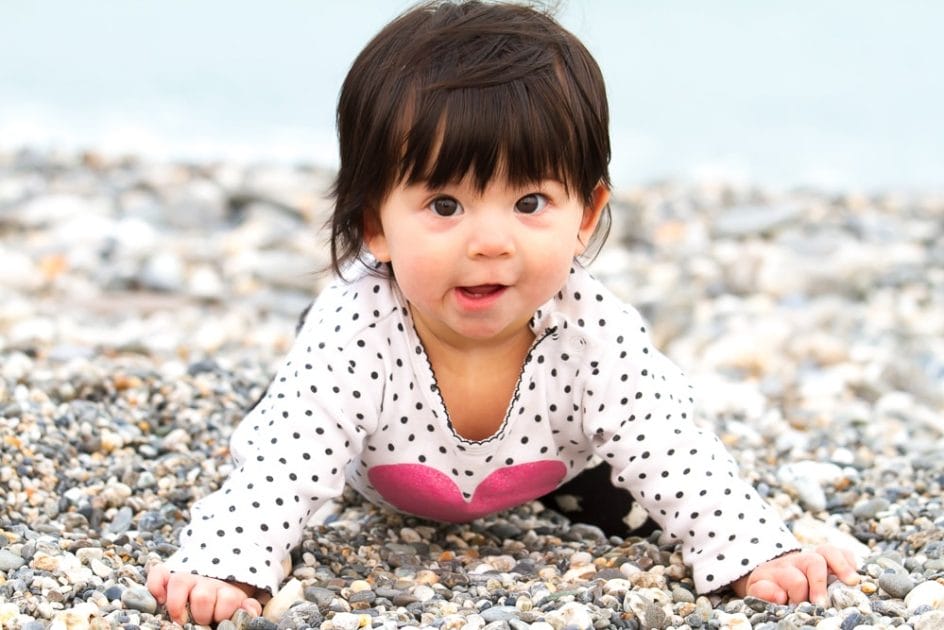 Family friendly hotels in Hualien
For Xincheng, I recommend Yu's Homestay (see on Booking / Agoda / TripAdvisor). The super friendly owner speaks English and will pick you up at Xincheng train station. There is a large grassy yard with gorgeous mountain views and accommodation in charming, homey cabins.
The best hotel for kids in Taroko Gorge is Taroko Village Hotel (see on Booking / Agoda / TripAdvisor), featuring huge aboriginal buffets, while Silks Place Resort (see on Booking / Agoda / TripAdvisor) in Tianxiang, the tiny village at the head of the gorge, is the most luxurious accommodation in the greater Taroko Gorge area.
In Hualien City, Hualien Inn (see on Booking / TripAdvisor) is a full-on kids hotel, with Transformers, Star Wars, and Jurassic Park themed rooms. Book early, as it's very popular and conveniently located right by the train station.
Good choices for regular hotels in Hualien for kids are Moon House B&B (see on Booking / Agoda / TripAdvisor), Mr. Buster B&B (see on Booking / Agoda / TripAdvisor), and Dropby B&B (see on Booking / Agoda / TripAdvisor).
Day 6 to 7: Taitung with Kids
For a taste of rural Taiwan, your next stop is Taitung County, the remotest corner of Taiwan and the country's bread rice basket. The gorgeous East Rift Valley, through which the train passes, is covered with rice paddies and pineapple farms. The small towns of Chishang, Guanshan and Luye are all good choices for experiencing Taitung. Taitung city itself doesn't have much to see or do, but you'll have to pass through it if doing a loop around Taiwan.
We've been to all three, but with kids, I would choose Chishang as the best place to stay in Taitung. Chishang is one of Taiwan's most famous cycling destinations. Visitors flock there because an EVA airlines commercial starring a handsome actor was filmed there in the rice paddies. It's good for kids because they hire out family-sized electric bicycles, which my kids loved riding around. The cycling route is called "Brown Boulevard".
Find all the details in my guide to cycling with kids in Chishang. Also find more fun things to do in Taitung.
Guanshan and Luye are two other options for spending the night. Both towns are also on the train line. Guanshan is also a cycling destination, but not as popular as it used to be and totally surpassed by Chisghang. If you prefer to get off the beaten track, it's a good option. There's a cycling route that does a full circle around the town, with rice paddy scenery, but not quite as stunning as Chishang. See my article on Guanshan for Travel in Taiwan magazine.
If you're traveling through Taitung by car, make sure to read my Hualien to Kenting road trip guide.
Luye is a third option for spending the night in Taitung, but this mostly rural township is spread out and not walkable, so I would only choose here if you are willing to explore the area by scooter/car/bicycle, or just get picked up by your hotel and spend most of your time relaxing there.
If you happen to be visiting in summer, the Taitung Hot Air Balloon Festival, which takes place on the Luye Highland 20 minutes drive uphill from town, is an awesome activity for kids. See here for my full article on our recent trip to Luye and the Hot Air Balloon Festival. Luye is 1h50min to 3h from Hualien by train.
You can also return to Taipei quickly if necessary on this Taitung to Taipei flight.
If you don't plan to do the whole loop around Taiwan, but want to spend more time in Taitung, Dulan is a great little beach town that is less than an hour's drive from Luye. We spent a few days there after attending the hot air balloon festival and loved it. Here's my full article on Dulan beach town.
To get from Luye to Dulan, you can take a short train, bus, or taxi as we did (20 min, approx. NT500-600) to Taitung train station. Then you can travel up highway 11 on the coast by scooter or bus. Dulan town isn't right on the beach, so you need transportation or a long walk to access it.
Family Friendly Hotels in Taitung
In Chishang, we loved Good Harvest B&B (台東池上民宿-莊稼熟了1館) (see on Booking / Agoda / TripAdvisor). This very Taitung-style guesthouse was close to the Brown Boulevard cycling path and had a view of the rice paddies. There were lots of cats there, which the kids loved.
Tea Tian Villa (see on Booking) is the best hotel for kids in Guanshan. It's right by the train station, room balconies overlook rice paddies, they serve delicious Western style breakfast, and rooms come with children's toys.
In Luye, we stayed at Kai Tai B&B (see on Booking / Agoda) on the Luye Highland, a small quiet guesthouse with an incredible view and surrounded by pineapple farms and tea fields. It's a 20 minute drive uphill from the train station. We found this perfect for visiting the Hot Air Balloon Festival nearby.
The Luminous Hot Spring Resort & Spa (see on Booking / Agoda / TripAdvisor) is the only luxury option and place with a pool in town. They offer pick-up, and you can sometimes see hot air balloons going by right from the rooms. See my Luye article for other B&B options and info for renting a scooter in town.
In Dulan, we stayed at the Song of Eagle B&B (see on Booking / Agoda / TripAdvisor), but again you'd need your own transportation to get here. There are several other hostels and B&Bs in and around town; see my Dulan article for more hotels for kids in Taitung.
Day 8 and 9: Kaohsiung with Kids
I think that Kaohsiung, Southern Taiwan's largest city, justifies a spot on your Taiwan itinerary with kids for its handful of child-friendly activities. The city is revitalizing is river and harbor front area, with the newly opened light rail providing access to the Pier 2 Art Center, fun for exploring with kids.
For loads of details, here are my 50 recommended things to do in Kaohsiung and guide to Kaohsiung's night markets (I recommend Liuhe Night Market with kids – it is the least crowded and is traffic free).
Our kids quite enjoyed Kaohsiung Zoo on Shoushan (Shou Mountain) next to the city. Unlike Taipei's zoo, it has a petting zoo, water fountains the kids can play in, and little cars they can drive. It is also possible (well, pretty much guaranteed, if you go to the right spots) to see wild macaques on Shoushan and connecting Chaishan.
I've seen monkeys there several times with friends, but hilariously, when we tried to take our kids to see them, we got in a cab and asked the driver to "take us to the spot with the monkeys," so he took us TO THE ZOO.
We found out after, though, that it is often possible to see macaques near the zoo's entrance. Sage was also intrigued by the fact that security guards in the zoo carry paintball guns to shoot intruding macaques.
One of the best things to do in Kaohsiung with kids is visit Taroko Park (aka Suzuka Circuit Park).Taroko Park is a child-oriented department store slash amusement park. We aren't much of a shopping or amusement park kind of family, but this place is quite incredible, and we went there specifically so that our kids could try children's bowling in the mall next to the park.
You can buy your Taroko Park day passes here and order your Go Kart tickets for the full sized Go Kart track here.
There is a ton of stuff to do here for kids of all ages, from toddler play centers and rides for very young kids to a full size go-karting track and wilder rides for older kids and even adults. See my full article for Travel in Taiwan magazine on Taroko Park for all the details, including where to find the mini bowling alley.
There is another huge and very popular theme park in Kaohsiung called E-Da Theme Park. You can get a HUGE discount by ordering your tickets online here.
If you spend more time in Kaohsiung with kids, you could consider making a day trip to the incredible Foguangshan Monastery. To make getting there easier, you can also go there on this a half-day tour.
See here for even more ideas on things to do in Kaohsiung.
Family Friendly Hotels in Kaohsiung
Whenever we visit Kaoshiung, we like to stay around the point where the Love River flows into the harbor, which is a romantic area and nice for taking a stroll with the kids along the river at night. Harbour 10 Hotel (see on Agoda / Booking / TripAdvisor) has nice river views.
We also highly enjoyed this quick fry restaurant beside the river and ate there every night. It's not the best food in town (still decent!), but we loved the location, atmosphere, and they have a great selection of foreign beers (unusual for this style of restaurant).
Note that found that walking distances in Kaohsiung seemed longer than they looked on the map, and it wasn't as easy to get a taxi as in Taipei. Therefore, if you plan to get around mainly by metro, try to choose a hotel near any KMRT station.
Optional Addition: Tainan City
After Kaohsiung, the next logical stop would be Tainan, Taiwan's cultural and former capital. However, I've purposely left it out of this kid-focused itinerary because my kids wouldn't enjoy all the walking required to visit the city's temples and historical sights, nor would they really care about these sights. Without kids I would definitely consider spending a few days in the city a must! For all the info you need, see my guide to the best things to do in Tainan.
The things I normally recommend in Tainan (but aren't really kid-friendly) are touring Tainan's amazing temples, going night market hopping in Tainan, Sicao Green Tunnel, Yanshui's Fireworks Festival (totally NOT kid-friendly), Anping Old Street, and Anping Treehouse (the last one would actually be cool for kids).
Yet another difficult-to-reach Tainan attraction, but one that our kids actually enjoyed, is the Qigu Salt Mountain and Jingzijiao Salt Fields (pictured above).
Day 10: Fenqihu Mountain Village or Shizhuo Tea Farm
Now, it's time to get off the super developed west coast and enjoy a more natural experience with your kids as you make your way for Alishan National Scenic Area, Taiwan's most famous mountain resort, in the Central Mountain Range.
Catch an early train or HSR from Zuoying (Kaohsiung) to Chiayi, then a bus or the Alishan Forest Railway (here's all the Alishan transportation info, including how to reserve your tickets in advance) from Chiayi to Fenqihu.
If that seems too rushed for one morning, you can consider spending the night in Chiayi and getting the bus or train the next morning (as we did). See my guide to Alishan for good hotels for kids in Chiayi.
Fenqihu, a small mountain village halfway between Chiayi and Alishan is currently the terminal end of the Alishan Forest Railway, because the remaining section from Fenqihu to Alishan was damaged in a typhoon in 2009. Taking the small train from Chiayi to Alishan is really fun with kids, and preferable to the winding bus ride. However, it can be tough to get tickets for it, so do plan in advance.
I think Fenqihu is a great, cute little village to spend a relaxing night. Also see my Alishan guide for more info and pics of Fenqihu. In spring, you can see fireflies here in the evening, and there are some great hikes through bamboo forests around town (would be a little tough for younger kids).
My kids also liked seeing the old trains in the mini train museum. Before I had kids, I once stayed in the Fenqihu Hotel (see on Booking / Agoda / TripAdvisor) and my kids would have loved their cute little wooden bath tubs:
Alternatively, you can stay on a tea farm in Shizhuo, just south of Fenqihu. The tea grown in this area, known as Alishan High Mountain tea, is the most famous tea in Taiwan.

The owner of Cuiti, the guesthouse where we stayed (see on Booking / TripAdvisor) picked us up in Fenqihu and dropped us off at the bus stop the next day to get to Alishan.
Staying in a tea farm was one of my best experiences ever in Taiwan, simply because the grounds are so gorgeous, and we also saw an amazing sunset over the tea farm from right in front of our hotel.
After seeing that great sunset, I didn't feel so bad about missing the sunrise when we stayed at Alishan next. (Alishan is famous for its sunrises and most tourists get up well before dawn to take the small train up to a viewing point to see them, but I didn't want to torture my kids like that).
See my Alishan article (linked above) for other tea farm accommodations in the area.
I had my kids convinced that we were staying in dragon territory, with all the misty forests and terraced tea fields, and we loved doing a short, easy hike to another tea farm.
Be aware that the guesthouse owners don't speak much (or any) English, and you need to bring food to prepare for dinner.
If you really do stay where we stayed, get in touch with me and I could give you more specific information about staying here and hikes near the guesthouse, or help you to translate messages with the hosts.
The bus from Fenqihu (1 hr) or Shizhuo (45 min) to Alishan, is extremely winding, but is your only choice. Many people on our bus puked, and while our kids (who both usually experience car sickness) were suffering, they managed not to get sick. Have plastic bags ready and try to sit closer to the front.
Day 11 and 12: Alishan with Kids
Visiting Alishan (Mount Ali) with kids on our recent round-Taiwan father-son-daughter trip was probably our most challenging but also most rewarding stop. The bus ride up was rough, and visiting the area involves lots of walking, but the kids loved it and so did I.
I think the most exciting part of Alishan for the kids was riding the small sections of the Alishan Forest Railway (a real "choo choo train") that are still operating within the Alishan National Scenic Area. The trains seem to appear out of the mist that often engulfs Alishan. Some cars are made entirely of wood and smell wonderful inside.
The main hiking trails through ancient, spooky forests in Alishan were easy enough for my kids (I had to carry Lavender sometimes), even with the light rain that we experienced some of the time.
We didn't do the sunrise, something which most tourists do when they visit Alishan. I don't think my kids would have cared enough to justify waking them up that area, and often the sunrises are not even visible at Alishan.
Make sure to bring warm clothes (even in summer), as it can get quite chilly at this elevation, and rain gear. They do sell kids' jackets, other winter gear, and ponchos there if you forgot them like we did.
Family Friendly Hotels in Alishan
Hotels in Alishan are mostly old, run down, and overpriced for what you get. Most of them are located on a curving road behind the tourist village.
None of them really stood out to me as good for kids, so we just chose the cheapest one, Mei Li Ya (see on Booking / Agoda). It was run down, but the clerk was really friendly, the beds had heated sheets, and the room had a huge dehumidifier, which dried all our wet clothes and shoes in no time.
If we went again, I would choose a hotel that offers free pick up from the bus station, such as Shermuh (see on Booking / Agoda / TripAdvisor), which was right next door to ours. It was quite a walk from the bus station to our hotel carrying our luggage and dragging my two kids, in the rain of course.
The nicest hotel in the scenic area is Alishan Hotel (Alishan House) (see on Booking / Agoda / TripAdvisor). It is located away from the tourist village but closer to the walking trails. They also offer free pickup and the location is more scenic, but you also lose easy access to the 7-11 and other amenities in the tourist village. T
here is a good deal on this 2-day tour from Chiayi that includes a stay at Alishan House.
Day 13 and 14 (Option 1): Sun Moon Lake with Kids
I'm going to give you two options for your last two days, or you can do both if you have more time. The first is the more scenic option, Sun Moon Lake.
Sun Moon Lake is one of Taiwan's three major scenic attractions, along with Taroko Gorge and Alishan. I took my kids there on a solo trip (again while mommy was abroad) a few years ago. Lavender wasn't even 1 yet and Sage was 3. It is a very special memory for us that we still talk about today.
It was my first time to try traveling overnight with the kids on my own, and it is Sage's earliest memory to date. He still remembers the colors of the cable cars we rode, an experience that really blew them both away at the time. Sun Moon Lake is quite touristy, but I still think it deserves a spot on your Taiwan itinerary with kids if you can fit it in.
It's important to note that there are no beaches and you can't swim in Sun Moon Lake. The main tourist village on Sun Moon Lake is called Shuishe, but it feels like tour bus central, and we strongly prefer the small aboriginal village of Itashao/Itathao on the other side of the lake. While the vibe in Itathao is still a little touristy, this is a legitimate village of the Thao tribe, one of Taiwan's most recently recognized and endangered aboriginal tribes.
Itathao has a great and not too tacky day and night market, boardwalks and docks on the lake that our kids loved running around, and it is within walking distance of the Sun Moon Lake Ropeway.
The Sun Moon Lake Ropeway commands truly impressive views over Sun Moon Lake. At the top, you can transfer to another ropeway that goes down into the Formosan Aboriginal Culture Village, which is one of Taiwan's largest amusement parks, combined with aboriginal culture center that has musical and dance performances. We went out of curiosity but could have missed it. The views from the first gondola ride were absolutely worth the trip though!
You can find out more details about all these places in my Sun Moon Lake guide. Also see my articles about deciding whether to get the Sun Moon Lake pass and the best Sun Moon Lake tours.
The bus from Alishan to Sun Moon Lake takes three hours and is very winding. From Sun Moon Lake back to Taipei, the fastest way is to take the bus from the visitor's center in Shuishe to Taichung HSR, then HSR back to Taipei.
See my Alishan transportation article for all the departure times.
Family Friendly Hotels at Sun Moon Lake
When I took my kids to Sun Moon Lake, we stayed in a wooden cabin (see on Booking / Agoda) a 5-minute walk up a small forest road from Itashao Village and bus stop.
The three brand new wooden cabins here are in natural surroundings away from the tourist scene at Itashao, but close enough that you can easily walk in to eat, visit the lake, or get to the Sun Moon Lake Ropeway.
On our most recent (2018) trip to Sun Moon Lake with our kids, we stayed at Itathao Vacation Hotel (see on Booking / Agoda / TripAdvisor). I chose it because it was cheap, had balconies with lake views (in the distance), and the owners were friendly.
To be honest, our expectations were low because usually hotels of this price are very old or low quality in Taiwan, but the room was very new and we were impressed. The beds were quite small, but we asked for more blankets and made a bed for the kids on the floor.
I also considered Shuiyang Boatel Hotel (see on Booking / Agoda / TripAdvisor), which is more expensive but each room has large windows with incredible lake views, and is in a quiet corner of Itashao. Shuian Lakeside Hotel (see on Booking / Agoda / TripAdvisor) is a similar but more popular one that has a prime spot right on the main market street and dock of Itashao.
Day 13 and 14 (Option 2): Taichung with Kids
A second option after Alishan is to visit Taichung, Taiwan's second largest city. The city is quite spread out, so I feel it's not really ideal with kids, but it also has a couple really cool kid-friendly attractions, which is why you may want to consider it as one of your stops in Taiwan with kids.
See here for my guide to Taichung's top attractions, recommended Taichung itinerary, and the 10 best Taichung day trips. In the day trips article, you'll find info on a pretty awesome amusement park in greater Taichung.
The first amazing stop with kids in Taichung is the National Museum of science. We aren't even normally much of a museum family, so why this one? Well, it's got the best dinosaur exhibit in all of Taiwan. The dinosaurs are super lifelike and they actually move!
The second really cool attraction with kids in Taichung is the Rainbow Village in Taichung. Here, an elderly Chinese man has painted his entire home with bright, cartoonish colors to save it from destruction. (2022 note: Rainbow Village has been closed to the public since it was defaced in summer of 2022).
Yet another is Gaomei Wetlands, where kids can walk out on a long boardwalk on the sea. There are tons of crabs and other sea creatures to spot along the way, plus the kids can play in the shallow water at the end. Our kids loved it!
Taichung is also known for its night markets, especially Feng Chia Night Market.
Family Friendly Hotels in Taichung
There are some pretty cool options for kid-friendly hotels in Taichung.
Your kids will love the metallic slide into the lobby at RedDot Hotel (see on Booking / Agoda / TripAdvisor).
If you want a hotel with robots, check out Moving Star Hotel (see on Booking / Agoda / TripAdvisor).
Day 15: Back to Taipei
Well, that completes your two week tour of Taiwan with kids! If you are flying directly out, you can get off the HSR at Taoyuan, with regular shuttle buses to the airport.
More Cool Places for Kids in Taiwan (if you have extra time)
If you have even more time, or perhaps you live in Taiwan with your kids, here are some more off-the-beaten track ideas for things to do in Taiwan with kids. These all take a little extra time to get to, so they don't fit easily into most travelers' travel itinerary, but I include them for people who have extra time and need more ideas.
Xitou Monster Village
Xitou Monster Village is a traditional Japanese-style village up in the mountains of Nantou near Xitou and Shanlinxi Forest Recreation Areas. This quirky park has become a tourist hot spot for local families. It takes a while to get too, so it's best to visit by car and possible to combine with a trip to Sun Moon Lake, but there are some local buses that go up there.
Expect lots of weird monsters, spooky snacks, and some kid-focused activities.
Picking Strawberries in Dahu + Soaking at Tai'an Hot Spring
Another off-the-beaten-track spot that is super fun for kids is Dahu, a rural township in Central Taiwan. Every winter, dozens of strawberry farms around town offer U-Pick, and our kids loved it.
There's also Dahu Wineland Resort, a strawberry themed park with loads of strawberry-flavored foods (even sausages and noodles!) and strawberry beer and wine for mom and dad. Here's my guide to visiting a strawberry farm in Dahu with kids.
After picking strawberries, you can spend the night at nearby Tai'an hot spring, which is also family friendly.
Taking a Mud Hot Spring Bath at Guanziling
One of the most unique hot springs in Taiwan is Guanziling mud hot spring in Tainan county. You can soak in silty hot spring water or even run thermal mud on your body. Plus, it's also kid-friendly! Here's my full guide to Guanziling hot spring.
Well, that sums up my guide to traveling in Taiwan with kids. I hope you've found more than enough information and ideas here for planning your trip. If you have any questions, please comment below or join my free Taiwan Travel Planning group on Facebook!