Dear reader: This article contains links to products and services that I may be compensated for, at no extra cost to you.
It was with great excitement that Lavender (3), Sage (5), my wife Emily, and I packed our bags and hopped into a yellow cab in from our neighborhood in New Taipei City, Taiwan.
Our destination: Grand Hyatt Taipei (see on Agoda / Booking / Klook / official site), Taiwan's original (and largest!) five-star resort, for a much needed, fully pampered staycation in the middle of a steamy summer in Taiwan.
I had already heard of Grand Hyatt's glamping experience for kids, and how this summer the hotel was rolling out an upgraded version of it. So of course it was our pleasure to accept an invitation from the resort to partake in the experience and share it with our readers! (update: although the hotel may no longer have this experience by the time you read this, we nevertheless still high recommend this hotel!)
If you are visiting Taipei with kids, planning a trip around Taiwan with kids, or even if you live in Taipei like we do, then the kids' glamping experience at the Grand Hyatt is definitely the coolest hotel experience for kids you'll find in the city. In the words of my son, Sage, it was awwwwwwesome!
Below I'll share my detailed review of our glamping experience, exactly what you can expect, other kid (and parent)-friendly activities offered by the hotel, and of course loads of pictures from our stay. We also highly recommend the hotel's buffet restaurant, which our kids loved. You don't need to stay be staying in the hotel to dine there.
The best way to book the experience is via the Grand Hyatt Taipei website, where you'll find it as an upgrade option once you enter a search with kids and choose one of the hotel's suites, or by calling the hotel's reservation line at 02-2720 1200 ext. 3158.
For other great hotel options in Taipei covering all budgets, see my detailed guide to where to stay in Taipei, and here's my general guide to planning a Taiwan trip.
Introducing Grand Hyatt Taipei
My kids have actually been to Grand Hyatt Taipei twice before, both times to watch the excellent Dragon and Lion Dance Performance put on in the hotel's enormous lobby every Lunar New Year.
It is surprisingly difficult to find such performances in Taipei during Spring Festival, but Grand Hyatt puts on the best (and only, as far as I know) one every year.
Grand Hyatt Taipei was opened in 1990 and billed as "the first, true international luxury hotel in the capital." The 27-story structure boasts 850 rooms, more than any other in Taiwan, including 94 ultra-luxurious suites.
As an interesting side note, the hotel is built on what used to be a KMT munitions warehouse, which is why you'll also find 44 South Village, a collection of army barracks restored into a creative arts village, nearby.
Located less than 200 meters from Taipei 101 (see my Taipei 101 guide / buy Observatory tickets), the mammoth resort somewhat awkwardly faces away from the city's most famous landmark. But how could the developers have known that 10 years later Taipei was going to erect the world's tallest (at the time) building a few steps away from the hotel?
Instead the building looks over the large green space of Taipei City Hall Plaza, while the Taipei World Trade Center is right next door. Rooms on the east side of the Grand Hyatt offer the prized Taipei 101 views, although you have to look out at a bit of an angle.
Still, I was able to cable the shot below from our the living room of our suite. You won't get a view of Taipei 101 like this from anywhere else in the city!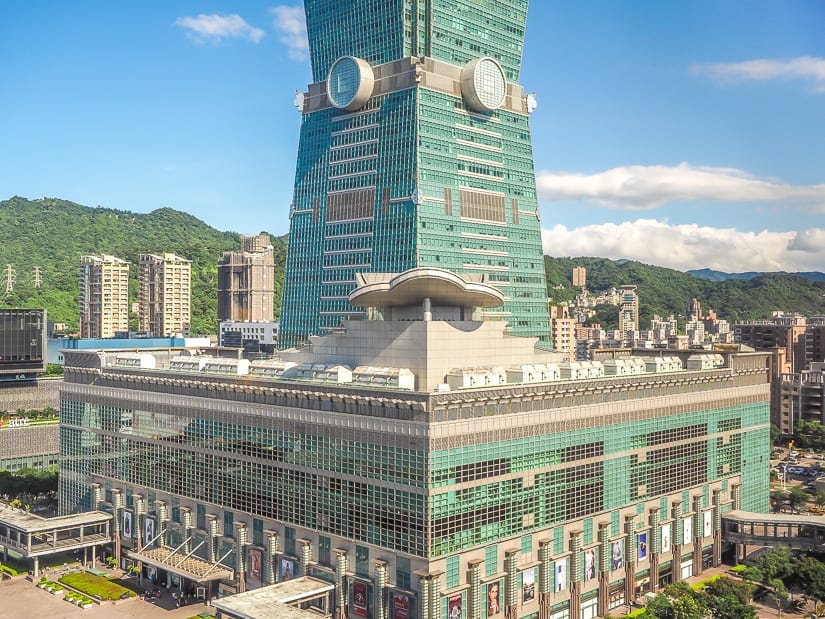 Regardless of where the buildings sits in relation to 101, the location is undeniably unbeatable, with Xinyi Shopping district, Sisi Nan Cun, and Elephant Mountain hiking trail all within short walking distance. The Taipei 101 MRT station is also a few minutes away on foot, giving guests near instant access to anywhere in the city.
Grand Hyatt is shaped like a three-sided courtyard home (on an ultra grand scale), with the three sides looking down on a swimming pool on the rooftop of the five-story lobby.
Today there are nine restaurants on site (see all of them here), including Michelin Plate designated Bel Air Restaurant, specializing in steak, and what is perhaps Taipei's most legendary buffet experiences (see more on that below).
We also had a fabulous stay at the Grand Hyatt on our more recent trip to Oman with kids. Read all about it in my detailed Grand Hyatt Muscat review!
The Family Adventure Package (and two other family packages)
The signature offering for families with young kids is the Family Adventure Package, which is a $25 add-on to any suite-level room at Grand Hyatt Taipei. The standard rates for these rooms begin at NT$19,800, but you can get a 20% discount if you book seven days in advance, and the price drops even lower if you sign up Grand Hyatt membership.
The key feature of the package is a kids' tent for two set up right in your room, complete with feather mattress and pillows, battery-operated lantern to hang inside it, and a planetarium that projects stars onto the room's ceiling above the tent.
If you've seen other pictures of the experience online, note that the setup may vary depending on the room type. In the photos I've seen, the tent is set up in a separate room from the main bedroom and comes with a kids' picnic table.
Our tent however was set up right beside the bed and next to a full wall window with the best view in our suite, giving the effect of camping on the edge of a cliff. Also, we didn't get a picnic table, but it wouldn't have fit well given the setup of our particular suite.
The Family Adventure Package is recommended for kids age 3-6. If your kids are older, it is still possible, but you may also want to consider the hotel's two other family packages below. These two can also be included on regular rooms as well as suites, making them a more affordable option than the Family Adventure Package.
Note that the Family Adventure package should be booked at least three days in advance.
The Awesome Kids Package comes with two tickets for KidsAwesome, an exclusive children's museum and activity center neaby. This three-level attraction features 13 themed rooms, where kids can try everything from zip lining and bouldering to building rockets and shopping at a farmer's market.
The package also comes with breakfast at Café, the hotel's famed buffet, a spa credit, and a room upgrade.
A third option is the Explore Package, aimed at guests who are in town to check out the sights. The deal comes with an NT$500 EasyCard for each guest, a later checkout of 2 p.m, and a welcome drink at one of the hotel's bars.
To find out more about Taipei's top attractions, since my list of the top 50 things to do in Taipei, Taipei's top night markets, and the best temples in Taipei.
Also awesome with kids: read about the best hot springs, beaches, and amusement parks in Taiwan.
Checking in at Grand Hyatt Taipei
After a brief mishap when Lavender forgot her backpack of carefully selected toys for the stay in our taxi, and one of the hotel's greeters was so kind as to chase down the taxi for us, we entered the hotel's breathtakingly opulent lobby.
Greeted by lavish fountains, sparkling chandeliers, and oversized artworks, we were tempted to spend some time just hanging out and exploring before checking in.
Read my article explaining the Taipei Unlimited Fun Pass to decide whether this pass can actually save you and your family money on your trip to Taipei.
As we were staying in a Grand Executive Suite, we were directed the "exclusive" check-in area on the 22nd floor. There Emily and the kids were able to relax in the Grand Club, the hotel's VIP lounge, and enjoy some treats and drinks while I took care of the formalities of the check-in.
We had access to the lounge for the duration of our stay, which was great if we ever needed some snacks or a drink for the kids.
During check-in I was personally greeted by Guest Experience Manager Verna Wang and Marketing Communication Manager Paul Ou, who eagerly offered to help with anything needed. Next, we practically had to pull the kids away from the candy and cookie bar to make way to our suite on the 17th floor.
The kids raced down the long hallway to our room while Emily and I nervously jogged behind them and "shhed!" them in vain. I jokingly informed the kids that our room was the hotel's best, so it must be at the corner room at the far end of the hallway; and of course this all-knowing parent was right.
Read other reviews for Grand Hyatt Taipei on Agoda, booking.com and on TripAdvisor.
Our Room at the Grand Hyatt
Nothing can match the excitement of two young kids checking into the most luxurious sleepover they may ever enjoy.
As the kids tore through the enormous (893 sq ft/83 sq m) suite and literally dove into the tent, Emily opened a beer from the mini-fridge and kicked her feet up at the sofa facing the 55″ full-HD TV while I went into full exploration mode with camera in hand.
From the entrance side of our apartment, a window looked down on the swimming pool on the roof of the 5th floor, while the large windows at the other end of the suite offered views of Taipei 101, which I believe is what distinguished our room, the "Grand Executive View Suite" from the regular "Grand Executive Suites."
Adjacent to the guest bathroom and large living room was a dining table and fridge stocked with drinks, a mini-bar, Nespresso coffee machine (which the kids LOVED using to make coffee for me the next morning), a range of snacks, and a bottle of red Bordeaux graciously left for us by the hotel management.
On the table, there was a signed welcome letter from hotel manager Louis Low.
Our suite featured an extremely comfortable king sized bed, shuttered windows with a view of Taipei, a full wall window with electric blinds offering views of Taipei City Hall Plaza and as far away as Yangming Mountain. There was also a large walk-in closet with safe.
For another super fun experience, read about our stay in a space-themed hotel in Edmonton, Canada!
The kids' tent was set up in our bedroom beside the bed. This turned out for the better, since we had a few friends visit after the kids were in bed and were able to entertain in the living room while they slept in the bedroom.
Attached to our bedroom was a gorgeous marble bathroom, complete with freestanding bathtub, sky shower, and smart toilet. If you've never used one of the latter, you are missing out on life.
The suite was elegantly decorated with artwork, including numerous traditional Chinese teapots (which as a tea geek I much appreciated; see my guide to Taiwanese tea here).
There were also some great coffee table books covering fashion, cocktails, and (of course) heavy metal.
Buffet Dinner at Café
While there are nine great restaurants to choose from at the Grand Hyatt Taipei, we were told that Café Buffet Restaurant would be the best choice for young kids, so we went for it.
Without kids I would have gone for the Irodori, the upscale Japanese choice, but the buffet ended up being better than I could have imagined, and supposedly the restaurant is pretty famous in Taiwan, as most locals I've mentioned it to either know it or have already been.
Café was more stylish that what normally comes to mind when I think of buffet restaurants. But it was the sheer size of the spread and variety of foods on offer that really blew me away. I wanted to try everything but could not even sample a fifth of the dishes.
Offerings included a sushi bar, Thai mango and papaya salad station, Korean side dishes, dim sum and all manner of other Chinese & Taiwanese, roasted root veggies, Indian food, salad bar, fresh juices, cheeses and breads and much, much more. And let's not forget the unlimited whiskey and cokes being poured at the drink counter!
For the kids, though, the true highlight was the passion fruit white chocolate fountain in the large desserts area. I only wish I'd left enough room to have dessert myself, as there was a full window of amazing looking cakes and pastries to choose from.
Extras for Mom and Dad
From 5-8 pm there was a happy hour in the Grand Club. I can imagine this would be quite lovely for couples or pretty much any travelers without kids, but we didn't have time to squeeze it in.
(OK, I'm lying. Emily actually let me run up before dinner to sneak a quick glass of white wine and check out the nighttime view of Taipei 101).
As a part of our package, Emily and I each had a voucher for a 60-minute "Meridian Healing Massage" at Oasis Spa.
But with two kids to handle, we had to go at separate times. Emily went in the afternoon after we checked in, and I rushed there right after dinner, with a bulging belly and whiskey & wine buzz.
After changing into black "panties" (as the attendant called them) and a robe, I was escorted to a beautifully decorated private room for my massage. Included were a foot bath and rub, my choice of aromatherapeutic scents, chilled lemongrass & rosemary tea, and full body massage.
The massage was extremely relaxing. I mean it was a serious battle to stay awake. The struggles of my life are real 😛
The reason I had been rushed is because I wanted to get back to the room before the kids went to sleep so I could share the bedtime part of the glamping experience with them, but alas, the kids crashed in the tent before I returned.
Normally it's nearly impossible to get them to bed in a hotel, but apparently the excitement of the day had put them right to sleep.
Morning, Breakfast and Oasis Pool
The next morning, we awoke to the spectacular scene of a clear blue sky and early morning sunlight painting the city in soft colors.
For breakfast, we had the choice of eating at Café again or the Grand Club. Emily and I agreed we couldn't handle another overdose of food at the buffet, tempting though it was, so we decided to class it up at the VIP lounge.
While it was a fraction of the size, the breakfast spread at the Grand Club was still huge, and the quality was top notch, with a good balance of Western and local options on offer.
Since we are always up super early with the kids, we still had several hours remaining before the 12 o'clock checkout. Naturally, we spent the morning at the pool.
As I mentioned above, Grand Hyatt's Oasis poolsits on the fifth floor rooftop of the lobby. The pool is humble in size but we were some of the few people there.
The pool is heated, so it can be used year-round. The resort looks grandiose when looking up from the pool, and you don't even realize you are on a rooftop as it is bordered with greenery.
The kids' section of the pool is small but sufficient, and the hotel offers life jackets and floating rings for free hire and pool toys to use.
Personally, I couldn't resist a mango caipirinha once the pool bar finally opened at 11 a.m. See their full pool bar menu here!
We left just enough time at the end for the kids to play in the small children's playroom also on the fifth floor. Last, checking out was extremely easy thanks to the electronic check out option on the in-room TV screen.
Well, that sums up our glamping experience at Grand Hyatt Taipei with kids. If you want to see how much a night at Grand Hyatt Taipei costs, check out their website or see it on Booking / Agoda.
Hopefully you've found the information you need here if you are deciding whether to give it a try with your kids. Enjoy, and let us know how your stay goes in the comments below!
I never travel without a guidebook! I recommend these:

Disclosure: This article was written in collaboration with Grand Hyatt Taipei. All views expressed are, as always, my own.