Dear reader: This article contains links to products and services that I may be compensated for, at no extra cost to you.
My son Sage is now seven and my daughter Lavender is five. Together with my wife Emily, who is Taiwanese, we have been exploring Taipei since well before they were born.
This list of things to do in Taipei with kids is based on the things we love doing in Taipei City regularly with our kids. If you're planning to get out of the city as well, you'll definitely want to consult my super-guide to traveling around Taiwan with kids.
Exploring Taipei with kids is fun for adults, too, because many of Taipei's attractions for kids are also the places you'd want to visit even if you didn't have youngins with you! Since there are so many cool places in Taipei for kids, and they are pretty spread out, I have separated them into four sections (South Taipei, East Taipei, Central Taipei, and North Taipei). I've also included a section on Lunar New Year and Christmas in Taipei with kids at the end.
You can also find more ideas to do in my list of 50 best Taipei attractions and ideas for getting out of the city in my recommended top 40 day trips from Taipei and guide to Yilan County, which is loaded with family-friendly attractions. Also don't miss my guide to the best beaches around Taipei and the best amusement parks and waterparks in Taiwan.
For first timers in the country, start with my general tips for traveling in Taiwan and guide to living in Taipei (including a section on living in Taipei with kids)
Essentials for Traveling in Taipei with Kids
– Kids under 115cm or under 6 can ride the MRT free. Dark blue seats are reserved for the needy, including parents with young children. All stations have escalators.

– Check out Klook for great online deals and discounts on various attractions, activities, and transportation in Taiwan. Get NTD100 off your first booking by signing up with my referral link. We use Klook all the time and totally recommend it!
– The Taipei Unlimited Fun Pass includes entry for 16 Taipei attractions, unlimited MRT and bus rides, and 5 tourist shuttle buses to attractions outside of the city. It's a great deal and includes many sites on this list! See this article to find out whether kids need to get a Taipei Fun Pass.
– If you decide not to bother with these passes, just pick up an EasyCard like everyone in Taiwan does. You can swipe this to take any public transportation in Taipei and other major cities in Taiwan, except for the high speed rail, intercity buses, and trains that require seat reservations.
– A Toddler in Taipei is a great resource for children's activities in Taipei, including detailed descriptions of the best playgrounds and indoor play centers in Taipei. The Taipei Parents Facebook group is also an excellent resource for asking questions.
– I recommend picking up a copy of Lonely Planet Taipei or Lonely Planet Taiwan.
– Order your 4GB Portable Unlimited WiFi device for pickup upon arrival.
– Book transportation in a private car from the Taoyuan aiport to your hotel. This deal is cheaper than what you'll pay in a taxi, and children's car seats are available (unlike most taxis); just make sure to request one when you book.
– Many of the activities on this page are also included on the Taipei Double Decker Bus Tour. Kids under 6 and 115cm ride the bus for free and will love sitting up on the second floor!
– A great option with kids is a tour by private car because you can go at your own pace and choose where you want to visit.
– If you are coming from far away, your kids may have some issues with jet lag, as ours have in the past. Check out this article on how to help a toddler with jet lag.
Where to Stay in Taipei with Kids
With the top attractions in Taipei for kids spread all over the city, how can you decide where to stay? In this article, I describe each of Taipei's best neighborhods and hostel suggestions for each one, including all budget levels.
What's most important is that your hotel is close to an MRT station. The MRT is the is the lifeline of Taipei, and will get you everywhere you need to go.
Here are some hotels that are specifically awesome for kids. If you are traveling with a toddler in Taipei, here is a guide to buying the best toddler travel bed.
Sato Castle (see on Agoda / Booking / TripAdvisor) Right by the Miramar Ferris wheel (see #8 below), this upscale castle-shaped motel includes themed rooms like king, queen, cherry blossoms, ancient Egypt, hippie era, boats, and more.

Grand Hyatt Taipei (see on Agoda / Booking / TripAdvisor) The Hyatt features Taipei 101 views, an outdoor pool, kids play room, and a fun buffet for kids. Read all about our experience glamping at the Grand Hyatt Taipei.

Yangminshan Tianlai (see on Agoda / Booking / TripAdvisor) For an escape from the city, Tianlai in Jinashan, New Taipei City has hot springs, outdoor pools with waterslides, and themed rooms.
Southern Taipei
A classic awesome way to spend a day in Taipei with your kids is to spend a morning at the Taipei Zoo, followed by an afternoon riding the adjacent Maokong Gondola. Both are in the southeastern corner of Taipei, at the end of the brown MRT line. There are also a few other kid-friendly attractions in worth noting in other parts of southern Taipei.
1. Taipei Zoo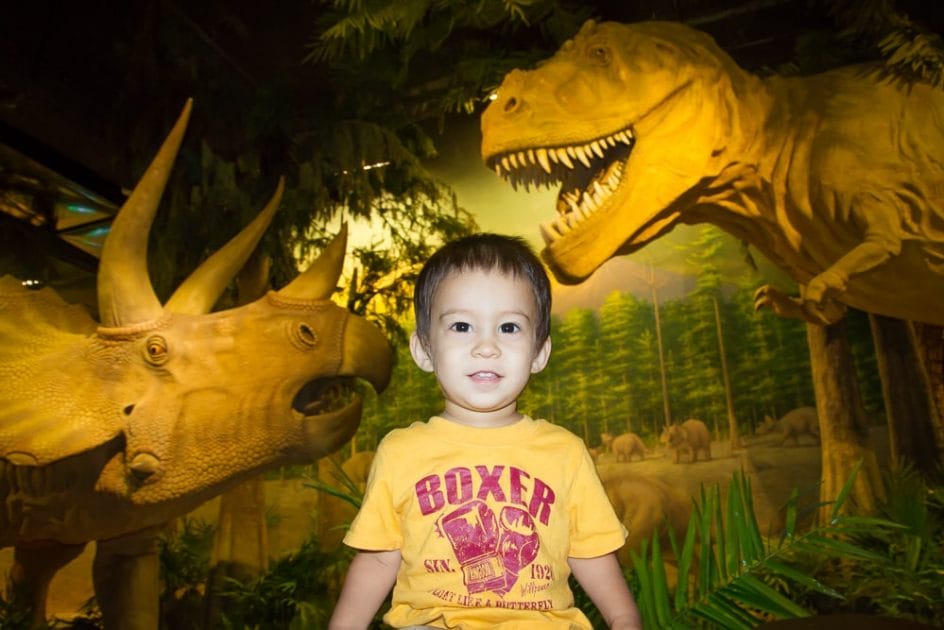 The Taipei Zoo is the largest in Asia. It is so big that we go several times per year, and see a different section each time. Go early to beat the crowds on weekends (lines start forming when most Taiwanese show up around 11am). After you enter, grab an English map from the info center to the right.
A smart thing to do is to go directly to the mini-train and take it to the top, then work you way back downhill through the zoo. There are several restaurants, an indoor museum with dinosaurs, an insectarium, a Taiwanese animals section, and the famous panda couple with a cub born here in 2013.
We avoid the zoo in summer when it's simply too hot and the animals are all asleep. For all of October in Taipei, the Taipei Zoo holds a Halloween event called Zooloween. See here for other interesting festivals in Taipei for kids.
Admission to the Taipei Zoo is covered by the Taipei Unlimited Fun Pass, or you can swipe your EasyCard to enter.
Access: Taipei Zoo MRT, open 9-5 (weekdays), 8:30 to 5 (weekends), NT60 (adults) 30 (students) free (under 5), can pay with EasyCard (MRT card).
For Dinosaur lovers

Also see the Land Bank Museum (#13 below), and for the best dinosaur experience in Taiwan, don't miss the life-sized moving and growling dinosaurs at the National Museum of Natural Science in Taichung. See more details in my guide to Taichung and guide to traveling around Taiwan with kids.
2. Maokong Gondola
Right next to the zoo, you can catch a cable car up to the tea growing area of Maokong (or "Cat Caves"; not many cats to be seen though). Lines can also get long mid-day but move quickly. Can you see Taipei 101 at the back? You can swipe with your EasyCard, or get the ticket price included on this Hop-on Hop-off Double Decker bus + Maokong gondola tickets deal. A return ride on the Moakong Gondola is also included with the Taipei Unlimited Fun Pass.
Once you get up to the top floor of the cable car station, watch for the separate line for the Crystal Cabins (glass bottom cable car), but note that my daughter was terrified of it (age 1.5 at the time), while my son (age 3) loved it. Other lines are for non-glass floor cars.
There are two stops before reaching the top: Taipei Zoo South (where you can actually connect to the zoo), or interesting Zhinan Temple.
The ride itself is the best part for kids. Most people go up to Maokong to have tea in a traditional teahouse with a view near Maokong Station at the top, but my kids would find that boring.
There is a convenience store at Maokong Station, several food stalls and tea-flavored ice cream shops, and it's a nice place to go for a stroll along the road in ether direction. You can also try an easy but rewarding hike (see #3) from here.
NT120 (one-way trip to the top), 20NT cheaper with EasyCard, NT60 (kids 6-12), free (under 6), runs 8:30 am to 9 pm (sometimes closed due to typhoons, heavy rain, or repairs. Announcements are made on the MRT.)
Do your kids love cable cars? Don't miss the Sun Moon Lake Ropeway in central Taiwan! See all the info in my detailed guide to Sun Moon Lake.
3. Bitan Riverside Park, Xindian
Straight south from Taipei, and at the terminal end of a totally different MRT line tha the zoo one, Bitan in Xindian is a pleasant riverside area. It's not a Taipei must-see, but if you have more time in the city, you could consider coming here for a few hours.
After you exit Xindian MRT, go left and you'll see stairs that take you up over the river flood wall. There is a strip of covered restaurant patios with river views, swan boats that you can ride, and a pretty foot bridge across the river. If you cross the bridge and go left, you can explore some easy hiking trails on the other side.
There are usually dragon boat races here if you happen to be in Taipei during the Dragon Boat Festival (June).
Access: Xindian MRT
4. Road Castle and Taipei Waterpark, Gongguan
If you spending summer in Taipei, which can be scorching hot (especially July and August), there are surprisingly few kid-friendly places to swim or play in water in Taipei. The Taipei Water Park in Gongguan has two great ones though!
Road Castle (see official website) is an outdoor swimming pool with three big water slides. It's more suitable for slightly older kids, but there is one small, shallow young kids' section, and lots of grass for lounging or picnics. We often go here with our friends to have drinks in the sun (they sell beer or you can bring it in discreetly, just don't drink in the pool) and let our kids play in the water. It's never too busy here.
On some summer weekends there are sometimes pool parties here, which are actually fine for kids and they only really take up one end of the pool. We've taken our kids several times.
Access: Gongguan MRT, open 6am to 10pm, May 5 to Sept 30, NT300 (adults) 200 (student) 150 (age 3-7), 75 (age 0-3). Same for pool parties. See the prices and opening times for Road Castle.
Nearby, the much cheaper Water Country Park (Taipei Water Park or 自來水園區, pictured above) is a spray park more suitable for very young kids. There's a calm stream on one side that our kids liked to play in when they were babies, and then the chaotic, water-spraying-everywhere main section. This place is usually packed with screaming children in summer but is good fun. Note that even though you think the weather is ABSOLUTELY HOT ENOUGH for swimming in late spring, the opening hours are limited to summer only (July and August) only.
The official website (see below) has bad English and is very confusing. It seems to suggest the spray park is open year round, but it is not. What is open year round is a sort of outdoor museum called the "Museum of Drinking Water", but the spray park is definitely only open in peak summer. Prepare for serious crowds of children, especially on weekends.
For better waterparks outside of Taipei, see my guide to the best theme parks and waterparks in Taiwan.
Official website for Water Country Park. Entry: TWD80 for adults, 40 for kids.

Eastern Taipei
Eastern Taipei, or Dong Qu (東區) is the newer part of Taipei City. It is dominated by Taipei 101, Taipei's most famous landmark, which is surrounded by large shopping centers and plazas. Just past Taipei 101 lies Elephant Mountain, which offers the best views of Taipei, if your kids can manage a 30-minute steep, uphill hike (for hiking families, see my guide to the best hikes in Taipei).
5. Taipei 101 Observation Deck
It's such a touristy thing to do, and I lived in Taipei for years before I ever tried it, but my kids loved going to the Taipei 101 Observation Deck on the 89th floor. The views are amazing of course, and my son especially loved spotting the big H for helicopter landing pads on tops of buildings.
Besides the 360-degree glass deck, you go to up an outdoor terrace on the 91st floor, but it was harder for the kids to see much from there. But don't miss going into the middle to see the giant 730-ton hanging stabilizer ball that helps keep 101 from falling over in an earthquake!
The line-up on the 5th floor where you pay is always long; we waited for an hour or so, but if you don't want to do the same, you can skip the long lines with this Taipei 101 Priority Pass!
Once you get through and board the world's fastest elevator, which has sparkling stars on the ceiling, it's an adventure!
If your kids are older, you could consider climbing Elephant Mountain beside Taipei 101 for awesome (and free) city views that include the building. It's a little steep but doesn't take long to get to points with the classic postcard view of Taipei.
Taipei 101 Obervatory open 9am to 10pm, NT600 (adult), NT540 (students), free (under 115cm). Access from Taipei 101 MRT station (or the terminal stop for Elephant Mountain).
Get your Taipei 101 Observatory ticket online in advance here with a discount, or pay extra to skip the lines with the Priority Pass.
6. Best Playgrounds in Taipei for Kids
In recent year, the Taipei City (and New Taipei City) governments have established numerous new playgrounds around the city, not to mention some old ones that were already good. Here are some of our personal favorites:
– Expo Hall Playground in Fine Arts Park (舞蝶共融遊戲場) near Yuanshan MRT station (see #18 below), Zhongshan District
– Playground in Da'An Forest Park (see #16 below), Da'An Park MRT Station. The playground is located near the MRT entrance and is labelled "Children's Amusement Center" (大安森林公園 兒童遊戲場) on GoogleMaps.
– New Taipei Metropolitan Park (新北大都會公園幸運草地景溜滑梯), Sanchong MRT Station, New Taipei City: A little ways out of the city center, but this expansive creekside park includes some very tall slides and is a favorite for our kids.
Here are some more great playgrounds in Taipei City and playgrounds in New Taipei City (Mandarin sites).
7. Indoor Play Centers in Taipei
If you're looking for things to do on a rainy day in Taipei with kids, the city has numerous indoor playcenters. There are a lot of relatively cheap government-run ones, but they tend to be small and quite busy, even requiring reservations on weekends. A number of private ones have also popped in recent years, which are often larger but quite a bit more expensive.
Kids Awesome is one of the best private indoor playcenters. This fairly new indoor play center in Da'An district includes 13 themed areas and three large play spaces. Let your kids make bubbles, launch a rocket, paint walls, ride a kayak, buy produce in a farmer's market, go zip lining, camping, climbing, and so much more.
Inside, you'll find a cafe with snacks and drinks. There's also an infants area. Note that kids should wear suitable indoor shoes, plus socks are needed for some areas. Budget at least two hours for this place, while some parents report spending a whole day here. The ideal age is toddler up to around six, but even kids up to 10 should enjoy some of the activities.
This playcenter is not cheap; babies under 6 months are free, under 3 are NTD300, adults are NTD200, while kids age 3-16 are a whopping NTD800 ($26.50). So you'd better stay long enough to get your money's worth!
Another indoor playcenter worth checking out is the one in ATT 4 Recharge, a department store next to larger Miramar Shopping Mall (see below). Besides the play center itself, the mall has a toy store, bouncing castles, and more. Mr Tree Station and the better Mr. Tree are two of many kid-friendly restaurants in Taipei featuring toys and ballrooms. Both serve the kind of bland Asian "Western" food that we've come to expect at almost every kid-friendly restaurant in Taipei.
The excellent Baby Boss role-playing center that many local parents loved is unfortunately now closed, as well as the numerous playcenters and children's areas that once lived in now closed Living Mall (AKA the "golf ball shaped ball").
Kids Awesome: Da'An MRT Station, address: No. 153, Section 3, Xinyi Road, open 10 a.m. to 5:00 p.m., closed Wednesdays, multiple entries in one day allowed.
ATT4Recharge: Dazhi MRT station, address: No. 123, Jingye 3rd Road, Zhongshan District
Mr. Tree Station: Xinyi Anhe Station, address: No. 83, Section 2, Anhe Road, Da'an District
Mr. Tree: Guting MRT station, address: No. 38, Chaozhou Street, Da'an District
Awesome with kids: Go strawberry picking in Taipei or Miaoli, or check out quirky, remote Xitou Monster Village in Nantou, Central Taiwan.
8. Miramar Ferris Wheel
The 95-meter high Ferris wheel at Miramar Department store is a Taipei landmark. You can enjoy amazing views of Taipei 101 and Yangming Mountain from the top. You can save money by pre-booking your Ferris wheel ticket online. The Miramar Ferris Wheel is free for Taipei Unlimited Fun Pass holders.
Miramar also has an IMAX theater with the largest screen in Asia, so it's another good option for rainy days.
Open 12:30 to 11 pm (Mon-Thurs), to midnight (Fri), 11am to midnight (Saturday), 11am to 11pm (Sun), NT150/200 (adults, weekday/weekend), kids under 110cm free, access Jiannan Rd. MRT station.
More Ferris Wheels in Taiwan: The tallest Ferris wheel in Taiwan is at Lihapo Discovery Center in Taichung. Several other amusement parks in Taiwan have them, including the Taipei Children's Amusement Park (#23 below).
9. Hua Shan Creative Park
Hua Shan is an old winery restored into a creative arts park. There's a large field at the back that is great for picnics, cute little shops to explore, a few restaurants, and there are rotating exhibits often aimed at children. Along with Da An Park (#16 below), this is our go-to place in Taipei for a picnic with friends.
Access: Zhongxiao Xinsheng MRT
10. Sun Yat-sen Memorial Hall
Between the two Memorial Halls in Taipei, I think Chiang Kai-shek Memorial Hall (#15) is more impressive, but if you happen to be in eastern Taipei, Sun Yat-sen Memorial Hall is still worth a stop.
The grounds are nice for a stroll, there are rotating exhibits and a little souvenir shop inside, and your kids might find the standing officers (with guns) interesting.
Open 9am to 6pm, free, access Sun Yat-sen Memorial Hall MRT.
Central Taipei
Central Taipei is the oldest part of the city, with some of the most important historic attractions being located in Wanhua District. Ximending is also Taipei's quirkiest neighborhood, with a large pedestrian-only shopping district and all kinds of fun stuff to see. There are also some good museums, parks, playgrounds, night markets, and cultural attractions in the city center.
11. Longshan Temple
Of the many, many temples in Taipei (see my favorite 30 temples in Taipei), Longshan Temple is one of the oldest, and is probably the most well-known temple in Taiwan. For kids, I like it because of the large (artificial) waterfall and carp pool out front, it is always bustling with activity, and all the fortune-tellers out front make in quite an experience.
You can also take a wander through Herb Alley next to it, or through the shops nearby selling many Buddhist statues and supplies.
Access: Longshan Temple MRT, open 6am to 10pm, free.
12. Ximending (Ximen)
Older kids and teenagers will really love this quirky, Japanese-style neighborhood. Ximending is Taipei's coolest shopping area for young people, with tons of shops selling souvenirs and unusual items, street graffiti, and trendy restaurants to choose from. See my complete list of 25 weird things to do in Ximen.
A few of these weird things include Da Che Lun (大車輪), a choo-choo train sushi conveyor belt restaurant (address: #53, Emei street, Wanhua District) and the Modern Toilet themed restaurant (update: Modern Toilet Ximending closed as a result of COVID, but the Shilin branch is still open).
Here are other interesting places to eat in Ximending.
We also like the large area of LGBT-friendly bars behind Red House (a Japanese era landmark that is also interesting), especially the small Thai restaurant near the entrance, because there aren't many places in Taipei with patios. They don't mind kids, but there might be people smoking and drinking around you.
The Red House Weekend Craft and Design Market is also really interesting!
Access: Ximen MRT (exit 6 for the main Ximen shopping area, exit 1 for Red House)
13. Dinosaurs at the Land Bank Exhibition Hall
This dinosaur-themed museum housed in an old bank is a must for any dinosaur-loving kids. A complete skeleton of a huge brachiosaurus takes up the atrium, while you can peer into dinosaur faces from the second-floor café.
The main building of the National Taiwan Museum (which the Land Bank is a part of) is across the street in 2/28 Park. The park is also fun to explore with kids; it has carp ponds, a decent playground, and an interesting water fountain memorial.
Access: NTU Hospital MRT or Taipei Main Station. Land Bank hours: 9:30am to 5pm, closed Mondays, NT30 (adult), NT15 (student), free (under 6).
14. Chiang Kai-Shek Memorial Hall
Taipei's most iconic historical landmark is CKS Memorial Hall, a collection of three large, striking buildings (the blue and white memorial hall, plus National Theater and Concert Hall). It's a good place for family pictures, letting the kids run around, and there are some more ponds with fish.
Access: MRT CKS Memorial Hall
15. Mango Shaved Ice and Da'An Park
Yongkang Street is a famous restaurant street with many food choices, including the original branch of Taiwan's most famous restaurant: Din Tai Fung. It is also the supposed birthplace of mango shaved ice, an absolute must in summer.
Heads up that the mango ice and other shaved ice desserts and the only two remaining shops (several others closed due to lack of tourists in recent years) are huge, as they are meant to be shared by 2-4 adults. A treat for the whole family! Find out where to get it in my foodie guide to Yong Kang Street.
Yongkang Street is also very close to Da'An Forest Park, the city's largest, so you can easily include it in your visit!
Access Da-An Park MRT or Dongmen (for Yongkang Street).
16. Giant King Crabs at Addiction Aquatic + Sushi Picnic at Rongxing Park
The old Taipei fish market has been converted to an upscale seafood grocery store and restaurant called Addiction Aquatic Development. My kids love going here to see the aquariums filled with giant king crabs, lobsters, and more.
After that, head into the gourmet grocery store to buy (insanely delicious, fresh) take-away sushi, and there are also kid-friendly foods, then head to nearby Rongxing Park for a sushi picnic. The park also has a small indoor swimming pool, playground and (more) giant squirrels.
Addiction Aquatic also has a fancy standing only sushi bar, alcoholic drinks, fresh juices, and there's a misted outdoor patio restaurant.
It's a bit of a walk from the MRT to the Rongxing Park and Addiction Aquatic, but you do pass interesting (and incense free) Xingtian Temple. Don't forget to cross Minquan East Rd. just before the reaching the temple via the underground street of fortune-tellers!
Access: MRT Xingtian Temple, Addiction Aquatic hours: 6am to midnight, come earlier for fresher/more sushi choices. Crowded on weekends.
17. Maji Square, Yuanshan
Yuanshan Stadium is another one of our favorite places to spend an afternoon in Taipei with kids. The surrounding area was once famous as the location of the 2010 Floral Expo.
Now people come here for Maji Square, a huge mostly covered food court that features a combination of local and international food stalls, including Indian, Mexican, British, Colombian, Thai, and more, as well as excellent restaurants with patios including Argentinian, Spanish, and Mediterranean. There's also a free merry-go-round (limited hours), and children's games and motorized cars that can be rented.
On weekends, there's a large Farmer's Market outside, and usually some giant blow-up kids' bouncing tents. Some cool buildings remain from the Flower Expo, such as the Pavillion of New Fashion, made mostly of recycled bottles.
Across Xinsheng North Rd., you can also visit an Aboriginal Museum in Fine Arts Park. At the south end of Fine Arts park, there's a great new children's park called Expo Hall Playground.
North of Fine Arts Park is Taipei Fine Arts Museum, which sometimes has kid-friendly exhibitions and programs, or you can go through a floral tunnel that connects to Xinsheng Park, which also hosted the Floral Expo and still has many flowers. North of Xinsheng park, you can also visit Lin An Tai Ancestral Home.
Access: Yuanshan MRT. Maji Square hours: shops vary, approx. 11am or noon to 9pm.
18. Taipei Night Markets
You simply cannot visit without going to one of Taipei's night markets, but I would never take my kids at peak times (7-11pm). Most night markets get so crowded that you literally have to squeeze your way through, there's nowhere to sit, bathrooms are hard to find, and lines can be long for many stalls.
Therefore, the PERFECT time to go with kids is right when the stalls are opening up, around 5-6pm. All of Taipei's night markets are interesting, so take your pick, but we personally love Raohe Night Market. It's just one long street, so you can't get lost, there's a gorgeous Matsu Temple at the eastern entrance, and one block away you can go over the river flood wall to admire pretty pedestrian-only Rainbow Bridge.
Another decent central choice is Ningxia Night Market, which is also just one street and more manageable than the enormous and most popular night market in Taipei: Shilin Night Market. Most night markets have a section of kids games like throwing balls, darts, or catching little fish for prizes.
To figure out what to feed your kids in Taiwanese night markets, see my guide to Taipei street foods.
Raohe Night Market access: Songshan MRT, Ningxia Night Market access: Shuanglian MRT
North Taipei for Kids
Another great day spent in Taipei with children involves riding the red line to the north towards Beitou, famous for its hot springs, and Danshui, a lovely riverside promenade near where the Danshui River meets the sea. Some of Taipei's most family friendly museums and the Taipei Children's Amusement Park are also located in northern Taipei.
19. Guandu Temple
I hope you made it this far on my list, because some of the best Taipei attractions for kids are in the north. Guandu Temple is one of the coolest (and oldest) temples in the greater Taipei region, and features a tunnel full of gods through the mountain that leads to a view of the river. The hill behind the temple is also fun to explore.
Hongshulin, a large riverside mangrove, is also a few stops away on the MRT.
Access: Guandu MRT + 5-10 minute walk, Honshulin MRT for Hongshulin.
20. Beitou Thermal Area
Going to Beitou hot springs might just be my single favorite thing to do in Taipei with children. You can read my full guide to Beitou Hot Spring Village or learn about other kid-friendly hot springs in Taiwan.
Even before arriving, my kids are thrilled to take the single stop pink MRT line that goes slowly uphill from Beitou station on the Danshui line to Xinbeitou station for the hot springs. The MRT is painted with cartoons and smells of sulfur from all the passengers who've just gone for a soak.
Arriving in Xinbeitou, the air feels fresher and the hot spring park is right in front of the station. My kids love running along the paths beside the steaming hot spring creek. The cheapest by far (only 40NT for adults) soak can be had at the outdoor public hot spring, called Millenium Hot Spring, just past the eco-friendly Beitou Public Library and Beitou Hot Spring Museum. It's not the greatest place for kids it tends to be crowded, people go there to relax, and there's one one pool that isn't too hot for kids.
Almost all of the tall buildings along the park are hot spring hotels too, but most of them are quite pricey (NT1000 or much more). Most of them offer private rooms with a tub, or public, sex-segregated (naked) ones. Many of them don't allow kids in the public pools.
The best public hot spring for kids in Beitou is Spring City Resort. It's quite a ways from the MRT, but they've got a free shuttle bus roughly every 30 minutes. With this discount deal (kids under 100cm free, only 388 if you go after 7 pm) per adult, you can either get a private tub in a small room for one hour, or use the public outdoor pools for as long as you want . This is an amazing deal, as the regular adult fee for the outdoor pools is NT800!
We've tried both the private rooms, which are nothing special(unless you want the privacy to get naked with your family), and the outdoor pools, which are great. There are kid-friendly warm and cold pools, and it seems to be a popular place for families. There are also a number of other hot pools for adults.
Another affordable option we've found that allows kids is Kyoto Hotel. You can walk there from the MRT (about 20 min, slightly uphill). It's on a small road past Puji Temple, a Japanese-era temple that is through a gate and up a path from the road (you can't see it from the road). It's actually almost all the way to Spring City Resort, but the road gets steeper after Kyoto Hotel.
The rooms at Kyoto Hotel are basic, tubs are clean and modern, and there are large windows (uncommon for this price). Prices are very reasonable at about NT700. This hotel would also make a decent budget overnight stay!
You also can't take kids to Beitou without visiting Hell Valley (Beitou Thermal Valley), a giant steaming hot spring that makes us feel we've gone back to the time of dinosaurs. Entry is free, but it's closed on Mondays.
There are a few hot spring ramen shops in Beitou that are always busy, and we also sometimes take our kids to Sushi Express next to the 7-11 by Xinbeitou MRT for conveyor belt sushi.
Access: Xinbeitou MRT
Millennium Hot Spring: 40NT (adult), note the entrance hours are weird due to regular closure for cleaning. It's open 5:30am–7:30am, 8am–10:00am, 10:30am-1:00pm, 1:30pm–4:00pm, 4:30pm–7:00pm, 7:30pm–10:00pm.
Hell Valley: free, 9am to 5pm, closed Mondays.
To find even better hot spring facilities for kids, see my recommended family-friendly hot spring spas in Jiaoxi Hot Spring and Wulai Hot Spring.
21. Danshui Riverside Promenade
One alternative to crowded night markets in Taipei is the daytime market along the river in Danshui, where the Danshui River approaches the sea. Besides lots of (seafood-heavy) food stalls (also watch for the Turkish ice cream!), there are tons of children's games that your kids will beg to play here and some interesting shops.
A lot of people like to hire bikes here and cycle back towards Taipei. Tandem bikes and bikes with kids seats are usually available.
A ways down, you can catch a boat to a similar promenade on the other side of the river (Bali), or to Fisherman's Wharf (see #23).
Access: Danshui MRT
22. Ferry to Fisherman's Wharf, Danshui
Right at the point where the Danshui River meets the sea sits this pretty harbor with a picturesque walking bridge called Lovers' Bridge. There isn't much to do besides strolling the docks or eating at one of the restaurants. The food here is nothing special, but the sunsets are some of the best in Taipei, and it's a great place to let the kids run around for a while.
Our kids loved the ferry ride there. You can swipe your EasyCard to board the ferry, and the ride is free for Taipei Unlimited Fun Pass holders.
Access: Ferry or bus from Danshui MRT.
Ferry to Fisherman's Wharf: 11am to 8pm (weekdays) to 9pm (weekends), NT 60/31 (adult/child one way), EasyCard, 15-minute ride. Ferry to Bali starts at 7am. It's also possible to take a ferry to Dadaocheng in Central Taipei.
23. Taipei Children's Amusement Park
Shilin district features three major attractions in Taipei for children, all close together.
The first is the large, government-run Taipei Children's Amusement Park, the only amusement park in Taipei. It features indoor and outdoor areas, with rides and facilities for younger and older kids, including Ferris wheel, roller coaster, tea cups, and more. The small entrance fee to the amusement park is included on the Taipei Unlimited Fun Pass (but rides will cost you extra).
It can be very crowded on weekends when the weather is decent.
Access: Shilin MRT + 5 min taxi or free shuttle bus, open 9am to 5pm, to 8pm on Saturdays and summer/winter vacation, closed Mondays.
Admission NT30 (adult), NT15 (student), free (under 6). Rides cost NT20-100, some rides free for under 2, using EasyCard for rides is easiest.
24. National Taiwan Science Education Center and Taipei Astronomical Museum
The other two kid-friendly attractions in Shilin are the National Taiwan Science Education Center and the Taipei Astronomical Museum next door. We find that exhibits at both of these are hit-or-miss. Some are great, some are just OK, and they can be extremely crowded on weekends and holidays.
The prices vary according to which exhibit you see Check the websites for what's on now.
Access: Take bus Taipei 255, 620, Red 3, Red 12 Museum for Shilin MRT exit 1


25. Christmas and New Year Activities in Taipei
In past times, Christmas celebrations were mainly limited to kindergartens in Taiwan, but in recent years it has become more of a thing. You can see decorations in stores and malls all over the city, and kids can even sit on Santa Claus at the Regent Taipei.
But for the ultimate Christmas experience in Taipei with kids, head to "Christmas Land" at the plaza behind Banqiao Train Station in New Taipei City, where hundreds of thousands of Christmas lights are set up, including light tunnels you can walk through. See more information in my guides to winter in Taiwan and visiting Taiwan in December.
If you're planning to spend Lunar New Year in Taipei, you may be surprised to find that several kid-friendly attractions remain open, though most shops and restaurants will be closed. The Taipei Lantern Festival is also a great activity for kids, but I would personally avoid taking my kids to the Mass Lantern Release in Pingxi, which is too crowded. See more information to my guides to visiting Taipei in January and Taipei in February.