Dear reader: This article contains links to products and services that I may be compensated for, at no extra cost to you.
Yongkang Street (永康街) is well known as one of the most popular foodie streets in Taipei, Taiwan. Its claims to fame include the original branch of Din Tai Fung, the now world-famous chain, and the supposed birthplace of mango shaved ice. There's even a Taiwanese restaurant in New York City named after it!
The street is just a few blocks west of Da'an Park, Taipei's largest park. It stretches south from Dongmen MRT, with countless excellent restaurants along it and the small lanes branching off it. It eventually leads to a beautiful neighborhood of restored Japanese-era houses housing some of the city's best traditional teahouses around Qingtian Street, as well as a diverse religious community.
Yongkang Street was once a go-to place for tourists visiting Taiwan. However, with the lack of tourists due to COVID restrictions, several mango shaved ice and souvenir shops on the street have closed. I visited multiple times during a very rainy spring in Taiwan in 2022 to prepare this updated guide to the best restaurants, food stalls, cafés, and teahouses still open on Yongkang Street, Taipei.
How to Get to Yongkang Street
Getting to Yongkang Street is a breeze. From Dongmen MRT station on the red or orange line, take exit 5. You can't miss the MRT exit, as the walls of it are emblazoned with advertisements for heaping mounds of mango shaved ice.
From the exit, walk straight along Xinyi Road (in the direction of Taipei 101) for 20 meters. The first lane on the right is Yongkang Street. My self-guided food tour of Yongkang Street below will start here, with a few dining options on either side of Xinyi Road before you actually enter Yongkang Street.
You may also want to read my similar self-guided food tours of Burma Street, Shengkeng stinky tofu village, Addiction Aquatic seafood market, and my Ximending dining guide!
A Foodie Tour of Yongkang Street
Before you veer down Yongkang Street from the MRT exit on Xinyi Road, there are a few noteworthy dining options on either side of Xinyi Road itself.
Din Tai Fung Xinyi (泰豐信義店) is the original branch of Taiwan's most famous restaurant. The restaurant is famous for its xiaolongbao and tangbao (soup dumplings), each perfectly prepared on site with exactly 18 folds.
The branch is Michelin recognized (Bib Gourmand), while a Hong Kong location has even received a Michelin star (impressive considering the restaurant's affordability, as far as Michelin restaurants go!) You can save money by pre-ordering your set meal at Din Tai Fung here on Klook.
The chain is now found in several countries in the world, but the Xinyi branch, just a few steps past the entrance to Yongkang Street, is the first one. It's actually smaller than it used to be and mostly offers take-out now, while the newer Xinsheng branch (鼎泰豐 新生店) across Xinyi Road and two blocks west) is much larger.
Toasteria Café Yongkang (吐司利亞), at the entrance to the lane just east of Yongkang Street, is the largest and coziest branch of one of the best Western restaurants in Taipei.
Originally focusing mainly on toasted paninis, the menu has expanded to include various Mediterranean and Middle Eastern dishes, plus a decent range of cocktails and sangria. There are multiple floors of seating.
Xiaonanmen Traditional Bean Curd (小南門傳統豆花東門店) Yet another chain, Xiaonanmen is a go-to spot for douhua (dessert tofu) and other traditional Taiwanese savoury dishes like braised pork rice (滷肉飯 or luroufan) and sticky rice pudding (筒仔米糕 or tongzai migao). It's directly across Xinyi Road from Yongkang Street.
Entering Yongkang Street, as you walk south, the first shop on your right will be Sunmerry Dongmen Shop (聖瑪莉東門店), a bakery with an attached shop selling Taiwanese souvenir treats like pineapple cake. There used to be other shops on Yongkang Street selling various souvenirs aimed at tourists, but this is now the only one left.
Hang a left on the first lane to find Chocoholic, which does desserts, drinks, and even savory meals all made with chocolate as an ingredient.
If you're in the area at night and looking for an American-style craft brewery with welcoming staff, Zhang Men Brewing (掌門精釀Taproom Zhangmen) fits the bill. It's just a few steps to the right off Yongkang Street, down Lane 4.
Tian Jin Onion Pancake (天津蔥抓餅) If I only ate a single thing on Yongkang Street, it would be a green onion pancake (蔥抓餅 or cong zhua bing) from this stall, but I'm biased because it's literally my favorite food in the world.
While these things are pretty much always good, no matter where you get there, this stall has definitely obtained "famous" status, so there's often a line. She opens officially at 9 AM, but I've been served as early as 8:00, while she's setting up. It's at the front of a popular Vietnamese restaurant called Thanh Ky (誠記越南麵食館).
The options on the menu are original (原味), with egg (加雞蛋), with egg and Asian basil (九層塔加蛋), with ham and egg (火腿加蛋), with cheese and egg (起司加蛋), everything (總匯), corn (玉米), and corn with cheese (玉米起司蛋). I personally recommend asking for a customized egg, basil, and cheese (九層塔加蛋加起司). You'll thank me later.
You'll also have to indicate whether you want spicy sauce. Yongkang Park, just down the way, is the perfect spot to enjoy your green onion pancake, with trash cans and washroom for washing your greasy hands after.
You may want to take a stroll to the right down Lane 6 for a few blocks to Dongmen Dumplings (東門餃子館), a popular dumpling, pot sticker, and hot and sour soup shop.
Another half block past it is Yongkang Beef Noodles (永康牛肉麵). Some say this is one of Taipei's best, but opinions on this will vary wildly. I can't speak for it, as I don't eat beef, but it's been attraction devotees of one of Taiwan's quintessential dishes since 1963.
While Yongkang Street used to be lined with dessert shops specializing in mango shaved ice, there are only two left ever since COVID stole away all the tourists. Smoothie House (思慕昔本館) is the first and most obvious one, especially since they've put up massive adds lining the walls of Dongmen MRT Exit 6, displaying their range of mountain-sized shaved ice desserts. You can even pre-order your Smoothie House dessert here.
Personally, I still recommend the original classic, Mango Snowflake Ice with Sorbet (芒果). "Snowflake Ice" refers to xuehuabing (雪花冰), a delicious sorbet-like base made of multiple thin layers of shavings from flavored ice. The mound is then topped with real mango chunks, mango ice cream, mango syrup, and sweetened condensed milk. It's TWD 250 for one, which is easily shared among 3-4 people (don't try to tackle one on your own!)
Smoothie House has other variations of the mango dessert that come with various QQ (chewy) balls, as well as strawberry raspberry, matcha, oolong tea, and tiramisu versions. It sometimes opens several hours later than indicated on GoogleMaps, especially in first few days of the week or on rainy days.
Tucked into an alcove right behind Smoothie House, Taro King (芋頭大王) offers a similar (but not quite as large and over-the-top) range of ice desserts and has been running since 1976. Their Mango Sorbet Snowflake Ice is a little simpler and cheaper (TWD 190) than the one at Smoothie House (actually, I prefer it), but you'll still need at least 2-3 people to finish one.
Besides the snowflake ice desserts, Taro King also has a full menu of more traditional Taiwanese desserts like seasame tangyuan (芝麻湯圓), red bean soup 紅豆湯, baked mochi (紅燒麻糬), and ginger douhua (薑豆花).
Across the street from the two dessert shops, Yongkang Street Xiaolongbao (永康街小籠包) is a narrow, hole-in-the-wall stall offering delicious soup dumplings. Watch for the steaming baskets.
Yongkang Park (永康公園) is a small triangular park running along Yongkang Street. With several benches and other places to sit, it is ideally situated for enjoying your take-away treats. There are also trash bins and a bathroom. Also note the Chiang Kai-shek head statue, once present at every park in the country.
Fucheng Tainan Restaurant (府城台南美食) right at the start of the park specializes in, as the name suggests, food from Tainan in Southern Taiwan. It's cheap, authentic, and understandably popular among locals.
Juluo Shan Hai Teahouse and Douhua Shop (聚落山海) offers an excellent and relatively affordable traditional teahouse experience at the back of Yongkang Park.
The traditional wooden seating is highly photogenic, and a huge selection of Taiwanese oolong teas, Alishan teas, black teas, aboriginal-grown teas, lao cha (aged teas), and sheng pu-er teas are on offer. Prices start at TWD 320 per pot (add 180 for second person), with tea snacks and dessert tofu (douhua) on the side.
Whichever tea you order, it comes with all the equipment needed, a guide for brewing that tea (Mandarin only, they can help if needed). You can get dozens of individual brews out of the amount of tea provided, so you can easily pass an afternoon doing so.
For more information, see my guide to Taiwanese teas.
Down lane 10 from the park, Rakumenya YongKang Restaurant (樂麵屋永康店) is the best spot for Japanese-style ramen on Yongkang Street. You order your ramen on an iPad (besides the dish itself, you'll need to choose the noodle thickness, how cooked you want the noodles, and soup intensity.
I really liked the fried shrimp wontons that my choice was topped with. Note that the sign only says 樂麵, and it just moved to the street corner closest to the park (GoogleMaps is still showing the old location further down the street).
A few doors down from the ramen shop, Yong Kang Sliced Noodles (永康刀削麵) makes their own sliced noodles (刀削麵 or dao xiao mian) in house. They are the perfect level of chewiness, and can be ordered in a variety of soups or sauces, including beef soup, tomato soup, hot and sour soup, and sesame sauce (麻醬麵). The latter option is vegetarian/vegan.
Sin Yuan Teahouse (沁園茶莊) on Yongkang Street across from Yongkang Park is a high-end teashop selling tealeaves and some gorgeous teaware. There are cheaper places to buy tea in Taiwan, but you can expect nothing but high quality and service here.
Space Bao (宇宙生煎), also on Yongkang Street facing Yongkang Park, is an all-vegan pan-fried bun (生煎包 or sheng jian bao) shop. You order the buns on a large touchscreen, pay with EasyCard or credit card, then pick up from the window. Closed in 2023 but they will be reopening later in eastern Taipei.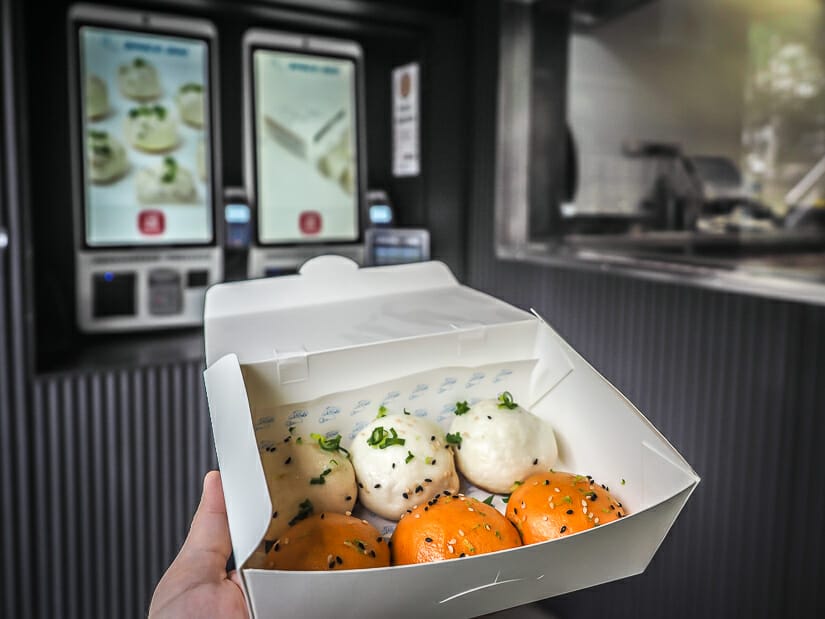 There are two main types: veggie pork and the orange-colored Thai flavor. The latter is a little spicy, and both come with an incredible dipping sauce. I got flavors of lemongrass with a hint of mala (mouth-numbing spiciness). Go for the mixed pack, as they are both delicious, with a crispy exterior, and explosion of juiciness on the inside. I would go back many times!
Just past Space Bao but still facing the park, Yi Pin Ramen and Sliced Noodles (台灣一品 拉麵與刀削麵) is another sliced noodles shop, while Lu Sang Restaurant (呂桑食堂) is popular among locals, serving traditional Taiwanese fare.
At the southern end of the park, if you hang a right on Lane 14 and walk two blocks, you'll reach Taipei Taiwan Temple, a Mormon Temple, but one of the more unique temples in Taipei.
Continuing south along Yongkang Street past the park, you'll reach Jin Ji Yuan (好公道金雞園). Like Din Tai Fung but far lesser known, this shop is also Michelin approved and specializes in xiaolongbao/soup dumplings and other dim sum dishes. You could consider this a cheaper and more down-to-earth alternative to Din Tai Fung. According to one reader of this article, they also have some of the best fried chicken in Taipei.
At the corner where Yongkang Street reaches Jinhua Street (金華街), Soypresso (二吉軒豆乳 永康店) is a dairy-free shop with delicious fresh soy milk made on site (you can see the large machine in the window, soy yogurts, and soy soft serve ice cream (TWD 55). The soft serve is divine, if you enjoy the taste of regular soy milk (it tastes exactly like it).
When I first arrived in Taiwan in 2008, Lonely Planet Taiwan listed James Kitchen (大隱酒食) as one of the best Taiwanese restaurants in Taipei. There it still stands, with its atmospheric old-time interior, and serving up classic items like century eggs, bamboo, stuffed tofu skin, deep fried oysters, clams with loofah, and braised pork rice. There are also several sakes on offer.
Do you prefer to enjoy your coffee in the presence of a furry feline? Then CAT.jpg (貓圖咖啡) is a cat café just off Yongkang Street on Chaozhou Street (潮州街). There's only one cat in house, often sleeping on the bar by the espresso machine. So if you want the full cat café experience, you'll want to try one of these other cat cafes in Taipei (article coming). This café is very quiet, as most people go there to study, so it's not suitable for kids.
Yong Kang Street dead ends at Lane 33 Lishui St., but the neighborhood to the south is atmospheric and worth exploring, with large trees forming a canopy over the streets, a rarity in Taipei.
Several lanes (2-12) veering east and west off Qingtian Street (青田街) contain some of the most beautifully preserved Japanese-era houses in Taipei, several of which housed Japanese professors at the time. A few have been converted to lovely traditional teahouses.
Qingtian Teahouse (青田茶館) is one such teahouse, with a small art gallery (Caves Gallery 敦煌畫廊) on site. You'll need to pay for the gorgeous setting, though. A pot of tea starts at TWD 450.
Right next door and every bit as stunning, He He Qingtian Teahouse (和合青田) offers a tour of the premise and guided tea brewing in a tatami mat room for TWD 600 per person (advance reservation required, call 0223210055).
Qingtian 76 (青田七六) is another similar option, offering meals in an old and beautifully renovated Japanese-era home.
The area around Qingtian Street is also home to numerous religious buildings of various faiths, including Taipei Grand Mosque, Taipei Peace Presbyterian Church, and the Mongolian and Tibetan Cultural Center.
For vegetarians looking for a feast, you can venture a little further south to Spring Vegetarian Restaurant (春天素食餐廳–台北大安店), a large and popular vegetarian buffet restaurant. Go further south, and you would reach Shida Night Market, once one of the most popular night markets in Taipei.
To finish your tour, take a stroll to Da'An Park, the largest park in Taipei, or make your way back to Dongmen MRT station along the road one block east of (and parallel to) Yongkang Street. Along it, there are several good coffee shops, including Café Kuroshio (咖啡黑潮), Saturn Landing Turkish Coffee, Caffè Libero (咖啡小自由), and Roaster Family Coffee (烘焙者咖啡).
There's also a Mongolian Hot Pot restaurant (原風蒙古火鍋永康店) and a small, friendly sushi joint called Tsukiji Sushi (築地壽司) on the same road, which you'll probably have to save for next time.