Dear reader: This article contains links to products and services that I may be compensated for, at no extra cost to you.
When doing a Google search for Taiwan's most famous landmarks, I was rather disappointed to find articles mentioning things like fireflies and hot springs.
Clearly, the authors don't know what the word "landmark" means. By definition, a landmark should be something very large, monumental, and visible from afar (that must be a very large firefly!)
That's why I've decided to put together a better list of the most famous and visible Taiwan landmarks. Because my list soon grew too long, I've categorized them by most iconic landmarks, historic landmarks, modern landmarks, religious landmarks, and finally, natural landmarks in Taiwan.
Most Iconic Taiwan Landmarks
It was hard to narrow it down, but here are the 6 most iconic landmarks of Taiwan. These ones are so famous that they have become symbols of Taiwan. You can find more info about any of these in my guide to the best places to visit in Taiwan!
Taipei 101
An obvious choice for the most famous landmark in Taiwan is Taipei 101. This bamboo-shaped skyscraper was tallest in the world from 2004 to 2009.
Nearly double the height of any other building in the city, this towering structure truly lives up to its top Taiwan landmark title.
Visitors can ride the 89th floor observatory in one of the world's fastest elevators and even stand on the top (101st) floor, one of the most popular things to do in Taipei. Learn more about the building in my Taipei 101 guide.
Also find the best views of Taipei 101 (including for NYE fireworks!) here.
Chiang Kai-shek Memorial Hall
Another of the most recognizable landmarks in Taiwan is Taipei's CKS Memorial Hall. This monumental white edifice with octagonal blue roof was constructed in honor of Chiang Kai-shek, the "Generalissimo" and first president of the Republic of China after it fled to Taiwan. Three more notable landmarks occupy the same square (see "modern landmarks" section below).
Queen's Head Rock
Of the main coastal rocks with special shapes in Taiwan, Queen's Head Rock stands out as the most famous. It is a popular tourist attraction in Yehliu Geopark on the northeast coast of Taiwan. It has become a symbol of Taiwan and graces many postcards and Taiwan tourism materials. You'll need to wait in a line to take a selfie with it!
Yushan
Taiwan's tallest mountain, Yushan or Jade Mountain, stands 3952 meters –176 meters taller than Mt. Fuji! Most famously viewed from the sunrise point at Alishan National Forest Recreation Area, the mountain is otherwise difficult to see, despite its immense size. It is sometimes called "The Ark" for its high number of rare plant and animal species.
Fo Guang Shan Buddha Memorial
The most famous religious landmark in Taiwan is the enormous Buddha statue and buildings around it at Fo Guang Shan Buddha Memorial in Kaohsiung. It is the largest Buddha statue in Taiwan and houses tooth relics from the Buddha. Open since 2011, it is part of the older and sprawling Fo Guang Shan Monastery, the largest in Taiwan.
Lotus Pond's Temples & Statues
Lotus Pond is an artificial lake in Zuoying, near the Kaohsiung High Speed Rail station. Lining the lake's shore are over half a dozen famous landmarks, including the Dragon and Tiger Pagoda (you can enter the pagoda through their mouths!), a huge statue of the Taoist god Yuandi, and Kaohsiung Confucius Temple. See my guide to Kaohsiung and Zuoying for more info.
Historic Landmarks
For the following historical landmarks in Taiwan, I've arranged them roughly in order from oldest to newest.
Ancient Moon Rocks in Taitung
At the Beinan Archaeological Site near the Taitung city train station, ancient "Moon Rocks" have been unearthed. These monoliths date to the Beinan culture 2500 to 300 BCE. These ancestors of Taiwan's aboriginal people were Austronesians who went on to popular numerous islands throughout the Pacific. The rocks were found when the Taitung train station was being built. See more info in my Taitung guide.
Anping Fort
Anping Fort, also called Fort Zeelandia, was the most important Dutch fort in Taiwan. The Dutch East Company built it in Anping district of Tainan from 1624 to 1634, when they first settled Taiwan. It remains the most famous of the many European-built forts built in Taiwan. Find all the details in my Anping guide.
Baimiweng Fort
Baimiweng Fort is another Dutch-built landmark. Also called Holland Castle, it was a fort and gun placement high up on a cliff just outside of Keelung in Northern Taiwan. Due to its strategic location, it has views of the Pacific on one side and Keelung city and harbor on the other. Learn how to get there in my Keelung guide.
Fort San Domingo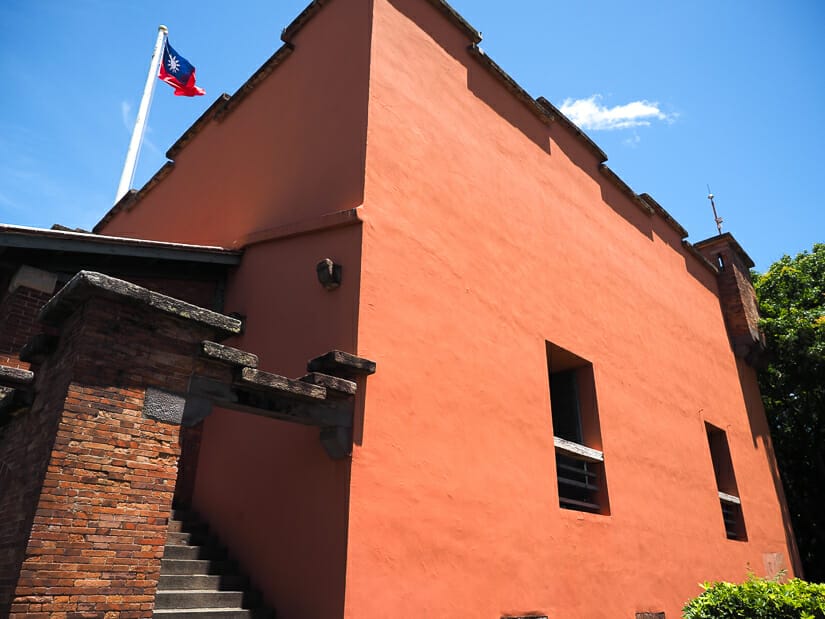 The most famous landmark fort in northern Taiwan is Fort San Domingo (or Fort Santo Domingo) in Tamsui. Built by the Spanish in 1628, it was nicknamed "Fort Red Hair", not because it is red, but because the red-haired Dutch later took over it. The British followed and built their embassy on site. Learn more in my Tamsui guide.
Anping Treehouse
A short walk from Anping Fort is another famous landmark, Anping Treehouse. Tait & Co. Merchant House a warehouse belong to a trading company in Aping District. Sugar, tea, camphor, and opium were once stored there. After it was abandoned, the warehouse was taken over my banyan trees. Today a series of paths and staircases provide access to the "treehouse", one of the most unique landmarks in Taiwan.
Hengchun South Gate
Hengchun is the southernmost township in Taiwan, in Pingtung county, on the way to Kenting National Park. The Old City of Hengchun was built in 1873, and its most famous remaining landmark is Hengchun South Gate. It is the best preserved old city gate in Taiwan and has a traffic circle build around it.
Old City Gates of Taipei
Taipei was originally a walled city. The ancient city walls and 5 city gates were constructed in 1884, just before the capital of Taiwan was moved from Tainan to Taipei. Four of the gates remain today (North Gate, East Gate, South Gate, and Little South Gate). Only North Gate (Beimen) retains its original Qing Dynasty look. East Gate (Ximen) is gone, but Ximending district is named after it and has a modern version on the original site.
Nishi Honganji Relics
These ruins of a Japanese-Taiwanese Buddhist shrine at in Ximending, at the heart of Taipei. The hill-top bell tower is the most recognizable landmark on site today. After visiting the ruins, visitors can enjoy traditional Taiwanese tea in a wooden Japanese building on site – see my Taiwan tea guide for the details.
Red House Ximending
The Japanese built Red House or Red Theater in Ximending, not far from the original West Gate, in 1908, during their colonial occupation of Taiwan. Originally the red brick octagonal and cruciform structure was a market building, then later a theater. It is one of the city's most famous landmarks and the square beside it is the center of Taipei's LGBTQ+ community. See my Ximending guide to learn more.
Presidential Palace
The Japanese also built the imposing Presidential Palace about a decade after Red House. It is located nearly at the center of the five Old City Gates. Like Red House, it combines Japanese and Western architectural styles. Today, Ketagalan Boulevard in front of it is a popular location for national celebrations and protests.
British Consulate at Takow
One of the top historical landmark buildings in Kaohsiung is the former British Consulate at Takow. Dating to 1865, the complex occupies a strategic position atop Shaochuantou peak, with an incredible view looking down on Sizihwan Bay, Cijin Island, and the Port of Kaohsiung (largest in Taiwan) on the other.
Hayashi Department Store
During the Japanese colonial era, Hayashi Department Store in Tainan was the go-to place for the city's urban elite. It was the tallest building in Taiwan at the time and had the country's first elevator. Today, it houses an upscale department store and has remains of a Shinto shrine on the roof. Find out how to visit it in my guide to Tainan.
Remains of Longteng Bridge
Longteng Bridge was a red brick and metal bridge built in Miaoli by the Japanese in 1908. In 1935 it was destroyed by Taiwan's deadliest earthquake and a new bridge was rebuilt nearby. In 1999, the ruins were further damaged by Taiwan's 2nd deadliest earthquake. Today, the bridge ruins remain as a landmark and testament to these two terrible disasters. You can get there by following my Miaoli guide.
Shuinandong Smelter
Shuinandong Smelter, also called the Remains of the 13 Levels, are the abandoned remains of a large Japanese-built copper and gold smelter plant near the famous tourist mining town Jiufen and Jinguashi Gold Ecological Park.
The photogenic ruins are on a hill facing the Pacific Ocean and are a popular shooting location for photographers and music video makers. Teapot mountain, another famous landmark and hike in the greater Taipei area, is visible at the top right.
228 Peace Monument
228 Peace Memorial Park is a large park in Taipei commemorating the 2-28 Incident in 1947, when KMT troops killed thousands to crush an uprising after they occupied Taiwan. At the center of the park is a monument and fountain that was designed by Cheng Tzu-tsai, a Taiwanese dissident who plotted to kill former president Chiang Ching-kuo. He designed it while he was in jail for illegally entering Taiwan years later.
Eternal Spring Shrine
During the construction of the highway through Taroko Gorge (1956 to 1960), some 212 construction workers died. This landmark shrine was built to commemorate them. It is Taroko Gorge's most famous landmark – see Taroko Gorge itself in the natural landmarks section below.
Cigu Salt Mountain
The large salt mountain in Cigu (Qigu) district is a modern landmark, but I put it in the historic landmarks section because it commemorates the history of salt production in Taiwan. Taiwan's salt industry goes back over 300 years to the colonial period. It all came to an end in 2002, after Taiwan joined the WTO and cheaper salt flooded in.
Visitors can even climb to the top of the salt mountain. Learn more about this and other salt-related attractions in Tainan.
Modern Landmarks
I've arranged the following modern, human-made landmarks roughly in order from north to south in Taiwan.
Lover's Bridge, Tamsui
This landmark pedestrian bridge is located at Fisherman's Wharf in Tamsui. The picturesque harbor and bridge are considered the perfect vantage point for witnessing the most beautiful sunsets within easy access of Taipei. It is found right at the point where the Tamsui River flows into the sea.
National Palace Museum
National Palace Museum is one of the largest museums in the world, with a permanent collection of over 700,000 artifacts. This landmark building was built at the base of Yangmingshan (see natural landmarks section) to house artifacts carried over by KMT soldiers from the Palace Museum in the Forbidden City in Beijing.
Grand Hotel
The landmark Grand Hotel in Taipei is also built in the Classical Chinese style. It was the country's tallest building after it was built, from 1973 to 1981. It sits on Yuanshan mountain, where the Japanese-built Shinto Taiwan Grand Shrine once stood. The hotel is also known for its underground air-raid tunnels.
Miramar Ferris Wheel
Taipei's iconic Miramar Ferris wheel is located at Miramar Mall. Just north of the Taipei Songshan Airport and Keelung River, is is visible from many locations, making it one of the city's most visible landmarks. Sitting on the Ferris wheel, one can enjoy a commanding view of the city and Taipei 101.
Taipei Performing Arts Center
The newest Taiwan landmark on my list is the Taipei Performing Arts Center, just opened in 2022, though construction has been going on for a decade. This landmark's signature feature is the huge metallic sphere playhouse that sticks out from the cube-shaped building. Taipei residents compare the building's design to pidan (a local Taiwanese food consisting of a cube of tofu and a century egg).
Sun Yat-sen Memorial Hall
SYS Memorial Hall is another landmark memorial hall in Taipei, though not quite as large or striking as CKS Memorial Hall. This one was built in honor of Sun Yat-sen, the founder and first president of the Republic of China. SYS himself is interred in a mausoleum in Nanjing, China.
National Theater and Concert Hall
These two monumental buildings stand on Liberty Square, along with Chiang Ka-shek Memorial Hall (see most iconic landmarks section). Dating to 1987, they are built in the Classical Chinese style and frame the former attraction. The three monuments together can be viewed from Liberty Arch, yet another landmark on the square.
Agora Garden
Agora Garden, or Tao Zhu Yin Garden (陶朱隱園), is one of the newest but most distinct landmarks in Taiwan. It stands out for its twisting design modeled on a DNA strand and 20,000 trees and shrubs, which can absorb 130 tonnes of CO2 per year. The building is only 400 meters from Taipei, and often used as a feature to frame Taipei in photographs, sometimes photoshopped to look like a pair of buildings.
Nanshan Plaza
A year after Agora Garden was completed, another major landmark sprung up in the neighborhood. Nanshan Plaza is Taipei 101's little brother, less than 200 meters away from it. The building's signature spire's look like praying hands, while an attached building has stepped terraces with trees. At 272 meters, it is the second tallest skyscraper in Taipei and 3rd tallest in Taiwan. But in 2023 when it opens, The Sky Taipei will push it down one spot.
Lanyang Museum
Lanyang Museum in Yilan county is a landmark museum on the east coast of Taiwan with a particularly beautiful design. The museum's shape is inspired by the cuestas, or sloping ridges, which are a common feature along the coast in the area.
Sky Dream
The relatively new Lihpao Discovery Land (an outlet mall and one of the best amusement parks in Taiwan) also features what is now Taiwan's tallest Ferris wheel. Sky Dream stands atop the outlet mall, with a diameter of 126 meters (413 ft). It takes 25 minutes to do one full rotation. It is one of the most popular day trips from Taichung city center (though technically still in Taichung city).
National Taichung Theater
The largest most famous landmark building in Taichung, Taiwan's central city, is the National Taichung Theater. The large opera house's shape is meant to represent frozen music, with curves that flow and change as one walks around it. The theater is often included on day tours of the city.
Starbucks Container Ship Branch
Of the many special Starbucks branches in Taiwan, a landmark location that especially stands out is the one built entirely of recycled shipping containers – 29 of them to be exact. It is located in Ji'an Township, just south of Hualien City on the east coast.
Gaomei Wind Turbine Avenue
To harness the powerful winds coming off the sea, there are wind turbines built in many places along the west coast of Taiwan and Penghu archipelago. However, none as inspiring as the Gaomei Wind Turbine Avenue, which features over a dozen of them along the coast. They are best viewed from Gaomei Wetlands, especially at sunset. Here's my full Gaomei Wetlands guide.
Ci'en Pagoda, Sun Moon Lake
Chiang Kai-shek built Ci'en Pagoda in 1971 for his mother after she passed away. The 12-floor, 46-meter, octagonal tower stands on a hill. From the top, one can gain one of the best views possible of Sun Moon Lake, and the pagoda can be seen from many places along lake's shore.
Shuiyuan Rainbow Suspension Bridge
Of the many famous suspension bridges in Taiwan, I choose Shuiyuan Suspension Bridge to represent them all. Also called Shuanglong Rainbow Suspension Bridge, it is known for being painted with rainbow colors, with a different color every 50 meters. Opened in 2020, it is now the longest suspension bridge in Taiwan, at 342 meters. It is located south of Sun Moon Lake.
Xiying Rainbow Bridge
Of the main pretty pedestrian bridges in Taiwan, Xiyin Rainbow Bridge on the Penghu archipelago is the second but not last one to make my list. The bridge crosses Guanyiting Recreation Area in Magong, the county capital. It is lit up in rainbow lights at night and is the backdrop for the incredible Penghu Fireworks Festival in spring.
High Heel Wedding Church
One of the more unusual landmarks in Taiwan, this is just what it sounds like: a church shaped like a high heel shoe (and yes, it's the largest one in the world). The church is made out of 300 panels of blue-tinted glass and is located in the countryside of Chiayi county. There's another similar church nearby in Tainan called Beimen Crystal Church, except it's not shaped like a high heel shoe…
Kecheng Iron Bridge
Kecheng Iron Bridge in Yuli township, southern Hualien county doesn't really stand out on its own. But what makes it into a noteworthy landmark is the surrounding scenery of rice paddies in the East Rift Valley. Photos of trains passing over the bridge make for one of the most iconic scenes in southeastern Taiwan.
Sanxiantai Dragon Bridge
The most famous landmark on the east coast of Taiwan is Sanxiantai, also called Dragon Bridge or Platform of the Three Immortals. The pedestrian bridge undulates several times on its way to a small island off the coast.
Chimei Museum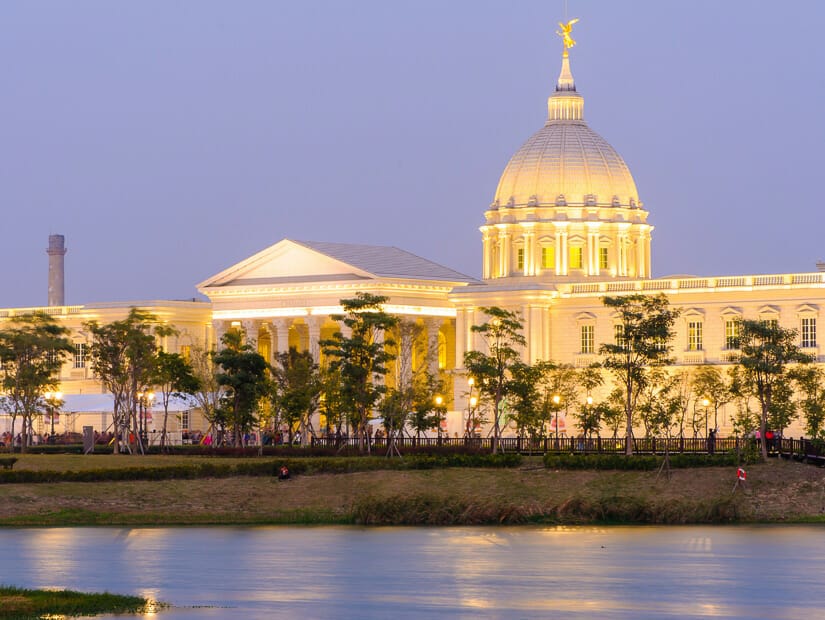 One of the most unexpected landmarks in Taiwan is Chimei Museum, which looks like somehow picked up the Whitehouse from Washington DC and planted it down in Tainan city. The expansive private museum includes, among other things, the world's largest collection of violins. When visitors arrive, they are greeted by a replica of the Bassin d'Apollo fountain from the Palace of Versailles.
Taitung Tree of Life
On the coast in Taitung City stands a bamboo landmark called Tree of Life. Built mainly of bamboo, this is one of several similar monumental works by Taiwanese artist Wang Wen Zhi (王文志). A long pathway leads right into the landmark.
Siaogangshan Skywalk
Siaogangshan Skywalk, or Eye of Gangshan, is a pedestrian Bridge and lookout that is shaped like a violin. The bridges cables replicate violin strings. It has been a popular tourist attraction in Gangshan district of Kaohsiung city ever since it opened in 2018.
85 Sky Tower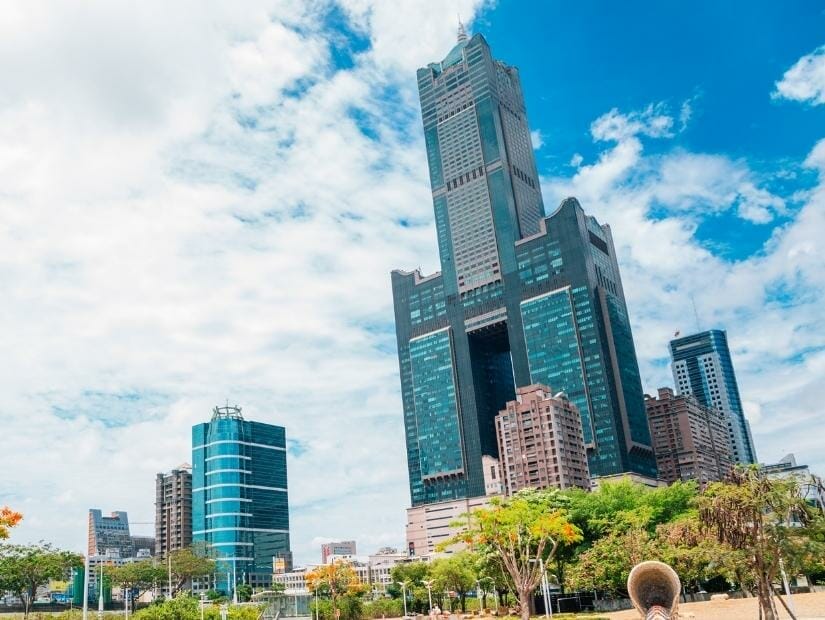 Before Taipei 101, Taiwan's tallest building was 85 Sky Tower in Kaohsiung. At 347 meters, it remains the country's second tallest skyscraper. The landmark building has a prong design, with two separate towers holding up a central third one. The buildings lacks a 44th floor (4 sounds like death in Chinese). You can even spend a night in the tower!
Dome of Light
One of Taiwan's most famous artistic landmarks in the huge Dome of Light art installation in Kaohsiung. The Italian-designed artwork includes over 4500 pieces of glass with changing colors. It is the largest glass work of art in the world. Located in Formosa Boulevard station, at the intersection of the city's two main MRT lines, it is the only indoor landmark in this article.
Kaohsiung Eye
Kaohsiung's answer to Miramar Ferris Wheel in Taipei is Kaohsiung Eye. While it is smaller than its Taipei counterpart, it's total height counting the mall it stands on (Dream Mall) is taller than Taipei's. The Ferris wheel can be seen from many places along the Kaohsiung Harbor and it is a venue for fireworks on New Year's Eve.
Kaohsiung Music Center
One of the newest landmarks in Kaohsiung city is the gorgeous Kaohsiung Music Center. The unique structure incorporates various geometric patterns and shapes from the sea, including waves, seaweed, sea foam, and coral. It sits on a the harborside, near Pier 2 Art Center and looks especially spectacular when lit up at night.
Shoushan Love Lookout
One can fall in love with Kaohsiung from this famous landmark lookout on Shoushan Mountain. There are over 30 decorations related to love on the lookout, including the large word LOVE. Much of the city can be seen from the lookout, include the Love River at the point where it spills into the harbor.
Eluanbi Lighthouse
The last modern landmark I'm going to include fits nicely at the end, for its sits at the southernmost point on mainland Taiwan. Dating all the way back to 1883, the small but memorable white lighthouse produces one of the most powerful lights in the region, lending it the nickname "The Light of East Asia". Its grounds used to be the location of the long-running but now defunct Spring Scream music festival.
Religious Landmarks
While Lotus Pond and Fo Guang Shan are Taiwan's most well-known religious landmarks (see top-6 iconic landmarks in Taiwan section), there are several more worth mentioning. I've mainly left out temples because there are just too many of them. For those, see my guides to the top temples in Taipei and temples in Tainan.
Keelung Kuanyin Statue and Zhupu Altar
Keelung, Northern Taiwan's largest port city, is home to two significant religious landmarks. The white Kuanyin Statue overlooks the harbor and can be seen from many places in town. It stands is a small Buddhist-themed amusement park. You can actually enter and climb up inside the statue! A short walk from the statue is Zhupu Altar, which overlooks the city and is a focal point of Ghost Month, one of the most important festivals in Taiwan.
Laughing Buddha, Hsinchu
One of the largest Buddhist statues in Taiwan is this one of Milefo, the Future Buddha, who in Taiwan is also considered the same as the Laughing Buddha. It stands outside "Nature Loving Wonderland".
This is not an outdoor theme park as the name might suggest, but a huge Buddhist monastery with a network of over 2000 temples around the world. It is on the shore of Emei Lake in Hsinchu county.
Luce Memorial Chapel
This relatively small but iconic landmark graces the campus of Tunghai University in Taichung. The tent-like chapel was designed by I. M. Pei, who has done several of the world's most famous structures, and Taiwanese architect Chi-kuan Chen, and named after an American missionary in China.
Lukang Glass Temple
Lukang Glass Temple, also called Taiwan Huisheng Temple, was built by a glass company beside their factory in Lukang. Besides being built almost totally of glass, it also features a glass representation of Yushan (Taiwan's tallest mountain, see iconic landmarks section above) instead of a god.
Chung Tai Chan Monastery
The huge Chung Tai Chan Monastery holds the title of tallest monastery in Taiwan and in the world, at 136 meters. It is the headquarters of the Chung Tai Chan, one of the four great Buddhist orders of Taiwan. The monastery is located in Puli, Natou, which is a transit point on the way to Sun Moon Lake and Cingjing Farm.
Baguashan Buddha Statue
Speaking of enormous Buddhas, there's another one in Changhua city in Central Taiwan. This 22-meter seated Buddha is part of Baguashan Temple on a hill– watch for it as you pass through Changhua on the train. There statue itself has 6 stories, which visitors can climb up into. See my Changhua guide for more info.
Penghu & Matsu Island Matsu Statues
The goddess Matsu even has a small chain of islands named after her, just off the coast of China. It only makes sense that the most famous landmark on the islands is an immense (28-meter) statue of Matsu, which faces China, where Matsu came from.
In late 2022, Penghu outdid Matsu Islands by erecting an even taller one. It stands 48 meters, making it the world's tallest Matsu statue. Matsu, goddess of fishermen and the sea, is the patron goddess and most popular folk deity in Taiwan. An annual pilgrimage on her birthday in Central Taiwan is the largest one for a goddess in the world.
Anping Matsu Statue
Yet another Matsu landmark in Taiwan I want to include is the beautiful Matsu Statue in Lin Mo Niang (Matsu's human name) in Anping district of Tainan. This statue protects Taiwan and welcomes ships as they enter Anping harbor.
Luerhmen Matsu Temple
Although I said I wasn't going to include too many temples, I can't leave out Luermen Matsu Temple. This landmark temple in Tainan is the world's largest Matsu Temple. It is built on the site of one of the oldest temples in Taiwan. The sprawling complex is protected by two fierce, towering heavenly generals and is surrounded by a moat modeled on the Forbidden City in Beijing.
Natural Landmarks
Last but not least, there are natural landmarks in Taiwan that shouldn't be missed. I'm going to stick to the most famous and obvious ones here!
Yangmingshan
Yangmingshan or Yangming Mountain is a not a single mountain but an entire massif and national parks located half in Taipei City and half in New Taipei City.
The massif is volcanic, which is why there are active fumaroles and many hot springs in the park. You can see Yangmingshan from Taipei, although it is often obscured by clouds. The higher peak in the park is Qixing Mountain (1120 meters).
Shen'ao Elephant Trunk Rock
Spend any time on the coast or one of the small islands of Taiwan and you'll see that they love names rocks after things they look like (often a lot of imagination is needed). However, with Elephant Trunk Rock on the northeast coast, there's no doubt about it. No wonder this coastal landmark has become a major tourist attraction. See how to get there in my Keelung guide.
Shifen Waterfall
Shifen Waterfall in Pingxi district of New Taipei City is Taiwan's widest (40 meters) and most famous waterfall. It is an incredibly popular day trip from Taipei (see this guided trip), often combined with other nearby attractions such as Houtong Cat Village and Jiufen Old Street. These famous spots are all connected by the fun Pingxi train line.
Fun fact: Jiufen means "9 levels" and Shifen means "10 levels". Read other fun facts about Taiwan here!
Turtle Island
Turtle Island, or "Turtle Mountain Island (Guishan Dao / 龜山島)" in Chinese, is landmark small island 10 kilometers off the coast of Yilan in northeastern Taiwan. The island is volcanic, and boat tours going there often see dolphins or sometimes even whales. This landmark makes my list because of its iconic turtle shape, visible from just about anywhere along the Yilan coast.
Dabajianshan
Of Taiwan's many high mountains (268 of them are above 3000 meters!), Dabajianshan (or Mount Sylvania) stands out for its huge tower of rock at the summit. This iconic peak can be seen on Taiwan's 500-dollar banknote, with sika deer in the foreground. It is part of Sheipa National Park (the "shei", also spelled Xue, refers to Xueshan or Snow Mountain, while "pa" (also spelled "ba") refers to Dabajianshan).
Qingshui Cliffs & Taroko Gorge
Two of the most famous and visited natural landmarks in Taiwan are Taroko Gorge and the nearby coastal Qingshui Cliffs in Hualien. Taroko Gorge, the "Grand Canyon of Taiwan", is a deep, dramatic gorge carved out by the Liwu River.
Just outside of the gorge, the Qingshui Cliffs are a series of dramatic coastal bluffs – the east coast of Taiwan is the continental shelf, so there is a huge drop from the mountains here to the deep sea just off the coast. Most Taroko Gorge tours include the cliffs.
Penghu Basalt Cliffs
There is a unique geological phenomenon in the Penghu islands called basalt columbs or basalt cliffs. There stacked vertical towers of stone were formed when lave rose and then cooled multiple times. They can be seen in multiple locations in Penghu, including Xiyu Island, Hujing Island, and more. Find the details in my Penghu guide.
Ancient trees of Alishan
Taiwan's most famous mountain resort, Alishan National Forest Recreation Area, is home to some of the country's largest yet most accessible giant trees. Several of these towering cypress/hinoki natural landmarks are over 2000 years. The largest of the bunch is 2300-year-old "Tree #28" on the Giant Tree Trail, with is 13.1 meters around and 43.5 meters tall!
Moon World
Moon World in Tianliao district of Kaohsiung is a unique badlands or lunar-like landscape. The area features landmark hills created by years or erosion. Visit at night and you'll find that the terrain is made even more unusual with the addition of colored lights on the various barren hills. There is a similar landscape at Caoshan Moon World in nearby Tainan.
Xiaoliuqiu Vase Rock
While northern Taiwan has Queen's Head stone, southern Taiwan's most famous coastal rock formation might just be Vase Rock on Xiaoliuqiu island. Waves lashing the shore of this coral reef island have worn the base of the rock down into a vase shape.
The stone has become a symbol of the island and Taiwan in general. There are several more famous stones around the island, and on Taiwan's other offshore islands, such as Orchid Island.
Well, reader, if you've read all the way to here, I thank you! I'm confident this list of Taiwan's top landmarks is more comprehensive than what you'l find anywhere else. But if I've missed anything obvious, please let me know below!