Dear reader: This article contains links to products and services that I may be compensated for, at no extra cost to you.
Yilan County is the 5th largest of Taiwan's 13 counties and home to about half a million people. It is located in the northeast of Taiwan. Most of the things to do in Yilan are located on the rice-paddy-covered Yilan (Lanyang) Plain, where the main towns of Jiaoxi, Yilan City, and Luodong are located. South of the plains, most of the county is mountainous and inaccessible.
Yilan (宜蘭, sometimes spelled Ilan or I-lan) is often overlooked by visitors to Taiwan, who tend to ride the train right through it when traveling from Taipei to Taroko Gorge in Hualien County. But for locals, especially the 7 million people who live in Taipei and New Taipei City, Yilan is a favorite weekend getaway, with countless possibilities for overnight or day trips from Taipei.
Yilan's attractions range from hot (& cold) springs, beaches and high-mountain resorts to night markets, museums, and quirky treats. Yilan is especially suitable for people visiting Taiwan with kids, with hundreds of small-scale family-oriented museums & leisure facilities. There are too many kid-friendly things to do in Yilan to list in this article, so I've just stuck to some of our favorites. Meanwhile, off-the-beaten-path travelers will find some of the most rewarding things to do in Taiwan in Yilan.
The recommendations I provide in this article come from many years and numerous trips to Yilan with my friends and family. Yilan is the kind of place we never get tired of, either returning continually to our favorite spots (like Jiaoxi hot spring and Wai Ao beach) or driving around and discovering new places.
If you've already done the big sites in Taiwan like Sun Moon Lake and Alishan, it's time for you make some room in your Taiwan itinerary for Yilan!
Yilan Top Things to Do
These are some of the highlights and best places to visit in Yilan, which I'll be covering in great detail below.
Green onion cakes & ox-tongue cookies (all over Yilan!)
Wai Ao Beach
Kavalan Whiskey Distillery
Luodong Night Market
Nanfangao Seafood Harbor
Taipingshan National Forest Recreation Area (best to visit on this day tour!)
Tips for Visiting Yilan
Getting to Yilan
Since Yilan is a whole county, there isn't one single way to get to Yilan. It's going to depend on where exactly you want to go to in Yilan, and even then, you'll have different options for getting there. If you rent a car or hire a driver, this is really going to help for exploring Yilan, as most of Yilan's top attractions are kind of spread out around the county. You can also rent a scooter (IDP needed) outside of Yilan's three main train stations.
There are three major towns in Yilan that provide access to most of the Yilan things to do that I will cover in this article. They are Jiaoxi, Yilan City, and Luodong. I will also provide individual transportation details for most of the places to visit in Yilan listed in this article. Riding the train or bus to Yilan are both good options and take a similar amount of time. Buses can be a little faster, except during rush hour, when train might be a safer choice.
Getting to Yilan from Taipei City by car used to be much slower on the super winding Provincial Highway 9, which goes up and over the mountains. Now, thanks to the Xueshan Tunnel, one of the longest tunnels in Asia, the drive from Taipei to Yilan only takes about 1 hour (double that on a long weekend, though).
When the road finally exits the never-ending series of tunnels and emerges onto the Yilan (Lanyang) Plain, the first town you'll come upon is Jiaoxi. Yilan City, the Yilan County capital, lies south of it, and Luodong is further south on the other side of the Lanyang River.
Getting from Taipei to Jiaoxi
Trains to Jiaoxi from Taipei Main Station or Songshan Station take about 1.5-2 hours and cost TWD100-200.
The bus from Taipei to Jiaoxi is usually faster. And unlike local trains, you'll always get a seat on the bus.
The buses take about 1 hour (longer at peak traffic times). There's no toilet on the bus, so go before you get on!
Getting from Taipei to Yilan City
There are frequent trains from Taipei Main Station or Songshan Station to Yilan City, taking 1.5 to 2.5 hours (TWD140-218). Taroko/Puyuma Express trains only take an hour, but these trains are almost always sold out and don't allow standing tickets.
Buses also depart every 15 minutes or so, taking about 1 hour and 15 minutes (slower at peak traffic times).
Getting from Taipei to Luodong
The same trains from Taipei to Jiaoxi & Yilan City continue on to Luodong, taking a total of 1h45min to 2.5 hours. Taroko Express trains can get you there as fast as 1h15min but, as mentioned above, are very hard to get seats on.
Buses take around 1.5 hours to reach Luodong under normal traffic conditions.
Things to Do in Yilan: Jiaoxi
Jiaoxi (礁溪, sometimes spelled Jiaosi) is my personal favorite town in all of Yilan County and one of my favorite day trips from Taipei. We've stayed overnight here many times to enjoy the excellent hot spring facilities, food, craft beer, and waterfall hikes around town.
Enjoy some of the best hot spring spas in Taiwan
For visitors to Taiwan in winter, Jiaoxi is one of the best hot spring resort towns in Taiwan, with dozens of hot spring spas and hotels to choose from. You can find more details about the village in my complete guide to Jiaoxi Hot Spring.
Almost every hotel in Jiaoxi has its own spa (and often a hot spring tub in your own room), plus some of the best hotel spas are open to non-guests. Overall, spas in Jiaoxi are better value-for-money than those in Taipei at Beitou Thermal Valley.
The only downside is that almost none of the hot springs in Jiaoxi have natural views, even though the countryside around Jiaoxi is quite beautiful if you walk or drive just a few minutes out of town (think lots and lots of rice paddies).
One pair of spas in Jiaoxi stand out above the rest: Chuan Tang Spring Spa Hotel (location 1 / location 2). The hotel spa (guests allowed for a reasonable entry fee) has the best variety of scented and brightly colored hot springs in town, plus a young children's section, scented steam rooms, and more. Both locations are good and only a few minutes' walk from Jiaoxi Train Station.
If you're looking for a private hot spring room try this one or this one or search for others on Klook – there are many.
Go Down a Hot Waterslide
Another fun spa worth considering is the one at Art Spa Hotel (see on Booking / Agoda / TripAdvisor). This one also has a great kids' section, including a really tall hot water slide (older kids only), plus a small selection of colored/scented tubs, tons of massage jets, and more.
You don't have to actually stay in these hotels to enjoy their spas; there are loads of better and cheaper options in town; find the best places to stay here.
If you only want to visit the hot spring and not stay in this hotel, you can book your hot spring experience online here.
For more great hot springs in Taiwan, visit Tai'An in Miaoli County on the west coast or Wulai Hot Spring in New Taipei City.
Let fish nibble your feet in Tangweigou Hot Spring Park
Tangweigou Hot Spring Park (湯圍溝溫泉公園) is a long, narrow walkway/park in the Jiaoxi City Center stretching between Jiaoxi Street (礁溪路五段) and Deyang Road (德陽路).
A hot water stream runs through it and there are numerous spots for soaking your feet and letting fish nibble the dead skin off them. It doesn't hurt, but it's incredibly ticklish! You'll need to pay a small fee for the unusual experience, and you can even enjoy a draght craft beer while you do it (see #4).
Eat the spiciest ice cream you'll ever try
At the southern (Jiaoxi Street) entrance to Tangweigou Park, Chili Hunter is a specialty ice cream shop serving the spiciest ice cream I've ever tried. Not all the flavors are spicy; go for level 0 for non-spicy. But if you are brave enough to try the strawberry ice cream (level 7, the highest) like we did, I can only say that the feeling is similar to burning your tongue. Definitely I'd recommend one of the levels in between.
If you need something to neutralize your mouth, go for one of the delicious green onion cakes served from stalls at the back of the park.
Drink green algae craft beer
Yet another awesomely unusual thing to do in Tangweigou Hot Spring Park is to sample beer crafted by the local Yilan brewery Mai Tian Fresh Brewed Beer (麥田現釀啤酒). Their beers include wheat (小麥), barley (大麥), rye (黑麥), and spirulina (green algae) (螺旋藻).
Are they good? Well, you'll have to try to find out! There are several stalls in the park serving the beer on tap, but our go-to patio for post-hiking beers is a small café called 9號咖啡(德陽店 at the back of the park on Deyang road, behind Maison de Chine Hotel. However, a reader recently informed me that this cafe is now closed/moving. But there are several other cafes in the park selling the same beer.
Soak your feet while feasting on Japanese hot spring cuisine
If letting fish nibble the skin off your feet doesn't sound too appealing, then maybe you'd rather soak your feet in hot springs while you enjoy delicious Japanese food?
You can try Leshan Hot Spring Ramen (樂山溫泉拉麵) right by the train station, but the restaurant is notoriously busy. For a better chance at a spot, their second location, try Rakuzan Ramen (樂山溫泉拉麵二店) near the Jiaoxi bus terminal.
Both of them specialize in hot spring ramen, hot spring eggs, and an assortment of other delicious Japanese foods.
Marvel at Wufengqi Waterfall
The most famous scenic attraction associated with Jiaoxi is Wufenqi Waterfall (五峰旗瀑布), three kilometers west of town. There you'll find an easy hiking trail leads to a series of breathtaking waterfalls.
Getting to Wufengqi Waterfall: You can walk there in about 45 minutes from town, but we often hop in a taxi from Yilan train station and get the driver's number for the return pick-up. They are usually a few vendors selling snacks and local specialties at the entrance to the waterfall trail.
Hike to Yuemeikeng Waterfall
Starting very close to Wufengqi but significantly less known is the start of the trail to Yuemeikeng Falls (月眉坑瀑布). The trail is better for intermediate hikers as you'll need to cross a small stream or two and climb over a few boulders, but the reward is a gorgeous, 3-tiered curtain waterfall that you can even swim under when the water level is high enough.
The return hike takes around two hours. To find the trail from the entrance to Wufengqi, follow the path downhill through the forest to Dezikou River, then cross the Dezikou River Check Dam (得子口溪攔沙壩). Watch for macaques; we spotted a whole troupe of them on this hike!
Things to do in Yilan City
When Taiwanese people say they're "going to Yilan this weekend", they are most often referring to somewhere in Yilan County, not necessarily Yilan City.
While Yilan city is the capital and largest city in Yilan, I'd personally rather stay in Jiaoxi (for hot springs) or Luodong (for the best night market). Some people choose to stay in Yilan city for Silks Place Yilan, one of the top luxury hotels in Taiwan. Its restaurant, Red Lantern, is famous for its Peking duck nigiri.
Go on a walking tour of Yilan City
Starting right in front of the Yilan train station, Jimi Square (Jimmy Park or 幾米公園) is a cute park with many painted walls and statues themed on Jimmy Liao, a Taiwanese artist from Yilan, and the movie Turn Left, Turn Right (向左走·向右走), which he wrote.
Down the street, Happy Station (Happiness Transfer Station or 幸福轉運站) has the same idea, but applied to a bus station. There is also an extremely cute children's playground with indoor and outdoor facilities, including a bus converted into an elephant that kids (or selfie-snappers) can climb up into.
From there, walk 15 minutes to Yilan Distillery Chia Chi Lan Wine Museum (甲子蘭酒文物館), where you can learn about (and of course taste or buy) traditional Taiwanese liquors. For a bit of fresh air, head to the Yilan Riverside Park (宜蘭河濱公園), and don't miss the unique Jin-Mei Pedestrian Bridge (慶和橋津梅棧道).
Another popular thing do in Yilan is to try some traditional Taiwanese ice cream. Just type "Yilan ice cream" into GoogleMaps and you will find loads of shops. I can personally recommend Qilin Ice Cream (search for "奇淋冰品"), one of the most popular among locals (thanks to my Taiwanese friend for taking me there!)
Get local at the Yilan Night Market
By Taiwanese standards, Yilan City's main night market, called Dongmen Night Market (東門夜市), is pretty tiny and doesn't have much selection. On the plus side, it is very local, and prices are cheap, cheap, cheap. If you happen to be spending the night in Yilan, this will give you something to do in the evening.
For a larger and more popular night market in Yilan, check out Luodong Night Market (#20 below).
Play with LEGO at Brick Ark Museum
At the southern end of Yilan City, Brick Ark Museum (積木博物館) is a dedicated LEGO museum. Where else will you get a chance to see a huge hand holding pearl milk tea (made of LEGO bricks)? The museum also has DIY workshops and you can take home what you build, so it's a fun place to visit if you are traveling to Yilan with kids.
It's a little far to walk there, but you can hop on bus 772-1 or 772-2 from bus station at the back of Yilan train station and get off at Yilan County Government stop (縣政府站).
Leisure Farms in Yilan
There are several leisure farms around Yilan where families can meet/pet/feed animals and do a variety of other hands-on and DIY farm activities. Some also have hotels where you can spend the night – I've linked to those below.
Here are just a few that you can consider adding to your Yilan itinerary. I've mentioned ever more green onion-focused ones further below in the article.
Things to do in Northern Yilan County
Besides the Jiaoxi and Yilan City centers, there are plenty of other things to do spread out around them. This section covers everywhere in Yilan County north of the Lanyang River, besides Yilan City and Jiaoxi, which I already covered above.
Hike the Caoling Historic Trail
Once described by Lonely Planet as the most worthwhile hike in all of Taiwan, the Caoling Historic Trail follows a route that once was the only connection between New Taipei City and Yilan County. It also makes my list of the best hikes within short distance of Taipei.
Beginning near Fulong Beach in New Taipei City, the trail climaxes at a section of high mountain grasslands (watch for buffalos!) and bluffs overlooking the Pacific Ocean above Dali (大里) in Yilan. A more difficult (but even more scenic) continuation follows the Taoyuan valley along the bluffs, ending near Daxi (Dasi or 大溪).
The most popular time to walk the trail is in autumn, when the silvergrass blooms and paints the hillsides along the hike a silvery gray.
Hit the surf at Wai Ao Beach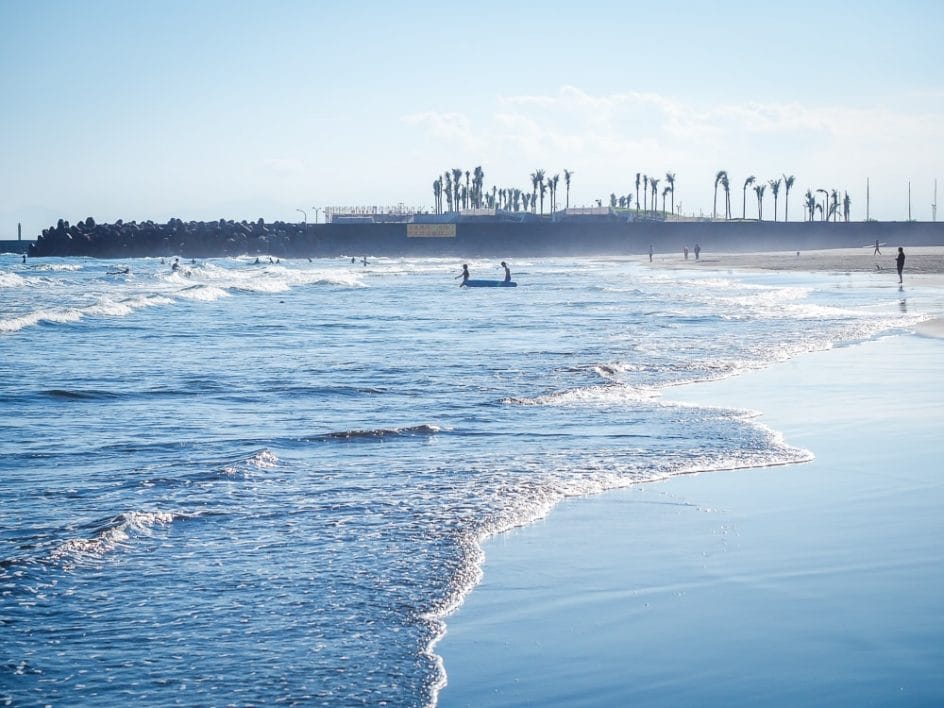 The most popular beach in Yilan County, and one of the best beaches within easy reach of Taipei, is Wai Ao (外澳).
Wai Ao is the best place to try surfing in northern Taiwan, especially for beginners. You can hire surfboards right on the or from one of the several surf shops behind the southern (surfing) end of the beach.
If surfing is not your thing, you can also ride a horse on the beach near Wai Ao!
Getting to Wai Ao: You'll have to travel about two hours on the slow train from Taipei to get here, but when you see that long stretch of sand and incredible view of Turtle Island (see below), you'll realize it's completely worth it.
For beach lovers, also see my list of other great beaches in Taiwan.
For the best surfing beach in southern Taiwan, see my guide to Dulan, Taitung.
Visit Turtle Island (Guishan Island)
Guishan Island is one of Yilan's most recognizable landmarks. Also called Turtle Island, but literally "turtle mountain island" (龜山島), the island is known for its turtle-like shape and is located 10.5 km off the coast of Toucheng in Yilan. The island is formed by the only active volcano in Taiwan (although Yangmingshan may be active as well), and it is Yilan's largest and only inhabited island.
A variety of boat tours run from Wushi Harbor (烏石港), which is just south of Wai Ao beach, to Turtle Island (March to November only). I recommend this Turtle Island tour, which includes dolphin watching, a boat ride around the island, and you get to stop on the island and climb to the top of 410 Peak, the island's main peak.
Read about Taiwan's other small islands here.
Learn more about Yilan at Lanyang Museum
Between Wai Ao and the town of Toucheng, Lanyang Museum (蘭陽博物館) is right on the coastal highway and worth a visit. The museum delves into local Yilan topography and history.
The museum's exterior is also quite a sight, designed to mimic the cuestas (hills or ridges that are gentle on one side and abrupt on the other) that are common in the area.
The museum is included on this Yilan day tour from Taipei.
Take a stroll down Toucheng Old Street
Of the many "old streets" in Taiwan, Toucheng Old Street (頭城老街) is one of the least lively, but I still include it here for anyone that may be passing through and want to take a quick look.
Unlike the others, you won't find loads of food stalls or people, but instead a quaint neighborhood of old residential buildings where you can get a real feel for old-time, small-town Taiwan. It's pretty much empty during the week but does get a little busier on weekends.
We usually make a quick stop at A-Zong Taro Ice Cream (阿宗芋冰城) on the main road near the Old Street for some delicious old-fashioned Taiwanese ice cream.
Sample some of the world's best whiskey at Kavalan Distillery
The multi-award winning Kavalan Whisky Distillery is one of the most well-known sights in Yilan. Come here to join a free distillery tour (Mandarin only), which includes one sample at the end. To arrange an English tour and/or a "bottle-your-own whiskey" experience, you'll need to contact them via their website.
Kavalan distillery is included on this Yilan day tour from Taipei.
Getting to Kavalan Distillery on your own: The distillery is located in Yuanshan Township, directly west of Yilan City. To get there, you can take bus #752 (only 7 per day) from Yilan Train Station (about 30 minutes) or hop in a cab. The next entry is just down the street.
Get your craft beer fix at Jim & Dad's Brewery
If you prefer beer to whiskey like I do, then don't worry, Yilan has still got you covered! Only 15 minutes on foot from Kavalan, you'll find Jim & Dad's Brew Company (吉姆老爹啤酒工場), another local institution.
The brewery adds unique touches to their brews with local Yilan ingredients (for example kumquat IPA or smoked plum marzen), and their handsome taproom is worth the trip. We visited with my wife's family, only to find out that one of the owners was my father-in-law's old friend!
Make your own candy & chocolate at Sophisca
One of the many Yilan attractions appealing to families is Sophisca (菓風糖果工房), a candy and chocolate shop with some hands-on, candy making activities for kids. It's not a reason to travel all the way from Taipei, but a fun little stop if you happen to be Yilan with kids. They've even got vegan options and chocolate lipstick!
The candy store is located a little ways southwest of Yilan City in Yuanshan District; if you don't have a car, it may not be worth the journey.
Admire the variety of plant life in Artemis Garden
On a weekend trip I made to Yilan with my wife and her Taiwanese friends, one of our best finds was Artemis Garden (香草菲菲/芳香植物博物館), a beautiful greenhouse in a quiet corner or Yuanshan township, just before the Yilan plains give way to the mountains.
The large, bright greenhouse is filled with all manner of local flora, perfect if you are looking for something special to take back to your apartment in Taipei (I got a carnivorous flower!) There are staircases leading up to ramps covered in hanging plants; it's quite a beautiful place to visit, and there's a small café inside.
Bus #752 (the same one that goes to Kavalan Distillery) also continues on to here. It's quite a journey from Yilan Station though (about 45 minutes) and there are only a few buses per day. Get off at Artemis Garden/Taiyangpi (太陽埤) stop.
But your Artemis ticket online here, with the option to add afternoon tea.
Be surrounded by pumpkins at a Pumpkin Leisure Farm
Of the many "leisure farms" I've been to in Taiwan (I covered leisure farms for a whole year while writing for Travel in Taiwan magazine), this is one of the smaller but more interesting ones I've been to. I found it when I went on a weekend trip to Yilan with a cram school I was working for at the time.
Pumpkin Farm Yilan (旺山休閒農場-主題南瓜園) is off-the-beaten-track (you'll need a car to get there) on a small road east of Yilan City. It is exactly what it sounds like; a pumpkin farm aimed at domestic tourists. Don't expect a whole lot to do, but do expect to take a whole bunch of fun pumpkin pics.
Besides admiring the rather picturesque rows and tunnels of pumpkins, kids can do a few DIY activities, and eat (or drink!) a variety of pumpkin-based treats, like roasted pumpkin, pumpkin pizza, pumpkin soup, and more. I had to try the pumpkin coffee, and it was actually pretty good!
Things to Do in Yilan: Luodong
Luodong township is the second largest urban center in Yilan County. There isn't a whole lot to do there, but it is a transportation hub for accessing many of the Yilan sights around it, and a good place to spend the night if you're traveling with a group.
Some people also like to take an express bus from Taipei to Luodong and then hop on the train to Hualien from there as a faster (or less crowded) way to reach Taroko Gorge from Taipei (or coming back).
Happiness Yes Inn (see on Booking / Agoda ) is a kid-friendly hotel in central Luodong with ball pools, slides, children's beds and more!
Feast on snacks at the best night market in Yilan
Luodong Night Market (羅東夜市) is the largest and best night market in Yilan County, eclipsing the much smaller Dongmen Night Market (#9) in Yilan City. Here you can expect the typical crowds and variety of snacks that you would find at any of the great night markets in Taipei or elsewhere in Taiwan.
Getting to Luodong Night Market: the night market is located 750 meters (10 minutes' walk) west of Luodong train station.
Stay in a Luodong Minsu
There are literally hundreds of minsu (民宿 or local guesthouses) in and around Luodong, catering primarily to local families and groups. If you're traveling with a large family or group of friends, this is a great place to rent a beautiful house in a quiet area surrounded by rice paddies, but you'll probably need your own wheels to get to most of them.
You can find many of these house rentals here or Booking or here on Agoda. Just open the map function and search around Luodong and you will see many of them!
Go for a stroll at Luodong Forestry Culture Park
Luodong Forestry Culture Park (羅東林業文化園區) is a lovely park which exhibits, statues, locomotives, and more devoted to the area's former logging industry. It is built around a large pond where logs were once floated in off the river to store.
Getting to Luodong Forestry Culture Park: It is free to visit and located 10 minutes' walk north of Luodong Train Station.
Hang out with cats in a cat cafe
As Yilan is a leisure-focused destination, there are dozens, perhaps even hundreds of cafes across the county, including several cat cafes. One of the best cat coffee shops in Yilan is Cats' Day (猫的生活提案) in Luodong. The cafe features pretty standard food and drinks, but the real draw is all the kitties to pet. There's a second floor with elevator access.
The cafe is a few minutes walk west of Luodong Train Station, near Luodong Night Market (#20). You can find other cat coffee shops in Yilan by simply searching "cat cafes" on GoogleMaps. Find many more cat cafes in my guide to cat cafes in Taipei and across Taiwan.
Other Things to do in Southern Yilan County
South of the Lanyang River, the plains surrounding Luodong are dotted with attractions. More so than north of the river, you are going to need your own transportation to get around here, although some of the sights do have infrequent bus services or slow trains from Taipei.
Heading south along the coast past Su'Ao Cold Spring toward Hualien County and Taroko Gorge, the coastal scenery becomes increasingly dramatic. Most of Yilan County is actually made up of mountains, which visitors can most easily access at Mingchi National Forest Recreation Area and Taipingshan.
I'll cover the sights in this part of Yilan in roughly a clockwise directions, starting to the north of Luodong, and finishing in the mountains to the west.
Visit museums dedicated to pencils and crayons
If you've got kids (or maybe just prefer quirky museums?), Yilan's got both a pencil and a crayon factory/museum. Rabbit Pencil School (玉兔鉛筆學校) is just north of Luodong and was the first company to produce ballpoint pens in Taiwan.
Lucky Art Crayon Factory (蜡藝蠟筆城堡) is further south, heading toward Su'Ao Cold Springs (see below) and close to Xinma Train Station. This is a popular spot for families. There's even a super tall rainbow colored slide inside! You can buy your ticket online here.
Both facilities cater to school groups and will appeal mainly to visitors with kids, with a number of displays and activities on offer.
Spend a whole afternoon at the Yilan National Center for Traditional Arts
One of the biggest attractions in Yilan is the National Center for Traditional Arts (國立傳統藝術中心) in Wujie Township, east of Luodong. The huge, nearly 20-year-old, government-run facility is devoted to preserving and promoting traditional arts in Taiwan.
Here you can learn about traditional arts such as Taiwanese opera, woodworking, and jewelry making. You can also buy Taiwanese crafts and sample local foods. There are various workshops and hands-on activities, and many sections have beautiful settings worthy of backdrops for photos.
You can buy your ticket online for a small discount and the option to add a shopping coupon, river boat ride, or DIY experience. The center is also included on this Yilan day tour from Taipei.
How to get to National Center for Traditional Arts Yilan: Take bus #241 from Luodong Station, departing at 10:00, 12:00, or 14:00.
Cool off at Dongshan River Water Park
If you're visiting Taiwan in summer with kids who love water, definitely drop by Dongshan River Park (冬山河親水公園), a large outdoor children's pool and spray park (a rarity in Taiwan), connected to the riverside cycling trails.
As a parent (and a person who is always too hot here), I wish there were more parks like this EVERYWHERE, especially in Taipei. See here to learn about other waterparks in Taiwan.
Dongshan River is also where Yilan's races usually take place during the Dragon Boat Festival, one of the most important traditional festivals in Taiwan.
Getting to Dongshan River Park: take bus #241 from Luodong Station, which only departs three times per day. It's the same bus that goes to the National Center for Traditional Arts.
Cycle along Dongshan Mr. Brown Avenue
One of the best way to experience the Lanyang (Yilan) Plains is to hop on a bike, and Dongshan Mr. Brown Avenue is one of the best places to do this. The bikeway is named after the Mr. Brown Boulevard in Chishang, Taitung, which has similar scenery (read more in my guide to the East Coast of Taiwan from Hualien to Taitung).
Take the regular train to Dongshan Station (one stop south of Yilan), hire a bike, and off you go! The 21-kilometer-return easy ride takes in beautiful rice paddies, and the Wushierjia Wetlands. Cross Lizejian Bridge to reach Dongshan River Park.
The scenery is incredible, so do consider getting a good cycling camera for your bike!
Ride a kayak through the rice paddies
There's a brand new experience in Klook which allows you to ride a kayak through the rice paddies in Yilan. I have yet to try this myself, but it looks really fun!
You'll need to get there yourself (there's a location link in the Klook description – it's east of Luodong). Minimum age is 6, and only kids 8 and up will get an hour.
Uncover the history of pearl milk tea
If you're a huge bubble tea fan, and you've already made a pilgrimage to the homeland of bubble tea in Taichung, your next step is to check out this cute little museum devoted to the sweet chewy drink.
The Kili Bay Pearl Milk Tea Cultural Center (奇麗灣珍奶文化館) is devoted to this history and culture of Taiwan's most famous drink. You can even make your own bubble tea in a DIY activity.
The center is a little out of the way, located near the coast in Su'Ao township. Kuokuang bus 1812 from Taipei to Nanfangao (see #31 below) passes nearby; get off at Longde Industrial Park (龍德工業區) stop. Be warned that it's a really slow bus ride. You could consider visiting here by bicycle from Dongshan Mr. Brown Avenue (see #27 above).
Camping or Glamping in Yilan
There are numerous locations for camping and glamping experiences in Yilan. Usually almost everything you need is provided and there are various family friendly activities on offer. It's best to find out exactly what is included before booking.
A few you can consider are this one, this one, this one, this one, this one, and this one. I told you there are a lot!
Beat the heat at Su'ao Cold Springs
Su'ao (蘇澳) is Taiwan's most famous cold spring village. Here on the east coast of Taiwan, right at the point where the Yilan plains meet the rugged coastal mountains of Hualien, carbonic acid mineral water bubbles out of the ground.
The springs truly are cold, so you'll want to save this for a hot summer day. There are a few facilities in town where you can enjoy the water, some for a fee, and some for free. Most of them are pretty run down, though. See this article for more info and details about visiting Su'ao cold spring. You can also stay in this resort in Su'ao (see on Booking / Agoda), which has both hot and cold spring facilities.
The train from Taipei to Su'ao takes about three hours, or about 30 minutes from Luodong to Su'ao. Bus 1879 from Yuanshan MRT in Taipei is faster, getting there in about 2 hours.
For a more natural (but harder to reach) cold spring experience, see #33 below.
Eat super fresh seafood at Nanfangao Harbor
Of the many harbors in Taiwan where fresh seafood can be purchased and eaten right on the pier, Nanfangao (南方澳, sometimes written Nanfang'ao) is one of the best. You may remember Nanfangao from the news, when on October 1, 2019, a bridge across the harbor suddenly crashed, killing six people.
Like most harbors in Taiwan, you'll find multiple seafood restaurants around it, catering to families and groups. But for the most local experience, head to the Nanfangao Fish Market (南方澳觀光漁市場), where the vendors display the catches of the day. The takeaway trays of super cheap & fresh sashimi are irresistible!
Choose whatever you'd like on one side of the market, then bring it over to the other side where one of the simple eateries will cook it up for you on the spot, along with your choice of veggies, noodles, rice, beer, etc. This is a true Taiwan dining experience!
Getting to Nanfangao Harbor: Kuokuang Bus 1879 (same as #30) travels from Yuanshan MRT in Taipei to Nanfangao in about 2 hours.
Check out the view at Nanfangao Lookout
If you've got your own vehicle (or some extra energy to climb the stairs behind Zhen An Temple or 鎮安宮), head to Nanfangao Lookout (南方澳觀景臺), a lookout point with a panoramic view of the entire Nanfangao harbor.
This is also a popular stop for anyone driving down the coast from Yilan to Hualien.
Get off the beaten track at Dongyue Cold Springs
Going south past Su-Ao, the Suhua highway (Su'Ao to Hualien highway) becomes a winding, slow-moving, and incredibly scenic drive. After going way up and then way down to pretty Dong'ao Bay, a little detour off the highway around the aboriginal town of Dongao will bring one to remote Dongyue Cold Springs (東岳湧泉, also called Dongao Cold Spring or 東澳冷泉).
This is a more natural and completely non-touristy version of Su'ao cold spring, and people from the immediate area are the main ones who frequent it. It gets pretty busy in summer, and don't be surprised if friendly locals offer you a beer. The train line passes by on an overpass practically right above the cold water pools.
Without your own vehicle, you could walk here from Dongao train station, which is a 2.5 to 3-hour ride from Taipei.
If you travel further south from here, you can visit remote Nan'ao Beach falls (南澳滴水坑瀑布) and Aohua Waterfall (澳花瀑布) before reaching Hualien County.
Adventure seekers: You can also ride an ATV on a beach or go river tubing around Dongao!
Things to Do in the Mountains of Yilan
Now we jump over to the area lying to the west of Yilan, at Meihua Lake (#34) and Sanxing (#35), before heading up into the mountains of southwest Yilan County.
If you're interested in exploring this gorgeous region, then we would recommend Locasu Bed & Breakfast (see on Booking / Agoda).
These lovely cabins are in a perfect location for exploring all of the following attractions, with a pretty setting near the river. Stay here if you love a quiet stay away from the city (and you have your own wheels).
Admire beautiful Meihua Lake
Meihua Lake (Plum Blossom Lake or 梅花湖) is a tiny, pretty lake southwest of Luodong. You can take a pleasant stroll around the lake, hire a bike, or relax in one of several cafés. It's a popular spot for local families and youths to kick back.
Getting to Meihua Lake: join this Meihua Lake tour from Yilan or take bus #281 from Luodong bus/train station to Meihua lake stop, which departs five times per day.
Eat green onion cakes in Sanxing village
All of Yilan county is famous for green onion cakes (蔥抓餅, also known as green onion pancakes or scallion pancakes), and the tiny village of Sanxing (三星, or Sanshing) has the most famous of them all. These are one of the top-10 street foods in Taiwan! You can even see the name Sanxing on various green onion cakes vendors in Taipei night markets.
What makes them so good? Well, for starters, green onions grow all over Yilan, so the onions used are fresh & local. Second, they tend to fry them in a TON of oil, so they greasily delicious. Note than not all green onion cakes are vegetarian. See how to ask in my Taiwan vegetarian guide.
The most famous local spot in Sanxing to try them is on Sanxing Road Section 7 (三星路七段), where two extremely popular street-side green onion cake stalls across the street from each compete for business: Apo Green Onion Cakes (阿婆蔥油餅) and Luo Family Green Onion Cake (羅家蔥捲餅). They are both located a short drive west of the Sanxing town center, heading towards the mountains. In the Sanxing town center, you can try 蔥蔥蔥蔥油餅 or 小梅蔥油餅.
When you order, you'll have to answer two important questions: egg or no egg, and spicy or not spicy. Say yes to both.
You'll need to drive or ride a scooter to get here.
DIY green onion picking and making your own cakes
Besides just eating green onion cakes, you may want to try picking green onions and making green onion cakes by yourself. These are family-friendly DIY experiences and a great way to learn about local Yilan culture and food.
The Sanshing Green Onion Culture Palace (三星青蔥文化館) is a small museum devoted to green onion cakes. Groups with bookings can pick green onions and learn how to make the pancakes. It is located in the Sanxing town center.
Sinbow Green Onion Experience Farm (星寶蔥體驗農場) is another sport just west of town offering a similar experience, plus they've got dwarf donkeys, sika deers, and other animals.
Soak in remote hot springs
At the base of the mountains a short drive west of Sanxing, there are a handful of wild and developed hot springs along Provincial Highway 7, also known as the Northern Cross Island Highway.
The first is a remote wild hot spring called Fan Fan Hot Spring (梵梵溫泉), which has two sections on the Fan Fan Stream: 梵梵溫泉A區 and梵梵溫泉B區 . A second one is Ribs River Hot Spring (paigu wenquan or 排骨溫泉), which is located near where the highway 7 veers away from the Lanyang river and up into the mountains toward Mingchi National Scenic Area (see #39).
For a developed hot spring facility, head to Jiuzhize (Renze) Hot Springs (鳩之澤溫泉) at the bottom of the drive up to Taipingshan (see below).
Cook hot spring eggs
Besides soaking in hot springs in Taiwan, you can also cook eggs in them! Due to the temperature of the water, the eggs cook slower than normal hard boiled eggs, achieving a gooey texture on the inside that is extremely delicious!
Water Geothermal Square (清水地熱廣場), which requires a drive into the hills from Sanxing, is a hot spring park where you can cook eggs, corn, and even prawns in the hot water. There are also foot soaking pools.
Another spot to do this is just outside the popular Jiuzhize Hot Springs (see below) at the start of the long winding road up Taipingshan. You can buy eggs there for cooking in the water.
This Taipingshan and Jiuzhize Hot Spring day tour from Taipei or Yilan includes a stop to cook eggs (but doesn't include soaking in the hot spring).
Soaking at Jiuzhize Hot Spring
After cooking your eggs, go for a stroll on the Jiuzhize Nature Trail (鳩之澤自然步道). This includes crossing a beautiful river valley on the Dauwan Suspension Bridge (多望吊橋).
After hiking, go for a soak in the popular Jiuzhize Hot Spring (鳩之澤溫泉). One of the best parts of this hot spring is sitting in one of the hollowed out stones in the hot spring pool (see image above).
It's best to get here on your own. You can take the bus there, but there's only one bus per day in each direction. It is the same bus that goes from Yilan to Taipingshan (see final entry of this article). If you want to take it to Jiuzhize, it means you will have to spend around 5.5 hours at Jiuzhize, which is a little long.
If you want to do this, bus 1750 departs from Yilan station at 7:40 AM. The bus stop is here. it will arrive at Jiuzhize around 9:30 AM. Going back, the bus will depart from Taipingshan at 2:30 PM, and pass Jiuzhize around 3 PM (go to the bus stop early just in case).
Eat (& drink) tea at a tea-themed restaurant
Have you ever heard of tea cuisine? This is a special style of dining that has developed in Taiwan (and maybe some other tea producing regions in the world?) in which tea, tea oil, and tea leaves are used to prepare all the dishes in a meal.
You find this kind of food in several places in Taiwan, but one that we found just by searching around our hotel in the area was 田媽媽玉露-茶葉大餐 in a tiny village across the river from Sanxing.
We were the only guests when we dropped in on a random weeknight. We feasted on deep fried tealeaves, Taiwanese guabao with tea sauce, meats, tofu, and noodles cooked in tea oil, and of course lots of tea to wash it down. This is truly a unique style of food, and I would highly recommend it!
To find more places like this, see my article on tea in Taiwan.
Walk around stunning Mingchi Lake
Mingchi National Forest Recreation Area (明池國家森林遊樂區) is a name that all Taiwanese people know. The main focus of the park is picturesque Mingchi Lake.
The gorgeous alpine lake is located near the highest point of the (very winding) Northern Cross-Island Highway. The lake is often shrowded in mist, and it's an easy 30-minute stroll around it. Our kids' favorite part were the ducks, swans, and turtles.
There is one large facility near the parking lot, Mingchi Villa (明池山莊), offering rooms and cabins, and popular among local families and tour groups.
Explore Taipingshan National Forest Recreation Area
If you loved Alishan National Scenic Area, then you will also enjoy visiting 1950m Taiping Mountain (Taipingshan or 太平山). This less-visited peak offers fresh air and a network of trails through high mountain forests of cypress, pine, maple, and cedar, which were once logged by the Japanese.
Since there's only one bus per day to Taipingshan, and you have to get to Yilan city super early to catch it, it's most convenient to take this Taipingshan day tour from Taipei or Yilan.
One of the highlights of visiting Taipingshan is riding the Bong Bong Train (蹦蹦車). Like the Alishan Forest Railway, it was once used to haul wood. Another similarity is that it was closed to the public due to typhoon damage. After being closed from 2012 to 2018, the Bong Bong Train is up and running again!
Taipingshan is also one of the best places for seeing snow in Taiwan in winter. There isn't always snow there in winter, but when there is, it will usually be announced in the news, and masses of people will flood there. Even when there's no snow, if you visit Taipingshan in winter, expect it to be very cold, especially when riding the Bong Bong Train.
To enter the scenic area, you'll need to pay TWD150 (weekends 200), and a ride on the Bong Bong Train costs TWD180. On weekends and other popular times, there can be a very long wait for the train.
There's only one very basic, park-run accommodation at Taipingshan, and it can be difficult to get a booking.
Getting to Taipingshan: Only one bus, Kuoguang bus #1750, departs per day from Yilan (7:40 a.m.) and Luodong (8:00), arriving at Taipingshan at 10:30. The bus returns from Taipingshan at 14:30. To make life easier, take this day tour that includes Jiuzhize, or this tour that only focuses on Taipingshan.
Cuifeng Lake
Cuifeng Lake (also spelled Cueifong Lake, Cuifenghu, or 翠峰湖), is a gorgeous alpine lake with various hiking trails and lookout points around it. The lake is a 30-minute drive further up the road from the main tourist area of Taipingshan, and there are no buses that go up there.
To visit Cuifeng Lake, you'll either need to drive or join this Taipingshan Day Tour and choose the Cuifeng Lake option, or this other day tour. You can also spend the night at a simple, park-run accommodation there, but it can be very hot in summer and very (very!) cold in winter.
Well, I hope you've found enough ideas here to plan a lifetime of fun trips to Yilan, Taiwan! Let me know if there's anything I should ad to the list, as we are always looking for new places to explore! !