Dear reader: This article contains links to products and services that I may be compensated for, at no extra cost to you.
Like any season, winter in Taiwan comes with some ups and downs. The winter weather in Taipei and the north of Taiwan is not ideal, but it's the perfect time to soak in Taiwan's incredible array of thermal hot springs. In the tropical south, however, it can still be warm enough to hit the beach.
Taiwan in winter also comes with a smorgasbord of holidays and festivals. What's more, cherry blossoms come into full bloom, not to mention the fact that it is even possible to see snow in Taiwan in winter, not to mention go skiing!
It may surprise you to learn that according to tourist arrival numbers, December is actually the most popular month of the year to visit Taiwan (this may have something to do with when other countries are on holiday).
Meanwhile January is the second slowest month of the year, while February and March pick up again. And while winter in Taipei can be chilly, spring in Taiwan has lots of rain and summer in Taiwan is TOO hot. As you can see, there's really no "high," "low," or perfect season to visit Taiwan (although autumn is my personal favorite for these reasons!)
In this article, I will help you decide whether winter is really the best time of the year to visit Taiwan FOR YOU, and I'll provide all the tips and info you need for planning your Taiwan winter trip. I'll also cover winter and Christmas events in Taipei and across Taiwan, including where to see the best Christmas lights and even sit on Santa's lap!
Taiwan Essentials

Join my Taiwan Travel Planning group on Facebook to ask any questions, and see my detailed Taiwan traveling guide and guide to daily life in Taiwan.

Sign up for Klook using my referral link to get a TW$100 credit and find significant travel discounts in Taiwan.

Find out whether you need a Taipei Fun Pass in my detailed review.
When Is Winter in Taiwan?
Winter generally lasts from December to March in Taiwan. December is a transitional month; it can be surprisingly warm, especially in recent years, but at some point in the month winter does really kick in, and you'll definitely want to dress extra warm to watch those New Year's Eve fireworks at Taipei 101!
January and February are the peak of winter in Taiwan. Late January to late February is also when Taiwanese people have a week off work (and students usually 2-3 weeks off school) for the Lunar New Year holiday; see my detailed guide to visiting Taiwan during Lunar New Year for all the information about what will be open and closed at that time.
Winter usually persists into March, and by the end of the month, spring gradually arrives. I've also got monthly guides for visiting Taiwan: Taiwan in December, Taiwan in January, Taiwan in February, and Taiwan in March.
Taipei Winter Weather
Taipei and other parts of Northern Taiwan have the chilliest and wettest weather in Taiwan in winter. The entire season is characterized by gray skies, occasional drizzling rain, and damp, cool weather that chills you to the bone. There are still sunny days, though, so it's not as bleak as it sounds.
The average temperature in Taipei in winter is the mid teens Celsius (around 60°F), but when it drops as low as 8°C (46°F), it can feel REALLY cold (and I speak as a Canadian from the icy prairies). It's the humidity that makes it feel much colder than the number indicates, plus the fact that most homes don't have internal heating.
January and February are the months when you will really feel this in Taipei, but this winter weather often carries on well into March. By the end of March, it usually starts warming up to more comfortable temperatures.
Not sure if winter in Taipei is for you? See my detailed guide for the best month to visit Taipei.
Read my guide to where to stay in Taipei or search for the best hotels in Taipei on Booking or Agoda.
Taiwan Winter Weather
Most of Northern Taiwan and the northern east coast of Taiwan, including Yilan County, Taroko Gorge and Hualien City, have similar weather to Taipei in winter.
However, head further south and all of that will change. Cities and counties on the central west coast, including Hsinchu, Miaoli, Taichung, Changhua, and Yunlin are significantly drier than Taipei in winter, and a few degrees warmer.
Once you cross the Tropic of Cancer in Chiayi county to Tainan, Kaohsiung, Pingtung, and Taitung, the climate in Southern Taiwan becomes decidedly tropical, which means there's less of a difference between summer and winter. You can expect the temperature to be about 5 degrees warmer than in Taipei most of the time, with almost no rain.
In the far south of Taiwan, such as Kenting National Park, the sea is warm enough to swim in year round (some days can be quite windy though), and the surfing never stops at Dulan in Taitung (but waves are rougher in winter). You will, however, want to avoid the offshore islands like Green Island, Orchid Island, and Penghu in winter, when the weather can become cool and very windy, and many services close for the season.
It is still possible to visit high mountain resorts such as Cingjing Farm (1748 meters) and Alishan (2500 meters) in winter. The average temperature at Alishan at the peak of winter is a high of 10°C (50°F) and low of 6°C (43°F).
Sun Moon Lake sits at 748 meters, so you can expect it to be a few degrees cooler than in nearby Taichung.
Does it Snow in Taiwan?
Yes, it does snow in Taiwan! But almost exclusively on the tops of high mountains deep in the island's Central Mountain Range. It is extremely rare to see snow in any major cities or lowland areas in Taiwan, and many Taiwanese have never touched or even seen snow in their lives.
That's why, in late January of 2016, the locals in Taipei City were ecstatic when a few inches of snow fell on Yangming Mountain and other areas on the edge of the city. There were even traffic jams of locals driving up to see it. My family and I witnessed people driving down from the mountains with little snowmen built on the front of hood of their cars, and cute videos immersed on social media showing kids (and adults) playing in snow at the side of the road for the first time.
The same thing happened again in early February 2018. However, these are freak occurrences, and certainly not the norm in Taiwan. Even if you visit Taiwan in the middle of winter, you should not expect to see any snow unless you venture deep into the high mountains.
Even at Alishan National Scenic Area (2500 meters), seeing snow in winter is not guaranteed. I went there once at the peak of winter, and I only saw some frost on the Alishan Forest Railway tiles in the early morning. It was still very cold though!
Where to See Snow in Taiwan
If you are truly determined to see snow in Taiwan, then there are certain mountains that offer the best opportunities. The first is Hehuanshan, which is practically synonymous with snow in Taiwan. In fact, Hehuan Mountain even had a ski lift years several ago, used by the elite during the Martial Law period. The ski lift is still visible to those hiking to the mountain's east peak.
To see snow at Hehuanshan, you'll need to drive up winding Highway 14A to Wuling Pass (3275 meters), Nantou County, the highest navigable pass in Taiwan. Wuling (武嶺) is not to be confused with Wuling Farm (武陵農場) 1.5 hours away in Taichung, a famous place for leisure activities and flower viewing.
Heads up that if there has been a recent announcement of snow on the mountain, the narrow road going up can be totally clogged with the vehicles of locals driving up to see it.
Without your own vehicle, you can try this Cingjing Farm and Hehuanshan tour from Taichung (minimum 2 people required).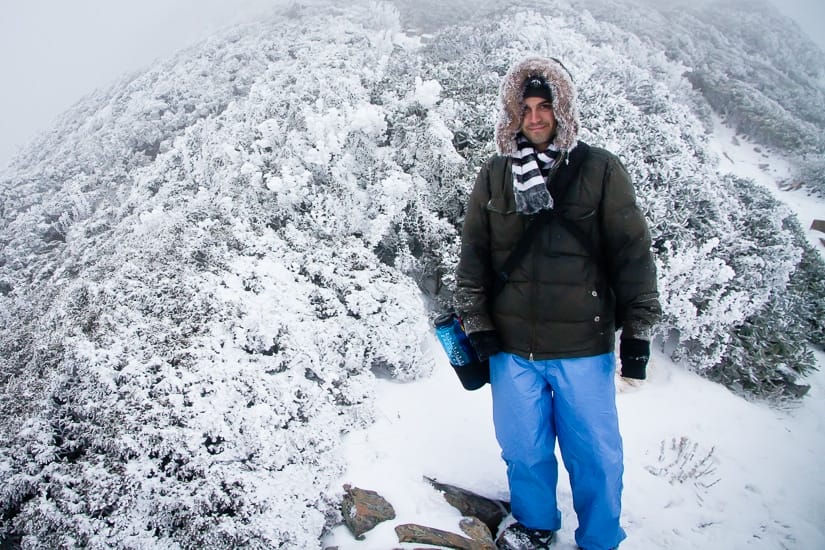 Some other mountains that offer a good chance of seeing snow in winter in Taiwan are Jade Mountain (玉山 or Yushan, the highest mountain in Taiwan and Northeast Asia), Snow Mountain (雪山 or Xueshan), and Taipingshan (太平山) in Yilan County.
Hiking to the first two peaks requires two full days of hiking, and permits need to be arranged well in advance. Please contact me for my recommendations on the best local guides. For Taipingshan, you can take a bus up to near the summit and hike around to see the snow, when it's there.
I personally hiked to the peak of Yushan, but it was in summer so I didn't see any snow. But when I hiked Snow Mountain in February, there was loads of it! I'm surprised we even made it to the top, because there was so much snow, and we couldn't see anything from up there. Still, it was one of my most incredible experiences in Taiwan.
Did you know that it is still possible to go skiing on Taiwan? Don't get too excited though. It's a tiny, indoor facility with human-made snow, located at Little Ding-Dong Science Theme Park in Hsinchu. See more information in my guide to the best Taiwanese theme parks.
For a fun winter idea, try taking a cooking course in Taiwan! There are many great ones to choose from.
What to Wear in Winter in Taiwan
For Taipei, you'll want to bring multiple layers. A thin thermal shirt is great to keep your body warm, and you'll definitely want a good sweater or jacket to put on top of it. A winter hat is also good for keeping warm.
Locals can be seen wearing full-on winter jackets, scarfs, and other winter gear at this time, but if you are more used to cold weather than they are, a thin jacket or good hoodie will likely suffice. I'm from a really cold city in Canada, and while it's true that the type of damp cold in Taipei really gets under your skin, so long as it's not raining, there are winters when I'm still wearing a T-shirt outside half the time, except for those few weeks each winter when the temperature really drops.
While the rain volume in these months isn't high compared to spring or summer in Taipei, when it does come, it tends to drizzle for days on end, making everything feel even damper and colder. A waterproof parka can be very handy, but an umbrella isn't as essential of an item as it is for those insane summer downpours. You can also pick one up from any convenience store if you do end up needing it.
Keep in mind that most houses and cheaper hotels in Taiwan are not internally heated, so if it's cold outside, it can feel like practically the same temperature inside. Therefore, a pair of super comfy PJs or warm indoor clothing can be useful as well.
If you're planning to spend most of your time in the south of Taiwan, it is less likely that you are going to need any kind of winter clothes. Bring a light jacket or sweater just in case. Traveling along the east coast or anywhere near the sea in Taiwan, however, it can be quite windy.
On the other hand, if you're heading up to Alishan, you are going to want full-on winter gear, especially if you plan to wake up in the early morning to stand around shivering and waiting for sunrise. They do sell winter hats, gloves, and even jackets at Alishan's tourist village, just in case you forgot or don't want to pack them.
Things to Do in Taipei in Winter
One of the most obvious (and best) things to do in the winter in Taipei is to head to Beitou Hot Spring. Weather you want to have a romantic date with a private hot tub, blend with locals at the public springs, dine on hot spring ramen, or just stand mesmerized before the steaming Hell Valley, Beitou is the place to be in winter in Taipei.
Here are all my recommendations for the best things to do in Beitou Thermal Valley, including the best hot spring spas for every budget.
Besides Beitou, the only hot spring in Taipei City, you can also visit other hot springs within a short distance of the city, including Wulai, Jinshan, and Jiaoxi in Yilan County.
Or, if you don't want to leave the city center, you can bathe in a private hot spring at JSL Hotel. They use water brought in from Wulai Hot Spring!
Another favorite way Taipei people stay warm in winter is by spending hours upon hours enjoying hot pot (火鍋) with friends. There are countless hot pot restaurants in Taipei and they are easy to spot.
The quintessential soup base to choose in winter is mala or "mouth-numbing spicy", which will warm your body through and through (and numb your mouth thanks to those delicious Sichuan peppercorns). Vegetarian options are also available!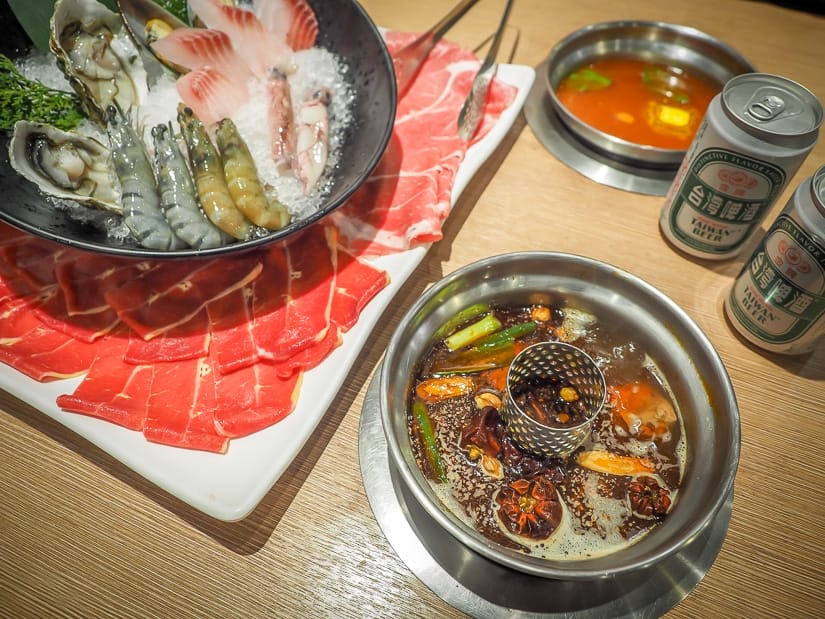 Most hot pot places are all-you-can-eat affairs with two-hour time limits, and these often include unlimited beer and Häagen-Dazs ice cream. Just type "hot pot" into GoogleMaps to find one near you, but they can be packed! Fancier ones are à la carte and focus on higher quality ingredients; my personal favorite is Tripod King.
Another fun way to stay warm outside is by visiting one of Taipei's many night markets, where crowds and steam coming off the foods create a warmer atmosphere, and a variety of belly warming foods are served. See my list of the best street foods in Taiwan to decide what to eat!
Seeing Santa Claus in Taipei
Christmas is not a family holiday in Taiwan, nor is it a day off from school or work. But shops, malls, and even the government take Christmas decorations pretty seriously in recent years. For those traveling to Taipei with kids, you can even sit on an Asian Santa Claus' lap and see a huge Christmas tree inside the Regent Taipei.
In December of 2020, Santa was at the Regent from early December until December 31 (weekdays 18:00-21:30, weekends + December 24 & 25, 12:00-17:00 and 18:00-21:30).
Other Christmas Events in Taipei
In winter of 2020/2021, Taipei held a free Christmas Fair a Gongguan Water Park from November 28 to December 31, with Christmas lights, performances, and other activities. Two main days with lots of activities will be Saturday, November 28 and Saturday, December 19.
From December 25 to 27, 2020, there was also be a German Christmas Market at the Flora Plaza at Yuanshan Expo Park (MRT Yuanshan Station). If you just want to see some Christmas lights, then usually Xinyi Area (信義區) around Taipei 101 and all the big shopping malls, as well as the area around Zhongshan MRT station usually have nice displays.
But for the ultimate Christmas in Taiwan experience, you absolutely must pay a visit to Christmas Land in Banqiao, New Taipei City. The huge plaza between Banqiao train station and New Taipei City Hall is filled with an over-the-top display of Christmas lights, including tunnels of lights, Christmas concerts, and more. Try for a weeknight to avoid the worst of the crowds, and avoid the first few days it is open, and the days closest to actual Christmas Day; the lights attract a sea of people!
In 2020-2021, Christmasland ran from November 13 to January 3.
New Year's Eve is also celebrated with enthusiasm in Taiwan, with the country's largest event being the wild fireworks display shot off from Taipei 101.
Literally hundreds of thousands of people crowds into the streets of Xinyi District to watch, including an area which hosts concerts and announcements that is popularly televised across the country.
Visitors to Taipei in January and February will want to pay attention to when Lunar New Year falls that year (Feb. 12, 2021, Feb. 1, 2022). In the weeks leading up to it, Dihua Street in Dadaocheng becomes swamped with locals buying new year's supplies; it can be fun to experience.
During the Lunar New Year holiday, many things close in Taipei. See my detailed guide to traveling to Taiwan during Lunar New Year to find out how best to plan your trip.
On the 15th day of the Lunar New Year, the Lantern Festival is celebrated with the famous mass lantern releases in Pingxi, New Taipei City (the mass releases usually take place on several days around the actual festival date).
Warning: it is incredible crowded and takes hours of battling crowds to get there and back. In Taipei City, a different neighborhood every year hosts an impressive display of lanterns; in 2020 it was in Ximending and Nangang.
Note that the 2021 Pingxi Sky Lantern Festival and Taipei Lantern Festival have been postponed.
The first cherry blossoms appear in Taipei in January at Pingjing Street (Shilin District) and in Wulai. In February (or sometimes not until early March), the best place to see them is Yangmingshan, while in march, Tianyuan Temple in New Taipei City, one of Northern Taiwan's most impressive temples, has arguably the country's most stunning display.
Azaleas (Taipei's official city flower) and calla lilies usually also start blooming in mid- to late-March. See more information in my guide to visiting Taipei in March.
If the weather sucks outside, it can also be a good time for indoor activities such as visiting the National Palace Museum or the city's many art galleries. Find all the details in my recommended Taipei itinerary, or more ideas in my list of the top 50 Taipei attractions.
Things to Do in Taiwan in Winter
There are virtually no places that you can't get to just because it's winter in Taiwan. I would only say to avoid the offshore islands, which can be very windy, cold, and most traveler's services close down. One exception is if you'd like to go windsurfing in Penghu.
Therefore, I would still suggest following my detailed Taiwan itinerary for 1 week, 2 weeks, or 3 weeks for traveling around Taiwan, or my Taiwan itinerary with kids for those traveling with little ones.
These of course includes Taiwan's most famous attractions: Jiufen, Taroko Gorge, Sun Moon Lake, and Alishan. Taroko Gorge is just as magnificent even when skies are gray (in fact, low hanging clouds can make it even more stunning), and to beat the cold, head to this secret hot spring.
Sun Moon Lake can be fairly chilly in winter, but when the sky is clear (which is more likely in that part of Taiwan in winter), it is every bit as beautiful. Make sure to check out the Sun Moon Lake Pass deals before you go. Meanwhile, visiting Alishan in frosty winter can be quite the experience, just make sure to dress in full winter gear.
The perfect antidote to cool weather in Taiwan is the country's many hot springs. Some of the best ones include Jiaoxi Hot Spring in Yilan, Jianshi Hot Spring in Hsinchu, Tai'an Hot Spring in Miaoli, Ruisui Hot Spring in Hualien, Zhiben Hot Spring in Taitung, and Guanziling Mud Hot Spring in Tainan.
Winter is also strawberry season in Taiwan, and one very popular thing to do (among locals) is to head to Dahu, a small township in Miaoli, that is famous for its strawberry U-pick farms. You can read about our experience strawberry picking in Dahu here.
Another cool thing to do in winter is Taiwan is to visit Gaomei Wetland in Taichung or Sicao Green Tunnel in Tainan. Many migratory birds, including the black-faced spoonbill, can be seen in those two popular attractions in winter.
If you want to completely avoid the cold, wet weather in Northern Taiwan, then head to the far south, such as Dulan in Taitung, Foguangshan Monastery in Kaohsiung, Kenting National Park in Pingtung (where the weather can still be warm enough for the beach), or to Kaohsiung and Tainan (where "winter" means pleasantly warm days).
Winter is also a fine time for exploring the culinary and artistic attractions of Taichung, including famous Rainbow Village. It can be borderline chilly, but at least there's less of a chance of rain than in Taipei.
For the best places to see cherry blossoms around Taiwan in winter, try Wuling Farm (in Taichung, but usually reached from the east coast) in February, while Sun Link Sea (Shanlinxi or 杉林溪, located past Xitou Monster Village) and Formosan Aboriginal Culture Village (beside Sun Moon Lake) in Nantou County, as well as Taian Police Station in Taichung are best in March.
Finally, the last of the cherry blossoms in Taiwan can be seen at Alishan in the first few weeks of April, but you'll need to book a room in Alishan way, way in advance, or just go for a day trip.
See here for more information on traveling around Taiwan during Chinese New Year, and my 50 favorite things to do in Taiwan at any time of year.
Conclusion: Is Winter a Good Time to Visit Taiwan?
While December is the most popular month to visit Taiwan by tourist numbers, once the chilly, gray weather kicks in, most tourists seem to be scared away in January and February. This is probably worsened by the fact that most of Taipei shuts down and it can be hard to travel around the island during Chinese New Year.
Still, winter has a lot going for it, whether you want to avoid crowds, bask in hot springs, see cherry blossoms, enjoy one of the many winter festivals, or even seek out snow in Taiwan. Moreover, much of the island actually remains warm in winter, so this may be ideal for anyone who wants to avoid the intense heat of spring and summer. If you decide winter is the best time to visit Taiwan, then embrace your decision, plan it well, and you will surely have a wonderful trip!