Dear reader: This article contains links to products and services that I may be compensated for, at no extra cost to you.
One of Taiwan's hidden gems is Taroko Gorge's Wenshan Hot Spring (文山溫泉, also sometimes spelled Wunshan Hot Spring or Taroko National Park Hot Springs), located in Xiulin township of visually stunning Hualien County.

The awe-inspiring scenery, hidden location within a famous national park, and relative inaccessibility of this Hualien hot spring make it, in my opinion, one of the most intriguing of Taiwan's hot springs, and one of the top places to visit in Taiwan for nature lovers, especially for those visiting Taiwan in winter.
UPDATE

This article was originally published in 2016. Wenshan Hot Spring is sometimes completely inaccessible and the pools may look different today than they appear in my photos, depending on water levels and recent changes made by Taroko National Park administration. Please note that breaking any signs forbidding access could result in a fine. According to recent reports and comments from readers, access has become slightly more difficult than what I describe below, but is still possible.
The 2007 edition of Lonely Planet Taiwan that I used on my first trip to Taroko Gorge (太魯閣), Taiwan's most famous natural attraction, listed this Taroko Gorge hot spring first in its section of things to see in Taroko Gorge, stating,
"How we miss this place…At the time of writing, they (the springs) were still closed pending a final decision by the park's administration. We believe the decision will be in favor of opening this springs." (Here's the latest edition of Lonely Planet Taiwan)
Well, these Hualien hot springs were never technically reopened. For years the springs were blocked with several fences; one in particular in a tunnel on the trail down from the highway was nearly impossible to get around.
When we visited in 2016, the springs seemed to be "semi" open. What this means is that that tunnel gate had been removed, and only one, easy-to-circumnavigate gate just before the final staircase down to the springs stood between visitors and what was once regarded as one of the best hot springs in Taiwan. Today, Taroko National Park website does not even mention the hot springs.
Please see my full write-ups on Taroko Gorge and my two articles about road tripping on the east coast of Taiwan: Yilan & Hualien, and Hualien to Taitung for more information about traveling in the area.
Besides these hot springs near Hualien, hot spring lovers should also check out my guides to Beitou Hot Spring, Jiaoxi Hot Spring, Wulai Hot Spring, Tai-An Hot Spring, and a few more wild hot springs in my guide to Yilan County.
History of Wenshan Hot Spring
The road through Taroko Gorge, which now forms the first 19 kilometers of Provincial Highway No. 8, or the Central Cross Island Highway (中部橫貫公路), was first constructed by the Japanese in the 1910s. By 1914 it went as far as Tianxiang (天祥, also spelled Tienhsiang), a tiny village at the head of the valley.
Wenshan Hot Springs were first discovered by a Japanese military officer 2.5 kilometers up the valley from Tianxiang, and the springs were named Shenshuei Hot Spring after him. By the 1930s, Taroko Gorge was popular among Japanese tourists, and these hot springs in Hualien were a must-do on visitors' itineraries.
The construction of a permanent Central Cross Island Highway began in 1956 and was opened to traffic in 1960. At this time, the hot spring was renamed Wenshan, and the Taroko hot springs became a must-do on visitors' itineraries.
Destruction of Wenshan Hot Spring
On April 3, 2005, a rockslide above Wenshan Hot Spring resulted in one death and seven injuries. In summer of the same year, the Hualian region was lashed by four powerful typhoons. Typhoon Longwang (颱風龍王) was particularly destructive, bringing heavy rains, floods, and further landslides. The two-meter dam that elevates Wenshan Hot Spring from the riverside was covered in mud, and 30 meters of protective railing were destroyed.
Considering that landslides tend to happen in succession, the national park administration decided to close off the hot springs to the public due to the threat of more landslides. For years, it was possible to still "sneak in" to Wenshan Hot Spring, as we did in 2016 (see details below), but in the late 2010s, they made further changes to make the springs totally inaccessible. According to one reader, the pools themselves have also been completely destroyed by the park, and signs warn of even heavier fines than before.
You can find some images of Wenshan Hot Spring before it was destroyed by searching "文山溫泉"; I've included a couple below from a Mandarin-language blog that no longer seems to be live.
How to Get to Wenshan Hot Springs Today
All of the information that follows was written based on our visit in 2016, and may no longer be relevant or correct today.
The fastest way to travel from Taipei to Hualien is by flying. See here to book a Taipei to Hualien flight from Songshan airport in the Taipei city center. Alternatively, you can catch the regular train to Xincheng (Taroko Gorge) Station or Hualien Station and rent a scooter from there (license may be required).
A final option is to rent a car in Taipei or Hualien or at the Taoyuan International airport.
Wenshan Hot Spring is located at kilometer 166 on Provincial Highway No. 8, about 2.5 kilometers past Tianxiang. It is easily accessible by scooter or bicycle, but you could also catch any of the buses that terminate at Tianxiang and walk the rest of the way.
You could also charter a private car and knowledgeable driver from Hualien or all the way from Taipei. There is a small parking lot on the river side of the road just before a tunnel with the Chinese characters 泰山隧道.
Enjoy visiting remote, off-the-beaten-track locations? Check out Orchid Island in the far south of Taiwan or Miaoli County in Central Taiwan.
The entrance to the path is no longer roped off like it used to be, though there are still some warning signs. Within less than a minute of walking, you will get your first view of the hot spring beside the Dasha River (大沙溪) 70 meters below.
The stairs going down are in fairly good condition but can be quite slippery. The trail passes through a small tunnel that used to be blocked by a metal gate, as well as an old changing room that is no longer in use.
Next, you cross a short suspension bridge across Dasha River that gives you a great view of the springs. At the end of the bridge, there is a gate blocking the final staircase down to the left, but it is very easy to climb around. The final descent is the steepest and slipperiest, with no railing on the side, jagged rocks at face-level, and a lot of damage on the stairs. Proceed with extreme caution. (2021 note: recent visitors say there is no longer a gate at the end of the bridge, but that the stairs have been removed, so now you have to climb down a walk wall using a rope).
The two large, shallow pools that are visible from above are no longer filled with hot spring water. At the riverbank, you can see the twisted remains of the old railings that were washed away in typhoons. Over the edge and right at the river's edge two meters below, visitors have arranged stones to create two small pools in which the hot spring water mixes with cool river water (2021 note: these riverside pools seem to be larger and a little better maintained now).
The river was flowing quite strongly when we visited due to continuous rain in the prior weeks, so we decided not to climb down.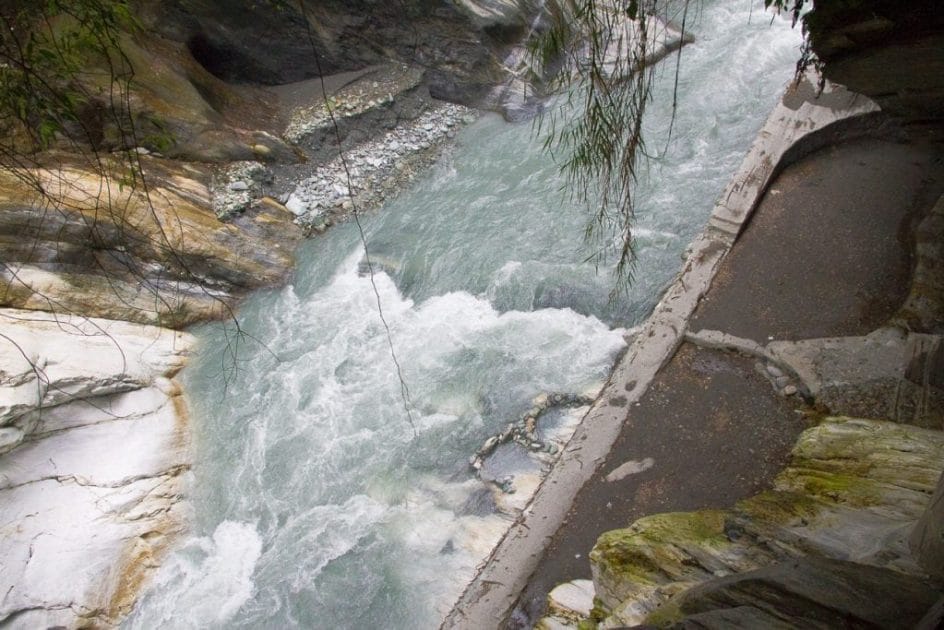 Besides those two pools, the only remaining pool that you can easily soak in today is hidden around the corner to the left in a small cave about 3 meters above the river. The water is piping hot, at about 48 degrees Celsius (118 degrees Fahrenheit). (2021 note: this pools have reportedly been destroyed).
It is so hot that you will have to enter it inch by inch, and even once you sit down, you won't want to move around much because the movement of the water creates a burning sensation on your skin. The hot spring water here is of the carbonic acid variety.
Carbonic, or carbon dioxide springs are said to lower blood pressure, while acidic ones are said to have an antibacterial effect and be good for the skin.
Overall, what made Wenshan Hot Spring truly stunning is the surrounding scenery of the Dasha River Valley, the lack of crowds that characterize other sights in Taroko Gorge, and the adventurous feeling of visiting somewhere you aren't really supposed to. You could also get a pretty good feeling for how impressive these springs must have been in their heyday.
Warning about Wenshan Hot Spring
Taroko Gorge is subject to frequent landslides that cause an ever-changing landscape within the gorge, not to mention occasional deaths. When we visited in April 2016, for example, there was roadwork being done on a major landslide just above the Swallow Grotto (燕子口), one of the most popular stops in Taroko Gorge, and the highway was only open in both directions at the following times daily: 6:30am to 8am, 12:00pm to 1:30pm, 5pm to 6:30pm.
Therefore, it is essential to stay informed of, and obey, current restrictions set by the Taroko National Park headquarters. As of 2021, the park is supposedly no longer actively trying to stop people from visiting the springs, but this could change at any time, and even in the past, they've given vague answers every time I've tried to ask weather visiting the springs is permitted. They seem to have purposely left it a gray area for years, so visit at your own risk.
Hopefully someday in the future this stunning, secluded hot spring will be restored to its former glory.
Looking for other adventure activities in Hualien? Try whale watching, sea kayaking, paragliding, river trekking, SUP (stand up paddle boarding), or an aboriginal cooking course.

Also see my article on riding a hot air balloon in Taitung.