Dear reader: This article contains links to products and services that I may be compensated for, at no extra cost to you.
Orchid Island (Lanyu or 蘭嶼) is a small volcanic island located 64km off the southeast corner of Taiwan, directly east of Kenting. It is a volcanic island of breathtaking natural beauty and is home to the country's most isolated aboriginal tribe, the Tao, who are famous for their annual Flying Fish Festival.
Planning a trip to Orchid Island comes with a few challenges, but visiting may also be one of the most rewarding and memorable places to visit in Taiwan. Although it is well off the coast, Orchid Island is part of Taitung county, and you'll find it on my list of favorite things to do in Taitung.
Below I'll outline the most recent information available about planning a trip to Orchid Island based on our visit in May 2019, and updated with the latest information for 2023. Two nights (one full day) is the absolutely minimum time you'll want to spend on Orchid Island, but we found three nights (two full days) to be perfect.
If you want to avoid the challenges of planning your trip, this 3-day Orchid Island tour is a surprisingly good deal that includes ferry tickets, accommodation, scooter, scuba diving, breakfast, a guide, a night tour, and insurance.
Orchid Island is considered one of the main offshore islands of Taiwan – to learn about others, read my guides to Penghu, Xiaoliuqiu, and Cijin, and Heping Island in Keelung. Or learn about them all in my list of the best outlying islands in Taiwan!
Orchid Island Essentials
Orchid Island is one of the best places in Taiwan to go scuba diving and snorkelling. You can book your scuba experience or snorkelling experience here, both offered by Blue Ocean House Diving Resort.
The Islands of Taiwan by Richard Saunders is an essential guidebook. We relied heavily on it, but in this article I will mention several points that have changed since the book was published. Song of Orchid Island by Barry Martinson is a snapshot of Orchid Island in the 1970s before much contact with the outside world. Martison is a priest who spent a year on Orchid Island teaching children. He still lives in Taiwan and I met him once on a volunteer project!
There are only two ATMs on the island and it sometimes they don't work. Bring all the cash you need!
Orchid Island and the Tao Tribe
Orchid Island is 45km-squared in size, about three times as large as more popular and accessible Green Island 60 kilometers to the north. A very thin strip of flat land circles the island, separating steep cliffs and a mountainous, inaccessible interior from the sea. The highest mountain on the island rises 552 meters from the sea.
You really can see beautiful orchids flowering all over the island, including a night blooming variety. Orchid Island is also known for having really beautiful butterflies.
The Tao tribe (more correctly spelled Dawu or 達悟族, and often referred to as the Yami (雅美族), the name given to them by the Japanese) are ethnically closer to the Philippines than Taiwan, and likely arrived from the former around 800 years ago. The Tao people refer to Orchid island as Pongso no Tao or "Island of the People."
Traveling around Taiwan? See my recommended Taiwan itinerary here!
Besides their isolation from the mainland of Taiwan, several unique cultural characteristics set the Tao apart from Taiwan's other 16 officially recognized aboriginal tribes. Most famous among them are their beautiful hand carved wooden canoes, which can hold 1-3 people, but the longest Tao canoe ever built measures 11 meters and was paddled all the way from Orchid Island to Taipei.
Making a canoe is a rite of passage for men, and its completion involves an inauguration ceremony in which the men wear white loincloths. You can see these canoes on the rocky beaches of Orchid Island's six villages, or watch for the especially large one in front of the Taitung train station or a smaller one in the Beitou Museum in Taipei.
Another unique characteristic of the Tao people of Lanyu is their underground homes. Because Orchid Island lies directly in the path of multiple typhoons every year, the Tao developed a tradition of building underground homes for protection.
Only the roof rises above ground, and a ditch drains excess water away. I'll mention below the best places to see and even stay in a traditional underground home on Orchid Island.
Another of Taiwan's smallest aboriginal tribes is the Thao people. Read about how you can experience Thao culture in my guide to Sun Moon Lake.
Today there are only 3100 Tao people on Orchid Island. Most of them can speak Mandarin (with an interesting accent) but not English. They are not big fans of being photographed, nor do they like people wandering into their yards or homes to gawk at them (both understandably). Therefore, you may notice that I don't actually have any photos of Tao people in this article.
In the two days we spent there, we exchanged numerous smiles and hellos with locals, but never quite breached the awkwardness of approaching or "chatting up" the locals. Our guesthouse was owned by a Tao person, but he was almost never around, and we mostly dealt with the young Taiwanese people hired to staff the hotel.
In fact, there are 1000+ mainland Taiwanese people who reside on the island for temporary work in hotels and restaurants. Most of the interactions with had with Tao people were in the simple shops and eateries in the traditional village where we stayed (see below), and we found the elderly Tao very warm and eager to teach us a few words of their language (read about Taiwan's various languages here).
We also noticed a distinct lack of young Tao adults on the island. There were few teens to be seen hanging out or ripping around on scooters like you see in most aboriginal communities in Taiwan. The most common places we saw locals were farming the fields and drinking or chatting in groups (or snoozing) on the elevated platforms found around the island, usually beside homes or facing the sea.
Read about other great places to visit in Taitung in my articles on Dulan Surfing Beach, Luye and the Taitung Hot Air Balloon Festival, and my doing a road trip from Hualien to Kenting.
The Orchid Island Flying Fish Festival
Besides canoes and underground dwellings, the other most famous feature associated with the Tao is the Flying Fish Festival. Water currents bring schools of flying fish to the island in spring, and the Tao calendar is divided into seasons according to the arrival and departure of the fish. Therefore, the Flying Fish "festival" is more like a season, with various associated activities and rituals.
The dates of these rituals change every year and are different in every village, so you can't expect to be able to show up on Orchid Island and catch one of these events. I actually made numerous attempts to get information about events when planning our trip, and was not able to find out any details about specific ceremonies.
If you are very lucky, you may happen to come upon a ceremony marking the start (or end) of the fishing season during your trip. If you do, please share your experience below in the comments!
Still, spring is a great time to visit because the weather is great, and not too hot like in summer when most Taiwanese visitors come and fill up the island's limited number of guesthouses. The flying fish season lasts from March to June. At this time, you may see flying fish on the water if you take the ferry over.
Around the island, you will see photogenic racks of flying fish hanging to dry in the sun. When we visited, flying fish was featured on the menus of most restaurants, and some breakfast shops even served flying fish dan bing (a thin crepe that is a typical breakfast dish across Taiwan). Flying fish is one of the more difficult items to check off my bucket list of 101 Taiwanese foods to eat, so here's your chance! I'll mention numerous places you can try flying fish below.
Summer marks the end of the flying fish season, while in winter the Tao rely on dried supply that has been prepared, as well as farmed water taro and sweet potato.
There's also a local fruit called 林投 (Pandanus tectorius) that we saw everywhere there. It looks like an orange pineapple, and the juice we tasted from it was pretty good. It's not very sweet, but they mix it with honey water.
You can read about other interesting Taiwanese festivals here.
How to Get to Orchid Island
Probably the biggest challenge you'll have in planning your Orchid Island trip is simply getting there. There are two main options: flying or taking the ferry.
I'll start with flying because that's how we went there. First, you'll need to get to Taitung, which takes 3.5 to 5 hours on the local train from Taipei (NT604 to 783). Alternatively, you can fly from Taipei's Songshan Airport to Taitung.
There are usually eight DailyAir flights per day from Taitung Airport (10 on weekends, fewer in winter), and each plane only has 19 seats. The flights go on sale exactly two months before the date of departure and sell out very quickly. If you can get a seat, it's really worth it, and it's an exhilarating ride! Our return fare was just under NT3000 per person.
The Daily Air website is in Mandarin only, but you can call 078014711 to make a reservation, and they do speak English. You'll need your passport, and after reserving, you'll have to log on to the website and pay with a credit card (my international one worked). If you can't read Mandarin, you'll probably need a person who can to help you with this part.
Once you pay on the website, you don't have to print a ticket. You need to arrive at the airport 40 minutes before departure, and the flight takes 40 minutes (counting boarding time). The Taitung Airport is a 15-minute (NT200) taxi ride from Taitung train station.
Getting to Orchid Island by ferry is more common because there are many more seats available and it's easier to get them. But the ferry ride takes three hours and is notoriously seasickness-inducing. Ferries also don't run in poor weather.
Ferries depart from two locations. The first is Fugang Harbor (富岡漁港), where ferries also go to Green Island. It's a 15-minute drive (NT 200) from the Taitung train station or 25 minutes (NT300) from the Taitung Airport. A daily ferry to Orchid Island (March to October) also usually departs from Houbihu Harbor (後壁湖漁港), a 20-minute drive from Kenting Main Street in Kenting National Park. Please note that these ferry details are subject to change.
You can book your ferry tickets online departing from either harbor, in season only. Here's another ferry service if the first one doesn't work out.
Getting to Kenting involves taking either the High Speed Rail to Zuoying (book discount HSR tickets to Zuoying station here) and then the shuttle bus to Kenting. You can also take the regular train to Kaohsiung station, then a bus (2-3 hours) or shared taxi (1.5 hours) to Kenting.
Returning from Orchid Island to Kenting or Taitung, you can usually show up at the harbor an hour before departure and get a ticket, but it's better to book at busier times.
Orchid Island Orientation
The western side of Orchid Island is the most developed. Ferries arrive at Kaiyuan Harbor, which is where what used to be the island's only 7-Eleven is also located. Kaiyuan Harbour is just north of Yeyou village, where the coast is dominated by Mantou Rock (shaped like a mantou or Chinese steamed bun).
Further south on the west coast lies the airport, which occupies a thin strip of land on the coast, and the villages of Yuren and Hongtou. These two villages have the closest thing to a "traveler's vibe" on the island.
From Hongtou, an narrow road crosses over the mountains to the more traditional east coast of the island, reaching the village of Yeyin first. I'll explain below why we decided to stay in Yeyin Village. North of Yeyin, Dongqing village is home to the Orchid Island Night Market, and more recently, the second 7-Eleven on the island.
The remote south coast is home to the Lanyu Nuclear Waste Storage Facility, a controversial facility that has always been opposed by the local Tao people and was in recent years found to have safety flaws. The north coast is also quite remote, and there you'll find traditional Langdao Village and several large rock formations.
I'll go into more detail on all these locations in the "Riding around Orchid Island" section below.
How to Get Around Orchid Island
I can't really imagine visiting Orchid Island without renting a scooter. You could, but it would be quite inconvenient, and you would miss out on many of the sights spread around the island. Just be careful for the large number of goats (see the "goats of Orchid Island" section at the end), boars, chickens, dogs, and so on on the roads!
To give you an idea of how large the island is, it would take just over an hour to ride around the island if you didn't stop (but of course you will stop many times and probably spend a whole day doing it).
Contrary to what Richard says in The Islands of Taiwan, the rental companies on Orchid Island, including the above Klook deal, require an international license or a local Taiwanese one. One from your home country won't do. One of us didn't have one and they wouldn't rent to him. However, if you really want to try, you can ask your guesthouse to help you rent one.
One reader also says he found a place on the island that was willing to; you just have to ask around. But riding without a proper license obvious comes with its own risks.
After you make a hotel reservation, your hotel can likely arrange for the scooter company representative to meet you when you flight or ferry arrives, as our hotel did. If not, you can call yourself (0915554717 or 0972777316, unlikely to speak English), or you can just show up and ask around.
The rep meets most flights and all ferries, but even if the person is not around, you can ask at one of the shops and they can call for you. Rental costs 500 per day upfront, including a tank full of gas. Helmets are included, but nobody on Orchid Island seems to wear them.
If you don't hire a scooter, I'd suggest staying in either Kaiyuan or Yeyou right by the harbor, which have some restaurants and the 7-Eleven, or Yuren/Hongtou, which have more tourist facilities. You can likely arrange an island tour through your hotel or other activities (see "things to do on Orchid Island" below).
There is supposedly a single bus around the island per day, but that won't help you much. You can also rent bikes from many places, but do note that the condition of some roads is not too great.
Where to Stay on Orchid Island
Another challenge you'll face in visiting Orchid Island is choosing which village you want to stay in and trying to find a decent hotel. I spent some time doing this because I love finding the best places to stay when I travel, and none of the options on Orchid Island stood out. I also found that some of them required a minimum of three nights to book, or were sold out by the time I checked, so do book early!
Accommodations on Orchid Island are mainly basic guesthouses and hostels. Even though none of them are far from the sea, it's surprisingly tough to find a room with a sea-facing balcony (though we did manage to). Generally speaking, if you prefer convenience and being close to more facilities, then stay on the west coast, but if you like to be somewhere quieter and more traditional, go for Yeyin or Dongqing on the east coast.
I'm convinced that the place we eventually settled on, Lanyu Guesthouse (嵐羽民宿, the same sounds and tones as Lanyu (Orchid Island), but completely different characters), is the best place to stay on Orchid Island. The only reason I didn't choose it immediately is because it was listed on AirBnb as full, until we called them (0974101344) and it turned out they had one more unlisted room. You can also see their official site here, but it looked better in real life than on the website.
Our room was brand new, artfully designed, and most importantly, had a 4F balcony with an uninterrupted sea view. What's more, the shower was super hot and powerful, the room came with speakers we could play music on, the hotel arranged scooters for us, and the workers gave us a huge amount of local information after we checked in.
We never made it to the west side of the island during sunset, but we could enjoy beautiful sunrises from our balcony in the morning.
Lanyu Guesthouse was right on the edge of Yeyin, which is a traditional and very quiet village that has the largest collection of traditional underground houses on Orchid Island. The owner of our guesthouse even gave us a free tour to his parents' underground house.
From our hotel, we could walk 30 minutes along beautiful Dongqing Bay to reach Dongqing, which has the Orchid Island Night Market and 7-Eleven. Since there was basically nothing to do after dark, walking "into town" to get drinks and eat at the night market gave us something to do each night.
Spending much time in Taipei after you visit Orchid Island? See my list of the 40 best day trips from Taipei.
If you want to actually stay in an underground house, you can book one at 262 Guesthouse (蘭嶼262民宿), which was just a few minutes from our place and overlooked the area of underground houses. 262 also has regular rooms, but with no balconies or sea views. Don't expect a comfortable experience though!
If you decide to stay on the more developed west coast, Blue Ocean House Resort in Hongtou has nice wooden cabins and offers snorkelling and scuba classes (book here or here even if you're not staying there). Shundouchi Homestay (see on Booking / Agoda) is a colorful place right on the coast near Rover Cafe (see below).
We also seriously considered staying in the Two Fish Homestay (see on Booking / Agoda / TripAdvisor) built on top of 7-Eleven at Kaiyuan Harbor purely for the novelty of staying in a hotel attached to 7-Eleven, not to mention that their rooms have sea or mountain facing balconies.
If you really want to get away from it all, yet another place we considered was Igang Hotel (see on Agoda / Booking) on the edge of Langdao Village, which has rooms that you can step right out onto the coast from and is very near a great swimming hole (see below), but in the end we decided it was a bit too isolated for us.
Things to Do on Orchid Island
Besides seeing and experiencing Tao culture, one of the most popular things to do on Orchid Island is scuba diving. The north and east coasts are popular spots, and usually divers walk in off the coast. You can book a scuba experience before you arrive, or arrange one through your hotel.
If hiking is your thing, the best and most popular hike on the island is the three hour-return hike to Big Heaven Pool (大天池), starting between Hongtou and Green Green Grassland (青青草原) (see more info below).
Another activity offered by some hotels is a night tour by scooter (NT250), in which you can follow a guide around the island in the dark and see things like owls and night-blooming orchids.
Most beaches on Orchid Island are rocky, and the waves and currents make them not very suitable for swimming. The best place to get in the water is at the Yeyin Cold Spring or the swimming hole at Roasted Goose Rock near Langdao Village (see below for both).
Riding Around Orchid Island
What you are most likely to end up doing on Orchid Island is riding a scooter around the island to check out the numerous sights along the coast. We actually did a full circuit of the island on each of the two days we were there.
The first day was raining a lot, so we skipped many sights. The second day was sunny, so we saw the one's we'd missed, and focused more on swimming. You could squeeze most of the sights into one day, but it would be a long one.
I'll cover the island the way we did, starting and ending in Yeyin Village on the east coast and riding counterclockwise.
Another great place to ride a scooter in Taiwan is through Taroko Gorge, the grand Canyon of Taiwan!
Yeyin Village
As I mentioned above, Yeyin Village (野銀部落, Ivalino) has the largest collection of underground houses on Orchid Island, but if you want to wander among them, it's better to pop in to 262 guesthouse or Lanyu Guesthouse and ask for them to show you around.
There's nothing else to do in town, but if you're spending the night, there a small bar called十一鄰Bar and a few simple restaurants.
Yeyin Cold Spring (野銀冷泉, Do Mibenen) is one kilometer south of town (15 minutes on foot) and is the best place to cool off on the island. Here a cold spring fills multiple pools by the sea on the coast. It is completely natural and undeveloped. Since it is south of town, we saved it for the end of the day, after finishing our counterclockwise loop around the island.
You can find out about another great natural cold spring in Taiwan in my guide to the east coast from Yilan to Hualien, or plenty of wild hot hot springs in my guide to Yilan County.
Dongqing
Going north from Yeyin, lovely Dongqing Bay stretches between Yeyin and Dongqing Village (東清部落, Iranmilek). The beach is sandy and we never saw anyone on it. There's also a campsite and small Santorini-colored guesthouse at the Yeyin end.
Dongqing is fun to visit in the evening for the Dongqing Night Market, which at its most bumpin' has about 10 stalls. Besides some standard Taiwanese fare, there were deep fried sweet potato cakes, 林投 juice, and deep fried whole flying fish (NT150).
The 7-Eleven is right next door. We didn't visit it, but the Mermaid and Cats Café (人魚和貓) just north of the village comes recommended, especially for cat lovers.
Find out where the highest 7-11 in Taiwan is! (spoiler: it's in Alishan)
After Dongqing, the road goes uphill toward Nipple Hill (乳頭山). You'll soon notice a well paved path (scooters not allowed) leading off on the right to the coast.
You can park and follow this path to Lover's Cave (情人洞, Do Jivlais), a gorgeous natural stone arch on the sea with wild blue waves crashing around it.
It's easy to miss at first, but just before Lover's Cave, there's a thin cave that you can enter and climb through to find A Thread of Sky (一線天), a large crack opening up on the other side.
Back at the road, just past the path to Lover's Cave, we noted the path to the summit of Nipple Hill, but it looked quite overgrown so we didn't try (in Richard's book the trail is indicated as being right across from Ghost Cave, but we could not find it there).
Ghost Cave (鬼洞, Do Neymiyaow) is a long human-made cave on the mountain side of the road, just one minute's drive down the road from Lover's Cave.
Langdao and the North Coast
After Dongqing, Lover's Cave, and Ghost Cave, the next point of interest is Shell Beach (marked Shell Sand or 貝殼砂 on GoogleMaps). It's not actually a beach, but a scenic little spot with coastal pools of seawater and awesome views down the coast. From there, the islet Warship Rock (軍艦岩, Do Jyaawod) is directly off the coast. It was named so because American pilots bombed it during WWII, thinking it was a Japanese ship.
The Twin Lion Stones (雙獅岩, Jipanatosan) demarcate the northeastern corner of Orchid Island. There's a long stretch of nothing before reaching Langdao Village (朗島部落, Iraralay).
You may want to stop in Langdao to have a quick look at an underground home that is sometimes open to the public. It is marked as Cave Dwelling House (朗島村達悟族半穴居屋) on GoogleMaps, but it seemed to be closed when we visited.
Just after Langdao Village, there's a great swimming spot on the coast called Roasted Goose Rock (燒鵝岩), which features a large, calm pool of seawater that you can jump into from various points. Watch for the parking lot on the right side just after an unfinished white church on the left side, just west of town.
Find out where the best cliff diving spot in Taiwan is in my article on the top 6 beaches in northern Taiwan.
Right after that, you'll come upon Jade Girl Rock (玉女岩, Jimavonot), one of the prettiest of the rock formations on Orchid Island. It supposedly looks like two parents with a child standing between them, but I don't want to repeat what we thought it looked like…
Next up, Five Hole Caves (五孔洞, Jikaraham) is a series of five large caves in the cliff walls. The first two are used as churches and cannot be entered, while the third and fourth are connected at the back.
After the caves, Tank Rock (坦克岩), Alligator Rock (鱷魚岩), and Dong Kou (洞口), a hole in a cliff that you can drive right through (see photo in "Getting Around Orchid Island" section above), mark the northwestern corner of the island.
Lanyu Lighthouse
A few minutes after passing through Dong Kou, you'll see a sharp turnoff on the left for Lanyu Lighthouse (蘭嶼燈塔) and Little Heaven Pool (小天池, Do Wawanoanito), the latter of which is indicated on the turnoff sign.
The narrow, hair-raising road zigzags steeply up the mountain, and you'll probably want to stop once or twice to take in the views down on the coast and nearby Kaiyuan Harbor (see below).
A few minutes before the top, a signboard and small parking area indicate the path to Little Heaven Pool, a small pond (mostly dried up when we visited) that is a five-minute walk.
Before reaching the pond, a trail to the left brings you to awesome views looking down on the north coast.
The lighthouse at the top is nothing special and doesn't offer much in the way of views.
Kaiyuan, Yeyou, Yuren, and Hongtou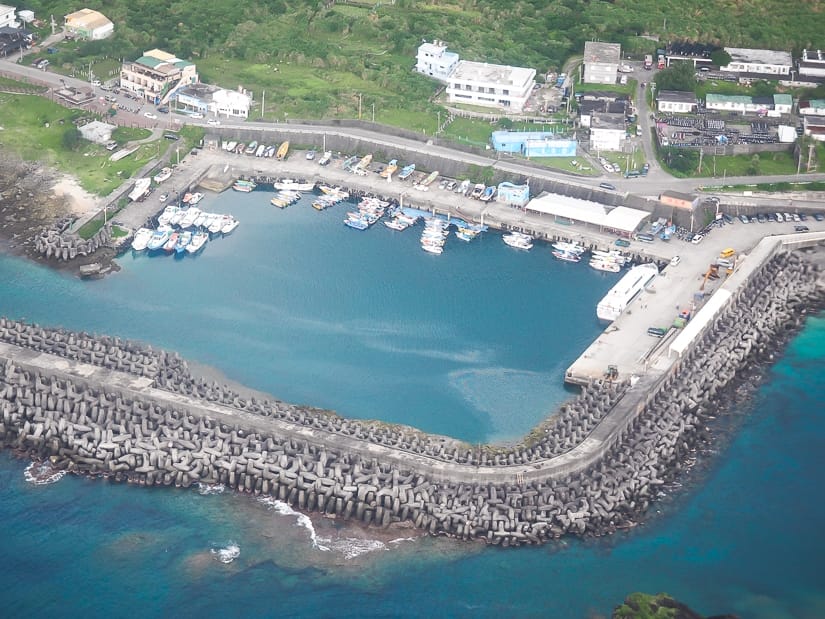 Kaiyuan Harbor (開元港) and these three towns make up the liveliest and most developed part of the island (the workers on our side of the island referred to the west coast as the re nao or "bustling" side, but don't expect anything too wild!)
In Kaiyuan, you may need to stop at 7-Eleven, the island's only petrol station, the supermarket, or ferry terminal.
It's worth stopping at Yeyou Village (椰油, Yayo) for beautiful Yeyou Beach, which overlooks Mantou Rock (饅頭岩, Igang). You can also wander into Yeyou Elementary School, which is beautifully situated at the end of the beach. We loved the children's artwork on display highlighting Orchid Island's culture. This is also a good spot to watch the sun setting behind Mantou Rock.
Between Yeyou and the airport/Yuren Village, you'll pass Tiger Head Slope (Hutoupo or 虎頭坡), a fancy name for a sunset viewing platform that is crammed with people before the sun goes down. Near the entrance to the airport, you'll also pass Lanen Cultural Museum (蘭恩文教基金會兼蘭嶼鄉避難收容處所), the main museum on Orchid Island.
The main building of the museum features a few souvenirs and displays on Tao culture, while there is also a beautiful replica of an underground house that you can actually enter. The museum is now NT100 (it used to be free) to enter and is open 8 AM to 12 PM and 1:30 to 5 PM. Closing dates may vary.
Yuren Village (漁人部落, Iratay) and Hongtou Village (紅頭部落, Imorod) have more travelers' facilities than anywhere else (still not much though). Driftwood Restaurant (漂流木餐廳) is popular among Taiwanese visitors, as they do cute pancakes and artfully presented flying fish dishes. Orchid Island's only craft beer (人之水, see more below) is also available here.
One street off the main road in Yuren, you can also find Epicurean Pub (無餓不坐風味餐坊). Richard describes it as the only Western-style pub on Orchid Island, but we found it to be neither Western nor a pub. Expect more flying fish, Thai dishes, meat fillets, and only a few standard types of beer, bottles only.
Still, it's a relaxed spot, and there were half a dozen cats lounging on the patio when we visited. Maybe it becomes more "pub"-like in the evening?
We were more impressed by Rover Café (蘭嶼旅人) between Yuren and Hongtou Villages on the coastal side of the road and overlooking expansive Badai Beach. The beanbag chairs and hammocks are as close as you'll get to a Southeast Asian vibe on Orchid Island. The menu features yummy fruit smoothies, a range of cocktails, and a handful of Western/Asian dishes.
Hongtou is an administrative center where you can find one of the island's only ATMs at the post office. The post office location is here, while the island's second ATM is found here.
From Hongtou, you can take cross-island "highway" #81 to reach Yeyin on the east coast in 15 minutes. Halfway there, you can stop for a 30 minute walk (scooters aren't allowed because the road going up there is to steep) to the Orchid Island Weather Station, which boasts bird's eye views of the island.
The South Coast
If you continue along the island ring road past Hongtou, you'll soon reach the entrance to the three hour-return hike to Big Heaven Pool (大天池, Do Tataw), which we gave a miss, then Green Green Grassland (青青草原), which I strongly recommend.
A 15-minute walk rewards you with awesome views of an expansive grassland and dramatic coastal bluffs, with surprisingly large Little Orchid Island (小蘭嶼) clearly visible off the coast.
On weekends, a few souvenir stalls set up at the entrance to Green Green Grassland, including Yojo Craft Beer (人之水精釀啤酒), a cooler strapped to a scooter from which a Keelung native sells Orchid Island's only craft beer. A cold bottle of sweet osmanthus or lemongrass beer will set you back NT180, and the stall is even marked on GoogleMaps.
Next up, the road descends past enormous Dragon's Head Rock (龍頭岩, Jimazicing), Longmen Harbor, and the controversial Lanyu Nuclear Waste Storage Facility.
There's not much else between here and Yeyin on the east coast except for a waterfall that we never saw, a weird church with goats in it, and few more rock formations that you'll have to squint and possibly stand on your head to make out (Elephant Trunk, Sleeping Lion, Helmet Rock).
The Goats of Orchid Island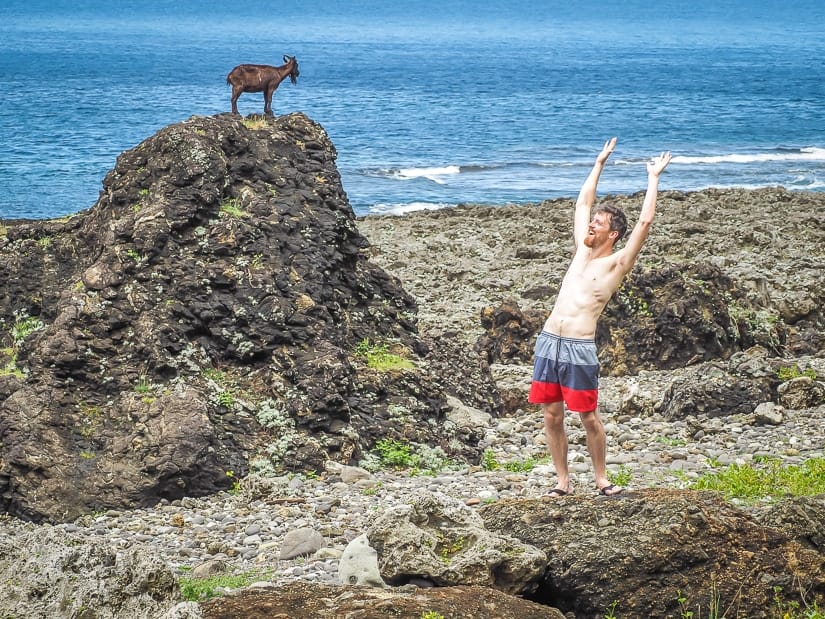 Throughout our travels on the island, we couldn't help but notice and thoroughly enjoy the large number of goats there. They are even more ubiquitous than Tao canoes, and appear on many maps, restaurant signs, and hotels.
The goats could often be seen perched precariously on jagged coral bluffs staring pensively at the sea, or hugging the cliffs of the mountainous interior borderline the round-island road. Seeing them standing in the most awkward of spots added a touch of amusement to our travels around the island (and we usually bleated like maniacs as we drove past them).
Just make sure that you don't hit one when driving around; they tend to stop in the middle of the road instead of getting out of the way.
For more fun adventures in Taiwan, see my guides to Rainbow Village and Xitou Monster Village!