Dear reader: This article contains links to products and services that I may be compensated for, at no extra cost to you.
One of the most common questions I get from my readers is how to plan the perfect Taiwan travel itinerary.
It's a common story: people don't know too much about Taiwan, they look at the map and see that it's a pretty small country, so they think 7 days in Taiwan will be enough.
Once they start planning their Taiwan itinerary, they realize one week is not enough because there are SO MANY things to do in this compact island nation, so they book 2 weeks in Taiwan.
Then, the more they plan the finer details of their Taiwan itinerary, the more they wish they had actually booked 3 weeks in Taiwan or even one month in Taiwan, and they can't figure out how to cram it all in!
That's exactly why I wrote this Taiwan travel schedule! Whether you've planned one, two, or three weeks in Taiwan, I'm going to outline the perfect itinerary for you. I'll also provide links to over 20 of my more specific articles so you can find the finer details for each place.
I've been traveling around and living in Taiwan for over 10 years, and I've written a book about and articles for CNN, National Geographic Traveller, and more about how to travel in Taiwan. You can also consult my updated Taiwan travel guide for more general information and tips for planning your trip.
Taiwan Itinerary Essentials
– Read my 55 favorite things to do in Taiwan and find out the best month to visit Taiwan.

–Taiwan is open for travel! Read about the latest Taiwan border restrictions here.

– Learn all about about Taiwanese cuisine and street food.

– Find great deals and discounts on transportation, entrance fees, and more on Klook. We use it all the time for traveling around Taiwan. Use my referral link to get NTD100 off your first booking.

– If you are looking for a professional, customized tour of Taiwan, please get in touch with me and I'll share my recommendations based on your needs.

– If you're visiting Taiwan as a family, I've written a similar Taiwan itinerary with kids.

– Learn more about the Taiwanese Hokkien and Mandarin languages before you go.

– Find out when the best Taiwanese festivals are
Taiwan Itinerary Outline
Here's a brief outline of the three itineraries I'll be covering in this article.
Taiwan in one week
Days 1-2: Taipei
Days 3-4: Day trips from Taipei
Days 5-7: Taroko Gorge OR Taichung + Sun Moon Lake
Taiwan in two weeks
Days 1-3 :Taipei
Days 4-5: Hualien and Taroko Gorge
Days 6-7: Taitung (rural) or Kaohsiung (big city)
Days 8-10: Tainan (history & food) or Alishan (mountain resort)
Days 11-12: Taichung (city) or Sun Moon Lake (nature)
Days 13-14: Return to Taipei
Taiwan in three weeks
Days 1-3: Taipei
Days 4-5: Hualien and Taroko Gorge
Days 6-7: Taitung
Days 8-10: Kaohsiung
Days 11-12: Tainan
Days 13-15: Fenqihu and Alishan
Days 16-17: Sun Moon Lake
Days 18-19: Taichung
Days 20-21:Back to Taipei
How to Get Around Taiwan
Arriving at the Taoyuan International Airport, the cheapest way to get to Taipei is by bus, which costs around NT125 ($4) and takes about an hour.
The new airport MRT takes 35-50 minutes and costs NT160. Order an EasyCard online for pickup when you arrive, get one with a 4G SIM card included, or simply buy one at any MRT station. The MRT system is the lifeline of Taipei; you'll take it to get everywhere, and using an EasyCard is makes each ride cheaper and more convenient.
The EasyCard can also be used on various other types of transportation and services in Taiwan.
Also consider getting an Unlimited Fun Pass, which includes unlimited MRT and bus rides in Taipei and New Taipei City, five tourist shuttle buses to attractions all over Northern Taiwan, and entrance fees to 16 major Taipei attractions. It is can save you a lot of time and trouble! There's also a cheaper transport-only pass that doesn't included the attractions. Read my guide to using Taipei Fun Passes to decide whether they are worth the money, and whether you need to get one for your kids.
Booking a private transfer from the airport online is usually 100-500NT cheaper than grabbing a taxi when you arrive, so I would really recommend this, especially for families or groups of people. Child seats are available upon request.
If you follow my two-week or three-week Taiwan itinerary below, you'll notice it goes around Taiwan in a clockwise direction. It can just as easily be done in the opposite direction if you prefer.
For most of the route, you'll be relying on the regular (TRA) trains and a few buses. It is important to book the trains in advance because they almost always sell out. This is especially true for weekends, and on long weekends or holidays like Lunar New Year, entire trains can sell out in minutes.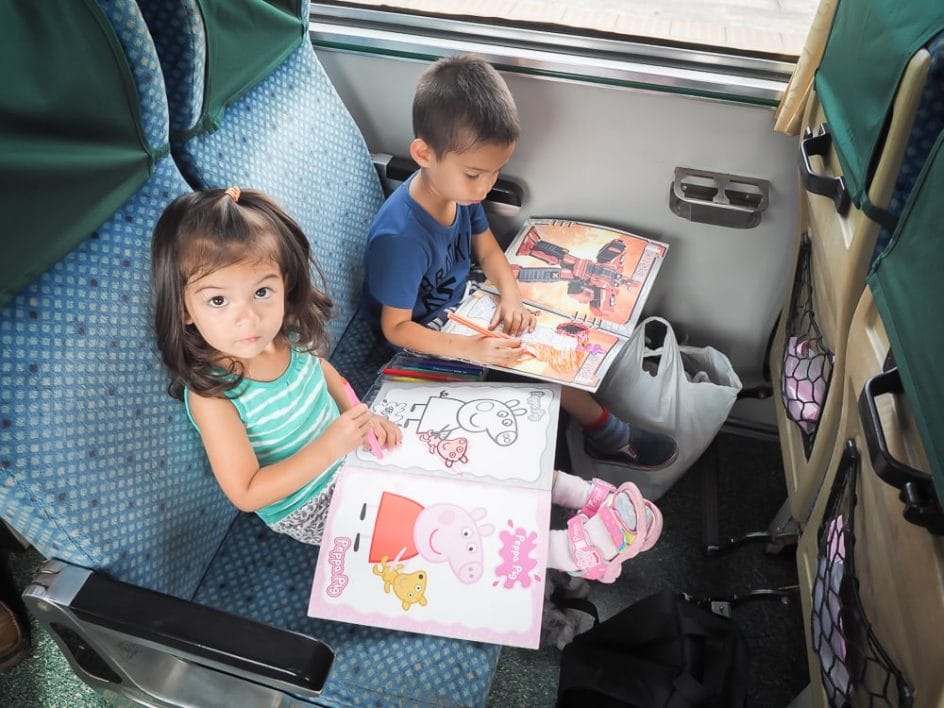 If you're traveling during a weekend, or especially long weekend or national holiday, make sure you book your tickets online as soon as they go on sale, at midnight exactly 28 days before your trip (for example, for a trip on Jan 30, book right after midnight on the night of Jan 1, technically the early morning of Jan 2, which is 28 days before your trip.) Even for non-weekends, it's a good idea to book your seats in advance, especially for very popular routes like the Taipei to Hualien express train.
There are different types of trains, and for the express ones like Puyuma and Taroko Express, you can't buy a standing ticket. These ones tend to sell out really fast.
For all other types, you can buy a standing ticket, even at the last minute, and stand somewhere or sit on the floor between cars. I've done this a lot, even with kids, and it's not terrible for 1-2 hour trips. If you see any empty seats, you can sit in them until someone with a ticket comes along.
The west coast has the High Speed Rail (HSR), running from Nangang in Taipei to Zuoying in Kaohsiung. It costs quite a bit more and doesn't save much time for short trips, especially since the HSR stations are located outside of the city centers for most stops outside of Taipei, while TRA stations tend to be right in the city center.
I would only suggest using the HSR for longer (multi-stop) trips up or down the west coast. For example, if you decide to skip a few stops on my itinerary and gun it from Kaohsiung, Tainan or Chiayi back to Taipei, then I'd say it's worth the money.
Also note that the Taoyuan HSR stop has a shuttle bus connecting to the Taoyuan International Airport, if you want to go to the airport directly at the end of your trip instead of connecting through Taipei.
You may also use the HSR for getting from the last stop on this Taiwan itinerary (Taichung) back to Taipei, which cuts travel time in half, or for doing a day trip from Taipei to Taichung.
Insider's Tip: HSR tickets

Book your HSR tickets in advance online to save money. Nevertheless, you can always buy a full-price HSR ticket at the last minute and sit in cars 10-12 (non-reserved). We've even done this at the busiest time of the year (Lunar New Year) and only had to wait under an hour to get on a train and even get a seat.
Many people ask me about whether its necessary to rent a car in Taiwan, to which my answer is 'no'. This country is blessed with an amazing transportation system, both in the main cities and between them.
Driving in big cities can be stressful here and it's easy to get lost (we even have a car, but only my wife drives it because I'm too nervous to…)
The one place you might want to consider renting a car or scooter is the east coast of Taiwan; see part 2 of my guide to the east coast to see how to plan this awesome road trip from Hualien to Taitung or Kenting. While it's easy to do it without a car, you can definitely see more in this part of Taiwan with your own set of wheels.
How to Rent a Car in Taiwan

If you do decide to rent a car, you can get one from the Taoyuan Airport here, or do like we did one year and use the train to get out of Taipei, then rent a car in Hualien, from where it's much easier to drive. You can rent from various other locations in Taiwan; just use one of the above links then search for them on Klook.
Taiwan 1 week itinerary
If you've only got 7 days in Taiwan, obviously you aren't going to tour the whole country, but it's still enough time to get a very good taste of it. What most likely will happen is that you'll finish your trip and start thinking about when you can come back again to see more of the country. I'm only repeating what many, many travelers say!
With only one week in Taiwan, I'd recommend spending two fulls days in Taipei, 2 days on day trips from the city, then making a trip to either Taroko Gorge on the east coast, or to Taichung and Sun Moon Lake in Central Taiwan.
Days 1-2 in Taipei
You need at least two fulls days just to cover the main sights on Taipei. City lovers may even choose to spend their whole week in Taipei. Trust me, you won't run out of things to do in Taipei!
I've got several separate articles to help you plan your time in Taipei. Start with my two day, three day, four day or five day itineraries for Taipei, which cover the main sights and how to see them most efficiently.

Also have a look at my guide to where to stay in Taipei, Taipei's night markets, and the best temples in Taipei. For Taipei-specific weather advice, see the best time to visit Taipei.
Also read about Taipei's famous food streets and markets, like Yongkang Street, Shenkeng Old Street, Danshui Old Street, and Addiction Aquatic Development seafood supermarket.
Days 3-4: Day Trips from Taipei
There are so many incredible day trips from Taipei that I suggest reserving two days in your Taiwan itinerary for it. Here are my 40 recommended day trips from Taipei. Some of the best ones can be combined into one epic day trip.

I've also got dedicated articles to the most famous day trips from Taipei: Jiufen Old Street, how to get to Jiufen, Wulai aboriginal village, and Jiaoxi Hot Spring. You may also want to visit some of Taipei's best beaches or one of these fun amusement parks.
Days 5-7: Hualien or Taichung + Sun Moon Lake
Taroko Gorge is one of the most stunning natural attractions in Taiwan. It is located on the dramatic, wild east coast of Taiwan in Hualien County. See my guide to Taroko Gorge and other things to do in Hualien. It takes about 3.5 hours to reach Taroko Gorge by train (essential to reserve two weeks in advance, and often sells out).
Two nights in Hualien is just the right amount of time, allowing you a full day to explore the gorge. Three nights would allow you to see more of the area or at a more relaxed pace, but since you're doing Taiwan in one week, I would recommend just sticking to two nights, as there are so many other great places in and around Taipei that you can use that extra day for.
In fact, you could even do Taroko Gorge as a day trip from Taipei, which is a little crazy, but is possible. For example, this tour company offers a day tour to Taroko Gorge, which includes a return flight from Taipei, or there's this day tour from Taipei by train.
It's much better to spend the night in Hualien so you can have a full day for exploring Taroko Gorge. You can either rent a scooter in Hualien City or in Xincheng (the train station closest to the gorge) and do it yourself, or join a popular tour such as this one.
Insider's Tip: Getting to Hualien

The train from Taipei to Hualien is one of the most popular trips in the country and always sells out. The fastest train is the Taroko/Puyuma express, but it seels out fastest and now standing tickets are allowed. Other trains allow standing tickets, but it's a long ride to stand/sit on the floor (we've done this many times though). You can always buy a standing ticket, but to reserv a seat on any train, do it exactly 2 weeks in advance (reservations open at midnight Taiwan time for that day).

Another option is to arrange a private transfer to Hualien, a shared sightseeing car, or fly from Taipei's Songshan Airport to Hualien to get there.
One alternative to visiting Taroko Gorge is spending some time in Yilan County in the northeastern corner of Taiwan, which is closer to Taipei than Hualien is (you pass through Yilan on the train to get to Hualien). Things to do in Yilan including hiking, hot springs, beaches, night markets, and more. Many of the day trips I recommend from Taipei are actually in Yilan.
If you're more of a city person or into the arts, then I'd suggest heading down to Taichung for a few nights instead of Taroko Gorge. It only takes one hour (HSR) or two hours (regular train or bus) to reach Taichung, and it's easier to get tickets than for Hualien. Taichung has a decent collection of artistic and cultural attractions and night markets. Plus, it's the birthplace of bubble tea!
For more information, see my guide to Taichung City, and ideas for day trips from Taichung. Some of the most poular sights include guide to Rainbow Village, Gaomei Wetlands, the Totoro bus stop, Animation Lane, Feng Chia Night Market, and more.
You can either spend two full days in Taichung, or use one of them to make aday trip to Sun Moon Lake in neighboring Nantou County. Sun Moon Lake is Taiwan's most famous lake. See my guide to Sun Moon Lake and read about whether you should get a Sun Moon Lake pass.
At Sun Moon Lake, you can take a scenic boat ride, visit incredible Wenwu Temple, sample aboriginal foods, and enjoy the views from the Sun Moon lake Ropeway.
Insider's Tip: To easily squeeze in your visit to Sun Moon lake, take this Sun Moon lake day tour from Taichung, or read about my other recommended Sun Moon Lake tours.
Taiwan 2 Week Itinerary
Two weeks is the minum amout of time you'd want to have to travel in a full circle around Taiwan. It's a little tight, so you will have to skip over a few tempting stops, otherwise your trip will become too rushed.
If you plan to travel around Taiwan in two weeks, I'm going to give you two diffrent options. One is more focused on nature and the other on history and culture.
Nature-Focused Itinerary
For my nature-focused itinerary, traveling clockwise around Taiwan, you will stop at Taroko Gorge, rural Taitung County, Alishan National Scenic Area, and Sun Moon Lake.
In terms of transportation, you will ride the regular train from Taipei to Hualien and Taitung. For getting to Alishan, you will take the train from Taitung to Chiayi, then take a bus or the Alishan Forest Railway + bus. Next, you'll take a 3-hour bus ride from Alishan to Sun Moon Lake, then a bus from Sun Moon Lake to Taichung, and bus, train, or HSR back to Taipei.
Use the TRA website to check the train traveling times between the stops. The buses on this journey don't need to be booked in advance.
Taiwan itinerary 14 days: Nature focused

Days 1-3 Taipei
Days 4-5 Hualien and Taroko Gorge
Days 6-7 Taitung
Days 8-10 Alishan (via Chiayi)
Days 11-12 Sun Moon Lake
Days 13-14 Back to Taipei
To avoid repeating a lot in this article, I'm going to describe each of these stops in detail below in my recommended 3-week itinerary. The route is the same, but you'll just have to skip over a few stops.
Essentially, my 3-week itinerary hits every one of the stops on these two 2-week itineraries.
City & Culture-Focused Itinerary
If you're more into the arts, culture, and urban explorations, then this itinerary is for you. You'll still visit Taroko Gorge in Hualien, because I can't justify skipping that. But then you'll head straight to Kaohsiung, southern Taiwan's largest city, then on to Tainan, the historical capital, and finally Taichung, Central Taiwan's largest city.
This entire trip can be done by regular train. For the stops from Kaosiung all the back to Taipei, you could ride the HSR instead, which is faster, but costs twice as much, not to mention the stations for Kaohsiung, Tainan, and Taichung are outside of the city centers, so it's not laways the most convenient.
Taiwan itinerary 14 days: City/culture/history focused

Days 1-3 Taipei
Days 4-5 Hualien and Taroko Gorge
Days 5-7 Kaohsiung
Days 8-10 Tainan
Days 11-12 Taichung
Days 13-14 Back to Taipei
As I said above, I'll cover all of these destinations in detail, incluidng where to stay in each place, in the below 3-week itinerary.
Taiwan 3 week itinerary
OK, now I'm going to get down to some serious day-by-day details. The following is precisely how I would plan a 3 week itinerary for Taiwan.
As I said above, simply shave off one or more stops to suit the exact number of days you have in Taiwan.
I'll also sprinkle the itinerary with ideas for additional stops along way, including off-the-beaten-track attractions. These options will help if you prefer to avoid the major tourist sights, or you've got one month in Taiwan or more.
Taiwan Itinerary 3 weeks

Days 1-3 Taipei
Days 4-5 Hualien and Taroko Gorge
Days 6-7 Taitung
Days 8-10 Kaohsiung
Days 11-12 Tainan
Days 13-15 Fenqihu and Alishan
Days 16-17 Sun Moon Lake
Days 18-19 Taichung
Days 20-21 Back to Taipei
This proposed itinerary involves traveling to a new place every 2-3 days. Some people may not like traveling like this. It depends what kind of traveler you are!
If you are the type of traveler who enjoys spending more time in one spot and getting to know it better, feel free to add extra days to any of the stops, and cut out other stops to make up for it. I will add extra ideas on things to do for each spot in case you stay longer.
I just want to show you what is possible, and how to cover all the main stops in Taiwan in three weeks, for those who want to. This is exactly how I travel, but I know others are different!
Days 1-3: Taipei
Spend your first three days in Taipei, including one day for a day trip out of the city. Consult my itineraries for 2 days or 3 days in Taipei, my top-50 things to do in Taipei, guide to the best night markets in Taipei, and amusement parks around Taipei.
Also see my neighborhood guides to funky Ximending, historic Dadaocheng and Dihua Street, and the hot springs of Beitou.
See my Taipei accommodation guide for the best hotels in Taipei covering all budgets and types of travelers.
City lovers may want to stay in Taipei for the third day, but I'd highly recommend trying one of these day trips from Taipei for your third day.
Some popular day trips from Taipei include Jiufen & Jinguashi, Pingxi (including Houtong Cat Village, Shifen Waterfall, and lots of hiking opportunities), Keelung (especially for its great night market), or Jiaoxi in Yilan County (for hot springs and hiking).
If the weather is right, here's my article on the best beaches within 1-2 hours of Taipei, which are great for visiting in not only summer in Taiwan but also spring or autumn.
Days 4-5: Hualien and Taroko Gorge
On day 4, catch a morning train to Hualien (make sure to book two weeks in advance). Check in to your hotel and begin exploring some of the things to do in Hualien.
If you've got time, consider taking this highly recommended aboriginal cooking course.
Where to Stay in Hualien

There are three main places you can stay in Hualien County for visiting Taroko Gorge, and they are all quite different.

1. Hualien City: This offers the best choice of restaurants, accommodations of all price ranges, and other things to do, but it is the furthest from Taroko Gorge (30-40 minutes by car). Just Walk (see on Agoda / Booking / TripAdvisor) is an excellent hostel choice, Hualien Inn (see on Booking / TripAdvisor) has fun themed rooms for kids, and Mr. Buster B&B (see on Agoda / Booking / TripAdvisor) is a good mid-range choice.

2. Xincheng: This is a very small town close to the entrance to Taroko Gorge. There isn't much there, but there are a couple great hotels. It's only a 10-minute drive to Taroko Gorge. You can get off the train at Xincheng (Taroko Gorge stop), one stop before Hualien. Yu's Homestay (see on Agoda / Booking / TripAdvisor) is a good option.

3. In Taroko Gorge: Right at the entrance to Taroko Gorge, you can stay at Liwu Hotel (see on Agoda / Booking / TripAdvisor). Inside Troko Gorge, stay at aboriginal-themed Taroko Village Hotel (see on Agoda / Booking / TripAdvisor), which is also a great place to eat, or luxurious Silks Place Taroko (see on Agoda / Booking / TripAdvisor).
See my Taroko Gorge article for everything you need to know for planning a trip to Taroko Gorge on the 5th day. If you're looking for a tour, I recommend this one. You can also rent a scooter in Hualien City or in Xincheng and visit the gorge yourself, but beware of the narrow road and possible landslides. Do not visit the gorge during or right after heavy rain, especially by scooter or bicycle.
You will want to wake up early for this one, and you'll probably spend a long, full day visiting the various attractions, views, shrines, and hikes in the gorge, not to mention beautiful Qixingtan Beach and the dramatic Qingshui Cliffs nearby, which can also be included in your Taroko Gorge tour if you plan it right.
Off-the-beaten-track ideas:

– If visiting Taiwan in winter, check out Wenshan Hot Spring, a natural hot spring in Taroko Gorge that was damaged by a typhoon, and is now semi-open (you might have to climb around a fence or two). Or try these other amazing hot springs around Taiwan.

– Other amazing experiences in Hualien include sea kayaking below the Qingshui Cliffs and paragliding.
Day 6-7: Taitung
Your next stop is one of the most remote and beautiful corners of Taiwan, Taitung County. Also called the "rice basket of Taiwan", Taitung is known for its clean air, fresh water, quaint rural scenery, and the stunning East Rift Valley. For more details, learn how to plan your full Taitung itinerary here.
Spend day 6 to get there. It only takes 1-3 hours to get there on the train from Hualien, depending on which town you decide to stay in, and what speed of train you catch. And of course, spend day 7 exploring the area.
There are four great towns I recommend you can spend a few nights in; each one is beautiful and worthwhile for different reasons. Each of them is on the main train line, and they are: Yuli, Chishang, Guanshan, and Luye (in order from Hualien).
If you can only choose one, then I would recommend Chishang, where you can go cycling through beautiful rice paddies. Read about our experience cycling Brown Boulevard in Chishang here.
How to Rent a Scooter in Taitung

Exploring rural Taitung is best by bicycle or scooter. To rent a scooter, you'll need either an international or local Taiwanese driver's license. Renting a bicycle is easy in most towns.

It's usually possible to rent a scooter from a small shop outside the train station. You can reserve one in advance here for Yuli, Chishang, Guanshan, or Taitung station (electric scooter also available). I recommend doing this to avoid not finding one upon arrival.
You can read more about these four towns and see pictures of them in my guide to the east coast of Taiwan.
There isn't much to see in Taitung City itself. There are direct flights from Taipei's Songshan airport to Taitung City if you want to access the region faster.
Where to stay in Taitung County

All four of these little towns offer the quintessential Taitung experience. I love all of them, so take your pick!

1. Yuli (actually in Hualien County, just before Taitung): located near a beautiful waterfall, hiking trails, and hot springs. It's closest to Hualien, but your next train ride (to Kaohsiung) will be longer as a result. In Yui, I recommend Wisdom Garden (see on Agoda / Booking / TripAdvisor).

2. Chishang: surrounded by beautiful rice paddies and especially good for casual cycling. Mr. Brown Boulevard is a famous cycling spot with really beautiful rice paddy views. We liked Good Harvest B&B (台東池上民宿-莊稼熟了1館) (see on Booking / Agoda / TripAdvisor).

3. Guanshan: Also famous for cycling, this small town has an easy cycling path the circles the entire town and includes more great rice paddy views and a few easy ups and downs. Cha Tian Villa (see on Agoda / Booking / TripAdvisor) is a nice B&B in town.

4. Luye: Yet another fine choice, the area outside the train station feels more like farmland than a town, and is also perfect for cycling or strolling among tea and fruit orchards. Jamie's Guesthouse (see on Agoda / Booking / TripAdvisor) is a popular choice in town.

Every summer, the Taiwan International Hot Air Balloon Festival takes place on a gorgeous plateau 20 minutes drive uphill from Luye. You can book a balloon ride anytime of year.

See my full article on Luye and the Taitung Hot Air Balloon Festival for all the info and other hotel options.
Want to Stay in Taitung Longer?
Taitung might just end up being your favorite part of Taiwan, as it is for many expats who live here.
If you've got more time or want to focus your trip mainly on this part of Taiwan, hop on a ferry and spend a few days at Green Island (Lu Dao). This small island has more of a tropical feel, with great snorkeling/scuba diving, and has one of only three salt water hot springs in the world. Book your Green Island ferry tickets here.
Another choice is Orchid Island (Lanyu), home to Taiwan's most remote aboriginal tribe. A trip there involves more planning, so you'll definitely want to consult my detailed guide to Orchid Island.
If you want to check out the surf and hang with artists and hippies, see my guide to Dulan, a small surf town on the coast near Taitung City, or drive all the way up/down the coastal highway using my Taiwan East Coast road trip article.
Days 8-10: Kaohsiung
Depending on which town you chose in Taitung, it will take you 2.5-4 hours to reach Kaohsiung on day 8. For all the info you need to plan your Kaohsiung visit, see my detailed guide covering what to do in Kaohsiung.
Spend all of day 9 exploring Kaohsiung, the largest port in southern Taiwan. Street art enthusiasts will find some of Taiwan's best street art in Kaohsiung, and the newly renovated waterfront around Pier 2 Art Center is a must. In the evening, check out one or more of the city's bustling night markets.
Other things to do include hiking on Shoushan and connecting Chaishan mountains, where you can spot loads of wild macaques, or visiting the restored British Consulate at Takow, which offers beautiful seaside views, or heading to Cijin Island for a few hours.
Also don't miss the awesome Lotus Pond, which features multiple temples, near the Zuoying HSR station. If just seeing Lotus pond is not enough for you, you can try "water blob jumping" and Stand Up Paddle Boarding on it.
Where to Stay in Kaohsiung

Whenever we visit Kaoshiung, we like to stay around the point where the Love River flows into the harbor, which is a romantic area at night. Harbour 10 Hotel (see on Agoda / Booking / TripAdvisor) has nice river views.

In Zuoying (the area around the Kaohsiung HSR Station and Lotus Lake), A Touch of Zen (see on Booking) is housed in a beautifully restored Japanese-era home.
On day 10, take your pick from a number of great day trip possibilities from Kaohsiung.
Xiao Liuqiu (sometimes called "Little Okinawa") is a pretty island worth exploring, while Foguangshan, Taiwan's largest Buddhist monastery and home to the country's largest Buddha, Meinong, a quaint Hakka village famous for its bamboo umbrellas, and E-Da, one of Taiwan's largest theme parks, are also in greater Kaohsiung.
It's possible to see several of the above attractions in one day on this Kaohsiung day tour. Yet another idea is to learn how to make Taiwanese pineapple cakes in this Kaohsiung cooking class!
Consider a side trip to Kenting

Kenting National Park occupies the southern tip of Taiwan and is home to (mainland) Taiwan's best beaches (the real best ones are on the offshore islands, like Green Island and Penghu).

I don't include it on the main itinerary because it's quite a detour off the round-Taiwan train route, so you'll need 2-3 hours to get there by bus from Kaohsiung, each way. Also, if you're used to the beaches in other parts of Asia, such as Thailand or the Philippines, Kenting may not impress you as much.

Still, the park offers gorgeous scenery and many activities, so if you're looking for a beach vacation, do consider it! Kenting used to be massively popular among Taiwanese, but the trend has faded, as many locals now find it easier and almost as cheap to fly to Japan or other countries nearby for holidays.

Also, in 2019, Kenting's long running Spring Scream arts and music festival, which always takes place in April in Taiwan, was held outside of Kenting for the first time ever. The 2020 and 2021 festivals never happened, and now the festival has been replaced by the Taiwan Music Festival, also in Kenting during the April long weekend.
Day 11-12: Tainan
A quick hop on the train (30 min to 1 hour) going north will bring you to Tainan, Taiwan's former capital. You can read about all the city has to offer in my guide to things to do in Tainan.
History buffs will find several of Taiwan's oldest temples in Tainan. Also make sure to head over to Anping to see Anping Fort, Anping Old Street, and Anping Tree House. Also consider a side trip to Sicao Green Tunnel.
Most Taiwanese people regard Tainan as the cultural and food capital of Taiwan, so don't miss the city's famous street food. Read my guide to the best night markets in Tainan and learn about the individual dishes in my Taiwanese street food guide.
The Tainan historical sights pass includes entrance to several major sights in Tainan as well as free rides on all Tainan buses.
For something totally off-the-beaten-track, you can discover the remains of Tainan's now defunct salt industry. Check out Cigu Salt Mountain and Salt Museum north of Tainan's city center, or the visually stunning Jingzijiao Wapan Salt Fields further north near the border with Chiayi County. Read my guide to Tainan's Salt Mountain and Salt Fields for all the details.
For something truly insane, nothing can beat the Yanshui Beehive Fireworks Festival, which takes place every year on the Lantern Festival (two weeks after Lunar New Year Day) in Yanshui, a small district in greater Tainan. During the festival, participants get pummeled with thousands of bottle rockets and fireworks for hours on end. My Dad loved it when I took him, but I would never do it again!
Last but not least, Guanziling mud hot spring in northeastern Tainan is one-of-a-kind, but it'll take a little more effort to get there.
Where to Stay in Tainan

Budget travelers can try Quiet Hostel (see on Agoda / Booking / Tripadvisor), while A Fat at Home (see on Agoda / Booking) is in a great location by the Confucius Temple and is run by friendly hosts. In Anping, I lived An-Ping Inn Here (see on Agoda / Booking).
Days 13-15: Fenqihu & Alishan
On day 13, travel from Tainan to Chiayi, the departure place for getting to Fenqihu and Alishan.
You can either take the bus from Chiayi to Fenqihu (1 hour) or Alishan (2 hours, same bus, no reservation needed for either) or try to get a spot on the famous Alishan Forest Railway. Taking the highly scenic Alishan train ride from Chiayi up the mountain to Fenqihu is one of the great highlights of visiting Alishan.
It is important to note, however, that for several years now, the train doesn't go all the way to Alishan, because the upper section was destroyed in a typhoon. Now, you can only take the train from Chiayi to Fenqihu, and then take the bus the rest of the way (another hour).
To find out how to get seats on the train and plan your journey, read my complete guide to getting to Alishan.
Most tourists go directly to Alishan without stopping for long in Fenqihu. However, I think it is worth spending 1 or 2 nights in the Fenqihu area on the way there.
Why I Love Fenqihu and Shizhuo

Fenqihu is a quaint little mountain village where most tourists stop to change from the train to the bus on the way to Alishan, and maybe to eat one of the famous local lunchboxes. However, we loved spending the night. There are some amazing hiking trails through bamboo forests nearby and you can see fireflies there at night. We enjoyed our stay at Fenchihu Hotel (see on Agoda / Booking / TripAdvisor), built above the only 7-Eleven in town.

Shizhuo is a more remote village near Fenqihu where Alishan's famous high mountain tea is grown. We had an amazing experience staying on a tea farm at Cuiti Guesthouse (see on Agoda / Booking / TripAdvisor).
Staying in Shizhuo was one of my top experiences in 10+ years of living in Taiwan. The scenery is fantastic, as are the sunsets, and there is a network of hiking trails among the terraced tea fields. The farmers will even pick you up at Fenqihu train station, but you may need to bring some food to cook for dinner as there are no restaurants.
Also heads up, they mostly speak little to no English, and you may be the only foreign tourist staying in the area during your visit!
For all the information about staying in Chiayi, Fenqihu, or Shizhuo, see my detailed Alishan guide.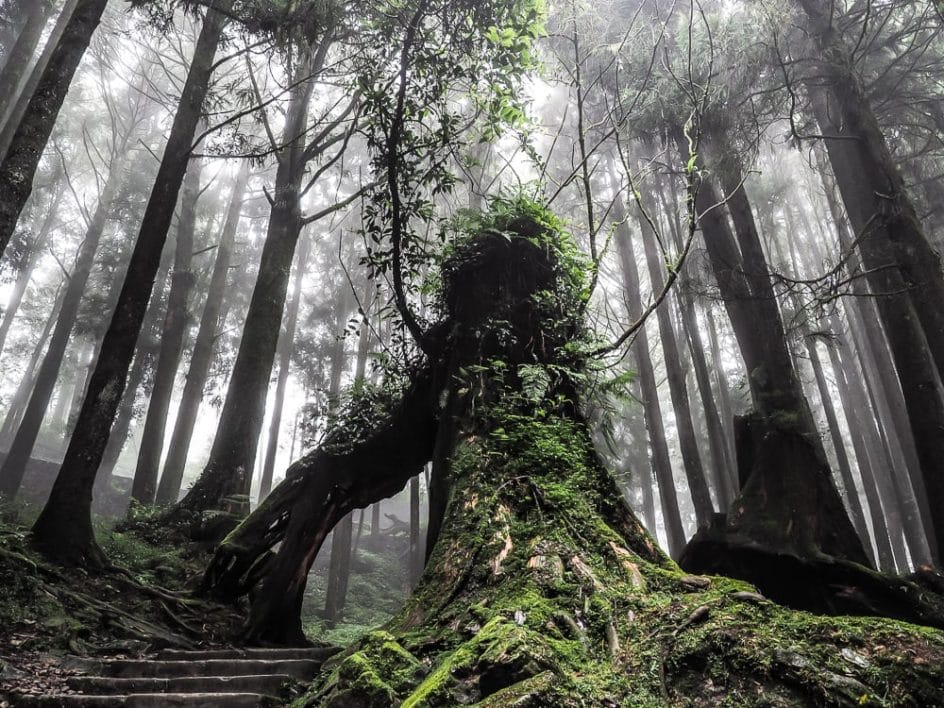 On day 14, make your way from Fenqihu or Shizhuo up to Alishan National Scenic Area, Taiwan's most famous mountain resort, by bus.
Alishan is famous for Alishan High Mountain tea (you won't see the tea farms unless you stop in Shizhuo), hiking trails though old growth forests with enormous and oddly shaped cypress trees, the small train lines still operating in the park, and the breathtaking phenomenon of sunrises over seas of clouds.
For all these reasons, Alishan does attract tour group masses, but it's still one of my favorite places in Taiwan. My guide to Alishan offers more information than you'll find anywhere else, including how to get away from the crowds at Alishan.
If you happen to be coming when the cherry blossoms are blooming at Alishan (March to April), you'll need to book a room way, way, way in advance.
On the day you arrive, spend the afternoon doing the main tourist hiking loop around the scenic area, which only takes a few hours. Here you'll have a chance to ride a few short legs of the Alishan Forest Railway, and if you're lucky, you'll get one of the train cars made entirely of wood like we did. They smell amazing inside!
On the morning of the 15th, wake up disturbingly early to take the small train line to the famous sunrise viewing point. The train is usually packed with notoriously loud tourists, so you can also consult my Alishan guide to find out how to hike up to the viewpoint, or to find other sunrise viewpoints with no tourists.
Spend the rest of the day exploring some of the lesser-known trails of Alishan, or catching up on sleep.
Don't forget to bring warm clothes, even in summer. Although rare, you may even see snow at Alishan in winter!
Where to Stay in Alishan

The selection of hotels at Alishan is pretty weak. Most of the hotels are old and overpriced and located in a little tourist village around the main parking lot, train station, and collection of restaurant's and shops. I recommend Shermuh Hotel (see on Agoda / Booking / TripAdvisor) mainly because they offer free pickup from the bus station.

Alishan Hotel (see on Agoda / Booking / TripAdvisor) is the nicest hotel, but it is located deeper in the park, away from all the amenities. They offer pickup as well.

There are no hostels at Alishan, but budget travelers can come for the day or try Alishan Youth Activity Center (see on Agoda / Booking / TripAdvisor) 30 minutes away by car. The location is not convenient, though, because it is away from all the sights of Alishan.

You can also arrange a 1-2 day trip to Alishan with private driver.
Day 16-17: Sun Moon Lake
The next stop on this Taiwan itinerary is Sun Moon Lake. Like Alishan, you'll have to battle with some tourist crowds here, but I don't personally find it that bad and I really love Sun Moon Lake.
See my extremely detailed guide to Sun Moon Lake here, including how to get off the beaten track.
If you decide to skip Sun Moon Lake, you can take a bus from Alishan back to Chiayi train station, or from Alishan directly to Chiayi High Speed Rail station (approximately 2.5 hours).
There are two direct minibuses per day from Sun Moon Lake to Alishan, departing at 1 p.m. and 2 p.m. It's best to buy your tickets the day before to secure a spot, and the winding ride takes about three hours.
I would advise trying to get the 1 p.m. bus from Alishan so that you can arrive at Sun Moon Lake before dark, though it's not a big deal to arrive later.
On Day 17, spend the whole day exploring the lake. The top attractions include Wenwu Temple (a huge temple complex with a phenomenal lake view), Ci En Pagoda, and the Sun Moon Ropeway to Formosan Aboriginal Culture Park. You can also take a scenic boat ride across the lake or cycle around it.
You may want to consider getting a Sun Moon Lake Pass, and I've also got articles on the best Sun Moon Lake tours and Sun Moon Lake's amazing black tea.
Where to Stay at Sun Moon Lake

There are two main villages on Sun Moon Lake. The main tourist village is called Shuishe. It's more convenient, because it's where your bus will arrive, and where you will catch a bus out from when you leave. In Shuishe, I recommend ‬Shaoguang 188‭ (see on Agoda / Booking / TripAdvisor), a lovely guesthouse with stone bath tubs.

I personally prefer Ita Thao, the aboriginal village on the other side of the lake. It's a tourist town as well, but has a more local and less resorty feel. We loved staying at these rustic cabins on Sun Moon Lake (see on Agoda / Booking), which were in a lush area just a few minutes walk out of Ita Thao. There are also some rooms with beautiful lake views right in town, such as Hu Yue Lakeview Hotel (see on Agoda / Booking / TripAdvisor).

Ita Thao's best part is that it has great night market filled with delicious foods. This may be your best chance in Taiwan (if you are following my Taiwan itinerary) to try aboriginal foods and millet wine! It's also walking distance from the Sun Moon Lake Ropeway.

Ita Thao is a 30-minute ride on the round-island bus from Shuishe, or you can catch ferry across the lake. Cycling or riding a scooter is another option to get there.
Day 18-19: Taichung
The final stop of your Taiwan tour itinerary is Taichung, the second largest city in Taiwan by population (#1 is New Taipei City, #3 is Taipei City).
Regular tourist shuttle buses from Shuishe on Sun Moon Lake to Taichung take about 90 minutes. If you decide to skip Taichung, take the bus from Sun Moon Lake to the Taichung High Speed Rail station to get back to Taipei the fastest, or take a cheaper but slightly longer direct bus from Sun Moon Lake all the way back to Taipei.
When I first came to Taiwan, Taichung was a place that most travelers avoided. Nowadays, it is becoming one of Taiwan's most popular cities for visitors, thanks mainly to its interesting mix of (especially art and food-related) attractions.
Rainbow Village is the star of the show, while Taichung Cultural Heritage Park, which makes use of an old beer factory, Painted Animation Lane, Totoro bus stop, and Guangfu New Village are other quirky attractions.
921 Earthquake Museum is an eye-opening sight, built in a junior high school that was totally destroyed by the deadliest earthquake in Taiwan's history. Also don't miss Feng Chia Night Market, one of the biggest in Taiwan, and Lihpao Discovery Center, one of my favorite amusement parks in Taiwan.
See my guide to Taichung and Taichung itinerary for 1, 2, or 3 days for more ideas, and there are multiple possibilities for day trips from Taichung if you decide to stay longer.
Where to Stay in Taichung

Norden Ruder (see on Agoda / Booking / TripAdvisor) is a new, highly rated hostel in town.

Red Dot (see on Agoda / Booking / TripAdvisor) features a slide into the lobby, while Inhouse Hotel Grand (see on Agoda / Booking / TripAdvisor) is a good mid-range choice.

If you find you still have more time before returning to Taipei, consider visiting some off-the-beaten-track activities in Miaoli County (just north of Taichung) like hiking to temples on Lion's Head Mountain, picking strawberries in Dahu in winter, or soaking at remote Tai'an Hot Spring.
Day 20-21: Back to Taipei
Sniff, sniff. It's time to go back home. I left an extra day on the end here for you to work with, which you can add to anywhere else, or spend your last day seeing anything you missed in Taipei at the start of your trip.
If you want to squeeze is as much of the island as you can, you could even take a bus or private transfer directly from Taichung to the Taoyuan International airport to catch your flight out of Taiwan. Then you won't have to go back to Taipei, and can add another day or two somewhere else.
Good luck with your trip, and let me know if you have any questions!
I never travel without a guidebook! I recommend these: