Dear reader: This article contains links to products and services that I may be compensated for, at no extra cost to you.
Tamsui (淡水 or Danshui) is one of the most popular day trips from Taipei. This coastal district of New Taipei City packs in a lot – historical attractions, a breezy riverside promenade and port, impressive temples, unique foods, cycling paths, cherry blossom viewing, beaches, and unbeatable sunsets.
Located at the terminal end of Taipei City's red MRT line, Tamsui is super easy to reach. Geographically, it lies near the northern tip of Taiwan, where the Danshui River, which flows through Taipei, reaches the sea. Most people just come for a few hours, but there are enough things to do in Tamsui to fill a whole day, or you can easily combine it with a trip to neighborhing Beitou Hot Spring in Taipei City or to one of the beaches on the north coast of Taiwan.
In this article, I'm going to cover everything you need to know about Tamsui, including its history, getting there, where to stay, things to do (including of course the very popular Tamsui Old Street, Fort Santo Domingo, and Fisherman's Wharf), and finally, the best things to eat in Tamsui, including two very special foods that were invented there.
History of Tamsui (Danshui)
The area of Tamsui was originally home to the Ketagalan indigenous people – you can learn all about them at the Ketagalan Cultural Center in Beitou district of Taipei City, which is right next to Tamsui.
The Spanish arrived in the area in 1629 and build Fort Santo Domingo, which was originally wooden. After defeating the Spanish in the area, the Dutch rebuilt the fort in 1644. The locals called the new fort "Red Hair Fort" (紅毛城), after the Dutch people, a name still used for the fort today. The Dutch were expelled from Taiwan in 1668.
In 1724, the local government repaired the fort, and leased it to the British to be used as an embassy from 1868 to 1972, including through the entire Japanese colonial rule of Taiwan. In 1984, it was reopened as a tourist attraction.
The regular train line to Tamsui, first opened in 1901, stopped operating in 1988. Then, after the Tamsui MRT line was opened in 1997, Tamsui's popularity among Taipei residents and visiting tourists exploded.
Originally, the MRT station name was spelled 'Danshui', the pinyin spelling of Tamsui's Mandarin name, the same way all other Taipei MRT names are spelled. But in 2011, the spelling was changed from Danshui to "Tamsui", which more closely approximates the original and Taiwanese language pronunciation of the name. Most Taipei locals still pronounce it 'Danshui', though.
At the end of 2018, the new Danhai Light Rail line was opened, branching off from the red line at Hongshulin station (one station before Tamsui), providing access to mostly residential areas of Tamsui, but also to Shalun Beach and the popular Tamsui Fisherman's Wharf.
For most of its modern history, Tamsui was mainly a small fishing village. Even today, the whole district only has less than 200,000 people. But culturally speaking, Tamsui is beloved among Taipei and Taiwanese people.
Getting to Tamsui
Tamsui station is the northernmost stop on Taipei's MRT Red Line. The riding time from Taipei Main Station to Tamsui is about 35 minutes. Note that only every second train on the red line goes all the way to Tamsui. The others stop at Beitou, then go back to Taipei. If you're planning to visit Beitou Hot Spring, then you'll have to transfer from Beitou to Xinbeitou station on the short pink line.
If heading to Tamsui, you can still take the Beitou-bound bound train on the Red Line. Just get off at Beitou and wait for the next train, which will go all the way to Tamsui. But if you do this, make sure to pay attention, because if you doze off or get too distracted by your phone, you might find yourself accidentally heading back towards Taipei. I've done it before!
At Tamsui MRT station, a walking path leads directly to the popular Riverside Promenade. This is where most visitors go when they come to Tamsui, so you can just follow the flow of people. From there, you can reach most of the places I'll introduce in this article on foot.
To reach Tamsui Fisherman's Wharf, besides walking (which would take about an hour from the MRT station), there are three ways:
By LRT: Get off the Red Line at Hongshulin station (one stop before Tamsui) and transfer to the Danhai LRT line. Make sure to take the Blue Coastal Line, bound for Tamsui Fisherman's Wharf, not the Green Mountain Line.
By Bus: Get off at Tamsui MRT station and proceed to the bus station in front of it. Take bus R26 (16 minutes). This way is actually slightly faster than option #1, because the LRT makes several stops and takes a long route to reach Fisherman's Wharf.
By Ferry: Taking a ferry is the slowest but most scenic way to reach Fisherman's Wharf. The ferries depart from Tamsui Wharf, which is a 10-minute walk from Tamsui MRT station. To get there, you just follow the popular riverside promenade until you see the ferry docks. Ferries to Fisherman's Wharf usually leave from Wharf A and B. You can swipe your EasyCard to board the ferry and the one-way ride is NT 60.
Ferries also depart from a different dock here to Bali on the other side of the river and to places in Taipei (only a few per day, when running). Across the river, Bali Old Street is similar to Tamsui Old Street, but less touristy, as very few foreign visitors ever make the trip across.
If you'd like to combine your Tamsui trip with a visit to the beach, you can take bus 862, 863, or Taiwan Tourist Shuttle Northern Coast Route (716) from in front of Tamsui MRT station. It takes 30 minutes to reach Qianshuiwan or 50 minutes to reach Baishawan. Taxis can also take you to Qianshuiwan (20 min) for a reasonable price.
Alternatively, you can visit Tamsui's own Shalun Beach, which is near Fisherman's Wharf, and now has its own LRT station. I'll cover Shalun Beach toward the end of this article. Learn more in my guide to the best beaches near Taipei.
Where to Stay in Tamsui
Most people visit Tamsui as a day trip from Taipei. But if you want to spend the night in Tamsui, I recommend Tamsui i66 B&B (see on Booking / Agoda). It's a short walk north of Tamsui MRT station.
If you want to stay in a hostel, Tourist Bunny Hostel (see on Booking / Agoda / TripAdvisor) is a good choice not too far from the MRT station.
Golden Tulip FAB Hotel (see on Booking / Agoda / TripAdvisor) near Fort Santo Domingo and Fullon Hotel (see on Booking / Agoda / Klook) at Fisherman's Wharf are more luxurious choices.
How to Plan your Tamsui Itinerary
With so many things to do in Tamsui, it may be a little tough to plan your trip. The most popular places are the Riverside Promenade, Fort Santo Domingo, and Fisherman's Wharf.
If you want to see all three, you can walk the entire Riverside Promenade (with optional detour to 3D Art Ladder and a few temples that I'll introduce below). Budget 15-20 minutes to walk the length of the promenade (one way), plus another 30 or so minutes for the optional detour.
At the end of the promenade, you can cross the main road to reach Fort Santo Domingo. After seeing the fort, catch a bus or walk all the way to Fisherman's Wharf. If you don't care about the Riverside Promenade, catch a bus directly to the fort or wharf from Tamsui MRT. It makes sense to finish your day at the wharf, because it is famous for its sunsets.
Another detour will take you to a cluster of additional sights northwest of Fort Santo Domingo (these are Drop of Water Memorial Hall, Hobe Fort, Cloud Gate Theater, and New Taipei Martyr's Shrine). One thing you could do for a half-day tour of Tamsui is to start your day by taking a bus or taxi from Tamsui MRT directly to these sights, then work your way all the way back to the MRT on foot, which is exactly what I did when researching this article.
Also see my recommended Taipei itinerary and Taiwan itinerary.
You can even rent your own yacht to cruise along the Danshui River. My friends and I did this once for my birthday and we had a blast!
20 Things to Do in Tamsui
The following attractions are roughly in order as you would encounter them if walking from Tamsui MRT station.
Tamsui Old Street
In Taiwan, every tourist village has an "Old Street". This is just a street with lots of vendors and shops along it. Usually they have nice old restored buildings, but not always – the one in Tamsui doesn't.
Although Tamsui Old Street Plaza (淡水老街廣場) is marked on the GoogleMaps (you can see an old locomotive on display in the plaza), it's not actually clear which street the actual Old Street is. Most visitors actually walk along the Riverside Promenade (see next entry). My guess was that Gongming Street (公明街), which is one street inland from the Riverside Promenade, is the "Old Street", because it has lots of shops and food stalls, or rather that the whole tourist area of Tamsui, including multiple streets, is the "Old Street."
I asked one of the vendors on the street and she confirmed my suspicion. Basically "Tamsui Old Street" collectively refers to the whole area by the MRT and river, as in all the tourist streets and their connecting alleys, not just a single street. Mostly these are between Tamsui Golden Anchor Park and Tamsui Old Street Plaza (see the following entries). That's why you won't see any specific street on GoogleMaps called "Tamsui Old Street".
Unless you are looking for some souvenirs, there's nothing so special on these streets, so I suggest just going directly to the Riverside Promenade, the next entry, which also has lots of souvenirs and snacks, anyways.
Tamsui MRT Riverside Park and Golden Anchor Park
When you exit Tamshui MRT and walk towards the Riverside Promenade, you'll walk through Tamsui MRT Park (淡水捷運公園). There isn't much to see in the park, but there are often street performers entertaining passersby here. You can also rent bicycles in this park
If you rent a bicycle, I recommend cycling south down the riverside path to the mangroves at Hongshulin and the impressive Guandu Temple, one of the oldest and most interesting temples in the greater Taipei area.
Just south of Tamsui MRT Park, Tamsui Art and Cultural Park (淡水文化園區 – 殼牌倉庫) is a former British Warehouse worth a quick look if you're interested in historical buildings, but there are going to be many more to come on the list below.
The MRT park is connected to Tamsui Golden Anchor Park (淡水金色水岸公園), beside where the Riverside Promenade begins. Again, it's just a grassy field, but you can enjoy views from the wooden platform at the riverside of Bali and Guanyin Mountain on the other side of the river.
There are a few statues in the park, as well as an actual anchor at the far end, hence the park's name. The parks get much busier around sunset.
Tamsui Riverside Promenade
Strolling along the Danshui Riverside Promenade is the main reason most visitors come to Danshui. Called the Danshui Riverside (淡水河邊) in Mandarin, it's not actually marked on GoogleMaps. As I explained above, some people might also call the promenade Tamsui Old Street. The actual street name is Huanhe Road (環河路).
The Riverside Promenade stretches for over a kilometer. On one side you have the river, and the other is never-ending restaurants, food vendors, and souvenir shops. These are mostly open all day, but especially popular in the few hours before and after sunset.
For this reason, some people also call the Tamsui Old Street and Seaside Promenade "Tamsui Night Market", but it isn't really a night market. There are other actual night markets in Tamsui, like Tamsui Yingzhuan Night Market (淡水英專夜市). If you're looking for a night market experience, see my guides to the best night markets in Taipei, Tainan, and Kaohsiung.
Besides the usual Taiwanese snacks, the Riverside Promenade is a great place to try some local specialties of Tamsui. Deep fried seafoods and ice cream are popular choices. There are also two special Taiwanese snacks that were invented in Tamsui, and I recommend trying both of them. See the "what to eat in Tamsui" section at the end of this article for the details!
Just before you reach the ferry docks, you have the option to veer inland to visit several entries that I'll cover below (3D Art Ladder, Love Lane, Qingshui Temple, and Longshan Temple), then circle back to Tamsui MRT station.
Alternatively, you can keep following the riverside promenade. After the Starbucks, the path skirts around a little harbor and a cool playground with a large whale and building that looks like a fire engine, then reaches an especially romantic stretch where trees form a canopy over the path (see photo above).
The Riverside Promenade finally terminates at Hobe Fishing Harbor (Hobe is an old name of Tamsui). The harbor has some hip bars, cafés, and restaurants around it, probably my favorite section of the whole promenade.
From there, you can either return to Tamsui MRT the same way you came, or continue even further for more sightseeing (Tamsui Customs Wharf, Fort Santo Domingo, and more covered below).
Tamsui 3D Art Ladder
You can make a little detour from the Riverside Promenade to the following five sights.
The first is Tamsui 3D Art Ladder (淡水3D意象彩繪階梯), which is a fancy name for a staircase with a few painted murals on it. The staircase, actually called Zhongzheng Rd. Lane 12, runs beside Tamsui Fuyou Temple (淡水福佑宮), an impressive temple that is definitely worth a few minutes of your time.
The staircase is just 2 minutes up from the Riverside Promenade, just before it reaches the river ferry docks. The entrance to the staircase is across the road from the Matsu Rock (媽祖石), a boulder that was unearthed near Guandu temple and thought to have spiritual power.
Tamsui Japanese Police Officer's Dormitory
At the top of the 3D Art Staircase, on the left, is the Tamsui Japanese Police Officer's Dormitory (淡水日本警官宿舍). This is a beautifully reconstructed Japanese-era building. It has been open to the public since 2019 and is free to enter. There isn't a whole lot to see inside besides a few roof tiles from the original building on display.
You can take a rest in one of the chairs inside, in a sunlit room, taking in what once would have been amazing view. Several buildings block the way now, but you can still see a slice of Danshui River beyond them.
Love Lane Tamsui
Going up the 3D Art Staircase, if you turn right (instead of left for the Japanese Police Officer's Dormitory), you'll reach Love Lane Tamsui (重建街戀愛巷). Again, the name is an exaggeration. Basically this is just an atmospheric and narrow old lane, with some cool old houses a few more mural paintings.
The actual street name of Love Lane is Chongjian Street (重建街).
Tamsui Qinsghui Temple
After the 3D Art Staircase and Love Lane, if you decide to circle back to Tamsui MRT station, you can visit a few significant Tamsui temples along the way.
From Love Lane, I suggest walking over to Qinshui Street (清水街). Walk to the end of the street, where the road seems to end at a little temple, called Fude Temple (米市福德宮). You won't see it until you get right up to it, but Qingshui Temple (淡水清水巖) is just around the corner. I've marked both the temples on the Tamsui map I posted at the top of this section.
Qingshui Temple is one of the most important temples in Tamsui. It is one of three Qingshui Temples in the Greater Taipei Area – the other two are in Sanxia (another district of New Taipei City) and Bangka district of Taipei – see more info in my guide to Taipei's most important temples.
Tamsui Longshan Temple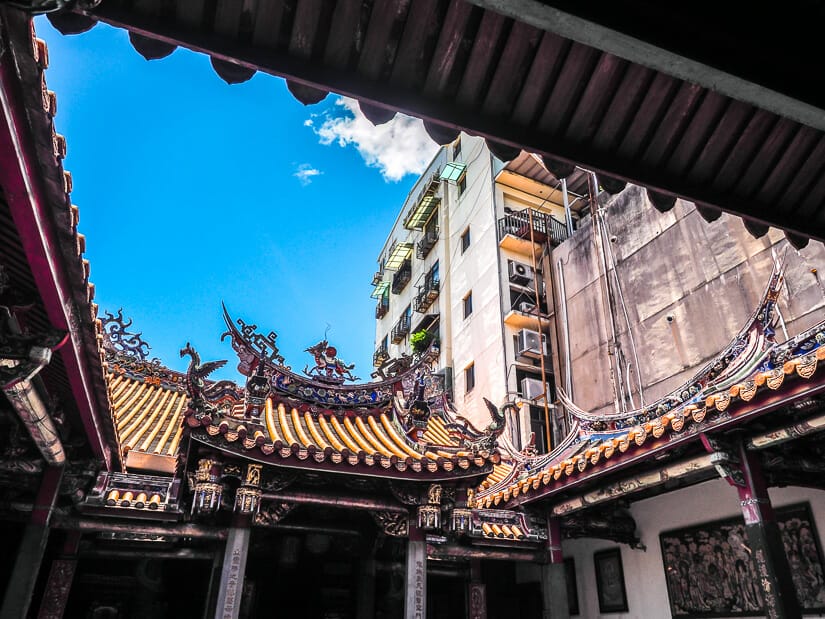 From Qingshui, you'll follow the road downhill then enter a covered wet market, if you want to find another important temple, Longshan Temple. You have to find your way through the busy daytime market, as the temple is buried inside of it. As long as you have GoogleMaps, it's easy to find!
Like Qingshui Temple, you might recognize this one's name, as another Longhan Temple is the most famous temple in Taipei City (and there are others across Taiwan, including Longshan Temple in Lukang). For tons of details about the temple, see this article. The temple reminds me of Shuixian Temple in Tainan, which is also located inside a wet market.
After visiting the temple, exit the market the same way you came in, then it's a 5-minute walk back to the MRT station. Othewise, return to the Riverside Promenade to continue on to the following sights:
Tamsui Customs Wharf
If you walk all the way to the end of the Riverside Promenade, around Hobe Fishing Harbor, and then another 300 meters along the road, and you'll reach the Tamsui Customs Wharf (淡水海關碼頭), which has a long port customs office building and workers dormitory dating to the Qing Dynasty.
When I visited, the 2-storey dormitory building (pictured above) had historical displays inside about the building's history (Mandarin only), while the long customs building was being used to host a kind of light exhibition. The buildings are architecturally Western style but adopt Taiwanese building materials and building methods.
The buildings are not an absolute must in Danshui, but you'll practically pass right by them anyways if you're walking to Fort Santo Domingo or Hobe Fort.
Fort Santo Domingo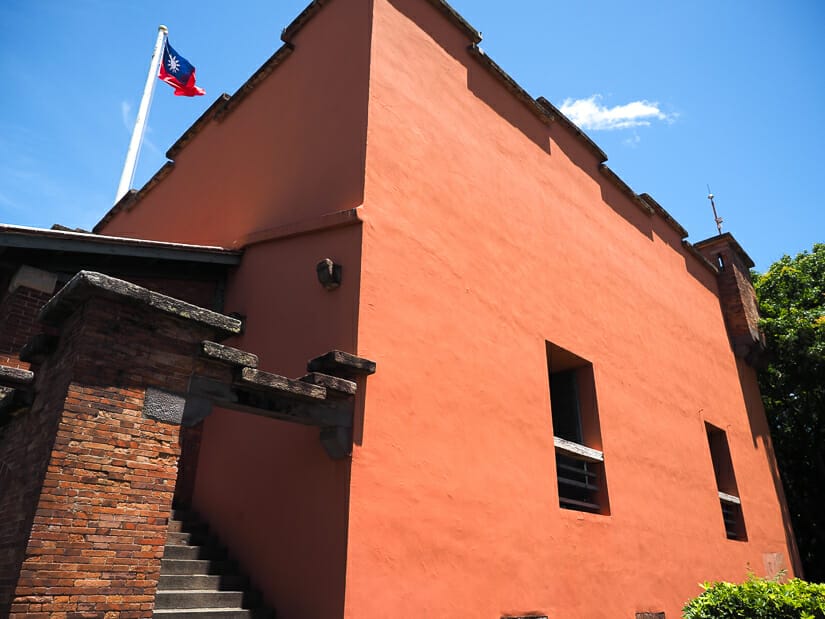 Fort Santo Domingo (紅毛城, also called Fort San Domingo) is the most famous and recognizable historical building in Tamsui. Besides the Riverside Promenade, many people come to Tamsui just to visit this building. It's a popular spot among locals for photo shoots, especially wedding ones.
To reach the entrance to Fort Santo Domingo from the Riverside Promenade, you'll need to cross the main road (Zhongzheng Rd) and walk a few steps up Zhenli Rd (真理解), the road that leads up to Aletheia University (see below).
Entrance to the fort is NT 80, and the ticket can also be used to enter Tamsui Customs Officers' Residence and Hobe Fort nearby (see both below).
From the entrance, it's a short uphill walk to the picturesque red fort, which flies a Taiwanese flag on top and others at the side. Just past the main fort building is the Former British Consulate Residence in Tamsui (前清英國領事官邸), a lovely red brick Victorian building with arched windows lining the outdoor balcony.
The building is now a museum with rooms set up like they might once have looked. From the second floor you can enjoy a great view all the way down to the Tamsui River and across to Guanyin Mountain in Bali.
The whole place is great for photography, especially in the late afternoon light. If you're interested in forts, there are several more in nearby Keelung city.
Aletheia University
Returning to where you came in, if you continue for a few minutes up Zhenli Road, you'll reach the campus of Aletheia University (真理大學, formerly called Oxford College). It was founded in 1892 by George Leslie Mackay, a Canadian Presbyterian who is locally famous – you can see statues of him in Tamsui.
The University is one of the oldest in Taiwan, and even just walking by, you can see a few picture-worthy buildings. The first is Great Chapel (淡水禮拜堂), whose beautiful facade you can't possibly miss as you walk up the road.
Also try to find your way to The House of Maidens (姑娘樓), once used to house female teachers, and which is undeniably similar to the Former British Consulate Residence building at Fort Santo Domingo.
Tamsui Customs Officers' Residence
Follow Zhenli Rd or Zhenli Rd Lane 4 to reach Tamsui Customs Officers' Residence (小白宮), which is also included on your Fort Santo Domingo ticket. Along with the fort, this is another of Tamsui's most recognizable buildings constructed by the British.
The building is architecturally similar to the Former British Consulate Residence building, but it is a single storey building and it is white, lending it its Mandarin name Xiao Bai Gong, or "Little White Palace".
Former Residence of Tada Eikichi
If you've made it this far, then you mights as well continue down the road to the Former Residence of Tada Eikichi (多田榮吉故居), another heritage Japanese building, similar to Tamsui Japanese Police Officer's Dormitory, which we visited above.
Still, I never miss a chance to visit gorgeous Japanese-era buildings such as this one. It dates to 1934 and belonged to a Japanese entrepreneur who lived in Tamsui at the time. It was one of the first buildings in all of Taiwan to get running tap water. Entrance is free, and make sure to take off your shoes.
Drop of Water Memorial Hall
The following four entries are located about 10 minutes' walk up Zhongzheng Rd. Section 1 Lake 6, about 15 minutes on foot from Fort Santo Domingo. The first is Drop of Water Memorial Hall (一滴水紀念館) in Heping Park.
This is yet another Japanese-style building, but this one has a unique story. This 100-year-old building was actually shipped piece-by-piece from Japan to honor the mutual aid between the two countries after the 1995 earthquake in Japan and 1999 earthquake in Taiwan.
The building was opened in 2011 and is free to enter. To reach the next entry, you don't have to go all the way back to the park entrance. There is a set of stairs (not marked on GoogleMaps) from Drop of Water directly up to the entrance to Hobe Fort.
From Tamusi MRT or bus stops along Zhongzheng Rd. including Fort Santo Domingo stop, you can take bus 836 to get up here if you want to cut down your walking time. Get off at Hobe Fort (Cloud Gate Theater) stop (滬尾砲台(雲門劇場)). You can get off at the same stop for the following three entries.
Hobe Fort
Hobe Fort (滬尾礮臺) is a Qing Dynasty fort on a hill in Tamsui just 500 meters away from Fort Santo Domingo. The fort was built by the local rulers in Taiwan after the French had unsuccessfully tried to occupy Tamsui and Keelung in 1884-1885. The fort was completed a few years later and modeled on Western-style forts. The Japanese later used the fort for artillery practice.
Today, the fort is one of the best preserved in northern Taiwan. There are also canons and old photos on display inside. Entrance is included with your Fort Santo Domingo ticket.
If you're into forts, don't miss the ones in Anping district of Tainan, the former capital of Taiwan.
Cloud Gate Theater
Cloud Gate Theater (雲門舞集) is a massively famous Taiwanese dance performance group founded by the legendary Lin Hwai-min, who is known around the world. There's even a small planet named after Cloud Gate Theater!
Cloud Gate operates several theaters, but the one in Tamsui behind Hobe Fort is especially beautiful. The facility was built on donations after a former studio burned down, opening to the public in 2015. It attracts a steady stream of devout fans or people visiting to admire the building itself (the interior is also sometimes open) and artworks around it.
The Starbucks Tamsui Cloud Gate Shop (星巴克 (淡水雲門門市) next door is one of the most beautiful Starbucks in Taiwan, with a lotus pond outside, beautiful patio amongst trees, and artsy interior.
It's a 5-minute walk from Hobe Fort to Cloud Gate Theater, and you can enjoy views of the fort as you walk along the small, narrow road.
A taxi can also get all the way up to Cloud Gate Theater – you can consider starting your entire Tamsui visit here, and then walk back to the MRT via all the sights described above, which is exactly what I did when researching this article.
New Taipei City Martyrs' Shrine
Past Cloud Gate Theater and Starbucks, the small road continues just a little further to New Taipei City Martyr's Shrine, the final attraction I'll introduce in this part of Tamsui.
The New Taipei City Martyr's Shrine (新北市忠烈祠), or Tamsui Martyr's Shrine, is one of several former Japanese Shinto shrines across Taiwan that have been converted into shrines to honor soldiers of the KMT army.
The current shrine is totally Chinese in design, as the original Japanese one was demolished, but the layout of the grounds still matches that of the original shrine. You can find tons of information about the shrine and other similar ones across Taiwan (including one here in Hualien and another here in Taitung) in this post by Josh Ellis.
It's a couple minutes on foot from Cloud Gate Theater or Starbucks to the shrine.
Fisherman's Wharf and Lover's Bridge
Fishermen's Wharf (漁人碼頭) is a scenic harbor right at the mouth of the Danshui River. It's very touristy as far as harbors go in Taiwan, and you probably won't see any fish being unloaded or actual fishermen here.
The harbor is especially famous for its sunsets and Lover's Bridge (情人橋), which spans the harbor and is the perfect sunset vantage point. There are also a few seafood restaurants and souvenir shops at the harbor, but they are more touristy than ones you'd find at authentic fishing harbors in Taiwan such as Nanfangao in Yilan or Wuqi near Gaomei Wetland in Taichung.
The harbor is a little far to walk from Tamsui MRT. This will largely depend on how far is too far for you. GoogleMaps lists the total walking time from the MRT to Fisherman's Wharf as 50 minutes (one-way, no stops included). This will also depend on the season – at the peak of summer, spending a long time under the sun can be more difficult.
Instead of walking, you can also go by bus R26 from Tamsui MRT station or stops along Zhongzheng Road, by LRT from Hongshulin station (the station before Tamsui), or by river ferry from Tamsui Ferryboat Wharf on the Tamsui Riverside Promenade. You can swipe EasyCard on all of the above.
Shalun Beach
The most famous beaches in the area, namely Qianshuiwan and Baishawan, are not in Tamsui district, but further north along the coast. However, Tamsui actually has a beach of its own, called Shalun Beach (沙崙海水浴場). Somewhat of a hidden gem, the beach is nowadays seeing more visitors thanks to the new Shalun LRT station, one stop before Fisherman's Wharf.
You can swim here, but there are no restrooms or showers, nor are there restaurants, bars or umbrella rentals like at Qianshuiwan or Baishanwan. Like Fisherman's Wharf, which is only 10 minutes away on foot, the sunsets here tend to be picture-worthy. Don't be surprised if you see horses on the beach, as there is an equestrian center nearby.
Explore more of the country's beaches in my Taiwan beach-hopping guide!
Cherry Blossoms at Wuji Tianyuan Gong
Arguably the best place in all of Taiwan to see cherry blossoms is Wuji Tianyuan Temple (淡水無極天元宮) in Tamsui. This picturesque round temple, which may remind you of the Temple of Heaven in Beijing, sees masses of people when the hundreds (possibly thousands?) of cherry blossom trees around it bloom in early spring in Taiwan.
There are actually two main types of cherry blossoms at the temple. The first usually bloom in early February, while the second come in early March. When they bloom, the temple gets swamped with crowds. Even when the cherry blossoms aren't blooming, the temple is still worth visiting.
To get there, take bus 866, 875, 876 or 877 from Tamsui MRT and get off at Tianyuan Temple (天元宮) stop. The ride takes 15 minutes.
Yuandao Guanyin Temple
The final place to visit in Tamsui I want to introduce is the incredible Yuandao Guanyin Temple (緣道觀音廟). This peaceful Buddhist temple complex in the hills of Tamsui is devoted to the goddess Guanyin.
The temple is modern, dating to 2000, and has some Japanese, pan-religious, and New Age features. In 2020, the world's largest statue of the Thousand-Armed Guayin was opened on site and is really a sight to behold (I took the above photo when it wasn't quite finished being constructed
There is no public transportation to the temple, but they have a free shuttle bus from Xinshi 1st Road station on the Danhai LRT.
What to Eat in Tamsui
Most visitors to Tamsui enjoy snacks along the Riverside Promenade. The usual Taiwanese snacks are on offer, with deep fried seafoods being especially popular. You may also see sio chiu le (shochu snails or 燒酒螺), tiny snails that you have to suck out from their shell.
Ice cream is another popular choice, including really tall (but low quality) soft serve, as well as deep fried ice cream and shaved peanut brittle ice cream wraps with cilantro. There is also a Turkish ice cream stall (土耳其冰淇淋) that has been tricking customers trying to grab their ice cream on the Tamsui Riverside Promenade for well over a decade.
There are two special Taiwanese foods that actually originated in Tamsui, and I highly recommend trying both of them. The first is a-gei (阿給), which is a bundle of cellophane noodles wrapped in tofu skin sealed with surimi (fish paste), served with a sweet and savoury sauce.
A-gei is often enjoyed with fish fall soup and/or soy milk. There are at least a dozen places serving a-gei around Tamsui MRT or the Riverside Promenade – just copy-paste "阿給" into GoogleMaps to find them. Tamsui Wenhua A-gei (淡水文化阿給) near Santo Domingo Fort is especially popular among locals – I marked it on the map at the top of the article.
A second famous Taiwanese snack that originated in Tamsui is iron eggs (鐵蛋 or tiedan). The story goes that on one rainy day with slow business, a Tamsui ludan (soy sauce braised egg) vendor continually cooked some eggs too many times and they developed a rubbery, dark exterior that turned out to be quite delicious.
Now you can find several vendors selling packages of iron eggs, including smaller quail eggs, on Tamsui Old Street, just outside Tamsui MRT station. I've marked one of them, called 味來香, on the Tamsui map at the top of this article. They come in various flavors, such as plain, garlic, spicy, mala (mouth numbing), and black pepper. They make for a tasty snack!
Well, that brings us to the end of my Tamsui guide. Thank you if you've read this far! Be sure to check out my guides to other cool places in New Taipei City, including Shenkeng Stinky Tofu Village, Yingge Pottery Street, Wulai Hot Spring Village, and Zhonghe Myanmar Street!