Dear reader: This article contains links to products and services that I may be compensated for, at no extra cost to you.
Lukang (鹿港 or lugang) is one of the best places to visit in Taiwan to experience the old way of life.
This historic city has over 200 temples (from ancient ones to the ultra-modern Glass Temple), a thriving handicraft industry, some unbelievably narrow lanes, and numerous traditional foods on offer.
A typical visit revolves around Lukang Old Street and culminates at the Lukang Tianhou Temple, one of the most important Matsu temples in the country.
It is possible to visit Lukang as a day trip from Taipei, but I recommend spending the night. This will allow you the time to experience the sights after all the tourists go home, and to take in some of the fascinating attractions further away from the Old Street.
I also recommend visiting on Saturday or Sunday, when the Glass Temple is open until dark. Avoid Mondays, when many things are closed.
In this guide, I'll cover everything you need to know for planning a visit, including the city's history, how to get there, where to stay, what to eat on the Old Street, and other things to do in Lukang.
A Brief History of Lukang
Lukang was historically one of the most important cities on the west coast of Taiwan, second only to Tainan, and larger than Taipei until modern times.
The city is located on the coast of Changhua County, between Taichung and Yunlin (see my guide to Changhua). Look at the map and you'll see it's directly across the Taiwan Strait from Quanzhou, a major city in Fujian, the Chinese province where many Taiwanese people's ancestors came from.
The name Lukang (Lok-a-kang in the Taiwanese local language) means "Deer Port" due to the deer skin trade during the Dutch colonial period in Taiwan.
Lukang rose in prominence as a seaport in the 18th and early 19th centuries (its heyday was from 1785 to 1845). It was the most populous city in central Taiwan until the early 1900s.
The terms "ē-káng" (下港) and "téng-káng" (頂港) originated in Lukang, referring to anywhere in Taiwan that was "below the Harbor" or "above the Harbor" (the Harbor of course referring to Lukang).
The city declined after they refused railroad access, but this also resulted in preservation of many old buildings, unlike larger cities in Taiwan, where they were mostly demolished as a part of modernization efforts.
In 2011, the government decided to stick with the Wade Giles spelling "Lukang", rather than adopt the Hanyu pinyin version "Lugang".
Today, because Lukang requires an extra side journey off the main train line, it doesn't see the same crowds as more popular cities like Taichung, Tainan, or Kaohsiung. However, tourists are increasingly adding it to their Taiwan travel itinerary.
Where to Stay in Lukang
I suggest spending the night in Lukang. This allows you to enjoy the sights after all the tourists go home (or before they arrive in the morning). It is also more relaxing than trying to cram in Lukang as a day trip.
I highly recommend Deer Park Hostel (see on Booking / TripAdvisor / Agoda). I stayed in one of the private rooms of this hostel for an extremely reasonable rate. It was conveniently located in a quiet neighborhood about a 10-minute walk from Lukang Old Street. It had self check-in and a Totoro statue out front!
The hostel is marked 公園一鹿人文旅店 on GoogleMaps.
Lukang Old Street Walking Tour
Any visit to Lukang must include a stroll down Lukang Old Street. The street is lined with beautifully maintained historic residences. Many of them house shops and restaurants serving traditional local specialties like miancha (flour tea) and phoenix eye cakes.
There are two routes you can take, which I'll describe below. Both lead to Lukang Tianhou Temple, the city's top attraction. Most shops on the Old Street open around 9 or 10 am and close around 6 or 7 pm. Weekdays are much quieter, when some shops open later or not at all.
There are several other notable Lukang attractions within walking distance of the Old Street, which I'll cover in another section further below.
Old Street Directions
The Lukang Old Street is found on narrow, pedestrian-only Yaolin Street (瑤林街), starting at Minquan Rd (民權路), one of the main roads in the Lukang historical town center.
As the lane winds northwest, it turns into Butou Street (埔頭街). After XInzu Temple (新祖宮), you can choose to hang a right onto Wenkao Road (文開路) then left at Zhongshan Rd (中山路) to reach Lukang Tianhou Temple (鹿港天后宮), the city's most famous site.
Alternatively, you can turn left after Xinzu Temple for more Old Street action, then hang a right at Minsheng Road (民生路) to reach Tianhou Temple.
Things to See and Eat along the Old Street
Right at the entrance to the Old Street, on Minquan Road, 米弎豆お菓子処 / MISATO is a very popular Japanese-style grilled mochi and ice cream shop.
The Old Street begins with a string of souvenir shops and stalls, as seen in the above photo.
The first point of interest is the Half-sided well (半邊井), a water well that is half inside a residence and half outside of it in the lane.
The wealthy original owners chose this design so that they could share their water with the less fortunate on the street. You'll see it on the right.
A short distance after the well, watch for Gentleman's Lane (半邊井 or Junzi Xiang), a super narrow lane on the left. The name comes from the fact that the lane is so narrow that a gentleman should let a women pass first.
If you take this lane to the end, you can reach Sweet Osmanthus Lane (see the "other things to do in Lukang" section below).
A few steps past that lane, Yi Gu-zhai Cultural Tea House (怡古齋人文茶館) on the right is an atmospheric little shop serving a traditional Taiwanese dish called miancha (麵茶 or "flour tea").
Think of it like a hot breakfast cereal. It comes in flavors like scallion, milk, almond, black bean, or roasted wheat, and you can get it hot or cold.
Just before or just after Yi G-zhai, take one of the small lanes to the right to reach Aimen (隘門 or "Narrow Gate"), which is on the next lane over, called Hou Che Gang (候車港).
The city used to have dozens of lanes like this, meant for parking bikes and vehicles. The whole lane would be locked at night to prevent theft. The gate over this lane is over 100 years old.
Back on the Old Street, don't miss Chen Yu-zhen Bakery (鄭玉珍餅舖), one of the oldest (dating to 1877) and most famous shops on the Old Street. The shop's main specialty is phoenix eye cakes (鳳眼糕), which are bite-sized, fragile powdery cakes that melt in your mouth.
The cakes are just as good as those at the more famous Yu Jen Jai (the most famous shop in town, not on the Old Street – see next section below), but cheaper. A small box containing one of each flavor is only NT 70. The shop is on the left.
On the next block, another shop on the left that will definitely catch your eye is Yanzhong Flour Tea (彥仲麵茶). The shop also specializes in miancha, and you'll see large characters for it (麵茶) emblazoned in red on the shop's white stalls out front.
A cup of iced miancha goes for 60 NT and comes in plain, black sesame, or almond. There is also some beautiful traditional artwork for sale inside.
Right next door to Yanzhong Flour Tea, Lukang Popcorn (鹿米菓) does some really cool shaved ice desserts (the "popcorn" in their English name is a mistranslation – 米菓 or beika is a kind of Japanese rice cracker).
Their shaved ice (麵茶刨冰) is a modern take on miancha – miancha powder is served on shaved ice with your choice of 4 toppings (red bean, green bean, peanut, adlay, taro, pearls, mesona jelly) and one choice of ice cream (milk, vanilla, matcha, red bean).
The Old Street then reaches a square where the Lukang Literary Arts Hall (鹿港藝文館), or Lukang Culture Center (鹿港公會堂) is located. This heritage museum houses free, rotating exhibits of local history and culture.
Nanjing Temple (南靖宮), a small temple dedicated to Guan Yu, is right next to the Literary Arts Hall.
At the corner of the next block, larger Xinzu Temple (新祖宮) is the newer of the two Matsu temples in town. It is also known as "Edict Built Matsu Temple (敕建天后宮), as it was built under approval by the Chinese Emperor during the Qing Dynasty. A monument out front contains Chinese and Manchurian scripts.
After Nanjing Temple, you can turn right on Wenkai Road (文開路) for a faster route to Lukang Tianhou Temple. If you go this way, there's a second location of Chen Yu-zhen Bakery across from the temple.
When Wenkai road reaches the large street gate on Zhongshan Road (中山路), turn left to reach Tianhou Temple. This section of Zhonshan Road is always lively (see image above) and is lined with restaurants serving traditional local foods and shops selling religious paraphernalia.
If you turn left after Xinzu Temple, onto Wenkai Rd. lane 32 (文開路32巷), there's basically just another block of similar Old Street shops. It's just a slightly longer way to reach Lukang Tianhou Temple.
At the end of the Old Street, turn right on Minsheng Rd, which is also lined with restaurants and shops. Watch for ox tongue cookies (九龍齋牛舌餅), a traditional dessert that Lukang as well as Yilan on the east coast of Taiwan are famous for.
Lukang Tianhou (Matsu) Temple
Lukang Tianhou Temple (鹿港天后宮), also called Lukang Matsu/Mazu Temple, is the city's most famous attraction and one of the most important Matsu temples in the country. Matsu is the goddess of fishermen and the sea, and considered the patron saint of Taiwan.
There are claims the temple dates as early as 1591, which would make it one of the country's oldest. What's more likely is that the original temple dates to the 1600s, and it was moved to the present location in 1725.
Like most ancient temples in Taiwan, it has been damaged and renovated several times over the years.
Numerous miracles have been attributed to Matsu at this temple. It is also common to see religious performances or parades taking place in the square in front of the temple, such as the one I saw (pictured above and below) on my first visit to Lukang several years ago.
There are restaurants all around the temple and square, and down the main roads (Zhongshan and Minsgheng) leading to the temple. These include several oystem omelet shops, quick fry restaurants, and miancha stalls.
There's even a Family Mart that's practically inside the temple, which you can see two photos above.
Also watch for shrimp monkeys (蝦猴), a kind of mud shrimp, which are deep fried whole and served with basil. This is another local Lukang specialty. There are a few stalls on Zhongshan and Minsgeng Road selling them. Note: another place in Taiwan known for fried whole shrimps is Wulai in New Taipei City!
If you're interested in Taiwanese temples, also see my guides to the best temples in Tainan and temples in Taipei.
Other Things to Do in Lukang
There are several other streets and attractions worth checking out within walking distance of the Old Street. I'll cover the closest ones first, then some more that are further away and may require a bike, scooter, or taxi ride to reach.
Sweet Osmanthus Lane Art Village
Sweet Osmanthus Lane Art Village (桂花巷藝術村) is a few lanes west of the Old Street. This lane, which was covered in a canopy of colorful lanterns when I visited, is lined with Japanese-era dormitories. These now house a variety of art and handicraft workshops
The lane is marked 桂花巷 on GoogleMaps and runs from Gongyuan 3rd Road to Chenggong Road Lane 149. Watch for the historic building covered in colorful murals across from the lane's entrance (see image below). After visiting, you can take the narrow Gentleman's Alley (君子巷) to connect back to the Old Street.
Also see my guide to a totally different Sweet Osmanthus Lane in Nanzhuang, Miaoli!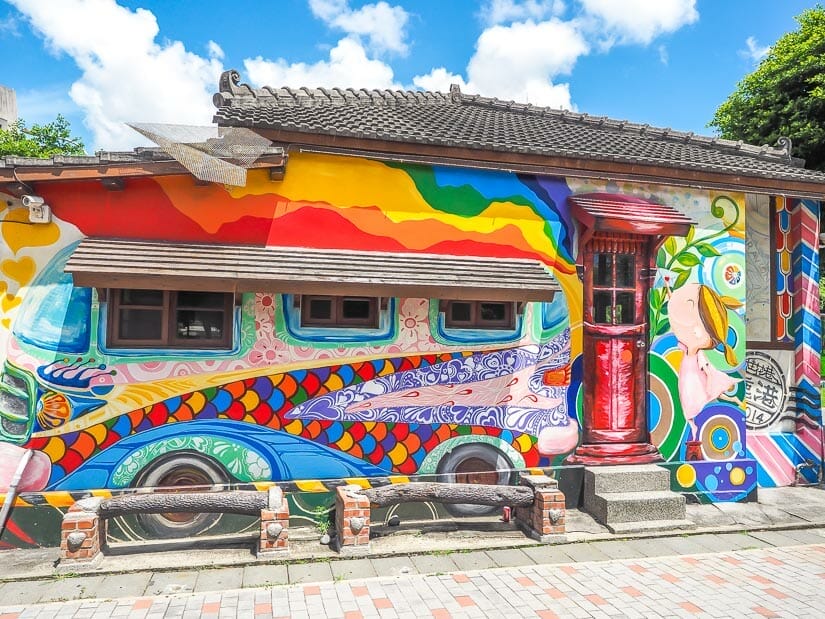 Lukang Historic District
In the neighborhood south of the entrance to the Old Street, there are several historic lanes and buildings. Lukang Shigandang (鹿港石敢當) is a stone tablet built into a red brick wall. It was meant to ward off evil spirits.
A few steps south of Shigandang, there's a historic mansion called Heqi Mansion (鹿港鶴棲別墅) which has hosted several generations of scholars.
Jiuqu Lane (九曲巷 or 9 Turns Lane) is a super winding narrow lane. It was designed in this way to avoid gusts of wind.
The lane leads to Shiyilou (十宜樓), an important historic hangout spot for poets, artists, and academics. 十宜 refers to 10 things they enjoyed: wine, tobacco, the Chinese lute, Chinese chess, dice games, poetry, painting, flowers, the moon, and tea.
The building is connected to Shiyin Hall, an elevated corridor over the lane. According to a placard on site, the corridor "was the hangout of Lugang's literati, who would gather there to recite poetry and partake in alcoholic revelry".
A few steps further south, there's yet another historic residence called Yilou (鹿港意樓).
Yu Zhen Zai Bakery
The most famous brand from Lukang is Yu Zhen Zai (玉珍齋鹿港本舖). The bakery is one of the oldest in Lukang and now has branches across Taiwan.
They specialize in traditional pastries including sesame balls, phoenix eye cakes, ox tongue cookies, red bean buns, and more. Because of their fame, the prices are a little higher than other bakeries in town.
The bakery is right on Mizu Road (民族路), the main road running along the historic district.
Hexing Youth Innovation
Across Minzu Rd from the Historic District, Hexing Youth Innovation Base (和興青創基地) is a former Japanese-era police dormitory converted into mini arts district.
The dormitory buildings now house a strip of cute clothing shops and cafés. An elevated walkway provides cool views looking down at the street.
Lukang Folk Arts Museum
If you walk to the end of Hexing Youth Innovation and turn left, you can reach the Lukang Folk Arts Museum (鹿港民俗文物館).
The museum is housed in a 1919 mansion of the Ku (辜) family. It houses antiques and furniture from the period. Note that photos are not allowed inside.
Between Hexing Youth Innovation and Lukang Folk Arts Museum, also take a minute to step into and appreciate Lukang Tings Family Historical Residence (鹿港丁家古厝), a beautiful old residence.
Lukang Museum of History
The small Lukang Museum of History (鹿港鎮史館) is a 5-minute walk east of the Lukang Old Street entrance on Minquan Road. The museum is Japanese-style wooden house where the Lukang mayor lived during the Japanese colonial period.
There are only a few artifacts on display, including an old Chinese character printing press, parade mask, LEGO version of Lukang's Wenwu Temple (see below), and black and white photographs of Lukang. The house itself is beautifully maintained.
The museum is free to enter and open 9-12 and 1:30 to 5 (closed Mondays).
Lukang Starbucks
Lukang's Starbucks branch (鹿港門市) is one of the coolest Starbucks in the country. It's in a unique oval-shaped, glass-fronted building.
Inside, there are Lukang-style traditional lanterns, columns with traditional tiles, and other nods to local culture. The branch is on the company's official list of "special" (特色門市) Starbucks locations across Taiwan.
Breast Touching Lane
Breast Touching Lane (摸乳巷 or "Mo Ru Lane" on GoogleMaps, also called Gentleman Alley) is another super narrow lane. This one is located six minutes' walk south of Lukang Old Street and west of Jiuqu Lane.
The lane is mainly famous for the name, which suggests the lane is so narrow, you might accidentally brush against the breasts of a woman if you pass her. When I visited, people not so accidentally had left female-bust shaped water bottles on a ledge in the lane.
李王麻辣專賣, a small restaurant serving mala (spicy) tofu and cold sesame noodles has windows that face onto the lane.
Lukang Lungshan Temple
Lukang Lungshan Temple (鹿港龍山寺賣) is one of the most significant temples in Lukang, and the oldest of several Longshan Temples in Taiwan (there are others in Taipei, Danshui, Tainan, Kaohsiung, and more).
The large temple dates to 1738 and features some truly beautiful and old-looking wood carvings and stone sculptures. There are several gardens in the compound, one of which contains a pair of 200+ year-old Ficus microcarpa (banyan) trees.
The temple is sometimes nicknamed "Taiwan's Forbidden City", and the Taiwan Tourism Bureau has called it the best-preserved Qing Dynasty temple in Taiwan. The temple is four minutes east of Breast Touching Lane on foot.
Lukang Decang Temple
Lukang Decang Temple (鹿港地藏王廟) is a Tibetan temple dating to 1815. It is in the middle of a small park/garden. When the temple was renovated in 2004, the renovators failed to adopt the traditional methods. This has resulted in serious cracking of several paintings and damage to the floor.
The cracks do give the interior a unique appearance, though, and the temple is a convenient stop between Lungshan Temple and the next entry.
Wenwu Temple
Wenwu Temple (鹿港文武廟) refers to three picturesque historic religious and educational buildings that are connected in row, all within a serene park. Together, the buildings are known for their high degree of preservation and uniformity of design.
The order of buildings you'll encountered upon entering the park from the northern gate is as follows: Literature Shrine (文祠), Martial Temple (武廟), and Wenkai Academy (文開書院). The buildings date to 1812 and were dedicated to loyalty and martial arts training. Lukang's style of poetry was invented on site, and local scholars used to study together there.
The site is about 15 minutes south of the Old Street, and is the furthest attraction that you are likely to consider reaching on foot.
Lukang Glass Matsu Temple (Husheng Temple)
One of the newest and most fascinating modern attractions in Lukang is Husheng Temple (台灣護聖宮), also known as the Glass Matsu Temple (玻璃媽祖廟).
The temple claims to be the only one in the world built mainly of glass. It was built by the owner of a glass factory on a small mostly industrial island just off the coast of Lukang. The Taiwan Glass Gallery (臺灣玻璃館) is next door to the temple, with various glass items on display / for sale, and even a glass tunnel you can walk through.
The temple is truly special, but nothing beats seeing it at night, when the glass walls are lit up with different colors and the pond inside reflects them.
Unfortunately, though, the temple closes at 5 PM on weekdays, so you'll really want to visit on Saturday or Sunday, if you can, when it's open until 6/7 PM in winter/summer. The last hour is when the magic happens.
On the main shrine inside, rather than a god statue as is usually the case, there's a glass sculpture in the design of Yushan, Taiwan's tallest mountain.
There are a few other family-friendly tourist sights on the island, including Ribbon King Tourist Factory (緞帶王觀光工廠), Rolled Wood Forest Museum (卷木森活館) , and Brand's Health Museum (白蘭氏健康博物館), but I personally wouldn't go out of my way for any of them, even if traveling around Taiwan with my kids.
Sanqing Sanyuan Shell Temple (Changhua Seashell Temple)
The Sanqing Sanyuan Shell Temple (三清三元宮貝殼廟), often called Changhua Seashell Temple (彰化貝殼廟), is another unusual temple. In this case, the entire temple has been meticulously decorated with seashells and coral. It is reminiscent of the Sanzhi Seashell Temple in New Taipei City.
I found this one even creepier, especially the row of male statues reaching out to you as you approach the main altar. The altar is in a cave blackened by years of incense smoke, with dragons, yin yang symbols and more all made out shells.
Inside the main shrine, a staircase leads down to an underground tunnel with more seashell images. The tunnel leads to an outdoor area at the back with ponds and aquariums filled with fish.
Nobody was there when I visited, but there were lots of birds living in the temple, and noisy cicadas in the trees around it. The temple is located five minutes south of Lukang by car/scooter. On foot, you could get there in about 30 minutes (one hour return).
Getting to Lukang
There are several different options for getting to Lukang. From Taipei, it takes 2-3 hours to reach Lukang, with the fastest option also being the most expensive and requiring careful timing.
Direct bus from Taichung
Taichung is 20 km from Lukang, as the crow flies. From Taichung Railway Station (East Station) (台中火車站(東站)) bus stop, which is on the south side of the train station on Fuxing Road (復興路), you can take bus 9018. It takes about 1.5 hours to reach Lukang Station (鹿港站) and costs NT 93.
Direct bus from Taipei
Ubus 1652 travels direct from Taipei Bus Station (臺北轉運站), with 6-7 departures per day, usually taking around 2.5 to 3 hours. The bus station is located just north of Taipei Main Train Station.
A one-way ticket costs NT 395. You may want to buy in advance for popular departure times, such as Friday evening, when they often sell out.
The Ubus terminal in Lukang, called "UBUS Lukang Station/統聯客運鹿港站 on GoogleMaps, is about a 10-minute walk from Lukang Old Street.
High Speed Rail + Bus
If you'd like to get there as quickly as possible and don't mind paying a little more, first take the High Speed Rail to Taichung Station.
The full fare is NT 700, but you a get bigger discount the earlier you book, up to 28 days in advance. You can also get the discounted price, even closer to the departure date, by booking here on Klook. The ride takes 45 min to 1 hr, depending on which train you get.
From Taichung's HSR station, take Changhua bus 6936 and get off at Lukang Station, called "彰化客運鹿港乘車處" on GoogleMaps). The ride takes 50 minutes and costs NT 82.
Note that for this route to actually save you time, you'll need make a good connection with the bus. The bus only departs nine times per day, so time it well. To see the times, click the bus link above, and click the second tab (時刻表). If you make a good connection, you can get from Taipei to Lukang in about two hours.
Slow Train + Local Bus, Scooter, or Bike
Yet another option is to take a regular train from anywhere in Taiwan to Changhua Station.
From Changhua, you can rent a scooter from a few shops in front of the station. I got mine at 正捷機車出租. The price was NT 350/day. A local or international license is required. The ride to Lukang takes about 30 minutes.
If you prefer to go by bicycle, there's a huge MOOVO smart bicycle rental station right in front of the train station (they used to be UBikes, but they've now been replaced with MOOVO).
Yet another option is to ride bus 6900, 6901, 6902, 6909, 6933, 6934, or 6936 to Lukang, each taking around 30 minutes, and getting you quite close to Lukang Old Street.
Well, that brings us to the end of this Lukang travel guide. I hope you've found more information than you needed for planning your trip to Lungang. If you have any questions about traveling in Taiwan, feel free to join my Taiwan Travel Planning group of Facebook!