Dear reader: This article contains links to products and services that I may be compensated for, at no extra cost to you.
So you've booked your trip to Taiwan, decided on the best time to travel to Taipei, and now you're wondering how to plan your Taipei 3 day itinerary? Well, you've come to the right spot!
Spending three days in Taipei is just the right amount of time if you're visiting Taiwan for 1-2 weeks. It's also a good amount of time if you're just here for a stopover, so this article also serves as a Taiwan 3 day itinerary.
In this Taipei travel itinerary, I cover the main tourist attractions. If you've got more or less time in Taipei, see itineraries for 2 days, 4 days or 5 days, and if you want more ideas for off-the-beaten-track Taipei attractions, check out my favorite 50 things to do in Taipei.
For this Taipei itinerary, I'm going to give you two options. One is an itinerary for three whole days in Taipei City (without making a day trip). The second idea is that you follow the first two days below only (or see my 2-day Taipei itinerary), and then choose one of my recommended Taipei day trips for day 3.
I've put together all these itineraries after living in Taiwan for over 10 years. Just as a warning, I'm going to squeeze in a lot, but this is exactly how I would do it. I'd rather give you more ideas than not enough!
Some Taipei Travel Essentials
– Save money while traveling in Taipei and Taiwan by finding discounts on transportation, activities, restaurants, and more on Klook. We use it all the time! If you sign up with this link, you'll get NT$100 off your first booking.
– I'll include some hotel recommendations at the end, or you can see my more guide on where to stay in Taipei.
– Read my guide to traveling in Taiwan for more general information about planning a visit.
– When you arrive at the Taoyuan Airport, the Airport MRT line runs direct to Taipei Main Station. If prefer to get a taxi, save a few hundred NTD by booking this private car from the airport or a cheaper shared transfer to your hotel, or rent a car at the airport.
– The MRT is the lifeline of Taipei and goes almost everywhere on this itinerary. Definitely consider getting the Unlimited Fun Pass, which includes entrance to 16 popular attractions plus unlimited MRT and bus rides in Taipei and New Taipei city. See my article on deciding whether Taipei fun passes are worth the money.
– If you decide not to bother with the above passes, just load money onto an EasyCard like all the locals do. It gives you discounted fares and works on all transportation in Taipei and other major cities, except for the High Speed Rail, intercity buses, and regular trains that require seat reservations. It even works for taxis and at 7-11!
– Pre-order a 4G Unlimited WiFi Pocket Device for pickup when you arrive at the airport.
– The Taipei Double Decker Bus stops at many of the sights on this list.
Also have a look at my articles on 50 Unmissable Things to do in Taiwan and how to plan your complete Taiwan itinerary.
Where to Stay in Taipei
Choosing where to stay in Taipei can be a daunting task, because the city's sights are quite spread out, and there are seemingly unending accommodation choices. To simplify this task, I've written a super clear guide to the best neighborhoods and hotels in Taipei.
I've summarized the best choices below:
Budget/Backpacker
Star Hostel Taipei East (see on Agoda / Booking / TripAdvisor ) Stylish, chill, and eco-friendly hostel conveniently located by Zhongxiao Dunhua MRT
Old Door Hostel (see on Agoda / Booking/ TripAdvisor) Another stylish hostel with awesome and very private, capsule-like dorms just north of Taipei Main Station, with a little bar on site.
Next Taipei Hostel Ximending (see on Agoda / Booking / TripAdvisor ) Yet another cool choice, right in cool Ximen neighborhood, with free breakfast, rooftop terrace, and a social vibe.
Mid-Range and Good for Families
Dream Home Inn/Taipei Main Station Homestay (see on Agoda / Booking / TripAdvisor ) Only two minutes from Taipei main station, guests here rave about the super friendly hosts, bright spacious, rooms, and amazing location. Car hire also available.
Amando Inn (see on Agoda / Booking / TripAdvisor ) Quiet, homey rooms near bustling Ximen area, with shuttle service & car rental available.
Luxury
W Hotel (see on Agoda / Booking / TripAdvisor ) Where did Lady Gaga stay in Taipei? At the W, of course. This is Taipei's newest, funkiest, and most fashionable luxury hotel. Even if you don't stay, come for a fancy drink at their 10F pool or try to get seats for their excellent Sunday brunch buffet!
Humble House (see on Agoda / Booking / TripAdvisor) Expect nothing but the classiest treatment at this luxury hotel in the Taipei 101 area, including rooftop pool and access to Taipei City Hall MRT.
The Okura Prestige: This central 5-star choice features great city views and a heated rooftop pool. Located just north of Taipei Main Station and several shopping malls. (see on Agoda / TripAdvisor / Booking)
Grand Hyatt Taipei (see on Agoda / Booking / TripAdvisor) This classic Taipei institution features views of Taipei 101, which is just a block away, an excellent buffet restaurant, and we loved our kids' glamping experience there!
Taipei in 3 Days: Day 1
Morning
Get a spiritual start to your day by visiting Taipei's most important holy place, Longshan Temple. If you can arrive at 6 am you can enjoy a mesmerizing chanting ceremony, and there's usually a smaller one at 8 am. You can see a video of the ceremony in my article on the 30 best temples in Taipei.
If you happen to visiting Taipei during Chinese New Year, Longshan Temple is a great place to see crowds of devotees praying for a prosperous year on New Year's Day. Learn more in my guide to Taipei's festivals.
Don't forget to strol through Herb Alley next door, where various traditional Chinese herbs and medicines are sold, and wander through the surrounding neighborhood to gaze at all the Buddhist religious paraphernalia for sale in the shops.
Next, hop on the MRT or take the Hop-on Hop-off Double Decker bus to Chiang Kai-shek Memorial Hall, an awe-inspiring Taipei City landmark featuring a white and blue domed hall honoring the former dictator, as well as the classical Chinese National Theater and National Concert Halls.
For lunch, walk or backtrack on the MRT to funky Ximen district. There are tons of interesting and unique teashops and restaurants in Ximen. While you're there, watch out for tattoo street, cosplay cafés, or get an ancient Chinese knife massage!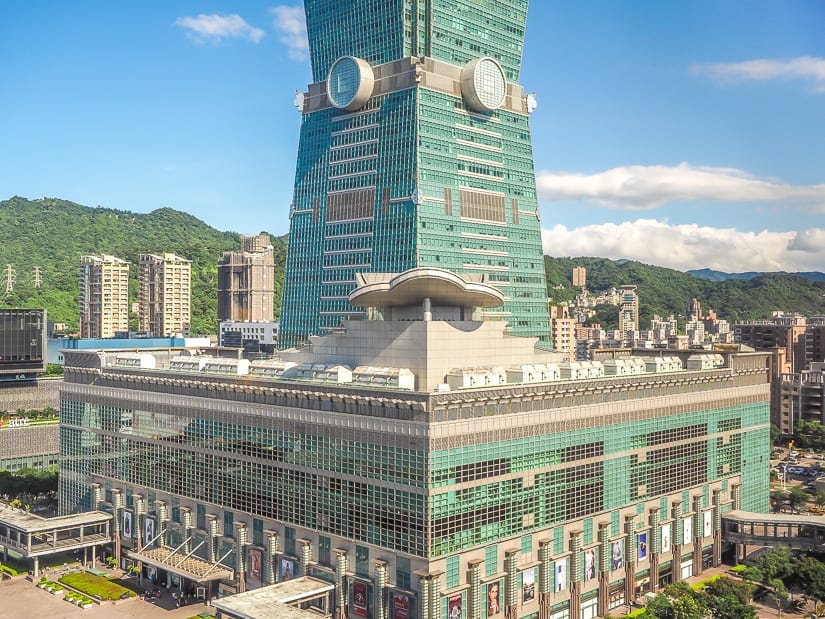 Afternoon
Depending on how much energy and how hot it is out, you may want to go back to your hotel for a rest after lunch. Alternatively, history lovers may want to consider exploring Di Hua Street in Dadaocheng, Taipei's most interesting historic neighborhood, on foot for a few hours.
Next, head to eastern Taipei to get a bird's eye view of Taipei from either Taipei 101 or Elephant Mountain. If you prefer to escape the crowds, consider one of these other hikes in Taipei with views of Taipei 101.
Bamboo stalk-shaped Taipei 101, once the tallest building in the world, offers the best view of the city. Take the world's fastest elevator up to the 89th floor observatory, and don't forget to go up to the outdoor 91st floor, and also check out the huge stabilizing ball suspended in the middle.
Lines for the observatory can easily take up to an hour or more, so factor that into your planning. Aim to be up there just before sunset! Get your Taipei 101 Observatory ticket online in advance and save NT90 per ticket, or skip the long lines with this Taipei 101 priority pass. The Taipei Observatory is also included on the Taipei Unlimited Fun Pass.
If you want a cheaper option with no lines, then take the MRT one stop further to Elephant Mountain. It's a little steep but only takes about 30 minutes to reach lookout points with the classic, picture postcard view of Taipei City, with 101 right in front of you.
For those visiting as a family, see my article on Taipei with kids.
You're probably starving by now, so walk or take the MRT 1-2 stops to Xinyi Anhe Station, where you can find Tonghua (Linjiang Street) Night Market.
Surprisingly laid-back and local considering the proximity to the ritzy Taipei 101 area, this is a great place for your first Taipei night market venture, the essential Taiwanese eating experience. Taiwanese won't forgive you if you don't try the stinky tofu! (note: there's even a whole neighborhood in New Taipei City dedicated to stinky tofu, called Shenkeng Old Street!)
To learn more about why kind of foods you can try there, here are 101 popular street foods in Taipei!
For serious foodies, there are some really great cooking courses in Taipei, covering a huge variety of styles and tastes. Check out the best cooking courses in Taipei here!
Taipei in 3 Days: Day 2
Morning
Start your day with a sushi breakfast at Addiction Aquatic Development, a luxury seafood market that opens at 7 a.m. They have a variety of take-away meals.
Next, make your way to the National Palace Museum, the most important museum in the greater China region, with 700,000 artifacts in its permanent collection. The museum opens at 8:30 am, and you can get there by taking bus R30 from Shilin MRT Station or a quick taxi.
There's also the Shung Ye Aboriginal Museum next door. See here for a more detailed writeup about visiting the National Palace Museum and Taipei 101.
Reserve your National Palace and Shung Ye Museum combined ticket online to save a little money. Entrance to the National Palace Museum is also covered by the Taipei Unlimited Fun Pass.
If you prefer the outdoors to museums, then skip to the next stop and spend more time there!
For an authentic aboriginal experience in Taiwan, try Ita Thao village on Sun Moon Lake, remote Orchid Island in Taitung County, or this aboriginal cooking course in Hualien.
Afternoon
Return to the MRT, continuing north to Beitou and then transfer to the one-stop pink line to Xinbeitou station for the Beitou Thermal Area, the most famous of Taiwan's numerous hot springs, where you can start by having lunch at Sushi Express across from the MRT station, or wait in line for the hot spring ramen shop. See here for my complete guide to Beitou and Xinbeitou Hot Spring!
Even when it's not winter in Taiwan, there are loads of interesting sights in Beitou. Stroll along the hot spring park in front of the station, which features a steaming hot creek, eco-frendly Beitou public library, Millenium Hot Spring (the cheap, public hot spring), Beitou Hot Spring Museum, and just past the park, enormous, steaming Hell Valley (closed Mondays).
For a private soak, all the hotels along the park offer a room with a tub for NTD1000+ for 90 minutes. My favorite (and cheaper) options are Kyoto Spring Hotel up a small road past the park (about NT700, and rooms have windows, unlike other cheaper ones), or Spring City Resort, which offers this heavily discounted online deal.
For a classier hot spring soak, try this hot spring experience at Gaia Hotel or stay at the luxurious Yangmingshan Tienlai Hot Spring Resort.
Next, continue north on the MRT red line to Guandu station, from where it's a 10-minute walk to Guandu temple, my favorite temple in the greater Taipei area.
I like Guandu Temple because, besides the usual ornate features of all Taiwanese temples, it features an 80-meter tunnel through the mountain with 28 gods that leads to a lookout point and impressive Guanyin statue, as well as a lovely exterior that you can admire from the stairs leading up behind the temple.
Continue to the terminal station of the red line, Tamsui (the Taiwanese language pronunciation of Danshui), where you can stroll the riverside promenade. There's loads of seafood treats, and watch for the Turkish ice cream stall! Nearby, you can also visit the old San Domingo Fort in the Tamsui Historical Museum, which is covered by the Taipei Unlimited Fun Pass.
Take a bus or 10-15 minute river ferry to Fisherman's Wharf, a pretty harbor with a lovely walking bridge that is famous for its amazing sunsets, or to the riverside promenade on the other side of the river, called Bali Old Street. See my full Tamsui guide here.
On the way back to Taipei, if you want more night market action, get off at Jiantan (not Shilin) MRT for Shilin Night Market, the largest and most famous in Taipei. Be prepared to get lost inside, and keep an eye out for the air-conditioned underground food courts!
Other convenient eating options include the Din Tai Fung, Taipei's famed (but reasonably priced!) Michelin star soup dumpling restaurant, at the Mitsukoshi Nanxi location near Zhongshan MRT. Get your restaurant voucher online to skip the long lines at Din Tai Fung! You can also eat at Din Tai Fung on this Taipei night tour.
Taipei in 3 Days: Day 3
Morning
Hop on the brown line to the terminal Taipei Zoo station to reach the Maokong Gondola, the earlier the better to avoid lines on weekends (opens 9 am weekdays, 8:30 weekends). Swipe your MRT EasyCard to enter, then watch for the line for Crystal Cabins, the glass bottomed car.
You can also take advantage of this Maokong Gondola deal, which includes a free ride on the Hop-on Hop-off Double Decker bus at night. If you've got a Taipei Unlimited Fun Pass, it includes one free return ride on the gondola, as well as entrance to the Taipei Zoo if you decide to go there as well.
It takes about 25 minutes to reach Maokong Station after passing Taipei Zoo South Station and Zhinan Temple. It's worth a stop at the latter, which offers fine views from the front of the temple.
The main thing to do at Maokong is to sip on local baozhong oolong tea from one of the many traditional tea shops, many of which overlook tea fields. It's meant to be done slowly and with a group; for a faster visit you can grab a single cup or a tea-flavored ice cream from one of the shops near the station.
If you're interested in tea in Taiwan, or you'd rather visit Maokong at night, consider joining this Maokong night time tea culture tour.
See some of my fellow travel bloggers' ideas for things to do in Taipei and the best Taipei day trips!
After arriving at the final stop of the cable car, Maokong Station, I would recommend doing the 1.5 hour return hike to Silver Stream Cave and Waterfall, a small temple surrounded by jungle, but it's a little tricky to find so you'll want to look up info before going, and perhaps show people the Chinese name for it (銀河洞, GPS: 24.95861, 121.58318) to make sure you're going the right way.
If you want to get back to the MRT faster than the gondola, there are also buses and taxis waiting to go down the mountain. There are also several food stalls around Maokong Station if you're ready for lunch before going back down.
Afternoon
Heading back to central Taipei, get off at Zhongxiao Xinsheng for Huashan Creative Arts Park, a Japanese-era winery that has been converted to an arts park and event venue.
It's a great place for a stroll or having a picnic in the large park behind. Try Alleycats for pizza and beer, or one of the cafés on site. Next, back to the MRT and three stops east on the blue line to Sun Yat-sen Memorial Hall, a monument to the founding father or the Republic of China, lying under the shadow of Taipei 101.
If you liked Huashan, than you can also check out Songshan Cultural and Creative Park, a short walk from SYS Memorial Hall, and it's worth going up to Eslite bookstore in the Eslite building there, a famous Taipei book chain that has won awards for it's interior design, and which allows people to sit anywhere inside and read their books without buying them.
Zhongxiao East Road, which follows the blue MRT line through Taipei's eastern district, is a food paradise. The section between Sun Yat-sen and Zhongxiao Fuxing MRT stations, and all the little lanes branching off in this section, are especially packed with eating options, especially hot pot, BBQ, and Izakaya-style Japanese.
There are also a few branches of Din Tai Fung if you didn't go there on Day 2.
Want to get more off-the-beaten-track? Try the Museum of World Religions or go for lunch in Little Burma, both of which are located in New Taipei City but MRT accessible.
Day 3 (option 2): Take a Day Trip from Taipei
If you only have three days in the greater Taipei area, then I'd recommend following my Taipei 2 day itinerary and then doing a day trip on your third day.
You are going to be spoiled for choices, though. Here are my 40 favorite day trip ideas from Taipei, including the very popular Jiufen Old Street, Shifen Waterfall, Wulai Old Street, and Yehliu Geopark. If you're visiting Taiwan in summer, here are the 6 best beaches around Taipei, or you can try visiting one of these fun theme parks around Taipei.
There are also numerous attractions in Yilan that would make worthwhile day trips from Taipei, including Jiaoxi Hot Spring.
Well, I hope you've found everything you needed and more for planning the perfect three days in Taipei. If you still have any questions about your itinerary, please comment below or join my free Taiwan Travel Planning group, where I will personally answer any questions about traveling in Taiwan!