Dear reader: This article contains links to products and services that I may be compensated for, at no extra cost to you.
Taipei is a food lover's paradise. The city's legendary street foods and night markets tend to get all the attention in the media, but Taipei is also overflowing with amazing restaurants. One of the best things to do in Taipei is to discover new restaurants, which the city has thousands of. But they are often packed, and it's hard to even know where or how to begin. That's why I'm writing this guide!
Even after living in Taipei for over a decade, I still feel like I've barely scratched the surface of the city's restaurant scene. Because people are constantly asking for Taipei restaurant recommendations in my Taiwan Travel Planning group, I've put together this list of the best restaurants in Taipei.
I'll be starting with the most "famous" restaurants in Taipei, then on to the best Taiwanese restaurants, hot pot, seafood & Japanese, sushi, vegetarian, dumplings & xiaolongbai, dim sum & regional Chinese, noodle shops, breakfast shops, international restaurants, 5-star buffets, romantic restaurants with a view, and finally, night markets and foodie streets.
This article ended up WAY longer than I expected (no surprise!), so I suggest that you use the table of contents below to jump to the section you're looking for. I've also got this guide to Taipei's best 24-hour places to eat.
Map of the Best Taipei Restaurants
Here's a detailed map to help you find every single one of the places to eat that I mention in this article. I've colored coded them according to the sections of the article to make it easier to find what you're craving! Click the slider on the side to search by the different categories.
A few only have Mandarin names on GoogleMaps.
Planning a trip to Taiwan? Sign up for Klook with this link to get a free TWD 100 credit in your account and find loads discounted travel deals!
Top 5 Restaurants in Taipei
The following five Taipei restaurants are the big-name ones that almost always make the usual lists of top places to eat in Taipei. So I can't NOT mention these.
Many visitors manage to include Din Tai Fung on their Taipei itinerary. But the other four are super upscale, Michelin-star restaurants where it can be difficult to get a reservation. They aren't typically visited by the average traveler, except for serious foodies – and even then, you'll need a bit of luck and patience to score a booking.
You can see all the Michelin-recommended restaurants in Taipei here. Click 'distinction' then filter by stars. If you choose "Bib Gourmand", it includes many accessible small restaurants and even food stalls!
Din Tai Fung
Din Tai Fung is undoubtedly Taipei (and Taiwan's) most famous restaurant. The restaurant specializes at Shanghai-style xiaolongbao (小籠包) or "soup dumplings" (湯包), because the meat produces soup inside of them when steamed. The bao are steamed and served in baskets.
Each bao is made on site – you can even see the kitchen staff at work through a window at some locations – and has exactly 18 folds. There's a specific way to eat them, which is explained on a sheet provided.
Besides xiaolongbao with various meats (unfortunately no vegetarian ones), Din Tai Fung has other steamed buns, shao mai, and dumplings (including mushroom vegetarian ones), soups, greens, noodles, and more. Even their plain old fried rice is delicious.
Din Tai Fung is a chain. The original Din Tai Fung is the smaller Xinyi location, near the entrance to Yongkang Street, a street known for its many good restaurants (several will be introduced in this article, or you can read my guide to the best restaurants on Yongkang Street).
There's a larger, newer branch down the street (Xinsheng location), plus half a dozen others in Taipei, and another in Banqiao (New Taipei City), Hsinchu, Taichung, and Kaohsiung. They've also expanded to a dozen other countries around the world. One location in Hong Kong has even been awarded a Michelin star.
Din Tai Fung does not take reservations. A line of up to an hour to get in at any location is normal – try to avoid lunch and dinnertime. You can reduce the waiting time if you pre-order your meal here. There's also a Taipei night tour with a stop at Din Tai Fung.
If you want to try soup dumplings without the long line, I'll recommend several alternatives to Din Tai Fung in the "Dumplings and Xiaolongbao" section below.
Remember that tipping in Taiwan is not normal or necessary, even in nicer restaurants. Sometimes a 10% service charge is added to the bill.
RAW
Local foodies were thrilled when Taiwan's most famous chef, André Chiang finally decided to open a restaurant back home in Taipei. Before that, his Paris restaurant Le Jardin des Sens had achieved 3 Michelin stars, while his Singapore restaurant, Restaurant André, was named second best in Asia.
Raw does French-style haute cuisine (you know, the kind that looks more like art than food and is featured on documentaries about famous chefs). But Chiang applies local Taiwanese inspiration and ingredients – some are even based on Taiwanese street foods.
The handsome interior features flowing pine wood designs. It has achieved 2 Michelin stars for four years in a row, though Chiang has tried to reject the stars for his restaurants.
Reservations can be made on their website – to get a spot, you'll need to follow them on social media and find out when they are opening new dates, then jump on it as soon as they are released. Good luck!
MUME
While MUME hasn't achieved the same status or level of fame as RAW, they offer a similar high level dining experience. Nordic and European preparation methods are adopted with local Taiwanese ingredients, with vibrant contrasts in flavor, texture, and color.
The restaurant interior is "industrial-chic", while the waiting staff and knowledgeable and attentive. It can be a little easier to get a reservation here than at RAW.
Le Palais
Le Palais in Palais de Chine Hotel has the distinction of being Taipei and Taiwan's first and only restaurant to have achieved three Michelin stars, which it has held since the Taipei Michelin guide was first released in 2018.
Le Palais specializes at Cantonese classic but perfectly executed dishes and dim sum. They belong to the style you would expect at a very upscale wedding or banquet. Le Palais is run by two chefs from Macau and Hong Kong. Dim sum can be ordered a la carte, while there's also a set menu. Some of the most famous dishes, like crispy duck and gourd stuffed with shrimp and crab meat, need to be ordered a few days in advance. Just like any banquet meal, it's best to go with a group.
The restaurant is located on the 17th floor of the hotel. It is ultra-classy, with Chinese touches and art, and yes, there is a dress code.
RyuGin Taipei
I wanted to include at least one upscale Japanese restaurant. There are too many in Taipei for me to cover! RyuGin Taipei (also called Shoun RyuGin) is often considered one of Taipei's best restaurants, period, so it seemed like the obvious choice.
Shoun RyuGin is one of three restaurants by the Japanese chef Seiji Yamamoto. The original one in Tokyo has three Michelin stars, while Shoun RyuGin is one of only two Taipei restaurants to maintain two stars since the guide started.
Ingredients are mainly sourced in Taiwan – you even get to see on a map where exactly in Taiwan they came from . They are elegantly prepared using Japanese techniques and served kaiseki (traditional Japanese multi-course) style. Everything is luxurious and top-notch, from presentation and environment to service.
Expect to pay around TWD 6000 per person, and there's a long wait to get a reservation.
Want to learn how to cook Taiwanese food? Take one of these food courses in Taipei!
Taiwanese Restaurants
Now that we've covered the super famous ones, let's jump right in to some local Taiwanese food restaurants! The following are my recommended places for trying authentic, local Taiwanese cuisine in Taipei.
For most of these, you may be able to show up and get a spot, but a reservation by phone never hurts.
James Kitchen
For classic, local Taiwanese food, I highly recommend James Kitchen (大隱酒食) on Yongkang Street. The food here is similar to what you might be served in a local family's home, and even the casual setting in an old house feels authentically Taiwanese.
Some menu highlights that we enjoyed include pickled radish omelet, oyster rolls, dragon whiskers (a type of green vegetable), flying fish roe sausages, and tofu skin rolls. There's English and pictures on the menu. Try to come with friends so you can taste more items!
Pin Xian Quick Fry
Everyone in Taipei has a favorite quick fry (快炒 or kuai chao), also called hot fry (熱炒 or re chao) restaurant. Mine is "Pin Xian 100 NT Dollar Stir Fries" near Liuzhangli MRT on the brown line.
These are typically large, noisy restaurants where groups of patrons sit on short stools at round tables and share many small dishes (often for only TWD 100 each) of fried foods, heavy on seafood and fragrant herbs. You can help yourself to beers from the fridges – the servers just count the bottles at your table at the end. Sometimes there are beer girls employed to try to sell certain brands of beer.
The food is pretty similar at most quick frys, but Pin Xian always stands out to me for its vibe and for having all my personal favorites (deep fried squid mouths (龍珠) anyone?) It's understandably popular, though, so sometimes there's a wait for table. While you wait, you can grab a beer from 7-11 next door. For travelers, there's even an English menu.
Baxian Grill & 一代佳人海鮮碳烤
I wanted to give you a few more quick fry choices, so I went with Baxian Grill (八仙炭烤熱炒) and 一代佳人海鮮碳烤, which are next door to each other and across the street from Da'an Park. I choose these because the second one is the favorite of my Taiwanese businessmen students, so that should mean something, right?
Both quick fries are extremely similar. They have the full range of dishes you'd expect at any other. Uniquely, they are both on the 2F roof, but covered with a canopy, so they feels partially outdoors. One reason my students like it, besides the reliably excellent food, is that you can smoke at them. They open or close the canopies depending on the weather.
Like most quick frys, there's no English menu, so it's best to go with local friends or make use of a translation app. I've only ever seen Taiwanese people here, so if you're looking for super local option, here you go! If you need help, you could always ask some locals, and they would probably be more than glad to help you order.
For even more quick fries, this one near Shuanglian MRT has an English and Japanese menu, while here's another popular one near Chiang Kai-shek Memorial Hall (no English menu).
Ay Chung Rice Flour Noodles
Ay Chung Rice Flour Noodles (阿宗麵線) in Ximending is easily one of Taipei's most famous restaurants among visitors, especially those from Asian countries. You can't miss the crowds of them eating on the street just outside of this take-away-only restaurant in Ximending's walking district (see here for my guide to all the best restaurants in Ximending).
The specialty here is vermicelli stew, which is called mianxian or 麵線 in Mandarin, but often called its Taiwanese language name, mee sua. It comes with oysters (蚵仔) and intestines (腸仔). At some other shops, you can choose either/or, but here it has both. You only need to choose small or large bowl, and cilantro (香菜 or xiang cai) or no cilantro. Then you can add your own chili, garlic, and vinegar at the little station.
You can find mee sua all over Taipei, including night markets and from small push carts on the street. It is often served at breakfast time. To find food stalls selling mee sua anytime, just search "麵線" on GoogleMaps.
Is the one at Ay Chung really different or better than all the others? In my opinion, they're all good. For me, I especially prefer the vegetarian version of mianxian made with mushrooms – find it in Taipei here or here).
I still include Ay Chung in this list because it's a famous shop in a convenient location for travelers, and considered a must by so many visitors. You can pre-order here, but it's not necessary.
Shin Yeh Taiwanese Cuisine
A fancier spot for trying all kinds of classic Taiwanese foods is the three-branch chain Shin Yeh Taiwanese Cuisine (欣葉台菜). There are two in Zhongshan district and another on Zhongxiao E. Rd, between Fuxing and Dunhua MRT stations.
Highlights on the sprawling menu include items like stewed pork knuckle, shrimp and taro rolls, sesame oil chicken, steamed crab on rice, and much more. Because it is banquet style, with round spinning tables for sharing, coming with a group is best.
Jia Jia Hakka Food
Around 15 to 20% of Taiwan's population are of Hakka descent. So if you want to try local Taiwanese food, it only makes sense to include some Hakka eats on your list!
Most Hakka people live in Hsinchu, Miaoli, and Kaohsiung, so it is less common to find Hakka food in Taipei. Jia Jia Hakka Food (家家客家菜館 – listed by Mandarin name only here) is one place you can. It's just off Yongkang Street – you can't miss all the pictures of their dishes displayed on the front.
Many dishes aren't much different than what you'd find in a regular Taiwanese restaurant, but some stand-out items include Hakka braised bamboo shoots, stir fried stinky tofu with salted egg, Hakka salty chicken, and beef with pineapple.
Best Hot Pot
Going for hot pot is a quintessential experience in Taipei. It works for dates, family dinners, or with big groups of friends. Many of them are all-you-can-eat, often including drinks and ice cream for dessert. Sometimes draft beer is even included, but it does take up valuable stomach space.
Usually, you choose a soup base (or two, if they have split pots). Then each person choses a meat or seafood platter, and all the other ingredients are self-serve and unlimited. Nicer hot pot restaurants tend to be a-la-carte. Note that mala (spicy broth) often has duck blood cakes in it – you can ask them to leave it out if you prefer. There are usually several broths on offer, including some plain and non-spicy ones.
I didn't include a DIY Barbecue restaurant section in this article, but there are also countless barbecue restaurants in Taipei. We like this one. Some are a la carte, while some are unlimited – you get a menu and just keep ordering as much as you want. Sometimes BBQ and hot pot are even combined, such as here. Be prepared to stuff yourself silly!
Tripod King (Ding Wang Hot Pot)
Tripod King, also called Ding Wang (鼎王麻辣鍋), is my favorite hot pot restaurant in Taipei. It's a chain with a handful of locations, including Ximending, Zhongxiao Fuxing, Guangfu North Road, and more.
Ding Wang stands out as being a little nicer, and with higher quality ingredients than your standard all-you-can-eat hot pot joint. Items here are ordered a-la-carte, which is usually a sign that they are better.
Another cool thing about Ding Wang is that the pot is a traditional kind with three legs – a ding (鼎) is a traditional 3-three legged Chinese vessel or cauldron, so sometimes the restaurant's name is directly translated as "Tripod King". See all the store locations here.
Rododo
Rododo (肉多多火鍋) is pretty typical all-you-can-eat hot pot restaurant. You choose your soup base and meat or seafood set, then enjoy all-you-can eat other ingredients.
What sets this one apart, though, is that it is dinosaur-themed, so most locations have dinosaurs on the walls. This would make it a fun choice if you're in Taipei with kids.
Of the many Rododo locations, the Da'an one is especially well-rated.
Caiji Longfu
If dinosaurs aren't wild enough for you, then consider Caiji Longfu (蔡記隆府), which is dragon themed. Besides the large golden dragon on the wall and dungeon-like atmosphere, even the pots themselves and other utensils have dragons on them.
Steaming drinks and soups, a touch of theatrics like steam in the center of the pot, and creative presentation of foods complete this fun experience. The food itself is good, too, but be warned – spice levels are pretty high if you go the mala route. Find it here.
Malading Spicy Hot Pot
For your typical, serve yourself, all-you-can-eat hot pot in Taipei, I recommend Malading Spicy Hot Pot (馬辣頂級麻辣鴛鴦火鍋). There are locations in Ximending, Zhongshan MRT, Zhongxiao Fuxing, and Nanjing Fuxing MRT.
There are half a dozen broth choices, including of course the classic mala (mouth-numbing spicy). You can get a split pot with different broth on each side, which is great for sharing or for groups with different dietary preferences.
Unlimited drinks, desserts, and ice cream (usually high quality Häagen-Dazs or Movenpick) and draft Taiwan beer are included in the price (TWD 650 to 850 depending when you visit). Like many restaurants in Taipei, it's cash only. There's a two-hour time limit, which should be more than enough time to induce a food coma.
Wulao Hot Pot
A fifth and final hot pot restaurant I'll share is the chain Wulao Hot Pot (無老鍋), which was recommended by members of my Taiwan Travel Planning group.
Wulao is just a smidge classier than your usual all-you-can-eat place. Dishes are-a-la-carte, including fish balls handmade in store, and the choice of mala and/or creamy tofu soup bases. See the full menu with English here. There's one location in Ximending and another in Zhongshan.
Seafood & Japanese
Keeping in mind that Taiwan is an island and was a Japanese colony for 50 years, there are countless seafood and Japanese restaurants in Taipei. I'll only skim the surface here.
I've mostly left out the really high end places (of which there are many) and stuck to more accessible ones. Also, there are so many sushi restaurants in Taipei that I've covered those in the next section below.
Addiction Aquatic
Despite the weird name, Addiction Aquatic Development is practically synonymous with seafood in Taipei. You might even call it a seafood paradise. There's a lot to know here, so please read my full guide to Addiction Aquatic.
What used to be the Taipei Fish Market has been converted into an upscale seafood market, grocery, and collection of restaurants.
There are nearly a dozen different ways to partake of seafood here, including a standing sushi bar, seafood bar, seafood hot pot, take-away sushi and sashimi trays, outdoor seafood BBQ, and an upscale seafood restaurant.
Open from morning till night, and with no reservation required, this is an essential Taipei experience for any seafood lover. It's cash only, but there's an ATM if you need it.
Ramen Nagi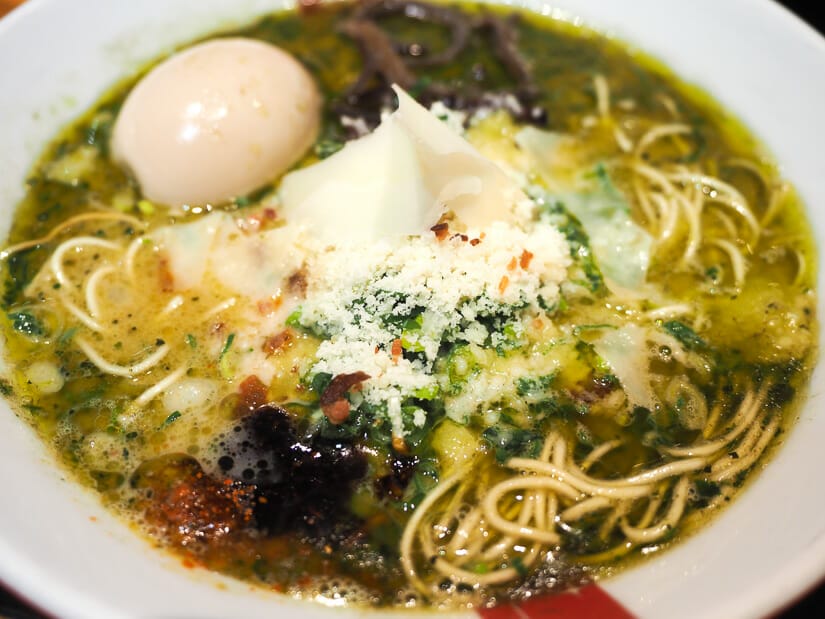 Ramen is hugely popular in Taipei. There are several chains with branches everywhere, so ramen aficionados will be spoiled for choices.
My personal favorite chain is Ramen Nagi (豚骨拉麵 Nagi 凪), which is a popular chain in its native Japan. It stands out for me because they have fun selection of unusual (non-traditional) ramen, plus several options for customizing your order.
The soup choices are butao (original pork), green king (basil, olive oil, and parm cheese), red king (spicy, with a ball of miso pork on top), and black king (squid ink). As for options, you are provided a sheet on which you can mark your preferred level of soup richness, sauce, garlic, pork and vegetable choices, noodle type, and noodle softness. There are also various add-on choices.
There are Ramen Nagi locations in Ximending, Dazhi, Tianmu, and Zhongxiao Fuxing/Dunhua.
For more traditional ramen experience, this place is extremely popular among Taiwanese foodies. It was started by a Japanese chef but now run by a Taiwanese who uses the same recipes. They have a Taiwanese version and a saltier but more authentic Japanese version. One option comes with a ridiculous amount of meat – just peruse the reviews to see pics. It's all-you-can-eat (free refills). The line sometimes takes hours.
Takemura Izakaya
Izakaya are small Japanese-style bars with food. They tend to be relatively quiet, dark, and the perfect place for some late-night snacks and drinks.
There are dozens of izakayas in Taipei, so it's hard to pick just one to include here. I went with Takemura Izakaya (竹村居酒屋) for the simple reason that its red lanterns and view of the most famous of Taiwan's landmarks, Taipei 101, towering above the narrow alleyway behind it make it one of the most famous "secret" Taipei 101 photo spots in Taipei.
Like most izakayas, you can expect cold beer, sakes, grilled meat sticks, onigiri, and other small Japanese/Taiwanese eats. The menu is not as large or varied as some izakayas, but this one wins for location and ambience. See here for more izakayas in Taipei.
Tou Tou An
For classy and creative Japanese fare, but not quite as pricey or hard to book as the Michelin-rated places, consider a date night at Tou Tou An (燈燈庵).
The kaiseki (multi-course) meals here are artfully presented, so prepare to take a lot of pictures before you dig in. The menu changes every season and will be shown to you on a piece of paper – English ones are available on request. You'd definitely want to reserve for this place.
Fei Qian Wu / Umeko (Unagi Restaurants)
Fei Qian Wu (肥前屋) is an extremely popular unagi (eel over rice) restaurant in Linsen North Road area of Zhongshan district. This area is a sort of red light district among the businessmen crowd (don't worry, you won't see anything too out-of-the-ordinary at street level), and thus has loads of small Japanese bars and izakayas in its narrow alleyways.
Fei Qian Wu is the classic, go-to spot for unagi in the area. It typically draws long lines of people. However, several other newer unagi spots have popped up in the neighborhood, and most of them are said to actually have better unagi than Fei Qian Wu, plus no lines. These include Umeko, 魚庒, 江戶川, and 新田鰻味屋. I marked them all on the Taipei restaurants map at the top of the article.
Best Sushi
Sushi is one of the must eats in Taipei and is massively popular in the city. Sushi restaurants range from cheap, plastic-wrapped grab-and-go shops in MRT stations and fast food-like conveyor belt spots to extremely expensive, luxurious, Michelin-star dining experiences.
For this list, I've mostly stuck to cheaper ones that will appeal to regular travelers. Visitors with kids will love any of the first three!
Sushi Express
First, before any Taipei people shoot me for recommending Sushi Express first, ask yourself how many times you've eaten there in the past year!
Sushi Express is like the McDonalds of sushi in Taiwan. It is by far the country's most popular conveyor belt sushi chain. Taipei City alone has 43 branches (use this link to find them – I didn't mark them all on my map), while there are 274 across Taiwan. The chain has also spread to Hong Kong, China, Singapore, and Thailand.
Filling up on cheap but surprisingly passable sushi at Sushi Express is a quintessential Taiwan experience. Plates are colored according to price, with most only TWD 30, and you can order anything you want if you don't see it passing by. If you want miso soup (weizeng tang or 味增湯), most people ask the server for it right after being seated. When you're done, call the server to come count your plates and give you a bill, which you take to the front to pay.
My kids LOVE it, and it's great when you need a quick sushi fix. Add some cute sushi characters and catchy Japanese tunes and you've got a pretty memorable experience! I didn't mark all the Sushi Expresses on the restaurant map because there are too many.
Hama Sushi
One day, sooner or later, you grow tired of eating so much Sushi Express in Taipei. That's when you come to realize there are other, better conveyor belt sushi chains.
One of these is Hama Sushi, which is similar to, but a step up from Sushi Express. Here you order items on an iPad, then they come to you on the conveyor belt with accompanying sounds.
There's a wider variety of sushi here, as well as more non-sushi items and desserts. There's also better wasabi and four different kinds of soy sauce to choose from at your table. It's a little more expensive than Sushi Express, but you get what you pay for.
There are two branches in Taipei: one at Nanjing Fuxing MRT and another at near Minquan West Road MRT.
Kura Sushi
Yet another fun sushi restaurant in Taipei that I have to recommend is Kura Sushi. Like at Hama, you order your sushi on a screen and they come to your table on the conveyor belt. The selection is not quite as wide as Hama, but still more than Sushi Express.
The special thing here, and especially fun for kids, is this. When you're done with your plates, you drop them into a slot, and after every 5 plates, you get a chance to win a prize. Unfortunately, not every time wins, but we still got something after a few tries. Incentive to eat more sushi!
There are locations at Songjiang Nanjing, Zhongshan, and just south of Taipei Main Station. Try to avoid lunch and dinnertime, when it gets super busy and there's usually a wait.
NCISushi
For American-style sushi in Taipei, nothing beats NCISushi. Come here for yoru crazy/colorful/creative/over-the-top sushi like caterpillar rolls, flame torched-rolls, and so on. They've got rolls named after cars, like Hummer, Mercedes, or BMW rolls. They've even got a Marilyn Monroll and a Taipei Mafia sushi.
We've never had anything that wasn't delicious here, but keep in mind that you're eating an American version of Japanese food.
Yóu Sushi
Do you want something that's a little higher quality and more intimate atmosphere, but not crazy expensive like the Michelin places?
I recommend Yóu Sushi (游壽司麗水店) in Yongkang Street area. This is a small omakase-style sushi bar, meaning the chef will choose a selection for you. The chef will prepare the items right in front of your and serve them one at a time, every few minutes, explaining what they are. Their ability to explain in English might be limited, though.
For many more mid-range sushi restaurant recommendations in Taipei, see the sushi section of Hungry Girl in Taipei.
Sushi Noruma
I can't make this list without recommending at least one of the ultra-luxurious sushi restaurants in Taipei. If you could choose only one, Sushi Noruma (鮨野村 のむら) is regularly chosen as the top sushi restaurant in Taipei.
Expect a full Michelin star experience here. Ingredients are flown in from different parts of Japan and rice cooked in Mt. Fuji spring water. Interaction with the Japanese chef is very personal. Prices, of course, reflect the quality and level of service, and getting a booking isn't easy.
See here for other upscale, Michelin-star sushi restaurants in Taipei.
Vegetarian Restaurants
There are over 300 vegetarian and vegan restaurants in Taipei (here are my 20 favorites!)
The most common kind are Buddhist vegetarian buffets, where you help yourself and pay by weight. These are most commonly open at lunch and are often denoted by the Buddhist swastika (卍) on the sign – no, it's not a racist symbol. To find these, try searched (素食) (vegetarian food) on GoogleMaps. The character for vegetarian (素) is also often prominently displayed on a sign at these restaurants.
Below I'll also introduce some vegetarian dim sum, western food, and one vegetarian Thai restaurant!
Yang Shin Vegetarian Restaurant
One of the top vegetarian dining experiences in Taipei can be had at Yang Shin Vegetarian Restaurant (養心茶樓 蔬食飲茶). This is a fully vegetarian Cantonese/dim sum restaurant, including vegetarian versions of many popular Taiwanese foods.
Vegetarians, here's your chance to try xiaolongbao (there are no vegetarian ones at Din Tai Fung). You'll be spoiled for choices on the huge menu, including various dumplings, steamed buns, soups, noodles, fried dishes, and desserts.
The menu also labels which items contain milk, eggs, or honey. There are many vegan options. The restaurant is nice, with white table cloths, but not overly fancy or expensive. I highly recommend it! It's just a few steps from Songjiang Nanjing MRT.
Minder Vegetarian
One must-try Taipei restaurant experience is going to a vegetarian buffet, whether you are vegetarian or not. There are dozens of this style of restaurant all over Taipei, especially popular for lunch.
When you enter one of these, you choose a to-stay plate or to-go lunchbox and a pair of tongs, then help yourself to whatever items you want from the huge spread. Expect a lot of Taiwanese/Chinese dishes, vegetables, and faux meats.
At the till, you deposit your tongs and pay by weight. They'll ask you if you want a bowl of rice for an extra TWD 10 or so. Usually there is white rice (白飯 or baifan) or five grain rice (五穀飯 or wugufan) on offer. Some may have purple rice (紫米飯 or zimifan). Some also have simple soup – you can help yourself using your rice bowl at the end.
It's hard to choose only one to recommend here, but I'm going with Minder (明德素食園) because it is very clean and they always have a large variety. This is a chain, and most of their branches are in malls, including Q Square (just north of Taipei Main Station) and Eslite Xinyi near Taipei City Hall MRT.
Three To Vegetarian Restaurant
Do you want a more local and less sanitized version of the above? Then head to Three To (三來素食館).
This is essentially the same thing as the previous entry, but expect it to be busier, noisier, and perhaps a little messier inside. It's across the street from a temple, so don't be surprised if you find yourself sharing a table with a Buddhist monk.
I chose this one because it is conveniently located between Taipei Main Station and Ximending, but there are many more like it all over Taipei.
Round Vegetarian (修圓素食)
Speaking of super local, I love this simple vegetarian noodle and soup restaurant down the street from Taipei Main Station. Only the Mandarin name 修圓素食 is marked on GoogleMaps – find it here, or just watch for the giant Buddhist swastika on the green sign out front.
They do a variety of vegetarian noodles, soups, and Japanese-style curries. There are also vegetarian versions of Taiwanese traditional foods like oyster omelets (veg but not vegan), tianbula (fish cakes in spicy sauce), and tongzai migao (bamboo tube rice pudding). Besides the oyster omelets, everything is vegan.
The only catch is that the menu is all in Chinese – you could try a translation app, or even just pointing. To order, you check the items you want on a paper menu, hand it to them, and pay when leaving. It's pretty normal to order a main dish like a bowl of noodle soup, and then 2-3 small sides to go with it.
Miacucina
Miacucina was one of the first restaurants doing Western vegetarian food in Taipei (doing it well, that is). It remains one of the best and most popular vegetarian restaurants in Taipei today.
Miacucina's menu ranges from pizza and panini to salads and pasta. They also do a great breakfast/brunch, as well as fresh fruit juices. There are both vegetarian and vegan options.
They've got locations around Taipei 101, Zhongxiao Fuxing, Zhongshan, and Zhishan MRT stations. Try booking online here.
Space Bao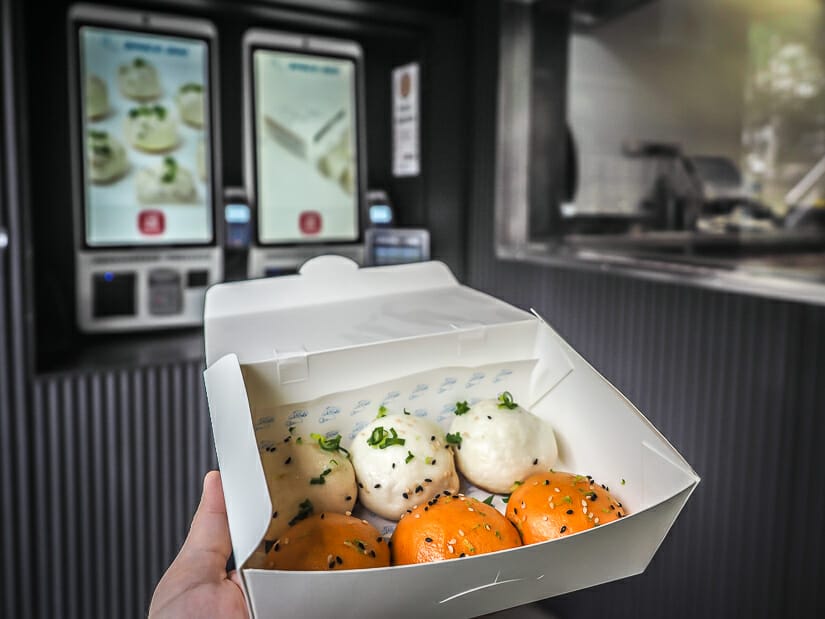 For the final entry, Space Bao (宇宙生煎) is a fun little restaurant serving vegan pan-fried buns. There are two kinds, both non-traditional: veggie pork and Thai lemongrass. Both are exceptionally tasty, especially with the special sauce that comes with them.
The fun thing is that you can order and pay on a large screen on the street (see them in the picture above), then pick up your order from the window. It's right across from Yong Kang park on Yong Kang Street.
Ooh Cha Cha
Ooh Cha Cha is one of the best Western-style totally vegan restaurants in Taipei. They've got vegan sandwiches, burgers, bowls, smoothies, and desserts.
The restaurant is located near Guting MRT in Shida area, a popular university area.
Vege Creek
Here's a fun vegetarian option. Vege Creek蔬河 is something like a fancier version of a Taiwanese noodle stall, where you choose all the items you want in a basket, then they cook it up for you.
Use the tongs provided to place all the items you want in a bag, from different noodles and fresh greens hanging from the wall to various vegetables, tofus, faux meats, and so on. Then they'll prepare them in a soup for you and bring it to your table.
Expect to pay around TWD 200 to 250, which is quite a bit more than street noodles, but at least you'll know what you're eating and that's it's all veg. There's one north of Sun Yat-sen Memorial Hall and two in Xinyi area.
The Green Room
The Green Room (泰式蔬食) does Thai vegetarian food in Taipei, and it's all vegan. Here you can find fish sauce-free Pad Thai, curries, papaya salad, and more.
Don't expect everything to be exactly like its Thai counterpart (or as spicy). And there are some Taiwanese influences, like the Tom Yam stinky tofu. There are also gluten-free options, teas, smoothies, and more. It's got a chill vibe.
Dumplings and Xiaolongbao
Remember at the beginning, when I said I would introduce some decent alternatives to Din Tai Fung? Well, here some other great dumpling and xiaolongbao (soup dumpling) restaurants in Taipei!
Jin Ji Yuan
If you're looking for somewhere to try xiaolongbao and other foods similar to Din Tai Fung, but without the long lines of tourists, then Jin Ji Yuan (好公道金雞園) on Yong Kang Street is a great option.
Jin Ji Yun has xiaolongbao/soup dumplings (they just aren't quite as perfectly folded as those at Din Tai Fung). They've also got a large menu covering dim sum, soups, noodles, wontons, fried chicken, braised beef, and more.
The cooking area is on street level – head up the stairs for dining. They've got an English menu available.
Hangzhou and Shengyuan Xiao Long Bao
Here are two more shops specializing mainly in xiaolongbao. Hangzhou Xiao Long Bao (杭州小籠湯包) and Shengyuan Xiao Long Bao (盛園絲瓜小籠湯包) are right next door to each other.
Hangzhou is slightly more popular, but Shengyaun has a more extensive menu that includes some delicious green onion cake rolls. Both have more than enough choices, including some seafood and vegetarian ones. Both also have English menus at the front.
They are conveniently located right across the street from Chiang Kai-shek Memorial Hall, perfect for a lunch stop during your sightseeing itinerary.
Master Shao's Shanghai Soup Dumplings
For something a little different than your typical soup dumplings, try Master Shao's Shanghai Soup Dumplings (上海邵師傅湯包). You'll need to search for it using the Mandarin name of find it here.
This dumpling shops offers a range of unique baos, like stinky tofu soup dumplings, golden curry soup dumplings, and pan fried dumplings with melted cheese on top.
The shop is near Liuzhangli MRT station, just down the street from Pin Xian quick fry restaurant, which I introduced in the Taiwanese Restaurants section above. The menu is in Chinese only.
Jinan Fresh Steam Dumpling
Jinan Fresh Steam Dumpling (濟南鮮湯包) is yet another alternative to Din Tai Fung. They've got a large menu with xiaolongbao, dumplings, gua bao, fried rolls, hot and sour soup, and much more.
This one is located near Zhongxiao Xinsheng MRT.
Ginger Steamed Buns
For a wide selection of steamed buns (包子) to take away, try Ginger Baozi (姜包子). Stuffing choices include radish strips, pork with leek, cabbage.
Vegetarian choices include pickled veggies, black sesame, cabbage, pickled cabbage, pumpkin, taro, and red bean.
The shop is conveniently located just outside Zhongxiao Fuxing exit 2, right where buses depart for getting to Jiufen Old Street, one of the most popular day trips from Taipei.
Dim Sum and Chinese Restaurants
Several regional Chinese cuisines can be enjoyed in Taipei, such as Cantonese (dim sum), Sichuanese, Shaanxi, Guizhou, Xinjiang, and Beijing food.
If you've been to those places in China, though, don't be surprised if the versions in Taiwan aren't exactly as they should be, but some are pretty close.
Jinshilou Dim Sum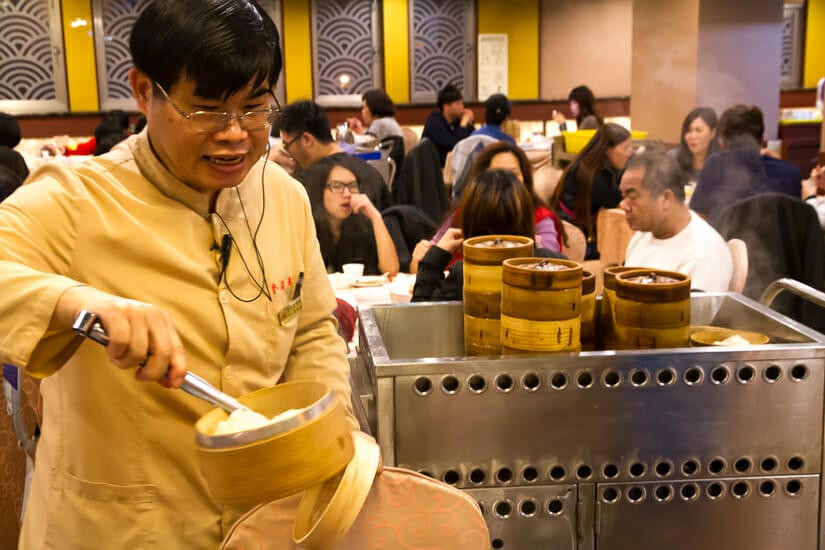 Several of Taipei's most popular dim sum restaurants are located on Zhongxiao East Road. These mostly newer establishments include City Star Restaurant, Sen He Yuan, Hollywood Street, and Ya Yuan Restaurant, just to name a few.
All of the above are good, but for my best dim sum in Taipei recommendation, I'm going against the grain and choosing an older, classic one in Ximending, Jinshilou (金獅樓).
While the other ones feel stale to me, Jinshilou oozes with old-fashioned charm. It's got water fountains, authentic steamed push carts that come to your table with choices, and everything we had there was good. You'll need to find the elevator and take it up to the 10th floor.
Qin Wei Guan
We love this small, humble restaurant serving dishes from Shaanxi (陕西 – the second 'a' is to differentiate it from Shanxi or 山西 province – it's the province where Xi'an and the Terra Cotta Soldiers are located).
Shaanxi food is known for using more mutton, spices, and vinegar. Some notable highlights on the menu at Qin Wei Guan (秦味館) are spicy/vinegary potato strips (土豆丝), biang biang noodles (油泼面), and lamb noodles (羊肉拉麵).
For dessert, the Mongolian fried cheese tofu (蒙古炸奶豆腐), basically cheese filled triangular pastries with icing sugar on top, are absolutely essential.
The restaurant is near Sun Yat-sen Memorial Hall MRT. I haven't tried it, but there is another Shaanxi restaurant in Taipei called Xiao Xia Ke (勺勺客陝西餐館), near Shandao Temple MRT, and it seems to be popular as well.
Far Eastern Guizhou Restaurant
A hidden gem that I would implore you to seek out is Far Eastern Guizhou Restaurant, or Qing Tian Xia (東方饌黔天下貴州主題餐廳) at the northern end of Dihua Street, considered Taipei's oldest street.
This restaurant does authentic cuisine from Guizhou province in China, known for its spiciness and use of sour fermented vegetables (酸菜). Not only is the restaurant itself beautiful, housed in a heritage building, but the Guizhou tourism videos played inside just make you want to go there.
The food at Qingtian Xia is really special. Their picturesque fried chicken pot (乾鍋雞非) is served in a wok with potato slices around the sides (see my pic above), while the whole fried fish (手撕魚) is split apart, deep fried, and served in a picturesque manner with various different spices. The massive clay pot of chicken soup takes two days to prepare, so it must be ordered in advance.
Dragon Restaurant
For the best Beijing duck (北京烤鴨) in Taipei, try Dragon Restaurant (龍都酒樓). It's not cheap, but according to my friends who know their Beijing duck, this one is the best in the city.
There are many other Chinese dishes on the menu to round out your meal. There's one location in Zhongshan and another in Neihu.
Chuan Wei Er Sichuan Restaurant
Unfortunately, the best Sichaun restaurant in Taipei, which used to be located in Yonghe district of New Taipei City, closed a few years ago. It was totally legit, so we are sad to see it go.
According to my research, one of the better ones still around Chuan Wei Er Sichuan Restaurant (老罈香川味兒, also called Lao Tan Xiang Sichuan Food), which is located between the blue and green MRT lines. If you know a better Sichuan restaurant in Taipei that I can recommend here, please let me know in the comments!
The restaurant serves Sichuan staples loaded with chilis and mouth numbing Sichuan peppercorns. The menu is a quite a bit tamer than what you'd hope for, though.
Unfortunately, their most impressive dishes, like the signature Sichuan Fish (招牌諸葛烤魚), which comes on a large metal tray filled with oil, spices, and other foods, and Chongqing Duck Blood & Ox Tail (重慶毛血旺), need to be pre-ordered. There's an English menu available.
Best Noodle Shops
In Taipei, you'll see noodles being slurped everywhere you go. Most are OK but won't really blow you away. For the best noodle experience, it's better to seek out ones that are particularly good, such as the below.
Yong Kang Beef Noodles
One of Taiwan's most famous dishes is beef noodles, which comes as a soup. Taiwan's version of this Chinese dish was first created by KMT soldiers who immigrated to Taiwan after the Chinese Civil War.
Just like quick frys, every Taipei person has an opinion on which shop does it best. As a non-beef eaten, I just went with a safe classic spot, which is Yong Kang Beef Noodles (永康牛肉麵) just off the famous Yong Kang Street. It has been going strong since 1963.
Here you get a choice of braised beef, tendons, or both in a spicy broth with chewy noodles. The shop is famous and highly reviewed, but this also means it attracts all the tourists and is pricier than others. The menu is clearly displayed on the wall with English.
Liu Shandong Beef Noodles
Even older than Yong Kang, Liu Shandong Beef Noodles (劉山東牛肉麵) is one of the longest running and most famous beef noodle stalls in Taipei. It goes all the way back to 1951!
Liu Shandong maintains a humble, very local street-side setting just south of Taipei Main Station. You'll have a choice between pure braised beef (清燉牛肉麵) or Braised Beef (紅燒牛肉麵). The choice between the first and second is that "pure" is just a straight meat broth, while braised beef is hongshao, or red braised, a Taiwanese innovation. There's also a pork chop one.
This restaurant has even been awarded Bib Gourmand status by Michelin.
Yong Kang Sliced Noodles
For excellent sliced noodles, or knife-cut noodles (刀削麵 or daoxiao mian) in Taipei, I recommend Yong Kang Sliced Noodles (永康刀削麵), another noodle shop in the Yong Kang Street area.
The noodles are sliced in house – you can watch at the front when they're doing it. You can get them in beef noodle soup, tomato soup, hot and sour soup, or in sesame sauce (vegetarian friendly). They are the perfect level of chewiness.
Hanji Tiger Noodle
Yet another good local noodle shop in the Yong Kang Street area is Hanji Tiger Noodle (韓記老虎麵食館). They got some interesting noodle choices here, but I would only warn that the menu is a little complicated.
On the paper menu, you can choose from four main items: ramen (拉麵), meat soup (肉湯), vermicelli (冬粉), or crispy rice (鍋巴). Then you choose a column for meat type (beef, mutton, or pork), spice level (non, little, medium, or big), and whether or not to add garlic sprouts (蒜苗). You also have the choice to add more tofu skin, blood cake, and bean sprouts. Another choice altogether is the scallop and greens noodles (瑤柱雪菜麵) or plain old beef noodles (清燉牛肉麵).
If you can navigate all that, you're in for a tasty noodle experience!
Tiger Sauce Wenzhou Big Wontons
This popular noodle chain can be found all over Taipei – there are well over a dozen of them. Just search the Mandarin name 老虎醬溫州大餛飩 on GoogleMaps to find them. I've marked a bunch on my map, but there are many more.
I'm addicted to their sesame noodles (麻醬麵) and spicy sauce noodles (香辣老虎麵). The latter uses their signature Tiger spicy sauce, which you can also buy in a jar to take away. Their signature wontons in soup (鮮肉大餛飩湯) is also very popular.
As you wait for your noodles, you can help yourself to little side dishes from the shelf inside. The menu is Mandarin only.
Taiwanese Breakfast Shops
Taiwanese breakfast is a cuisine of its own. You can find breakfast shops everywhere in the city. Much of the city's population eat at them every morning because they are cheap and easier than eating at home. You might find that most of them have "soy milk" in the name because, in Taiwan, soy milk always goes with breakfast, either warm or cold, and with or without sugar. Many also have mijiang (米漿) a thick, sweet, brown, peanut flavored drink.
Most of them have a pretty similar menu. You can walk into any residential area and quickly find one. But here are some of the more famous ones you might want to seek out.
Fuhang Soy Milk
Fuhang soy milk (阜杭豆漿) tops many lists of best breakfast shops in Taipei. Because it is so "famous", though, it attracts hordes of people, and the wait can easily be 20 minutes or longer.
If you've got the patience, then some of the hottest items are shaobing (燒餅, a flaky pastry that can be stuffed with egg and/or youtiao – fried dough sticks), fantuan (飯糰 or sticky rice wads stuffed with meat floss and dried radish), and warm salty soymilk with youtiao.
The menu at Fuhang sticks mainly to these traditional items and doesn't include the burgers, sandwiches, noodless, and crepes featured at most newer breakfast shops. It's in a small food court than has a restroom. The menu has English and Japanese.
Yonghe Soy Milk King
Yonghe Soy Milk King (永和豆漿大王) is so popular and ubiquitous that the name "Yonghe" (a district of New Taipei City) is practically synonymous with breakfast in Taipei, and they are many copycat stores using slight variations of the name. Yonghe Soy Milk King branches (and their copycats) are all over Taipei, but the most famous is probably the Da'an location.
You can get all the classic items here: shao bing, steamed buns, danbing (crepes), fantuan, xiaolongbao, and radish cakes. Their youtiao (fried dough sticks) are especially good.
We're still in traditional territory here, though, so no burgers or sandwiches. Once 24-hours, most are now open nearly (but not quite) around the clock. The chain is popular among locals as well as visitors.
Yong He Soy Milk Ximending
Here is another super popular breakfast shop that takes its name after Yonghe, but has no affiliation with the latter. Yong He Soy Milk Ximending (西門町永和豆漿) also draw big crowds. You might have to be a little assertive to place your order.
The menu here is large and all encompassing. It includes the usual traditional items like the previous two shops, but also some typical modern ones like teppanyaki noodles (鐵板麵), breakfast burgers, green onion cakes, omelets, and more.
If it's too busy, there's also a smaller stall down the street called Ximending Soy Milk (西門町豆漿) run by an old ayi (auntie, or old Taiwanese woman). She does exceptional dan bing and has been going since 1978. It's right here.
Golden Flower Grilled Toast
I wanted to include one non-traditional breakfast here, so I've gone with Golden Flower Grilled Toast (金花碳烤吐司專賣) in Ximending.
This shop specializes at over-the-top breakfast sandwiches that are oozing with melted cheese. They are so messy that you will be provided with plastic gloves for eating them. They don't open till 8:30, which is late by breakfast shop standards.
Ding Yuan Soy Milk
Ding Yuan Soy Milk (鼎元豆漿) is a very popular traditional breakfast shop among locals. It features the usual warm salty soy milk, shaobing, fantuan, youtian, baozi, and so on.
This one is a block away from CKS Memorial Hall, so if it's a convenient place to start your day of sightseeing. If you're starting your day at Longshan Temple for the chanting ceremonies (6:00-6:45 AM and 8:00 to 8:45 AM), try this breakfast shop.
International Restaurants
Whether you're missing food from home or just need a break from all the noodles, seafood, and rice, you can find just about any cuisine in Taipei. Here are just a handful of notable options. This list is not at all comprehensive – just a few of my personal favorites!
Toasteria
One of my favorite Western restaurants in Taipei is the Spanish-run Toasteria. Besides their signature paninis, which are excellent, they've also got tapas, pastas, and especially good Mediterranean food. The cocktails are memorable, as well.
The original Toasteria was a tiny (now closed) hole-in-the-wall shop by SYS Memorial Hall. The current two locations are near Zhongxiao Dunhua and Dongmen MRT stations. Both have cozy interiors – the upper floors at the Dongmen location are especially comfortable.
Amma's Kitchen
There are several Indian restaurants to choose from in Taipei. But for this list, I've gone with Amma's Kitchen (清奈媽媽印度廚房). This one stands out for one major reason: they serve South Indian food!
Comes here for hard-to-find South Indian specialties like dosas, pongal, sambar, idlis, and more. You can even get a full thali meal served on banana leaf, but it needs to be ordered one day before. I've been to South India, and the food here is legit!
It's a short walk from Technology Building MRT.
Gordon Biersch (GB Brewery)
If you want American chain restaurant food but done well, Gordon Biersch never disappoints. GB is an American brewery-restaurant chain with 4 locations in Taipei, at Dazhi, Zhongshan, Zhonxiao Dunhua, and near Taipei 101.
The steak sandwich, fish tacos, and garlic fries are big hits in my group of friends. The added bonus is the highly quaffable house-made beer, with 5 regulars plus one seasonal. We especially like their hefeweizen.
If you're looking for a restaurant that is actually open during the Lunar New Year holiday, GB usually is.
Niangzi Korean BBQ
It's not difficult to find Korean BBQ in Taipei. My recommendation here is Niangzi BBQ (娘子韓食), a small but intimate place that does it all ­– DIY BBQ meats, which the option to add melted cheese (warning: it's a little sweet) for dipping on the side, fried chicken, pajeon (seafood pancakes), lots of sides, and Korean soju and beer.
This joint is located here, amidst a strip of BBQ and hot pot restaurants lining Civic Boulevard – there are several good dining options there, but I can't list them all! It's very popular, so booking is a must, and you get a 1.5 hour slot. The servers help to cook the food and make suggestions for sauce pairing.
Solo Pasta
The best pasta I've ever had in Taipei was at Solo Pasta. There is A LOT of bad pasta being dished out in local pasta restaurants in Taipei, but not at Solo.
Their creamy pasta with smoked duck breast in balsamic vinaigrette (巴薩醋燻鴨胸奶油義大利麵) is a top seller and as good as it sounds (confirmed by my wife and kids). For dessert, you can't go wrong with their authentic cannoli and/or tiramisu. And the best part? The prices are very reasonable, for both pasta and wine. You basically get high end food quality here for mid-range prices.
It's near Zhongxiao Dunhua MRT.
Five Star Buffets
Who doesn't love a fancy 5-star buffet? There are plenty of choices for excellent buffet restaurants in Taipei. Here's I've narrowed it down to my three personal favorites (and I can't claim to have tried them all, so keep that in mind). Booking is a must for any of them.
Café Grand Hyatt
One of our favorite fancy buffets in Taipei is the one at the Grand Hyatt, just a block away from Taipei 101. We had the opportunity to enjoy this buffet when we spent the night in the hotel with our kids.
The buffet had everything you'd expect and more – steak and ribs cut for you, loads of seafood, good mix of international and Taiwanese cuisine, pleasant seating area with large windows at ground level, and draft beer included. My kids especially liked the chocolate fountain.
You can get a sizeable discount if you book it here on Klook. See the original prices here.
The Kitchen Table at W Hotel
You can go all out for one of the best brunches in Taipei at The Kitchen Table in the W Taipei, Taipei's most fashionable upscale hotel. Their Sunday-only brunch has unlimited fruits, dessert, ice cream, and bread, set appetizers brought to your table, and a choice of mains. On other days, there are only set menus or a-la-carte dining.
We went to The Kitchen Table years ago when it was a full buffet, and we loved the experience. The W also has some excellent bar options, including one beside the pool and another in their 10th floor lobby. YEN restaurant is also one of the best in the city.
Brasserie at Regent Taipei
A third and final Taipei buffet restaurant that I recommend is Brasserie (台北晶華酒店栢麗廳) at the Regent, which is more centrally located than the above two options.
Some highlights here are their sashimi/sushi, choose-your-own ingredients pasta, risotto, loads of meat and seafood, and free-pour beer. It's a little darker inside, setting a laid-back vibe. Good for dates but also for families.
Want to stay in one of Taipei's top hotels? Read my guide to the best hotels in Taipei.
Romantic Restaurants with a View
I haven't tried these restaurants myself, so I'm just going to stick to point form. But because people often ask in my Taiwan Travel Planning group, I've compiled this list of Taipei restaurants that offer incredible views. These include several restaurants with a view of Taipei 101, and they are some of the most romantic restaurants in Taipei.
It goes without saying that these require advance reservation and have a dress code.
Saffron 46: High end/modern Indian with Taipei 101 views.
Yen: The W Taipei's reputed Chinese restaurant has great city views, but you may not be able to see Taipei 101.
Diamond Tony's Italian Restaurant: on the 85th floor of Taipei 101!
Marco Polo: Another Italian choice, on the 35th floor of Shangri-La Far Eastern.
Wonder.land 仙境: overlooking Taipei, a restaurant with a view on the way up to Yangmingshan National Park.
Also see my Taipei 101 article for more restaurants and dining options inside Taipei 101.
Night Markets and Food Streets
To prevent this article from becoming longer than it already is, I'm not going to describe every night market and food street in Taiwan. For that, you can head over to my detailed guide to Taipei's night markets.
Here are some of the best:
Shilin Night Market: The biggest but most touristy
Raohe Night Market: Arguably the best
Ningxia Night Market: Another contender for top spot
Linjiang Street Market: Local eats near Taipei 101
Nanjichang Night Market: Super local and non-touristy, but as equally good
Huaxi Street Night Market: Once known for snake meat, lots of traditional/herbal dishes
Ximending: See my guide to eating in Ximending, Taipei's coolest neighborhood
Yongkang Street: See my eating guide to Yongkang Street, including many restaurants that were mentioned in this article
Shenkeng Old Street: See my guide to Taiwan's stinky tofu capital
Burma Street/Zhonghe Myanmar Street: Burmese foods in New Taipei City – read my guide to Burma Street
Keelung Night Market: Often considered Taiwan's best, one hour outside of Taipei. Here's my Keelung Night Market guide.
Maji Square: A semi-covered food court with international and Taiwanese food stalls open all day
Tamsui: a riverside promenade with seafood, Turkish ice cream, and other treats. Here's my Tamsui guide.
Also consider visiting one of Taipei's cat cafes. Cat cafes were invented in Taipei!
So, what did I miss? With so many restaurants in Taipei to choose from, it was not easy to narrow it down for this list. If you totally disagree with my choices, feel free to let me know in the comments below!