Dear reader: This article contains links to products and services that I may be compensated for, at no extra cost to you.
Miaoli is a mountainous county in northern central Taiwan, between Hsinchu and Taichung. Foreign tourists seldom include it on their travel itinerary for Taiwan because none of the things to do in Miaoli ever make it onto "must-do in Taiwan" lists (although I put three Miaoli attractions on my list of best things to do in Taiwan).
The Taiwanese are certainly aware of Miaoli's rural charm, though. That's why Miaoli's sights are overflowing with local people (only on weekends), while they remain largely off-the-beaten-track for outsiders.
Over 60% of Miaoli is inhabited by the Hakka, a Han Chinese people who are Taiwan's largest ethnic minority, making up 15% of the country's population. The name "Miaoli" or 苗栗 is derived from the Hakka words for 'cat' and 'raccoon dog'.
The Hakka are known for the their warm-heartedness, tendency to work hard but relax even harder, and hearty cuisine. The opportunity to sample Hakka foods is one of Miaoli's greatest appeals for many visitors. In fact, several Hakka specialties make it onto my list of the 101 best street foods to try in Taiwan.
Miaoli is also an ideal place to view tung blossoms (桐花), which are closely connected to Hakka culture. When the flowers bloom (usually April–May) and fall, they cover walkways and streets in what looks like snow. Here's a convenient Tong Blossom Viewing Tour from Taichung or Miaoli HSR, which also includes strawberry picking in Miaoli. Sign up for Klook with this link first and you'll get NTD100 off the tour!
In recent years, Miaoli has developed a reputation as a slow-living/slow-travel destination, and you'll find that most articles about the county focus on this. This is in part due to Italy-based Cittaslow including not one but two Miaoli townships (see the Cittaslow entries for Nanzhuang and Sanyi) on its international list of slow living cities (Dalin in Chiayi and Fonglin in Hualien are other Taiwanese places that made the list.
Because Miaoli is known for slow travel, the county is loaded with excellent guesthouses and B&Bs, and it is often thought of as a place to go to take a breather from hectic daily life by people living in the major cities of Taiwan.
While Miaoli is clearly a place to kick back and stay a while, it is still possible to visit many of the places I'll describe below as day trips from Taipei. Miaoli is also a great place to explore when most things in Taipei and other large cities in Taiwan shut down during Lunar New Year.
We've been finding ourselves wanting to get out of Taipei and return to Miaoli again and again in recent months, so I decided to put together this list of our favorite things to do there. I feel Miaoli is the kind of place that attracts visitors who've already seen the major sights of Taiwan, and are looking for something new, laid-back, and distinctively local to experience.
In this article, I'll focus on things to do in Miaoli. For more general info like where to stay, what to eat, how to get around, etc, see my Miaoli travel guide.
Fun Things to Do in Miaoli Taiwan
The following things to do in Miaoli begin in Miaoli city then move throughout the county.
Miaoli City
The Miaoli County capital, Miaoli City, sees few tourists, domestic or foreign, as the county's rural attractions are a much bigger draw. Nevertheless, the city has a laid-back vibe and a few points of interest that might make it worth a stop for those looking to try something new.
Things to do in Miaoli City include Maolishan Park (貓貍山公園), where you can walk through old railway tunnels filled with lights and music, the Miaoli Railway Museum (苗栗鐵道文物展示館 8am to 5pm), and Yingcai Night Market (英才觀光夜市).
Related post: Read about the top-15 night markets in Taipei
Hakka Roundhouse
Lying just north of the Houlong River from Miaoli City, the Hakka Roundhouse is an impressive recreation of a traditional Hakka tulou (土樓) or Walled Village. Hakka tulou are common in mountainous regions of southeastern Fujian province in China, and a single one can house up to 800 people.
The Hakka Round House was built by the local government to welcome visitors arriving by HSR to the area. It's free to enter, but there isn't much to see inside. It's only a few steps from the Miaoli HSR station, making it a convenient thing to do in Miaoli if you happen to be waiting for the high speed rail.
To experience Hakka culture in Taipei City, keep an eye out for the Taipei Hakka Yimin festival, usually held in October in Taipei.
Lion's Head Mountain
Hiking the network of trails connecting the numerous Buddhist temples on Lion's Head Mountain (獅頭山 or Shitoushan) is without a doubt my favorite thing to do in Miaoli. I've been three times now; most recently my two kids and I braved a super rainy weekend to spend the night in one of temples on the mountain and loved every second of it.
For a much more thorough description of the hiking trails and how to get there or spend the night in a temple, see my complete article on Lion's Head Mountain.
Lion's Head Mountain spans Hsinchu and Miaoli counties, and has an entrance on either side. It takes about 1.5 hours to hike from one side to the other, including lots of stops to admire the temples, many of which are built into cliff walls or caves.
The more impressive collection of temples in on the Miaoli side, so I've always started and finished my hike there (note: there's no public transportation to the Miaoli side).
Quanhua Temple (勸化堂) is largest temple on the Miaoli side. The temple kitchen offers vegetarian meals by donation (6:30 am, noon, 5:30 pm), and you can spend the night in the temple accommodation for NT1000/night for a simple double room with incredible views from the room's balcony.
You can make a reservation by calling the temple at 037-822020, but they may not speak English. There are quite a few rooms so it is unlikely that they would fill up (we were nearly the only ones there the two times that we've stayed), unless there happened to be a large group visiting.
To reach Lion's Head Mountain by public transportation, take the shuttle bus from Zhubei (竹北) train station or Hsinchu HSR. I've always gone by taking a Kuokuang bus 1820 from Taipei (or Banqiao transportation station) to Zhudong (竹東) bus station (Zhudong also has a train station, but only serving the Neiwan line), then renting a scooter from a small shop in Zhudong called 勝東機車行 (03 595 7358, license required).
From there, it's only a 30-minute ride to Lion's Head Mountain, passing the Hakka village of Beipu (北埔), famous for it's Old Street, and (if you take a less direct route) Nature Loving Wonderland, an enormous Buddhist complex featuring the world's largest standing statue of Milefo, the laughing Buddha.
Read about other temple stays I've done in my articles on Beomeosa in South Korea and Koyasan in Japan, as well as my guide to the best temples in Taipei.
There used to be a shuttle bus connecting the Hsinchu and Miaoli sides of Lion's Head Mountain, but it was no longer running when we last visited. From the Miaoli side, you could walk all the way to Nanzhuang (see below), which is 3.5 kilometers and would take about an hour. Nanzhuang has several bus connections.
Buses that run to Nanzhuang also pass somewhat close to the entrance of Lion's Head Mountain, but you'd have to walk up from the highway (about 30 minutes uphill to Quanhua Temple on vehicle road, or an actual hiking trail through the forest north of the road entrance).
Nanzhuang & Sweet Osmanthus Lane
A 15-minute drive south of Lion's Head Mountain, Nanzhuang (南庄) is a very small, laid back Hakka village. It is famous for its old street, called Sweet Osmanthus Lane (桂花巷), which runs parallel to the main road, or Nanzhuang Old Street.
Of the many old streets in Taiwan, this one is quite small but one of my favorites because it is quite atmospheric and we found the vendors to be particularly warm and welcoming. For more information, see my complete article on Nanzhuang. If you enjoy traditional snacks and old streets in Taiwan, then also don't miss Jiufen near Taipei!
As the name Sweet Osmanthus Lane suggests, the alley's main specialty is sweet osmanthus, a fragrant flower that thrives in the area. Several foods flavored with the flower are sold, in particular honey.
The best place to sample it is at Bingzhen Tangyuan (桂花釀冰鎮湯圓), a shop in the middle of the old street, where they top a bowl of shaved ice, fresh fruit, and tang yuan (gooey rice balls) with a generous layer of sweet osmanthus-flavored honey.
Other regional and Hakka treats to try on Nanzhuang Old Street include mochi, taro and sweet potato round cakes, dou gan (dried tofu or 豆乾), and brown sugar cake. At the entrance to the lane, there's an old stone canal where locals used to do laundry, and nearby there's a lovely suspension bridge.
There are also several sit-down restaurants around the Old Street and entrance to Yongchang Temple specializing in Hakka dishes such as ban tiao (wide rice noodles or 粄條). Pop into the Nanzhuang's Visitor's Center to grab a town map which indicates no less than 145 restaurants, shops, and foods stalls in the small old street area.
We recently stayed at an awesome guesthouse called Heaven Bird B&B (see on Agoda / TripAdvisor / Booking) just across the river and walking distance from Nanzhuang. The owner was helpful and friendly, the room was massive and immaculate, beds super comfortable, and best of all, our large patio overlooked a bamboo forest in the backyard.
Another guesthouse in the Nanzhuang area I can strongly recommend is Yanzitao Pottery Coffee B&B 燕子陶 (see on Agoda / TripAdvisor / Booking), which I wrote this article about for Travel in Taiwan magazine.
Run by a retired Hakka couple, the wife is a well-known potter who now offers DIY pottery sessions on site for kids or adults (and they will mail your finished work out to you after they dry and fire it on site). Meanwhile, their daughter Momo makes exceptional slow drip coffee, including Taiwanese roasts and coffees flavored with locally grown turmeric and maqaw, an indigenous flavoring ingredient.
You can also camp beside their swimming pool or tour their gardens, where they grow coffee beans, sweet osmanthus, tung blossoms, and much more.
Riding a scooter in this area is best, but you can also reach Nanzhuang on bus 5804, 5805, or 5806 from Zhunan or Toufen (all with connections to Taipei).
Quirky experience: check out the Hobbit Houses of Miaoli in Tongluo township.
Picking Strawberries in Dahu
Dahu is the strawberry mecca of Taiwan. Every January and February, people all around Taiwan flock to supermarkets and street market stalls to purchase strawberries from Dahu, the tiny Miaoli village that is practically synonymous with the plump fruit. Dahu's strawberries are particularly large and sweet.
Dahu is yet another place that I first visited on assignment for Travel in Taiwan magazine, and later returned with my wife and kids. The kids LOVED picking strawberries in the fields, and we recommend Strawberry Tricycle Fields (三輪車草莓園), which is a short drive out of town, and is the farm that we recommended in the magazine article.
You can read all about our strawberry picking experience in Dahu here.
Besides picking your own strawberries, you also have to make a stop at Dahu Wineland Resort (大湖酒莊), a sort of museum/theme park/winery dedicated entirely to (you guessed it) strawberries. On our most recent visit, we tried strawberry flavored noodles, ice cream, popsicles, tea eggs, beer, and wine (the latter is particularly delicious).
You can reach Dahu from Miaoli City on bus 5656. Be prepared for serious traffic jams if you visit on a weekend when strawberries are in season.
Strawberry picking in Dahu is also included on this day tour from Taichung or Miaoli HSR.
Tai An Hot Springs
Remote Tai'an Hot Springs (泰安溫泉) is one of my favorite hot springs in Taiwan. I love the area's verdant mountains, and there are some great facilities on offer in the small collection of hot spring hotels.
The hot spring water here is colorless and odorless, and staying overnight after soaking in it makes for the perfect weekend getaway.
We recently had an exceptional experience at King's Resort and Spa 錦水溫泉飯店 (see on Agoda / TripAdvisor / Booking). The owner of the family-run hotel was extremely welcoming and even gifted us a bottle of French wine at dinner.
The dinner and breakfast were excellent, and the room was large and spotless, with the sound of the river putting us to sleep at night. The outdoor hot springs on site include multiple pools on three levels, all with gorgeous views, and each room gets one hour free use of one of the private hot spring rooms on the roof of the hotel.
For hot spring lovers, also see my guides to Beitou Hot Springs in Taipei, Wulai Hot Springs in New Taipei City, and Jiaoxi Hot Springs in Yilan.
For an ultra classy soak or overnight stay, Onsen Papawaqa 泰安觀止溫泉會館 (see on Agoda / TripAdvisor / Booking) is the most opulent choice in town.
We loved their outdoor hot spring facilities when we visited years ago, which have a zen-like simple but harmonious feel and overlook the river. You can explore the hotel's hot springs with this virtual tour on their website.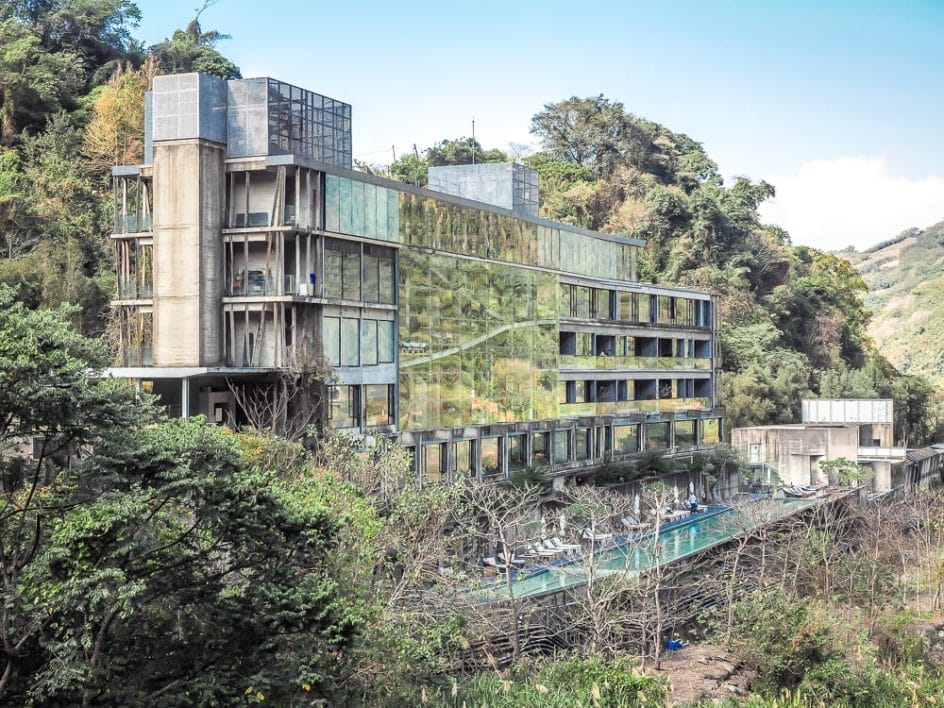 Yet another good choice in Tai An is Tang Yue 湯悅溫泉會館 (see on Agoda / TripAdvisor / Booking), which is surrounded by lush greenery and offers incredible views from the private or public springs. You can book a private hot spring room and set meal online here, and the hotel can arrange a shuttle service if you call.
Tai'an hot spring village is a 20-minute drive from Dahu, but there's no direct access by public transportation. One option would be to take a taxi from Tongluo train station.
Flying Cow Ranch
Would you believe we drove all the way from Taipei to take our son (who currently loves ducks) to go on a guided walk with a flock of ducks, lost track of time over lunch in Shengxing, then just missed the tour after running all the way across Flying Cow Ranch (it's pretty big)?
Well, that's a pretty standard day when traveling around Taiwan with kids. And by the way, no, the cows there can't actually fly.
If you're the kind of city person who finds farm life exotic, or you've got kids like us, then Flying Cow Ranch may be for you. Like so many other farm theme parks in Taiwan, there are multiple activities on offer and animals to touch or feed.
Our kids spent a solid 30 minutes petting bunnies, but were pretty grossed out after milking a cow.
The Flying Cow Ranch Hotel (see on Agoda / TripAdvisor/ Booking) actually looks pretty cool, and the fresh yogurt sold in the souvenir shop is quite delicious.
Entrance is NT220 (adults), 180 (elementary) 150 (age 3-5) and free (under 3), plus 50 per car. Here's the public transportation info.
Miaoli Hobbit House and Capybaras
You don't have to go all the way to New Zealand to see Hobbit houses from the set of Lord of the Rings. Nope, you can see some right here in Miaoli, Taiwan!
These hobbit houses can be seen inside of Hobbit House Tea Tree Garden (哈比丘茶樹森林) in the remote hills of Tongluo township in Miaoli. Besides the Hobbit houses, the attraction also includes capybaras and lambs you can pet, a swing, a cafe, and beautiful views. You'll need your own transportation to get here.
Find other places to see capybaras in Taiwan here.
Flame Mountain (Huoyanshan)
One Miaoli hike that has become quite popular in recent years is Flame Mountain, also called Fire Mountain or Huoyanshan (火炎山). As you can see from the above photo, the mountain is named after the red cliffs that appear like plumes of fire coming up from the land around this narrow valley.
If you've ever driven the National Highway 1 through Miaoli, you've m0st likely noticed these hills, as they are surrounded by otherwise flat coastal plains. It takes around 2.5 hours to hike to the top of the valley and back, including some fun and steep sections with rope.
Luxury Camping at Shangri-La Paradise
I visited Shangri-La Paradise in Zaoqiao township a few years ago researching a series of articles on Taiwan's amusement parks for Travel in Taiwan magazine. Expecting another typical theme park, I arrived to find that the few remaining rides from the park's glory days in the 1980s had been left to decay, serving as a spooky backdrop to one of Taiwan's only luxury campgrounds, called CMP Village (勤美學).
The CMP Village luxury camping experience includes information sessions (Mandarin only) on local Miaoli foods and culture, a communal campfire and dinner under the stars, and a variety of DIY activities, like Hakka blue dyeing, pottery making, tree climbing, and rush weaving. The yurt-like tents campers stay in looked amazing; I'd consider staying for the tents alone!
On weekends, visitors can enter the grounds and explore (adults NT500, kids NT280, discounts often available). There are photogenic art installations throughout the park, shops and cafés, a small Hakka museum, and gardens. They will even fire up some of the old rides and let you on if you ask.
See my full article on Shangri-La Paradise & CMP Village for Travel in Taiwan Magazine.
Shangri-La Paradise is a short taxi ride from Miaoli HSR station.
Mingde Reservoir
If you are looking for remote, scenic scooter riding or cycling, the area around Mingde Reservoir is very pretty. Consider making the easy trip from Miaoli City to Lion's Head Mountain and Nanzhuang (see below).
The reservoir was created when the Laotianliao River, a tributary of the Houlong River, was dammed in 1960. The dam features several park areas overlooking the water and two hanging bridges connecting to Rixindao, an island in the middle with an chilled out café boasting reservoir views.
Visit the roof of Taiwan at Shei-Pa National Park
Shei-Pa (Xueba) National Park (雪霸國家公園) is an enormous high mountain park spanning Hsinchu, Miaoli, and Taichung. Its main peaks are Xueshan (Snow Mountan) and Dabajianshan, with its distinctive peak.
One place where you can access the park is Guanwu Recreation Area, which offers incredible vistas and hiking trails often shrouded in mist. You can visit Guanwu Recreation Area on this hiking day trip from Taipei, Taoyuan, or Hsicnhu.
Hakka Courtyard
If you are interested in Hakka architecture and flower viewing, then Hakka Courtyard (客家大院) in Tongluo township may be worth checking out. The Hakka-style home was built by the government in 2010, with a combination of modern and traditional elements. Even though it's not a real home, it's still a picturesque structure.
Hakka Courtyard is located within Matsu Park (台灣影城 / 媽祖村), which has tung blossoms in April and May.
To be honest, since they charge NT200 per adult to enter the grounds, I wouldn't suggest going out of your way unless you are particularly interested in seeing the Hakka home or tung blossoms. I couldn't justify paying for my whole family to go in, so I ran in alone to get a photo. It ended up being quite a run uphill from the entrance to the Hakka home…
Sanyi Wood Sculpture Museum
While Hakka Courtyard was a bit of a letdown, the Sanyi Wood Sculpture Museum truly exceeded my expectations. I've never been particularly interested in wood carvings, but the hundreds of pieces of intricately carved woodworks within the gorgeously designed complex were nothing short of breathtaking.
Wood sculpting in Taiwan predates the Japanese occupation period and was originally tied to temple construction. In the 1960s, the wood carving industry began booming in Sanyi, making use of the camphor which grows abundantly in Miaoli. The museum was opened in 1995.
We were nearly the only visitors in the museum when we visited on a weekday. Unfortunately, you can't take photos inside, so the only photos I got were of some of the less impressive pieces like the one above in the shops on the street leading to the museum.
Museum entrance is NT80. Sanyi can be reached in about 2.5 hours from Taipei on the slow train.
You can visit the Sanyi Sculpture Museum as a part of this day tour from Taichung.
One of my favorite museums in Taiwan is the small but meaningful Museum of World Religions in New Taipei City.
Shengxing Station
If you're in the Sanyi area or planning to visit Longteng Bridge (see below), then the old Shengxing Station (勝興車站) makes a good stop for lunch. The handsome wooden station was part of the Old Mountain Line, which ceased operation in 1998.
People come here to walk on the tracks and dine at the handful of Hakka restaurants lining the narrow street in front of the station.
The biggest draw used to be walking into the dark tunnel at one end, but now it's closed off to foot traffic, and you can only enter by riding the Old Mountain Line Rail Bike (it looks like a toy train), which runs four times per day (NT280) to Longteng Bridge.
Even though Shengxing seems remote, the road providing access is really narrow, and the tiny village gets extremely packed, even on weekdays. If you're in the area on a weekend, you may want to give it a miss.
Remains of Longteng Bridge
Longteng Bridge (龍騰斷橋) has become one of the symbols of Taiwan, and you may see it on postcards or packs of Taiwan-themed stickers for kids. The red brick bridge was built in 1906 but destroyed by an large earthquake in 1935. A new iron bridge, the highest in Taiwan at 50 meters, was built nearby.
The attraction makes for an interesting stop and quick stroll, and you can also see tung blossoms in the area. The most interesting way to arrive is by taking the Old Mountain Line Rail Bike (see Shengxing Station above).
Global Tea Hut
The only time I've ever visited Miaoli City was to attend a morning meditation and tea session at the headquarters of Global Tea Hut, a zen meditation center.
Wu De, the resident American monk, offers free lodging to backpackers, guided meditations, and extremely informative tea education sessions, but the waiting list can be quite long. The organization also publishes Tea & Tao magazine, and subscriptions (which are mailed worldwide) include environmentally friendly tea-of-the-month samples.
See more information in my article about visiting Global Tea Hut and my detailed guide to buying tea in Taiwan.
UPDATE: Global Tea Hut stated years ago that its Miaoli location was closed and they were moving to a new location, but I haven't heard anything about it reopening. Please contact the organization directly for details.
Well, I hope you've found more than enough ideas for interesting and off-the-beaten-track things to do in Miaoli. This county has much to offer, and once you start exploring it, and I can guarantee you'll keep coming back again and again like we do!