Dear reader: This article contains links to products and services that I may be compensated for, at no extra cost to you.
While their English name might be a little awkward, one thing is certain: anyone who is "addicted" to seafood will surely love Addiction Aquatic Development (上引水產) in Taipei.
AAD is part luxury supermarket and part high-end fish market, plus about half a dozen dining options, from ultra gourmet meals suitable for a date to budget-friendly take-away. It is definitely one of the top things to do in Taipei city for foodies, and has some of the freshest and best seafood in Taipei!
This huge, 1983-square-meter-space is a testament to Taiwan's obsession with seafood. The complex is run by the Mitsui Food and Beverage Enterprise Group (三井餐飲事業集團), and has been operating from within the original Taipei Fish Market (臺北魚市) ever since 2012.
I can't get enough of Addiction Aquatic Development (you might even say I'm addicted to it). I've visited easily a dozen times and have had a totally different dining experience each time, whether it's hot pot, sushi, grilled seafood, take-away sashimi to be enjoyed in the park nearby, or just strolling to scope out what's new.
Even if you've only got two days or three days in Taipei, I recommend adding the "Tsukiji Fish Market of Taipei" to your Taiwan itinerary! I've put together this little guide to help you navigate Addiction Aquatic and the abundance of choices you'll have when you arrive.
Did you know there's a mini version of Addiction Aquatic Development in Kaohsiung, southern Taiwan? It's called Hei Bon Gōrudohausu (平凡五金行) – read about it in my Kaohsiung guide, and find more fun things to do in Taiwan here!
Quick Tips for Visiting Addiction Aquatic Development
Addiction Aquatic is located at #18, alley 2, lane 410, Minzu E. Rd. in Zhongshan District (民族東路410巷2弄18號). The entrance is on the north side of the building, facing the even larger Binjiang Traditional Market (濱江市場) building.
It's a bit of a trek (15 minutes on foot) from the nearest MRT stations, Xingtian Temple Station on the orange line or Zhongshan Junior High School Station on the brown line.
Alternatively, a taxi from either station will cost less than NT100, or you can take bus R50 (紅50) from Yuanshan MRT station on the red line and get off at Taipei Fish Market Station (臺北漁市). From the bus stop, you'll need to walk all the way around (or through) the large Binjiang Market building to get to Addiction Aquatic Development.
The complex is open 7 a.m. to 10:30 p.m. daily, but some of the restaurants inside don't open until later. I'll mention the individual opening times below, as some of them are not indicated on GoogleMaps.
Some people say the freshest items are put out in the morning, but they are replenished throughout the day, so there's no need to show up super early.
Addiction Aquatic Development, including all the restaurants on site, only takes cash! Bring fat wads of NT dollar bills for all your seafood gorging needs.
If you get take-away food, there are tables outside (some with shade), or you can enjoy it at nearby Rongxing Park (榮星花園), which is what we usually do.
If you approach Addicition Aquatic by walking through and then north from Rongxing Park, as we usually do, Lane 410 of Minzu East Road hosts a bustling daytime wet market. The street can be very busy, but there's lots to feast your eyes upon.
While you're in the area, also consider visiting Airplane Lane (飛機巷), where you can watching planes landing and taking off from Songshan Airport, and Gusto Market (好食多有限公司) for imported Italian cheeses, meats, wines, and more.
You can find loads of discounts for traveling in Taiwan on Klook. Sign up with my referral link to get an NT 100 credit applied to your account!
Section-by-Section Guide to Addiction Aquatic
The official Addiction Aquatic Development website lists 10 main areas of Addiction Aquatic.
I'll describe each of the Addiction Aquatic areas below, plus a few more areas that are not mentioned on the website, roughly in the order you would encounter them upon going through the main entrance.
For more food-focused fun in Taipei, see my guides to the best Taipei night markets, what to eat in Ximending, Shenkeng stinky tofu village, Yongkang Street, and Little Burma.
Yetai Tapas (11 a.m. to 8 p.m.)
Before you even step inside the main entrance of Addicition Aquatic, there's a small outdoor (but covered) patio bar right next to the entrance to tempt you with food and drink options. It's called Yetai Tapas (海味野台 – yetai usually refers to an outdoor stage for traditional performances and festivals Taiwan).
The limited menu here includes seafood congee, braised abalone, swordfish rice noodle soup, braised seafood rice (like luroufan, one of the most famous Taiwanese foods, but made with seafood) and assorted seafood platters (NT 380, comes with whatever is fresh that day). In summer, they sometimes have shaved ice desserts. There's also draft beer on tap (NT 150-180 per glass).
Consider this option if you're in a rush and don't want to actually enter the Addiction Aquatic Development complex, or to enjoy the patio in good (or bad) weather. Otherwise, it's time to actually enter Addiction Aquatic Development!
Aquamarine Area (7 a.m. to 10:00 p.m.)
As soon as you enter Addiction Aquatic, you'll find yourself in the main Aquamarine Area (活體水產). This is a large, open room filled with temperature-controlled water tanks containing exotic (and expensive!) live sea creatures.
Unless you're a very serious seafood aficionado and plan to drop some cash on live sea creatures to take home and cook (or have them cook it for you before you take it away), then you'll probably just spend a few minutes in this area gawking at (and perhaps trying to identify) the marine life on display.
Some creatures you can expect to see are scallops (扇貝), king crabs (王帝王, the huge ones with bumps on their body and legs), snow crabs (雪蟹), geoducks (象拔蚌), flounders (活比目魚), kurama prawns (活車蝦), surf clams (北寄貝), Australian black-lip abalone (澳洲大黑鮑), mantis shrimp (蝦蛄扁), and more.
There are also a few take-away items for sale in this area, such as fresh uni (sea urchin) and frozen shrimps.
Gourmet Supermarket (7 a.m. to 10 p.m.)
From the Aquamarine area, a small staircase and ramp lead up into the Gourmet Supermarket (生鮮超市).
In the two main aisles here, you'll find a wide variety of fresh local and imported foods and groceries. The aisle to the left as you go up is mainly frozen goods, all kinds of seafoods, meats, cheeses, foie gras, nigiri and donburi take-away meals (NT 270 – 790), some expensive produce, and a large selection of sakes.
At the back end of that aisle, you'll find the Seafood Bar (see below), and as you round the corner at the end, the entrance to the Stand-Up Sushi Area (also see below).
The aisle to the right, which is near the exit, has a range of produce, take-away sashimi and sushi trays, fresh uni trays, cold individual drinks to take away (including beer, wine, and sake), and cakes, macaroons, and other desserts.
Seafood Bar (10:30 a.m. to 10:30 p.m.)
At the back left of the Gourmet Supermarket, at the back of the aisle to the left when you first enter the Supermarket, is the Stand-Up Seafood Bar (快意鮮味吧, also called Quai Yi Ba or 快意吧). Watch for the oversized crabs piled atop mounds of crushed ice up behind the bar.
Here's your chance to try some exotic seafoods without paying the premium prices of an upscale seafood restaurant. Popular choices here are king crab, hairy crab, African lobster, braised abalone, sea urchin, and donburi (seafood over rice).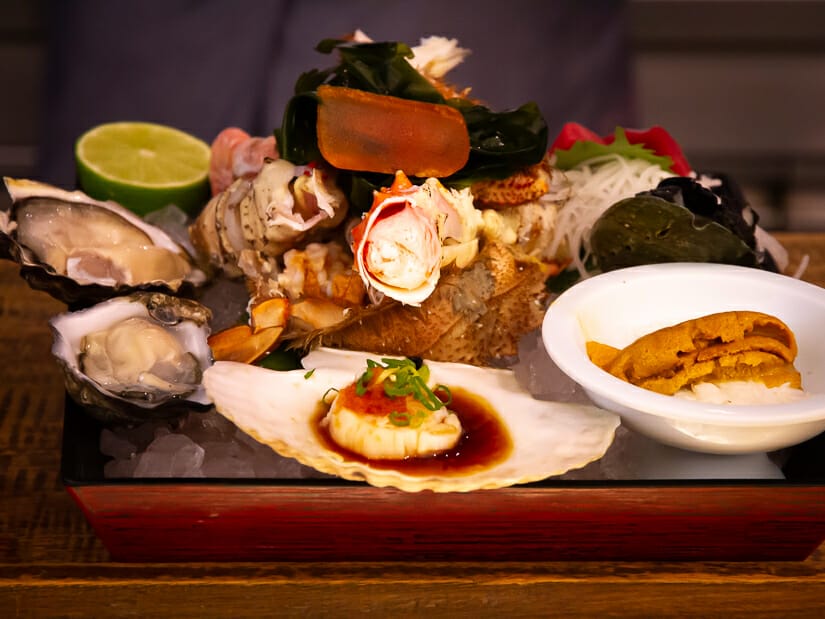 The seafoods are priced by weigh, or you can opt for the seasonal, deluxe, or gourmand platters (NT 880/1280/1680) to try a bit of everything. Ask about what's included. The menu is in English and Mandarin.
They also offer wine and sake by the glass or bottle.
Stand-Up Sushi Area (10:30 a.m. to 10:30 p.m.)
The Stand-Up Sushi Area (立吞式壽司吧, also called Li Tun or 立吞) is the most popular in-house dining option at Addiction Aquatic. The set meals are surprisingly affordable and the sushi is very fresh and high quality. I recommend it for a date, which is exactly what my wife and I did on our most recent visit.
The standing sushi area is in between the Gourmet Supermarket's two main aisles and accessed from the back of either one. It can get busy, so there may be a wait (you'll be asked to take a number). Reservations aren't possible. As for the standing part, I understand the appeal, but my wife and I both had sore feet by the end…I guess we are just getting old.
The five set meals when we visited ranged in price from NT 580 to 1980 per person, and nigiri-only sets from NT 480 to 680 for 9-10 pieces. The sizes of the meals are similar, but the more you pay, the fancier the seafood you get.
Besides a selection of sushi, the set meals also come with appetizers such as miso soup, grilled tuna skewer or tuna steak, oyster, lobster, abalone, and so on, depending on which set you get. When in season, they also have sweet shrimp (甜蝦 or amaebi/阿米比蝦), which is naturally sweet when raw.
You can watch the sushi chefs preparing the items behind the 12-meter sushi bar. A selection of beers, wines, and sakes are also available. Besides the sets, you can order some items à la carte.
One minor complaint we had is that the menu isn't very specific about exactly which items are included – most of them just say things like 'appetizer' and 'chef's grill special'. After asking for more details about what each of those meant, we found that the set we were about to order came with fish liver as the appetizer, which neither of us are into (and yes, we've tried it before). The choices change by season and even by day, so you never know what you are going to get unless you ask first.
However, unless you can speak Mandarin, you may have difficulty finding out, as the staff are unlikely to know the English names of all the seafood items they serve. In that case, you may just have to go with a set menu and see what you get!
In the end, we basically just chose the one that matched the price we were looking to spend – we got one in the middle of the price range, and we were very satisfied. The sushi fish was incredibly fresh.
Cooked Food Area (10 a.m. to 10 p.m.)
At the front of the aisle to the right upon first entering the Gourmet Supermarket, adjacent to the tills, there's a Cooked Food Area (熟食即食). This includes take-away Bento boxes (choose 4 items) and other pre-cooked and pre-packaged meals.
I could see this section being most useful to someone who works in the area and wants a quick take-away meal, but I don't think it would appeal as much to the short-term visiting tourist, and I've never tried any of these.
An Elegant Lifestyle and Flower Shop (7 a.m. to 10:00 p.m.)
At the back of the aisle to the right, past the tills, there's a side room called An Elegant Lifestyle (美好生活) and Flower Shop (花坊). There you can find fresh and dried flowers, cooking utensils and other household items, Taiwanese specialties like abalone sauce, bottles of Scotch, and more.
There is also a food counter in this area with items like whole king crab leg to take away, grilled bottarga (烏魚子, a Taiwanese specialty of cured fish roe), meats to take away, and more sushi and sashimi sets.
There's also a small wine, whiskey, and beer bar in this area, in case you need a stiff drink after all that seafood perusing.
Le Pong Hot Pot (11 a.m. to 10:30 p.m.)
There is a dedicated hot pot restaurant at Addiction Aquatic called Le Pong Hot Pot (樂烹鍋物, also simply – and awkwardly – called "The Hot Pot"). In case you didn't notice, adding the French 'le' makes it fancy.
To find it, you'll need to ascend the flight of stairs to the left just after you pass through the tills at the exit of Addiction Aquatic's Gourmet Supermarket. This is one of only two dining options at Addiction Aquatic that takes reservations (call 0225 956 888); Tresors de la Mer is the other (see below).
The hot pot sets range from $580 (pork) to 1680 (Wagyu beef or mixed seafood). That price is per person, or you can pay an extra $300 for two people to share one set. Drinks are extra. You can also buy a whole snow crab, but it will cost you up to NT 10,000! Don't forget they only take cash.
Charcoal Grilled Seafood Barbecue (11 a.m. to 10:30 p.m.)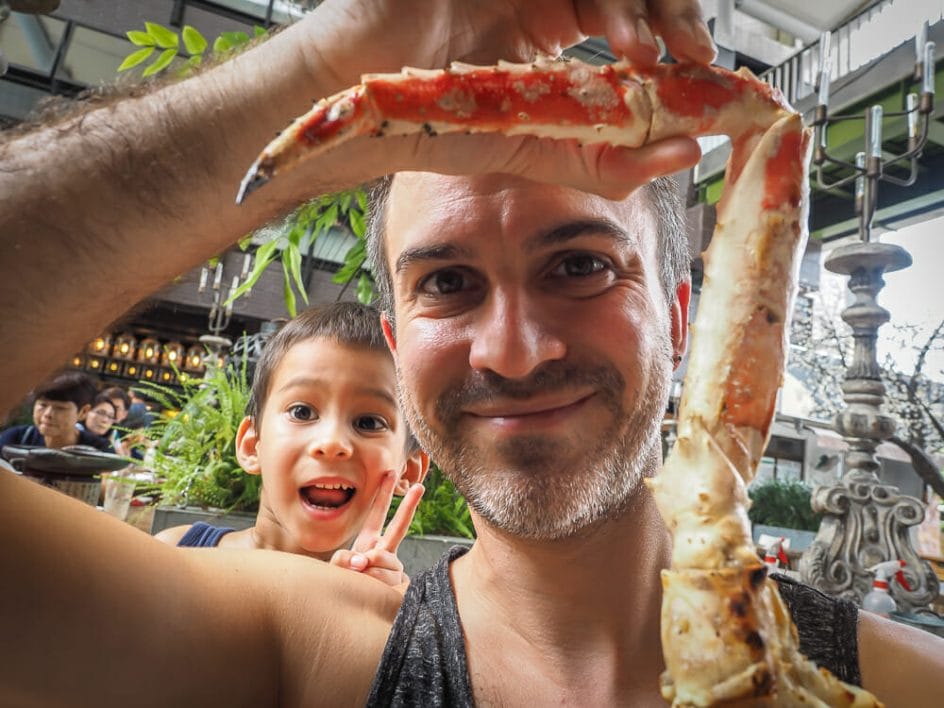 There's a lovely partially covered outdoor restaurant just outside and west of the Gourmet Supermarket called Charcoal Grilled Seafood Barbecue (炭道備長炭燒烤).
Unlike many BBQ restaurants in Taiwan, you don't cook the food yourself. Instead, they barbecue the meats/seafoods/veggies on a grill at the side and bring them to you on a hibachi-style plate with black stones for presentation. Some highlights on the menu are giant prawns and whole king crab legs at a not-too-unreasonable price.
Along with the indoor Standing Sushi Bar, this is our favorite dining option at Addiction Aquatic, mainly for the expansive patio, which is a rarity in Taiwan. It is even misted during hot weather, which is a nice added touch. They have Taiwan 18 Days Beer and a few international beers on tap. Reservations are not possible, but there's usually space.
Fruit Selections & Coffee/Ice Cream Stand
In the hallway leading from the Gourmet Supermarket's exit to the Charcoal Grilled Seafood Barbecue, there's a hole-in-the-wall fruit juice vendor (繽果) serving a variety of seasonal fresh fruit juiced (NT 120/cup), coffees, and smoothies.
It's nothing to write home about, but it is one of the 10 sections mentioned on the Addiction Aquatic website, so I include it here.
There is also a kiosk selling coffee, beer, wine, and ice cream in the courtyard just past it (pictured above).
Trésors de la Mer
If you somehow made it this far into Addiction Aquatic with getting your fill of seafood, you have one final option, and it's the fanciest (again, you know it, because they use French in the name).
Tresors de la Mer (煮海) is a sit-down place with gourmet seafood platters. It occupies the second floor past Charcoal Grilled Seafood Barbecue, with windows looking down on the latter. Watch for the tanks of live seafoods at the entrance.
Set menus run from NT 1000 to 2280 per person. You even get real wasabi root to grate yourself – forget about the fake green stuff in packets. Reservations are possible and recommended (call 0225 956 888).
Taipei Fish Market
So, somewhat confusingly, the whole neighborhood in which Addicition Aquatic is located, which is still filled with street vendors and wet markets selling seafood, used to be called Taipei Fish Market. Today, there is also a specific seafood grocery store on site called Taipei Fish Market (臺北魚市). It is on the ground floor of the same building as Tresors de la Mer, right next to the Charcoal Grilled Seafood restaurant.
The store mostly sells frozen seafoods, but at lower prices than in Addiction Aquatic. There's not much to see inside, unless you are actually looking for some frozen seafood to take home.
Well, that brings us to the end to my guide to Addiction Aquatic Development Taipei. I hope this information helps you to decide what to eat at Addiction Aquatic and to make the best of your visit!