Dear reader: This article contains links to products and services that I may be compensated for, at no extra cost to you.
In my opinion, Taipei is one of the great hiking cities of the world. The city sits in a basin, literally surrounded by mountains. They contain hundreds of walking and hiking trails, some of the best things to do in Taipei for nature lovers
Hiking in Taipei typically entails panoramic city views (often with amazing views of Taipei 101), waterfalls, hot springs, volcanic fumaroles, temples, tea plantations, coastal views, and more. All of these walking trails are accessible by public transport, and there are usually convenience stores near the trailhead to stock up on supplies.
In this article, I'll introduce 21 of my favorite hiking trails in Taipei City, New Taipei City (the sprawling city that surrounds Taipei City), and Yangmingshan National Park, which spans the two. These include famous trails that are consistently rated as the best hikes in Taipei, as well as some lesser-known ones that I personally love. Even the furthest ones I'll cover can easily be done as easy day trips from Taipei.
I've hiked all of these trails at least once, if not several times, in the nearly 15 years I've lived in Taiwan. For each one, I'll link to hiking route maps on AllTrails, my preferred hiking app. While you're living in Taipei or planning your Taiwan travel itinerary, take your pick from below and enjoy!
Want to access some of the best hikes around Taipei, but don't want to drive or figure out how to get there? Let Parkbus Taiwan take you! Use discount code "Spiritual10" at checkout to get 10% your trip (may not apply to some events).
Hikes in Taipei City
The following 6 Taipei hikes are located right within the limits of Taipei City. As such, all of them are MRT accessible and less than two hours in length, from MRT station to MRT station. All 6 of them also feature, unsurprisingly, views of Taipei 101, the country's most famous landmark (here's my guide to Taiwan's other famous landmarks!)
Also see my guides to the best night markets and beaches in Taipei!
Elephant Mountain (Xiangshan)
Elephant Mountain Trail (象山步道) takes the top spot as the single most popular and well-known hiking trail in Taipei City. The trail attracts droves of tourists because it is easily accessible from the MRT and only requires a short ascent to take in the classic postcard view of Taipei, with Taipei 101 dominating the scene.
Setting out from Xiangshan (Elephant Mountain) MRT station Exit 2, you walk directly south past Xiangshan Park to find the trailhead next to Daitiandian Lingyun Temple (代天殿靈雲宮). The main trail starts to the right (south) of the temple, but there's also a smaller trail at the end of the road to the left of the temple that will eventually connect to it.
The stairs ascend steeply, but in less than 10 minutes you'll already be taking in unbeatable Taipei views from a lookout pavilion, with Taipei 101 so close you can almost reach out and touch it.
Another 5 minutes after that brings you to the most famous lookout, called Xiangshan Six Rocks (象山六巨石), featuring 6 boulders that you can climb for unbeatable views. Budget an hour's return from the MRT, including lots of time for photo-taking
Xiangshan is busy all the time, but uncomfortably crowded at sunset. For New Year's Eve, when fireworks are shot from the sides of 101, you may have to hold a spot with your tripod an entire day in advance!
If you decide to visit Taipei 101 before or after your hike, see my Taipei 101 Visitors' Guide!
The Four Beasts
Elephant Mountain is but 1 of the 4 "beasts", a collection of interconnected peaks that collectively make up the Four Beasts Scenic Area (四獸山風景區) and Nangang Mountain (南港山). The others are Lion Mountain (獅山), Leopard Mountain (豹山), and Tiger Mountain (豹山).
A series of trails connects the four peaks, and it only takes a few steps beyond Elephant Mountain to escape the crowds.
One good option is to follow the Elephant Mountain trail to Guanyin Pavilion (觀音涼亭 or Guanyinting), then veer north past Lion Mountain and connect to Leopard Mountain Trail (豹山步道), then walk down to the city, ending at Yongchun MRT. This trail passes some stone carvings, small temples, mining remains, and more Taipei 101 views.
Another option also begins from Elephant Mountain, but extends to Thumb Mountain (拇指山 or Muzhishan), or further to 9-5 peak (九五峰 or Jiuwufeng) and then returns, or takes in both peaks and continues all the way to Tiger Mountain.
If you want to avoid the crowds altogether, set out from Houshanpi MRT station and explore Tiger Mountain only or hike from Tiger Mountain to 9-5 peak/Thumb Mountain and back.
Tiger Mountain is also the site of an excellent outdoor music festival site, so watch for occasional events hosted there.
Yet another destination to seek out is a forest temple called Songshan Tianbao Temple (松山天寶聖道宮), which is roughly between Elephant and Leopard mountains. See more info in my guide to the most interesting temples in Taipei.
Jinmianshan Trail
Jimianshan Trail (金面山親山步道), also known as Scissors Mountain (剪刀山 or Jiandaoshan), is a popular hike in Niehu District.
It is especially frequented by the Instagram crowd for its unbeatable views of Taipei 101 to the south and opportunities to take photos where it looks like you're sitting on the edge of an overhanging rock with nothing below you.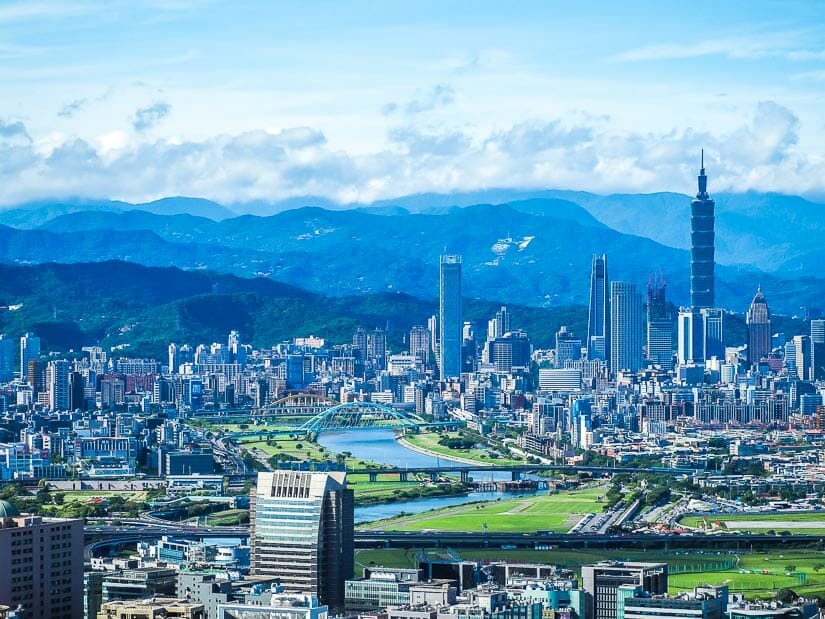 Setting out from Xihu MRT, it's a 10-minute walk to the trailhead, passing several convenience stores on the way. The trail ascends gradually, passing a small waterfall and cave before reaching the first excellent city and Taipei 101 lookout point.
After that, it ascends further past a Qing Dynasty quarry and even more epic Taipei 101 views. The trail then becomes a scramble over large boulders before reaching Scissors Rock Summit, where there are a number of large boulders to pose on, including the famous Scissors Rock (剪刀石).
After that, you can descend back to Xihu by following this loop route, or extend your hike further to the summit of Jinmianshan by following this route and returning to Wende MRT. Budget 1.5 to 2 hours total from the MRT.
Jiantanshan and Plane Spotting Platform
Jiantanshan Trail (劍潭山親山步道) is an easy trail departing from Jiantan MRT station featuring excellent views of Taipei (again looking south, but from further away than Jinmianshan), and Songshan Airport, with the chance to watch airplanes taking off. In this case, you'll again be gazing south toward Taipei 101.
To find the trail, take exit 2 (the small convenience store inside the MRT is your only option), turn left and walk to the freeway (Zhongshan N Road), and follow it south to the underpass. The trail starts on the other side beside a small temple called Fuzheng Gong.
The stairs ascend steeply, passing several spots where elderly people sing karaoke for about 20 minutes. You'll then be graced with view of Yuanshan Grand Hotel, the Keelung River, and Songshan Airport. Watch for a small detour to 北眼平台, a pretty, white lookout platform.
The climax of the trail is Plane Spotting Platform, also called Laodifang Lookout (老地方觀景平台). Literally meaning "the old/usual place", the lookout features an airplane model on a pole and a paper airplane bench, both nods to the Songshan Airport views. If using the route map on AllTrails that I linked to above, just turn back once you reach Laodifang.
From Laodifang, it is possible to continue on as far as Miramar Mall in Dazhi, with the possibility to connect to Jinmianshan Trail, or you can turn back and retrace your steps to Jiantan station. It took me 1.5 hours to walk to Laodifang and back.
The trail is special at night, when you can enjoy the Taipei City lights, but you'll probably want to bring a map with GPS to avoid getting lost.
Fuzhou Mountain
Fuzhou Mountain (福州山) in Fuzhoushan Park in Da'an District, southern Taipei City is a short and easy hike that offers yet another commanding but unique view of Taipei City and Taipei 101. It's easily doable in either the daytime or at night.
Unlike Elephant Mountain and the Four Beasts, which look west at Taipei 101, or Jinmianshan and Jiantanshan, which face south, here you'll be gazing north toward Taipei 101, with a large expanse of the city in between. Since the mountain is only 99 meters high, Taipei 101 will still appear towering before you.
Starting from Linguang MRT station, where there are convenience stores, it's a 5-minute walk to the start of the trail at Fuyang Eco Park (富陽自然生態公園). A set of washrooms can be found at the start of the trail.
A few different trails start from there, so follow the signs for Fuzhoushan Park. The trail ventures uphill through thick jungle for about 15 minutes to the main lookout point, which is called Fuzhoushan Park Scenic Platform (福州山公園景觀平台) on GoogleMaps.
There are several species of butterfly in the park, with informational panels explaining their various stages. If you do the hike at night like I once did, watch out for the huge snails on the trail!
You can budget 45 minutes to an hour return from Linguang MRT, including lots of time for taking photos at the top. It's also possible to extend your walk to other trails in the park and connect to nearby Zhongpushan (中埔山).
Battleship Rock (Junjianyan)
Battleship Rock (軍艦岩 or Junjianyan) is one of the most popular hikes in northern Taipei City. It starts at Qilian and ends at Shipai MRT station, both on the red line heading towards Tamsui (Danshui).
It features views of Beitou, Mount Guanyin (across the Tamsui River from Tamsui), and Taipei 101 in the far distance, and climaxes at a massive ship-shaped rock perched above a green valley.
After setting out from Qilian, where there's a convenience store on the city side of the MRT, you'll enter a set of stairs up through the forest. You'll soon enjoy city views from Qiyan West Peak.
The trail then skirts facilities of National Yang Ming Chiao Tung University, including an outdoor track and field with Taipei 101 visible in the distance behind. A rope section up a rock face behind the track is one of the highlights of the trail.
The trail nexts descends into a rocky valley and goes up the other side, leading to Battleship Rock itself. From there, you descend to and walk between buildings of Taipei Veteran's Hospital, terminating at Shipai MRT.
It took me just under 1.5 hours to complete this hike from MRT to MRT.
For a real adventure, you can also go rock climbing in Beitou!
Hikes in Yangmingshan National Park
Yangmingshan National Park is one of the 9 national parks in Taiwan, and the closest one to Taipei. In fact, it is partially in Taipei City and partially in New Taipei City. It protects Yangming Mountain, which is not a single peak put a massif of peaks, including hot springs and a dormant (though recent studies show it may be active) volcano. (See here for other cool facts about Taiwan!)
The park is rich in hiking opportunities, but I've selected my three favorites to include here. Unlike the above hikes, you'll need to hop on a bus for these, and remember that it can often be cooler up there, with fog and clouds frequently rolling in.
For more info about visiting the park, see my Yangmingshan visitor's guide and how to take a bus to Yangmingshan.
Qixing Mountain Trail
Qixingshan, or Seven Star Mountain, is Yangmingshan's tallest peak, at 1120 m (3670 ft). Climbing to the peak and down the other side is a moderate hike that takes 3-4 hours.
A recommended route is to start at Lengshuikeng, a nude, sex-segregated hot spring facility. The best way to get there is minibus S15, which departs from Jiantan and Shilin MRT stations, and get off at Lengshuikeng stop (the stop AFTER Lengshuikeng Service Center, where there are bathrooms). It's a 5-minute walk between the two stops.
For the first half, you can follow this walking route to Qixing East and Qixing Main Peak. It's a gradual climb with lots of stairs.
Down the other side, follow this walking route. A major highlight comes toward the end, when you pass the steaming fumaroles of Xiaoyoukeng (小油坑). The hike ends at Xiaoyoukeng Visitor's Center, from where you can catch bus 108 or 1717 back down the mountain.
Another option is to do the above in reverse, terminating at Lengshuikeng, where you can soak in hot water after you hike, or just soak your feet in the free foot soaking pool outside the hot spring bathhouses.
Qingtiangang Loop Trail
Qingtiangang (擎天崗) is a vast grassland surrounded by numerous peaks of Yangmingshan. It is easily accessibly by bus, and walking the Qingtiangang Loop Trail (擎天崗環形步道) provides the opportunity to spot grazing buffalo.
This easy, mostly flat loop trail takes less than an hour and is suitable for children. Because of this, it is the most popular walking trail in Yangmingshan by visitor numbers.
Qingtiangang sits right on the Taipei/New Taipei City border. To get there, take minibus S15 from Jiantan or Shilin MRT. You'll pass Lengshuikeng (see previous entry) along the way. You can also take bus 108 from Yangmingshan Bus Terminal, where there are several connections to places in Taipei.
There is also an easy 30-minute trail from Qingtiangang down to Lengshuikeng (see previous entry), or you can connect to the trail to Juansi Waterfall (see next entry).
Juansi Waterfall Trail
The third Yangmingshan trail I've decided to include here is Juansi Waterfall Trail (絹絲瀑布山步道). It is one of the only waterfalls right in Taipei City, and it is easy to connect to the above two trails.
The easiest way to walk this trail is from top to bottom, starting at Lengshuikeng Visitor's Center (get off the bus at the stop of the same name). Near the center, don't miss the cloudy Milk Pond (牛奶湖).
Next, you'll cross Jingshan Suspension Bridge (菁山吊橋) before descending through the forest to Juansi Waterfall (絹絲瀑布). This trail map will get you from Lengshuikeng to the waterfall. I didn't include a picture of the falls because it was pouring rain when I last visited.
After that, you could follow the same route back up, or continue downhill to Qingshan Road using this map. At the road, you can catch bus S15 back down to Taipei from Juansi Waterfall stop (絹絲瀑布站). In total, this walk takes less than an hour and is mostly downhill.
Another option, which involves less time on the bus, is to start at Juansi Waterfall stop, walk uphill to the falls, then back down to the same stop.
Taipei Grand Trail
The Taipei Grand Trail (臺北大縱走) is a sprawling, 92-kilometer network of hiking trails that cuts across Taipei City, integrating some 138 pre-existing trails.
The network was first introduced in 2018, with prizes awarded to individuals who could take photos from 12 designated spots. The trail has 7 main sections, with about 1/3rd of it within Yangmingshan National Park. There is a 1200 meters in elevation between the highest and lowest points of the trail.
The official starting point is Guandu MRT station in the north, and it ends in Maokong in the south. Read a description of each section here, or see trail maps here.
In total, it is said to take 7-8 days to complete the entire trail.
Hikes in New Taipei City
The following hikes are located in New Taipei City, the sprawling city that surrounds Taipei, and technically the largest city in Taiwan.
While a few of them are MRT-accessible, most will require a 30-minute to 2-hour bus or train ride out of the city.
Silver Stream Waterfall, Maokong
Silver Stream Waterfall, also known as Yinhe Cave/Waterfall (銀河洞/瀑布) is a small but mystical and picturesque temple buried in the forests of Maokong. A small waterfall trickles down through the temple, creating an evocative scene.
Riding the Maokong Gondola (accessible from Taipei Zoo MRT) to Maokong Station is part of the experience, but you can save time and money by hoping on a local bus to the top.
From Maokong Station, there are a few different routes to Silver Stream. You can either ascend immediately into the forest and follow this route, or follow the road to the right (west) past several teahouses and access the same trail further along.
On the trail, you pass tea plantations before connecting to a stream valley. Finally, you'll descend a steep staircase, upon which the mesmerizing scene of the temple opens up before you. You can walk right through the temple, which hugs the cliff face that the small waterfall pours down from.
While Maokong station is in Taipei City, most of the trail is in New Taipei City.
Tudi Gong (Earth God) Trail, Zhonghe
Years ago some friends of mine who live around Nanshijiao MRT station in Zhonghe District of New Taipei found a trail that became one of our favorites.
The trail led from behind Burma Street and Hwa Hsia University of Technology (where, by the way, I lectured for a few semesters) to the enormous Earth God (土地公 or Tudi Gong) statue that is visible from throughout the Nanshijiao area.
The path we had found had no name or information about it online at the time, but today AllTrails calls a version of what we followed the Chaichengjian to Nanshijiaoshan Trail. GoogleMaps labels the end part of it Hongludi Trail (柴埕尖登頂步道), after Hongludi Nanshan Fude Temple (烘爐地南山福德宮), where the Earth God statue is located.
Anyways, thanks to the AllTrails map, I no longer have to attempt to explain where the difficult-to-find trailhead is. The trail is never busy, and follows a ridge much of the way to the temple. Arriving at the temple, you walk right down through it, then you can follow regular roads back to Nanshijiao MRT.
We usually take around 3 hours to complete this hike, including the time to and from the MRT. Don't miss dining on Burma Street before or after the hike.
Jiajiuliao (Red River) Trail, Wulai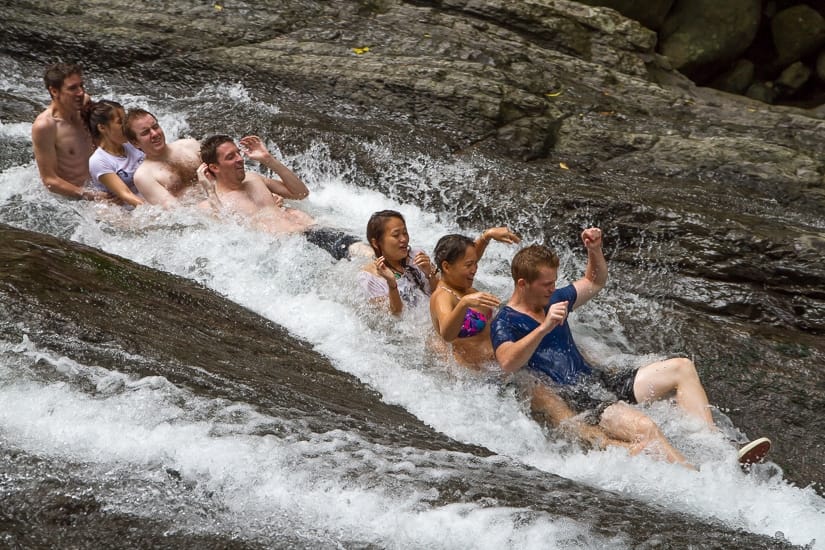 Jiajiuliao Trail (加九寮步道), also known as Red River Trail (紅河谷越嶺古道) is a trail that connects Wulai District to Sanxia District, if you walk the full trail. My friends and I mainly love the first section of the trail, which we frequently visit more for river tracing than hiking.
To get there, you need to take bus 849, the bus you normally ride from Xindian MRT to Wulai Hot Spring village. You get off the bus 5 minutes before reaching Wulai, at Chenggong stop (成功站), where there's a small mom & pop shop.
From there, you follow Jiajiuliao Road (加九寮路) downhill and cross a red bridge over Nanshi River. On the other side, the road quickly reaches a small bridge over Red River, which is the starting point of the trail.
The first 20 minutes of the trail provides access to numerous bathing and river tracing (aka river trekking) spots on Red River. Don't leave without finding the impressive 50-foot (my guess) rock slide!
If you want to do the whole hike, here's a useful guide, which starts on the Sanxia side and ends at Jiajiuliao. Note that the trail can sometimes be closed or affected by landslides.
After hiking or river tracing in Wulai, why not spend the night in a hot spring hotel? Shui An Hot Spring Hotel has rooms with balconies overlooking the river in Wulai.
Palace of the Emperor (Huangdi Dian), Shiding
A thrilling hike to seek out southeast of Taipei in Shiding District is Huangdi Dian (皇帝殿山登山步道). The hike can be accessed on bus 666 (the devil's route) from Muzha MRT, which also passes the famous Shenkeng Stinky Tofu Village.
This is a 3-4 hour hike that starts out with a whole lot of stairs uphill. The highlight is when you reach the upper portion, where you walk along a dramatic ridge for some time, with some fun rope sections.
The ridge portion is reminiscent of the following two hikes, though Wuliaojian and Pingxi Crags are, in my opinion, more dramatic (and terrifying).
Wuliaojian Trail, Sanxia
The locally notorious Wuliaojian (五寮尖) trail in Sanxia district, New Taipei City features some of the wildest climbing you can enjoy without having to bring your own equipment. The highly varied terrain includes ropes and ladders up steep cliff faces, boulder ascents surrounded by jungle, and more fun.
It's not for the faint of heart, but anyone who is reasonably fit can handle this hike, which is rated difficult. There are a few different route possibilities, including this one and this one. You can plan for about 2.5 hours to complete either one.
The best way to reach it is to take a taxi from Sanxia city center area to Yu-Li convenience store (玉里商店) on provincial highway 7, where the trail begins.
Pingxi Crags, Pingxi
Another New Taipei hike with awe-inspiring verticals is the Pingxi Crags (平溪六尖), located near Pingxi station on the Pingxi small train line. These are a collection of mesmerizingly vertical sedimentary crags jutting out from the forest.
A network of trails lead up and down a collection of six of these towering crags, mostly via ladders. The crags are called Xiaozishan (孝子山), Cimu Peak (慈母峰), Cien Peak (慈恩嶺), Putuoshan (普陀山), Choutoutshan (臭頭山) and Zhongyangjian (中央尖). A popular route that takes in several of them is the Cimu Loop.
Again, the hiking itself here is not terribly difficult, but your heart will be pounding the entire time, especially if you look down. The hike is rated moderate.
The crags can be accessed on foot from Pingxi station. If you're feeling energetic, you can tackle the below hike on the same day. Read my guide to riding the Pingxi Railway Line for more info.
Sandiaoling Trail, Ruifang
One of my favorite easy walking trails in Taipei is Sandiaoling trail. The first portion of the trail is easy enough that I've even hiked it with my kids when they were toddlers. The trail features three stunning waterfalls, including one that you can enter a cave behind.
This trail starts out from Sandiaoling station, the exact point where the Pingxi Line splits off from the coastal line. To find the trail, you walk inland along the train tracks of the Pingxi Line, including a short walk across a train bridge.
When the train line reaches a school, you walk up past a few houses and up into the forest. Within 20 minutes, you reach a viewpoint of huge Hegu waterfall.
After crossing the stream above the waterfall, you'll come to a second falls, Motian Waterfall. There, you can climb into a rocky overhang/cave behind the waterfall, but do take care. This spot has special meaning to me, and a photo of me sitting in the cave is on the cover of my book Taiwan in the Eyes of a Foreigner.
After Pipa Cave Waterfall, the trail becomes more difficult. You'll need to ascend a vertical ladder to a similar waterfall, Pipa Cave Warterfall. Beyond that, you can connect to a trail that goes all the way to Shifen Waterfall, another that goes all the way to Houtong Cat Village, or simply return the way you came.
Plan for about 1.5 hours from Sandiaoling station to Pipa Cave Waterfall and back.
Keelung Mountain, Jiufen
Jiufen, one of the most popular day trips from Taipei, is an old gold mining town turned tourist old street. People go there to eat traditional snacks and drink Taiwanese tea in famous teahouses like Amei Teahouse.
If you prefer to escape the crowds in Jiufen, you can hike Keelung Mountain (基隆山), the triangular peak that lies between Jiufen and the sea. The mountain is named after Keelung city, though it's not actually located in Keelung. The hike features breathtaking views looking down on Jiufen (try planning your descent at night when the village lights up!) and west down the coast.
The hike can be done as a short (1-hour) but steep out-and-back, or a longer (2-hour) loop trail. Despite the name of the mountain, it is not located in the city of Keelung.
Teapot Mountain, Ruifang
While Keelung Mountain is the best hike in Jiufen, Teapot Mountain is an unmissable one in Jiufen's sister attraction, Jinguashi.
Jinguashi is famous for the Jinguashi Gold Ecological Park (金瓜石黃金博物館), a fascinating park boasting remains of a former gold mine, including a huge chunk of gold you can touch and a café serving ice cream floats topped with gold leaf.
The Teapot Mountain Trail (茶壺山步道) begins from within the gold ecological park. If you tell them at the park entrance that you are there only to do the hike, they will even waive the small park entrance fee.
The trail follows a road then a winding trail up Teapot Mountain, which excellent views looking down at the coast, including some mining facility ruins. The climax is reaching the teapot-shaped cluster of boulders atop the mountain, where you have to physically climb through a cave to get through.
For an easier walk (1 hour return), you can turn back there. Otherwise, continue on past the teapot, after which you'll have to ascend some cliff ladders before looping back toward Jinguashi.
Other cool hikes in the area include the shorter walk to Jinguashi Shrine (the remains of a Japanese Shinto shrine), Banpingshan, and the popular but somewhat dangerous Stegosaurus Ridge.
Bitou Cape Trail, Ruifang
Bitou Cape Trail, or Bitoujiao Trail (鼻頭角步道) is a coastal walk on the 2nd easternmost point (after Sandiao Cape just south of it) on mainland Taiwan. The trail features stunning coastal scenery.
Most of the trail is paved, with some stairs, and includes several lookout pavilions along the coast. It takes about 1 hour 15 minutes return. To get there, take Kuokuang bus 1811 from Taipei Main Station Zhengzhou (臺北車站鄭州) between exits Y4 and Y6, with limited departures per day.
After your hike, consider also visting Longdong (龍洞) in the adjacent bay, which is famous for cliff diving, rock climbing, and scuba diving.
Caoling Historic Trail
Caoling Trail is as far as we will get from Taipei here, as the trail is partially in New Taipei City and partially in Yilan County on the northeast coast of Taiwan. The trail is one of the most well-known in Northern Taiwan.
Caoling Trail (草嶺古道) is a historic trail that was once one of the only ways to travel from Northern Taiwan to the Yilan plains. The trail cuts right across Sandiao Cape, starting near Fulong Beach, one of the most famous beaches around Taipei, and ending near Dali train station (大里站).
The first portion of the trail is a gradual ascent through the forest, while the highlight is reaching the coastal bluffs toward the end. From the bluffs, it's a quick and winding descent to Tiangong Temple near Dali on the coast. The hike takes about 2.5 hours to complete.
This hike is especially famous in November in Taiwan, when blooming, swaying silvergrass covers the hillsides.
An optional add-on beginning from the coastal bluffs and following them south along the coast, with lots of up and down, is the Taoyuan Valley Trail, which eventually terminates at Daxi Train Station (大溪站). I personally found this to be a rather tiring add-on to the Caoling Trail, but it has far fewer people.
Well, that brings us to the end of my guide to the best walking trails in Taipei and New Taipei City. I hope that you've found more than enough new ideas for hiking in Taipei. Let me know if I missed your favorite!