Dear reader: This article contains links to products and services that I may be compensated for, at no extra cost to you.
Is spring a good time to visit Taiwan? Sure, why not? April is one of the best months of the year in terms of weather, and perhaps that is why it gets the second highest number of tourists of the year. May and June tend to get more rain due the Plum Rainy season, but crowds are low.
The season kicks of with the Spring Scream long weekend, a time to party and/or travel, while the Urban Nomad Film Festival, Matsu Pilgrimage, Dragon Boat Festival and several other festivals also take place in spring.
Below I'll cover everything you need to know about visiting Taiwan in spring, including the weather, what to where, and the best things to do in spring in Taipei and across Taiwan.
Also Read:
Use Klook to find tons of discounted travel deals for Taiwan. Sign up with my referral link to get TWD100 off your first booking!
When is Spring in Taiwan?
Generally speaking, April, May, and June are considered spring in Taiwan. Many people consider the 4-day long weekend at the beginning of April to be the official start of spring, but spring weather can start in March, especially in the south of Taiwan.
June usually gets quite hot, even in Taipei, so depending on what kind of weather you are used to, you could consider this month the start of summer.
Not that although cherry blossoms are generally associated with spring, they actually bloom in winter in Taiwan, from January to March. The only place where cherry blossoms bloom in April is at high-altitude Alishan National Scenic Area.
Taipei Spring Weather
Spring weather in Taipei is characterized by warming temperatures, climbing from a daytime average of 22°C (72°F) in March to 32°C (90°F) in June.
March could be a considered a transitional month. Taipei usually has characteristically winter-like weather (gray skies and slightly chilly) for most of March, only starting to warm up by the end of the month.
June can already be quite hot in Taipei, so depending on what you are used to, it may feel like summer has fully begun.
Precipitation-wise, March and April each have an average of 180mm of rain, about twice as much as in winter (but still not too much). But sometime usually in the first half of May, a mini rain season called the Plum Rain (or "East Asian Monsoon Season") usually arrives in Taipei and Keelung. Sometimes it can arrive later, such as late May.
The Plum Rainy Season can bring steady rain for days on end, but it doesn't usually last more than a week or two. It's not as wild as rainy seasons in other parts of Asia, but it's definitely something to be aware of. By late May or early June, the Plum Rains head south to Southern Taiwan.
May sees an average of 234mm of rain in Taipei, while June gets 325mm. The high amount in June can explained by the rain from the tail end of the Plum Rainy season, plus heavy (but usually very short) late afternoon downpours common after hot days in summer in Taiwan.
Learn more about other seasons in my guest to the best time to visit Taipei.
Taiwan Spring weather
In other parts of Northern Taiwan, such as Jiufen, Yilan, or Hualien and Taroko Gorge, the weather in spring will be similar to that of Taipei.
Head further south, though, and you will find that spring can already be very hot. One year that I attended Spring Scream in Kenting, on the southern tip of Taiwan, at the beginning of spring, the weather was so hot that performers were suffering on the stage in the daytime and audience members were hiding under the shade of trees.
Tainan City has an average daytime high of 26°C (79°F) in March, which climbs to 32°C (90°F) in June. March and April see almost no rain in the south of Taiwan, while May has a moderate 175mm. But plum rains followed by near daily (but usually short) late afternoon showers bring 370mm of rain to the south of Taiwan in June.
If you're heading up to higher altitude places like Alishan or Cingjing Farm, you can expect temperatures about 10 degrees lower than elsewhere, so it will still be chilly in spring. In the Penghu Archipelago, winter winds taper off in spring, making it (and other offshore islands) perfect to visit in spring due to weather and relative lack of crowds.
What to Wear in Taiwan in Spring
You can pretty much dress in summer clothes in spring in Taiwan, but throw in a long-sleeve shirt just in case you need it in evenings in Taipei in early spring. If you plan to visit the high mountains, such as Alishan or Cingjing Farm, you'll need warmer clothes, including a jacket.
Because you are almost guaranteed to have some rain at some point during your spring trip to Taiwan, bringing rain gear is a smart idea. If not, every convenience store in Taiwan (and there are thousands of them) sells cheap rain pull-overs and umbrellas. And don't forget your bathing suit for beaches or hot springs!
Things to Do in Taipei in Spring
Spring is one of the best times of the year for hiking and other outdoor activities in and around Taipei. Here are my 40 recommended day trips from Taipei to give you loads of ideas. April is pretty ideal because it's not too hot and has the lowest chance of rain.
On warm spring days, it is definitely hot enough to go to beaches around Taipei. You will find beaches in Northern Taiwan pleasantly non-crowded, but the water is still a little chilly in spring. The incredible Fulong Beach Sand Sculpture Festival usually starts in late April, and you can see the enormous sand sculptures there on the beach until summer.
The Urban Nomad Film Festival and its opening 3-day music festival usually take place in Taipei in April and May.
In May and June, you can see fields of calla lilies blooming at Zhuzihu in Yangmingshan National Park (see cover photo of this article). In late May, you can also see fireflies in Taipei in the early evening at Da'An Park, Muzha Park, and Rongxing Park.
The Dragon Boat Festival takes place in mid- to late-June (the 5th day of the 5th month on the Lunar Calendar. This is celebrated with dragon boat races at Dajia Riverside Park (大佳河濱公園) in Taipei and Bitan (碧潭) in Xindian, New Taipei City.
For more ideas, see my articles on things to do in Taipei, the best Taipei night markets, and my recommended Taipei itinerary.
Things to Do in Taiwan in Spring
Early spring is a great time for planning trips around Taiwan because the weather isn't too hot yet and the chances of rain are low.
There is a 4-day long weekend at the beginning of April due Children's Day and Tomb Sweeping Day. Most people plan trips around the country at this time, but beware that this means it can be harder to get train tickets or hotel rooms around Taiwan. Taiwan's many amusement parks and theme parks can also be crazy busy at this time.
The four-day long weekend is also an extremely popular time to visit Kenting National Park at the southern tip of Taiwan. Although it has totally died in popularity, the rock-focused Spring Scream Music Festival has been taking place in Kenting since the 1990s and helped to make Kenting the go-to place for this weekend in Taiwan.
Although the festival is longer held, several other parties and music festivals have replaced it on the same weekend in Kenting.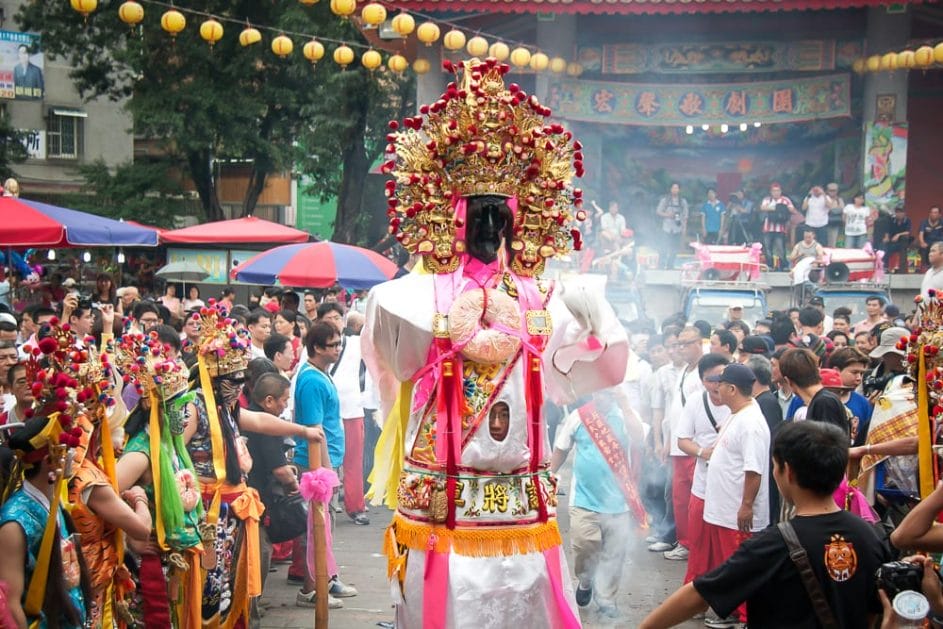 On the 23rd day of the 3rd lunar month, an enormous 10-day pilgrimage for Matsu's birthday takes place in Taichung, Changhua, Yunlin, and Chiayi. It usually takes place in April or May.
If you want to see cherry blossoms, head up to Alishan in early April, but be warned that it is an extremely popular time to visit and hotels there are limited, so you'll have to book a hotel in Alishan far in advance, or just visit for the day. See more info here on how to get to Alishan.
You can also see Tung Blossoms, whose petals fall like snow, in April and May in Taoyuan and Miaoli.
In my opinion, spring is the best time of the year to visit the offshore islands. Most locals don't visit until summer, so crowds are low.
On Orchid Island, the Flying Fish Festival takes place throughout spring (there are no set dates, it's more like a season with various associated rituals and activities). The Penghu International Fireworks Festival, which is truly a sight to behold, usually starts in April and goes on until June.
Most major cities in Taiwan hold their own dragon boat races to celebrate Dragon Boat Festival in June.
Conclusion
No season is perfect in Taiwan. So don't let the chance of rain turn you off from visiting Taiwan in spring. April has near perfect weather and lots going on, while May and June are have low crowds and are perfect for visiting the offshore islands.