Dear reader: This article contains links to products and services that I may be compensated for, at no extra cost to you.
One of the many, many reasons to visit Taiwan is that is really close some incredible beaches. This comes as no major surprise, since there is no point on this island nation of Taiwan that is more than 110 kilometers from the sea.
Below I've selected the best beaches in Taipei. To be clear, none of them are in Taipei City, but they can all be accessed by car or public transportation in two hours or less from the city center. Most are located in New Taipei City, the sprawling city that surrounds Taipei City, or Keelung City and Yilan County on the east coast of Taiwan.
While these beaches will never quite compete with the beaches of the Philippines or Thailand, Taiwan's beaches are increasingly gaining the recognition they deserve. Any of them make for a great day trip from Taipei and offer a wide range of activities, as well as some great accommodations and dining.
If you're willing to go further, also see my guide to the best beaches across Taiwan!
The Best Time To Visit Beaches in Northern Taiwan
Splashing in the waves of the Pacific Ocean is the perfect way to cool down in Taiwan's intense heat in summer in Taiwan, but don't forget about these beaches the rest of the year, when they are pleasantly crowd-free and it is often still warm enough to swim! Usually the weather in March in Taipei is still a little too winter-like, but April is when we usually start thinking about heading to the beach for the first time, May and June are ideal, July and August are simply too hot, and September and October are great again!
See more details in my guide to the best time to visit Taipei.
Sea lovers should also check out my articles on Dulan surf town, Cijin Beach in Kaohsiung, and remote Orchid Island in Taitung.
If you're planning a trip around Tawian, use Klook to find great deals and discounts on activities, transportation, and more. We use it all the time! Sign up with my referral link to get NTD100 off your first booking.

If you're visiting Taipei for a short time, then you will want to consider getting a Taipei Unlimited Fun Pass. The pass includes entry to 16 major sights, unlimited MRT and bus rides in Taipei and New Taipei City, and five tourist shuttle buses that go to several of the beaches I'll mention below. I also wrote this article to help you decide whether the Taipei Unlimited Fun Pass is worth the money.

Non-pass holders can swipe an EasyCard to ride the shuttle, costing NT15 to 90 per ride depending on how far you go, or any of the other buses or local trains I mention in this article. Learn all about EasyCards here.

Another way to cool off in summer is to visit one of Taiwan's numerous water parks.
The Top-6 Taipei Beaches
I've arranged these beaches roughly in order from closest to furthest from Taipei City.
Shalun Beach
I didn't originally include Shalun Beach (沙崙海水浴場) in this article. But now that it is easily accessible, thanks to the new Danhai LRT Line in Tamsui, I've decided to add it. It is the only beach in Taipei that you can reach by Taipei MRT (with a quick transfer on the LRT).
In fact, Shalun is the closest beach to Taipei City. It is found next to the popular Fisherman's Wharf in Tamsui district of New Taipei City, near where the Tamsui (Danshui) River meets the sea. Like Fisherman's Wharf, Shalun Beach is known for its beautiful sunsets. It is also known for the Luye Equestrian Center (綠野馬術文創園區), which explains why you might see horses on the beach when you go there.
To learn more about the area, see my guide to Tamsui district.
Where to stay at Shalun Beach:

Fullon Hotel Tamsui Fisherman's Wharf (see on Booking / Agoda / Klook / TripAdvisor) This branch of the Fullon Hotel chain (we'll also see one belong in Fulong) features a pool and is a short walk from Shalun Beach. The hotel is an iconic landmark at Fisherman's Wharf.
How to get to Shalun Beach: Ride the Taipei MRT to Hongshulin Station, then transfer to the Blue Coastal Line of the Danhai LRT (bound for Fisherman's Wharf) and get off at Binhai Shalun Station (9).
Qianshuiwan
Located a mere 20 kilometers from the Taipei/New Taipei border, Qianshuiwan (淺水灣, literally "shallow water bay"), officially called the Qianshui Seaside Park, is the closest good beach to Taipei City, and thus just a quick hop for anyone living in Taipei. It is located in Sanzhi, a district of New Taipei City, on the northwestern tip of Taiwan.
Qianshuiwan is probably our favorite Taipei beach to visit with our kids for its combination of beauty, clear water, small waves, ease of access, and restaurant facilities. So if you are visiting Taipei with kids or traveling around Taiwan with kids, this may be a great option for you.
What appears to be a small beach from the parking lot opens up as you get closer to reveal a much longer stretch. At the far western end, there's a breaker in the water, past which there is another stretch of sand which tends to have less people.
Facing the beach is a long string of low-key restaurants and a few decent hotel choices. The first eatery right next to the parking lot is our go-to spot, Dazzler's Fish & Chips (outdoor seating only). The fish and chips are spot on, and there's a good selection of British beers. There's also a facility where you can pay for a private shower beside Dazzler's.
Please note: Dazzler's Qianshuiwan is sadly no longer open, but their Baishawan location (see next entry) still is.
Following the beach-side path, popular spots among locals include Bossa Nova (卡薩布蘭加), Blue Villa (欣藍舍), which features an upscale restaurant and pretty swimming pool that often has no one in it except for a large floating unicorn, Le Coq (公雞咖啡), and Villa Sugar towards the far end.
Most places have great patios facing the sea, although you may be surprised to see how many people head to the beach only to dine in a crowded air-conditioned room with no view of the sea. Menus tend towards Asian-style Western fare, waffles, ice cream, and so on.
For cheap drinks and snacks, there's a 7-Eleven across the highway from the parking lot. On the beach, you can rent tent covers for shade in the peak of summer.
Sunsets at Qianshuiwan are particularly beautiful, and after dusk the waterfront takes on a particularly romantic vibe as the restaurant and bars light up the coast.
Where to stay at Qianshuiwan:

Bay Lodge 海灣旅宿 (see on Booking) has a tiny pool and is a short walk from Qianshuiwan.
How to get to Qianshuiwan: Take Danshui Transport bus 860, 861, 862, or 863, or the Crown Northern Coast Tourist Shuttle bus (#716) (which is free for Taipei Unlimited Fun Pass holders), from in front of Danshui MRT station.
Get off at Qianshuiwan stop (30-40 minutes). A taxi from Danshui to Qiansuiwan will cost about NT350. You can also hire a private driver to take you there from Taipei.
Baishawan
Baishanwan (白沙灣) literally means "White Sand Bay", although the sand is more light brown, much like at Qianshuiwan.
We don't go to Baishawan as much as Qianshuiwan, with the lazy excuse that it offers a similar experience to Qianshuiwan but is 10 minutes further along the coast from Danshui. Baishawan has also got a branch of our favorite restaurant at Qianshuiwan, Dazzler's, but this one has indoor seating only.
Despite being slightly further, Baishawan is very popular, and in summer rows of makeshift white tents line the beach. For restaurants besides Dazzler's, there a few but not as many choices as at Qianshuiwan. You can rent surfboards here, but for better surf, I'd suggest heading to Wai Ao (#5 below). You can also pay a little money to hose yourself off with fresh water at the surf shop after your swim.
Baishawan is located just before Fuguijiao / Fugui Cape (富貴角), the northernmost tip of Taiwan, where you can find a lighthouse and some pleasant hiking trails, though it can be quite windy!
On the west side of Fugui Cape sits Fuji harbor (富基漁港), where, like any harbor in Taiwan, you can find plenty of seafood restaurants. On the east side of the cape is Laomei Green Reef (老梅綠石槽), where bright green algae covers rows of rocks on the coast. It's a very popular spot for local photographers. Be careful, as the rocks can be very slippery!
Where to stay at Baishwan:

Chill Chill House (see on Agoda / Booking / TripAdvisor ) sits on a nice vantage point on the eastern end of the beach, with direct access to the beach. Some rooms have beach views, and they provide floating ducks, unicorns, and other beach toys, so it's also a good spot if you've got kids.
How to get to Baishawan: Take the same buses mentioned for Qianshuiwan, and continue 10 minutes further to Baishawan stop. The Crown Northern Coast Tourist Shuttle bus (#716) (which is free for Taipei Unlimited Fun Pass holders) has stops at Baishawan and Fuguijiao.
A taxi from Danshui will cost about NT450. If you are driving from Keelung, you can get here in about an hour, or take any of the Keelung-Danshui buses. You can also hire a private driver to take you there from Taipei.
Dawulun Lovers' Beach & Waimushan
Dawulun Lovers' Beach (大武崙情人海灘), also sometimes called Waimushan Beach (外木山沙灘, see more on that below) is a small, lesser known beach that I include on this list as an alternative to the bigger and more popular ones. It's located in Keelung City, a short drive west of the Keelung city center.
As the crow flies, Dawulun is tied with Qianshuiwan for being the closest to the Taipei City border on this list, but it's not quite as convenient to get to by public transportation because bus #310 provides the only access, and only runs a handful of times per day. If you're driving, it's probably the fastest beach you can get to from Taipei City. Another way to get to Dawulun is to walk from Waimushan Scenic Area, which can be accessed by a tourist shuttle bus.
Dawulun occupies a pretty spot beside a small fishing harbor. It is just off highway 2, which runs around the north coast. Drivers on the highway pass right over the beach without even realizing it's hiding down there. The beach is small but the sand is soft, water is very clear, and the mountains backing the beach give it a secluded feel.
The beach is actually quite popular among locals, but you are less likely to encounter foreign faces here. There's also no 7-Eleven here, but you can buy cold beers, sausages, and other barbecued items from one or two shops and vendors on the street. There are also simple showers and a toilet at one of the shops.
For stunning views, you can hike up to Lover's Tower, Eagle Rock, and Lover's Lake, which features a suspension bridge. The trail starts across the street from the Dawulun Beach bus stop.
Two kilometers closer to Keelung from Dawulun, Waimushan Seaside Scenic Area (外木山濱海風景區) is another noteworthy spot, and is the first stop on the Coastal Keelung Tourist Shuttle Bus. This bus is free for visitors holding a Taipei Unlimited Fun Pass, and you can take it from Waimushan to Keelung City, Keelung Night Market, Heping Island, Badouzi station on the Pingxi line, and Shen'Ao Elephant Trunk Rock. Read more about all these places in my guide to the best day trips from Taipei.
From Dawulun Beach, you can walk along the beautiful Waimushan Shore Walk (外木山情人湖濱海大道) for 30 minutes to reach Waimushan Scenic area and bus stop.
Walking 10 minutes east past Waimushan Scenic area and bus stop will bring you to Waimushan Harbor, where you can find Waimushan Fish Market (外木山觀光魚市) and enjoy super fresh seafood right on the harbor in a dilapidated building that looks like it is on the verge of falling over.
Where to stay at Dawulun:

There are no hotels on this beach, but you can consider staying in nearby Keelung, where you can check out Miaokou Night Market, one of the best night markets in the greater Taipei region.

In Keelung, a great budget choice is Light Inn (see on Agoda / Booking / TripAdvisor ), while Evergreen Laurel Hotel (see on Agoda / Booking / TripAdvisor ) offers amazing views of Keelung Harbor, the largest in Northern Taiwan.
How to get to Dawulun Lovers' Beach: Take the regular train from Taipei to Keelung (about 40 minutes) then bus 310 (only seven departures per day) from right in front of the Keelung train station. A taxi from Keelung will cost around NT250.
How to get to Waimushan Seaside Scenic Area: Take the Coastal Keelung Tourist Bus (T99) from Keelung, which is free for holders of the Taipei Unlimited Fun Pass or Taipei Transport Fun Pass.
Wanli Beach
In between Dawulun Beach (#3) and hugely popular Yehliu Geopark (see "Two More Notable Mentions" at the end of this article), there's a good chance you've passed Wanli Beach (萬里海水浴場) before on the way to Yehliu. It's most distinctive feature is White House Resort (see on Agoda / Booking / TripAdvisor ), a long but lowlying white and blue hotel facing the beach, visible in the above and below photos, which is impossible to miss as you drive towards the beach.
To get a pretty wild view of Wanli Beach on a busy day, check out this aerial footage on the hotel's website.
This beach often hosts major events and activities, and the first time I ever went here was for a beach rave! Even though the hotel is right on the beach, the public is permitted to use any part of the beach, and I shot these photos of the beach with almost nobody on it on a weekday morning one spring in Taiwan.
The sand at Wanli is actually whiter than any other beach on this list. The waves were a little on the big side for swimming when we visited (but not suitable for surfing either).
Supposedly in the busy season the hotels on the beach clean up all the trash that collects on the sand, but when we visited, we were disappointed to find there was still quite a lot of it (I've actually photoshopped out some trash from these pics).
Green Bay features one very unusual sight: a collection of abandoned UFO houses, or "Futuro Houses", the remains of an experimental housing project in the 1980s. The buildings make for really cool photos, and you can climb up the steps and peer into some of them.
Just in front of the houses, Mustang Paragliding Club (野馬飛行傘) launches their flights right from the beach.
There aren't too many eating choices near the beach, but there's a 7-Eleven on the highway roughly in the middle of the two beaches (but it takes a while to get to it along the road from either end of the very long beach).
If you want cheap and tasty lunch, head to Masu Street (瑪鋉路) on the other side of the highway from Wanli Beach, where you can find a Cambodian restaurant (儂徠南洋美食) and Vietnamese restaurant (食尚玩家 湄公河南洋美食).
It's interesting to note that you can find simple Vietnamese restaurants like the above near almost every beach in Northern Taiwan. Just enter "Vietnamese restaurant" on GoogleMaps near the beach to find them.
They are so common that my wife and I practically consider getting Vietnamese an essential part of our regular beach day trips trips from Taipei, and pho makes it onto my list of 101 street foods to try in Taiwan.
Where to Stay at Wanli Beach

The most obvious spot is White House Resort (see on Agoda / Booking / TripAdvisor), where rooms have private access to the beach.

The long stretch of sand is connected to a second beach on Green Bay (also known as Emerald or Feicui Bay) (翡翠灣), which is dominated by Howard Green Bay Resort (see on Agoda / Booking / TripAdvisor ) and Pacific Hot Spring Hotel (see on Agoda / Booking / TripAdvisor ), which I actually stayed at once to attend a wedding at their Greek Island-style wedding terrace facing the sea.
How to get to Wanli: Take the regular train to Keelung (about 40 minutes) then transfer to bus 789, 790, or 862 from the bus stop to the right of the train station exit, near the pedestrian overpass, and get off at Wanli stop (about 30 minutes).
If you are coming from Yehliu (see the last entry in this article), you can actually walk from the Yehliu Geopark to the UFO end of Wanli Beach in about half an hour, passing Guihou Fish Market (with many seafood restaurants) along the way.
Fulong Beach
Fulong Beach (福隆海水浴場) is probably the most famous beach in Northern Taiwan, and I would argue that it is the prettiest. It is located in Gongliao district, New Taipei City, just before Sandiaojiao Cape (三貂角) and lighthouse, the easternmost point of Taiwan. You can visit Fulong Beach and Sandiaojiao Cape on this Northeast Coast tour.
What makes Fulong so special? Many reasons. First, it occupies a unique stretch of land, a long spit that shelters a lagoon formed by the Shuang River on one side and the Pacific Ocean on the other, and is accessed by a picturesque footbridge called Rainbow Bridge over the lagoon. The sand here is a beautiful golden brown.
Second, Fulong hosts two major annual events, the hugely popular Hohaiayan Rock Music Festival, which is free of charge and usually takes place in August, and the Fulong International Sand Sculpting Festival (usually lasting for several months, from late April to late August). You can read about these and other Taiwan festivals here.
We were truly blown away by the immense size and incredible detail of the sculptures when we visited!
Third, Fulong is known across Taiwan for its Fulong lunchboxes (fulong bian dang or 福隆便當) which have been sold from the train's platform since Japanese times. Few Taiwanese travelers can pass Fulong Station (even if they don't get off the train) without buying one.
The filling meal includes rice, a hardboiled egg, bamboo, greens, sausage, fish cake, and pork cutlet, all for only NT55. You can't miss the shops outside the train station (or hawkers right on the train platform) selling them. Another place in Taiwan that is famous for its railway lunchboxes is Fenqihu, which you can read about it my Alishan guide.
Fourth, Fulong Beach is very close to the starting (or ending) point of the Caoling Historic Trail, one of Northern Taiwan's most famous hikes. Besides hiking, you can also try Stand-Up Paddleboarding or sea kayaking in Fulong. Yet another fun thing to do in Fulong is to rent a bicycle and ride to the Old Caoling Tunnel.
If you're into temples, Ling Jiou Mountain Sacred Mountain Monastery (靈鷲山聖山寺) is worth a look. The temple was established by the same monk who created the Museum of World Religions in Taipei.
It's important to note that there is a NT100 fee to enter Fulong Beach, just before the access bridge. If you want to skip the fee, or you just don't like the crowds of the main beach, head to the free beach just east of the main beach, beside Dongxing Temple (福隆東興宮), the large temple facing the sea in the picture of my friends below.
To get there, exit the train station and turn right on Highway 2 (instead of turning left as most beachgoers do to reach Rainbow Bridge. Turn left just after the highway passes over a small creek, and follow the road to the beach.
You'll pass a few very simple hostels (Fulong Hostel (福隆藍海民宿), where it is possible to pay for a shower. There isn't anywhere to buy drinks or snacks though, so make sure you stock at one of the two 7-Elevens by the train station.
Where to Stay in Fulong

Fulong is known for the beatiful resort that looks over the beach, the Fullon Hotel Fulong (see on Agoda / Booking / TripAdvisor ). A few years ago, I treated my family to a stay at Fullon Hotel for Mother's Day. We aren't normally the resort hotel type of family, but it was a splurge. I managed to find a surprisingly decent weekday deal on booking.com.

Our room was spectacular, and the kids loved the (mountain facing) pool. We actually stayed during the Sand Sculpting Festival, and there were even real sand sculptures built inside the hotel! If you are looking for an easy beach resort trip without heading all the way to Kenting, this is a fine choice.

If you want a cheaper option in Fulong, you can try One House (see on Booking) by the train station or the two hostels I mentioned above. There's also a large campsite beside Fulong called Longmen Campground (龍門露營區), which we stayed at once years ago so we could start the Caoling Trail bright and early the next day.
Related articles: For another really amazing temple by the sea, check out my post on Haedong Yonggungsa Temple in Korea. Also don't miss my guide to the best temples in Taipei and New Taipei City.
How to get to Fulong: The train from Taipei Main Station to Fulong takes 1.5 to 2 hours. If you're driving, you can get there in just over an hour from Taipei. Another option is to take the Gold Fulong Tourist Shuttle bus, which starts in Ruifang, passes Jiufen, Jinguashi, Bitou Cape, and Longdong before reaching the final stop, Fulong Beach.
This shuttle bus is free for Taipei Unlimited Fun Pass holders. Read more about all these places in my guide to the best day trips from Taipei.
Wai Ao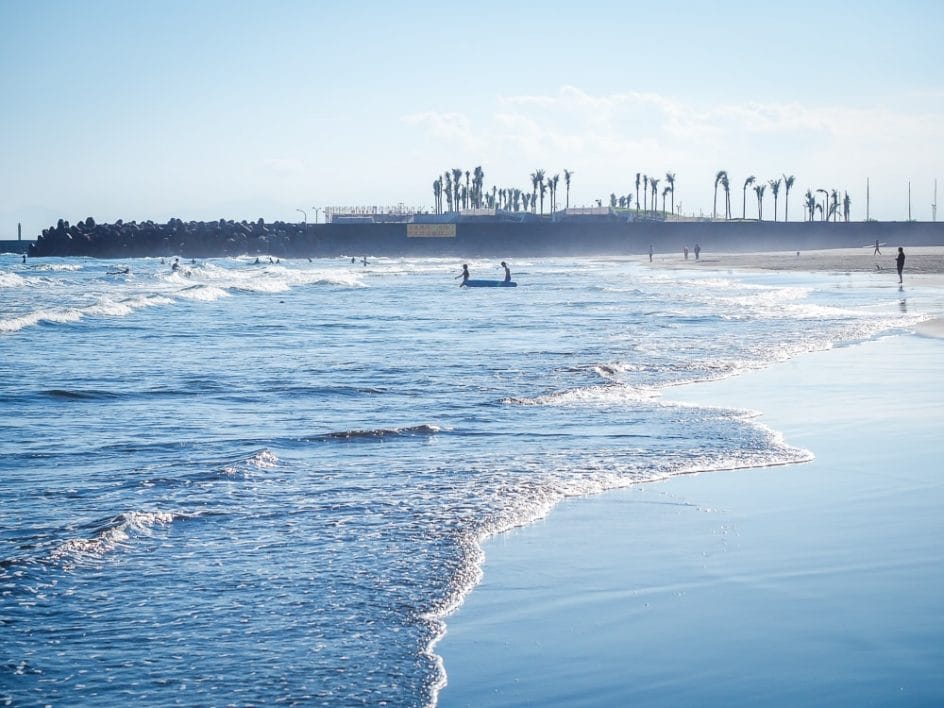 Wai Ao (外澳) is the furthest beach from Taipei on this list, and is located in Yilan County on the east coast of Taiwan just north of Toucheng City and Wushi Harbor (烏石港), which is known around Taiwan for its high quality seafood. Going further south would bring you to Hualien County, where famous Taroko Gorge is located.
You can get to Wai Ao in about two hours from Taipei on the local train, making it a doable beach day trip from the city and very much worth the trip.
Wai Ao is by far the most popular surfing spot in Northern Taiwan. The surfing section lies on the southern end of the beach, the furthest you can get from Wai Ao train station and right beside the seawall that separates Wai Ao from Wushi Harbor.
A large bright yellow building sits at entrance to the northern half of the beach and houses a café and restaurant. Even if you are just here to swim, we usually prefer the southern/surfing end of the beach. This part of the beach has a real "beach/surf town" vibe to it, and a number of surf shops and simple hostels line Wushi Road behind the beach.
There's no 7-Eleven in town, but there are several local restaurants and mom-and-pop shops along the highway. The surf shops also sell beers and other cold drinks. For great pizza and live music on Saturdays, check out Drifters Pizza Pub near the train station.
Surfboards can be rented from one of the shops or right on the beach, or you can book a surfing lesson online here. The surf is decent but not too wild here, so it's a great place to learn.
Wai Ao probably has the largest total sand surface area of any beach on this list. Unlike the beaches further north, the sand is black, and the mountains behind form a magnificent backdrop that gives you a taste of the even more spectacular scenery going further south along the east coast of Taiwan. Floating on the water and looking toward the coast, you can fully appreciate the magnificent expanse.
If you're wondering what the large white building that looks like a mosque at the northern end of the beach is, it's the residence of a Taiwanese man who got rich opening Taiwanese restaurants in Saudi Arabia. Also, Turtle Island (龜山島) is straight out in the sea and looks very beautiful from from Wai Ao.
Where to stay at Wai Ao:

At the surfing end of the beach on the same street as all the surf shops, you can try Wushih Surf Hostel (see on Agoda / Booking / TripAdvisor ), which has private double rooms.

At the opposite (northern) end of the beach near the train station, Jia Ying Beach Resort (see on Agoda / Booking / TripAdvisor) has rooms with sea views only one minute walk from the beach. Yet another choice is Ocean Sky Hostel (see on Agoda / Booking / TripAdvisor ), at the far northern end.
How to get to Wai Ao: The local train from Taipei to Wai Ao station takes about two hours. From the train station, walk south along the highway or beachside path. If you're driving and want to reach the surfing section, turn in on Wushi Harbor Road (烏石港路) or at Toucheng Dongqing Temple (頭城董慶寺).
Two Coastal Parks
The following aren't beaches, but they are fun and popular places to visit on the coast!
Longdong
There's no sandy beach at Longdong (龍洞, literally "dragon cave"), about halfway between Keelung City and Fulong Beach. But Longdong is Northern Taiwan's adventure activity capital. While its a magnet for outdoor activity lovers, it is well off the beaten tourist path.
This rocky cove on the northeast coast features some of the best rock climbing opportunities in Taiwan, snorkeling and scuba diving, as well as some pretty awesome cliff diving.
The sea is choppy and the rocks on the coast can be quite jagged, so do take care here and use proper equipment. Some of the rock climbing equipment attached to the cliff face has become rusty from salty sea winds, so it's best to arrange a guide from one of the local shops.
Where to stay at Longdong:

If you're here for scuba diving, why not stay at OFUCOS Diving Hostel (see on Agoda / Booking / TripAdvisor), and let them arrange everything for you? (But you don't HAVE to go scuba diving if you stay there.)
How to get to Longdong: From Taipei you can take Kuo-Kuang bus 1811 or 1812 towards Luodong from the Kuo-Kuang Bus Station at East Exit 1 of the ground floor of Taipei Main Railway Station and get off at Longdong Harbor Bus Stop (龍洞港站). There are only a handful of buses per day, but you can see other ways to get to Longdong here.
Yehliu Geopark
Unlike Longdong, Yehliu Geopark is a well-known tourist attraction on the coast and one of the most popular day trips from Taipei. The geopark accupies a long cape that stretches 1700 meters out into the sea and is covered in unusual rock formations. The most famous formation, the Queen's Head, is an iconic symbol of Taiwan.
Despite the tourist crowds, it's really a cool place to check out. It's just north of Wanli Beach (#4 above), so you can easily combine the two into one trip. When the weather's cool, you could also continue past Yehliu to Jinshan, which is famous for its hot springs.
You can skip the lines if you pre-pay for your Yehliu ticket online. You can also visit Yehliu as a part of this Northern Taiwan coast tour or on this popular trip that includes Jiufen and Shifen.
There are several seafood restaurants near the entrance to Yehliu, but if you want to go where the locals do, head to Guihou Harbor Fish Market on the southern side of the cape. It's a five-minute drive or 30-minute walk. There are several excellent seafood restaurants overlooking the harbor here and a large covered fish market where you choose whatever looks best and they'll fry it up for you on the spot.
How to get to Yehliu: Take bus 790 or 862 from Keelung or the North Coast Shuttle bus from either Danshui MRT station or Keelung train station (Yehliu is closer to Keelung than Danshui) to Yehliu Geopark stop.
Taipei Beaches I didn't Mention
What? You think I don't know what I'm talking about because I didn't include YOUR favorite Northern Taiwan beach on my list?
I didn't mention Jinshan Beach (金山海灘) because the last time we went there was a A TON of trash on the beach. It just wasn't a nice experience for us. Close to Danshui, there's a beach called Zhouziwan (州子灣), but you can't swim there and it's a little tough to reach.
There's a beautiful beach called Jinsha Beach (Golden Sand Beach or 金沙灣) near Fulong, but I didn't mention it because it's kind of inconvenient to reach by public transportation. Do check it out if you have your own wheels, want to escape the crowds of Fulong, and don't mind the lack of amenities.
Serious surfers may want to check out Zhongjiao Bay (中角沙珠灣​).
For more help planning your trip to Taiwan, check out my 2-day, 3-day, 4-day and 5-day Taipei itineraries or how to plan a complete Taiwan itinerary!