Dear reader: This article contains links to products and services that I may be compensated for, at no extra cost to you.
Look at a map of central Kaohsiung in Taiwan and you'll see a long skinny island protecting the country's largest port. The island is called Cijin (旗津 or Qijin, pronounced 'chee-jeen'), and it is the second-smallest district in Kaohsiung. It's also one of the easiest-to-visit islands in Taiwan.
Spending a half or even full day on Cijin is one of my top recommended things to do in Kaohsiung. The island features the excellent Cijin Beach and Sunset Bar, cycling and surfing opportunities, historic sights, delicious seafood and ice cream, and a several art installations along the coast.
In this article, I'm going to cover everything you need to know for visiting, including the best things to do in Cijin, Cijin Beach, getting there, what to eat, and where to spend the night if you decide to stay longer.
For more things to do nearby, also see my guides to Kaohsiung city, Pier 2 Art Center, which faces Cijin, and the best night markets in Kaohsiung. A little further afield, don't miss Xiaoliuqiu, another fun island to explore.
Getting to Cijin Island
There's actually an underwater traffic tunnel at the southern, less scenic end of Cijin. However, most visitors arrive by taking a ferry from Gushan Ferry Pier (鼓山輪渡站) in Gushan District to the northern end of Cijin.
Gushan Ferry Pier is a 6-minute walk from exit 1 of Sizihwan station on the orange line of the KMRT, or a 10-minute walk from Hamasen Station on the new LRT green line. You can also take bus #50 from Central Park or Yanchengpu MRT stations and get off at Gushan Ferry Pier (鼓山輪渡站) stop.
Ferries depart every 10 minutes from 5 am to 2 am. The ride to Cijin Ferry Station (旗津輪渡站) takes just under 10 minutes.
You can walk or ride a bicycle/scooter onto the ferry. If you walk, go inside to buy your ticket. The price is NT30 per person (one-way), or NT20 if you pay with iPass, iCash, or EasyCard (see the differences between these in my EasyCard guide). Students are NT25/15, age 5-12 are NT15/12, and under 5 are free.
If you ride a bicycle/scooter, ride into the appropriate lane (right side for visitors, left side for Cijin locals). The price is NT60 for a scooter and 1 person, or NT45 if you swipe with a card. If you have two people on one scooter, it's NT90/65. For a bicycle and rider, the price is NT40/30. If paying with cash, have exact change ready to toss into the box.
Renting a Bicycle or Scooter for Cijin
If you're only going to the beach in Cijin, a bicycle or scooter really isn't necessary. However, if you'd like to explore the island further, riding a bicycle or scooter is a good idea.
For example, Cijin Windmill Park, the furthest south most tourists go on Cijin, is a 45-minute walk (one-way) south of the ferry station, or 15 minutes by bike and only 7 minutes by scooter. 45 minutes may not seem that long, but if you visit during very hot weather like I did, it's almost unthinkable.
You can easily rent a scooter/bicycle before or after arriving on Cijin. Electric scooters (NT200/day) and bicycles can be rented at 富聯租賃西子灣店 near exit 1 of Sizihwan MRT station. There is also a YouBike rental station at the exit.
If coming from elsewhere in Kaohsiung, you can also rent a scooter here on Klook.
If you decide to rent your bike or scooter upon arrival at Cijin, there are at least half a dozen shops as soon as you get off the ferry, next to the 7-Eleven. I paid NT100 for a bicycle for the day, but I found that the bike's quality was low, so I suggest shopping around until you are satisfied with the bike. If you want a YouBike, you'll have to walk to the YouBike station at Cijin Beach (about 6 minutes on foot).
Besides regular bicycles and electric scooters, there are bicycles with baby/toddler seat (NT150) and family-sized covered electric carts (NT600) with all kinds of cheesy designs.
An international driver's license or local Taiwanese motorcycle license are required to rent scooters, unless you get someone who doesn't mind ignoring the law that day. When you rent a bike or scooter, you will be required to leave a piece of ID at the office, which is normal in Taiwan.
Where to Stay on/near Cijin Island
When I visit Kaohsiung, my favorite area to stay is Yancheng district. This is the smallest district in Kaohsiung and directly opposite Qijin Island. Several of Kaohsiung's most famous attractions are there, including Pier 2 Art Center, while several more (as well as the Gushan Ferry Station for getting to Cijin) are right next door in Gushan district.
I highly recommend KLA B&B (塩晶棧) (see on Booking / Agoda / TripAdvisor) in Yancheng district. It is a 20-minute walk or 7-minute bus ride from the Gushan Ferry Station.
If you decide to spend the night on Cijin, In Young Hotel (see on Booking / Agoda / TripAdvisor) is a good option overlooking Cijin Beach.
Fun Fact about Cijin: The island was once home to an invasive (but very beautiful) species of Veiled Chameleons (雙色龍 or Chamaeleo calyptratus). Most of them were removed in 2021.
Things to Do in Cijin
The following things to do on Cijin Island are roughly in the order you'd encounter them once getting off the ferry. All the places described below are marked on this Cijin map.
Cijin Old Street
While most of the buildings along Cijin Old Street (旗津老街) aren't very old, you can't have a tourist destination in Taiwan without having an "Old Street"!
Basically all this means is that there are a lot of restaurants along the street. The actual street name is Miaoqian Rd. (廟前路), which literally means "temple front" road after the two important temples along it (see next entry).
Cijin Old Street runs 400 meters from Qijin Ferry Station to Cijin Beach. Most of the restaurants along it are quick fry style, with a heavy emphasis on seafood. Most don't open until around 11 am for lunch.
For a quick bite, there are food stalls along the road too, but the highest concentration of them is at the far southern end of Cijin Old Street, by the beach, at the point where the road curves to the east and becomes Qijin 3rd road.
I personally recommend the grilled or deep fried seafood stalls near the beach – there are loads to choose from and prices are very reasonable.
Cijin Tianhou Temple
Cijin Tianhou (Matsu) Temple (旗津天后宮) is the most important temple on Cijin. The temple commemorates Matsu, the goddess of fishermen and the sea and patron saint of Taiwan. It has origins going back to 1634, making it Kaohsiung's oldest Matsu temple.
Despite its importance, the temple itself is humble in size. It's just a few steps east of Cijin Old Street on Lane 103, so it's worth taking a quick glance as you make your way toward the beach.
About a block south of Cijin Tianhou Temple, the newer but visually more striking Xiushan Temple (旗津開基明心社修善堂) is right on the Old Street (#68). This Taoist temple is dedicated to Guan Sheng Di Jun and dates to 1904, with more recent renovations.
Interested in Taiwanese temples? Also see my guides to the best temples in Tainan and temples in Taipei.
Cijin Beach
One of the main draws of Cijin Island is the 1.5-kilometer stretch of black sand at the island's northwestern corner called Cijin Beach (旗津海水浴場).
Swimming and surfing are allowed at Cijin Beach most of the time. However visitors have reported not being allowed to swim during winter, when there are festivals taking place on the beach, or when the current is strong.
The beach is generally clean, but be warned that the black sand can get very hot in summer (or spring or fall!) There are free showers available. There are also several artworks along the beach, as well as a water fountain that visitors to Cijin with kids can make good use of.
To rent a surf board or have a beer with local surfers, there is a small collection of surf shops on Miaoqin Rd Lane 1, at the far western end of the beach, such as Cijin Surf Bar (旗津聰浪Bar). If you want to give surfing a try in Taiwan, also see my guide to Dulan surf town.
Cijin Black Sand Festival
Every summer, the Qijin Black Sand Festival (旗津黑沙玩藝節) takes places on Cijin Beach. The 2022 dates of this sand castle festival were July 9 to September 4. At that time, you can see several large sand sculptures on the beach (for a similar but even more impressive sand sculpture festival, head to Fulong Beach near Taipei).
On every Saturday from July 17 to August 13 (6-9:30 p.m.), there was also a Cijin Beer Festival (旗津啤酒嘉年華) on the beach, and you may find other seasonal and music events there throughout the year. Read more about the best festivals in Taiwan here.
Cijin Sunset Bar
When visiting Cijin Beach, the Cijin Sunset Bar (旗津沙灘吧, noon-late) is practically a must. This is somehow the only bar-restaurant right on the beach, with the beach's walking/cycling boardwalk (旗津踩風大道) running right in front of it (visible on the right side of the above photo).
The Sunset bar offers much-needed shade. Whether you choose the semi-open interior of an umbrella-covered spot outside amongst the palm trees, you'll have a view of the beach. There's even a sea-facing swing for all your Instagram needs.
But it's not just about the location and view. Cijin Sunset Bar also has an excellent range of local craft beers and ciders on tap, imported beers (hello Badger ales from England!), cocktails, curries, Tex-Mex, pasta, smoothies, and more. Happy hour is around sunset (5-7 pm). You want to be here!
Cihou Market
Cihou Market (旗后觀光市場) is a traditional market just off Cijin Beach. Don't get too excited, though – the market's product range consists almost entirely of dried seafoods, a popular souvenir among locals.
I was hoping for more Taiwanese street food in the market, but only found a few stalls on the market's backside, at the south end of the alley running behind it. There I enjoyed a fresh seafood breakfast of milkfish maw soup (虱目魚肚湯) and braised fishballs (滷魚丸) from a stall called 二姐古早味.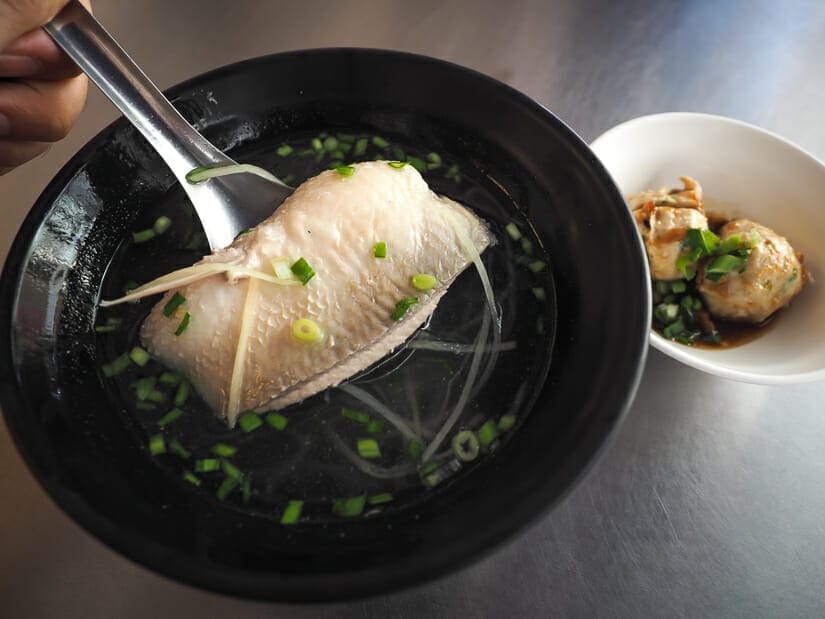 If you're looking for food stalls, there are definitely far more along the main road beside Cijin Beach. I ate in the market because the food stalls on Cijin Old Street weren't open yet when I arrived early in the morning. Still, the market is worth a quick look.
Cijin Tunnel
From the far western end of Cijin Beach, the Japanese-era Cijin Tunnel (旗津星空隧道) through Mount Cihou (旗後山) provides access to the northwestern tip of the island. You can walk or cycle through the tunnel.
In Chinese, the tunnel is called "Starry Sky Tunnel" because there are light displays of constellations on the roof inside. Cijin Tunnel connects the cycling path on Cijin Beach to Maxwell Cycling Path (see next entry).
Note that Cijin Tunnel was closed for renovations when I visited in early summer of 2022.
Maxwell Cycling Path
The Maxwell Cycling Path (馬雅各自行車道) circles the northern tip of the island. It is named after James Laidlaw Maxwell, the first Presbyterian minister in Taiwan, and who lived in Cijin for some time. At the western end, you can access it from the boardwalk along Cijin Beach by cycling through Cijin Tunnel.
Shortly after you exit the tunnel, you'll see a monument to James Laidlaw Maxwell (馬雅各紀念碑). There's also a lookout at Coral Reef Wall (珊瑚礁岩壁), or you can walk way out onto the Cijin Breakwater (旗津防波堤).
After you circle around the tip of the island and reach the eastern end, the path connects to Tongshan road Lane 84, which is just a few minutes away from the Cijin Ferry Station. This short and easy half loop provides views of the sea and ferries entering Kaohsiung Port.
Because Cijin Tunnel was closed for repairs when I last visited, this whole bikeway was also closed. I'll update this article when I find out it has reopened.
Cihou Fort
Cihou Fort (旗後砲台) sits atop Mount Cihou, dominating the northern tip of the island. The battery fort was built in 1720, during the Qing Dynasty, to watch over the entrance to Kaohsiung Port.
Today, the ruins of the fort are free to visit and provide a commanding view of Cijin Beach, Cijin Island, and Kaohsiung city. The ruins were open when I last visited, even though Cijin Tunnel (which runs through the mountain below the ruins) was closed.
There are two ways to reach the fort. The first is by following a steep set of stairs up from the far western end of the beach. When the stairs connect to the main path (described in the next paragraph), you'll need to hang a left and continue further uphill.
The second way to reach the fort is by walking, riding a bike, or riding a scooter to the small parking lot at the base of the mountain, which is at the end of 通山路文正港 street. From this parking lot, you can walk steeply uphill to the left to reach the fort, or uphill to the right to reach the lighthouse (see next entry).
If you're coming from the beach, walk up past the surf shops at the western end of the beach, about two blocks north and two blocks west.
To read about more forts in Taiwan, read my guides to Tainan, Anping, Keelung, and Tamsui.
Kaohsiung Lighthouse
Kaohsiung Lighthouse (高雄燈塔) is the tallest point on Cijin and directs ships to the entrance of Kaohsiung Port.
While it's not possible to enter the lighthouse, you can normally walk up there to enjoy the view. To walk there, follow the directions I described in the last entry.
Note that the path up to Kaohsiung Lighthouse was closed when I visited in summer of 2022, so it wasn't possible to reach the lighthouse. I'll update this article when the path reopens.
Qijin Coastal Park and Cycling Path
The park running the length of Cijin Beach, between the sand and the main street, is called Qijin Coastal Park (旗津海岸公園). The park runs nearly half the length of the island, ending around Cijin Windmill Park.
A cycling path (旗津踩風大道) runs the whole length of the park, from Cijin Tunnel (where it connects to Maxwell Cycling Path, when Cijin Tunnel is open). At the southern end, the cycling path continues past the end of the park, so it is possible to ride a bike along the entire coast of the island.
Around the beach, the cycling path is mostly a boardwalk, while further south it is mostly a cement path. The cycling path goes right past Cijin Sunset Bar, and also provides access to the following five entries.
Douliu Ice Town
For the best traditional Taiwanese ice cream on Cijin, you can't miss Douliu Ice Town (斗六冰城). Their ice cream is not only delicious but also very cheap!
The more convenient of the two locations on Cijin is the 2nd one (斗六冰城旗津二店), which is located on the main road (Qijin 3rd street) that runs along Qijin Coastal Park, so it's just a one-minute detour from the cycling path as you peddle your way to the below sights (or do like I did and hit the ice cream shop on the return ride, when I was profusely sweaty and needing a cold treat).
This ice cream chain is known island wide and specializes at traditional ice cream that is similar to sorbet, with flavors like peanut, taro, mango, plum, orange, lemon, and chocolate. You can get six small scoops (1 to 3 flavors of your choice) in a bowl for only NT40.
They also have Taiwanese-style ice cream sandwiches made with Taiwanese crackers (冰餅, cutely pronounced 'bing bing'), ice cream in red tea (紅茶冰淇淋) or lemonade (檸檬冰淇淋), ice cream popsicles (冰棒), and more.
Rainbow Church
One of Cijin's most "famous" and photographed sights, but definitely overrated if you ask me, is an art installation called Rainbow Church (旗津彩虹教堂). It consist of a series of colorful frames in a pool of shallow water.
If you visit in the late morning or afternoon, there's a good chance you'll need to wait in a line of people for your chance to take a photo or selfie in front of it. There's another slightly less attractive installation in the pool beside it.
The art installations are in Qijin Coastal Park, at the southern end of Qijin Beach, at the point where the coast becomes rocky. Cijin Seaside Park Visitor Center (旗津海岸公園遊客中心) is also there, if you happen to need any travel info.
If you love colorful public art, also see my guide to Rainbow Village in Taichung.
Cijin Shell Museum
The small Cijin Shell Museum (旗津貝殼館) displays nearly 3000 types of seashells. If you're into seashells, give it a quick look. But in my opinion, it was hardly worth the 30 NT entrance fee, especially since it didn't even have air conditioning inside, which is what I was really hoping for when I went in.
There's another art installation on the coast by the museum called Double Snail Platform (雙螺台).
Cijin Sea Pearl
In my opinion, Cijin Sea Pearl (旗津海珍珠) is the most impressive of the island's many coastal statues and art installations.
The shell is 10 meters tall and 16 meters wide. You can walk right into the large shell's shiny interior and hear echoes of waves from the sea. It is just a few minutes south of the shell museum.
Cijin Windmill Park
Cijin Windmill Park (旗津風車公園) is the furthest south that most visitors to Cijin go by bike. The park is named after the row of windmill towers along the beach.
Because it is quite a windy spot, like most of the coast of Cijin tends to be, it is also a popular spot for local families to fly kites. There are a few nice lookout points of the sea, and some stalls selling drinks, desserts, toys, and kites.
Zhongzhou Guangji Palace
If you still have interest in going further past the windmill park, another six minutes of steady cycling will bring you to the largest temple on Cijin, Zhongzhou Guangji Palace (中洲廣濟宮).
The temple dates to the 1970s, but due to its size, is more impressive that the historical temples on Cijin Old Street.
Cijin Life Memorial
An interesting small detour you can make on your ride back is to the Cijin Life Memorial (旗津生命紀念館). This is a columbarium for storing ashes of the deceased, so it's better to avoid going inside. However, the circular building has a beautifully designed exterior that is worth a quick look.
You can access it from Qijin 3rd road, the main road running along Cijin Coastal Park, even though it doesn't look like you can access it from that side on GoogleMaps.
Well, that brings us to the end of this Cijin travel guide. I hope you've found all the info you needed for Cijin Beach and Island. Let me know in the comments below if I've missed anything, or join my group Taiwan Travel Planning if you have any questions!