Dear reader: This article contains links to products and services that I may be compensated for, at no extra cost to you.
Xiaoliuqiu is one of the gems of southern Taiwan. This small island off the coast of Pingtung and Kaohsiung tempts visitors with its fine beaches, coral caves, island vibes, and guaranteed opportunity to see giant sea turtles.
Taiwan's "Little Okinawa" lies a mere 12.5 km (7.8 mi) off the coast, much closer than other popular offshore Taiwanese islands like Penghu or Orchid Island (though not as close as Cijin!) Because of its proximity, it can easily be done as a day trip from Kaohsiung, but I definitely recommend spending at least one or two nights. Even from Taipei, at the opposite end of the country, you can reach it in an easy half day of travel.
I've been to Xiaoliuqiu twice – once over a decade ago, and recently I visited Xiaoliuqiu for several days with my kids. The island has become quite a bit more popular in that time, with many travelers to Taiwan adding it to their Taiwan itinerary. In this guide, I'm going to cover everything you need to know for visiting, including getting there, renting a scooter, where to stay, things to do, and how to go snorkeling or scuba diving with turtles.
For more information, I also recommend checking out this this Xiaoliuqiu website by Freedivenomad, who lives on the island and teaches freediving there – he's got loads of articles and videos covering every aspect of traveling there.
Xiaoliuqiu Travel Tips
Summers, long weekends, and especially weekends in summer, are super busy on Xiaoliuqiu. Try the shoulder season (late spring/early fall) or weekdays if you can. See my guide to when to visit Taiwan for more info.
Also note that many businesses in Xiaoliuqiu take a break Monday, Tuesday, or Wednesday.
We found that due to the sharp increase of local Taiwanese visitors during COVID in Taiwan, some restaurants and even food stalls were full/sold out when we tried to eat there, so you need to make a reservation or pre-order your food. I'll mention which ones in the 'things to do' and 'where to eat' sections below.
There are three 7-Elevens on Xiaoliqiu, but don't count on them for an ATM like usual. The only ATM in Xiaoliuqiu we found was at the post office, and it doesn't take international cards, so bring enough cash with you!
Many hotels (including the excellent hotel we stayed in) will want full payment in cash when you arrive, and many will also try to offer you a full package deal when you book. They can arrange your ferry tickets, scooter, and activities like snorkelling with turtles – we took our hotel up on all of the above, because they offered us a good deal.
Introduction to Xiaoliuqiu
Xiaoliuqiu (小琉球, or xiao3 liu2 qiu2) is sometimes called "Little Okinawa" because the Chinese name means "Little Ryukyu". Ryukyu is the chain of Japanese islands that Okinawa belongs to, and Taiwan's islands were in the past sometimes considered a part of Ryukyu, too.
Other English names for it are Liqiu Island, Little Liuqiu, and Lambai Island, although most English speakers in Taiwan call it by the Mandarin name Xiaoliuqiu, so that's what I use throughout this article. If you can't speak Mandarin, the name is pronounced something like "she-ao lee-o chee-o". In the Taiwanese language, it is called Sió-liû-khiû.
Xiaoliuqiu is Taiwan's only coral island with a significant human population. This explains the large coral reef caves on the island, as well as the abundance of marine life offshore, including tuna, sperm whales, flying fish, and a permanent sea turtle population of nearly 1000.
Because the sea temperature hovers around 25 °C (77 °F) year-round, it is possible to swim or scuba even in winter in Taiwan. Late spring, summer, and early fall are definitely warmer and more idyllic, though, so that's when most visitors come. Beware that, like the rest of Taiwan, it can be uncomfortably hot in summer.
Zoom in on the Xiaoliuqiu map above and you'll agree that the island is shaped like a foot or shoe. It is only 6.8 km2 (2.6 mi2), growing to 7.4 km2 (2.9 mi2) at low tide. By scooter, you can drive around the entire island in only 30 minutes or so.
Originally, Xiaoliuqiu was inhabited by the Siraya indigenous people. Today, approximately 13,000 people call Xiaoliuqiu home, most of whom share only 10 surnames. It is a district of Pingtung county and a part of the Dapeng Bay National Scenic Area.
Xiaoliuqiu lies off the coast from Donggang, a city in Pingtung famous for its bluefin tuna and the triennial boat burning festival (read about that in my guide to Taiwanese festivals).
Getting There
The only way to get to Xiaoliuqiu is by taking a ferry from Donggang Ferry Harbor (東港渡船碼頭). You can walk on or board a ferry with your scooter (rent one here in Kaohsiung).
If you're coming from Taipei or other cities to the north like Tainan or Taichung, ride the HSR to Kaohsiung's Zuoying station. Purchase your HSR tickets on Klook to get a discount.
From the Zuoying station (高鐵左營站), take bus 9127D to and get off at Tungliu Line Wharf Stop (東琉線碼頭站), which is right in front and a few steps east of the ferry terminal. The ride takes just under 1 hour. Click on 時刻表 on the bus page to see the departure times. Returning to Zuoying, catch the bus from the exact same stop, on same side of the road (the same side as the ferry terminal).
Coming from elsewhere in Kaohsiung city, the easiest way to get to Donggang is by grabbing a taxi or Uber. Expect to pay around NT1200.
For solo travelers on a budget, you can find share taxis for 150-300 a seat at the south side of Kaohsiung Train Station (the TRA/regular train station). They'll only leave once full, so it's better to try this on weekends or in summer.
If you're coming from Taitung, take a train to Fangliao then a taxi (approximately 30 min / TWD 500) to the ferry pier in Donggang.
The ferries to Xiaoliqiu leave roughly every hour from 7 am to 5:30 pm. The ride takes 20 minutes to Baisha Ferry Wharf (白沙尾漁港) in Baisha, the main town on Xiaoliuqiu and where most visitors arrive, on the side facing Taiwan. If you take a ferry to Dafu Ferry Wharf (大福渡船碼頭) in Dafu village, on the south side of the island, it takes a few minutes longer. You can book your ferry ticket online here.
If you're prone to seasickness, I recommend taking medicine for this ride. Go into any pharmacy and ask for 暈車藥 (yun4 che1 yao4). My kids almost vomited on the ride over, but it made a huge difference when I gave then this for the ride back. It's very cheap.
There are three main private companies operating from the terminal. Dongliu (東琉), Taifu (泰富), and Lanbai (藍白) all go to Baisha (NT230/410 one-way/return). They are first-come-first-serve, but there's usually space.
If you'd like to arrive at Dafu Ferry Wharf at the south end of Xiaoliuqiu, then you can take a cheaper but less frequent public ferry (公營交通船). You can also get to Dafu by taking a ferry operated by Yanliu (鹽琉), but these ones depart from a totally different port on the other side of the river called Yanpu Port (鹽埔漁港碼頭). It only makes sense to do this if you're going on the ferry by scooter – without one, it's a 20-minute walk between harbors, and there's no bus or convenience store at Yanpu Port.
The departure times vary slightly throughout the year. See the current ferry departure times here. Don't get bogged down too much trying to figure out all the ferry companies and times like I did – it's better to just show up and the terminal and catch whatever is leaving soonest.
When you return to Donggang at the end of your Xiaoliuqiu trip, I recommend visiting the large Huaqiao Fish Market (華僑市場) just west of the ferry terminal. Donggang is famous for its seafood, especially bluefin tuna (黑鮪魚), and this is an excellent place to try it. There are lots of sashimi and sushi stalls at the back end of the market.
The bluefin tuna costs more than salmon or other types – I paid NT300 for a tray with 16 small pieces (half salmom, half bluefin tuna, see pic below) – bluefin is the darker, purple colored one. I didn't go for the otoro (tuna belly), which was NT1000 for the same size tray.
If you love seafood, also see my guide to Addiction Aquatic Seafood Supermarket in Taipei!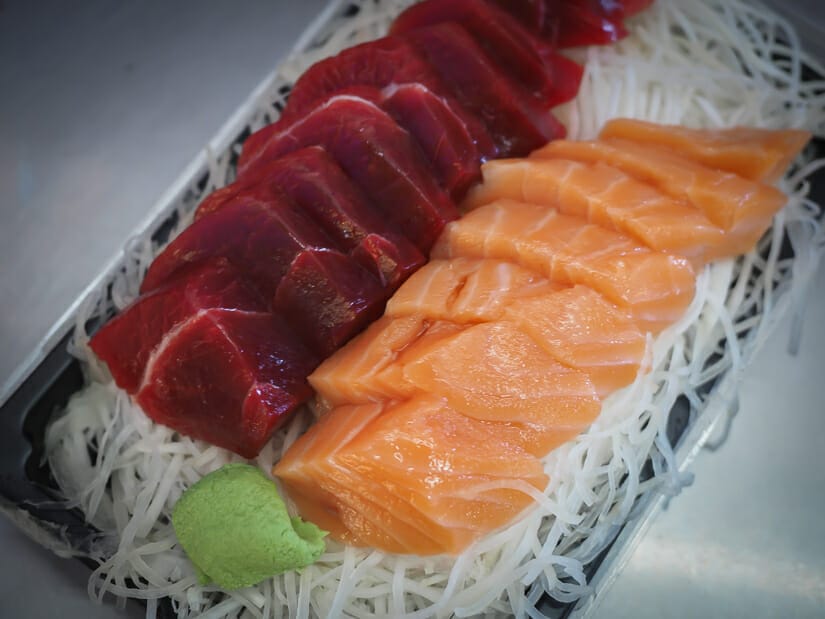 Renting a Scooter and Getting around Xiaoliuqiu
Getting a scooter is by far the best way to explore Xiaoliuqiu. There are so many little stops around the island that you'd miss out on if you didn't have one. Expect to pay around NT400/day. An electric bicycle will also do, but it might be tough to ascend some of the steeper hills in the middle of the island.
You can pre-order an electric bike or electric scooter here. You'll need an IDP or Taiwanese motorcycle license for the scooter, but not bike.
Wearing of helmets is much more lax on Xiaoliuqiu than mainland Taiwan. In other words, many Taiwanese don't bother, but we still did. There's only one gas station on Xiaoliuqiu, located beside Dafu Ferry Pier, called CPC (台灣中油小琉球站). There are several electric vehicle charging stations around the island.
If you prefer not to drive, you could still survive on Xiaoliuqiu. There is one infrequent public bus around the island. There's also a car service on the islands – try calling call 093368801, 0974138661, or 0921686351. You can also walk to several sights, but it gets *very* hot in summer.
Where to Stay on Xiaoliuqiu
One of the toughest choices when staying in Xiaoliuqiu is whether to stay in the main town of Baisha, or somewhere else on the island. I was tempted to stay out of town because I thought I could find somewhere with a room facing the beach/sea. But of the 100+ accomodations on the island, there are surprisingly few like this. In the end, we decided to stay in town for all the conveniences it comes with.
I highly recommend the hotel we chose after tons of research and consideration: Ocean Dream (夢海) (see on Booking / Agoda). The hotel had all the benefits of being in town: 7-Eleven right around the corner, lots of restaurants and services nearby, short walk to ferry, etc.
At the same time, because of its location at the far side of the harbor, it was extremely quiet and came with a private balcony facing the harbor and ocean. We could even see the lights of Kaohsiung across the sea in the distance at night, and sea turtles swimming in the harbor in the morning! Vase Rock Beach, one of the best on the island, was also just a few minutes' walk from our room. It really had the best of both worlds, and at a reasonable price.
If you're going to Xiaoliuqiu to do freediving, White Card Free Diving (see on Booking / Agoda) has a beautiful location with 25-meter training pool, cozy hostel rooms, bar, and sea views. For regular diving, Drift Diving Hostel (see on Booking / Agoda) is a popular choice by the sea at the south end of the island.
For families, or anyone who wants a pool and patio with sea view, Peekaboo (朵貓貓海景民宿) (see on Booking / Agoda / TripAdvisor) is an excellent option.
For a longer stay, consider this budget-friendly accommodation run by friendly, English-speaking long-term residents.
20 Things to Do in Xiaoliuqiu
The following things to do on Xiaoliuqiu island start from Baisha Village, where most people arrive.
From there, we'll drive counterclockwise around the island on the Round-Island Road (環道路 or huan dao lu), which to us just somehow felt like the best way to go. Most of the sights are on or near the coast, while a few are on Zhongzheng Road (中正路), the main road running up the middle of the island.
You could easily visit most, if not all of the following in a single day.
Baisha Village
There isn't a whole lot to see and do in Xiaoliuqiu's main village, Baisha (白沙). Baisha Fishing Harbor (白沙尾漁港), where most ferries arrive, is picturesque, especially in the late afternoon when the sun hits it right.
The town does have the best collection of restaurants, cafés, and souvenir shops on the island. These are concentrated on Sanmin Old Street (小琉球三民老街), and its extension as it curves to the south, Minsheng Rd. There you can find sea turtle cakes, seafood restaurants, food stalls, and the most conveniently located 7-Eleven.
The town is also the best place to rent a scooter/bike, take out cash (try the Post Office), pick up seasickness medication, and so on.
For my specific dining recommendations in town, see the "where to eat in Xiaoliuqiu" section below.
Vase Rock Beach
Xiaoliuqiu's most iconic symbol is Vase Rock (花瓶石). It lies just off the coast (or on the coast itself, at low tide) from a small beach named after it. The beach is a short walk or drive west of town ­– just follow the road that goes around the harbor. The beach almost totally disappears at high tide.
Besides the famous rock, Vase Rock Beach is one of the best spots for snorkelling with sea turtles on Xiaoliqiu. If you haven't already arranged a snorkeling trip with your hotel, you can rent gear from Xiuji Snorkeling Shop (小琉球秀記浮潛), which you'll pass on the walk there.
A Buddhist temple called Lingshan (Spirit Mountain) Temple (靈山寺) is right beside the beach.
Love beaches? Read about my favorite beaches near Taipei!
Xiaoliuqiu Visitor's Center
The Xiaoliuqiu Visitor's Center (小琉球遊客中心) is perched on a hill between Baisha Harbor and Vase Rock Beach. They offer travel/accommodation info, maps, and a decent view of the harbor.
It's right at the start the Round-Island Road, if going in a counter-clockwise direction like we are here. If you're going on foot, though, you have to walk up the hill before reaching it.
Beauty Cave Scenic Area
After you embark on your round-island ride, the first major stop is Beauty Cave Scenic Area (美人洞風景區), which consists of Beauty Cave (美人洞), Beauty Beach (美人沙灘), and several viewing pavilions of the beach and sea.
As you approach, the cave system will be on the left (mountain) side of the highway. There are actually two entrances to it, which are 180 meters apart. Either entrance will take you on a walk through the caves that ends up at the other. There are ticket windows at either entrance.
The cost to enter the cave walk is NT120, but the ticket also includes entrance to Wild Board Ditch and Black Dwarf Cave (see below). These sea coral caves are one of the most famous places to visit on Xiaoliuqiu, so I definitely recommend checking them out. Note that there are food stalls at the entrance of this and the other two cave walks.
If you stop at the first cave entrance, the beach side across from it has a pavilion called Sea View Pavilion (望海亭), but no beach access. At the second cave entrance (第二售票亭), a staircase leads down to Beauty Beach, which is also a popular sea turtle snorkeling spot (this is where we were taken on our guided snorkeling trip – see the snorkeling section at the end of the article).
The beach also (quite appropriately) has a naturally formed sea turtle-shaped rock (海龜石).
Shanfu Ecological Corridor
One of the most interesting stops we made was at Shanfu Ecological Corridor (杉褔生態廊道), the next stop after Beauty Cave on the north coast of Xiaoliuqiu.
There we descended a staircase into a 400-meter underground corridor leading to two coastal lookout points once used by the military for placing guns.
Besides walking through the tunnel, you could spend time exploring the rock pools and the many creatures they contain on the coast here at low tide – just watch for sea urchins!
Just north of Shanful Ecological Corridor, Duziping (肚仔坪) is another good spot for exploring the coast. Meanwhile, just south of Shanfu, there's a new bar worth checking out called Sea Daze (location here). It's one of the few places in Taiwan where you can find tables right on the beach!
Lulin Sika Deer Garden
To be honest, I don't recommend visiting the Lunlin Sika Deer Garden (鹿粼梅花鹿園區). I went there because I thought my kids might enjoy seeing the animals, but I wish we hadn't. It's basically a cement prison for sika – a cute spotted deer which are native to East Asia.
When you enter, they give you food to feed to the deer. The deer aggressively surround you to get the food while you try to take a few photos, and that's about all there is to it. Tickets cost a whopping NT250 (adult) or 100 (kids 3-12). You can save a little money by buying your ticket in advance here.
If that sounds like a good time to you, the center is a one-minute detour inland from the Round-Island Road, just after Shanfu Ecological Corridor.
Wild Boar Ditch
Wild Boar Ditch (山豬溝) is the second spot covered by the ticket you bought to enter Beauty Cave. The highlights of this boardwalk loop trail through the forest include narrow coral corridors and walls of coral with tree roots and other vegetation growing on them. This one is entirely on the mountain (not ocean) side of the road, but there are some ocean views further up the trail.
It takes under an hour to complete the full loop, but you can get a good taste of it even if you just walk a few minutes in. We found this walk to be the most peaceful of the three.
Shortly after the pullover for Wild Boar Ditch, a narrow scooter road leads down to Venice Beach (威尼斯海灘) in Keban Bay (蛤板灣), one of the best and more secluded beaches on Xiaoliuqiu.
Black Dwarf Cave
Black Dwarf Cave (烏鬼洞) is the third and final walk that is included on the ticket. This is the shortest of the three. It leads from the road down through a limestone cave to a series of coastal lookouts beside the sea.
There's also some history behind the site, as it is thought to be the site of the 1636 Lamey Island Massacre, when Dutch soldiers slaughtered hundreds of local indigenous people in retaliation for when the latter slaughtered the former twice after they were shipwrecked on the island.
Pavilions and Famous Rocks at the Western Tip
As you round the western tip of Xiaoliuqiu, there are several pavilions and famous rocks along the coast. The following are in the order you would encounter them.

Blue Sea Pavilion (藍海亭) is an elevated observation platform looking out at the expansive sea. Yongan Bridge Ruins (永安橋遺址), just 160 meters south of the latter, has a steep staircase down to a coral section of the coast. At the bottom, there's a mysterious stone plaque engraved with the bridge name and date of 1964 (Taiwanese year 53), but not other evidence of a bridge ever having been there.
Sunset Pavilion (落日亭) is everyone's favorite spot to watch the sunset on Xiaoliuqiu. It's a clifftop platform facing the sea, which a few drink vendors there around sunset.
After that, the road passes a small harbor called Haizikou (海子口漁港), after which there are a series of rocks (coral, technically) on the coast shaped like certain things: Hongfan Stone (紅番石), Guanyin Rock (觀音石), Toad Rock (蟾蜍岩), and Rat Rock (老鼠岩).
The pullover beside Guanyin Rock is a popular spot where people stop to take selfies on the road as is passes between two coral cliffs.
Houshi Shore
Houshi Shore (厚石海岸) is a coral shore on the southeastern corner of the island, right after you pass the above-mentioned famous rocks.
I highly recommend stopping at Sea Facing Iced Desserts (海找冰) which features one of the best patios on all of Xiaoliuqiu. There are large cushions to sit on, a long bar with stools, or regular tables, all facing the sea and coral shore.
An extra plus: their ice creams come with super cute mermaid tails and sea turtles made of chocolate! Note that the shop is closed on Tuesdays.
The popular Drift Diving Hostel is also on Houshi shore.
Banyan Tree and Xiaoliuqiu White Lighthouse
From Houshi Shore, a small paved road travels steeply uphill to an impressive Banyan Tree (百年老榕樹), said to be the one of the few on the island. At the back of the tree, watch for the small path that leads to an awesome view looking down on the coast, including Secret Beach (see next entry)
A little further uphill from Banyan Tree, Xiaoliuqiu White Lighthouse (小琉球白燈塔) is the highest point on the island, but it's a bit of a letdown, as there's no view from the lighthouse.
If you're on an electric bicycle, you may have trouble getting up to these two spots.
Secret Beach
At the end of Houshi Shore, you'll reach the not-so-secret Secret Beach (厚石魚澳). It's kind of "hidden" in a small cove, and sure, there's no sign, but it's a popular spot that everyone knows about. And it's on GoogleMaps.
Still, this was one of our favorite swimming spots during our visit to Xiaoliuqiu.
You can rent SUPs from two spots across the highway from Secret Beach: "神秘沙灘 獨木舟&SUP" and "小琉球SUP獨木舟".
Make sure to ride up to the Banyan Tree (previous entry), from where you can enjoy an unbeatable view looking down on Secret Beach. That's where I shot the above photo from.
You can also rent an SUP or a kayak on Xiaoliuqiu in advance on Klook.
Dafu Fishing Village and Harbor
About halfway up the island is the second largest village on Xiaoliuqiu, Dafu (大福). Some ferries from mainland Taiwan arrive here at the village's ferry pier (大福渡船碼頭), in the large and picturesque Dafu Fishing Harbor (大福漁港).
Xiaoliuqiu's only gas station is located at the western side of Dafu Harbor, along the Round-Island Road.
There's another smaller harbor in Dafu called Dafu Natural Swimming Pool (大福亭天然游泳池). It is located just west of the main harbor and gas station, so you'll pass it just before reaching the gas station and Dafu town.
This harbor is a popular spot for diving groups to practice, to start a kayak/SUP trip, or to go for a quick swim. We had fun playing around in the water here for a while.
There's an excellent lemonade shop/café in Dafu village – see the 'where to eat on Xiaoliuqiu' section below for the details!
Biyun (Jade Cloud) Temple
Biyun Temple (碧雲寺) is the most important of Xiaoliuqiu's 40+ temples. It's located almost exactly at the center of the island. You can drive up Heping Road from Dafu village, or Zhongzheng Road from Baisha village to reach it.
The temple is devoted to Guanyin, the bodhisattva of compassion. There's are major celebrations and Taiwanese opera performances here and around the island on her birthday, the 19th day of the 2nd lunar month.
From the temple, a set of stairs leads down into Bamboo Forest Ecological Wetland Park (竹林生態濕地公園), a small forest with bamboo groves and a pond (for a far more impressive bamboo forest hike, see my guide to Alishan).
If you're coming to or from Baisha, another temple worth a quick look is the Three Prosperous Ones (Sanlong) Temple (小琉球三隆宮), which has a wall of reliefs right along Zhongzheng road as you drive out of town.
Read about more Taiwanese temples in my guides to the most important temples in Tainan and temples in Taipei!
Sunrise Pavilion
If you're up early enough (we weren't), Sunrise Pavilion (旭日亭) is the go-to spot to take in the sunrise. When we drove by in the daytime, it actually didn't seem ideal, as the view was partially blocked by trees.
Restoration Pavilion (復育涼亭), a lookout built on a restored landfill near Sunrise Pavilion, actually seemed to offer a better view. From both, you can see down the coast all the way to Dafu Village.
Xiaoliuqiu Aquarium
Although it is supposed to be open every day (8:30 a.m. to 5:30 p.m.), the Xiaoliuqiu Aquarium (小琉球海洋館) was on break on the day we passed by.
Visitors report that it is mall, but has lots of cool sea wildlife, like sea cucumbers, crawfish, sea urchins, and more. It is one of the last stops before reaching the start of Baisha village.
Lobster Cave
Lobster Cave (龍蝦洞) is a narrow inlet and coastal cave right on the edge of Baisha village. You'll need to use a rope to climb down into it. We never actual made it to this stop – visitors say that it is quite popular but some feel it is overrated.
Like everywhere on Xiaoliuqiu, you're far more likely to see sea turtles than lobsters.
Yufu Fishing Harbor
Our hotel owner told us that Yufu Fishing Harbor (漁福漁港) at the eastern end of Baisha village was one of the best places to go swimming on Xiaoliqiu with kids. So of course we had to check it out, and indeed it was good.
We were basically swimming off a small beach connected to the harbor, but with virtually no boats passing by. One late afternoon, we were inspired to get a takeaway pizza from the pizza truck nearby (see Xiaoliuqiu food section below) and enjoy it on the beach leading up to sunset. It was a perfect way to end the day.
Some visitors like to explore the tidal pools of the Intertidal Zone Ecological Area (潮間帶生態區) next to Yufu Fishing Harbor.
Zhongao Beach
We've now come full circle to Zhongao Beach (中澳沙灘), which is right in Baishan village, just east of the main harbor. This is probably the largest stretch of sand on Xiaoliuqiu.
We actually enjoyed this beach the least, though. Sure, it would be very convenient if you're staying in town and don't have wheels, but we found this beach to be crowded, with less of the "secret" feeling that you get at the smaller beaches around the island.
Where to Eat on Xiaoliuqiu
The largest concentration of places to eat on Xiaoliuqiu is in Baisha Village, especially Sanmin Old Street (小琉球三民老街), and its extension as it curves to the south and becomes Minsheng Rd. There you will also find the most accessible of the island's three 7-Elevens.
There are a few more gems worth seeking out around the island, which I'll cover in the second section below.
Places to eat in Baisha Village
Iran Bazaar (伊朗市集) was our favorite spot in town. We loved their saffron and rose soft serve ice cream, rose water coffee, and Iranian-style donuts.
There's also rice pudding, sparkling sodas, fig ice cream, and draft beer on tap. Chris the owner, a long-time Iranian resident of Taiwan, is super welcoming. Definitely an unexpected addition to the Xiaoliuqiu dining scene!
At Little Bear Egg Cakes (小熊雞蛋糕), you can get sea turtle-shaped cakes stuffed with custard, chocolate, or mochi, in honor of the island's famous residents. It's on Sanmin Old Street, a few steps down from 7-11.
On Minsheng road, we spotted food stalls serving the likes of takoyaki, lu wei (braised foods), oden, jipai (fried chicken cutlets), green onion cakes, and other Taiwanese foods.
There are also a few seafood-focused quick fry restaurants, but we were surprised to find they were all totally booked for the night, so I suggest popping in during the daytime if you want to make a reservation at any of them.
Remember when I said that you might even need to make a booking for food stalls in Xiaoliuqiu? The island's most famous stall, Tadpole Fried Cheese Cakes (小蝌蚪起司餅), is one of them. The stall's specialty is unique to Xiaoliuqiu: deep fried rolls filled with melted cheese and your choice of tuna, beef, chicken, or bacon.
You need to call in your order (0976181739) starting from 10 a.m., and they'll turn off their phone once they're fully booked (we called at noon and missed it). You'll then need to pick it up at a specified time between 3 and 5 p.m. The stall is located on a small road just uphill from the main harbor building.
Another stall doing the exact same dish is Yoyo Cheese Rolls (起司捲), open 11 a.m. to 4:30 p.m. They are located a little further away from the harbor, and thus not quite as popular. We were thus able to roll up and buy some without pre-ordering (other visitors report the same, but sometimes having to wait up to 30 minutes).
So are these things worth all the fuss? Well, ours were pretty damn good…
Another specialty of Xiaoliuqiu is twisted roll cookies (麻花捲 or mahua juan), which are made with hemp flour and come in different flavors. Personally, I don't love them – like most Taiwanese cracker-cookies, they are too hard and not sweet enough for my Western palate.
But if you want to give them a try, you can just Google 麻花捲 and you'll see about a dozen shops in Baisha village selling them.
Luna pizza( 月島星球窑竃ㄗㄠˋ披薩) is a pizza truck that does excellent pizzas to take away. They are prepared in a real stone oven on the back of the truck. It usually parks at the upper end of town, close to where the Round-Island highway starts if going in a clockwise direction from town.
I recommend taking your pizza to Yufu Fishing Harbor, just a few minutes away by scooter, like we did. There's a betel nut stall that sells cold beers and other drinks between the pizza truck and beach, just before the beach turnoff.
There's a popular sushi restaurant on the outskirts of Baisha Village, near Luna Pizza, called Do Not Be Confused Sushi (肆不惑 壽司.丼). When we tried to go, they told us they were totally booked for not just days, but weeks…It looks really good, so try their FB page to make a booking well in advance.
Seaside Café (西晒咖啡X海龜燒) is said to have the best coffee in town, hand roasted on site. They also do sea turtle shaped cakes and other baked items. Note that it is closed on Mondays.
Places to eat around the island
77 Seaside Coffee (柒柒里咖啡) is a café on Minzu Rd. just a few minutes out of Baisha Village, heading toward the center of the island. With huge floor-to-ceiling windows, it offers excellent views of much of the island and the sea.
In Dafu Village, 小小島 Islet Lemonade Café is definitely a hidden gem. We had a heck of a time finding it buried within a tiny, easy-to-miss alleyway of this crusty fishing village.
Once inside, though, we uncovered a bright, hip café with young, welcoming staff, a kitten to play with, and a range of creative and refreshing lemonades. I had to try the lemonade coffee! This spot definitely seems straight out of Shida area or Yongkang street in Taipei.
I've already mentioned it above, but make sure you don't miss the excellent patio and mermaid tail ice creams at Sea Facing Iced Desserts (海找冰) on the island's southeast coast.
On the north shore, Xiaoliuqiu Seafront Restaurant Island Bistro (小島餐酒館) does higher end Western fare with sea views – definitely the island's best spot for romantic date!
Last but possibly least, we never made it to Lamay Farm (拉美FUN+園區) in the center of the island. It seems to be going for a night market/outdoor fair vibe, but the photos and reviews just didn't inspire us to want to visit. There are a few rides, live animals, food/drink stalls, and occasional events.
Snorkelling and Scuba Diving on Xiaoliuqiu
There are an estimated 800+ sea turtles living permanently around the coast of Xiaoliuqiu. If you go snorkelling or scuba diving in Xiaoliuqiu in virtually any month of the year, you are practically guaranteed to the see them. We even saw them swimming around in the harbor in Baisha, looking out from our hotel room balcony!
You can see the turtles from any of the main beaches or swimming spots on Xiaoliuqiu, although Vase Rock Beach, Beauty Beach, and Houshi Shore are the most common.
It's very important to note than you should never touch a sea turtle, and there's a huge fine for doing so. One YouTuber found this out the hard way!
You can arrange your snorkelling experience or scuba diving experience here. Most hotels in Xiaoliuqiu can also arrange a snorkeling trip for you – this is what we did. Someone came to our hotel to meet us, we followed them by scooter to their shop to gear up, then rode down to Beauty Beach for our swim.
The guide was helpful and patient, and he captured around 100 of photos of us, and of which we received for no extra charge. We got to see around half a dozen giant sea turtles, as well as sea urchins and one small octopus. Heads up that minimal English may be spoken.
If you're visiting Xiaoliuqiu with kids like I did, children as young as three may be allowed to go snorkelling, but they would need to be very comfortable in the water. My six-year-old was a little nervous at first, but once she got past the initial fear, she loved it.
If you want to go scuba diving, try staying at Drift Diving Hostel, which can organize everything and is a short walk from the coast.
For free diving, White Card Free Diving is your spot, or get in touch with Raymond from Freedive Nomad, an experienced and English-speaking freediving teacher.
Well, that brings us to the end of this Xiaoliuqiu travel guide. I hope you've found loads of info for planning your trip. If you have any questions, please comment below or join my Taiwan Travel Planning group on Facebook!