Dear reader: This article contains links to products and services that I may be compensated for, at no extra cost to you.
Alishan (阿里山 or Mt. Ali) is one of Taiwan's top scenic attractions. The Alishan National Scenic Area in Chiayi County in Central Taiwan is renowned for its famed Alishan sunrise over a sea of clouds, small gauge Alishan Forest Railway, cherry blossom viewing, and Taiwan's most sought after teas, clled Alishan High Mountain tea.
Below I'll introduce all the best things to do in Alishan, including interesting stops on the Alishan Forest Railway, tea farms, amazing hikes, the best sunset and sunrise spots, where to stay in Alishan, and what to eat in Alishan. I'll also provide an Alishan itinerary to help you experience the best of this awesome destination in the most efficient way.
There is so much transportation information for Alishan that I wrote this whole separate post on how to get to Alishan, including information on how you could even manage to visit Alishan as a day trip from Taipei. Also read about how I visited Alishan with my two kids.
This article includes three experience that make my list of top 50 things to do in Taiwan, and I think Alishan is a must on your Taiwan travel itinerary!
Planning a Taiwan trip? Use Klook to get discounted rates on transportation, activities, entrance fees and more. We highly recommend it! Sign up here and you'll get NT$100 off your first booking.
Some local expats write Alishan off as too touristy and spoiled by noisy tour groups. I have always loved Alishan though, even the touristy bits, but also the little-known spots, and I recently went there for the fourth time in my 10 years in Taiwan.
It is also possible to visit Alishan on the following tours:

Day tour from Kaohsiung, Tainan or Chiayi

2-day tour from Chiayi

3-day tour of Alishan including Sun Moon Lake, Lukang, and Alishan

3-day tour that includes Alishan, Sun Moon Lake, and Cingjing Farm
What Makes Alishan So Special?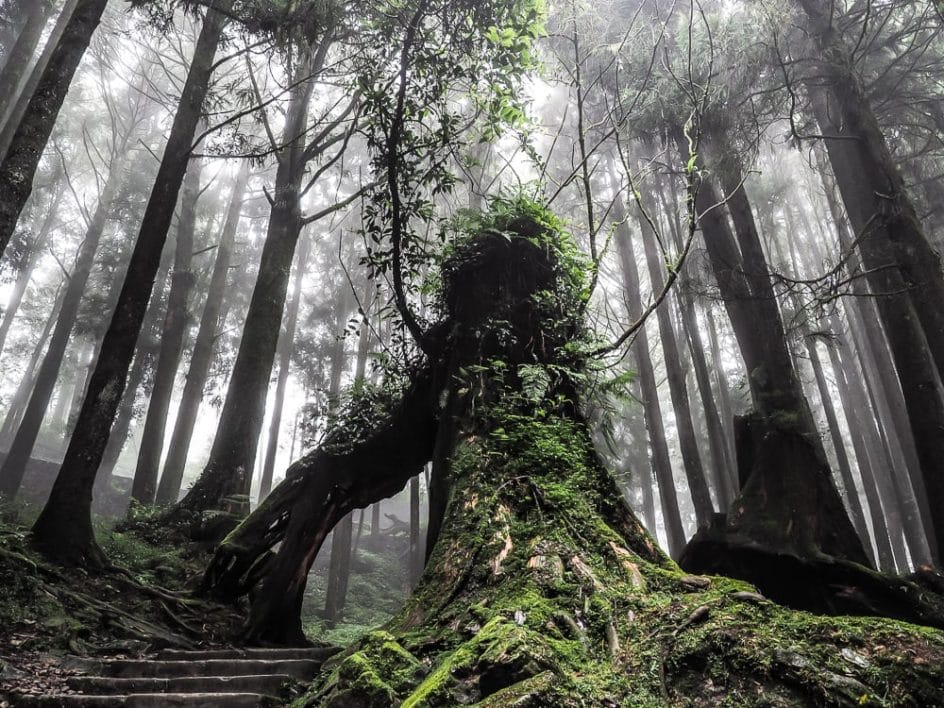 Alishan has been Taiwan's most popular mountain resort by visitor numbers for nearly a century. Along with Sun Moon Lake and Taroko Gorge, it is one of the country's most famous scenic attractions Located in Chiayi County and bordering Nantou County, almost exactly in the middle of Taiwan, Alishan is actually a collection of peaks averaging 2500m that overlook the massif of Yushan (Jade Mountain), Taiwan and Northeast Asia's highest mountain.
The area was original settled by aboriginals. In 1912, the Japanese opened the Alishan Forest Railway to log cypress trees in the area, but eventually logging decreased and tourists flooded in. Riding the small gauge train up from Chiayi (it currently only goes half way to Alishan; see my Alishan transportation guide) and between the various sections of the park is one of the great joys of visiting Alishan.
Due to its altitude, Alishan is always about 10 degrees cooler than the main cities in Taiwan, making it a great respite from the heat. Its alpine forests feature giant Taiwanese red cypresses, many of which are 2000+ years old.
The forests on Alishan are regularly shrouded in mist, producing mystical scenes reminiscent of classical Chinese paintings, one of the reasons the park is so popular among visiting Chinese and Asian tourists.
Besides the many interesting things to do in Alishan, another big draw is the fact that Alishan High Mountain Oolong Tea, the most famous tea in a country that produces some of the world's best oolong teas, is grown around Alishan. However, most tourists pass right through the tea growing regions, mostly located outside the national scenic area, without even realizing it.
Seeing Cherry Blossoms at Alishan
One of the most incredible times to visit Alishan is when the cherry blossoms are blooming. Due to the altitude, this happens very late in the season, usually late March and early April, and marks the end of the cherry blossom season in Taiwan. If you are hoping to see the cherry blossoms in Alishan at this time, you'll have to book your hotel far, far in advance, as all the hotels always sell out, or you may just need to visit Alishan as a day trip if you can't get a room.
For more information on visiting Alishan in different seasons, see the "best time to visit Alishan" section at the end of this article. You can also see my Alishan hotel recommendations toward the end of the article.
Suggested Alishan Itinerary
If you want to squeeze it in, you can visit Alishan in a single day on this Alishan day tour from Kaohsiung, Tainan, or Chiayi, or this one from Taichung. Also check out this article for other Taichung day trip ideas.
On your own, I would say two days/one night is the absolute minimum. Two nights is more feasible, while three nights allows you to add a night in Fenqihu or stay on a tea farm, and have more hiking time in Alishan.
Alishan in 1 night (2 days)
Day 1: From Chiayi, take the bus (or train + bus) to Alishan. Check in to your hotel, then do the standard tourist stroll through Alishan (see below) in the afternoon.
Day 2: Wake up early for sunrise (see below). Eat breakfast then take the bus back to Chiayi.
Alishan in 2 nights (3 days)
As above, but you can spend your second day exploring more of the hiking trails in Alishan instead of rushing back to the city.
or
Spend your first night in Fenqihu or on a tea farm and second night in Alishan. See the Alishan sunrise on your final morning before returning to Chiayi.
Alishan in 3 nights (4 days)
Day 1: From Chiayi, take the bus or train to Fenqihu. Stay in Fenqihu or on a nearby tea farm for one night.
Day 2: Catch a bus from Fenqihu or the tea farm to Alishan. Check in to your hotel, then do the standard tourist stroll through Alishan in the afternoon.
Day 3: Sleep in a little, then enjoy doing one or more of the longer hikes in Alishan.
Day 4: Wake up early for sunrise (see below). Eat breakfast then take the bus back to Chiayi.
All of these Alishan itineraries require you to start in Chiayi. It is a good idea to spend one night in Chiayi first so that you can get one of the earliest buses or try to buy a train ticket the day before if you didn't already make a reservation on the forest railway.
We had a great stay at Chiayi King Hotel (see on Booking / Agoda / TripAdvisor), a modern, 3-star (but near budget priced) hotel near the Chiayi train sation.
Other options include Hotel Discover (see on Booking / Agoda / TripAdvisor), which has great reviews and is super close to the train station and Yongxing Inn (see on Booking / Agoda / TripAdvisor), a basic but very cheap hotel also near the train station, while good hostel options nearby include Petite Hostel (see prices / Agoda / TripAdvisor) and Light Hostel (read reviews / see prices).
If you happen to be in Chiayi, also consider making a trip to the unique mud hot spring nearby in Tainan!
The tiny mountain village of Fenqihu (奮起湖) was for years the terminal station of the Alishan Forest Railway line from Chiayi, since the final section from Fenqihu to Alishan was destroyed in a typhoon. Starting quite recently, the train now goes to two more stops after Fenqihu: Duolin and Shizilu, but Fenqihu is still the most interesting stop. You can get off at any of the three to transfer to the bus for the final leg to Alishan.
I like this relaxed little town so much that I've actually made a trip to the area just to stay here with friends after we hiked the amazing Ruitai Historic Trail (瑞太古道 ). It's a tiny, cute town with not much to do, but it's definitely worth stopping for an hour or two on the way to Alishan, or if you feel in no rush at all, spending the night. There are even lockers at the train station to dump your luggage while you explore the tiny village.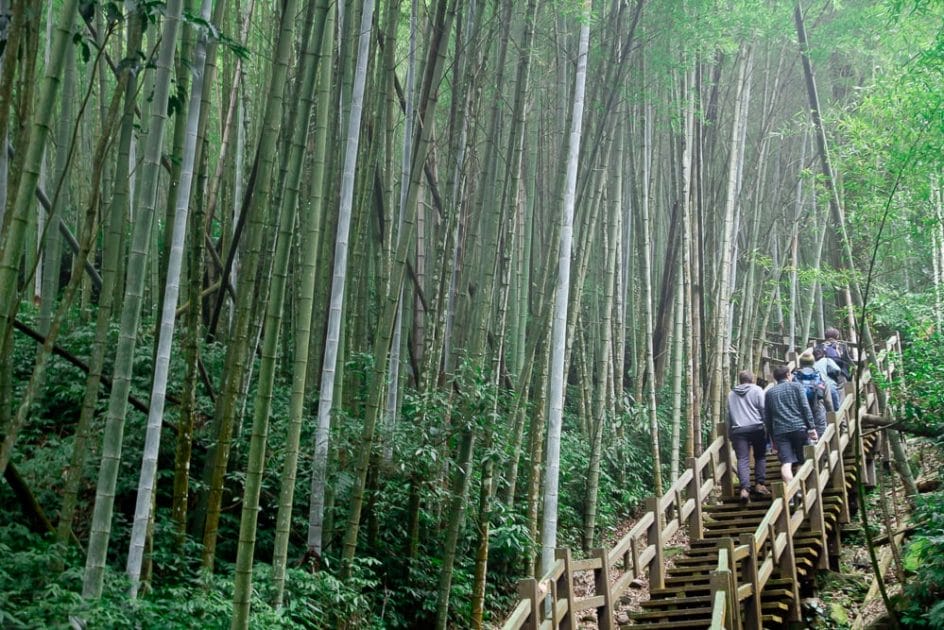 This 4 to 5-hour hike passes through incredible bamboo forests that you will have entirely to yourself. The trail begins in Ruili (瑞里) and ends in Taihe (太和), a village near Fenqihu. There is only one morning bus per day from Chiayi to Ruili, bus 7315, departing from Chiayi station at 9:20am, taking (if I remember correctly) about 1.5 hours. Here are the bus route and departure times in Mandarin.
Fenqihu itself is also surrounded by bamboo forests, and there are shorter hikes around town. In spring you can see fireflies here at night, and there is also a mini train museum with original Alishan trains on display.
Fenqihu is also one of a handful of places in Taiwan famous for their lunchboxes, so you will see them being sold from train-shaped stalls as soon as you get off the train.
We bought our Fenqihu lunchbox from the original famous spot, Fenqihu Hotel (see on Booking / Agoda / TripAdvisor), which also happened to be the hotel where we stayed that night. My favorite part of the hotel was probably the super cute little wooden bathtubs in the hotel bathrooms!
The most famous lunchboxes in all of Taiwan are those sold at Fulong Train Station in New Taipei City. Read more and see pics in my article on the best beaches around Taipei.
If you're like me and don't eat meat, then you might want to go for this delicious stewed slab of tofu stuffed with delicious things:
Even if you don't do the full Ruitai Historic Trail mentioned above, there are some gorgeous easy walking trails through bamboo forests accessible from Fenqihu town. This means you can check out the town and go for a short hike if you get an early bus from Chiayi and then spend a few hours in Fenqihu before continuing on to Alishan (just don't miss the last bus!)
If you are only interested in visiting Fenqihu and not going all the way to Alishan, you can go there on this maple viewing and tea tasting tour, which is best in autumn.
Hike Through Tea Fields or Stay on a Tea Farm in Shizhuo
Everybody knows that Taiwan's most famous tea, Alishan High Mountain Oolong Tea, comes from the Alishan area. But few people know about Shizhuo (石棹, also spelled Shizhao), a picturesque tea village on highway up to Alishan, or a 10-minute drive south from Fenqihu Train Station, where much of the "Alishan" tea comes from.
The hills above the highway that runs through Shizhuo are covered with terraced tea fields, and there is a network of hiking trails through them, with names like Mist Trail, Sunset Trail, Tea Trail, Cloud Trail, and Sakura Trail. It's hard to find any English information on Shizhuo, but here's a map showing the hiking trails, which you can compare with GoogleMaps to get a pretty good idea of where the trails begin.
If you are interested in Taiwanese tea (I happen to be very much so; see here for my in depth introduction to tea in Taiwan), this place will be a heaven for you.
We spent the night at Cuiti B&B (see on Booking / Agoda / TripAdvisor), the guesthouse in the photo below. The farm itself was so gorgeous that we didn't have to journey far from our room to enjoy amazing panoramas over tea fields, or we could just enjoy them from our bedroom window. We also did part of the Cloud Trail and visited a few other tea farms nearby.
The owner was kind of enough to pick us up from Fenqihu, take my kids and I on a walk though some of his tea fields where workers were picking tealeaves, and drive us to the bus stop in Shizhuo the next day.
Staying on this tea farm, drinking tea with the farmer, seeing the sunset over the plantation, and hiking through the tea fields was one of my best Taiwan experiences to date.
Be aware that they don't speak much (or any) English, and you should bring your own food to cook as there are no restaurants nearby. Breakfast is included.
There are several other similar options in Shizhuo. Longyun Leisure Farm (see on Booking / Agoda / TripAdvisor) overlooks an incredible terraced tea field (see photo at top of this section) and is connected to the Cloud Trail. It is the closest to Fenqihu (and also includes free pickup), but furthest from the Shizhuo bus stop on the highway.
Other similar options to where we stayed include Chia Yuen Homestay (see on Booking / Agoda / TripAdvisor) next door to our guesthouse, Alishan B&B Yunmingi (see on Booking / Agoda / TripAdvisor) near the Sunset Trail.
Closest to the Mist Trail, highway, and Shizhuo bus stop (bus still a steep walk up) are Siangting B&B (see on Booking / Agoda / TripAdvisor) and Green Incense Homestay (see on Booking / Agoda / TripAdvisor).
Shizhuo is situated so that it is best for viewing sunsets, not sunrises, and you can also experience Alishan's famous sea of clouds phenomenon from higher vantage points in Shizhuo during sunset, but you need as much luck as at Alishan.
Eryanping: Off-the-Beaten-Track Sunrise Spot on the Way to Alishan
Yet another area worth noting on the way up to Alishan is Eryanping Trail (二延平山步道) and nearby Xiding Lookout platform (隙頂觀景臺). The small network of trails here is about one kilometer long and is one of the best spots sunrise spots in the greater Alishan area.
The trails pass through tea plantations where you can sometimes tea leaves being picked. It's gorgeous at anytime of day, but especially at sunset, when you can even sometimes see the famous sea of clouds (see photo above).
To get to Eryanping, you'll need to take bus 7322 from Chiayi to Anding (鞍頂) stop, about 20/25 minutes before reaching Shizhuo/Fenqihu, and an hour before reaching Alishan. Be careful to note the bus schedule so you don't get stranded there. Also, it's always best to confirm your plans and desired stop with the driver when boarding the bus, just to make sure you get the right bus and don't miss your stop.
Even better, spend the night at nearby SunSweet Hotel (see on Booking / Agoda), which is walking distance along the highway from Eryanping, so you can enjoy the sunset without rushing or worrying about the bus times.
Alishan National Scenic Area
What most people refer to as "Alishan" is the collection of tourist facilities, short railway lines, and hiking trails on the northern side of the national scenic park. You will first arrive at the brand new bus station and 7-Eleven just before the large Alishan Entrance Gate.
When you walk through the gate, you will need to pay the Alishan National Scenic Area entrance fee of NT150 per adult (arriving by public transportation) or NT200 per adult (arriving by car). They will also give you a registration slip that you are supposed to sign and drop off at the tourist information center in the main parking lot.
Walking five minutes up the road, you will see the Alishan Forest Railway Station on the right, and the Alishan Tourist Village on the left, built around a large parking lot. There you'll find several souvenir shops, teashops, restaurants, the information center, and a not-so-obvious post office (with the only ATM besides 7-11).
There is a road lined with hotels behind the parking lot, with a staircase going down to it from just beside the info center.
There used to be a 7-Eleven in the parking lot, which is now moved to the bus station where visitors arrive. There is another 7-Eleven at the top of the tourist village near the train station (it used to be a Hi-Life), which is officially the highest convenience store in Taiwan.
From the tourist village, you can walk or take the small train to all of the main hikes and attractions described below.
Currently, the Alishan Forest Railway runs to three stations within the park: Zhaoping (Chaoping), Shenmu (Sacred Tree), and Zhushan (the main sunrise viewing point.
See my transportation guide for all the train times.
The Main Alishan Walking Trail
This is the main tourist walk trail in Alishan National Scenic Area. It is a series of paths leading roughly from Zhaoping Station on the small train line to Sacred Tree (Shenmu) Station, from where you can catch a ride back, but you'll have a few route options. It's a good idea to get a map from the tourist information center at Alishan Village before setting out, although the trails are quite easy to follow. In total, it will take about 2-4 hours to complete, assuming that you walk in a leisurely way, taking lots of stops for pictures.
Walk (20-30 minutes) or take the small train (10 minutes) from Alishan Station to Zhaoping Station. If you walk, you can veer off the road and walk through a park where cherry blossoms bloom in spring (March-April), or take the train then backtrack from Zhaoping Station to see the park.
From Zhaoping Station, follow the path beside the train tracks past Alishan Gou Hotel to the start of the Jiemei (Sister) Ponds Trail (20-30 minutes). As soon as you enter the forest, you'll find yourself in a fairy tale land of misty forests and ancient, enormous, oddly shaped trees.
This part of Alishan is where you will most likely experience the noisy tour groups that some people complain about, but it thins out as you go along, and there are many options for getting off the main trails (see below).
After passing the two pretty ponds, the trail goes through Magnolia Garden and then reaches Shouzhen Temple, where there is a collection of food and souvenir stalls. Some great snacks on offer include tea eggs (yummier than the ones at 7-Eleven!), sausages, stewed tofu, steamed yams, and drinks with jelly balls made from saturated seeds of mountain plants.
There is a shuttle bus available here, running every 10 minutes or so, back to the information center in the tourist village parking lot.
From here, there are two options to connect to another circuit of trails around Shenmu train station. From the middle of all the food vendors, there's a staircase leading to a trail that features several enormous trees, the oldest of which is marked #28 and is some 2300 years old.
The other option is to cross the "Boat Shaped Bridge" on the main road near Shouzhen Temple.
On the western side or the circuit, you can access Ciyun Temple, which is considered one of the best spots for seeing the sunset in Alishan National Scenic Area.
On the northern side of the circuit is Sacred Tree (Shenmu) station, where you can catch the small train back to Alishan Station, or you can walk back to Shouzhen Temple for the more frequent shuttle bus, or walk along the vehicle road back to Alishan Tourist Village if you'd prefer.
Best Places to See the Sunrise in Alishan
The classic viewpoint for the famous Alishan sunrise over a sea of clouds is the Zhushan Sunrise Observation Platform at Zhushan Station (Chushan Station/祝山車站, 2451m), where you can expect a mass of noisy people shivering in the dark while they wait for what is often not even a good or visible sunrise. Zhushan Station is currently closed for construction (see more details below).
To get there, you can ride the Alishan Forest Railway from Alishan Station to the terminal Zhushan station, with several departures before sunrise every morning (book your ticket at the station the day before). You can also walk there if you know the way (see more on that below).
Note that for the last couple years, they have been doing construction on the line, Zhushan Station is closed!
Currently, the trains only travel up to the second last stop, Duigaoyue Station (對高岳火車站). From the station, you only have to walk along the tracks for a few minutes to reach the Duigaoyue Sunrise Viewing Platform, which is just as good as the Zhushan one. In fact, normally, when Zhushan Station is open, it is super crowded, and I personally prefer going to Duigaoyue, because I can have it all to myself!
For updates on the train situation, you can see the official site (Mandarin only).
If you still want to go to Zhushan (perhaps to avoid the huge crowds that now congregate at Duigaoyue), it's about a 15-minute walk uphill from there. Or, for an even better view, you can walk another 10 minutes past Zhushan to Xiaoliyuanshan (Mt. Ogasawara / 小笠原山觀景台). These spots are all marked on GoogleMaps.
You need good luck to see the sea of clouds. I've been to Alishan four times now and only seen two decent sunrises, one of which (barely) had the sea of clouds. Odds are better in winter, but it can also be bitterly cold waiting for the sun to come up. Winter clothing is needed, even in summer. You can by hats, jackets, and more at inflated prices in the tourist village if you didn't bring them.
The train times and number of trains for sunrise change every day, according to the time of sunrise. You can buy your ticket at the Alishan Train Station from 1:30-4:00-pm the day before.
And here's another tip: you don't have to crowd onto the train with hundreds of other people at 4 am (give or take) to get up there. Many hotels offer a seat in a private car (NT250-300 per person), or you can walk up!
I've walked up in the dark, and it's doable, but I would suggest that you at least find and maybe even walk up the trail the day before so that you don't get lost the next morning. First, walk to Zhaoping Station and locate the Zhushan footpath just south of the station.
This 20-minute uphill stretch through the forest connects to the Zhushan Forest Rd., which then leads all the way up to Duigaoyue sunrise platform (turn left at the point where the train tracks cross over the road, and walk along the train tracks for a few minutes) or Zhushan (just follow the vehicle road all the way up).
In total it takes less than an hour to walk up. A flashlight or headlamp is useful.
Don't Forget about the Sunset at Alishan!
With all the Alishan sunrise hype, a lot of people don't realize you can also see gorgeous sunsets from Alishan. One decent spot is from Ciyun Temple near Shenmu station, with views of Datashan, the highest peak in Alishan.
A more convenient option is from the 2nd or 3rd floors of the Alishan Train Station, or from the road around the entrance gate to Alishan, where I shot the above photo at sunset!
Also see the section earlier in this article on Eryanping, an awesome sunrise spot located half way between Chiayi and Alishan National Scenic Area.
Off-the-beaten-path trails for hiking in Alishan
It is very easy to escape the tourist crowds at Alishan. The following Alishan hiking trails are all within the Alishan National Scenic Area and easily accessed on foot from the tourist village.
1. Duigaoyue Trail (對高岳步道)
It is very easy to escape the tourist crowds at Alishan. The following Alishan hiking trails are all within the Alishan National Scenic Area and easily accessed on foot from the tourist village.
Duigaoyue Platform sits at the start of a two-hour return hike to Duigao Pavilion (2444m). This relatively easy trail follows the train tracks for some time, offering views similar to what can be seen from Zhushan.
2. Train tracks from Duigaoyue to Sister Ponds
After sunrise, rather than taking the train or walking back the way you came, do the start of the Duigaoyue Trail, but just walk right on the tracks instead of the trail. This pleasant, easy stroll passes a point where you could join the Tashan Trail (see below), then leads back to the Sister Ponds. Don't miss the little bridge over the wall that will connect to the Sister Ponds area. Budget about 30 min-1 hour for this stroll, and watch out for trains!
3. Tashan Trail (Mount Daito/塔山步道)
Some very motivated individuals hike up this difficult, 4-hour return trail for sunrise. The platform (2663m) at the end offers epic views of Tashan (Dashan/塔山, the highest peak in the Alishan massif) and Yushan/Jade Mountain (the highest peak in Taiwan). The trail begins at the Sister Ponds, follows the track train tracks going up, then veers north.
4. Shuishan Trail (水山步道)
This easier 1 to 1.5 hour-return walk follows a railway line that once lead to Dongpu and is no longer used. The trail crosses over a wooden train bridge, and ends at enormous 2700-year-old Shuishan Giant Tree. You can find the trail by looking for the spot where the old train line splits off from the Alishan to Zhaoping line a little south of Zhaoping.
Pro tip: If you really want to get off-the-beaten-track in the greater Alishan region, try the Alishan Northwest Corridor, a tourist-free region featuring more gorgeous tea farms, bamboo forests, hiking trails, and waterfalls. There are very few buses providing access to the area, so having your own transportation is ideal.
Where to Stay in Alishan
Most of Alishan's hotels are found on a curved road behind the tourist village parking lot. Just about all of them are similar, overpriced, rundown establishments starting around NT2500 for the crappiest of the lot (they can go down to around 1500 out of season).
Unfortunately, there is no hostel or budget hotel in Alishan, but budget travelers can try Alishan Youth Activity Center (see on Booking / Agoda / TripAdvisor), which is about 30 minutes downhill from Alishan on the way to Chiayi.
Last time we went to Alishan, we chose Mei Li Ya (see on Booking) simply because it was the cheapest. It was as low quality as we expected, but on the plus side, they had electric heated blankets (would be nice in winter) and the guy at the desk was extremely helpful. He even lent us umbrellas and some sweaters for my kids because we had come totally unprepared.
Other options on the same road are Wankou Hotel (see on Booking / Agoda / TripAdvisor), Cing Shan Hotel (see on Booking / Agoda / TripAdvisor), and Shermuh Hotel (see on Booking / Agoda / read reviews). Shermuh offers free pickup from the bus station, which would have been nice, since it was a bit of a trek from the bus station with all our luggage.
For more luxury at a price, try Alishan Hotel (Alishan House) (see on Booking / Agoda / TripAdvisor). It has beautiful natural surroundings and a great location, closer to the scenic attractions and Zhaoping station, but further from 7-11 and the amenities in the tourist village. They also offer pickup. For a great deal, check out this two-day Alishan tour from Chiayi which includes a stay at Alishan House and tickets for the morning sunrise viewing train.
Note that there is literally nothing to do in Alishan at night, besides get a beer from 7-Eleven and go to bed early so you can wake up for sunrise.
Where to Eat in Alishan
Most restaurants are found around the parking lot in the tourist village. Here you can find hot pot and several places serving fairly similar meals. The pick of the bunch seems to be 999 Restaurant (九九九餐廳) on the second floor, and nearly identical Xin Xingguang (新星光餐廳) next door.
Their large soups, mountain greens, noodles, and other local-style dishes are perfect after a long chilly day. I personally loved the cold tofu slices with delicious local wasabi and soy sauce. Fresh Alishan's wasabi is more flavorful and less sinus-burning than wasabi you might be used to from typical sushi shops.
A new addition is the covered arcade of local food stalls across the parking lot (search for 娜若瑪菲美食街 on GoogleMaps). Come here for cheap, local Taiwanese dishes–best if you're on a budget or traveling alone.
Many of the hotels give breakfast vouchers for local style buffet breakfasts served from very basic little restaurants in the tourist village. We were confused to find that our breakfast was served in a different restaurant on each day.
You can buy tea leaves in many shops in the tourist village, but one shop that stood out was Mt. Ali tea #35 (茶田35號), with creative package designs that break away from the usual Alishan trains and sunrises motifs. You can usually taste tea brewed on the spot before buying.
Coffee is also grown on Alishan and sold in many of the shops, but I haven't tried it. Let me know if you have, and what you thought!

When to Visit Alishan
As I mentioned above, Alishan is usually about 10 degrees colder than lower altitudes in Taiwan (see Alishan's average monthly temperatures). Therefore, in summer in Taiwan Alishan can be pleasantly warm but chilly at night, so you still need to bring proper clothing, especially for sunrise viewing.
Summer is also one of the most popular times, so it can be busiest and hotel prices are usually higher. Don't travel to Alishan during (or shortly after) a typhoon or heavy rain, when landslides are common. And cherry blossoms season is probably the busiest time of year at Alishan, so good luck getting a hotel at that time! (see the Alishan cherry blossoms section at the top of the article for more info).
Like everywhere else in Taiwan, fall and spring are probably the best time to visit, but can get quite chilly at Alishan.
If you visit Alishan in winter in Taiwan, especially December, January, and February, you have the highest chance of seeing the "sea of clouds" phenomenon at sunrise, but it can be freezing, especially when you are standing and waiting for sunrise. I quite enjoyed my winter visit but I personally love cold weather.
There was no snow when I visited, but I saw some frost on the Alishan forest railway tracks in the early morning.
See more information about the weather and what to wear in each season in my guide to the best time to visit Taiwan.
Thank you if you read this far, and I hope you found everything here that you needed to know for visiting Alishan! I love answering your questions here or in my free Taiwan Travel Planning group, so please let me know below if I've missed anything or you found that any information was out of date. Enjoy your trip to Alishan!