Dear reader: This article contains links to products and services that I may be compensated for, at no extra cost to you.
So you've booked your trip to Taiwan, figured out the best time to go to Taipei, and you've set aside two days for the capital city. Good! Two full days is really the bare minimum you need to squeeze in the best of this mesmerizing, food-obsessed, traditional-meets-modern capital.
I've been living in Taipei for over ten years, but I never grow tired of visiting the places I've included in this Taipei itinerary.
The following is my suggested Taipei 2 day itinerary that takes in Taipei's top sights in the most efficient way possible. If you are planning to get out of the city, then check out my list of the 40 best Taipei day trip ideas.
Useful resources

– See my 55 unmissable Taiwan experiences and how to visit Taipei with kids.

– If you'd rather spend a day on the beach than go sightseeing, here's my complete guide to best beaches within 2 hours of Taipei.

– Consult my detailed guide to where to stay in Taipei.

– If you happen to be in Taipei for the Lunar New Year holiday, find out what's open & closed and my suggestions for things to do in Taipei during Chinese New Year.
Taipei Travel Essentials

– Like to save money when traveling? You can find many discounted travel passes, admission tickets, activities and more on Klook. We highly recommend it! Here's a link to sign up and get NT$100 off your first activity.

– Pick up a Taipei Unlimited Fun Pass to save money on your Taipei sightseeing. Find out how the pass works and whether it can really save you money in my guide to using Taipei Fun Passes.

– If you don't get a Fun Pass, you can simply get an EasyCard when you arrive, for use on all public transport in Taipei and other major cities in Taiwan (except for the HSR, intercity buses, and regular trains that require seat reservations).- Order a 4G Unlimited WiFi Pocket Device for pickup upon arrival at the airport.

– Arriving at Taoyuan Airport, the airport MRT travels directly to Taipei Main Station. If you want a taxi instead, save a few hundred TWD by booking a private car from the airport or a shared transfer to your hotel. You can also rent a car at the airport.

– Make life easier by taking a tour by private car and choose your own stops, or take this more comprehensive Taipei tour which is ideal for business travelers or people who want to see everything in one day.

– The Taipei Double Decker Bus is a more exciting way to see the main sights on this Taipei itinerary!
WARNING: This itinerary packs in a lot! If you are coming in on a long flight, or you prefer to travel slowly, then you may want to considering cutting out a thing or two. But I'd rather give you too much info than not enough!
Day 1
8 AM: Longshan Temple
Start your first morning in Taipei by paying a visit to Taipei (and Taiwan)'s most important place or worship, Longshan Temple in Wanhua district (Old Taipei). If you are jet lagged at find yourself up at the crack of dawn, make it to the temple for 6 am for the mesmerizing chanting ceremony, but there is usually another one at 8 am.
Longshan Temple is popular among visitors because it is always bustling with activity and devotion. There are a koi pond and waterfall, fortune tellers out front, Herb Alley next door, and the shops in the neighborhood sell interesting Buddhist paraphernalia.
Access: Longshan Temple MRT, open 6 am to 10 pm, free.
9 AM: Taiwanese breakfast
Now that you are up and in full tourist mode, it's time to fill your belly before the long day ahead. Head to Yonghe Four Seas Soy Milk King (永和四海豆漿大王—萬華店) at #320 Kangding Road, Wanhua District (108台北市萬華區康定路320號), a short walk southeast of Longshan Temple, for some classic Taiwanese breakfast.
Breakfast menus in Taiwan are all similar, with items liked steamed buns, fantuan (sticky rice rolls), dan bing (thin green onion crepes), white radish cakes, breakfast burgers, toasted sandwiches, and soy milk or milk tea. You can learn all about Taiwanese breakfasts in my detailed guide to Taiwanese food!
Foodie Alert! There are some really awesome cooking courses available in Taipei, covering many types of food and diets. See here to find the best food and cooking courses in Taipei.
Before it starts really heating up, hop on the MRT one stop east to Ximen on the blue line and then two stops south on the green line to Chiang Kai-shek Memorial Hall. This huge square features three monumental buildings: the blue and white memorial to Chiang-kai Shek, the president of the Republic of China who fled China to Taiwan in 1949, and the classic Chinese style National Theater and Concert Hall.
These striking buildings make for great photos, especially when shot from the gate (Arch of Liberty Square) on Zhongshan South Road. There's a museum dedicated to The Man's life on the ground floor or the monument, but I'd personally give it a miss in favor of more time at the next stops.
You can see the changing of the guard every hour on the hour from 9 to 5.
Access: Chiang Kai-shek Memorial Hall MRT, 5am to midnight (museum 9am to 5 pm, free). CKS is also included on the Hop-on Hop-off double decker bus tour.
Now we are going to backtrack to Ximen, the "Harajuku of Taipei," a trendy pedestrian shopping district where the shops will now be open now. If you're feeling energetic, you can walk here from CKS Memorial Hall (20 minutes), passing the grand Presidential Office Building en route, built by the Japanese. This is where major protests are usually held in Taipei.
Ximen is Taipei at its quirkiest and coolest. Among the souvenir and brand name shops, you can also try penis-shaped cake or get a street-side tattoo or piercing. There's also cosplay cafés, a movie theater street, a skateboarding park, street graffiti…you get the idea. Check out my list of 25 strange things to do in Ximending, Taipei.
Start at Red House, a Japanese era market building. On the far side of it is the Taipei's best LGBT bar patio area, if you are in need of a patio drink at this point. On weekends, there's also a hip craft and design market on the side of Red House closer to the MRT. There's an interesting little Matsu Temple, dedicated to the goddess of the sea, at #51 Chengdu Rd. Finally, you can think about getting a traditional Chinese knife massage!
For lunch, there is lots of creative and interesting food in Ximending. Try the choo-choo train conveyor belt sushi at Da Che Lun, or simple Taiwanese classics like beef noodles and oyster omelets at the strip of local restaurants a few blocks north of the MRT on Hanzhong Street.
Access: Ximen MRT exit 6 (pedestrian section) or exit 1 (Red House). Shops mostly start opening around 11am-12pm.
Want an off-the-beaten-track eating experience? Head to Taiwan's little Burma south of Taipei in New Taipei City.
2 PM: Take a nap or break
I'm not kidding. Do as the local students and workers do, and take a nap after lunch back at your hotel to escape the heat of the midday, especially if you're visiting from May to October. If that's not convenient, consider taking a break in an air conditioned café.
If you think naps and breaks are for the weak, then spend the afternoon exploring historic sights, temples, and architecture of Dadaocheng, on of Taipei's most interesting neighborhoods.
4 PM: Elephant Mountain or Taipei 101
Depending on the weather and your energy level, you can choose between hiking up Elephant Mountain or going Taipei 101 for bird's eye views of Taipei.
Elephant Mountain is just one stop past Taipei 101 on the MRT, and the views are arguably better because, well, you can get Taipei 101 in your shot.
The hike up from the MRT is a little steep, but it doesn't take long (30 minutes or less) before you get breathtaking, picture-postcard views of the city. If that's not enough for you, the hiking trails connect to the four other "beast" mountains: Tiger, Lion, and Leopard Mountains.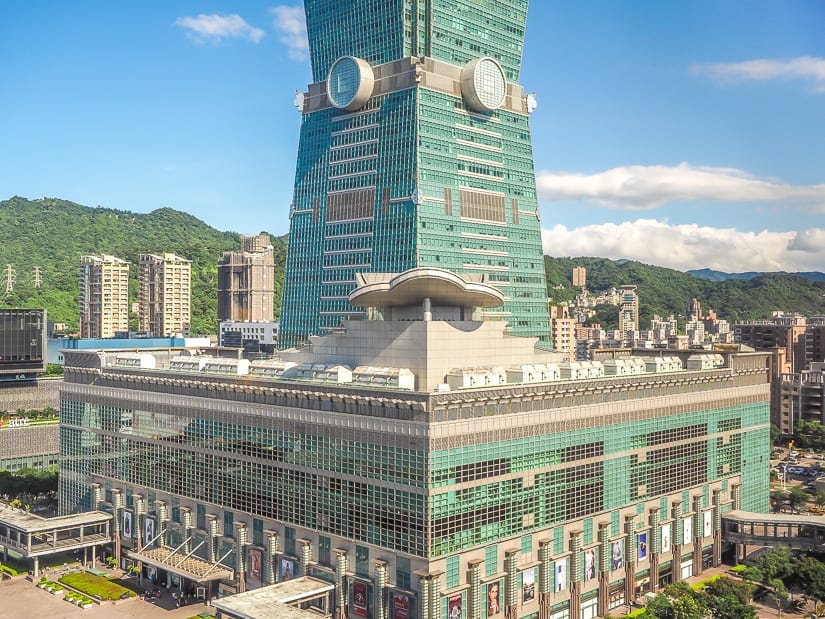 Taipei 101, once the tallest building in the world, is tourist central, and the line at the 5F entrance for the Taipei 101 Observation Deck on the 89st floor can easily take an hour, so factor that in to your timing, but it is truly worth the wait. The elevators going up are the fastest in the world, the views are awesome, and the 730-ton stabilizing ball in the middle that keeps Taipei 101 from falling is nothing short of awesome.
If you time it right, you can observe the sunset from the mountain or observatory and watch city coming to life with lights in the early evening. For a more thrilling experience, try Skyline 460, where you can walk on the actual roof of Taipei 101, 460 meters above ground. The ticket includes entrance to the regular observatory floors.
Observatory hours: 9am to 10pm, tickets NT600, access Taipei 101 MRT station.
Buy a discounted Taipei 101 ticket online. Choose "express pass" to skip the long lines. The Taipei 101 Observatory is also included with the Taipei Unlimited Fun Pass.
7 PM: Tonghua Night Market (Linjiang Street)
Whether you hiked Elephant Mountain or braved the crowds at Taipei 101, your tummy is probably rumbling now. Take the MRT one stop or walk down Xinyi Rd. to Tonghua Night Market to take part in the city's quintessential eating experience: Taipei night markets.
Despite it's location in ritzy Eastern Taipei near upscale department stores, City Hall, Taipei 101, and the World Trade Center, Tonghua Night Market is surprisingly local and tourist free. Here's your chance to try the famed Taiwanese snack, stinky tofu, but there are countless other delicacies on offer (for a true full-on stinky tofu experience, consider visiting Shenkeng stinky tofu village in New Taipei City!)
The market goes north to south from Xinyi Rd. to Tonghua rd., with more restaurants south of the entrance gate and also west on Tonghua road.
Access: Xinyi Anhe MRT (exit 3), dusk to midnight
9 PM: Time for a Drink
If you somehow still have energy, try one of Taipei's speakeasy style bars (Alchemy, Ounce, Hankou 60), sip a 9-shot cocktails at Maybe bar, try a betel nut cocktail at Fourplay (betel nut is that addicted nut that taxi drivers in Taiwan chew), or guzzle expensive brews one of the city's many craft beer bars (I'll let you google that one). If you're on a budget, then do what most local expats do: get beers at 7-11 and wander the streets.
Alchemy: Taipei 101 MRT, Ounce: Xinyi Anhe, Hankou 60: Ximending
Day 2
8:30 AM: National Palace Museum
For breakfast, consider treating yourself to some of the freshest sushi and sashimi Taipei has to offer at Addiction Aquatic Development. The luxury seafood market had take-away meals and opens at 7 a.m.
Start your sightseeing at the National Palace Museum, arguably the most important museum in the greater China region. With 700,000 ancient artifacts in its permanent collection, the National Palace Museum is huge, and there's always some kind of cool temporary exhibit; check the museum website for what's on now.
The last time I visited, there was a really cool exhibit that brought a collection of ancient Chinese scrolls to life by animating them on screens, with the little characters and animals in the scene moving around. Even the museum building itself is grandiose and worth a few shots. Also check out the Shung Ye Aboriginal Museum next door!
For an authentic aboriginal experience in Taiwan, check out remote Orchid Island in the far south, or try doing an aboriginal cooking course in Hualien!
Reserve your National Palace and Shung Ye Museum combined ticket online and save NT15 per person! If you decide to see Taipei 101 and National Palace Museum in one day, here's a deal that includes entrance to both a shuttle between them.
Access: Take bus R30 from Shilin MRT station. For buses in Taiwan, you sometimes swipe your card (or pay NT15) when you get on, sometimes when you get off. This should be indicated above the driver or you can just ask.
Open 8:30-6:30 (to 9:00 on Fridays and Saturdays), admission NT350, National Palace and Shung Ye Museum combined ticket NT400.
12 PM: Lunch and Hot Spring at Beitou
Beitou Thermal Area, at the foot of Yangming Mountain (a dormant volcano), is one of my favorite places in Taipei. Check out my complete guide to things to do in Beitou hot spring.
First developed by the Japanese, it's the only hot spring area directly accessible by MRT and the most famous of Taiwan's many thermal hot springs. The single stop pink MRT line goes slowly uphill from Beitou to Xinbeitou station and smells of sulfur from all the passengers who've gone for a soak. Even if you're not visiting Taipei in winter, there are plenty of worthwhile sights in Beitou to check out.
When you disembark, you'll see the old restored train station to the right, and the Beitou Hot Spring Park in front of you, which has a hot creek running through it. You can walk up the left side of the park to reach the gorgeous, eco-friendly Beitou library, Beitou public hot spring (Millenium Hot Spring), Plum Garden, and then Hell Valley, the massive, steaming source of the hot creek running through Beitou Hot Spring Park.
For lunch, there's a Sushi Express, the ubiquitous Taiwanese conveyor belt sushi chain, beside the 7-11 by the MRT. Alternatively, you can get some simple noodle dishes and hot spring eggs by the entrance to Hell Valley, or try hot spring ramen at Man Lai Ramen, Mankewu Ramen, or Spa Spring Resort. The first two tend to have lines. I don't know if they actually use hot spring water or its just a gimmick, but all of them should have soft boiled hot spring eggs, which are super yummy.
To take a soak, open-air Millenium Hot Spring is by far the cheapest, but note the weird opening hours below for cleaning purposes. If you walk up the right side of the park from the MRT, most of the tall buildings along the park are hotels which offer hot spring tubs in a private room, usually for 90 minutes, but prices are steep compared to elsewhere in Taiwan; most are NT1200+/90 minutes.
The best family-friendly hot spring is at Spring City Resort (heavily discounted online deal for adults). You have the option of private room (1 hour) or outdoor public baths (unlimited time). It's a ways up the road, but has nice views over Beitou, and they offer a free shuttle from the MRT!
If you want to enjoy a classier hot spring experience, try this deal at Gaia Hotel. You can also visit Beitou and the adjacent dormant volcano on this Beitou and Yangmingshan tour.
Beitou is also the starting point of the Beitou-Zhuzihu Tourist Shuttle Bus, which provides access to Yangmingshan, the dormant volcano massif that looms over Taipei. This is also one of the best places to see cherry blossoms in spring! Rides on the shuttle bus are included with the Taipei Unlimited Fun Pass.
Access: Xinbeitou MRT
Millennium Hot Spring: 40NT (adult), open 5:30am–7:30am, 8am–10:00am, 10:30am-1:00pm, 1:30pm–4:00pm, 4:30pm–7:00pm, 7:30pm–10:00pm.
Hell Valley: free, 9am to 5pm, closed Mondays.
3 PM: Guandu Temple
While Longshan Temple is the most popular for tourists in Taipei, Guandu Temple north of Beitou is my personal favorite temple in Taipei City. Founded in 1661, it is almost 100 years older than Longshan Temple, making it one of the oldest temples in Taipei and the oldest Matsu Temple in northern Taiwan.
The reason I love Guandu Temple is because in addition to the usual amazingly intricate details, colors, and carvings characteristic of Taiwanese temples, this one has an 80-meter tunnel filled with 28 gods that leads to a river lookout with a 1000-arm Guanyin Statue. You can also climb up the stairs to a hill behind the temple and admire the impressive exterior facade, making this temple unique among Taipei temples and really fun to visit.
Access: Guandu MRT station + 10-15 minute walk.
4:30 PM: Tamsui Riverside Promenade
Technically in New Taipei City, not Taipei, the terminal end of the red MRT line is practically at the northern tip of Taiwan and features a lovely daytime riverside promenade lined with shops and food stalls.
This is a good alternative to the city's crowded night markets, and you can sample lots of classic Taiwanese snacks, such as stinky tofu, tons of seafood options (yum yum deep-fried cuttlefish!), and watch for the Turkish ice cream! See here for my detailed guide to Tamsui.
Access: Tamsui MRT
5 PM: Ferry to Fisherman's Wharf
A ways down the Tamsui promenade, you'll see a few boat docks, one of which has ferries departing for Fisherman's Wharf, a 10-15 minute ride downstream to a pretty harbor where the Tamsui River meets the sea. You can swipe your EasyCard or Taipei Unlimited Fun Pass to board the ferry.
The harbor's dock is a picturesque place for a stroll, and the pedestrian only Lover's Bridge makes for great shots, especially for sunset, which is famously gorgeous here. There are a few restaurants but nothing too special. If you don't want to ferry both ways, you can take a 10-minute bus between Fisherman's Wharf and Tamsui.
Access: Ferry from Tamsui, bus Red 26, 836, or 857 from outside Tamsui MRT station or ride the new Danhai LRT from Hongshulin station to Fisherman's Wharf stop.
8 PM: Dinner in Taipei
It's a ways back from Tamsui to central Taipei on the MRT (about 35 minutes to Taipei Main Station), so grab a snack first if you need it.
If you want more night market action, hit Shilin Night Market, Taipei's largest and most famous, on the way back. Alternatively, you could try your luck getting a seat at Din Tai Fung, Taipei's famed Michelin star (but not expensive!) xiao long bao (soup dumpling) restaurant at the Mitsukoshi Nanxi location near Zhongshan MRT. Skip the line at Din Tai Fung with this online restaurant voucher! Din Tai Fung is also included on this Taipei night tour.
If you want a guaranteed seat and some delicious pan-fried local fare washed down with cheap Taiwan beer, head to one of the many quick fry restaurants on Chang An West Road between Zhongshan North Road and Xinsheng North Road (also near Zhongshan MRT). These are classic local spots for eating and drinking the night away.
Planning a Day Trip out of Taipei?
After your two days in Taipei are up, definitely consider making a day trip out of the city! There are more choices than you can imagine – here I recommend 40 of the best Taipei day trips.
Jiufen and Shifen are two of the most popular choices. See my detailed guide to Jiufen and this article on how to get to Shifen and Jiufen from Taipei. I also highly recommend these beaches around Taipei if you're visiting Taiwan in summer and Jiaoxi hot spring in Yilan county if you're visiting Taiwan in winter.
There are also some great amusement parks and waterparks within easy reach of Taipei!
Here is another travel writer's article on best things to do in Taipei.
Where to Stay in Taipei
Choosing where to stay in Taipei is not easy because there are just so many choices and great neighborhoods. That's why I've created this detailed guide to the best neighborhoods and hotels in Taipei, with recommendations for all budget levels. I'll also summarize some of the best ones below.
Budget/Backpacker
Star Hostel Taipei East: Stylish, chill, and eco-friendly hostel conveniently located by Zhongxiao Dunhua MRT (see on Agoda / TripAdvisor / Booking)
Old Door Hostel: Another stylish hostel with awesome and very private, capsule-like dorms just north of Taipei Main Station, with a little bar on site. (see on Agoda / TripAdvisor / Booking)
Next Taipei Hostel Ximending: Yet another cool choice, right in funky Ximen neighborhood, with free breakfast, rooftop terrace, and a social vibe. (see on Agoda / TripAdvisor / Booking)
Quiet, Convenient, and Good for Families
Taipei Main Station Homestay (Star Hotel): Only two minutes from Taipei main station, guests here rave about the super friendly hosts, bright spacious, rooms, and amazing location. Car hire also available. (see on Agoda / TripAdvisor / Booking)
Taipei AP H Imperial: Also right next to Taipei Main Station, with bargain deals, free coffee and tea, 24-hour reception. (see on Agoda / TripAdvisor / Booking)
Amando Inn: Quiet, homey rooms near bustling Ximen area (see things to do in Taipei with kids #13), with shuttle service & car rental available. (see on Agoda / TripAdvisor / Booking)
Luxury
W Hotel: Where did Lady Gaga stay in Taipei? At the W, of course. This is Taipei's newest, funkiest, and most fashionable luxury hotel. Even if you don't stay, come for a fancy drink at their 10F pool or try to get seats for their awesome Sunday brunch buffet! (see on Agoda / TripAdvisor / Booking)
Humble House: Expect nothing but the classiest treatment at this luxury hotel in the Taipei 101 area, including rooftop pool and access to Taipei City Hall MRT. (see on Agoda / TripAdvisor / Booking)
The Okura Prestige: This central 5-star choice features great city views and a heated rooftop pool. Located just north of Taipei Main Station and several shopping malls. (see on Agoda / TripAdvisor / Booking)
If you are thinking about extending your Taipei visit, check out my Taipei 3 day or Taipei 4 day or Taipei 5 day itineraries, and how to plan your Taiwan itinerary, including popular attractions such as Sun Moon Lake, Alishan and Taroko Gorge!
Thanks for reading, and feel free to ask any questions in the comments below!