Dear reader: This article contains links to products and services that I may be compensated for, at no extra cost to you.
When it comes to Taiwanese tea, oolongs like Alishan High Mountain Tea, Dong Ding, and Oriental Beauty are internationally renowned, but fewer people are aware that the country also produces some excellent black teas.
While many of Taiwan's tea growing regions do produce a limited amount of black tea, Sun Moon Lake is practically synonymous with black tea in Taiwan.
In this article, I'll cover the history of Sun Moon Lake black tea, the most famous one (Ruby Red #18), fun tea-related attractions in the Sun Moon Lake Area, where to buy Sun Moon Lake tea, and some Sun Moon Lake black tea-flavored treats that I've tried.
You can buy Sun Moon Lake black tea online from Eco-Cha‭ (‬"Red Jade Black Tea"‭ ‬under their black tea section‭). ‬Use ‬the code NKTEA at checkout‭, or click on this link and a 10% discount on your tea order will be applied before you pay‭. ‬
For more information on visiting Sun Moon Lake‭, which is one of Taiwan's must-visit attractions, ‬see my full guide to Sun Moon Lake‭ and my recommended Taiwan trip itinerary.

History of Sun Moon Lake Tea
Before the Japanese occupied Taiwan, the island was mainly producing oolong teas which had been imported from the Wuyi mountains in Fujian, the Chinese province which is the ancestral homeland of most Taiwanese.
These teas belonged to the camellia sinensis var sinensis variety. All tea in the world comes from the camellia sinensis plant, which has two main varieties: var sinensis and var assamica. Var Sinensis is mainly grown in Northeast Asia, while var assamica is grown on Indian and Ceylon tea plantations.
However, when the Japanese occupied Taiwan, they shifted the focus in Taiwan to black teas to reduce reliance on British imports. In 1917, they introduced the Indian assamica variety and found that Sun Moon Lake offered ideal crowing conditions, with a climate and altitude similar to Assam.
The Japanese also established the Tea Manufacture Experiment Station, today called the Tea Research and Extension Station. The Institute has done much for the tea industry in Taiwan, including the development and promotion of many new hybrids, or cultivars, of tea. Probably their most famous has been their 18th one, Ruby Red #18.
Ruby Red 18: The Best Sun Moon Lake Black Tea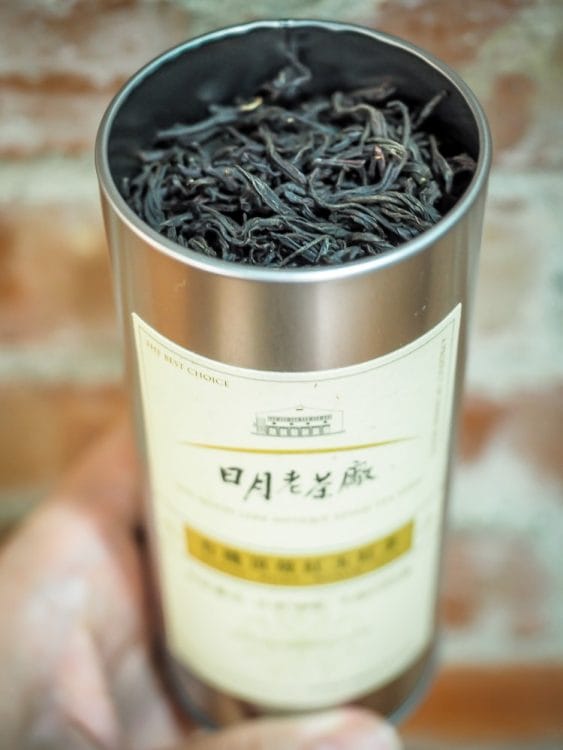 Sun Moon Lake Ruby Red (紅玉紅茶) tea has been tweaked and perfected for more than 50 years. It is a cross of native camellia formosensis (a possible third variety of tea, indigenous to Taiwan, and used by aboriginals since pre-colonial times), and camellia assamica that was imported from Burma.
While most tea cultivars are developed for pest control and increasing yields, Ruby Red was developed solely due to its unique taste, which has unusual but soothing presence of cinnamon and mint on the palate. The first time I tried it, I was truly blown away by how unique and delicious it was.
Typically, Indian black teas (camellia sinensis var assamica) are quite different than Chinese (camellia sinensis var sinensis) ones. They tend to have a more astringent bite and intensity to them, making them a preferred drink for people wanting a boost. Chinese black teas tend to be softer, smoother, and more relaxing.
Even though Ruby Red is made partially of assamica, it has the smoothness of a Chinese black tea, but with a flavor like no other.
Ruby Red is actually labor intensive, with low yields, and demand for it exceeds production. As a result, it can sometimes be tough to purchase and a little on the pricier side.
Other Sun Moon Lake Teas
While Sun Moon Lake is famous for Ruby Red, there are many other teas grown in the area, including different kinds of black tea, oolong tea, and green tea.
When I visited the Antique Assam Tea Farm (see below), they had the following teas for sale besides Ruby Red:
Jinxuan black tea (Jinxuan is a common cultivar across Taiwan (try the Luye region), usually prepared as an oolong with a 'milky' taste), several types of Assam black tea, Hongyun black tea (the newest Taiwan cultivar, #21, quite rare) Biluochun green tea (a popular cultivar from China), and Four Seasons oolong tea (usually grown in Alishan).
Tea-Related Attractions at Sun Moon Lake
The area of Yuchi township between Sun Moon Lake and Puli to the north is a kind of mecca for tea lovers, with several tea-related tourist attractions and tea farms that you can have a look at.
The most famous one is the Antique Assam Tea Farm (日月潭老茶產). This once thriving tea farm and manufacturing facility dates to 1959, when black tea was still big business in Taiwan. In the 1970s, labor costs rose in Taiwan and cheap teas from India flooded the market. Then after Taiwan joined the WTO in 2002, the black tea industry in Taiwan took another major hit.
Five workers at the Antique Assam Tea Farm stayed on, successfully transforming it into a popular tea-themed tourist center.
After you first arrive, you walk up a path with fields of tea bushes on either side (though not as scenic as the terraced ones in the high mountains) to reach the warehouse-like facility, which has the nice aesthetic touch of vines growing up and covering the exterior walls.
There isn't a whole lot to do there; the gift shop is the main focus, where you can buy all the teas I mentioned in the previous section, most of which are organic, as well as bottles of iced tea, and some other local foodstuffs and tea-flavored items.
At the rear of the building, it's not so obvious, but look for a door where you can enter the facility. Follow the small staircase to the second floor, where you can see old tea processing equipment on display, including threshing machines, winnowing machines, drying tables, and antique containers or Taiwan Tea Corporation's Formosa Oolong Tea (pictures below).
The building also contains a restaurant and traditional tearooms, but they seemed to be reserved for big groups and closed to the general public.
Closer to Puli and further away from Sun Moon Lake than Antique Assam Tea Farm‭,‬‭ ‬Black Tea Workhouse‭ ‬‭(‬日月潭紅茶工房民宿‭)‬‭ ‬is a tea-themed‭ ‬B&B‭ ‬in a European-style home‭.‬‭ ‬The family owns tea trees that are 60‭ ‬years old‭, ‬and they serve tea‭, ‬tea cookies‭, ‬tea ice cream‭, ‬and so on‭. ‬
One more cool touch‭: ‬the beds have tealeaf stuffed pillows‭, ‬something that was common in‭ ‬old times in‭ ‬Taiwan‭ (‬my wife says she‭ ‬used pillows like this when she was a kid‭). ‬‭ ‬‭ ‬
Between Black Tea Workhouse and Antique Assam Tea Farm‭, ‬Liao Mayor Black‭ ‬Tea Storyland‭ (‬廖鄉長紅茶故事館‭)‬‭ ‬is a traditional tea factory combined with tea retail center in a European style home‭ (‬what's with the European theme here‭, ‬Taiwan‭?)‬‭ ‬built by former Yuchi township mayor‭ ‬Liao Xue-hui‭ (‬廖學輝‭)‬‭, ‬whose family worked in the black tea industry‭.‬
The facility showcases local teas‭, ‬with the chance to‭ ‬do free tastings to‭ ‬compare many of them‭ (‬unlike at Antique Assam‭), ‬and also has a small museum and old equipment on display‭. ‬
See my guides to other top attractions in Taiwan, including Taroko Gorge, Alishan, and Rainbow Village.
Not tea related‭, ‬but‭ ‬Jinlongshan‭ (‬金龍山‭)‬‭ ‬is a famous sunrise‭ ‬and sunset lookout point up county road 131‭ ‬from the main Puli‭ ‬to Sun Moon Lake highway‭,‬‭ ‬near‭ ‬Liao Mayor‭ ‬Black Tea Storyland‭. See here for a detailed description of county road 131, which connects Puli to Shuili and is ideal for those looking for a scenic drive and wishing to bypass Sun Moon Lake. ‬
Jinlongshan offers panoramic‭ ‬views with a decent chance of seeing the‭ ‬'sea of clouds'‭ ‬phenomenon that is more famously associated with Alishan‭ (click the link above to see photos from a Mandarin language blog). ‬
Following small roads‭ ‬north of the lookout point‭, ‬there is a tea farm called Tiansheng Tourist Farm‭ (‬天聖觀光紅茶園‭), ‬with scenic rows of tea bushes and a terrace where you can enjoy tea with a view‭. ‬
Back to the main Puli to Sun Moon Lake highway, and much closer to Sun Moon Lake‭, ‬Sun Moon Lake Dongfeng Black Tea Factory‭ (‬日月潭東峰紅茶廠‭) ‬offers‭ ‬DIY tea‭ ‬preparation‭, ‬tasting‭, ‬and kung fu tea classes‭ (‬in Mandarin only‭, ‬I would assume‭)‬‭ ‬for NT350-500‭, ‬and of course sells teas‭ (‬on the pricier side‭), ‬tea cookies‭, ‬and so on‭. ‬
Maolan‭, ‬a mountain on the north shore of Alishan‭,‬‭ ‬has more scenic tea farms‭, ‬some of which include lake views‭. ‬They are included in this article on the most beautiful tea farms in Taiwan‭.‬
There are cycling and‭ ‬hiking trails‭ ‬on Maolan‭,‬‭ ‬and it‭ ‬is the‭ ‬location of the‭ ‬Yuchi/Sun Moon Lake branch of the‭ ‬Tea Research and Extension Station‭ (‬though visitors are not permitted‭)‬‭. ‬
Lugu, the tea growing region of Dong Ding oolong, is about an hour's drive from Sun Moon Lake. See more information in article on the Xitou Monster Village, in the "other things to do in the area" section.
Where to Buy Sun Moon Lake Tea
You can order‭ ‬Ruby Red and other Taiwan black teas online from Eco-Cha‭. ‬Use this link‭, ‬or the code NKTEA‭ ‬at checkout‭, ‬for a 10%‭ ‬discount‭.
If you are going to Sun Moon Lake‭, ‬I would suggest that‭ ‬you‭ ‬visit the Antique Assam Tea Factory or‭ ‬Liao Mayor Black Tea Storyland to purchase guaranteed high quality teas‭, ‬including Ruby Red 18‭. ‬
If you are driving from Taipei or Taichung to Sun Moon Lake‭, ‬you will pass by these places on the highway between Puli and Sun Moon Lake‭, ‬so they make for a quick and easy stop‭. You could even visit as a day trip from Taichung. ‬
If you are taking the shuttle bus from Taichung to Sun Moon‭ ‬Lake‭, ‬you‭ ‬can also stop at the Antique Assam Tea Factory‭, ‬and the Sun Moon Lake Pass bus tickets allows you to make this stop and get on the next bus‭. ‬
In Shuishe and Ita Thao‭, ‬the main tourist villages on Sun Moon Lake‭, ‬there are countless shops selling Sun Moon Lake tea‭. ‬The quality in these tourist center shops is a gamble‭, ‬and tea connoisseurs would probably tell you to avoid them like the plague‭. ‬
However‭, ‬most shops will happily let you taste before you buy‭, ‬and if you like what you taste‭, ‬then why not‭? ‬Unless you drink a lot of tea and really know your stuff‭, ‬you may not even be able to tell the difference between‭ ‬a good and great Sun Moon Lake tea‭, ‬or one that was actually produced at Sun Moon Lake vs‭. ‬elsewhere‭.
In Taipei, historic Dadaocheng neighborhood is the best place to find quality Taiwanese teas. See more information in my complete guide to Dadaocheng and Dihua street and my introduction to Taiwanese teas.
Short on time but want to visit Sun Moon Lake? See my article on the best Sun Moon Lake tours.
Other Sun Moon Lake Black Tea Treats
While staying at Ita Shao‭, ‬my favorite place to stay on Sun Moon Lake‭, ‬we found many interesting Sun Moon black tea-related‭ ‬Taiwanese food‭ ‬and drink‭ ‬products‭. ‬
The first one‭ ‬I tried‭, ‬which I purchased from a small music bar and guesthouse‭ ‬near our hotel and‭ ‬just off the main‭ ‬street/night market called‭ ‬米蘭鋼琴音樂餐廳民宿‭, ‬was an Assam tea beer by Pro Beer‭, ‬a Puli-based craft brewery‭. ‬Unlike some tea beers‭, ‬which can overdo the tea flavor and sweetness‭, ‬this one was subtle and really nice‭. ‬The bar also offered NT500‭ ‬all-you-can-drink draft beer‭, ‬which was seriously tempting‭. ‬
In the Ita Thao night market‭, ‬we also tried black tea ice soft serve ice cream‭ (‬even though my kids wanted strawberry…‭) ‬Another interesting thing I had never seen before was‭ ‬stinky tofu marinated in tealeaves (picture below)‭. ‬
Finally‭, ‬Sun Moon Lake is famous for its tea eggs‭, ‬which are boiled with spices‭, ‬giant mushrooms‭, ‬and local Assam tea leaves‭. ‬
For anyone who has read this far, I hope you've found the information you needed here about Sun Moon Lake's incredible teas. Whether you are based on Taiwan or planning to visit someday, I hope you make it out to Sun Moon Lake and sample some great teas & other tea-based treats!