Dear reader: This article contains links to products and services that I may be compensated for, at no extra cost to you.
Taichung is located on the central west coast and is Taiwan's second largest city. Most travelers used to give it a miss, but nowadays it is an increasingly popular stop on people's Taiwan travel itinerary.
While I was compiling my list of top things to do in Taichung, my article quickly became WAY too long. That's why I decided to write this separate post on the best day trips from Taichung. Below I'll focus on Taichung day trips that are within a couple hours of the city center. You can also find out how to put all these sights together in my suggested Taichung itinerary for 1-3 days.
Keep in mind that "Taichung City" includes what used to be called Taichung County, ever since the two were amalgamated in 2010. Therefore, some of Taichung City's sites are actually located in the high mountains several hours from the city center. "Taichung City" is bordered by Miaoli county to the north, Yilan County to the northeast, Hualien County to the east, and Nantou & Changhua counties to the south.
Some of Taichung's most famous attractions, like Wuling Farm, Snow Mountain, and even part of Taroko Gorge National Park, are actually many hours away from the city center and better reached from the east coast of Taiwan, so I didn't include them below.
You'd have to be a little crazy to do this, but you can even visit Alishan, Taiwan's most famous mountain resort, as a day trip from Taichung on this day tour (minimum 2 people), or Cingjing Farm and Hehuan Mountain on this day tour.
Travel in Comfort: You can hire a private car and driver to take you to any of the day tours in this article. You can create your own itinerary and visit more than one of the below sites in a single day, without worrying about the transportation details. Alternatively, you can hire your own economical car (or premium car).

Find more great deals and discounts for Taichung activities on Klook. We use this all the time when traveling around Taiwan!
1. Sun Moon Lake
I start this list with Sun Moon Lake (日月潭) because it is the most popular day trip from Taichung. Sun Moon Lake is actually located in Taiwan's Central Mountain Range in Nantou Country. You can read my guide to Sun Moon Lake here.
Sun Moon Lake is one of Taiwan's most beautiful scenic attractions and popular tourist destinations, and I would strongly recommend that you at least spend the night at Sun Moon Lake so you can experience its beautiful sunsets, night market, and calm morning scenery.
Having said that, many visitors squeeze in a day trip to Sun Moon Lake from Taichung, and it is certainly doable. The most efficient way to do this is by joining a day tour. I personally think this is the best Sun Moon Lake day tour from Taichung. In this article, I analyze and compare the best Sun Moon Lake tours, and I feel the above one is the best one out there.
With only one day to enjoy Sun Moon Lake, you'll want to stick to the major sights. If you come on your own, you'll likely arrive at Shuishe, the main tourist village on the lake. From there, you can hop on a bike, take the round-lake bus, or ferry to a few of the lake's major sights, like Wenwu Temple, Sun Moon Lake Ropeway, Ita Thao Village, or Xuanguang Temple.
Some people come to Sun Moon Lake just to ride the cable car to Formosan Aboriginal Culture Village, an aboriginal culture center and amusement park that also has cherry blossoms in spring. If this is you, then I'd recommend this Formosan Aboriginal Culture Village tour from Taichung.
Insider's Tip: For a more authentic aboriginal experience in Taiwan, see my article on the Tao tribe of Orchid Island.
Even if you are coming to Sun Moon Lake on your own and/or don't want to join a tour, you should consider one of the Sun Moon Lake passes, which can save you money.
Getting to Sun Moon Lake: If going on your own, take the Tourist Shuttle Bus A from Gancheng Station, Taichung Station, Daqing Station, Taichung Airport, or Taichung HSR Station (around NT190). The ride takes 90 minutes. You can also get a ride in a private vehicle from Taichung to Sun Moon Lake.
2. Xitou Monster Village
Like Sun Moon Lake, Xitou Monster Village (溪頭妖怪村) is located in Nantou county, but is still doable as a day trip from Taichung. Xitou Monster Village is one of the most unusual themed parks in Taiwan and has an interesting story behind it.
In short, the village was built to commemorate the friendship between a Japanese and Taiwanese man dating back to the Japanese colonial era. Today it is a theme-village centered on Tengu, a kind of Japanese folk deity. To read the full story and get more information, see my guide to Xitou Monster Village.
Besides seeing all the monsters, you can buy monster-themed treats and drinks, and even eat stinging nettle bread, which is prepared daily in the village's famous bakery. If you want to spend the night, you cause stay in the monster-themed Monster Village Hotel (see on Agoda / Booking / TripAdvisor ).
The easiest way to visit Xitou Monster Village is by joining a day tour from Taichung. This Xitou Monster Village tour includes some remote natural attractions, while this tour includes a stop at a mochi museum, bamboo forest, and Wuchang Temple, which was destroyed in the 921 earthquake.
Getting to Xitou Monster Village: Nantou bus #6883 from Taichung to Xitou takes 1.5 hours, and departs from numerous points in Taichung.
Hey day-trippers, also check out these 40 Awesome Taipei Day Trips!
3. Gaomei Wetlands
Gaomei Wetlands (高美野生動物保護區) are located west of the Taichung International Airport on the west coast of Taiwan, near the mouth of the Dajia River. Gaomei Wetlands is another one of the top day trips from Taichung, and is included on this popular day tour that also takes in Rainbow Village, one of the most popular attractions in Taichung's city center.
You can read all about my family's visit to Gaomei Wetland here, including other things to do in the area.
The 1500-acre wetlands are home to a large variety of plants and wildlife, and are ideal for bird watching, especially in fall and winter when many migrating species migrate here.
A quintessential sight at Gaomei wetlands are the numerous wind turbines found on the coast there. The area also features a 34-meter lighthouse open to visitors, and an 800-meter boardwalk on the sea from which visitors can appreciate the views and wildlife. You can also take off your shoes and walk right on the silt at low tide. The area is also known for its gorgeous sunsets, and there are usually Taiwanese street food stalls set up on the coast.
It would also make sense to visit Fengchia Night Market, the largest and most famous of Taichung's night markets, on the way back into the city center.
Getting to Gaomei Wetlands: The regular train from Taichung station to Qingshui station takes about 40 minutes, and only departs once every few hours. From Qingshui Station, take bus 178 or 179 (about 40 minutes).
You can also take bus #655 from the High Speed Rail Station or Rainbow Village, or take a taxi from Qingshui Station (NT$250) or from the Taichung High Speed Rail Station (NT$800).
Book your High Speed Rail tickets to Taichung online to get a discount.
4. Dajia Zhenlan Temple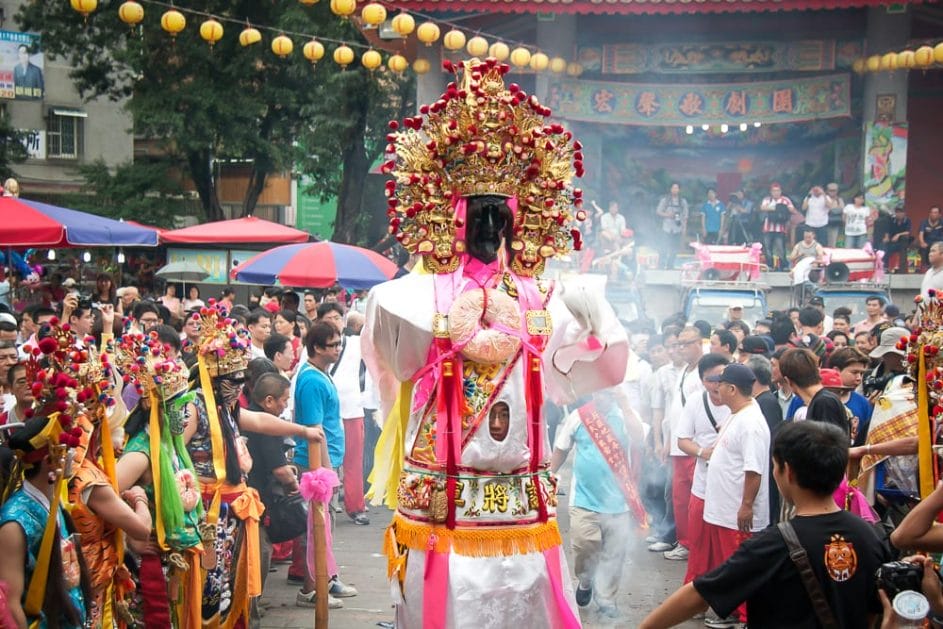 In the northwestern corner of Taichung on a piece of land between Dajia river and Da'An River, Zhenlan Temple (also spelled Jenn Lann Temple or 大甲鎮瀾宮) is one of the most famous temples in Taiwan. It is here that the annual Matsu Pilgrimage, one of the world's greatest pilgrimages and Taiwan's most important religious festivals, starts and ends.
The Matsu Pilgrimage celebrates the birthday of Matsu, the goddess of fisherman and the sea, on the 23rd day of the third month on the lunar calendar, which usually happens in March in Taiwan or April in Taiwan. Many people consider her the patron goddess of Taiwan, and her birthday party is among the world's rowdiest. After a wild opening ceremony at Dajia Temple, the pilgrimage covers over 60 temples in four counties, traveling over 400 kilometers before return to Daijia Temple for the ending ceremony.
Even if you're not in town during the pilgrimage, you may want to visit Dajia to check out the impressive temple dedicated to Matsu, which dates to 1770.
Getting to Dajia Zhenlan Temple: Take the regular train from Taichung station to Dajia station (NT$31, about 1 hour). The temple is walking distance from the Dajia train station.
Temple lovers should also check out my guide to the best temples in Taipei and Northern Taiwan.
5. Lihpao Discovery Land
In the north of Taichung, Lihapao Discovery Land is a massive new addition to a rest stop on National Freeway #1 from Taipei to Kaohsiung. Much more than just a rest stop, though, Lihpao Discovery Land claims to be the largest amusement park in Taiwan.
The first thing you'll notice before you arrive is the 120-meter Sky Dream Ferris Wheel (get a discounted ticket online here), the tallest in Taiwan. The Ferris Wheel is attached to three-floor Garden Mall, which features hundreds of brand-name shops. The view from the outdoor patio on the second floor food court, from where you can practically reach out and touch the Ferris wheel, is nothing short of breathtaking. The whole mall is pastel colored and modeled on Portofino, Italy. There are even five olive trees imported from Italy, one of which is 500 years old.
Next to the mall sits Discovery Land, a large outdoor amusement park. Among the many thrilling rides on offer, Paradise: Gravity Max, a "broken rail tilt" roller coaster, is the only one of its kind in the world. There's also Lihpao Racing Park, an international-standard-sized Formula 3 motor raceway located near the amusement park.
If you want to spend the night, the five-star Fullon Hotel Lihpao Land (see on Agoda / Booking / TripAdvisor ) is on site. Lihpao Land also regularly hosts events such as the Taichung fireworks display on New Year's Eve.
Here's an article I wrote for Travel in Taiwan Magazine about Lihpao Discovery Land.
Getting to Lihpao Discovery Land: If you aren't passing by on the highway, you can also take the free shuttle bus from platform #10 at Taichung High Speed Rail Station (departures at 9:50, 11:50 and 1:50, about 25 minutes). You can also take bus #155, but it takes an hour.
From Taichung city center, you can take the train to Fengyuan (20 minutes), then transfer to bus #215. See all the transportation details at the bottom of this page.
6. Dongfeng and Houli Bikeways
Did you know that the bicycle manufacturer, Giant, originated in Taichung? It only makes sense, then, that Taichung is home to one of Taiwan's most famous cycling tracks, the interconnected Dongfeng and Houfeng bikeways, which collectively are called Houfeng Bikeway and cover four districts in northern Taichung.
The 13-km Dongfeng bikeway, officially the "Dongfeng Bicycle Green Corridor" covers an old railway line through Hakka territory (read more about Hakka culture in my introduction to Miaoli County). The trail is incredibly well paved and easy to ride, and features numerous cafés, ice cream shops, and restaurants. Much of it is covered in a canopy of vegetation, hence the name. The tail is also lit up at night.
The trail also takes you past several old train stations, as well as Shigang Dam, which was heavily damaged by the 921 Earthquake, and today features a small memorial park to recall the disastrous event. Park your bike and walk across the dam to see the damage and park.
The 4.5-km Houfeng bikeway, which also follows a decommissioned railway line, leads to 1273-meter No. 9 Tunnel, which you can cycle though to reach Houli Horse Ranch, which along with Zhongshe Flower Market further north, was one of the main venues of the hugely popular 2018-2019 Taichung World Flora Expo. There are still many flowers and other plants on display, with different blooming times throughout the year.
One decent budget hostel/guesthouse choice in the Houli area is South Village (see on TripAdvisor / Booking).
You can ride on the Houfeng Bike way on this day tour from Taichung, and you can visit Zhongshe Flower Market on this this one.
Getting to Dongfeng and Houfeng Bikeways: Take the train to Fengyuan station (20 minutes), then bus 90, 91, 206, 207, or 208 to Shigang Dam bus stop. There are several bike rental stations nearby.
You can also take a taxi (NT$300). Shigang dam is on kilometer 4 of the Dongfeng Bikeway, so when you reach the trail from here, you can either go right to complete the Dongfeng trail, or go left to reach the start of Dongfeng trail or to connect to Houfeng trail.
7. Zhuolan Gorge and Dongshi Forest Garden
If you are interested in bizarre landscapes, you may want to make the journey to check out Zhuolan Gorge (卓蘭大峽谷) on the Da'An river, which separates Taichung and Miaoli counties. While I don't consider this is an absolute "must" Taichung day trip, we stopped here once on a drive from Taipei to Taichung, and it was a cool spot to take a quick stroll.
A short path from the parking area brings you to a valley with visible layers of sandstone that were exposed by the 921 earthquake. It is sometimes called the "Grand Canyon of Taiwan," but given that it is only 300 meters long and 10 meters deep, Taroko Gorge has a much better claim to that title.
Nearby, Dongshi Forest Garden (東勢林場遊樂區) features cooler air, lush forest scenery, outdoor trampolines and climbing towers for kids, cherry blossoms, hiking trails, and firefly viewing in springs. The entrance fee is NT$200 per person.
Getting to Zhuolan Gorge and Dongshi Forest Garden: You'll need your own wheels to reach Zhuolan Gorge, but Dongshi Forest Garden can be reach by Fengyaun bus #209 from Fengyuan train station (only three departures per day).
8. Da Keng Scenic Area
Northeast of the Taichung city center in Beitun District, Da Keng Scenic Area (大坑風景區) offers hiking opportunities in lush mountains just beyond the city limits. The trails closer to the city (numbered 6-10) are easier and more accessible by public transportation, while the trails further east (numbered 1-5) are steeper and more difficult to reach.
These scenic trails can be quite busy on weekends, especially the easier ones, but weekdays are pleasantly crowd-free.
Getting to Dakeng Scenic Area: Buses 1, 15, 16, 20, 21, 31, 51, 66, 68, 85, 270, 271, and 276 provide access to the easier trails of Dakeng Scenic area. Get off at Taipower Dongshan Service Center (台電東山所).
9. Flowers & Mushrooms in Xinshe
Xinshe, a small district directly east of the Taichung city center, is home to a few unique sights that may pique your interest. All of the below sights can be visited on this Xinshe day tour from Taichung, which is very handy since none of them are easily accessible by public transportation. Xinshe is also famous for the Xinshe Flower Festival, usually held in November and December in Taiwan.
The first is a collection of mushroom farms that have become a bit of a tourist attraction. Several of them include mushroom themed-restaurants and shops where you can buy all kinds of mushroom items (I fell in love with the spicy mushroom sauce I bought there, and have since ordered multiple jars from them to my house in Taipei). Look up Master of Mushroom (菇神), Shenghe Muhroom Farm (昇和香菇農園), or GuGu House (菇菇部屋).
Among the mushroom farms, you can also stop in at Xinshe Castle, a medieval European-style castle. It's a fun place to wander around and take pictures, and 100NT from the NT250 entrance can be used towards a meal or snack.
Further south in the district, Lavender Cottage (薰衣草森林台中新社店) is a laid-back mountain farm where you can enjoy a coffee on an outdoor patio overlooking hills covered in lavender. The lavender blooms from November to April, and in summer, salvia also blooms here. Entrance is TWD200.
Getting to Xinshe: You'll need your own transportation to reach these sights, although you could get to the mushroom farms and Xinshen Castle by taking bus 91 from Fengyuan station to Zhongxingling (中興嶺) stop and then taking a taxi from there (NT 200). The easiest way to visit all three ways without a vehicle is by taking the tour mentioned above.
10. Daxueshan National Forest Recreation Area
A world away from the Taichung city center (and a 2-3-hour drive up a beautiful winding road to reach it), lies Daxueshan Forest Recreation Area (大雪山國家森林遊樂區).
This is one of the lesser-known and visited of Taiwan's national forest recreation areas. There are few big hotels and no tourist buses allowed. It is a pristine environment with some old growth forests remaining. The park is open 6:30 AM to 5 PM and costs NT$200 per person to enter.
There are various points on the drive up where you can stop to enjoy the views or hike.
Getting to Daxueshan National Forest Recreation Area: There are only two bus departures per day on weekends only, Fengyuan bus #252 departing from Dongshi at 9:00 and 9:30 AM. It is much more convenient to drive.
11. Baxianshan National Forest Recreation Area and Gu Guan Hot springs
Another national forest recreation area worth visiting in Taichung is Baxianshan National Forest Recreation Area (八仙山國家森林遊樂區), also spelled Basianshan. It is located at the Taichung end of the Central Cross Island Highway (provincial highway 8), about a 1.5 hours drive from the Taichung city center.
Great hikes through pristine forest and bamboo forests can be enjoyed near the visitor's center, while the much more difficult hike to Baxianshan Peak takes eight hours return, and offers views of Taiwan's tallest mountains. If you want to spend the night, Immortal Hills (read reviews and see prices) has beautiful wooden chalets just just past the recreation area.
A little further up the highway, the road reaches Guguan Hot Springs (谷關風景特定區), one of the most popular hot spring areas in Taiwan. The area is surrounded by verdant hills with hikes and cherry blossom viewing. Some decent hot spring hotel choices include Bali Nature Spa Hot Spring Hotel and Mingao Hot Spring Resort (read reviews / see prices).
You can visit Guguan on this day tour from Taichung, which also includes tasting Hakka food and visiting a local winery.
Getting to Baxianshan: Again, driving is best, but you can also take bus Fengyuan #153 from the Taichung High Speed Rail (platform #21) to Baxianshan. The bus terminates at Guguan Hot Springs.
Well, that brings us to the end! For even more ideas for day trips from Taichung in neighborhing counties, see my articles covering Lion's Head Mountain, Tai'An Hot Spring, Lukang Old Street, and strawberry picking in Dahu!