Dear reader: This article contains links to products and services that I may be compensated for, at no extra cost to you.
Taiwan's bustling, vivacious, food-loving capital has something for everyone. Whether you will travel to Taipei to indulge in the city's complex history, creative arts, traditional temples, unrivaled nature, or perhaps you just eat your heart out at world-renowned night markets, this city's got you covered.
After living in Taipei for over a decade, there's no way I could make this a short article. Choosing only 10 or 15 things to do in Taipei simply would not do this enchanting, multi-faceted metropolis justice. So just a heads up, this article is going to cover a lot!
Also, I've mainly stuck to what to do in Taipei within the city limits; for attractions in New Taipei City (the city that surrounds Taipei) and beyond, see my guide to the best day trips from Taipei. And if you prefer to avoid the typical tourist spots, here's my off-the-beaten-track guide to Taipei! Now, let's dive in!
Taipei Travel Essentials
Join my free Taiwan Travel Planning Group where I will personally answer any question you have!
Where to Stay in Taipei
Choosing where to stay in such a large city like Taipei can be a daunting task. That's why I've written this separate guide to where to stay in Taipei, in which I break it down into the top neighborhoods to consider and best accommodations for every budget within those neighborhoods.
I've also got guides to the best hostels in Taipei and best luxury hotels in Taiwan.
Also see here for the best hotel deals on Booking, Agoda, and Klook. Booking is my personal favorite, but Agoda does tend to have slightly better prices in Taiwan. Klook is a very popular site for all kinds of activities and recently added hotels to their inventory.
Top 50 Taipei Attractions
Now let's get to it! These 50 things to do in Taipei start with some of the biggest sights and attractions, but otherwise are in no particular order.
To figure out how to put it all together, here are my 1 day, 2 day, 3 day, 4 day, or 5 day Taipei itinerary recommendations. See here for visiting Taipei with kids, and my favorite things to do in Taiwan.
Survey the City from Taipei 101
Once the world's tallest building (2004-2010), Taipei 101 is the most iconic of Taiwan's landmarks. It is shaped like a stalk of bamboo and is the world's tallest green building. Learn even more cool features about the skyscraper in my Taipei 101 guide!
The best way to experience Taipei 101 is to ride the world's fastest elevator up to the observation deck on the 89th to 91st floors. The 360-degree view is incredible, not to mention the enormous earthquake damper ball. I also love the Taiwanese souvenirs shop there. Save money when you order your entrance tickets online. Opt for the express pass to skip the long lines.
For a more thrilling experience, you can try the even higher Skyline 460 Obervation Deck, which is on the actual roof of Taipei 101 (460 meters). The ticket includes entrance to the regular observation area and a drink. It's cheaper on Klook than if you buy it there. There's only 1 time slot (3 PM).
Don't miss one of the events of the year in Taipei, the Taipei 101 fireworks display on New Year's Eve. See more info in my guide to December in Taipei.
Insider Tip: To view Taipei 101 from an unusual (and Instagram famous) angle, make your way to Takemura Izakaya (竹村居酒屋), a 10-minute walk from Elephant Mountain MRT station, from where you can see Taipei 101 straight on through a narrow alley. Here are my other recommended places to view Taipei 101.
Jump into Asia's Best Night Markets & Vibrant Restaurant Scene
Taipei's street food is world renowned, and you simply cannot visit Taipei without spending an evening strolling one or more of the city's famed night markets.
An interesting fact about Taiwan: by tourist numbers, Taipei night markets are the country's #1 tourist attraction, and several night market vendors are even recognized on the Michelin Bib Gourmand list!
The "big five" Taipei night markets are Shilin, Raohe, Tonghua, Ningxia, and Huaxi. Learn about each one in my Taipei night market guide, and decide what to eat in my introduction to the 101 best street foods in Taipei. The night market in Keelung, an easy day trip from Taipei, is also one of the best in Taiwan (and a personal favorite of mine). If you're vegetarian or vegan, see my vegetarian night market guide.
As for restaurants, the city is overflowing with them. There are so many good ones that it can be tough to know where to begin. I've got the perfect guide to help you out: here are 80+ of the best Taipei restaurants, my favorite vegetarian ones, and a list of 24-hour restaurants in Taipei. And please remember there's no need for tipping in Taipei at restaurants!
There are also some famous Old Streets in the greater Taipei area. These are like night markets, but operate in the daytime on historical blocks with beautifully restored buildings. Some of the best around Taipei are Sanxia Old Street, Shenkeng Stinky Tofu Old Street, and Tamsui Old Street.
For night market lovers, also see my guides to Feng Chia Night Market and other night markets in Taichung, night markets in Tainan, and night markets in Kaohsiung!
Photograph CKS Memorial Hall
Probably the second most recognizable building in Taipei is the Chiang Kai-Shek Memorial Hall (捷運中正紀念堂). The imposing blue and white structure was built in 1980 to honor the former dictator and contains a small museum about CKS.
CKS Memorial Hall sits in 240,000m2 Liberty Square, which also houses the classical-Chinese style National Theater and National Concert Hall. For the best view, head to Liberty Square Arch on the Western side of the square. The Taipei double decker bus stops here.
Immerse Yourself in Chinese History & Culture at National Palace Museum
Often described as the most important museum in the Chinese-speaking world, the National Palace Museum (國立故宮博物院) houses nearly 700,000 artifacts (about 3000 can be displayed at any given time) spanning 8000 years of Chinese history.
The museum's origins are tied to the Palace Museum in the Forbidden City of Beijing, from where many of the artifacts were carried across China and to Taiwan in the final years of the Chinese Civil War.
Some of the most famous pieces include a piece of jade shaped like cabbage and a meat-shaped stone. We always find the Chinese scrolls particularly impressive. There are also a small kids' area, gift shop with traditional souvenirs from Taiwan, and regular rotating exhibits.
Save time at the entrance gates by booking your ticket in advance online. Entrance to the National Palace Museum is also covered by the Taipei Unlimited Fun Pass.
Also check out the Shung Ye Aboriginal Museum next door. If you plan to visit both, you can save money by booking this combined ticket online.
If you want to truly experience aboriginal culture in Taiwan, try Hualien County on the east coast of Taiwan around Taroko Gorge, Dulan in Taitung, Ita Thao village on Sun Moon Lake, or remote Orchid Island.
Access: Access: Take bus R30 from Shilin MRT station. Open 8:30-6:30 (to 9:00 on Fridays and Saturdays), admission NT350, National Palace and Shung Ye Museum combined ticket NT400.
Soak in Thermal Waters at Beitou Hot Spring
The Japanese-developed hot spring village around Xinbeitou MRT in Beitou district, usually called Beitou Hot Spring (北投溫泉) is Taipei City's only hot spring resort and one of the best hot springs in Taiwan.
You could easily spend a whole day exploring the historic sights of Beitou; find out what to do there and which hot springs spas are the best for each budget in my detailed guide to Beitou Hot Spring. These hot springs are the perfect remedy to cold days in winter in Taipei, but the area is worth a visit anytime of year.
Besides Beitou public hot spring, most hot spring spas in Beitou are sex segregated and no bathing suits allowed. If you're visiting with kids, the only kid-friendly hot spring in Beitou is Spring City Resort. You get a significant discount if you buy your ticket in advance on Klook. For the kids, just buy your ticket there to get the child price. Note that it's a bit of a walk from the MRT to this spa, but they do have a free shuttle.
Beitou is included on this Beitou and Yangmingshan tour.
If you love hot springs, also consider visiting Wulai Hot Spring, Jiaoxi Hot Spring, Taian Hot Spring and Guanziling Mud Hot Spring in other parts of Taiwan.
Access: Take the red MRT line to Beitou station and transfer on the two stop pink line to Xinbeitou station.
Take a cooking class in Taipei
I can practicaly guarantee that you are going to become obsessed with Taiwanese food during your visit, so why not take a cooking class and learn how to make some of those delicious treats after you leave? But a word of warning: there are so many good ones to choose from that you may struggle to pick one. These include curses on traditional homecooked foods, street foods, aboriginal foods, and more.
If you prefer to just eat the real soup dumplings, head to Din Tai Fung, the most famous restaurant in Taipei. You can preorder your meal online to save time.
Search here for the best cooking classes in Taipei or try this DIY pineapple cake making class.
Observe the Changing of the Guards at Sun Yat-sen Memorial Hall
Built in 1972, SYS Memorial Hall predates CKS Memorial Hall and commemorates the founding father of the Republic of China. Between the two, CKS is more visually striking so it should be higher on your list, but SYS is still worth a stop if you have time, especially for the hourly changing of the guards in the main entrance hall.
Like CKS Memorial Hall, the large square around it is a popular place for a stroll or for teens to practice their dance moves.
Access: Sun Yat-sen Memorial Hall MRT station
See Temples, Temples, and More Temples
Taiwanese temples are beautifully ornate, colorful, and incense-filled places of active worship. Most of them combine influences from Buddhism, Taoism, Confucianism, and folk religion, and visitors are always welcome to enter. See my detailed guide to the best Taiwanese temples in Taipei for my 30 favorite ones!
The city's most important temples are found in Old Taipei, or Wanhua district, also known as Bangka in Taiwanese or Monga. Longshan Temple is the most famous and always at the top of every traveler's list. Find out how to pray for love and other tips for visiting Longshan Temple here. Qingshui Temple, Qingshan Temple, and Tianhou Temple are all worth checking out in the area, too.
Outside of Wanhua, other top temples to visit include the Taipei Confucius Temple, Bao An Temple, Songshan Ciyou temple beside Raohe Night Market, incense-free Xingtian Temple, and Guandu Temple, which features a tunnel through a hill, further north toward Danshui (#41).
Also see my guide to the best temples in Tainan, the spiritual heart of Taiwan.
Pet fuzzy felines in a cat cafe
Did you know that cat cafes were invented in Taipei, Taiwan? Yes, the world's first cat cafe opened in Taipei in 1998. The trend spread to Japan about six years later, and from there, around the world. In fact, that first cat cafe is still open!
Most of these cafes either charge a small entrance fee or have a minimum order of one drink or snack. Then, you can snuggle with the cats as much as you want! Some only have one or two cats, while some have over 20.
In my detailed guide to the best cat cafes in Taipei, I introduce our personal favorite cat cafes in Taipei, all of which we personally visited. Note that some allow kids but some don't – I've included this information for each entry.
Have a Picnic at Huashan 1914 Creative Arts Park
Built in (you guessed it) 1914 as a Japanese sake brewery and later camphor refinement mill, the facility was closed in 1987. 10 years later it was transformed into an arts and culture center called Huashan 1914 Creative Arts Park (華山1914文化創意產業園區; most locals simply call it Huashan), one of the first in a trend of re-purposing old buildings for such uses that has caught on across Taiwan.
The old factory walls and smokestacks of Huashan make cool backgrounds for photos, while the huge lawn out back is a favorite spot for Taipei residents to have a picnic. There's always some kind of art exhibit or event going on here, especially on weekends, as well as a few restaurants and cafés.
There's another former Japanese sake distillery converted into arts village in Taiwan; see my Taichung itinerary article to find out more!
Access: 5-minute walk from Zhongxiao Xinsheng MRT.
Hop of the Glass-Floor Gondola to Maokong
Head to the end of the Taipei Zoo MRT line to go for a ride on the Maokong Gondola. The 4-kilomter trip into the hills in the southeast of Taipei takes approximately 30 minutes. To made the best of the highly scenic ride, make sure to get in the correct line for the glass bottomed "Crystal Cabins"!
The gondola includes four stations: the boarding station near the MRT, a stop that connects to the Taipei Zoo, Zhinan Temple (which is worth it to see the large temple with an incredible view over the city), and Maokong.
The ride will take you over fields of Baozhong oolong tea (learn more in my guide to tea in Taiwan), and at the top there are several traditional tea houses with views and hiking trails such as the one to Silver Stream Cave and Waterfall.
If you are specifically interested in tea, then I recommend this tea tour from Taipei.
A return ride on the gondola is also free for Taipei Unlimited Fun Pass holders. There's also a Maokong Gondola and Taipei Zoo Combined Ticket.
Price: NT120 (one-way trip to the top), save 20NT by swiping with an EasyCard, NT60 (kids 6-12), free (under 6). The gondola runs 8:30 am to 9 pm (sometimes closed due to typhoons, heavy rain, or repairs. Announcements are made on the MRT.)
Take in epic Taipei views from Elephant Mountain
The Four Beasts (Elephant, Tiger, Leopard, and Lion) are four connected mountains on the eastern side of Taipei City. They offer picture-postcard views of Taipei, with towering Taipei 101 so close you can practically reach out and touch it.
Elephant mountain (Xiangshan or 象山) is by far the most popular and easiest to access. You only have to hike up for a few minutes to start enjoying fine views, and it takes about 30 minutes to reach the famous viewing spot with a large rock you can climb onto and pose on for photos. See here for a detailed guide to climbing Elephant Mountain!
But you have been warned: this spot is extremely crowded, and you may have to wait in a line to pose. And don't even imagine trying to get a spot up there for the fireworks shot from Taipei 101 on New Year's Eve!
If you continue on to the outer three beasts, you will find the trails pleasantly non-crowded. You can get Taipei 101 views from several other hikes in Taipei. Here's my guide to Taipei's best hiking trails.
Access: It's only a 10 minute walk from Elephant Mountain MRT station to the main trail up Elephant Mountain. It's a little further, but you can also walk from Houshanpi on the blue MRT line to Tiger Mountain.
See my similar guide covering the top attractions and sights in Kaohsiung city, southern Taiwan.
Enjoy More Views from the Miramar Ferris Wheel
Another iconic Taipei landmark is the 95-meter Ferris wheel at Miramar Entertainment Park (a large department store) in Dazhi area, Zhongshan District, north of Songshan Airport and the Keelung river.
At night the Ferris Wheel is lit up and can be seen from many places in Taipei. The Ferris wheel moves slowly, allowing you enjoy uninterrupted views over Taipei.
Save money by booking your Ferris wheel ticket online. A ride on the Ferris wheel is also included on the Taipei Unlimited Fun Pass.
Access: 5-minute walk from Jiannan Rd. MRT Station. Open 12:30 to 11 pm (Mon-Thurs), to midnight (Fri), 11am to midnight (Saturday), 11am to 11pm (Sun), NT150/200 (adults, weekday/weekend), kids under 110cm free.
See cherry blossoms in winter
Taipei is one of the best places outside of Japan to see cherry blossoms. You can see cherry blossoms from late January to early March in Taipei, but the exact times for each location are different, and some of them feature multiple kinds of cherry blossoms which bloom at different times.
The two best spots to see cherry blossoms in Taipei are Yangminshan (see #27 below) and Tian Yuan Temple in Danshui (see #41).
Check out this ultimate (I don't like this word, but this article really is the ultimate) guide to cherry blossoms in Taiwan for more information about the best times for each location.
Surround yourself in a sea of calla lilies
Besides cherry blossoms, flower afficianados will find several other reasons to love Taipei. Fields of gorgeous calla lillies can be seen at Zhuzihu in Yangmingshan National Park in spring in Taiwan.
This is also the best time to see azaleas, Taipei's official flower, around Taipei, and tulips at Chiang Kai-Shek Residence. In autumn in Taipei, head to the hills around the city to see blooming silvergrass; see the best spots in my guide to visiting Taipei in November.
Access: See my article on how to get to Yangmingshan.
Peruse Jianguo Jade and Flower Markets
Every weekend, a large jade market is set up under the Jianguo Road Overpass starting at Zhongxiao East Road (see #34 below) and going south. Not only jade items but also tea ware, jewelry, and all manner of goods is sold by rows upon rows of vendors.
Continuing south, another section is devoted entirely to flowers and plants. The sheer array of flowers on display is stunning, especially the orchids.
Access: Zhongxiao Xinsheng MRT station, Zhongxiao Fuxing MRT Station, or Da An Park MRT station. Open 9 am to 5 pm, Saturday and Sunday only.
Ride a YouBike along Taipei's Riverside Parks
While at first glance the streets of Taipei may not seem so bike friendly, you will soon notice the signature orange and yellow bikes (made by local manufacturer Giant) everywhere.
There are hundreds of drop-off points for the bikes, often around MRT stations in Taipei and New Taipei City, and then rental prices are extremely reasonable.
You'll need a local phone number to register an EasyCard for renting YouBikes, so I suggest buying a local SIM card when you arrive. However, it's possible to rent without one – find out how in my YouBike riders' guide.
One of my favorite rides is to rent a bike at Yuanshan station (see #23 below), riding past the Taipei Fine Arts Museum and Lin An Tai Historical Home to reach the Dajia Riverside Park, continuing to Raohe Night Market and the Songshan Ciyou Temple. Cycling along the river around the northern stops of the Danshui MRT line is another popular option.
Check out Art Galleries and other Museums
Art lovers should start at the Taipei Fine Arts Museum near Yuanshan MRT Station and Museum of Contemporary Art near Zhongshan Station. For something a little more unusual, check out the Miniatures Museum (save money on your ticket here) near Songjiang Nanjing Station.
Once you've scratched the National Palace Museum (#4) off your list, check out the National Taiwan Museum, which focuses on earth science, plants, and animals, including the Land Bank Exhibition Hall across the street, which features dinosaurs. Other good choices for kids include the National Taiwan Science Education Center and Taipei Astronomical Museum.
My personal favorite museum in the greater Taipei area is the Museum of World Religions in New Taipei City.
Most of the above museums are included on the Taipei Unlimited Fun Pass.
Watch Lunar New Year Dragon & Lion Dancing
If you happen to be visiting Taipei during Chinese New Year, you can't miss the city's best event, the dragon and lion dance performance held in the magnificent lobby of Grant Hyatt Taipei. While you're there, consider dining at the Grand Hyatt Buffet Restaurant. We've been there with our kids and it was fantastic!
Traveling to Taipei during Lunar New Year can come with some challenges, though. Learn what will be open and closed in my guide to visiting Taipei during Chinese New Year.
Marvel at the incredible Taipei Lantern Festival
On the 15th day of the Lunar New Year, usually in February in Taipei, the Lantern Festival is celebrated across Taiwan. Every major city in the country holds its own display of lanterns. These lanterns can be huge, incredibly ornate, and outright cute. In Taipei, the latern festival location changes every year; in 2020 it was held at two locations: Ximending and Nangang.
This is not to be confused with the mass sky lantern releases which take place on the two weekends closest to the Lantern Festival in Pingxi, New Taipei City. See my info in my guide to Taiwan's many festivals.
Witness a traditional Taiwanese street parade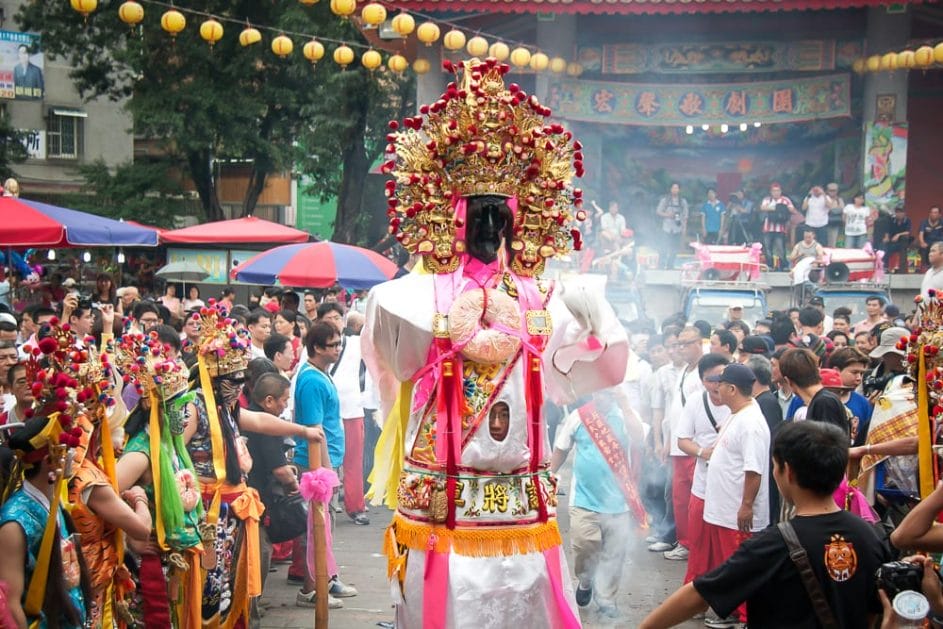 Numerous traditional street festivals and parade happen throughout the year in Taipei. Most are tied to the birthdays of gods and goddesses enshrined in the local temples. They are extremely raucous affairs, with loads of fireworks, firecrackers, and traditional drumming, and they can take place at any time of day or night according to when the fortune tellers decide the best time is. If you live in Taipei, you will even grow accustomed to hearing this pass right by your house.
Some of the most famous traditional street parades include the Xiahai City God Birthday Parade, usually in June or July in Taipei, and the Qingshan King Birthday Parade in November or December.
Although not a parade per se, you can also see a lot of praying at offering tables and burning of ghost money on the streets of Taipei during the Ghost Festival, which usually takes place in August in Taipei, sometimes going into September in Taipei.
Cheer on the Dragon Boat Racers
The Dragon Boat festival is yet another unmissable traditional Taiwanese festival, usually taking place in June in Taipei. The custom is based on the story on the poet Qu Yuan, who during the Warring States Period of ancient China committed suicide by jumping into a river. The locals raced in boats to retrieve his body, and threw rice dumplings into the river to dissuade the fish from eating him. This explains the Taiwanese custom of eating zongzi, traditional rice dumplings wrapped in banana leaves.
The boat races are held at Dajia riverside park in Taipei, and foreign teams are even allowed to register. Get ready to feel hot, as the event usually coincides with the beginning of summer in Taiwan.
Twenty-four-hour breakfast
What do people eat in your country after a night of clubbing? In Taipei, it's Taiwanese breakfast, the same stuff that people across the nation feast on every morning, and for good reason: it's incredibly delicious.
Taiwanese breakfast shop classics include dan bing (thin crepes with egg and other toppings), steamed buns, shao bing (flaky pastries wrapped around egg and other things), you tiao (sticks of deep fried batter) dipped in warm soy milk, fan tuan (sticky rice tubes), toasted sandwiches, burgers, noodles, and more.
Yong He Soy Milk King (永和豆漿大王) is a classic 24-hour institution, but in the morning you can find breakfast shops by just wandering into any residential area.
Spend a Sunny Afternoon at Yuanshan Park and Maji Sqaure
In 2010, the area around Yuanshan MRT rose to fame for hosting the International Flower Expo. Many of the flowers and areas built for the Expo remain today. With the addition of the excellent semi-covered food court, several great restaurants and bars, and a Weekend Farmer's Market, it makes for a great place to spend a sunny afternoon.
Exiting from the MRT, you can't miss the Expo Dome, where the weekend farmer's market takes place. Walking under the covered area, you'll soon reach Maji Sqaure (or Maji2), where you'll find an upscale grocery, oyster bar, bagel shop, and over a dozen food stalls specializing in local and international fare.
This is also a great place for families, as you'll find here a kids' merry-go-round, motorized cars for hire, and games (weekends only). This is also the location of Triangle (an underground music venue) and a half dozen restaurants with great covered patios.
Past Maji Sqaure, you'll see EcoArk, a building made of recycled bottles and materials, and across Zhongshan North Road you'll find Fine Arts Park, a small aboriginal museum, Taipei Fine Arts Museum, and a little further towards the river, Lin An Tai Historical Home. Looking north, you can also spot massive Grand Hotel Taipei, built in the classical Chinese style.
Shop for Electronics at Guanghua Digital Plaza
If you're wondering where to buy electronics in Taipei, head straight to massive Guanghua Digital Plaza (光華商場) on Civic Boulevard (access: Zhongxiao Xinsheng MRT). The 6-story complex and the lanes around it feature every computer or digital product you could imagine. Prices are decent but don't expect to be able to use a credit card without a surcharge or to get a receipt.
For cameras and camera gear, you're better off going to Camera Street, located south of North Gate (see #29 below) near Taipei Main Station, on section 1 of Hankou Street and Bo Ai street between Zhongxiao West Rd. and Hankou street.
Wander the Artists' Galleries of Treasure Hill Artists Village
The artists village of Treasure Hill (寶藏巖國際藝術村), located beside the Xindian River and near the National Taiwan Normal University in Zhongzheng District, began as a settlement for KMT war veterans. Later, the Taipei government preserved and developed it into an environmentally friendly urban village and artist's enclave.
The village houses local and international artists and frequently serves as a venue for special exhibits or music & art performances. Some of the original families also still live here, and introductions to the individual families (and their contributions to the village) are posted on the outer walls of their houses. For them, daily life goes on as usual, so be sure to obey the signs and not wander into their homes.
Cool art displays are set up outside and inside many of the homes, and many of the galleries are left open for visitors to enter, even when nobody is in. The village has a more authentic working artists' village feel compared to the other more institutional arts villages (see #7, #25, 26) on this list. It's a must-see place to visit in Taipei if you are interested in the underground arts.
"Take a Break" in a Love Hotel
While love hotels may have a negative reputation as venues for cheating, spending a few more dollars on a nicer one can be a fun or even romantic experience. The two choices are usually to either "take a break" (休息) for two hours or spend the night.
Some offer secret entrances with concealed elevators, while the interiors can range from cheesy romantic to full-on luxury.
If you are just looking to "take a break", you can also try one of the many hot spring hotels in Beitou (see #5). The nicer private springs usually come with a bed, essentially serving the same purpose as a love hotel.
Wego Funtel (see on Booking / Agoda / Klook / read reviews) is a popular chain of tasteful love hotels in Taiwan, with the original location near Jiannan Rd. MRT Station.
Experience a KTV or MTV bar
Karaoke, or Karaoke TV (KTV) is a super popularity activity among people of all ages in Taiwan. Typically a group of friends shares a private room, where they select songs from a digital system and sing their hearts out into microphones with a range of reverb effects. Guests can order snacks and drinks to the room, including booze. These are go-to places for people having birthday parties, a night out with colleagues, or a when there's rainy weather or a typhoon.
The most popular KTV chains are Holiday and Partyworld. These places have some but not many English songs, but if you want all-Enlish KTV with an INCREDIBLE selection of music, make a reservation at EST via their Facebook page.
More popular among young teens, Movie TV (MTV) is the same concept, except you choose a video to watch on a large screen in a private room. For many youths, this may be the only way to get a bit of private time with their partner.
U2 MTV is a popular chain of MTV bars, with a couple locations in Ximending (#37) and elsewhere in Taipei.
Watch traditional Taiwanese opera
Do you have any idea what the differences between Taiwanese and Beijing opera are? You can experience performances from both, as well as Taiwanese aboriginal ones, on the stage at TaipeiEYE, an authentic performing arts center in central Taipei. The programs change month and are always expertly executed. Don't be surprised if they invite you up on the stage!
Access: No. 113, Sec. 2, Zhongshan N. Road, near Minquan W. Road MRT station
Explore Songshan Cultural and Creative Park
Like Huashan Creative Arts Park (#7 above), Songshan Cultural and Creative Park (松山文創園區) is a large arts space that makes use of abandoned buildings from the past, in this case a former tobacco factory.
There is a large outdoor area and pond for strolling around, while Eslite Spectrum Songyan Store contains an Eslite bookstore (the most famous bookstore chain in Taipei, known for its beautiful interior design) and a branch of the award winning Taiwanese bakery Wu Pao Chun. Various buildings on the grounds also regularly host art and design-related exhibitions and events.
Access: 10-minute walk from Sun Yat-sen MRT station.
Check Out 44 South Village
Yet another collection of old buildings restored into art village, 44 South Village (or Si Si Nan Cun/四四南村) is the least known of the bunch, and hides in a residential area only a stone's throw from Taipei 101. The structures here were originally a military village built for KMT soldiers from China, and today they house a small shop, café, and bakery.
Venture into Yangmingshan National Park
Yangmingshan National Park (陽明山國家公園) is the closest national park to Taipei City; in fact, the 114-km2 area is divided between Taipei City and New Taipei City. Yangming Mountain is a massif rather than single mountain, with Seven Star Mountain (Qixingshan/七星山, 1120 meters) being it's tallest peak.Seven Star Mountain is in fact a dormant volcano that last erupted 700,000 years ago, which explains why the region is so rich in hot springs.
Because the park is so huge, there is a lot to do up there, depending on the season. Early spring brings cherry blossoms (try Yangmingshan Flower Clock), while calla lilies come later in spring.
It's always fun to hop in the the traditional hot spring bathhouse at Lengshuikeng (nude, sex segregated), while Tianlai Resort is Yangmingshan's classiest.

For more details and how to plan your trip, read about these fun things to do in Yangmingshan.
Access: Bus routes into the park are numerous and complicated. See my Yangmingshan transportation guide for all the details.

Watch a Taiwanese Baseball Game
Baseball isn't as popular in Taiwan as it once was due to several game-fixing scandals in the past. Today only four teams remain in the CPBL (Chinese Professional Baseball League): the Chinatrust Brothers from Taichung, Fubon Guardians from New Taipei City, Lamigo Monkeys from Taoyuan, and the Uni-President 7-Eleven Lions from Tainan.
Still, catching a baseball game can be a fun way to spend an afternoon. Don't expect anything too wild, but do expect to be featured on the big screen TV at some point during the game if you look non-Taiwanese.
In Taipei, you can catch games at the Tianmu Baseball Stadium. You can also get to the Xinzhuang Stadium in New Taipei City (my neighborhood!) on the MRT. Here is the schedule of games in Mandarin, and here's an English website that explains how to read the schedule.
You can buy tickets from the iBon machine at any 7-Eleven or at the door.
Go Back in Time at the Gates of Old Taipei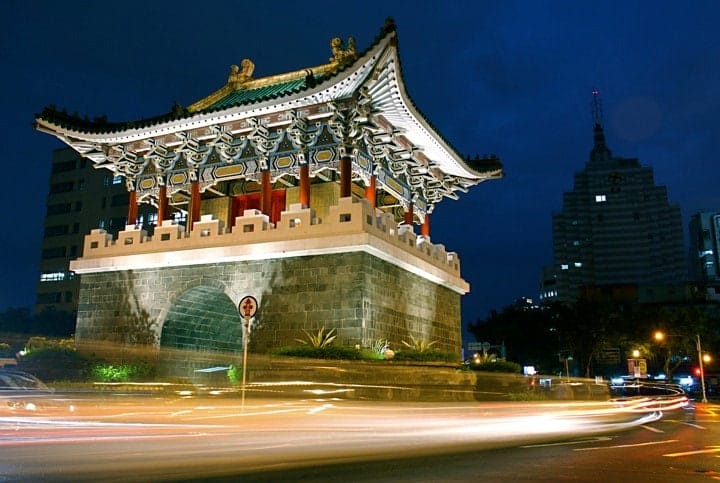 In the late Qing Dynasty (around 1884), the government made Taipei into a walled city, in the area that is now Wanhua. The Japanese tore down the Old City walls, but four of the gates remain today: South Gate, Little South Gate, East Gate, and North Gate. However, only the North Gate retains its original form.
South Gate (Li Zheng Gate/麗正門), Little South Gate (Xiao Nan Men/小南門) and East Gate (Jing Fu Men/景福門) are all a short walk from Chiang Kai-shek Memorial Hall (see #2 above). North Gate (Beimen/北門) near Taipei Main Station and Camera Street (see #21 above) has been looking rather handsome ever since the ugly Zhongxiao Bridge Ramp was demolished and the area around it was fixed up in 2016. It's fun to visit because you can walk right under it.
In Ximen (西門, literally "West Gate") neighborhood, a creative metallic gate has been installed on the spot where the West Gate once sat.
Get a Traditional Knife Massage
While it may sound like a strange new alternative form of healing, knife massages go back over 2000 years in Chinese culture. Recently there has been a revival of traditional knife massage in Taipei, and I recently tried one out by a friend and licensed practitioner who runs a shop in Ximending (#37).
Read all about my experience getting a knife massage in Taipei and find out how you can get one.
Find awesome street art in Ximending
Ximending is without a doubt Taipei's coolest neighborhood. Besides the awesome street art, the pedestrian-only Ximending shopping district boasts the hippest fashions, trendiest restaurants, and largest collection of movie theaters.
Ximending is also home to historic Red Theater, where you'll find the Weekend Craft & Arts Market as well as Taipei's largest LGBT district and best collection of outdoor bar patios.
You can also uncover some impressive street art in Ximending. See more info in my article on 25 weird things to do in Ximending, and my food guide to Ximending.
Also nearby, Bopiliao Historical Block is a restored old street that retains a look from 200 years ago, and is becoming an increasingly popular spot to visit and take photos.
Explore Ximending on this LGBT walking tour.
Uncover historic tea and Chinese medicine shops on Dihua Street
The historic neighborhood of Dadaocheng, or Twatutia, could also make a strong claim as Taipei's most interesting neighborhood to explore on foot. See my suggested self-guided walking tour of Dihua Street and Dadaocheng.
Once Taipei's main port along the river, the area is known for its historic shops selling Taiwanese teas, Chinese medicinal herbs, fabrics, and more, as well as its Qing Dynasty and Japanese-era architecture. Dihua Street is the areas main street and one of the oldest streets in Taipei. Xia Hai City God Temple (see #20) and the huge Yongle Fabric Market are also found here.
The riverside in Dadaocheng is great for strolling or cycling, while in recent years a little collection of food trucks and bars at Pier 5 has become a popular new spot for a sundowner.
Dadaocheng is also home to some of the best cooking classes in Taipei, especially at Taiwan Cooking 101.
Continue your urban explorations in Da An
If Ximending is for teenagers and tourists and Dadaocheng attracts history and culture lovers, Da An is where students go to party or chill in artsy cafés. The district is home to three major universities, including NTU, Taiwan's top university, as well as Shi Da and Tonghua Night Markets.
64-acre Da An Forest Park is Taipei's answer to Central Park in New York. For a great walking tour, start at Dongmen MRT station (where you can also find the original branch of Din Tai Feng, Taipei's most famous restaurant—pre-order your meal online here). Walk down Yong Kang street, famous as the birthplace of Din Tai Fung restaurant and mango shaved ice. Here's my self-guided food tour of Yongkang Street.
Continue south past Jinhua street (金華街) and you'll enter a gorgeous neighborhood (around Qingtian Street and the numerous lanes around it) of wooden Japanese-era homes at varying states of decay or repair that once housed professors at NTU when it was a Japanese university. A good example is Qingtian 76, which has been converted into a restaurant, while several other atmospheric cafés and teahouses can also be found. The neighborhood is also home to an unusually high concentration of religious buildings, including the Taipei Grand Mosque and Taipei Taiwan Temple (an LDS church).
Nearby, Wistaria is the city's most famous historical tea house, where academics, political dissidents, and artists once met in secret.
Have a night on the town in Dong Qu (Eastern District)
Stretching from Taipei Main Station to the eastern reaches of Taipei City, Zhongxiao East Road is one of Taipei's main boulevards and connects the older districts of the city with the newer and glitzier east side. The blue MRT line runs directly under the street.
The section between Zhongxiao Xinsheng MRT station and Sun Yat-sen Memorial Hall, including all the small lanes running off from it, is often referred to by locals as Dong Qu or "Eastern District," and is arguably Taipei's liveliest and most fashionable area.
Zhongxiao East road is lined with outrageously expensive boutiques, and most pedestrians are dressed to the nines as they window shop. Here you'll also find some of the city's biggest night clubs, best craft beer and cocktail bars, and especially in the narrow lanes leading away from the main roads, a mind-boggling concentration and array of amazing restaurants.
You could dine in a different spot every night in this area for years and never run out of new places to try. Japanese, hot pot, BBQ, and Korean are especially common, but you can find anything and everything there.
Walk the riverside market in Tamsui
If a more laid-back, seaside vibe is your thing, then catch the red MRT line to the northernmost stop, Tamsui (the Taiwanese language pronunciation of Danshui). This district of New Taipei City lies at the point where the Danshui river meets the sea.
Just outside the MRT, start by strolling the Tamsui riverside promenade, a daytime and nighttime market. From here you can catch a river ferry to Fisherman's Wharf, famous for sunsets from Lover's Bridge, or to Bali, a town with a similar promenade on the other side of the river.
Just past the end of the Riverside Promenade, Fort San Domingo dates all the way back to 1637, when the Spanish occupied the north coast of Taiwan. It's a picturesque building that makes a good backdrop for photos, along with the Former British Residence next door. See my recommended Tamsui itinerary here.
Entrance to the Tamsui Historical Museum, which includes Fort San Domigo and the British Residence, is included on the Taipei Unlimited Fun Pass.
Tamsui is also the gateway to the beaches of the north coast. Form outside the MRT station, you can catch buses to great beaches such as Qianshuiwan (淺水灣) and Baishawan (白沙灣). Learn more in my guide to the best beaches around Taipei.
Addiction Aquatic Development
Visiting foodies put Addiction Aquatic Development (上引水產), a seafood market converted into upscale grocery and seafood paradise, near the top of their list of things to do in Taipei, and for good reason.
The large complex includes standing sushi and seafood bars, a hot pot restaurant, outdoor seafood barbecue, and affordable takeaway sushi sets. You seafood journey begins in the entrance room filled with water tanks containing enormous king crabs.
Indulge in all the pearl milk tea you can handle
Don't even think about coming to the homeland of pearl milk tea (also known as Boba or Bubble Tea) without trying it! It's difficult to walk more than a block without stumbling upon a bubble tea shop, but some say the bubble tea served at Tiger Sugar, with picturesque liquid black sugar oozing down the inner sides of the glass as they hand it to you, is the city's best.
Alternatively, try Chun Shui Tang (春水堂), the Taipei branch of the Taichung teashop that claims to have invented pearl milk tea (read about the original Chun Shui Tang in my list of things to do in Taichung), or one of the many other famous pearl milk tea chains.
Besides the typical milk tea variety, you may always want to try passion fruit green tea with coconut chunks, taro & milk, or one of many other concoctions on offer.
Fine dining and Michelin rated restaurants
Ever since Michelin put out the inaugural Taipei Michelin Guide in 2018, the restaurants that made the list have (unsurprisingly) been tough to book, but you may still want to try.
20 restaurants in Taipei got Michelin stars, with only Cantonese La Palais at Palais de Chine Hotel clinching three stars. The other star restaurants mostly consist of Japanese, Chinese, French and European, and Taiwanese.
You can search the full list of Michelin recommendations, including the Bib Gourmand choices that include many night market vendors, on the Michelin Taipei page.
Taiwan's most famous restaurant, Din Tai Fung, has numerous branches in Taipei and abroad, including one in Hong Kong that has won a Michelin star. Most tourists visiting Taiwan consider a visit to Din Tai Fung for its famed soup dumplings (each one has exactly 18 folds and you can watch them being made through a window at most branches) a must.
You can pre-order your Din Tai Fung meal here, or visit it on this Din Tai Fung and Taipei Night tour.
Warm your belly with spicy hot pot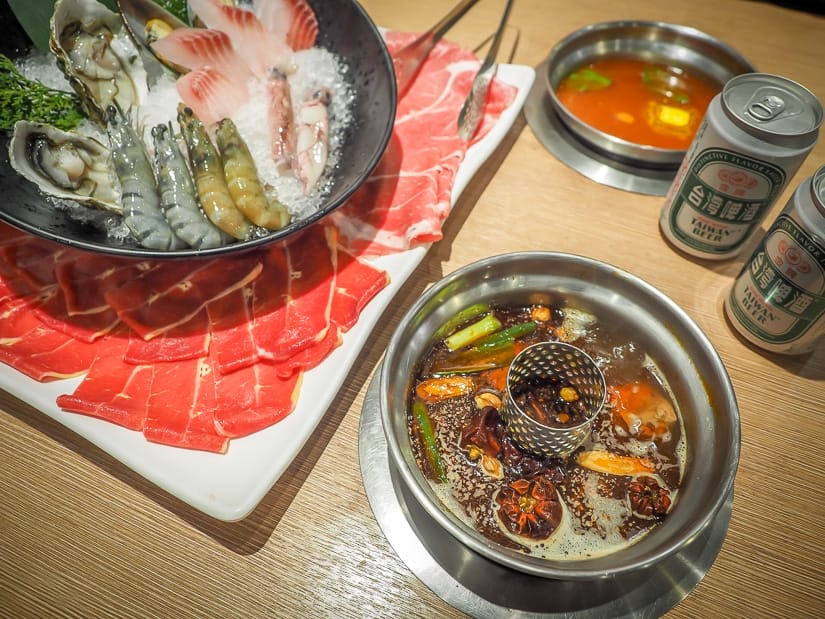 Hot pot is every Taipei resident's favorite comfort food in winter in Taiwan, but even in hellish summer temperatures you can still see groups of friends enveloped in steam at the city's many, many, many hot pot restaurants.
Most popular hot point restaurants offer all-you-eat dining that usually includes gourmet ice cream like Haagen Dazs, as well as soft drinks and beer. Either you order unlimited dishes from a menu or help yourself from a serving area. There are different broth choices, but mala (mouth numbing spicy) is very popular.
Higher quality hot pot restaurants tend to be a la carte; try Ding Wang Hot Pot (鼎王麻辣鍋) if that's what you're after. For something more fun, try dragon themed Caiji Longfu (蔡記隆府) or the dinosaur themed chain Rododo Hot Pot (肉多多火鍋).
Hang with locals at a quick fry
Quick fry (kuai chao or 快炒), also known as Hot Fry (re chao or 熱潮) is a style of restaurant that is enormously popular in Taipei. Many of these noisy, informal eateries began as hole-in-the-wall restaurants then expanded to take up several shop spaces.
Typically large groups of friends dine on low round tables, sitting on crappy little chairs. Dishes are mostly fried and seafood heavy, and meant to be watered down with copious amounts of Taiwan beer, which you can grab yourself from the fridge or order from a beer girl.
Quick fry classics include three-cups dishes (meat, seafood, or mushrooms cooked in equal parts soy sauce, sesame oil, and rice wine), sweet and sour dishes, boiled greens with garlic, sashimi, noodles, and stir fried seafood dishes.
Some of of the best quick fries in Taipei are Pin Xian (品鱻, pictured above) near Liuzhangli MRT, Ba Xian Grill (八仙炭烤) beside Da'An Park, and 打咔生猛活海鮮 beside CKS Memorial Hall.
Explore Burma Street, a slice of Southeast Asia in Taiwan
One culinary anomaly in New Taipei City is Burma Street (also called Huaxin Street or Nanyang Sightseeing Food Street—南洋觀光美食街), which is the center of Taiwan's Burmese-Chinese community, one of the country's largest minorities. The food served in the dozens of restaurants on the streets combines Burmese, southern Chinese, and Chinese styles, and is seriously worth the trip.
Popular items include round flatbreads, mohinga (a coconut, banana stem, and fish curry that is considered the Burmese national dish), and cold noodles with tamarind vinegar, and Burmese milk tea. Find out exactly where to eat in my Burma Street food tour article.
Check out the craft beer scene
Like everywhere else in the world, the craft beer scene has exploded in Taipei in the last five years. My personal favorite is the Taihu Beer taprooms Driftwood in Ximending and Craft Beer Taproom (啜飲室 大安) just off Zhongxiao East Road, while Mikkeller Taipei, 23 Public Craft Beer, Zhangmen, and The 58 also stand out.
Nowadays, can even find some great craft beers amongst the usuals as 7-Eleven and FamilyMart, and these convenience stores usually release some extra ones every summer, something us residesnt always look forward to.
Find your way into a hidden speakeasy cocktail bar
The speakeasy-style cocktail bar has also caught on, with the biggest names (but shh…they are still "secrets") being Ounce and Alchemy. Hankou 60 is a hip newer one in Ximending designed to look like a movie theater (it is located on Ximen's "Movie Theater Street"), and you can even order a buttery cocktail concealed inside a real bag of popcorn.
I've always loved the custom-made drinks (especially the betel nut cocktail) at Fourplay Cuisine near the giant traffic circle on Renai Road (MRT Zhongxiao Fuxing or ZhongxiaoDunhua), and Woo Taipei (not to be confused with the Woo Bar at W Hotel) also serves excellent drinks with an old-timey vibe.
Get your fortune told
Don't knock it until you've tried it! I know several people who have got their fortune told in Taipei, and there were all very surprised about how much the fortune teller knew about them after they revealed little more than their name and date of birth.
You can find traditional fortune tellers in Taipei in the underground mall below Longshan Temple, and in Fortune Teller Underpass under Minquan E. Road right next to Xingtian Temple.
Well, that brings us to the end of my list of best things to do in Taipei! Good luck on your upcoming Taipei visit, and if you have any questions or feel I've missed something, please feel free to comment below!