Dear reader: This article contains links to products and services that I may be compensated for, at no extra cost to you.
Of the many appealing hot springs in Taiwan (here are my 20 favorites), Guanziling Hot Spring is one of the most unique. Due to the clay soil in the area, the thermal hot spring water seeps out of the ground with a high concentration of silt, making it muddy in appearance, earning it the name "mud hot springs" (泥漿溫泉 in Mandarin).
Not only can visitors soak in this silty water at Guanziling's numerous spa resorts, but also they can rub actual mud from the hot spring source on their face or bodies. The mineral-rich mud is believed to be incredibly good for the skin. Most of the spa resorts in the area provide baskets of mud for this purpose. For this reason, it is definitely one of the most unique things to do in Tainan.
Besides the mud hot springs, there are several other things to do around Guanziling, including paying a visit to the quirky Water Fire Cave attraction near the hot spring source.
I've been to Guanziling twice, both times bathing at King's Garden Villa, one of the best spas in town. In this article, I'm going to introduce everything you need to know for visiting Guanziling and taking a muddy hot spring bath.
Guanziling definitely one of the bucket list experiences in Taiwan and a highlight of visiting Taiwan in winter! It is fairly off-the-beaten-track; even many expats that are living in Taiwan don't even know it exists, so read on to learn everything you need to know about this unique gem!
Where is Guanziling?
Guanziling hot spring village is located in Baihe district (白河區) in the northeastern corner of Tainan City in Southern Taiwan. It is actually closer to Chiayi city center (15 kilometers as the crow flies) than Tainan city center (40 kilomters).
Guanziling is a few kilometers east of the point where the coastal plains of Western Taiwan meet the forested foothills that lead up to some of the highest peaks of Taiwan in Yushan National Park.
Guanziling hot spring was a favorite among the Japanese, who first discovered it during their colonial occupation of Taiwan.
For more fun in Tainan, see my guides to Jinzijiao Wapan Salt Fields, Sicao Green Tunnel, Anping Treehouse, Anping Old Street, the best temples in Tainan, and the best night markets in Tainan!
Getting to Guanziling
It is possible to get to Guanziling by driving or by public transportation. Because Guanziling is built on the side of a mountain and the sights are rather spread out, it's not exactly the most walkable place. Having your own vehicle is definitely best.
Driving to Guanziling
The best way to reach Guanziling is by car or scooter. The drive takes about 30 minutes from Chiayi and an hour from Tainan. Guanziling is reached via County Highway 172, which runs eight kilometers east of Provincial Highway 3, a major highway connecting Chiayi and Tainan cities. To reach Water Fire Cave, you'll need to veer off onto 172乙 about halfway between Highway 3 and Guaziling.
You can rent a scooter from one of the shops around Chiayi Train Station. In you're coming from Tainan, you can reserve a regular or Gogoro electric scooter online.
For renting a car, here are deals for Chiayi, Tainan, Kaohsiung, Taichung, or Taipei.
If you don't feel comfortable driving, you can also charter a car with driver for the day from Tainan or Kaohsiung.
By public transportation
By public transportation, it's less convenient, but still possible to reach Guanziling. You can take the Southern National Palace Museum bus (關子嶺故宮南院線) from Chiayi HSR station (高鐵嘉義站) to Guanziling Station (關子嶺), taking 1 hour and 6 minutes. There are only three buses per day in each direction, so don't miss your return bus! The bus passes the Sothern Branch of the National Palace Museum (stop name: 故宮南院) along the way.
From the Chiayi TRA (regular) train station, you can take Tainan bus 7214 (1 hour 10 minutes), with frequent departures.
Yet another choice is to hop in a taxi and negotiate a price from Chiayi TRA or HSR stations.
If you're in Guanziling and want to reach Water Fire Cave (stop name: 水火同源), you can ride the Y12-2 tourist bus, which does a scenic loop of the area.
You can also avoid transportation hassles by taking this day tour from Tainan or Kaohsiung.
If arriving to Chiayi or Tainan by HSR, you can book your tickets online to get a discount (deal for non-residents only).
The Best Hot Spring Spas in Guanziling
There are at least a dozen hot spring hotels spread out along highways 172 and 175 in Guanziling village. We visited the same one (King's Garden Villa) each time we went, because all my research told me it was the best, but I'll still introduce a few other options below.
At most of these hot spring resorts, the facilities are mixed-sex with bathing suits and swimming hats (available for purchase) required. Most also offer sex-segregated nude facilities and some have private hot spring rooms that you can rent for 60-90 minutes.
For more information on hot spring etiquette, see my guide to the best hot springs in Taiwan.
King's Garden Villa (景大渡假莊園)
King's Garden Villa (see on Klook / TripAdvisor) is the most popular, and arguably best hot spring spa hotel in Guanziling. This huge resort is the third largest mud hot spring facility in the world, according to the hotel's website.
The hot spring area includes over a dozen hot spring pools, including muddy and non-muddy, cold and hot pools, massage tubs, scented pools, and a large outdoor non-heated swimming pool.
In the muddy hot spring section, you can bathe in silty hot spring water, rub mud on your body, or do a DIY mud facial, with different muds available including regular, apple, and more.
The hotel itself is European style, and most rooms come with private hot spring bathtubs. The Tuscany Rooms have tubs on a private outdoor terrace (see picture below).
If you love hot springs, also see my guide to lovely Tai'an Hot Spring in Miaoli county!
Lin Shiquan Woodcrest Hall (林桂園石泉會館)
For a more low-key stay, Lin Shiquan is an attractive accommodation a short drive off the main road. It has more character than the big resorts in town and the opportunity to take a mud bath in a more private setting. Visitors seem to love it.
Camping at Guanziling
There are several campgrounds in the hills around Guanziling. Expect bunnies, beautiful natural surroundings, lots of families, but no mud hot springs on site. Try 關子嶺觀景露營區 or 關子嶺一家園農場露營區.
Other Things to Do in Guanziling
The main reason for visiting Guanziling is of course to take a (muddy) hot spring bath. However, when you're in the area, there are several other things to see and do.
Haohan Slope (關子嶺好漢坡)
Right at the center of Guanziling Village, Haohan Slope is a steep staircase to a viewing tower that looks out over the area. You can find the entrance just north of Toong Mao Resort.
Hongye Park (紅葉公園)
On the northern edge of town lies the expansive Hongye Park (Red Leaf Park). As the name suggests, the park is famous for the red color of its tree leaves. Take a stroll in the park if you happen to be visiting Taiwan in autumn.
Water Fire Cave (水火同源)
Water Fire Cave is an unusual attraction 10 minutes' drive southwest of Guanziling village on highway 172乙. Here natural methane seeps out of the ground along with the thermal water, and the methane has been on fire for centuries.
Don't get your hopes too high for this one, though. The fire is small and anti-climactic, and it's more of a pile of rocks than a proper cave. It's a must-visit for locals, though, evidenced by the long stretch of food and drink stalls around the attraction and the short boardwalk leading up to it.
Huoshan Biyun Temple (火山碧雲寺)
If you take the 172乙 to Water Fire Cave on the way to Guanziling, it also makes sense to stop at this impressive Buddhist temple complex nearby. The mountain-backed temple is visually stunning and offers incredible views looking down the mountain, especially around sunset. There are also some hiking trails behind the temple.
Zhentoushan Lookout (枕頭山觀景臺)
You can drive right up to this mountaintop lookout of the surrounding area. The road going up is just east of the turnoff for Water Fire Cave.
Hiking around Guanziling
The Guanziling area is a favorite among local hikers. Some popular nearby peaks include Dadong Mountain (大凍山, the highest in Tainan), Pillow Mountain (枕頭山), Tiger Head Mountain (虎頭山), and Chicken Cage Mountain (雞籠山).
Roasted Chicken in Xiancao Village (仙草里烤雞)
Just like in several other hot spring villages in Taiwan (notably Jiaoxi Hot Spring and Wulai Hot Spring), local Taiwanese can hardly imagine a visit without stopping for a whole roasted chicken afterwards.
On the drive to Guanziling, a high concentration of roasted chicken shops can be found in Xiancao Village (仙草里) on highway 172, just before and after the turnoff for 172乙 to Water Fire Cave. Shops usually provide plastic gloves for diners to rip apart the chicken with their hands.
Just zoom into the 仙草里 area on GoogleMaps and type "烤雞" (roasted chicken) to find them. Some of the ones further up toward Guanziling have excellent views.
Dongshan 175 Coffee Road (東山175咖啡大道)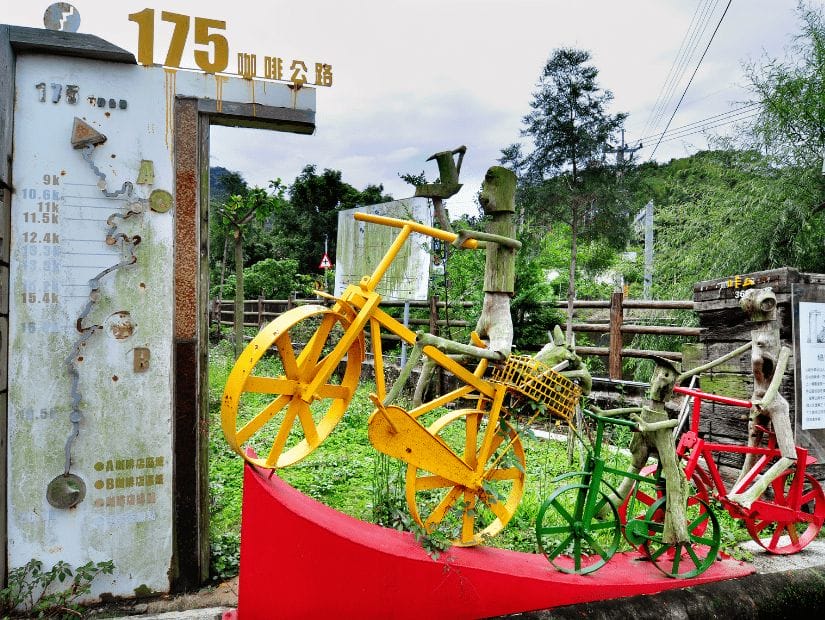 Dongshan district (東山區), about 10 kilometers south of Guanziling on Highway 175, is Taiwan's largest coffee producing area. The winding drive takes about 30 minutes.
There numerous cafés line either side of the highway, or you can veer off the main road to visit coffee plantations with epic views and buy coffee directly from local farmers.
Eryanping, Fenqihu, and Alishan (二延平,奮起湖、阿里山)
It's only about one hour's drive from Guanziling to Eryanping, a gorgeous lookout point and walking trail in Chiayi County.
Further beyond, you can reach the famous Alishan tea fields and bamboo forest surrounding Fenqihu, and further still the famous sunrises and hiking trails of Alishan, Taiwan's most popular mountain resort.
Find all the info in my guide to Alishan area, or see here for more general Taiwan travel information.
Well, that brings us to the end of my guide to Guanziling Hot Spring, Taiwan. If you have any further questions or want to share your experience, please feel free to comment below!