Dear reader: This article contains links to products and services that I may be compensated for, at no extra cost to you.
While there are certainly loads of things to do in Edmonton, the capital of Alberta, sometimes you just want to get out of town. FAR out of town. That's where road trips come in!
For this article, I've put together 10 tried-and-tested Edmonton road trip ideas. To be clear, these will all be multi-day road trips from Edmonton, and we'll be mostly sticking to Alberta, Canada's most beautiful province (according to me!), and knocking off several items in my Alberta bucket list. You'll be spending some hours in your car, so if traveling with kids, consider planning some road trip games!
If you're looking for something that can easily be done in a single day, here are my 30 recommended day trips from Edmonton. Also see this super detailed post about how to make the best of GoogleMaps for planning your road trip.
For those who don't have a consider, use this Canada train guide to plan trips by train from Edmonton!
Edmonton Road Trips to the South
As inhabitants of Canada's northernmost city of over 1 million, we Edmontonians have every inclination to go south. (If you're stuck in the city in winter, here are my favourite Edmonton winter activities!)
Luckily, Southern Alberta offers a wide range of unique landscapes, not to mention a wealth of provincial and national parks, perfect destinations for a road trip.
1. Red Deer & Calgary (2–4 days)
For a fun long weekend road trip from Edmonton, don't overlook the province's largest and third largest cities, Calgary and Red Deer.
Heading south from Edmonton, you can consider making stops at Pigeon, Gull, or Sylvan Lake for some beach time. Beer lovers can choose from Hawk Tail Brewery in Rimbey, Snake Lake in Sylvan Lake, Blindman in Lacombe, or Troubled Monk and several others in Red Deer. Also think about stopping to buy fancy gouda at Sylvan Star Cheese!
Many Edmontonians have a habit of bypassing Red Deer on road trips to the south, or only stopping in Gasoline Alley for a pee, gas, and snack break. But spend a day in Red Deer proper and you may be pleasantly surprised!
With young kids, don't miss tubing and an artificial beach at Discovery Canyon. Older kids and adults may prefer to go tubing on Red Deer River – Fort Normandeau is the perfect launching point. Heritage Ranch and Alberta Sports Museum are two other cool stops just off the highway (see here for more cool museums around Edmonton!)
For even more ideas, see my guide to 40 things to do in Red Deer. If you decide to spend the night in Red Deer, Cambridge Red Deer Hotel (see on Booking / TripAdvisor / Agoda) is a good value choice with a pool.
Continuing past Red Deer, families with kids will love DINOS Centre in Innisfail, while mom and dad may prefer a stop at Field & Forge Brewery. Approaching Calgary, make a stop at Nose Creek Park in Airdrie, a lovely pond-side green space with an off-leash area, playground, and a collection of large Korean totem poles.
In Calgary, the list of things to do is nearly endless. Some major highlights include the expansive Calgary Zoo, Telus Spark Science Centre, Heritage Park Historical Village, Glenbow Museum, and Calaway Park.
You could also explore the Stampede Grounds, check out the view of downtown from Rotary Park, see the medicine wheel at Nose Hill Park, walk across iconic Peace Bridge, get a gelato sample tray at Righteous Gelato, go to the original Peter's Drive In, or stop in at some of Canada's best breweries, according to the Canadian Brewing Awards.
If you're visiting with kids, we recommend staying at Sheraton Cavalier (see on Booking / Tripadvisor / Agoda) or Best Western Port O' Call (see on Booking / Tripadvisor / Agoda) by the Calgary International Airport, both of which have indoor waterparks with waterslides. You can even see planes landing and taking off from the hotels.
2. Waterton Lakes National Park & Cowboy Trail (3–5 days)
You've probably been to Jasper and Banff a million times, but have you ever made the journey to Waterton Lakes National Park in the southwestern corner of Alberta?
To focus solely on the national park, take the fastest route there, Highway 2. After passing Calgary, Highway 2 eventually turns into the 810, and a few others. The total driving time (without stops) is about 5.5 hours.
Some possible stops or scenic detours on this trip after Calgary include Okotoks erratic, the colorful grain elevators and amazing candy store in Nanton, and the impressive Head-Smashed-In Buffalo Jump World Historic Site.
For a slower and more scenic route, however, consider taking Highway 22, the Cowboy Trail, which runs parallel to the Rockies through Alberta's ranch land. It's a slower but far more scenic drive.
You can access the 22 via numerous smaller highways north or south of Calgary. Some essential stops include the Western-style town of Longview, Bar U Ranch National Historic Site, and Lundbreck Falls.
For Waterton Lakes National Park, budget a minimum of two nights, or more if you can, to enjoy the park's many impressive hiking trails, water sports, and other outdoor activities. Here's my full guide to the best things to do in Waterton.
There are several camping options in Waterton, or you can stay at the iconic yet affordable Prince of Wales Hotel (see on Booking / TripAdvisor / Agoda).
To extend your trip, you can also venture into Glacier National Park in the United States, or take Crowsnest Pass into southern British Columbia.
3. Drumheller – Medicine Hat – Lethbridge Loop (1 – 2 weeks)
This awesome road trip from Edmonton takes in some of the best provincial parks in Alberta, plus lots of dinosaurs and hoodoos.
Heading south from Edmonton, enjoy the prairie scenery along Highway 21 then 56, with potential stops in Stettler for the Alberta Prairie Railway, remote Dry Island Buffalo Jump Provincial Park, and Rowley Ghost Town.
Next, spend a 1–3 nights in Drumheller, the "dinosaur capital of the world". Don't miss Horseshoe and Horsethief Canyons, the hoodoos, the World's Largest Dinosaur, Last Chance Saloon in Wayne, Little Church, and Royal Tyrrell Museum.
For more info, here are my favorite things to do in Drumheller.
From Drumheller, head south of town, stopping at Atlas Coal Mine, then continue on to Dinosaur Provincial Park. Spend a night or two in the excellent campground, and find real dinosaur bones on one of the park's excellent guided tours. Here's my guide to Dinosaur Provincial Park.
Next, make your way to Medicine Hat, where you can see the world's largest teepee, the excellent Medalta Potery Historic Site, and explore beautiful green space likes Strathcona Island Park, Police Point Park, and Echo Dale Regional Park. There are also some excellent breweries in town, including Hell's Basement and Medicine Hat Brewing.
For more info, here are my top recommended things to do in Medicine Hat. An optional side trip would be to visit the Alberta side of Cypress Hills Interprovincial Park, around Elkwater.
After a few days in Medicine Hat, travel south to remote Red Rock Coulee, then make your way to the impressive Writing-on-Stone Provincial Park. A few hours is enough to admire the park's famous rock paintings and towering hoodoos, but there's also an excellent campground if you want to stay longer.
Finally, save a few days for Lethbridge, Alberta's fourth largest city. Top sights include the serene Nikka Yuko Japanese Garden, Fort Whoop-Up, and watching trains cross the expansive Lethbridge High Level Bridge. Here's my guide to the best things to do in Lethbridge.
On the way back to Edmonton, make a stop at the Vulcan Starship Monument, one of the best "Giants of the Prairies" (we'll cover more of those in the "Edmonton road trips to the north" section below).
Edmonton Road Trips to the West
I'm willing to bet that a significant portion of road trips from Edmonton are to the west, either to Jasper and Banff in the Rocky Mountains, or further west into British Columbia.
I won't cover road trips to BC here because there are just too many possibilities; we'll save that for another article!
4. Jasper and Banff Loop (1 week)
The most obvious (and probably most popular) road trip from Edmonton is to Jasper National Park, 3.5 hours to the west. This trip takes in the best of Alberta's Rocky Mountains, stunning lakes, and some of the best waterfalls in the province.
Along the way, consider making stops around Edson (Rocky Mountain Big Horn Distillery and Apex Predator Brewing are great, when open), Hinton (Beaver Boardwalk, Athabasca Riverfront Park), the excellent William A. Switzer Provincial Park (where fine campgrounds abound), Whitehorse Lake, and the outstanding Folding Mountain brewery just before the Jasper National Park gates.
For information on things to do in Jasper, see my guides to visiting Jasper with kids, Jasper in winter, and the best lakes in Jasper.
After a few nights in Jasper, make your way south down the epic Icefields Parkway (Highway 93), with some of the best waterfalls near Edmonton, to Banff National Park, stopping at Athabasca Glacier and some of the most beautiful lakes in Banff.
Reaching Banff, spend a few nights there, basing yourself in one of the many accommodations in town. See my recommended Banff itinerary, things to do in Banff with kids, and guide to Banff in winter.
Next, you can either return to Edmonton via Calgary (4.5 hours), or base yourself in Canmore to explore the greater Kananaskis area (see next entry).
5. Canmore and Kananaskis (3–5 days)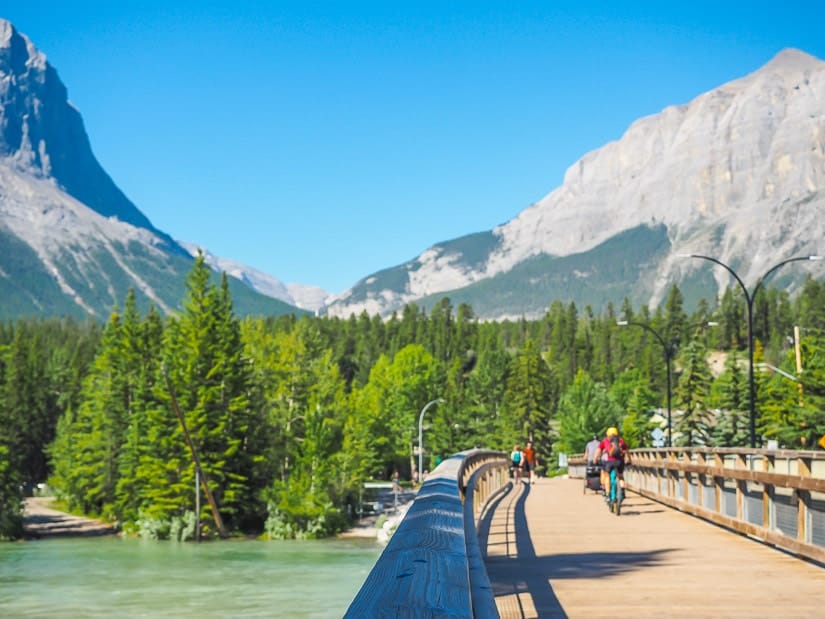 While Kananaskis country is a favorite playground for Calgarians, as it is only an hour away from them, Edmontonians tend to be less frequent visitors. But if you haven't been, you're seriously missing out!
Also, we Edmontonians often assume that Jasper is the closest to us, but we forget that Canmore and Jasper townsite are a similar distance from Edmonton, and Kananaskis' Nakiska Ski Area is actually a slightly shorter drive than Marmot Basin in Jasper!
Canmore is the main access point to Kananaskis and one of my favorite places in Alberta. It could be an add-on to your Banff trip, or you could even stay there as a cheaper and less touristy base for exploring Banff. Here are some of my favorite things to do in Canmore and easy hikes in Canmore.
Canmore would certainly serve as an excellent base for a mountain-focused road trip from Edmonton. It has the best and cheapest range of accommodations in the region. For planning your road trip, either follow my Edmonton-to-Calgary route then veer west at Calgary, or take the slower but more scenic Cowboy Trail (Highway 22).
A budget friendly hotel with hot tub that we like in Canmore town is Rocky Mountain Ski Lodge (see on Booking / TripAdvisor / Agoda). For a classy stay in a hotel voted one of the best in the world, try The Malcolm Hotel (see on Booking / TripAdvisor / Agoda).
After spending a few days in Calgary town to enjoy its numerous art galleries, restaurants, breweries, and scenic walks, you can venture into Banff National Park to the north, or explore vast Kananaskis country to the south. Canmore is a convenient base for exploring either one as day trips.
If you do want to stay somewhere in Kananaskis country, hotel options are quite limited. Kananaskis Wilderness Hostel is a budget-friendly retreat, Kananaskis Mountain Lodge features a Nordic Spa, while Mount Engadine Lodge is perfect for really getting away from it all.
For more information on the area, here are the most beautiful lakes in Kananaskis, the best hikes in Kananaskis, and other things to do in Kananaskis.
6. Nordegg Region (2-4 days)
Where do local Albertans go when they want a natural escape away from the tourist crowds of Jasper and Banff? One great option is the Nordegg region.
From Rocky Mountain House (directly west of Red Deer), the David Thompson Highway (Highway 11) provides access to the area–the regions is sometimes also called David Thompson country.
The area features countless lakes perfect for camping and fishing, the mesmerizing Crescent Falls, Crown Lands where anything goes, and a huge number of hiking trails, both easy and difficult.
The prize at the end is Abraham Lake, a stunningly beautiful water reservoir where you can camp for free, and with several excellent hikes starting near its shores. In winter, the lake becomes a mini hot spot thanks to its visually stunning methane ice bubbles. Here's my guide to when and how to see ice bubbles at Abraham Lake.
After Abraham Lake, you can continue on to Saskatchewan Crossing, where the highway meets the Icefields Parkway. From there, head north for Jasper National Park, and complete a loop back to Edmonton, or south for Banff National Park or Canmore and Kananaskis – follow the relevant road trip itineraries above to complete your return trip.
Edmonton Road Trips to the North
The vast region north of Edmonton is sparsely populated, with few notable attractions. What it does have, however, is a whole lot of lakes and excellent campgrounds, as well as possibilities for hunting and fishing.
7. Fort McMurray (3–4 days)
Unless they work there, few Edmontonians ever think of visiting Fort McMurray, the oil capital of Canada 4.5 hours north of Edmonton. I've been, and I can attest that there are enough sights to make a worthwhile road trip from Edmonton.
Making your way northeast from Edmonton, you can consider making a stop at Jurassic Forest with the kids. Another good spot along the way is Long Lake Provincial Park, where you can swim/picnic in the day use area, or camp in the excellent campground.
Continuing north, an optional detour would be Lac La Biche, including Sir Winston Churchill Provincial Park, which occupies an island on the lake.
Once you get on Highway 63, the highway speed limit picks up to 110 for the remaining cruise to Fort Mac. There are few stops of interest until you reach the turnoff for Gregoire Lake, a very popular spot among locals.
In Fort McMurray, some of the top attractions are Heritage Village, Oil Sands Discovery Center (an excellent museum covering local history and mining), and Macdonald Island Park. Complete your road trip by driving up to the Giants of Mining near the massive oil refineries that are the raison d'être for the town.
To really witness the vastness of the oil sands, consider taking a scenic flight over them like we did. See all the details in my guide to the best things to do in Fort McMurray.
To extend your road trip, you can drive as far north as Fort Mackay and the "Bridge to Nowhere," while in winter you can even drive the ice road all the way to Wood Buffalo National Park and Fort Chipewyan (when conditions are safe enough to do so).
A top-rated hotel in Fort McMurray is Microtel Inn & Suites (see on Booking / TripAdvisor / Agoda).
8. Wood Buffalo National Park (1 week)
For the ultimate remote road trip from Edmonton, embark on a journey by car to Wood Buffalo National Park in Northern Alberta and Northwest Territories. It is the largest national park in Canada and second largest in the entire world!
The main thing that stops a lot of people from doing this is that it's a real long drive–longer even than driving to Vancouver. And unlike driving to BC, there is very little to see along the way.
One notable stop you can make on the way is Lesser Slave Lake, which (despite the name) is huge. To break up the 14-hour drive to Fort Smith (the main access point to Wood Buffalo), you'll probably want to overnight somewhere along the way. High River is a logical halfway point with a few decent hotels, with the pick of the bunch being the Super 8 (see on Booking / TripAdvisor / Agoda), complete with pool and waterslide.
Even though Wood Buffalo is mostly in Alberta, you'll have to cross into Northwest Territories to reach it. When Alberta's Highway 35 crosses the 60th parallel into NWT, it becomes Highway 1. The section from there to Great Slave Lake is known as the Waterfalls Route; don't miss Louise Falls and Alexandra Falls.
After that, make a quick stop at Great Slave Lake to say you've been there. From there, it's a 3 hr 15 min drive east on Highway 5 to Fort Smith, and you'll drive through a section of Wood Buffalo along the way, including stops to see huge sinkholes.
From Fort Smith, you can venture south to Salt River Day Use Area and Pine Lake, which has a campground. See the Wood Buffalo National Park official site for more information for planning your trip.
Edmonton Road Trips to the East
If you haven't already been to Elk Island National Park and Ukrainian Village east of Edmonton, then make sure you do! But is it worth taking a road trip from Edmonton further east?
Well, according to Go East of Edmonton, a whole website devoted to the area, yes! Check out their site to find loads of activities besides the couple road trips I mention below. There are also some excellent lakes with campgrounds east of Edmonton, including Miquelon Lake and Cold Lake.
9. Giants of the Prairies (1 day to 1 week)
My favorite Edmonton road trip to the east is to tour the "Giants of the Prairies." These giant roadside attractions are scattered across our province, but some of the best ones are located east and northeast of Edmonton.
The classic giants of the prairies road trip from Edmonton can be done in a single, long day. The route goes something like this: Giant Sausage in Mundare, Giant Easter Egg in Vegreville, UFO landing pad in St. Paul, Giant Pyrogy in Glendon, Giant Mushroom in Vilna, Giant Pumpkins in Smoky Lake, Mallard Duck in Andrew, Giant Oil Derrick in Redwater, and back to Edmonton.
Heads up that there is a whole lot of driving through farmland to be done between the giants, so bring good music, snacks, and/or a friend to chat with.
For more details about the route, including a map, see my guide to the Giants of the Alberta Prairies. Besides this route, the article includes four more road trip itineraries for visiting more giants in other parts of the province. You could even combine them all into one giant (pun intended) week-long road trip!
10. Edmonton to Saskatchewan Road Trip (2 weeks)
This is an Edmonton road trip that I have yet to do, but I'm planning it for next summer. It involves driving directly east of Edmonton to Lloydminster on the border with Saskatchewan. Lloyd has the tallest border markers in the world and a cool museum.
From there, I plan to visit Fort Battleford National Historic Site en route to Saskatoon, where I'll stay for a few days to explore the city. An optional side trip from Saskatoon would be up to Prince Albert National Park.
Next, I'll head over to Little Manitou Lake, Saskatchewan's version of the Dead Sea, before traveling south to Moose Jaw to see giant Mac the Moose, check out the tunnels under the city, and soak in thermal waters at Temple Gardens Hotel & Spa (see on Booking / TripAdvisor / Agoda).
From here, you could head to Regina for a few days, but I plan to bypass it and head further south to spend a few days camping in Grasslands National Park and a few more in the Saskatchewan side of Cypress Hills Interprovincial Park. And we can't miss the T-Rex Discovery Center in Eastend, which houses the world's largest T-Rex skeleton!
From there, I'll return to Edmonton on one of several routes, which could involve stops in Medicine Hat, Dinosaur Provincial Park, and/or Drumheller along the way.
Well, that sums up my recommended best road trips from Edmonton. I hope you find some good ideas for planning your next road trip out of Edmonton. Let me know how it goes!