Dear reader: This article contains links to products and services that I may be compensated for, at no extra cost to you.
Alberta is Canada's most geographically diverse, and in my opinion, most beautiful province. Typically classified a "prairie province", it offers so much more than that, from the snowy peaks of the Rocky Mountains and vast boreal forests to unending grasslands and arid, dinosaur fossil-bearing badlands.
Alberta's scenic bounties and abundance of wildlife are the pride of locals, while Alberta's five national parks (including Canada's first as well as Canada's largest!) attract tourists from every corner of the globe. Meanwhile, the province's indigenous roots and modern-day multiculturalism are reflected in its wide range of cultural and historic attractions. There are so many things to do in Alberta that you could spend a lifetime exploring and still not see them all.
I was born and raised in Edmonton, the capital city of Alberta, yet it took traveling to 50 countries and living abroad for 10+ years to fully appreciate just how magnificent my homeland is. I compiled this Alberta bucket list as much for myself as I did for the reader; I've personally only checked off most but not all of the entries on countless road trips from Edmonton, but my list will likely grow as I continue to uncover more amazing Alberta attractions that I MUST visit before I die.
The following Alberta attractions are arranged roughly from north to south.
Recommended reading:

– For nature lovers: 125 Nature Hot Spots in Alberta
– I recommend the Banff & Jasper Lonely Planet
– See this super useful site on planning road trips in Alberta
Wood Buffalo National Park
Spanning 44,807 square kilometers in Northeastern Alberta and the Northwest Territories is the largest of Canada's 38 National Parks, and second largest in the world after Northeast Greenland National Park. Despite its sheer size, however, most of the park is remote and inaccessible.
Wood Buffalo National Park is home to the world's largest herd of bison, endangered whooping cranes, loads of bears, salt flats, karst sinkholes filled with water, and the biggest beaver dam in the world. It is also the world's largest dark-sky preserve, meaning that it is ideal for viewing aurora borealis.
Visiting this park is said to be the experience of a lifetime, and ranks highly not only on my Alberta bucket list, but my global one, too.
Aurora Borealis (Northern Lights)
Speaking of aurora borealis, witnessing this peculiar natural phenomenon is so mind-blowing that it deserves its own spot on my list. You need some time and luck to witness the aurora; growing up in Edmonton, I've only seen them about a dozen times in my life, often on late-night family drives home from Christmas gatherings when I was a kid.
To increase your chances, you'll need to come in winter, but I've even seen mild aurora while camping in Alberta in the summer.
Also, you'll want to get as far away from the city lights, and as far north as possible; Wood Buffalo National Park is the world's largest Dark Sky Preserve, but try visiting Jasper National Park in winter, which is much more accessible (and it's the second largest Dark Sky Preserve!)
The Athabasca Oil Sands, Fort McMurray
Did you know that the world's largest bitumen reserve (and third largest oil deposit) lies in Northern Alberta? Called the Athabasca Oil Sands, it spawned an enormous and highly profitable oil industry centered on the oil boomtown of Fort McMurray. Controversial though the industry may be, you may be surprised to learn that Fort McMurray is actually an fascinating place to visit.
Fort Mac is a city rich in parks, green spaces, and wildlife. It is surrounded by immense boreal forests, and outdoor activities like skiing, ATVing, snowmobiling, canoeing, and more abound. To learn more about the oil sands, you can visit the Oil Sands Discovery Centre, Giants of Mining roadside attraction, or several oil industry land reclamation sites. But the best way to see the oil sands and mines for yourself is to fly over them.
Find out how I got the above photo in my guide to the best things to do in Fort McMurray.
Camping in Alberta
Albertans take camping very seriously. As a child, just about all of our family holidays revolved around camping, sometimes for weeks at a time. Nowadays enormous trailers and motor homes are practically the norm, but still nothing beats a good old-fashioned camping trip in a tent.
There are hundreds of campsites across Alberta, often but not necessarily beside lakes, and everyone has his or her favorite. Some are private, while others are provincially run. You can begin your search for your ideal campsite here or here.
West Edmonton Mall
Like many Edmontonians, I grew up hating on West Edmonton Mall for its ridiculous size and dazed crowds of shoppers. But there's no denying that "The Mall" contains several of the most popular things to do in Edmonton, including many things to do in winter when it's too cold outside. It was the world's largest mall until 2004! In fact, many Edmontonians still think it is; sorry folks, it's now sitting in spot #23, the last time I checked.
Still, WEM remains really, really big. Besides all the shops (800+) you'd expect, it also has a bad-ass waterpark (with bungee jumping and zip lining), the world's largest indoor amusement park, night clubs, a hotel with themed rooms , a shooting range, a gym, a dinner-theater, a movie theater, a chapel, a Chinatown, a New Orleans-themed street, a European boulevard, a bowling alley, and even a replica of Christopher Columbus' Santa María ship.
It goes without saying that WEM is one of the most kid-friendly places to visit in Edmonton. Also, because it is so large, I even included it on my list of the best Edmonton neighbourhoods to explore.
Read about our stay in the space-themed room at Fantasyland Hotel in West Edmonton Mall or book it here on Booking / Agoda / TripAdvisor!
Edmonton High Level Street Car
One of the coolest summer experiences to be had in Alberta is taking a ride across Edmonton's vast North Saskatchewan River Valley in an old-time street car. The Edmonton High Level Bridge Streetcars are maintained and operated by the Edmonton Radial Society.
The ride connects Edmonton's downtown area to Whyte Avenue, the city's trendiest street, in Old Strathcona. The streetcars come from around the world. At the Strathcona end, there's also a small museum covering the history of streetcars in Edmonton (learn more in my guide to Edmonton's museums).
Alberta Legislature Building
"The Leg" (pronounced "ledge"), as we Edmontonians call it, is where Alberta's provincial government meets. But for us regular folk, the Leg grounds are one of the best places in the city to hang out. In summer we go there to play in the water fountains & pools out front, while in winter we can enjoy the ice sculptures and Christmas decorations on display.
As a teenager, I remember attending cannabis rallies on the huge lawn behind the Leg, or having picnics with friends there overlooking the River Valley. And who could forget experiencing "Purple City"?
Search for the best tours and best hotels in Edmonton.
Elk Island National Park
At 194 kilometers square, Elk Island National Park is the smallest of Alberta's five national parks. Located 30 minutes' drive east of the capital, it is one of the most popular day trips from Edmonton.
The park has played a pivotal role in international efforts to preserve the bison, and has the highest concentration of them in the world. Visit the park anytime of the year and you are practically guaranteed to see herds of these bulky beasts.
Elk Island is a perfect natural retreat right on the doorstep of Edmonton. Visitors there can enjoy camping, cross country skiing, skating & hiking. The park is split in two by Highway 16, with plains bison occupying the northern section of the park, where most of the park's visitor facilities are located, and wood buffalo found on the southern side.
Giants of the Prairies
Somehow, sometime in the past, the Canadian prairie provinces began a tradition of making the world's largest random things, and Alberta has the highest concentration of them. It would take dozens of hours of driving to see all of them, but we've all got extra time right now, right?
Some of the best Giants of the Prairies in Alberta include the Vegreville Easter Egg, Lloydminster border crossing, Wabamun dragonfly, Vulcan Star Trek USS Enterprise, Beaverlodge Beaver, Glendor pyrogie, Mundare sausage, and Drumheller T-Rex (see #37).
In this guide to the Giants of the Prairies, I lay out five possible road trips to visit these unusual roadside attractions.
Grain Elevators
Towering grain elevators are a ubiquitous sight in the North American prairies, and Alberta has dozens of beautiful examples. These structures are designed to stockpile grains after they are harvested. Often they are adjacent to railway lines so that they can convey grains directly onto train cars.
Many old grain elevators now house museums, including those at Acadia Valley, Castor, Meeting Creek, Nanton, Paradise Valley, Spruce Grove, and St. Albert, while the ones at Esther and Rowley belong to ghost towns. The grain elevator in Raley, southwest of Lethbridge in Southern Alberta, is the oldest in the province.
Canola (Rapeseed) Fields
Another quintessential sight in the Alberta prairies are the flowering canola (rapeseed) fields, which paint entire plots of farmland vibrant yellow. The best time to see them is at the peak of summer in late July.
You can't miss the canola fields if you drive out of the city from Edmonton or Calgary at that time. Lacombe, between Edmonton and Calgary, even hosts an annual CanolaPalooza event.
Miette Hot Spring, Jasper National Park
We are jumping now over to the Canadian Rockies, where nearly half the entries on my Alberta bucket list are located. This should come as no surprise, as the mountains which form the border between Alberta and British Columbia are home to some of Canada's best and most famous national parks.
The Rockies are also a dream come true for wildlife watchers; you are practically guaranteed to spot elk and deer, while lucky visitors may also see bears, mountain goats, bighorn sheep, coyotes, wolves, lynxes, cougars, and more.
We will begin in the north with Jasper National Park. One of the top experiences in Jasper is having a soak at Miette Hot Springs. If you're driving from Edmonton, the turnoff for Miette Hot Springs is just inside Jasper National Park near the excellent Pocahontas Cabins. Note that the springs are usually closed from mid-October to late April.
Find the best tours and hotel deals in Jasper National Park.
Pyramid Lake
There are too many beautiful lakes in the Canadian Rockies to include all of them, but I will try to focus on the ones that stand out the most. In Jasper National Park, we'll start with Pyramid Lake, just north of Jasper Town. For more gems like it, read my guide to the most beautiful lakes in Jasper.
Pyramid Lake is backed by Pyramid Mountain, which can often be seen reflecting on the lake. Don't miss the wooden footbridge to Pyramid Lake Island, which houses a Federal Heritage Building. In winter, there's even a skating rink on the lake, one of the many fun things to do in Jasper with kids.
Also be sure to stop at Patricia Lake on the drive in, which is equally beautiful.
Maligne Canyon, Icewalk & Lake
On the opposite side of Highway 16 from Pyramid Lake, Maligne Canyon is said to be the deepest in the Rockies, and hiking through it is an absolute must.
The walk through the canyon takes visitors past three bridges, with countless waterfalls and views along the way. For something really special, come in winter and walk right on the frozen canyon floor, called the Maligne Canyon Icewalk.
Further along the same road, the view of Spirit Island on Maligne Lake is a classic postcard view of the Canadian Rockies.
The Icefields Parkway
Linking Jasper Townsite to Lake Louise in Banff National Park, the north-to-south Icefields Parkway (Highway 93) is considered one of the most beautiful drives in the world. The drive takes about three hours, but that's not counting the many stops at glaciers, lakes, and other scenic attractions you'll want to make along the way.
Several of the following entries are all located along or a short drive off the Icefields Parkway, but I feel this most epic of Alberta road trips deserves its own entry.
Athabasca and Sunwapta Falls
Just like there are too many gorgeous lakes in Alberta to list all of them here, the same can be said about Alberta's waterfalls. Two of the best, however, are Athabasca Falls and Sunwapta Falls.
Athabasca Falls lies 30 kilometers south of Jasper townsite. While it is surely not the highest in Alberta Rockies, at a mere 23 meters, it is one of the most powerful, inspiring awe in those who overlook it.
Twenty minutes' drive south of Athabasca Falls, 18-meter Sunwapta Falls is accessed via a short hike, and stands out for its sheer volume and the unique island that divides the river just above it.
Visit these waterfalls in winter for a truly mesmerizing experience.
Athabasca Glacier & Columbia Icefield
The Athabasca Glacier is one of the most popular stops along the Icefields Parkway. It is one of six toes of the mighty Columbia Icefield, the largest in the entire Rocky Mountains.
What's special about Athabasca Glacier is that you can walk right on it, peering down icy blue cracks so deep that they disappear hundreds of meters below your feet. Besides walking on the glacier, you can venture further onto it on snowcoaches or skis.
A short drive north of the main glacier access point, the Columbia Icefield Skywalk is a 280-meter elevated platform with a view, though many people feel it's not worth the steep entrance fee.
Ice Bubbles at Abraham Lake
We are now hopping 30 minutes' drive east off the Icefields Parkway down the David Thompson Highway (Highway 11) into the Nordegg region, formed by the North Saskatchewan River valley as it makes its way toward Edmonton, for two Alberta bucket list-worthy sights.
Abraham lake is an artificial one formed by a dam on the river, but has the same incredible blue color as other glacial lakes in the area (see below). But in recent years, the lake has exploded on social media for its frozen bubbles trapped in layers of ice in winter. The bubbles are created by rising methane gas from decaying plants on the lake bed. Find out everything you need to know in my guide to experiencing the frozen ice bubbles at Abraham Lake.
Crescent Falls
Another 20 minutes drive east of Abraham Lake will bring you to Crescent Falls, the third and final waterfall that makes my Alberta bucket list, and one of the most beautiful waterfalls near Edmonton. Crescent Falls is a 27-meter, 2-tiered waterfall on Bighorn River, a tributary of the North Saskatchewan. The falls spill majestically over rocky ledges, and you can peer down from the top of them or hike down the base. There is also a basic campsite on site.
Crescent Falls makes my list because it holds personal memories for me. When I was a kid, my father and I hiked down to the base of the waterfall, forded the river somewhere downstream (in the dark…don't try this, kids!), and camped on the opposite riverbank for two nights. My father loved the Nordegg region, and we did a lot of exploring and hiking in the area growing up.
Peyto Lake, Banff National Park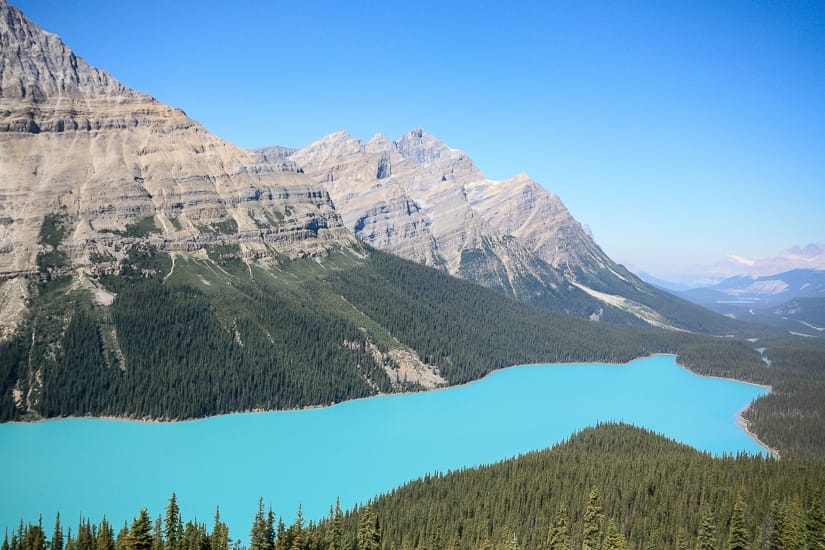 Heading back to tourist central–the Icefields Parkway, we have lakes, lakes, and more lakes as we enter Banff National Park. There are so many gorgeous ones that I've written this separate post on the most beautiful Banff lakes.
The following eight entries are essential stops when visiting Banff. Find out how to put it all together in my recommended 3 day Banff itinerary or this one from a dedicated Banff blog!
Peyto Lake is special because you don't even have to hike to enjoy the above view; it is taken from the famous viewpoint along the highway!
Find the best tours and hotel deals in Banff National Park.
Lake Louise
Located at the southern terminus of the Icefields Parkway in Banff National Park, and arguably the most famous lake in all of Canada, Lake Louise fittingly borrows its name from royalty herself. Despite the tourist masses, the "Jewel of the Rockies" is a vista that you must take in at least once in your life.
Besides gazing longingly at the lake and its incredible mountainous backdrop, Lake Louise also offers ice skating if you're visiting Banff in winter (how's that for a bucket list item?), and canoeing, hiking, and horseback riding in summer.
You also can't help but admire the Fairmont Chateau Lake Louise (or dine/stay there if you can afford it, and let's not forget skiing, or in summer riding the gondola, at Lake Louise Ski Resort (see below).
Moraine Lake
Overshadowed by Lake Louise nearby, Moraine Lake is actually more beautiful, according to most Albertans, myself included. Moraine Lake is especially known for its sunrises.
Once you arrive, climb the rock pile beside the lake, and take in the jaw-dropping view of the lake amidst the Valley of the Ten Peaks. Then you'll know what we're talking about. Morraine Lake was also famously featured on the Canadian $20 bill from 1969 to 1979.
However, it's important to note that the access road is only open from June to September and private vehicles are no longer allowed. The only way you can get there is by shuttle bus such as this one – the only one that goes early enough for sunrise.
Skiing/Snowboarding in the Rockies
Skiing or snowboarding in the Rocky Mountains is such an essential Alberta experience that it must be included on my list. If you haven't been skiing in the Rockies, then you haven't been to Alberta. Alberta's ski resorts have some of the highest slopes, best powder, and longest ski seasons in the world, guaranteeing an epic experience.
The big 5 ski resorts in the Alberta Rockies are Marmot Basin in Jasper, Norquay, Sunshine, and Lake Louise in Banff, and Nakiska in Kananaskis (see #30). Every Albertan has his or her favorite, but as an Edmontonian I'm partial to Marmot simply because it's closest so I know it best.
Johnston Canyon
Johnston Canyon is to Banff what Maligne Canyon is to Jasper. This easy walk takes countless visitors through an stunning narrow canyon, with turquoise waters, some of the best waterfalls near Calgary, and a unique collection of ink pots at the end.
Just like Maligne Canyon, you can visit in winter for a different experience altogether, and even climb ice waterfalls with the right equipment. If you're visiting Banff with kids, this hike is doable with kids, even in winter!
Banff Springs Hotel
If Lake Louise is Canada's most famous lake, then Banff Springs Hotel (see on Booking / Agoda / TripAdvisor) is surely its most recognizable hotel. The castle-like hotel was opened in 1888, three years after Banff became Canada's first national park.
For the most epic view of Banff Springs Hotel, head to Surprise Corner on the edge of Banff town. Even if you're not staying at the hotel, you can pop in for a visit or to enjoy afternoon tea.
Upper & Lower Springs
The hot springs pouring out of Sulfur Mountain beside Banff Townsite are the raison d'être for Banff National Park, and the origin of the Canadian national parks system.
To soak in the springs as people have for 135 years before you, head up the mountain to Upper Springs, the second major hot spring in the Alberta Rockies (along with Miette, #12). At the bottom of the mountain across the Bow River from Banff town, don't miss the "Lower Springs", officially the Cave & Basin National Historic Site, where the springs were first discovered.
Banff Gondola
Just up the road from Upper Springs, Banff Gondola whisks passengers to the peak of Sulfur Mountain for unparalleled views over Banff townsite and the surrounding mountains.
While not cheap, Banff Gondola is a rewarding experience, including viewing boardwalks, an interpretive center, multi-sensory theater, and two restaurants. Make sure to book online on the website above in advance.
Bankhead Ghost Town
For something a little more off-the-beaten-track in Banff, check out Bankhead Ghost Town, the remains of a formerly bustling coal mining town on the loop road to Lake Minnewanka (yet another stunning lake) just north of Banff town.
The mining town went into decline after Parks Canada forbade mining in the national park in 1930. Today you can explore the ruins on a fascinating interpretive trail.
Canmore
Canmore is where many locals stay when they visit the Banff area. Located just outside of the national park, it has the same awesome mountain scenery, but with cheaper accommodations and a less touristy vibe.
In winter, the Canmore Nordic Centre Provincial Park is one of the best places to go cross-country skiing in Alberta. Just past the Nordic Centre, hiking trails lead to Grassi Lakes, two stunningly turquoise lakes Canmore lakes. For more information, see my guide to the best things to do in Canmore, Alberta.
Find the best tours and hotel deals in Canmore.
Kananaskis Country
Named after the two Kananaskis Lakes, Kananaskis Country is a large region of the Alberta Rockies and their foothills, stretching south from Canmore and encompassing several provincial, wildland, and ecological parks. The best way to get to know the area is through its huge network of cross-country skiing trails and hiking trails (here's my guide to the best hiking trails in Kananaskis). For even more fun ideas, here's my guide to the best things to do in Kananaskis.
For something really special, check out the Kananaskis Nordic Spa at Pomeroy Kananaskis Mountain Lodge, an adults-only, alpine-style spa with indoor & outdoor facilities. A day pass gives you access to 50,000+ square feet of dedicated relaxation space, including hot pools, steam cabins & winter hammocks. Prenatal, couples, & solo massage is also available. Sound luxurious? You deserve it!
Indigenous Cultural Experiences
Approximately 6.5% of Alberta's population are indigenous people including the Métis, Inuit, and members of approximately 45 First Nations bands. They are ethnically diverse, with main languages including Blackfoot, Cree, Chipewyan, Dene, Sarcee, and Stoney.
There are multiple opportunities for experiencing indigenous culture in Alberta. Indigenous Tourism Alberta is a non-profit organization devoted to promoting sustainable, authentic indigenous tourism experiences in Alberta and works with indigenous-run attractions and experiences all over the province.
Some of the best indigenous attractions in Alberta include Metis Crossing, Head-Smashed-In Buffalo Jump, Writing-on-Stone Provincial Park, and Blackfoot Crossing Historical Park.
Sylvan Lake
Of the more than 600 lakes in Alberta, Sylvan Lake is one of the most beautiful and well-know outside of the Rockies. Just 20 minutes west of Red Deer (see my guide to the best things to do in Red Deer), it was once famous for its huge waterpark on the lake, which is now closed.
There are still many reasons to pay a visit to Sylvan Lake, though. The long stretch of beach at the southern end of the lake, lighthouse included, is very popular. In town, don't miss Snake Lake Brewing, one of the province's best. Last but not least, stop in at Sylvan Star Cheese on the way to pick up some fine locally made gouda!
Torrington Gopher Hole Museum
If you've never been to the Gopher Hole Museum in the tiny town of Torrington, then you are missing out on one of Alberta's best weirdest roadside attractions (and we've got a lot of them, see "giants of the prairies" above).
The museum features dozens of stuffed gophers in exhibits doing human-like things, from getting married to picking up mail at the local post office. It's as funny as it is creepy, and definitely worth the detour if you like odd attractions.
Calgary Stampede
Sorry for putting you so low on my list, Calgary; that's just the way it turned out! Calgary is in fact slightly larger than Edmonton by population. It is also more known internationally because they've hosted the Winter Olympics (I speak from experience; most of the world has never heard of Edmonton, unless they happen to be into hockey), and more frequently visited by tourists due to its proximity to Banff National Park (you can actually see the Rockies from Calgary) and location on the Trans-Canada (Highway 1).
Calgary's biggest claim to domestic fame is its annual summer cowboy rodeo, the Calgary Stampede. It's much more than just a rodeo, though, with concerts, parades, carnivals, and much more, and has a history going back to 1912. While cowboy culture is an aspect of Alberta I personally struggle to identify with, there's no denying its importance to Alberta's culture, and I promise that someday I will check it out!
Search for the best hotels deals and tours in Calgary.
Calgary Tower
Calgary's most iconic landmark is the 190-meter Calgary Tower in the downtown core. Ascend to the observation deck for 360-degree view over the entire city and surrounding mountains & plains.
The Observation Deck also includes a 55-screen curved theater as well as fine dining with a view at Sky 360 Restaurant and Lounge.
Peace Bridge, Calgary
A newer addition to the Calgary landscape that has quickly become another iconic Calgary attraction is the pedestrian Peace Bridge, which spans Bow River just west of Prince's Island Park. The bridge notably doesn't have a single support. The bright red color is a tribute to the Canadian flag, while its design is tube-like with a crisscrossing pattern.
Bar U Ranch & the Cowboy Trail
One of the most beautiful drives in Alberta is along Highway 22, also known as the cowboy trail. The highway runs over 500 km from Mayerthorpe near Edmonton to beautiful Lunbreck Falls in southern Alberta, parallel to the Highway 2 from Edmonton to Calgary, but a far more beautiful drive.
The highway runs through gorgeous Alberta ranch land, with the Rockies visible to the west the entire way. Some of the best stops along the way include Bar U Ranch, a National Historic Site, cute Western towns like Longview, and Glenbow Ranch Provincial Park.
Dry Island Buffalo Jump
Like the more well known Head-Smashed-In Buffalo Jump (see #44), this provincial park protects an area where Cree indigenous people once drove bison over cliffs as a mass hunting method.
This remote park features stunning badlands scenery similar to Drumheller and Dinosaur Provincial Parks (see the next six entries), but minus the tourist crowds. You could also stop here en route from Edmonton to Drumheller.
Royal Tyrrell Museum of Paleontology
For the next six items on my Alberta bucket list, we head over to the Alberta badlands, a barren, arid region of deep gullies that have produced some of the world's greatest dinosaur fossil finds. The town of Drumheller is a dinosaur-loving kid's paradise, complete with the largest T-Rex statue in the world (yet another Giant of the Prairies, see #10 above), into whose mouth visitors can climb up. Here are my 25 recommended things to do in Drumheller!
The Royal Tyrell Museum, just outside of town, is the world's best dinosaur museum (feel free to prove me wrong). There are over 800 fossils on permanent display in 13 huge exhibits, including life-sized displays of all the big-name Alberta dinos. You'll want to set aside half a day for this one! I don't mean to brag, but when I was in boy scouts, we once got to have a sleepover on the floor of one of the dinosaur rooms!
When visiting Drumheller, we stayed at the Ramada by Wyndham (see on Booking / Agoda / TripAdvisor) because it has the best swimming pool in town. I also highly recommend Heartwood Spa & Inn (see on Booking / Agoda / Tripadvisor), a lovingly run and top-rated local guesthouse.
Drumheller Little Church
Practically next door to the Tyrell Museum, Little Church is exactly what it sounds like: a miniature (but fully functioning) church. The door is usually open, so pop in and have a look! The church was built by inmates of the local prison.
Horseshoe & Horsethief Canyons
To fully appreciate the badlands scenery around Drumheller, you have to head to Horseshoe Canyon 15 minutes' drive west of town or Horsethief Canyon 15 minutes north of town. You can hike right down into the canyons to admire the impressive layers in this out-of-this-world landscape.
To complete your tour of the Drumheller badlands (also known as the Dinosaur Trail), make your way to the collection of hoodoos 15 minutes' drive south of town. These peculiar columns of rock with a large flat pinnacle are the result of hundreds of years of weathering, and are a quintessential Alberta sight.
Atlas Coal Mine
Continuing a few minutes past the hoodoos will bring you to my next Alberta bucket list destination: Atlas Coal Mine. This national historic site preserves what's left of 139 coal mines that operated in the region from 1911 to 1979. I laughed at my Dad for once dragging my mother on a holiday there, but now that I read about it, I wanna go too!
Besides general admission, a variety of unique tours are available, from photography-focused ones including local badlands landscapes to experiencing the working life of miners and enjoying Hungarian-style family miner's meals.
Last Chance Saloon, Wayne
To cap my selection of Drumheller-area entries, don't miss stopping in for a beer at Alberta's most quintessential saloon: the Last Chance Saloon in the hamlet of Wayne, once surrounded by coal mines. The old-timey saloon is connected to historic Rosedeer Hotel, so die-hard saloon fans (or anyone who gets too drunk to drive back to Drumheller) can spend the night.
Adding to the adventure, you'll need to cross no less than 11 small bridges to get there.
Dinosaur Provincial Park
Dinosaur Provincial Park is a UNESCO World Heritage Site located 2.5 hours' drive east of Calgary or 1 hour 45 minutes southeast of Drumheller. The park is known for its impressive badlands topography, with hiking trails and an excellent campground providing the best access. More than 50 dinosaur species have been discovered in the area, and you can even find dinosaur fossils while hiking around the park!
Read my about our experience camping in Dinosaur Provincial Park, hiking and taking a tour in the park, and the top 15 things to do there.
Crowsnest Pass
Crowsnest Pass is a 1358-meter Rocky Mountain Pass on the border between Alberta and BC. The region is rich in First Nations and coal mining history. In 1903, the Frank Slide covered the coal mining town of Frank, killing up to 100 people.
The Crowsnest Pass area is full of outdoor activities to be enjoyed. Some of the best hikes include North York Creek Plane Crash Trail (to an actual plane crash site!) and the easy Frank Slide Trail from the Frank Slide Interpretive Centre.
You can also learn more about local coal mining history at Belleview Mine, Crowsnest Museum, and Coleman National Historic Site.
Head-Smashed-In-Buffalo Jump
Head-Smashed-In is a UNESCO World Heritage Site in the foothills of Southern Alberta showcasing 6000 years of plains indigenous people's way of life. The name is derived from the buffalo jump on site, where plains people killed masses of buffalo by driving them off an 11-meter cliff (pictured above).
The informative interpretive center at Head-Smashed-In is built naturally into a sandstone cliff and hosts a variety of programs, performances, and events.
Lethbridge High Level Bridge
Another sight in Southern Alberta that makes my Alberta bucket list is High Level Bridge in Lethbridge, the fourth largest city in Alberta. The impressive steel structure over the Oldman River supports a viaduct and dates back to 1907-09, but trains still use it today. It is the largest of its type in the world, and quite a sight to behold.
Learn more about it and other attractions in the city in my guide to Lethbridge.
Saamis Teepee, Medicine Hat
Another "Giant of the Prairies", but this one is special enough to get its own entry. The 65.5-meter Saamis Teepee was originally constructed for the 1988 Winter Olympics in Calgary and later bought and donated to the city of Medicine Hat in southeastern Alberta, where it stands today. The teepee is a sacred structure honoring the region's indigenous past.
You can read about Saamis Teepee and other unique attractions in the area in my guide to Medicine Hat.
Red Rock Coulee
This unique landscape features a collection of red spherical boulders called concretions strewn about an arid coulee. Each one is 1.5-2.5 meters in diameter and in varying states of decay. This off-the-beaten-track journey is about 30 minutes' drive south of Medicine Hat, on the way to Writing-on-Stone provincial park
Cypress Hills Interprovincial Park
Cypress Hills is a highland region spanning the Alberta and Saskatchewan border. The Alberta side of the park, which is centered on Elkwater, is about 45 minutes' drive southeast from Medicine Hat.
Due to the area's elevated position, it was never glaciated and thus has a totally different environment than the surrounding hot, arid plains. There visitors will find a milder climate, high concentration of wildlife, and numerous forests and lakes perfect for camping and other outdoor activities.
Waterton Lakes National Park
The smallest and least-known of Alberta's Rocky Mountain national parks in Waterton Lakes National Park in the southwest corner of the province. It is geographically connected to Glacier National Park in Montana, USA.
The national park centers on Waterton Lakes, three connected lakes, with its most iconic view being of the landmark Prince of Wales Hotel (see on Booking / Agoda / TripAdvisor) near the point where they connect, built in the 1920s, and backed by dramatic peaks. The Waterton Lake Townsite serves as a base for further explorations in the park, which offers much for its relatively small size.
Writing-on-Stone Provincial Park
Two hours to the east of Waterton Lakes, and also just a stone's throw from the US border, Writing-On-Stone Provincial Park brings us to the end of my Alberta bucket list.
This UNESCO-listed park encompasses a beautiful section of prairies with picturesque sandstone outcrops and hoodoos. As the name suggests, there are numerous indigenous rock paintings preserved, a higher concentration than anywhere else on the North American Great Plains, and the site is sacred to the local Blackfoot people.
Well, fellow Albertans, what did I miss on my Alberta bucket list? Please let me know in the comments below!
Pin it for later: