Dear reader: This article contains links to products and services that I may be compensated for, at no extra cost to you.
While tourists tend to flock to Jasper and Banff in the Alberta Rockies, Kananaskis country is where the locals go to immerse themselves in the great outdoors.
Kananaskis is every bit as beautiful, whether you're after difficult or easy hikes, stunning lakes, skiing & snowshoeing in winter, paddling or camping in summer, or a pampered sauna experience. Plus, Kananaskis is only an hour away from Calgary and 3.5 from Edmonton, the provincial capital, suitable distance for a road trip.
In this article, I've compiled 40 of the best things to do in Kananaskis, covering the best hikes, lakes, summer and winter activities, and other places to visit in Kananaskis.
For the town of Canmore, which is surrounded by Kananaskis by not technically part of it, there are so many more things to do that I've got this separate guide covering another 40 things to do in Canmore.
Keep in mind that you will need to buy a Kananaskis Conservation Pass ($15/day or $90/year) to stop anywhere listed below. You just need to register your license plate online; there's no physical pass.
See a map of all the provincial parks and recreation areas in Kananaskis here.
Things to Do in Kananaskis Village
Kananaskis Village is a small collection of hotels located just off Highway 40, about 20 minutes' drive south of Trans-Canada Highway (Highway 1) before it reaches Canmore. When I say small, I mean really small; there's only one shop, two hotels and one hostel, and the only restaurants are in the first of these two hotels.
The following things to do are all found in within 5 minutes' drive of Kananaskis Village.
Kananaskis Nordic Spa
Treat yourself to a full day of R&R at the Kananaskis Nordic Spa at Pomeroy Kananaskis Mountain Lodge (see on Booking / TripAdvisor / Agoda) in Kananaskis Village.
This adults-only outdoor spa includes various hot pools, a cold plunge, eucalyptus steam room, barrel saunas, exfoliating cabin, hammocks, and more. Guests also gain access to Two Trees Bistro in the Lodge.
You don't have to leave the kids at home, though. The hotel also features a children's indoor waterpark, children's creative centre, and a babysitting service.
For a cheaper stay, head to Crosswaters Resort (see on Booking / TripAdvisor / Agoda) next door. These are the only two hotels currently open in Kananaskis Village.
Got kids? See our favorite things to do in Jasper with kids, Banff with kids, and Edmonton with kids!
Dine at Kananaskis Mountain Lodge
Even if you don't decide to splurge on a room at Pomeroy Kananaskis Mountain Lodge, I recommend stepping into their lovely, fireplace-warmed lobby. Turn right and you'll find low-key Blacktail Bar, a lounge offering simple bites and a surprisingly extensive list of creative cocktails and craft beers on tap from across Alberta.

For a fancier feast, try Forte Restaurant, which does wood-fired pizzas and other fine Italian fare. Yet another option in the hotel is Cedar Room, for steak and other classic Canadian dishes.
Walking or Snowshoeing trails around Kananaskis Village
Even if you're staying right in Kananaskis Village, there is a network of trails around the village for anyone looking for a quick jaunt into nature.
From the back of Pomeroy Kananaskis Mountain Lodge, a sign points to Village Rim Trail, which does a near-full circuit of the village, and Village Vista Viewpoint. This trail also provides access to the longer Terrace Trail and Mt. Kidd Trail, or you can walk all the way to Ribbon Creek Day Use Area (see below).
In winter, many of these paths become snowshoeing trails.
HI Kananaskis Wilderness Hostel
Just outside of Kananaskis Village, on the road toward Ribbon Creek, HI Kananaskis Wilderness Hotel (see on Booking / TripAdvisor / Agoda) is the only hostel in the area. Come here to meet outdoorsy folk and enjoy a quiet stay in the woods.
The hostel is housed in a rustic, super cozy cabin that predates Highway 40 and Kananaskis Village. The dorm rooms are clean and well maintained, while small private rooms with a bunk for kids are also available. The kitchen and toilets are sparkling clean. In summer, there's a large fire pit outside.
Last but not least, the attendant at the hostel is a fountain of information about local hikes and attractions.
Ribbon Creek, Falls, & Lake
Ribbon Creek Day Use Area is a pristine creek at the base of Ribbon Peak in Evan Thomas Provincial Recreation Area. Come here to play in the creek, have a picnic, or gain access to several hiking trails.
This spot is the start of the challenging hike to Ribbon Falls and Ribbon Lake, which includes a chain section. Another difficult climb that begins here is the trail to Olympic Summit and Mount Allan.
Ribbon Creek Day Use Area is at the end of the road going past HI Kananaskis Wilderness Hostel.
Troll Falls
Troll Falls is one of the most beautiful and accessible waterfalls in Alberta. The trail to Troll Falls is extremely popular because it is very easy and conveniently located between Kananaskis Village and Nakiska Ski Area (see below). This makes it a family favorite in every season, including in winter when the falls are frozen.
Besides the main out-and-back trail, you can avoid the crowds by returning via Stoney Trail or Hay Meadows, both of which are just slightly longer. From Troll Falls, there's also a short but steeper trail to Upper Troll Falls.
Nakiska Ski Area
Nakiska Ski Area was first opened for the 1988 Winter Olympics in Calgary. An Olympic flame still burns near the entrance to the resort!
Nakiska means "meeting place" in the Cree language. It features 64 runs and four chairlifts on the east face of the southern end of Mount Allan, just five minutes' drive from Kananaskis Village.
Nakiska is usually open from mid-November to late-April, depending on conditions.
For more skiing opportunities, see my guides to spending winter in Jasper and winter in Banff!
Kananaskis Trail (Highway 40)
Kananaskis Trail, or Highway 40, begins on the Trans-Canada Highway (Highway 1) a short drive east of Canmore. It ventures south into the heart of Kananaskis Country, traversing around 10 provincial parks and recreation areas before veering back toward High River, south of Calgary.
The following things to do are all located on or just off Highway 40, starting at Highway 1, passing Kananaskis Village and the turnoff for Highway 742 (see next section below) along the way.
Canoe Meadows
One of the first stops to tempt you when driving south on Kananaskis Trail is Canoe Meadows. The rapids here are famous for canoeing, kayaking, or even river surfing.
Even if you're not doing any of the above, it's still a nice spot to walk down to the river and admire the rapids. It is also the start (or end) point of the Canoe Meadows to Widowmaker Trail, an easy walk that follows the river. You can do the walk in either direction.
There's also a group campground on site.
Widowmaker
From Canoe Meadows, Highway 40 passes the Kananaskis Visitor Information Centre, then reaches Widowmaker.
The fear-inducing name comes from a super narrow section of the river. You can walk right out onto the rocks for a closer look at it. There's also an easy trail along the river heading downstream back toward Canoe Meadows.
Barrier Lake
Just a few minutes down the highway past Windowmaker and you'll reach Barrier Lake, a large human-made lake that runs along the highway. The lake is created by the dam at the northern end.
There's a day use area by the dam, where you can stop for a picnic or dip your feet in the ice-cold blue water. The shore is mostly rocky, but sandy in parts. There's also a boat launch, and the lake is popular for paddling or SUP. You can rent kayaks and canoes in season from a spot about halfway down the lake (marked "Barrier Lake Boat Rentals" on GoogleMaps).
Barrier Lake Day Use Area is also the starting point for several hikes, including Jewel Pass, Yates Mountain, and a trail along the shore of the lake.
For lake lovers, also see my guides to the best Jasper lakes and best Banff lakes!
Wasootch Day Use Area
Next, a small turnoff on the opposite side of the Highway from Barrier Lake leads to Wasootch Day Use Area. From the parking lot, a few picnic tables offer a commanding view of surrounding mountains, and the wide, mostly dry Wasootch creek bed.
You can follow Wasootch Creek upstream on Wasootch Creek Trail, or go further up on the more difficult Wasootch Ridge Trail.
Mt. Lorette Ponds
The paved path around Mt. Lorette Ponds offer one of the easiest walking trails in Kananaskis. Here a totally flat, paved trail leads around a series of incredibly scenic ponds. It is stroller and wheelchair friendly, and suitable for visitors with very young kids.
There are also several picnic spots around the ponds, and the ones closest to the parking lot have firepits.
Sundance Lodges
For a really cool stay in Kananaskis, look no further than Sundance Lodges. The resort offers unique accommodations like teepees and trapper's tents for luxury camping, as well as regular campsites.
Hot showers and included, and sports equipment is available for hire. They even offer food packages for campfires, including s'mores, fondue, and champagne!
Boundary Ranch
Boundary Ranch offers a variety of guided horseback ventures into the surrounding area. There are shorter and longer routes, with options for a burger or steak lunch. The Ridge Ride and Trail Blazer are especially recommended, or for a full day of fun, opt for the Kananaskis Adventure.
There are also short pony rides available for kids. Boundary Ranch is just before the turnoff for Kananaskis Village.
Kananaskis Country Golf Course
Few golf courses are as visually appealing as Kananaskis Country Golf Course. Gorgeous Kananaskis peaks like Mt. Kidd and several others loom large over the this 36-hole course. There are over 120 silica sand bunkers and six sets of tee boxes.
The golf course feels very remote, but is only an hour's drive from Calgary or Banff. The golf course is just after the turnoff for Kananaskis Village. Just south of the golf course is the large Mt. Kidd RV Park.
Wedge Pond
Wedge Pond has another easy but incredibly scenic walk suitable for visitors of all ages and hiking abilities. The walking trail does a full circuit of the small lake in 30 minutes or less, or you can walk all the way around the lake right on the shore.
The best view is from the opposite side, looking back toward the day use area and the mountains backing it. In autumn, the fall foliage makes the view especially colorful and inspiring.
The picnic spots here are nicely concealed in the woods.
Fortress Mountain Ski Resort
Fortress Mountain Ski Area, the second ski resort in Kananaskis, closed in 2004 due to safety issues. When opened, it had the highest base elevation (1800 meters) of any ski resort in Canada (the title now belongs to Marmot Basin in Jasper, at 1698 meters).  
Rumor has it that Fortress Mountain is planning to reopen in December 2023, with a new lodge, lifts, and tubing park. Stay tuned!  
The ski resort is a 20-minute drive uphill from Fortress Junction, a small gas station on Highway 40 that also happens to have tasty ice cream in summer.
Elbow Lake
After Highway 40 passes the turnoff for Highway 742, the first notable stop is the trailhead for Elbow Lake in Elbow Sheep Wildland Provincial Park. This 4.2 km (1–2 hrs) trail is easy enough for kids with some hiking experience.
The highlight is the pretty lake itself. There's also a backcountry campsite at the lake, and more dedicated hikers can continue further to Rae Glacier.
Highwood Pass
Highwood Pass hold the title of highest paved road in all of Canada, at 2206 meters (7238 feet). A parking lot provides access to the Highwood Pass Interpretive Trail, a boardwalk through the fragile alpine environment.
This parking lot is also the starting point for a few very popular hikes (see next two entries). Beware that these two hikes are hot spots in larch season, the last two weeks of September, when the tamarack trees turn golden in color, the only conifer in the world to do so. At this time, the parking lot fills up, and people have to park along the highway for hundreds of meters in either direction, even on weekdays.
Also, don't be surprised to find cows from a local farm standing around (or, like when I visited, right on the highway) at the pass.
Highwood Pass and Highway 40 going south from it usually close in winter, so the remaining attractions in this section are no accessible in winter.
Pocaterra Cirque & Ridge Trail
Pocaterra has in recent years become known as the most beautiful spot in Kananaskis to see larch (tamarack) trees when they turn golden in late September, rivalling Larch Valley in Banff National Park.
Pocaterra Cirque is an out-and-back trail, while Pocaterra Ridge is a longer, more difficult one-way trail involving a peak ascent and traversing a ridge; you'll have to leave a car or arrange for someone to pick you up at the other end.
The good news is that both trails pass through the incredible forest of larch trees; you only have to hike about 30 minutes up either trail to reach the start of the larch forest. After walking right through the larch forest, there's another very beautiful section of larch trees just above the small pond.
There are no signs on this unofficial trail, and it's easy to get lost. I recommend signing up for AllTrails Pro and downloading a GPS map before you go. I did this, and ended up helping several lost hikers find the way!
Ptarmigan Cirque Trail
Another extremely popular hike starts at Highwood Pass, but on the other side of the Highway from the Highwood Interpretive Trail and Pocaterra trailhead. This is an official trail, so there are signs.
Ptarmigan Cirque is widely known as an awesomely scenic alpine hike that's even doable with kids. It also features views of larch forests in season, but you don't get to walk right among the larch trees like you do on the Pocaterra hikes.
Arethusa Cirque
Arethusa Cirque is a less busy alternative to the above hikes. The trail head is just a few minutes past Highwood Pass, meaning you can avoid trying to park at that busy parking lot. There's no sign for this one, but you'll notice a dirt road with some cars usually parked on it on the left side.
Arethusa Cirque also offers stunning scenery and larch views. There's a lot of debate about whether you should do it clockwise or counterclockwise; going clockwise has a steep uphill scramble, but this is safer than trying to do it downhill (counterclockwise), especially when the ground is wet or muddy.
There's also an option to return on a shortcut through the larch forest, right down the middle of the loop. Just like Pocaterra, this is an unofficial trail that isn't marked, and people often get lost in the cirque. It's best to download a GPS map.
Mist Mountain Hot Spring
The small natural hot spring on Mist Mountain is one of those places that everyone wants to go to after seeing the pictures on social media. I haven't been yet, so I don't have a picture for it, but the above video from Made to Travel will give you a sense how busy it can be and how awkward it can be sitting around in a line to take a dip; see more info in their guide to Mist Mountain hot spring.
Mist hot spring's two pools sit on the slope of a mountain, with an incredible view down the valley. The pools are so small, though, that only 1-2 people can fit at a time.
The moderate-to-difficult hike takes about three hours return. There's also the option to continue on to the peak. Note than because the road closes in winter, you can't access the hot spring in winter. Also, it's not super hot, so bring warm clothes for after!
Smith Dorrien Trail (Highway 742)
Fifty kilometers (35 min) south of Highway 1 (and 35 km south of Kananaskis Village) on Kananaskis Trail, Smith Dorrien Trail branches off to the west.
After a cluster of campgrounds, hike trailheads, and day use areas around Peter Lougheed Provincial Park Discovery Centre, the highway becomes a gravel road. This road tends to be extremely dusty, bumpy, and washboard-ridden, so it's not always a pleasant drive.
There isn't a whole lot to see along the 62-kilometer route, which terminates in Canmore. The first six sights below are all in the first few minutes of the Smith Dorrien. If you do decide to continue on to the last few, budget a full 1 hour 45 minutes for the highway from start to finish, and that's not counting time for stops.
Also be sure to check if there are any seasonal closures on the highway, and make sure you have enough gas. There is no cellphone coverage on this route!
South Lawson Peak
South Lawson Peak provides an epic 360-degree view of the surrounding mountains and lakes. It's a highly scenic, rewarding, and relatively uncrowded trail. It's rated as difficult and takes about four hours return.
The trailhead for South Lawson Peak is right at the start of the Smith Dorrien Highway, just before Lower Kananaskis Lake.
Lower & Upper Kananaskis Lakes
Kananaskis country's beautiful namesake lakes are just off the Smith Dorrien Highway. The highway passes right along the north shore of Lower Kananaskis Lake. You can access the lake at Canyon Day Use Area, Peninsula Day Use Area, or Canyon Creek Campground.
Take Kananaskis Lakes Trail south from Peter Lougheed Discovery Center to Elkwood Campground, from where Lake Shore Road also provides access to the lake.
From there, Kananaskis Lakes Trail continues south to a boat launch at White Spruce Day Use Area on the eastern shore of Upper Kananaskis Lake. This is also the starting point for the hike to Rawson Lake and Sarrail Ridge (see below).
The road then continues even further to Panoroma Day Use Area and North Interlakes Day Use Area in the narrow space between the Lower and Upper Kananaskis Lakes.
Rawson Lake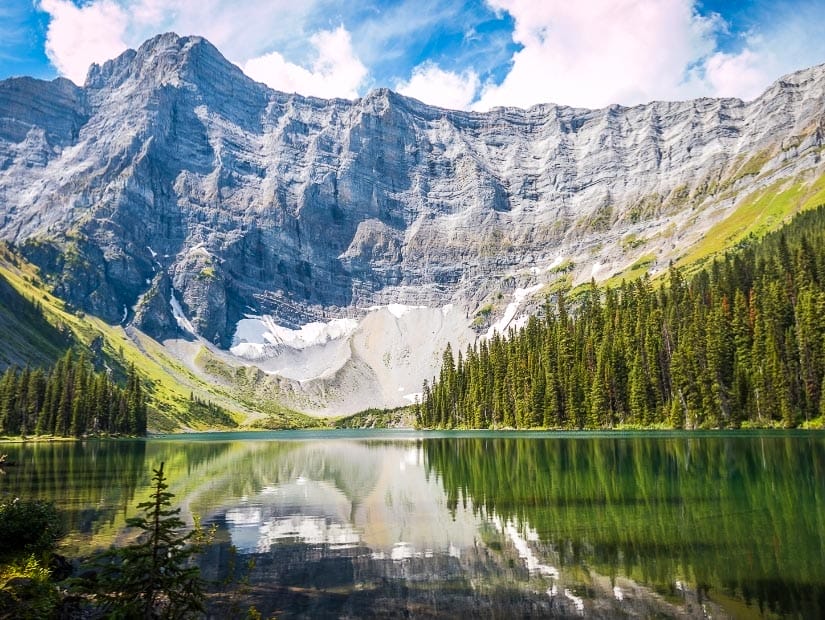 One of the most popular hiking trails in the area is Rawson Lake trail. Some visitors describe Rawson Lake as equal in beauty to Lake Louise and other far more famous Rocky Mountain lakes, but minus the tourist crowds.
The trail is rated as moderate and takes around three hours to complete. It's a steady ascent to the lake, but worth every step, especially when the water is calm and Mt. Sarrail reflects on the lake.
Sarrail Ridge
A worthwhile extension of the Rawson Lake trail is to continue from Rawson Lake up to Sarrail Ridge, from where the view looking down on Kananaskis lakes is nothing short of breathtaking.
This extension adds 400 meters of altitude gain on a very steep trail, including some areas of loose rock. Care must be taken, especially coming down.
Blackshale Creek Suspension Bridge
Blackshale Creek Suspension Bridge is a 73-meter (240-foot) suspension bridge across a deep creek valley. It is buried in the woods, so you barely catch sight of it until you get right up to it.
There are two ways to reach the bridge. The shorter way is to park on the highway right below it and follow the short and easy loop trail up to one end of it and down from the other. There's no sign on the highway and definitely no Internet signal, so it's best to use a GPS hiking app to find the trailhead, or watch for cars parked on the right side of the highway. It's about five minutes past Lower Kananaskis Lake.
The longer but more official trail to the bridge starts from Black Prince Parking lot 500 meters further down the highway. The trail from there to the bridge is part of the High Rockies Trail, which itself is part of the Trans Canada Trail.
Chester Lake
Chester Lake is another stunning alpine lake that can be reached on a moderate-difficulty trail, taking about three hours return. Most of the trail is wide, making it suitable for families or people who like to hike side by side or in bigger groups.
The lake is a popular larch viewing spot in late September. Yellow tamarack trees line the shore, creating an incredible scene with the mountainous backdrop.
Mount Engadine Lodge
Mount Engadine Lodge (see on Booking / TripAdvisor / Agoda) is the only hotel on the entire Smith Dorrien Highway, but it's a good one. There you can stay in a gorgeous cabin or luxurious glamping tent. The setting is totally remote and away from it all.
Don't expect televisions, but do expect your own private propane-fired stove in your room!
Watridge Lake & Karst Spring
Just before Smith Dorrien Trail reaches Spray Lakes Reservoir, Watridge Lake Trail is one more hike worth considering. Like the trail to Chester Lake, this one begins as a wider road and is suitable for families, including younger children.
From pretty Watridge Lake, a side trail goes up a creek and waterfall to Karst Spring, where spring water gushes out from the rocks.
Spray Lakes Reservoir
Spray Lakes were a string of lakes that became one long lake after the damning of Spray River, a tributary of Bow River. The Smith Dorrien follows the lake's shore for several kilometers, with a few different day use areas should you want to stop.
Hiking options along the lake include the relatively short but very steep hike to Little Lougheed, and another easier one to West Wind Pass.
Around Canmore
Kananaskis surrounds the town of Canmore, so some of the very popular things to in Canmore (just out of the town's borders, that is), are technically in Kananaskis.
The below three Kananaskis things to do are just to the west of town, while the remaining five are to the east, along Highway 1 (Trans-Canada) and 1A (Bow Valley Trail) heading toward Calgary. For even more ideas, here 20 easy hikes in Canmore.
I don't include the very popular Quarry Lake here because it is technically in Canmore town, even though its very close to the below two sights. Also, Quarry Lake now has a steep parking fee.
Remember that you still need a Kananaskis Conservation Pass to stop at any of the below Kananaskis attractions and hikes. If you only plan to stay in Canmore town, then you don't need the pass.
Canmore Nordic Center
Canmore's fantastic Nordic Centre is a small provincial park of its own. The Nordic Center was first built for the 1988 Winter Olympics in Calgary. Today its incredible network of trails for snowshoeing, cross country skiing, and more remain open to the public, with day passes and season passes available.
The below two entries are also in Canmore Nordic Centre Provincial Park.
Rundle Forebay
Just before the turnoff for Canmore Nordic Centre, there's a small parking lot for Rundle Forebay. This water reserve is the source of Canmore's drinking water, but it's also a pretty spot.
Lots of people come here for SUP and kayaking. You aren't supposed to swim in it, for obvious reasons, and that includes dogs.
Grassi Lakes Trail
Grassi Lakes are immensely popular but for good reason. This pair of alpine lakes have vibrant colors like no other, and the walking trail to reach them is easy. It's a very popular stroll for visiting families.
It takes about an hour and a half (return) to do the trail, with the option of an easier lower trail (gravel, but possible with strollers) and a slightly harder upper trail.
Ha Ling Peak
The most popular summit hike in all of Kananaskis, Ha Ling Peak is an iconic, instantly recognizable peak at the northwestern end of Mount Lawrence Grassi, right next to Canmore town. If you're looking for a relatively easy (as far as mountain peaks go) summit trail to ascend for sunrise, this is it!
With popularity comes crowds, though, so do try to avoid peak days if you can. Also, take care at the summit and make adequate preparations, especially in winter. The parking lot for the trailhead is just 20 minutes' drive west of Canmore.
Grotto Mountain Caves
Grotto Mountain, which towers directly east of Canmore, contains one of the largest cave systems in western Canada, Rat's Nest Cave. You can explore these limestone caves, including their many stalagmites, stalactites, fossils, and rock formations, on one of several guided tour options from Canmore Cave Tours or Banff Adventures.
There's a minimum age of 10-12 (depending on the tour), and a 30-minute hike is required to reach the cave entrance.
Grotto Canyon Trail
Besides the caves, there are a few excellent hikes on Grotto Mountain. One is the summit hike, which begins at the eastern end of Canmore town. The more popular one is the easy trail through Grotto Canyon. The trail is accessed from Highway 1A (Bow Valley Trail).
Families especially love Grotto Canyon Trail. Watch out for pictographs on the cliff walls as you hike up the riverbed. There's also an inukshuk garden, waterfall, and cave.
In winter, more care is needed, and make sure the ice is thick enough before you hike on it. The prize at the end is the frozen waterfall!
Heart Creek Trail & Bunker
If you're looking to make a pit stop on the drive into Canmore, Heart Creek Trail and Heart Creek Bunker are two very easy hiking trails that begin from the same parking lot just off Highway 1.
Heart Creek Trail follows a peaceful stream into the forest. Heart Creek Bunker is less appealing because it runs parallel to the highway, but the prize at the end is a 55-meter Cold War-era bunker that you can go into. Both hikes take about an hour.
Easy Hikes in Bow Valley Provincial Park
In the main section of Bow Valley Provincial Park, which occupies the flats between Highway 1 and Bow River, there are some of the easiest walks in Kananaskis. These include Flowing Water Trail, Montane Trail, Middle Lake Trail, Many Springs Trail, and Bow River Trail.
All of the above are highly suitable for kids. You can also camp along the Bow River at Bow Valley Campground, which includes a large group site with its own playground, or at Willow Rock Campground.
Mt. Yamnuska
Mt. Yamnuska in Bow Valley Wildland Provincial Park is another of Kananaskis' most iconic peaks; you can't help but admire its sheer vertical cliffs as you drive into Kananaskis from Calgary.
Yamnuska means "wall of stone" in the Nakoda language; the mountain is also refferred to as Mount John Laurie.
The hike to the peak of Yamnuska is a serious scramble. The mountain's cliffs are also a hot spot for rock climbers. If you just want to get a nice view of the mountain, try Bow River Trail (see previous entry) in Bow Valley Provincial Park.
Other Kananaskis Activities
In this article, I've only really scratched the surface and describes some of the most popular things to do and places to visit in Kananaskis. There's a lot more to Kananaskis, and that's why local Albertans can never get enough of exploring it.
There are dozens of hikes that I haven't mentioned in this article, as well as several more campgrounds, both, frontcountry and backcountry, plus crown land areas. In winter, Kananaskis has an unbelievably extensive network of snowshoe trails.
I didn't even touch the remoter areas of Kananaskis, such as Sibbald Area and McLean Creek, which are full of quad/ATV/off-road vehicle trails.
Nor did I mention Sheep River Provincial Park, with its numerous waterfalls, campgrounds, and moderate-level hikes, and Don Getty Wildland Provincial Park, with its backcountry camping opportunities.
As you can see, Kanananaskis is an adventurists' dream, so get out there and enjoy it!