Dear reader: This article contains links to products and services that I may be compensated for, at no extra cost to you.
Edmonton is a vigorous prairie town with a mind of its own and a hearty population.
Once the "City of Champions," the provincial capital of Alberta and fifth largest city in Canada is best known for its hockey team (go Edmonton Oilers!) and the largest shopping mall in North American (West Edmonton Mall).
But there is much more to E-Town than oil, hockey, and shopping. Edmonton hosts so many excellent festivals that it has been dubbed Festival City. We've got burgeoning arts, culinary, and craft beer scenes, farmers' markets galore, world-class museums, a fine national park on our doorstep, and the largest urban green space in North America. Yes, the winters are long and harsh, but summers are heavenly, and the sky is blue and sunny more often than not.
I was born and raised in Edmonton, and after nearly two decades of traveling and living abroad, I now find myself back at home, rediscovering my own backyard.
In this article, I'll introduce my personal favorite things to do in Edmonton. I'll start with the top Edmonton attractions, then cover the best neighborhoods, parks, hiking trails, and markets. Finally, I'll suggest some day trips and road trips from Edmonton, outdoor activities, things to do in summer & winter, and finally the best Edmonton events. If you've got little ones, see my similar but totally kid-focused article covering the best things to do in Edmonton with kids.
As an ode to Wayne Gretzky (player #99), who famously led the Edmonton Oilers to victory four times, you'll find 99 places to visit in Edmonton in this article (they aren't numbered, so you'll just have to trust me!)
Top 10 Edmonton Attractions
The following Edmonton sights and attractions are the big ones, the ones you must see, whether you are an Edmontonian or just paying a visit. The below interactive map includes most (but not all) of the Edmonton things to do and places to visit that I mention in this article.
Edmonton River Valley
Edmonton is blessed with the largest city park in all of Canada and North America: the Edmonton River Valley.
The North Saskatchewan originates at the Saskatchewan glacier in Banff National Park, carving a deep, meandering valley into the Alberta plains as makes its way toward Lake Winnipeg in Manitoba.
There are a staggering 20 large parks and over 160 kilometres of hiking trails in the Edmonton River Valley, several of which I'll cover in the "best parks" section below.
Some of the best views of the Edmonton River Valley can be enjoyed from vantage points along Saskatchewan Drive, Constable Ezio Farone Park, Louise McKinney Riverfront Park, and Rowland Park Lookout (see image above).
But perhaps the most iconic Edmonton view is looking down on Walter Dale Bridge from Queen Elizabeth Hill near Kinsmen Park, or from River Valley Lookout points like this one further up the hill on Saskatchewan Drive.
Other famous attractions in the Edmonton River Valley include the glass pyramids of the Muttart Conservatory, the Edmonton Valley Zoo, and Fort Edmonton Park (all of which I'll introduce below).
Besides walking or cycling, you can also explore the Edmonton River Valley by segway, or in summer rent a canoe or kayak and float your way through the city on the river itself.
West Edmonton Mall
West Edmonton Mall (WEM, or as the locals call it, "West Ed" or simply "the Mall," was the largest shopping centre in the entire world until 2004. Its not even in the top-20 anymore, but it's still a behemoth, to say the least, and remains the largest in North America.
West Ed is the kind of place that out-of-towners gravitate to, but most locals I know avoid it at all costs. But there's no denying that there's a whole lot to do at the Mall, besides checking out the 800+ retail shops, that is.
The Mall boasts one of the world's largest indoor waterparks (World Waterpark) and indoor amusement parks (Galaxyland).
The former includes a mind-boggling array of exhilarating waterslides, not to mention bungee jumping and the world's largest wave pool. The latter includes Mindbender, an insane roller coaster ride with three full loops (note that as of early 2023, the Mindbender may be retired for good).
But don't worry, there are loads of other thrilling rides to enjoy there. Galaxyland has also recently rebrandsed as "Galaxyland Powered by Hasbro", so you can expect lots of Hasbro-themed attractions like My Little Pony, Mr. Potato Head, and so on.
Beyond that, The Mall also has an indoor skating palace, a full replica of Christopher Columbus' Santa Maria ship, scuba diving, mini golf, IMAX theatre, bowling alley, Europa Boulevard, Chinatown, Bourbon Street (modelled on New Orleans and recently rebranded as "BRBN St."), and numerous restaurants & bars.
Last but not least, you can spend the night in a variety of themed rooms at Fantasyland Hotel (see on Booking / TripAdvisor / Agoda), so you could literally plan a whole trip to Edmonton without leaving the Mall.
Read all about our staycation at the Fantasyland Hotel space-themed room!
Another iconic hotel in Edmonton is the Fairmont Hotel Macdonald (see on Booking / TripAdvisor / Agoda), which overlooks the River Valley from the edge of downtown.
Royal Alberta Museum
The Royal Alberta Museum (RAM) is Alberta's premier museum of human and natural history, along with the Glenbow in Calgary.
Renamed as such after a 2005 visit by Queen Elizabeth, the museum was completely moved from its original location in Glenora and rebuilt downtown, reopening to the public in 2018. The new RAM has twice as much gallery space as the original, occupying 4 hectares just north of Edmonton City Hall, and making it the largest museum in Western Canada.
Visitors entering the immense lobby are greeted by a life-size skeleton of Albertosaurus, our province's namesake dinosaur.
Main galleries cover Alberta's natural history (everyone in Edmonton remembers those animal displays from their childhood), indigenous culture and human history, the live bug gallery, a huge interactive children's gallery, and rotating feature exhibits.
For more travels around Alberta, read my guides to Red Deer, Drumheller, Lethbridge, Canmore, Kananaskis, Medicine Hat, Waterton, and Fort McMurray!
Art Gallery of Alberta
Speaking of massive renovations, the Art Gallery of Alberta was also totally rebuilt and reopened in early 2010 with a glossy zinc and stainless steel design meant to represent the meandering North Saskatchewan River and aurora (Northern Lights).
The structure fronts onto Churchill Square, the main square of downtown Edmonton. Take a few minutes to explore the square, with views of Stanley A. Milner Library (Edmonton Public Library's headquarters) and the water fountains at City Hall. In summer, a variety of festivals take place in the square (see 'Edmonton events' section below).
Entering the Art Gallery of Alberta, visitors gain access to a collection of 6000+ artworks. Local Alberta and Western Canadian art are the main focus, leaning toward the modern.
The gallery also offers a variety of children's programs and free admission to students and minors.
Alberta Legislature Grounds
One of Edmonton's most iconic buildings is undoubtedly the Alberta Legislature, called "the Leg" (pronounced 'ledge') by locals.
The Leg sits on a large promontory overlooking the River Valley at the southwestern edge of downtown, next to the High Level Bridge.
The commanding building dates to 1913 and is built in the Beaux Arts style popular in France in the late 19th century.
The biggest draw for locals, however, is the lovely, expansive grounds surrounding the Leg. On the downtown side, several large fountains draw mobs of children (and adults!) for a summer dip. In winter, come here to see gorgeous Christmas lights and ice statues.
On the river side, a large grassy hill and field are the perfect place to have a secluded picnic with friends, while various trails connect to the River Valley, High Level Bridge, and nearby parks.
Edmonton legend has it that if you peer into the large lights shining onto the walls of the Leg at night, then look around, you'll experience the "Purple City" phenomenon. I can confirm this, but don't recommend doing it (more than once).
You might notice 'YEG' in a lot of Edmonton business names. It's our international aviation code…#YEG4LIFE!
Fort Edmonton Park
Fort Edmonton Park is Edmonton's top historic attraction, a living history museum covering various periods of Edmonton's early history.
Originally sitting just south of the Alberta Legislature building, the fort was later moved to a riverside plot in southwest Edmonton.
Visitors can explore the original 1846 fort, followed by streets of shops set up to look as they did in 1885, 1905, and 1920. Costumed interpreters stay in character, while streetcars, horse-draw carriages, and trains ply the sprawling grounds. You can even watch a short film in the restored 1929 Edmonton Capitol Theatre.
In summer of 2021, Fort Edmonton Park was reopened with a revitalized midway & exhibition, and a gorgeous new Indigenous People's Experience building.
High Level Bridge Street Car
For a truly unique way to traverse the Edmonton River Valley, hop on the High Level Bridge Street Car. Operated by the Edmonton Radial Railway Society, these beautifully restored streetcars come from across Canada and the world (we rode in a 1947 car from Melbourne).
The streetcars cross the top of the High Level Bridge, connecting downtown on the north side of the river to the popular Whyte Avenue (see 'Best neighbourhoods' section below) on the south side. You'll enjoy epic River Valley views along the way.
You can hop on at either end (cash only), with departures every 40 minutes, Friday to Monday, early summer to Thanksgiving.
Telus World of Science
Budding scientists and astronomers can't miss Telus World of Science; we have an annual pass and visit all the time.
Originally focusing mostly on space (when I was a kid, it was called 'Edmonton Space Science Centre', and I still can't help calling it that), the museum now covers various scientific fields, including environment, health, robotics, space, kinetics, and more.
The museum is particularly interactive, so kids will especially love it. There's a large indoor play area as well as a guided project room. Changing feature exhibits also lean toward the kid-friendly, with past ones including Indiana Jones, the science behind Pixar, and dinosaurs.
The dome-shaped Margaret Zeidler Star Theatre (included in admission) and enormous IMAX theatre (tickets separate) show rotating documentaries that are almost always fantastic.
Outside the main building, a real-life observatory (open when weather permits) allows guests to peer at the stars through top-of-the-line telescopes.
Telus World of Science is currently undergoing a major expansion; check in first to see what's open.
Muttart Conservatory
If you're wondering what the collection of four large glass pyramids in the Edmonton River Valley are, well, they're the Muttart Conservatory, another iconic Edmonton landmark.
This city-run facility is in fact a greenhouse, with each pyramid housing a unique biome. These include arid, temperate, tropical, and a changing fourth biome. A fifth smaller pyramid sits above a central lobby that connects the four pyramids underground.
In each one, visitors are totally immersed in that climate, surrounded by vegetation, ponds, and more. Prepare to sweat! One thing we were surprised to learn on our last visit: even though Edmontonians always pronounce it like "Mew Tart", the correct pronunciation is supposed to be "Mutt Tart"!
Edmonton Valley Zoo
Edmonton Valley Zoo is a medium-sized zoo featuring over 350 species. Expect a mix of local Canadian creatures and animals from afar, with some highlights including snow leopards, Arctic wolves, lemurs, and (my personal favourite) red pandas.
The zoo participates in and contributes to various conservation efforts, including the Red Panda Network, but animal rights activists have also likely heard of the controversial Lucy the Elephant case; many wanted her out, but Jane Goodall herself has concluded that the risks of moving her would outweigh the benefits.
In winter, visit the zoo for Zoominescence, a Christmas lights display. In summer of 2021, it was announced that the zoo is now serving alcoholic beverages, so visitors can now purchase a local beer or glass of prosecco from one of the vendors and enjoy it anywhere that food and drinks are allowed on site.
Best Edmonton Neighborhoods to Explore
The following are the best neighborhoods in Edmonton for urban exploration. All four are connected and best explored on foot, with a few hops on the local bus, LRT, or a Lime shared scooter when necessary.
For even more details and other cool Edmonton areas I don't cover below, see my more complete guide to the best neighborhoods in Edmonton.
Downtown Edmonton
While Edmonton's downtown core has got a bad rap from locals in recent years (mostly due to the lack of parking and growing homelessness issue), the area is undergoing major revitalization and has a lot going for it.
Downtown Edmonton's core is Churchill Square, which is flanked by City Hall, Art Gallery of Alberta, and Stanley Milner Library. Nearby are the Royal Alberta Museum, Downtown Farmers Market, and Ice District, Edmonton's sprawling new hockey complex.
It only takes a few steps from downtown to access the River Valley, including the 100 Street Funicular and Chinese Garden in Louise McKinney Riverfront Park. Iconic Hotel Macdonald overlooks the River Valley from the edge of downtown.
Heading west, 104 street is definitely the prettiest, with its historic red brick buildings, many enticing restaurants & bars, and Neon Sign Museum, a collection of old neon signs from around the city (you can read about other lesser-known museums in Edmonton here!)
In summer, Alfresco on 4th fills in the street with local vendors every Saturday from 10 a.m. to 3 p.m.
Whyte Ave & Old Strathcona
On the south side of the North Saskatchean River, Whyte Avenue (82 ave, from about 109 to 99 st) is Edmonton's trendiest and best-known strip.
For decades, subcultures have convened on Whyte. Although today it is somewhat gentrified, you'll still find plenty of cool cafés (including the Edmonton's Cat Café!), bars, music venues, hipster shops & restaurants, antique stores, loads of street art, and more.
There are also so many breweries in the area that some have banded together and dubbed 99st a beer district called Happy Beer Street.
The greater Old Strathcona area around Whyte Ave is a lovely historic neighbourhood that was once its own city separate from Edmonton. An original train station has housed various night clubs and is currently being converted into a shipping container vendor centre, Station Park YEG, where there's always something going on.
Nearby, Old Strathcona Farmers Market is the city's most well-known.
In summer, the area hosts the Edmonton International Fringe Festival, the largest of its kind outside of Edinburgh.
Garneau & University of Alberta
West of Old Strathcona, Garneau is another trendy neighbourhood home to many U of A students. There's a collection of popular cafés and restaurants on 109st just off the High Level Bridge, right around historic, still-running Garneau Theatre, now called Metro Cinema, and dating to 1940.
The U of A grounds are also worth exploring, with several large grassy lawns and historic buildings covered in vines. The walking trail along Saskatchewan Drive is also lovely, including a stop to admire Rutherford House.
Oliver & 124st
Oliver is a large neighbourhood just west of downtown. Jasper Ave, the main street of downtown, leads into it and is lined with restaurants. Watch for St. Joseph's Basilica, one of the city's most impressive cathedrals.
On the edge of atmospheric Grandin neighborhood (currently undergoing renaming), Constable Ezio Farone Park offers one of the city's best views and is a lovely hangout spot, especially in the late afternoon and around sunset.
At the western border of Oliver, 124 street rivals Whyte Ave in coolness factor (some even prefer 124th to Whyte).
124th is especially known for its many art galleries (don't miss indigenous-focused Bear Claw Gallery), while you'll also find loads of great restaurants, cafés, 124 Grand Market, a couple breweries, and a new gathering place of food trucks called The Lot. There's also Duchess Bake Shop, considered one of Canada's best bakeries.
At the north end of Oliver, Brewery District is a collection of shops and restaurants housed in the old Molson Canadian beer factory.
Other Noteworthy Places to Visit in Edmonton
Here are a few other Edmonton places to visit that didn't fit neatly into the above sections, but are still worth seeking out!
Alberta Aviation Museum
The Alberta Aviation Museum is housed in the old municipal airport, which is presently being converted into an eco-friendly urban community called Blatchford.
The museum explores the evolution of aircraft in Edmonton, which was once (and still is) a gateway to the far north of Canada. There are loads of cool planes on display, and on certain days they let kids sit in the cockpits.
Manchester Square
Manchester Square is a brand new hangout spot in Edmonton. The long row of interconnected buildings looks straight out of Europe. Check out Arcadia Brewing in the corner lot by the water fountain – it's one of Edmonton's best and most welcoming breweries.
Other excellent new business you can now find in the square include DasBrezelHaus, which does great pretzels, and Majesty and Friends, which sells a variety of locally made products.
John Janzen Nature Centre
Right next door to Fort Edmonton Park, John Janzen Nature Centre is aimed at teaching children about local wildlife and ecosystems. I have fond memories of going here a as child and peering at creatures in the ponds.
After being closed for years, John Janzen Nature Center finally reopened to the public in summer of 2022. Their new indoor center features displays teaching about local plants and animals, live bees (in an enclosed area, don't worry!), and an indoor playcenter. Outside, there are walking trails in the forest, but the ponds I remember from my childhood are mostly dried up.
John Janzen is especially popular for school groups and summer camps. For the casual visitor, you might want to consider visiting the Edmonton Zoo or Royal Alberta Museum instead.
Classic Car Gallery
Check out the impressive collection of classic cars at Yesterday Auto Gallery on the south side. This private collection of a Sherwood Park resident features over 100 vintage cars, with new cars being added all the time. There's also a retro cafe (Thursday to Saturday) on site.
Edmonton Breweries
As a beer lover and Edmontonian, I'm pretty biased. But we have some fabulous breweries in town, and the list is ever growing. There were 19 last time I checked!
Some of my personal faves include Situation Brewing on Whyte Ave, Irrational Brewing (a new one housed in a 1930s power substation), Sea Change Brewing for their Prairie Fairy (a perfect blackberry wheat ale with proceeds going to local LGBTQ2S+ organization Fruit Loop), and let's not forget the original Edmonton craft brewery, Alley Kat.
Best Markets in Edmonton
New markets keep popping up all over Edmonton to cater to different neighbourhoods. They offer hyper-local foods, produce, arts & crafts, beers, spirits, and more.
Old Strathcona Farmer's Market
Old Strathcona Farmers' Market is Edmonton's best-known market. Located just off Whyte Ave, in historic Old Strathcona, the year-round indoor market has been going strong every Saturday since 1983.
For a fun way to arrive in summer, hop on the High Level Street Car from downtown, which stops right at the back.
Edmonton Downtown Farmers' Market
With roots going back over a century, the Downtown Edmonton Farmers Market also operates year-round, with indoor and outdoor sections.
Expect a wide variety of local foods and products, plus welcoming smiles. The market runs every Saturday from 9 a.m. to 3 p.m., with free parking on site. It is located on the northeastern edge of downtown, at 97 street and 103 avenue.
Alfresco on 4th (104 Street Promenade)
Alfresco on 4th is a new pedestrian-only promenade on 104 street downtown, between Jasper Avenue and the Ice District.
Already one of downtown's most atmospheric streets, the Alfresco sees the street filled with vendors every Saturday in summer (10 a.m. to 3 p.m., mid-June to mid-September), while the street's many great restaurant and bar patios are at their liveliest and sunniest at this time.
124 Grand Market
Serving northwest Edmonton since 2012, the 124 Grand Market has grown into one of the city's best.
The market alternates between two locations on hip 124 street: 108 avenue on Thursdays (4-8 p.m., mid-May to early-October) and 102 avenue on Sundays (11 a.m. to 3 p.m., early-June to late-September).
Whyte Avenue Art Walk
An art-focused market, the Whyte Avenue Art Walk allows local artists to display and sell their works to anyone who is interested. It's a great way to meet and network with local artists!
The event usually takes place for a few days in the first couple weeks of July along Whyte Ave.
Other Edmonton Markets to Check Out
The following are some smaller neighbourhood markets also worth paying a visit to.
Best Parks in Edmonton
As I already mentioned above, Edmonton has a large number or excellent green spaces, many of which are in the sprawling Edmonton River Valley. Below are some of the best, according to me!
If you're exploring the city with kids, also see my guide to the 20 best playgrounds in Edmonton.
Louise McKinney Riverfront Park
This large park next to downtown features a Chinese garden, pagoda and mini Great Wall. There's also Frederick G. Todd Lookout and a few other river valley view points, and downtown access via the pedestrian Funicular Promenade Bridge and 100 Street Funicular.
Rundle Park
This expansive park on the east side is known for its large ponds, walking trails, and foot bridge to Goldbar Park on the other side of the river. In winter, it has excellent tobogganing hills and a new system of ice skating paths and rinks.
Kinsmen Park
Hugging the River Valley across the river from the Alberta Legislature Grounds, Kinsmen Park is known for its Grizzly Bear playground, outdoor pool, spray park, and enormous Kinsmen Sports Centre, where Olympic divers train. There's also small John Walter Museum on site, a collection of homes dating to 1875 – 1920.
Hawrelak Park
Hawrelak Park occupies a large bend in the North Saskatchewan. It is known as a centre of events, from outdoor concerts and Heritage Festival in summer to a huge skating rink, Ice Castle, and the Silver Skate Festival in winter. Note that Hawrelak will be closed for major renovations from 2023 to 2026.
Borden Park
Northeast of downtown and adjacent to Northlands Expo Centre and K-Days grounds (see 'Edmonton events' section below'), Borden Park is one of the best non-River Valley parks in Edmonton. It's got a decent playground, outdoor swimming pool, and was recently voted to have the best restroom in Canada.
Other Edmonton Parks Worth Visiting
Sir Wilfred Laurier Park: Between the Zoo and the river, with an excellent new playground and many picnic spots
Constable Ezio Farone: Small park with great river and High Level Bridge views
Victoria Park: Known for its large ice skating rink & lit up skating path
Government House Park: Park at the old Royal Alberta Museum location to see a beautiful totem pole and Korean pavilion.
Best Walking Trails in Edmonton
Thanks in large part to the River Valley, Edmonton has a plethora of walking and hiking opportunities, with certain staircases into the valley attaining celebrity status.
You can pretty much traverse Edmonton from end to end by following the cycling & walking paths along either side of the North Saskatchewan River. On top of that, here are some other walking paths and cycling trails that I recommend:
Whitemud Creek Ravine
A tributary of the North Saskatchewan, the Whitemud Creek forms a long, green corridor in southwest Edmonton that is filled with hiking trails. Seldom busy, these local gems feel miles away from the city. You can even spot some hoodoos in the making (visible in the above photo)!
Park at Snow Valley Ski Club on Whitemud Drive to access Whitemud Creek Trail, or at Mactaggart Sanctuary Trail Parking Lot on 23 ave to access the trail of the same name.
Mill Creek Ravine
Accessible at the far eastern end of Whyte Ave, Mill Creek Ravine is another urban creek valley, but better known than the last one. A 10 km-return trail follows the creek all the way to the North Saskatchewan and back.
Mill Creek Outdoor Pool, right in the ravine, is popular in summer.
MacKinnon Ravine Park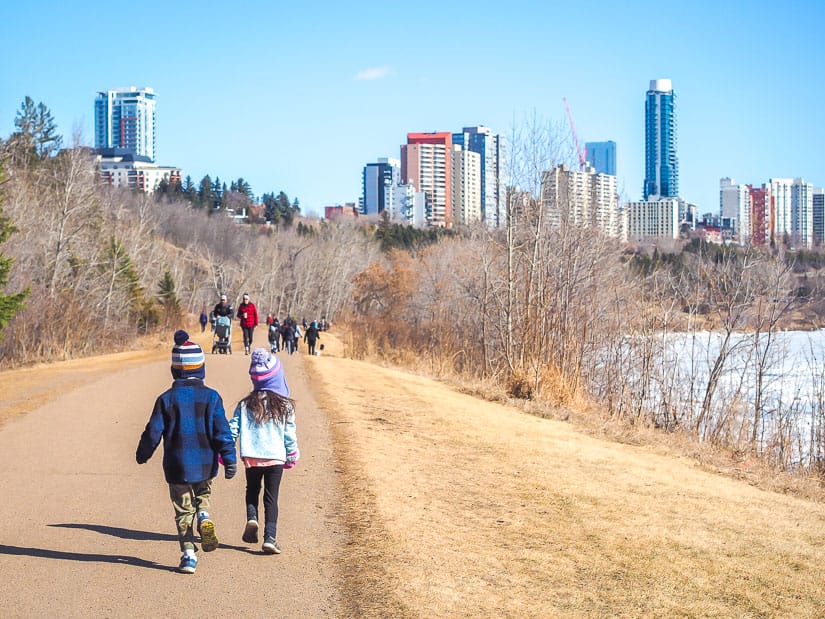 Yet another ravine leading to the river, this west-end one is wide open (the creek is totally dried up), with a popular cycling and walking trail that heads down to the river and connects to the main riverside path.
Emily Murphy to Kinsmen Park
This leisurely stroll between two big riverside parks is mostly at river level, offering great river views and a nice breeze off the water. In winter, you can gaze at the huge chunks of ice on the river. Just never walk out onto the ice!
Other fun hikes in Edmonton
Other popular hikes in Edmonton include the trails connecting Sir Wilfred Laurier Park to Hawrelak Park, Rundle Park to Goldbar Park, and the North Saskatchewan River Loop Trail.
Outside of Edmonton, you won't find many verticals, but there are some excellent shorter and longer trails in Elk Island National Park, Lois Hole Centennial Provincial Park, Clifford E. Lee Sanctuary, Devon Voyageur Park, Chickakoo Lake Recreation Park, and Cooking Lake Blackfoot Recreation Area.
Best Things to Do Around Edmonton
There are endless opportunities for exploration beyond the city as easy day trips from Edmonton. Some of the most famous Edmonton attractions are in fact located just outside of the city. For longer trips from the city, also see my guide to the best Edmonton road trips and best waterfalls near Edmonton!
Elk Island National Park
The smallest of Alberta's five national parks, Elk Island National Park is just a 30-minute drive east of downtown Edmonton. The park straddles either side of the Yellowhead Highway (Highway 16) in the direction of Saskatchewan.
Elk Island has been pivotal to the conservation of the bison, which at one point almost went extinct. You are almost guaranteed to see the animals, with plains bison inhabiting the section of the park north of the highway (along with most of the park's sights and amenities) and a herd of wood bison occupying the more remote southern section.
Elk Island is a true gem for nature-loving Edmontonians. The park boasts over a dozen hiking trails, opportunities for kayaking, canoeing, camping, snowshoeing, cross-country skiing, bird & wildlife viewing, and more.
Learn more in my guide to all 38 of Canada's national parks.
Ukrainian Cultural Heritage Village
Just past Elk Island National Park, Ukrainian Village is another prime Edmonton attraction that deserves at least half a day.
This living museum recreates a typical early 20th-century Ukrainian village in Alberta, complete with staffed shops, blacksmiths, grain elevators, a train station, and more. You can really get a feel for what it was like and how tough it was to survive on the prairies back in the day.
The costumed workers really stay in character, and the Ukrainian food served on site is excellent. Ukrainian Village is only open in summer.
University of Alberta & St. Albert Botanic Gardens
The expansive University of Alberta Botanic Garden in Devon, southwest of Edmonton, is a popular draw. The Garden includes the Islamic Aga Khan Garden, Japanese Kurimoto Garden, an Indigenous Garden, and more.
In winter there aren't a whole lot of plants to see, but consider making the trip for Luminaria, a Christmas light events, while in summer there are brunch and picnic experiences on offer.
In recent years, some visitors complain that the U of A Botanic Garden is not maintained well enough to justify the steep entrance cost. For a (free!) alternative, I recommend the small but gorgeous St. Albert Botanic Park north of Edmonton.
Clifford E. Lee Nature Sanctuary
If you've been to Elk Island National Park a million times like we have, consider this smaller, lesser-known alternative west of Edmonton near Devon.
Clifford E. Lee Nature Sanctuary features a raised boardwalk trail through a swamp environment. It's perfect for kids or anyone looking for an easy stroll, and there are loads of critters, birds, and other wildlife to be spotted.
Alberta Railway Museum
If you love trains, then don't miss the Alberta Railway Museum a short drive northeast of Edmonton. There are dozens of old trains, engines, and other equipment on display.
The original St. Albert train station has been transplanted here to make a replica terminal, where you can hop on and go for a short ride. The museum is run mainly by volunteers, and is open on summer weekends only.
Jurassic Forest
Calling all dinosaur lovers! You can't miss dino-themed Jurassic Forest in Gibbons, 30 minutes' north of Edmonton.
Extensive walking trails lead visitors through the forest to various life-sized dino statues, many of them moving and growling. It's more fun and natural than the usual dinosaur museum displays, and there's also dinosaur mini-golfing on site.
Edmonton Corn Maze
Get lost in this huge labyrinth created by a farmer at Edmonton Corn Maze, a short drive west of Edmonton. The design is different every year, so you'll never get bored.
Budget at least half a day with the kids; the facility includes farm animals, hay stacks to climb, a potato gun, bouncy balloons, and several fun outdoor games.
There are also beautiful sunflowers and a small sunflower maze, which makes for great photo ops.
The best time to come for the corn maze and sunflowers is in August.
Lakes around Edmonton
Edmonton really heats up in summer. Luckily, we have dozens of lakes to choose from within easy day-tripping distance.
Some of the best lakes around Edmonton for beaches, swimming, and camping are Wabamun Lake, Miquelon Lake, Pigeon Lake, Gull Lake, Sylvan Lake, and Buffalo Lake.
For even prettier lakes further afield, read my guides to the best lakes in Jasper and lakes in Banff National Park.
Giants of the Prairies
Did you know than Alberta is famous for its oversized roadside attractions? If you've got a day to kill, I recommend going for a road trip to see several of these "Giants".
In this article, I recommend several Giants of the Prairies road trip ideas departing from Edmonton and Calgary.
Go on a Central Alberta Brewery Tour
Besides all the great breweries in Edmonton, there are many more in surrounding towns and all over the province.
From Edmonton, you can plan a boozy tour (make sure to find a designated driver!) to several of the following Central Alberta breweries:
Indigenous Sights in Edmonton
Edmonton sits on Treaty 6 territory and was the traditional meeting place of many indigenous peoples, including Cree, Saulteaux, Nakota Sioux, Blackfoot and, Métis. Today, roughly 5% of the Edmonton population is indigenous.
Some of the best places to learn about local indigenous culture are at the Royal Alberta Museum, Edmonton Heritage Festival, and the Indigenous People's Experience at Fort Edmonton Park.
In addition, take the time to seek out the following sacred places and learn more about them here. Also look out for various related events on National Indigenous People's Day, June 21.
Turtle Rock Effigy Labyrinth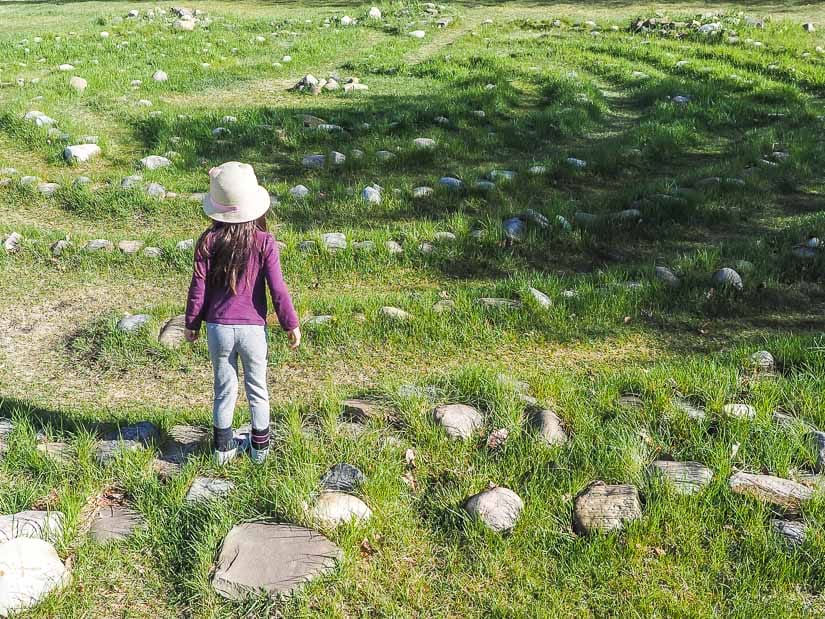 Located in Louise McKinney Riverfront Park, this labyrinth of stones combines the indigenous turtle symbol with the Celtic labyrinth, representing the meeting of indigenous and European cultures. Walking through it is meant to help you solve any problem on your mind.
Rossdale Burial Site
This cemetery memorializes an indigenous burial site in the River Valley near Walter Dale Bridge. Indigenous people from the time when Fort Edmonton Park was first built are buried here. It was uncovered when the adjacent Epcor power site was undergoing an expansion.
Today you can see gravestones and a statue there.
Indigenous Art Park ᐄᓃᐤ River Lot 11∞
This small park overlooking the River Valley features six art installations by local indigenous artists. The park can be accessed via a parking lot on Queen Elizabeth Park Road as it heads down the hill to Kinsmen Park.
Community Medicine Wheel Garden
On top of one room at the Edmonton Convention Centre downtown, this small rooftop Community Medicine Wheel and garden is in the shape of a medicine wheel. It is filled with local plants and has fine River Valley views.
Amiskwaskahegan Beaver Hills House Park
This small park on Jasper Ave downtown honors Edmonton's original name, Amiskwaskahegan, or Beaver Hills House. The park includes indigenous symbolism, including hand prints representing the Aboriginal Walk of Honour.
Government House Totem Pole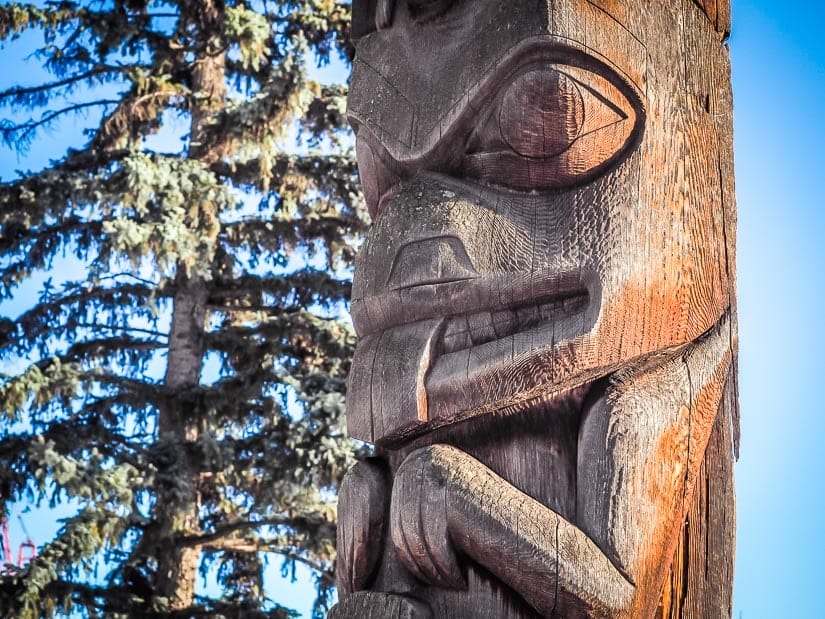 A large totem pole stands at the top of the hill near Government House and the old Royal Alberta Museum site. The 24-foot pole was carved from a 500-year-old red cedar and is called Hosaqami. It was carved by Kwagiulth artist Chief Tony Hunt from BC. It depicts at Kulus (a supernatural bird), an Orca, and a chief holding a talking stick.
Best Things to Do in Summer in Edmonton
Summers in Edmonton are short, so we tend to pack in all the fun while we can. Here are some Edmonton summer activities to consider.
Outdoor Pools & Spray Parks
Edmonton has several small outdoor swimming pools, including Mill Creek Outdoor Pool, Queen Elizabeth (Kinsmen) Outdoor Pool, Borden Park Outdoor Pool, Fred Broadstock Outdoor Pool, and Oliver Outdoor Pool.
You can find a full list of the spray parks in Edmonton here. Also don't miss the water fountains in front of City Hall and at the Legislature Grounds.
Camping in the City
For a fun staycation, you can go camping right in the city at Rainbow Valley Campground beside Snow Valley Ski Club. There's also a new and very impressive Aerial Park on site.
For a luxury camping experience, get sailed away to a private island with Urban River Adventures YEG. Make sure to book far in advance!

Another fun choice for camping just outside of Edmonton is Elk Island Retreat, a private campground with teepees, geodomes, cabins, and yurts (not to be confused with the campground in Elk Island National Park).
Have a Legal Beer in the Park
Starting in summer of 2021, Edmonton piloted a program legalizing the consumption of alcohol at designated picnic spots in seven major Edmonton parks.
The seven parks where alcohol allowed were Whitemud, Sir Wilfred Laurier, William Hawrelak, Victoria, Government House, Gold Bar, and Rundle Parks. In 2022, after considering cancelling it, they decided to add even more parks.
Drinking is allowed from 11am to 9pm from May 28 to Oct 11, and only at spots designated with signs. You can see a map of all the exact spots here (it is updated annually).
Canoeing & Kayaking on the North Saskatchewan
One of the best ways to admire Edmonton is from the river that runs through it. Use your own, or hire a canoe/kayak and catch a ride from Edmonton Canoe.
Best Summer Patios in Edmonton
We Edmontonians love having a cold one in the sun when we can. Even when things get chilly, you'll find us braving the cold for an outdoor drink with a little help from space heaters.
Here are some of the best Edmonton patios in summer:
CRAFT Beer Market Edmonton
Central Social Hall
Julios Barrio
The Common
Café Bicyclette
Riverside Bistro at the Courtyard by Marriott
Rocky Mountain Ice House
Sugarbowl
Little Brick
Accidental Beach
Accidental Beach is a riverside beach that suddenly appeared on the North Saskatchewan in 2017 due to construction of the new Tawatinâ LRT Bridge. The novelty of going to a beach in Edmonton drew some serious crowds.
In recent years, the excitement has worn off, and the beach is not quite as big as it used to be, but it's still there.
U-Pick Berry Farms
Picking your own pail of berries is always fun. There are well over a dozen U-Pick farms around Edmonton. Expect lots of raspberries, saskatoon berries, strawberries, cherries, and more, but nowadays you can pick other fruits and even veggies too; for a good mix of produce, try Happy Acres U-Pick.
The picking season is from June to September, depending on what you want to pick. Some farms offer a plethora of other activities.
For example, Prairie Gardens in Gibbons also has bonfires, chef's table dinners, a pumpkin festival, farm tours, and more.
Best Edmonton Summer Events
Edmonton has been dubbed "Festival City" for its sheer number of awesome festivals, many of which are squeezed into the short summer season. Here are some of the best Edmonton festivals in summer.
Best Things to Do in Edmonton in Winter
Even when the temperatures drop well below zero, we Edmontonians don't shy away from outdoor activities. You can find even more information and ideas in my dedicated article covering things to do in winter in Edmonton.
For more winter fun in Alberta, read my guides to visiting Jasper in winter, Banff in winter, and the ice bubbles at Abraham Lake.
Northern Lights Spotting
Edmonton is one of the best large cities in the world for seeing Northern Lights (aurora borealis) in winter. It's possible to see them right in the city, but even better to head out of town. Lying east of the city, Beaver Hills is an official dark sky reserve.
The area includes Elk Island National Park, Beaver Hills Lake, Cooking Lake-Blackfoot Recreation area, and Miquelon Lake. Make sure to sign up for email notifications from Aurora Watch to find out when there is going to be Northern Lights.
Ice Skating
There are some excellent ice skating options in Edmonton, with the picks of the bunch being the skating paths at Rundle Park and Victoria Park, as well as the huge rink at Hawrelak Park.
Skiing, Snowshoeing & Ice Climbing
Edmonton has three small ski resorts of its own: Sunridge, Edmonton Ski Club, and Snow Valley. The larger Rabbit Hill Snow Resort is just out of town, while Marmot Basin in Jasper National Park is four hours away.
There are also plenty of opportunities for snowshoeing and cross country skiing in Edmonton; try Edmonton Nordic Ski Club, or buy (or rent) your own gear and try any of these locations for cross country skiing or snowshoeing.
In winter of 2020-2021, Edmonton Ski Club also introduced the ACC Ice Wall for ice climbing.
Tobogganing
Every kid's favourite winter activity, tobogganing, can be enjoyed at various locations in Edmonton. For smaller hills, try Emily Murphy Park and Griesbach Central Park, or for a truly exhilarating ride, head to Rundle Park, Government House Park, or the mighty Gallagher Park.
Christmas Lights Viewing
Edmontonians take their Christmas lights seriously, and that trend only seems to be amplifying in recent years.
Annual staples include Candy Cane Lane and the lights at the Legislature Grounds and City Hall; see more Christmas events in the next section.
Other houses that have risen to fame for their over-the-top Christmas light decorations include Christmas at Bob's (7421-108 Street NW) and Griswold's Christmas Lights House in Stony Plain, a suburb of Edmonton.
Dine in an Igloo
In winter, the Courtyard by Marriott, a downtown river-facing hotel, offers meals served in the privacy of custom-built igloos (OK, so they aren't real igloos, but they look pretty cool). They come with a heater inside, but you'll still want to dress warm. See some pics in this post from Ms. Hangry Foodie.
There are also dining igloos at Tiramisu Bistro on 124 st, but only open when it's not too cold.
Best Edmonton Winter Events
Winter events in Edmonton tend to revolve around Christmas and/or outdoor activities. Here are some of the best (see my full list of Edmonton winter events and festivals here):
Fun Edmonton Indoor Activities
OK, so the truth is that with winter lasting well over half the year in Edmonton, we don't ALWAYS go outside. Yes, we hibernate. Fortunately, there are lots of fun things to do inside in Edmonton to get us through the chilliest months. Here are just a few ideas.
Well, that brings us to the end of this Edmonton attractions & activities guide. I hope you've found more than enough things to do in Edmonton this weekend. Please let me know in the comments below if I've missed anything, and enjoy your Edmonton travels!