Dear reader: This article contains links to products and services that I may be compensated for, at no extra cost to you.
If you're looking for fun things to do in Edmonton in winter, you'll be spoiled for choices. Your only challenge will be getting out of the front door of your house!
Born and raised in Edmonton, I now pass the frosty winters in Edmonton exploring the city and getting outside with my kids. We actually love the winter here, whether or not that makes us crazy…
In this article, I've compiled some of Edmonton's best winter activities. I've split these into outdoor activities, Christmas lights viewing, winter festivals and events, indoor winter activities (because, let's be honest, sometimes it's just too cold to be outside for long), and more ideas for things to do in winter in Edmonton at the end.
For even more ideas, see my mini novel: 99 Fun Things to Do in Edmonton (inspired by "the Great One" hockey player Wayne Gretzky's number!) and kid-friendly activities in Edmonton.
Outdoor Winter Activities
Minus 30 degrees? That doesn't stop some Edmontonians from getting outside to enjoy the following outdoor activities (OK, so it actually does stop most of us…I recommend saving these for a not-so-cold day!)
Ice Skating
Our of our favorite winter activities in Edmonton is ice skating. This became especially true in the last few years when so many other things shut down because of COVID; I even built a little rink in our backyard.
Our top-3 favorite outdoor skating rinks in Edmonton are:
Rundle Park: for its awesome skating trail through the forest and a dedicated hockey/shinny rink
Victoria Park: another large rink plus skating trail in the Edmonton River Valley
William Hawrelak Park: the largest outdoor skating rink in Edmonton
There are several smaller skating rinks in Edmonton, including ones in almost every community centre. Indoor rinks can also be found in West Edmonton Mall, Coronation, Clareview, and several other recreation centres.
Further afield, we also love ice skating on frozen lakes in the Rocky Mountains. Learn more in my guides to visiting Jasper in winter and Banff in winter!
Tobogganing
Flying down a snow-covered hill on a crazy carpet or GT Snowracer is many a kid's favorite winter activity in Edmonton.
Some of the best tobogganing hills in Edmonton at Rundle Park (which has two different quite large ones), Government House Park (another very big one), smaller Emily Murphy Park (which has outdoor and sheltered campfire spots right next to it), and Griesbach Central Park (also good for younger kids).
But for the most epic of toboggan runs in the city, nothing beats the enormous hill at Gallagher Park in the River Valley. It is so large that there's actually a ski resort, Edmonton Ski Club, sharing the same hill (see image below). The only challenge is walking back up the hill!
Skiing, Snowboarding & Snow Tubing
Ski and snowboard-loving families have several choices in and around Edmonton. All are the perfect size for young beginners to hone their skills before heading to the bigger ski resorts in the Rocky Mountains.
The three ski areas right on Edmonton are Edmonton Ski Club, Snow Valley Ski Club, and Sunridge Ski Area. All three make use of the inclines provided by the Edmonton River Valley.
A little out of town near Devon, Rabbit Hill Snow Resort, also in the North Saskatchewan River Valley before it reaches the city, has slightly larger hills, making it the pick of the bunch.
All four ski areas also offer snow tubing runs.
Ice Climbing
For the last couple years now, Edmonton Ski Club has also offered the chance to try ice climbing in Edmonton. Called the YEG ACC Ice Wall, it is run by the Alpine Club of Canada.
1.5-hour ice climbing lessons are available and the minimum age is 14. Climbing the ice wall after dark is an especially cool experience, when it is lit up with colorful lights from behind.
On one day every winter, the ice wall is also the site of the YEG Ice Fest (see winter events section below), when you can try climbing the wall for free!
Cross Country Skiing
Besides downhill skiing, there are loads of cross-country skiing trails in Edmonton, too. These are mostly located in the Edmonton River Valley. They are regularly maintained, free, and accessible to everyone.
Some of the best cross-country ski runs can be found at Victoria Park, Sir Wilfred Laurier Park, William Hawrelak Park, and Gold Bar Park. See more information and locations here.
Snowshoeing
Another winter sport that has been gaining popularity in recent years in snowshoeing. You are allowed to snowshoe at any park in Edmonton, but it's important to note that you shouldn't snowshoe on the cross-country skiing trails because it messes them up. Borden Park, Rundle Park, William Hawrelak Park, and Victoria Park have lots of space.
We especially recommend heading to one of the many parks and recreation areas outside of the city, such as Elk Island National Park, Chickakoo Lake Recreation Area, Cooking Lake-Blackfoot Provincial Recreation Area, or Lois Hole Centennial Provincial Park.
Spotting Northern Lights
Edmonton is one of the best large cities from where Northern Lights are frequently visible. In fact, there's an official Dark Sky Preserve right on Edmonton's doorstep, which is called Beaver Hills Dark Sky Preserve.
Beaver Hills is just east of Edmonton, encompassing Elk Island National Park, Cooking Lake-Blackfoot Provincial Recreation Area, Beaver Hills Lake, and Miquelon Lake. What this means is that these are all excellent areas for stargazing and seeing Northern Lights, with low levels of light pollution.
To find out when Northern Lights will be visible in Edmonton and area, I highly recommend signing up for free email alerts from Aurora Watch. You'll get a yellow alert for likely events, and red alert for very likely ones.
Wildlife Spotting and other winter activities at Elk Island
Elk Island National Park is only 40 kilometres east of downtown Edmonton. Despite being the smallest of Alberta's five national parks, it has played a crucial role in the conservation of the plains and wood bison.
The former live in the main section of the park north of the highway, while the latter live in the smaller section to the south. I don't think we've ever been to Elk Island without spotting at least one bison, if not many. We've also seen a porcupine there! The park also has a few black bears, but they are rare to see.
We love visiting Elk Island in winter! The park's 11 walking trails are all open in winter, though than can become messy when the snow starts melting. Elk Island is also a fantastic place for snowshoeing and cross-country skiing. There's also usually a small ice skating rink cleared off on Astotin Lake.
Christmas Lights Viewing
Edmontonions take their Christmas lights seriously, and this only seems to be increasing every year. Here are some of the best places to see Christmas lights in Edmonton.
Candy Cane Lane
Candy Cane Lane is Edmonton's longest running community Christmas lights event. It goes back more than 50 years! Every year, all the houses on 148 street (from 99 to 92 avenue) go all-out with Christmas lights and decorations on their homes.
Visitors are encouraged to park their cars and walk through, or drive through if unable to walk. The event is free but food donations are accepted for the Edmonton Food Bank. The event usually lasts from December 10 to January 1, every night from 6-10 PM.
Luminaria & Zoominescence
These are two Edmonton Christmas lights events that required paid entrance.
Luminaria is hosted by the University of Alberta Botanic Garden just outside of the city in Devon. It usually runs from the last week of November to the first week of January. The serene display includes real candles in the Japanese Garden, choreographed lights and music in the Aga Khan Garden, and indigenous displays.
Zoominescence is hosted by the Edmonton River Valley Zoo. Visit any evening in December to not only see the cook light displays throughout the zoo but also say hello to the animal friends. The zoo is also licensed to sell alcoholic drinks.
Magic of Lights
Rad Torque Raceway (formerly Castrol Raceway) next to the Edmonton International Airport hosts Edmonton's biggest annual drive-through Christmas lights display, Magic of Lights. The event runs from mid-November to early January. It's a paid event, with the option to take photos with Santa.
Alberta Legislature Grounds & Edmonton City Hall
From the beginning of December to the end of January, the Alberta Legislature Grounds has lit up with tens of thousands of little lights, mostly suspended in the trees in the water fountain area. There's usually a lighting ceremony on the first day, and in the past, they've also sometimes had ice sculptures on site.
Meanwhile, Edmonton City Hall usually features some cool lights displays of its own and a very tall Christmas tree.
Christmas at Bob's
One house in Edmonton that is always fully bedazzled with Christmas lights and decorations is Christmas at Bob's (7421 108 St NW), and yes, it's even on GoogleMaps. Every side of the house is fun to look at, and the backyard (which you can enter) is also filled. Donations are accepted on the official website.
Griswold's Christmas Lights House
Is it worth the drive to Spruce Gove to see the Griswold's Christmas Lights House? If you're a die-hard National Lampoon's Christmas Vacation fan like we are, then the answer is a resounding 'yes'.
This house is fully decked out like the one in the movie, plus Eddy's van and some cardboard cut-outs of the characters are out front. Food bank donations are accepted.
Other Winter Festivals and Events
The following Edmonton winter events and festivals are listed in the order that they come in the season.
All is Bright Festival
All is Bright is an annual one-day festival that comes in late November on 124 street, site of the 124 Grand Market, one of the best farmers' markets in Edmonton. This early evening event (usually around 4-8 PM) features music and other performances from a small stage and roaming entertainers.
The event centers on Helen Nolan Park (124 st and 108 ave), but there are beautiful decorations and Christmas lights along 124 st from 107 to 109 avenues. Last year, an Indigenous Pavilion was also added at 103 ave.
Deep Freeze: A Byzantine Winter Festival
The 15-year-running Deep Freeze: A Byzantine Winter Festival is the first winter festival of the new year. The festival celebrates the Olde New Year and the variety of cultures that make up Alberta, including Indigenous, Inuit, Métis, French-Canadian, and Ukrainian. It takes place for 10 days starting on January 14.
The festival usually spans several locations in Edmonton; at the most recent one it was Borden Park and Alberta Avenue (118 ave). Borden Park hosted a collection of lanterns and other artistic light displays (Borden park also has one of the best playgrounds in Edmonton!), while Pipon Village (118 ave and 92 st) features tipis, storytelling, bannock, and more.
There were also musical performances and workshops at The Carrot Community Arts Coffeehouse nearby.
Ice on Whyte
Ice on Whyte is another must-see Edmonton winter festival. For around 10 days from late January to early February, a collection of impressive ice sculptures are displayed somewhere on or near Whyte Avenue in Old Strathcona. The most recent one was held in Dr. Wilbert McIntyre Park just off Whyte.
Besides admiring the ice sculptures, kids can complete a quiz, side down an ice slide or sit in an ice chair, or make their own ice sculpture. There's also a campfire and a few food trucks on site.
There's a small admission fee to enter this one.
Silver Skate Festival
One of our favorite winter festivals in Edmonton is Silver Skate Festival. The festival revolves around ice skating and takes place on and around the huge skating rink at Hawrelak Park. It usually takes place in mid-February and is Edmonton's longest running winter festival.
Besides skating, the festival has a snow and ice sculpture garden, indigenous storytelling, local music and artistic performances. To finish the festival off, a large sculpture is built then burned on each evening of the final weekend.
YEG Ice Fest
YEG Ice Fest is a one-day winter event hosted by Edmonton Ski Club in the River Valley. The event includes activities like winter fat biking, a children's obstacle course, local beer & food sampling, and more. It takes place in late February (last year was February 26 from 10 AM to 9 PM).
The event is centred on the ski club's ice wall, the first of its kind in the city. Here's your chance to try climbing the ice wall for free! (first come, first served).
Flying Canoë Volant
Flying Canoë Volant (Pimihâw Waskwayôsis) is a unique early March festival based on the indigenous-influenced French-Canadian legend of the Chasse-galerie or "Flying Canoe". The festival revolves around French-Canadian, Métis, and Indigenous culture.
The festival includes three areas: Canoe races down the hill at Edmonton Ski Club (yes, participants actually ride canoes down the hill!), lit up teepees and other illuminated displays representing the three cultural groups in Mill Creek Ravine, and a cabaret with live music, ice bar, and food at La Cité Francophone, the heart of the French-Canadian community in Edmonton.
The festival spans a large area, but all three sections are connected by walking trails, so it is possible to visit all three on foot.
Indoor Activities in Winter
Even when it's too cold to spend much time outside, Edmonton still abounds with indoor activity options. Here are some of our favorites.
Farmers' Markets
Some of Edmonton's best farmers' markets run right through winter. These include Old Strathcona Farmers' Market (every Saturday 8–3) and the Edmonton Downtown Farmers' Market (Saturdays 9–3 and Sundays 11–3).
West Edmonton Mall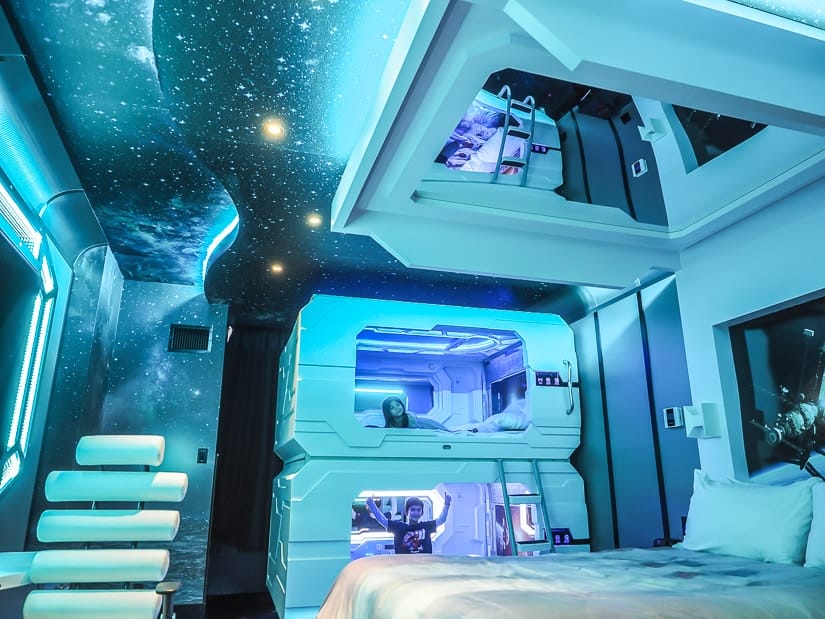 Love it or hate it, The Mall is always open. Pretend you're in the tropics at World Waterpark, enjoy at staycation with a hot tub right in your room at Fantasyland Hotel (we personally loved the brand new space themed rooms—here's my full review), go bar-hopping on Bourbon Street, try go-karting, or just do some good old-fashioned shopping.
Museums & Art Galleries
Edmonton's is blessed with some excellent museums and art galleries. If you haven't been to the new Art Gallery of Alberta (reopened 2010) or Royal Alberta Museum (reopened 2018), it's time to change that! See my guide to Edmonton's museums for some smaller ones that are open throughout the year.
Muttart Conservatory
Another way to visit the tropics in Edmonton in winter is at the Muttart Conservatory, those four huge glass pyramids (plus a small 5th one in the middle) in the River Valley. Each pyramid features the flora of a different biome, including arid, temperate, tropical, and a rotating one.
More winter indoor activities
When the winter blues kick in, it's time to try something new. How about:
Things to Do in Edmonton in Winter: Bonus Ideas
As my list keep growing, here are even more ideas for fun things to do in winter in Edmonton
For even more ideas further out of town, here are my favourite Edmonton day trips and longer road trips from Edmonton!
Past event: Edmonton Ice Castle
The massive and very impressive Edmonton Ice Castle event in Hawrelak Park was a victim of COVID. Running since 2015, the American company that puts it on at half a dozen locations in the US never made it to Edmonton in 2021 or 2022. Let's hope they make it back in 2023!