Dear reader: This article contains links to products and services that I may be compensated for, at no extra cost to you.
When it comes to picture-postcard Canadian Rocky Mountain lakes, most people automatically think of the serene lakes of Jasper and especially the turquoise lakes of Banff National Park.
But then there's Kananaskis country, a huge collection of provincial parks, wildland areas, and crown lands with loads of things to do for lovers of the Great Outdoors. Only an hour's drive from Calgary (and 3.5 from Edmonton), Kananaskis offers a wilder, remoter, and less touristy lake hopping experience.
Some of the best lakes in Kananaskis include immense water reservoirs, vibrantly colored alpine gems, and humble ponds reflecting majestic mountain scenes.
For this article, I've narrowed it down to 18 of the easiest-to-reach Canmore lakes and Kananaskis lakes, many of which are accessed on some of the best easy hikes in Kananaskis. That means I'll be leaving out the numerous Kananaskis alpine lakes that require tough hikes to reach. You can use this guide for planning an epic, lake hopping road trip from Edmonton, Calgary, or wherever you're coming from!
Don't forget that in order to stop at any lake in Kananaskis country, you'll need to register your license plate online for a Kananaskis Conservation Pass ($15/day or $90/year).
Canmore Lakes
Canmore is the closest town to Kananaskis country and is surrounded by it. For everything you need to know about planning a visit, see my guides to the best things to do in Canmore and easy hikes in Canmore.
There is technically only one lake in Canmore town. Unsurprisingly, it's a popular one! Because it's in Canmore, you don't need a Kananaskis Conservation Pass to visit it, but please note the information below about the new (and very steep) parking fee.
In Canmore, I highly recommend the budget- and family-friendly Rocky Mountain Ski Lodge (see on Booking / TripAdvisor / Agoda) or for a luxurious stay, Malcolm Hotel (see on Booking / TripAdvisor / Agoda).
Quarry Lake
Canmore's only lake, Quarry Lake, is a reclaimed coal mining quarry that is now fed by an underground spring. Towering above the pretty lake are the iconic Ha Ling Peak and Mt. Rundle.
Because it's not a glacial lake, it's not as cold and many others in the area. This also means it is one of the best lakes for swimming in Canmore & Kananaskis. The lake is very small but over 100 metres deep!
Quarry Lake Park features large lawns with picnic sites, one of the best beaches in Canmore & Kananaskis, and an easy 1.1km walking loop around the lake. In winter, you can also go cross-country skiing in the park. There's also a large off-leash area, so it's a popular spot for locals to bring their dogs.
Due to its immense popularity and overcrowding, especially in the summer swimming season, there is now a parking fee at Quarry Lake for non-residents. The fee is $20/4 hours (May 11 to October 11) or $5/2 hrs (October 12 to May 10).
If you want to avoid the fee, you can walk from Canmore to Quarry Lake on Canmore Creek Trail.
Lakes in Canmore Nordic Centre Provincial Park
The following two lakes in Canmore Nordic Centre Provincial Park are so close that they can practically be considered Canmore lakes, although they are technically located in Kananaskis country (and thus definitely require a Kananaskis Conservation Pass to visit).
Rundle Forebay
Rundle Forebay, also known by locals as simply "the Reservoir," is the main water reservoir of the town of Canmore. The reservoir is mostly filled from the larger Spray Lakes Reservoir further south.
Because Rundle Forebay is in a sheltered location, the water tends to be very calm. This makes it an ideal Canmore lake for SUP, kayaking, or canoeing. While it may be tempting to go for a swim (or let your dog do so), Canmore locals have voiced opposition to this.
Rundle forebay is on Highway 742 just west of Canmore. There's a small parking lot just before the turnoff for Canmore Nordic Centre.
Grassi Lakes
Along with Quarry Lake, Grassi Lakes are one of the most popular places to visit in Kananaskis. These are two small but visually stunning lakes near Canmore with an easy walking trail leading to the them. The lakes are especially impressive due to their vibrant blue and green hues. With lakes like these, it's easy to see why Alberta is considered the most beautiful province in Canada.
The 4.3-kilometer (return) trail to the lakes includes options for a super easy and mostly flat trail or the slightly more difficulty "upper" trail. You can budget 1 to 1.5 hours for the hike.
Try to avoid peak times for visiting, and especially make sure to have your K-pass for this one.
For further explorations beyond Kananaskis, read my guides to Waterton Lakes, Banff with kids, Banff in winter, Jasper with kids, and Jasper in winter.
Lakes in Bow Valley Provincial Park
Bow Valley Provincial Park is quite small but abundant in lakes, campgrounds, and easy hiking trails. The park occupies a thin strip on either side of Highway 1 east of Canmore, as well as Highway 40 as it ventures south into the heart of Kananaskis.
Note that this park is not the same as the much larger Bow Valley Wildland Provincial Park, but the latter doesn't have any lakes that I'll be mentioning here.
Lac des Arcs
Lac des Arcs is not technically a lake but a very wide section of the Bow River about 16 kilometers (10 min) east of Canmore town. It is sandwiched between Highway 1 (Trans Canada) and 1A (Bow Valley Trail), with sweeping views of the lake from either side.
It can be quite windy at the lake, making it a popular spot for windsurfing. There's also the small Lac des Arcs campground at the eastern end. The popular hiking trails Grotto Canyon and Heart Creek start on the north and south sides of the lake, respectively.
Unfortunately, the large Lafarge Exshaw Cement Plant on the north side of the lake, beside Lac des Arcs hamlet, kind of spoils the view.
Middle Lake
Middle Lake sits in the main section of Bow Valley Provincial Park, where the park headquarters and large Bow Valley Campground are located.
Middle Lake is a perfect example of a kettle lake, formed by a detached block of ice when glaciers once covering the valley were receding. The lake is only about a meter deep, and will eventually disappear. There are no fish in it because it totally freezes in winter.
An easy walking trail leads begins at the lake shore and does a loop through the forest next to the lake. You only have to walk two minutes from the small parking lot to enjoy a view of the lake and read an interpretive sign explaining how the lake was formed.
Many Springs
A five-minute drive past Middle Lake will bring you to another small and shallow but pretty lake called Many Springs. As the name suggests, this wetland basin is spring-fed.
A very easy walking trail (1.6km) leads around the lake to viewing docks on either side. Many wildflowers and other unique flora can be seen around the lake, especially in late spring. Bow Valley Campground and Whitefish Day Use Area on Bow River are nearby.
Barrier Lake
Traveling south on Highway 40 (Kananaskis Trail), the highway will soon meet and travel alongside Barrier Lake. The lake is formed by Barrier Dam on Kananaskis River.
The lake and rocky beaches around it are fun to explore. Most people stop at the Barrier Lake Day Use Area at the north end of the lake, where the dam is located. Further down, there's a turnoff for Barrier Lake Boat Rentals (operated by Kananaskis Outfitters, but it appears to be closed at the time of writing).
The best views of the lake can be enjoyed by gaining some elevation on one of the many hiking trails beginning from the lake's shore, including Barrier Lake Trail, Jewel Pass, Yates Mountain, and Mount Baldy.
Mt. Lorette Ponds
Mt. Lorette Ponds are three extremely pretty ponds just off Highway 40. They are oxbow lakes, or U-shaped bends in the Kananaskis river that were at some point cut off from the river.
A wheelchair/stroller-friendly path goes around them, making them the most accessible lakes in Kananaskis and ideal for the elderly or visitors with young kids.
The ponds are named after Mt Lorette, visible to the west. They are stocked with fish three times per year, so fishing is permitted, with the best spot being a quiet dock at the northeastern end. There are also several picnic spots around the lake, including a few with firepits near the parking lot.
Where to Stay in Kananaskis

There are not many hotels in Kananaskis. The best options are Kananaskis Mountain Lodge (see on Booking / TripAdvisor / Agoda) or Crosswaters Resort (see on Booking / TripAdvisor / Agoda) in Kananaskis Village, HI Kananaskis Wilderness Hostel (see on Booking / TripAdvisor / Agoda), or the remote and beautiful Engadine Lodge (see on Booking / TripAdvisor / Agoda).
Lakes in Spray Valley Provincial Park & Elbow Sheep Wildland
Continuing south, Highway 40 passes the turnoff for Kananaskis Village & Nakiska Ski Area, then enters Spray Valley Provincial Park (to the west) and Elbow Sheep Wildland (to the east).
Further down, Highway 742 (Smith Dorrien Trail) provides access to several more lakes on a dusty, washboard-ridden slow route back to Canmore. Some of these lakes are better reached from Canmore itself rather than from Highway 40.
Wedge Pond
Wedge Pond is a gorgeous little lake at the base of Wedge Mountain. Once drying up and only a metre deep, the lake is now refilled and regularly stocked with fish, making it a gorgeous spot for kayaking or fishing.
A super easy walking trail (1 km) goes around the lake, and there are some beautiful, shaded picnic spots in the forest between the parking lot and lake. In autumn, the foliage around the lake makes the views especially remarkable.
Wedge Pond is on the east side of Highway 40, just a few minutes south of the turnoff for Kananaskis Village.
Elbow Lake
Elbow Lake is a small alpine lake and headwaters of the drinking water for the city of Calgary. An easy (but slightly steep) two-hour return hike leads to the lake's shore, where there's a small backcountry campground. Horses are allowed on the trail.
Upon reaching the lake, there's a loop trail around it, or you can connect to a longer trail to Rae Glacier.
The trail to the lake begins on Highway 40 a little south of the turnoff for Highway 742 (Smith Dorrien Trail). Part of the trail is in Peter Lougheed Provincial Park, but the lake itself is in Elbow Sheep Wildland.
Note that this portion of Highway 40 usually closes in winter, so it may not be possible to access the lake at that time.
Goat Pond
The remaining four lakes are in Spray Lakes Provincial Park, but accessed via Highway 742. Goat Pond is the closest to Canmore, about 30 minutes from town, at the backside of Ha Ling Peak/Mt. Lawrence Grassi and Three Sisters.
Like the larger Spray Lakes Reservoir (see below) just south of it, Goat Pond is formed by a dam on Spray River. It is a pretty, quiet, and usually calm spot suitable for paddling around.
Spray Lakes Reservoir
The large reservoir which gives the provincial park its name, Spray Lakes were a series of lakes that have now been formed into one very large, long lake by the damming of Spray River, a tributary of Bow River.
Highway 742 follows the lake's shore for many kilometers. The lake can be accessed from Canmore (just over 30 minutes) or Lower Kananaskis Lake/Highway 40 (just over 1 hour).
There are a few spots to stop and admire Spray Lakes from the highway, but for the best view of the lake, try the difficult hike to Little Lougheed or slightly easier West Wind Pass.
Watridge Lake
Watridge Lake is a small lake just south of Spray Lakes that can be accessed on an easy, wide walking trail (2-3 hours return) suitable for families. A side trail also follows a lovely creek up a series of waterfalls to the water source, Karst Spring, where the water spouts up from the ground.
In winter, the trail to Watridge Lake is also suitable for snowshoeing and cross-country skiing. The trailhead for Watridge Lake is equidistant from Canmore or Kananaskis Village, about 1 hour from each, so you can approach the lake from either direction.
Chester Lake
Very close to Watridge lake, Chester Lake is more well-known. This alpine lake is incredibly beautiful, especially in late September when the tamarack (larch) trees lining the lake's shore turn golden yellow.
The trail to Chester Lake is quite popular and takes 2-3 hours return. Although rated as moderate, the trail is fairly easy and wide, and it is a favorite among hiking families.
Lakes in Peter Lougheed Provincial Park
A few more noteworthy Kananaskis lakes remain in Peter Lougheed Provincial Park, including the two lakes after which Kananaskis country takes its name.
Lower Kananaskis Lake
Lower and Upper Kananaskis Lakes are two large lakes that give the whole region its name. Along with Spray Lakes Reservoir, they are the largest lakes in Kananaskis, and they were also significantly enlarged by hydro-electric projects.
Lower Kananaskis Lake is the easiest to reach, as Highway 742 runs right along the northern end of it. The lake sits at 1680 meters in altitude, with the highest paved pass in the world, Highwood Pass, not too far away.
Amenities around the lake include Peter Lougheed Parks Discovery Centre, several campgrounds, and several day use areas.
Upper Kananaskis Lake
Only a small piece of land separates Lower and Upper Kananaskis lakes, where Panorama and North Interlakes Day Use Areas are located. The Upper Lake is even more rugged and beautiful, and sits at 1720 metres.
Most people visit Upper Kananaskis Lake at White Spruce Day Use Area, which features a boat launch. Fishing is popular at both lakes; although they naturally aren't rich in fish, they are stocked annually.
Upper Kananaskis Day Use Area is also the starting point for the popular hiking trail to Rawson Lake (see below).
Rawson Lake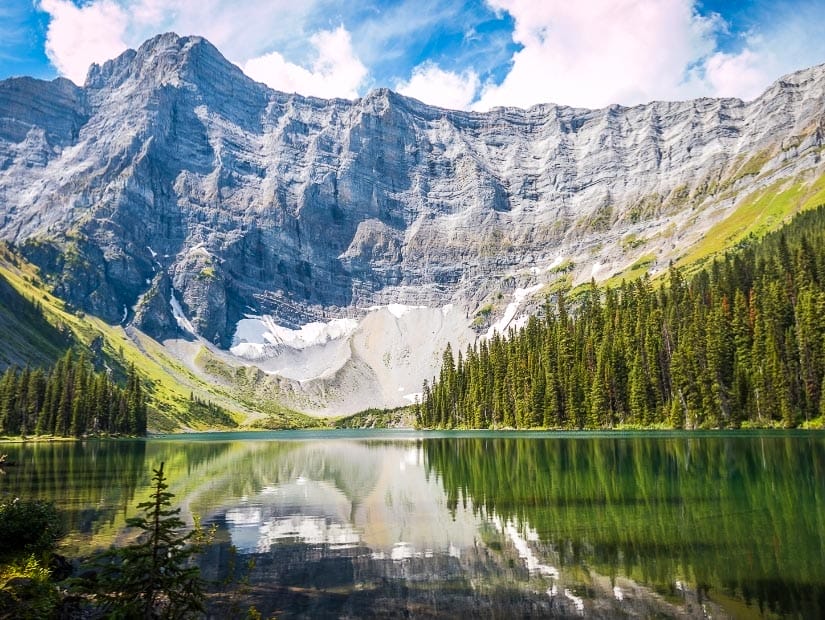 Rawson Lake is a glacier-fed alpine lake that some visitors compare in sheer beauty to the likes of Lake Louise. The lake sits at 2000 meters above sea level and is accessed on a popular hike starting at Upper Kananaskis Day Use Area.
A popular but steep and difficult add-on to the Rawson Lake trail is a Sarrail Ridge, which offers a commanding view of Upper and Lower Kananaskis Lakes.
Warpsite Lake
Finishing off the list, Warpsite Lake is a small lake that can be reached from Black Prince parking lot, just 6 kilometers (10 minutes) past Lower Kananaskis Lake on Highway 742.
The lake is more of a pond but is pretty nonetheless. It's best to visit in early summer, because it usually dries up by August. Nearby, Blackshale Creek Suspension Bridges is one of the most interesting things to do in all of Kananaskis.
Well, that brings us to the end of this guide to the best lakes in Kananaskis. I realize there are many more that I didn't cover here, so if I've missed your personal favorite one, feel free to comment below!