Dear reader: This article contains links to products and services that I may be compensated for, at no extra cost to you.
Cusco is the ancient capital of the Inca empire and gateway to Machu Picchu. It is known for its Spanish convents sitting atop Inca foundations, plethora of ruins, Quechua culture, and incredible food.
I had wanted to go to Cusco and Machu Picchu for over 20 years. Other things always got in the way. So when I finally booked it, I spent a solid year planning and looking forward to my trip.
I spend more time planning for Cusco than anywhere else in Peru. What are the best things to see and do there? Which museums and churches are worth visiting (there are so many!) Where should I eat (too many good choices!)? How many days should I spend there and what are the best day trips? What is the Boleto Turistico, and do I need it?
After mapping out everything I wanted to do, I had 5 full days booked in Cusco. This didn't even include the Inca Trail, Machu Picchu, Aguas Calientes, or Sacred Valley towns of Pisac, Ollantaytambo, and Maras – I would stay in each of those before even getting to Cusco – saving the bustling city for the end of my trip.
As a traveler blogger, I tend to visit EV-RY-THING so that I can filter out what's actually worthwhile for articles like this. Below I will introduce what I personally feel are the best things to do in Cusco. I have so much info to share that I also wrote separate articles covering where to eat in Cusco, the best museums in Cusco (coming soon), and the ruins around Cusco.
Cusco Travel Tips
If you're flying in (find the cheapest flights here!), you're likely to experience some minor symptoms of altitude sickness in your first couple days in Cusco. Get Diamox from your doctor before you come. I also recommend staying in Pisac or Ollantaytambo in the Sacred Valley first, because they are lower than Cusco. I stayed in each of those towns first, then did the Inca Trail to Machu Picchu, then visited Cusco last. I highly recommend this!
If your time is shorter, and you're only planning to visit Cusco and Machu Picchu, then don't plan to visit Machu Picchu until at least the third day. Even though Machu Picchu is quite a bit lower than Cusco, you'll still want a few days to acclimatize before climbing all those stairs at Machu Picchu.
The Cusco Boleto Turistico (Tourist Pass) is pretty much essential for visiting ruins around Cusco, even though some of the 16 attractions included are not worthwhile. The pass is valid for 10 days and you can buy it here in Cusco or here online. There are also partial options. See my guide to the Cusco tourist pass for the details.
For my five days in Cusco, I spent two days exploring the historic center around the Plaza de Armas and one day exploring and relaxing in San Blas. Then I did one day trip to the ruins north of the city and another day trip to the ruins east of the city.
The area around Plaza de Armas is the most touristy but has most of the sights. San Blas is an artisan's district built on the valley wall, so you have to walk steeply uphill to it, but it is quieter, has amazing views, and is closer to Sacsayhuaman, the ruins above the city.
Map of the Best Places to Visit in Cusco
Top 5 Cusco Attractions
The following are the absolute must-dos in Cusco. In the following sections, I'll cover others things to see around the main plaza, the best museums in Cusco, things to do in San Blas neighborhood, the best ruins around Cusco, and finally, the best day trips from Cusco.
Plaza de Armas
Cusco's main square, Plaza de Armas (Plaza Aucaypata), was the center of the Inca Empire. Once a swamp, the Incas drained it at made it a focal point for ceremonies and built their palaces around it.
The Spanish destroyed these palaces and built cathedrals and convents on top of them. Today, Plaza de Armas remains a focal point of the city for locals and visitors alike. It is the epicenter or the historic and tourist district and always bustling with people.
At the center of the square, there is a statue of Pachacuti, builder of Machu Picchu. Cusco Cathedral lies on the east side of the square while the Jesuit Iglesia de la Companía de Jesús is on the south. I'll cover these are other places to visit around the square in the following section.
One way to enjoy the square without being hassled by pesky vendors is from one of the many restaurant patios overlooking it. A late afternoon pisco sour while gazing at the square is practically a mandatory Cusco experience!
Qoricancha
Qoricancha (also spelled Coricancha, Koricancha, Qorikancha), the Golden Enclosure or Temple of the Sun, was the most important temple in the Inca Empire. This round stone temple was once covered in gold plates, with large statues of corn and animals, and a huge Sun Disk.
As they tended to do, the Spanish built their Convent of Santo Domingo right on top of it. Today, you can still see the round Inca base (see the dark gray section in the above photo) while peering across the large Jardín Sagrado (Sacred Garden) below it.
To get to Qoricancha, follow Calle Loreto down from the southeastern corner of Plaza de Armas. This 400-meter lane is one of the best-preserved Inca streets in existence. It is the start of the southern route of the Qhapaq Nan, a series of Inca roads that spread out in each direction from the Plaza to every corner of the empire.
Visiting Qoricancha, you'll enter the convent and find a group of ancient Inca structures around a Spanish courtyard. Photography is allowed, except of the Cusco School paintings. On the second floor, there are art displays and views looking down on the Sacred Garden.
From the second floor, you can also access the "high choir" (second-floor loft) at the back of Santo Domingo Church, with some impressive artifacts and artwork, and a view looking down on the church (no photography). From there, you can also climb a narrow stone staircase to the church's belltower, for an incredible view looking down on the city (see image below).
Despite being one of the city's top attractions, Qoricancha is not included on the Boleto Turistico. Entrance is 15 soles plus 5 soles for the high choir. When I visited, it was open 9 to 5:30 (despite GoogleMaps saying 8:30) and closed on Sundays.
Sacsayhuaman
Famously pronounced like "Sexy Woman", Sacsayhuaman (Saqsaywaman) is the most well-known ruins in Cusco. This immense fort sits at the top of the valley north above the Plaza de Armas. Since Cusco is said to be shaped like a puma, Sacsay forms the puma's head.
Sacsayhuaman was an Inca fortress that protected the northern entrance to the city. It stands out for the sheer size of the stones in its walls (the largest is 28 feet tall and 300 tons!) and signature zigzag walls.
Many stones in the walls are said to be shaped like things, with the most famous being the puma paw stone (see my guide to Cusco's ruins for how to find it).
The ruins of Sacsayhuaman are expansive and take a couple hours to explore. Although the ruins sit right on the lip of the valley, you can't actually see them from the Plaza de Armas. You can see a cross up on the hill, though, west of the big white Jesus statue. The cross marks the edge of the ruins.
You can walk all the way up to the ruins in 20 to 30 minutes from Plaza de Armas, but the walk is almost totally uphill. You'll be huffing and puffing by the time you get up there! Alternatively, take a taxi or tour like this one.
The ruins open at 7 AM. If you actually get there at that time, like I did, you'll most likely have the ruins entirely to yourself. There's no map on site, so either do some research in advance or hire a guide at the entrance.
The ruins are included on the Boleto Turistico. To make a half or full day of it, it makes sense to combine Sacsayhuaman with three other ruins also included on the Boleto and a few other sites north of the city (see ruins section below).
Also see more info in my guide to 30 ruins in the Cusco region.
Cusco's Restaurants
One of my biggest surprises in Peru was just how delicious the food is. Every meal I had was photogenic and bursting with flavors, colors, and textures.
Eating was a major highlight of my Cusco visit, so I've written this separate guide to the best restaurants in Cusco. Some of my personal favorites were Green Point Vegan Restaurant, Limo for Nikkei (Japanese-Peruvian food), Ceviche Seafood Kitchen for ceviche, Kusykay for organic farm-to-table food, and Yaku for creative dishes at surprisingly low prices.
I also had excellent organic coffee at Café Ricchary, Instagrammable ice cream at Qucharitas, life changing cocktails at Museo del Pisco, and the best beer at Sacred Valley Brewery. I've included all the restaurants, bars, and cafes mentioned here on the map above.
Bohemian San Blas
San Blas is the district covering the valley wall directly east of the Plaza de Armas. Walking east of the plaza, you'll first find a tourist district with many hotels, restaurants, and a few notable attractions (see below).
As soon as the streets start climbing steeply uphill, you're in San Blas. The neighborhood is often described as "bohemian". In the past, and still today, many artisan shops, cute cafés, restaurants, and bars can be found there.
You can expect quiet, atmospheric lanes, lots of street art, and views that only get better as you continue to climb uphill. There is also less hassle in San Blas compared to the tourist areas around the Plaza de Armas.
For my 5-day stay in Cusco, I spent half of it in this hotel near the plaza, and half in this hostel in San Blas. The plaza hotel was convenient for exploring the main sights in the historic district, while the hostel in San Blas was perfect for relaxing, views, and for walking to Sacsayhuaman, since it's already halfway there.
I've got a whole section of things to see and do in San Blas below.
More Things to Do around Plaza de Armas
Several of Cusco's top attractions are on or near the Plaza de Armas. I'll start with those right on the square then branch out from there. Since there are so many museums in Cusco, I'll cover most of those in the following section below.
Cusco Cathedral
The Cathedral Basilica of the Assumption of the Virgin, or Cusco Cathedral, is one of the city's top sights. The Spanish built the cathedral atop the palace of Inca Wiracocha using stones robbed from Sacsayhuaman.
The massive Cathedral occupies the eastern side of the Plaza de Armas. It actually consists of three connected buildings: Iglesia de Triunfo (a smaller church on the right, which you will enter through), the Cathedral itself in the middle, and Sacrada Familia (another auxiliary chapel, to the left, which you will exit from).
The Cathedral has a renaissance exterior and baroque interior with 24 arched ceilings. It contains over 400 impressive paintings from the Cusco School. These include the famous Last Supper painting with Jesus and the disciples eating guinea pig – find it behind and to the right of the main altar in the Cathedral.
Also watch for the painting of locals parading a Jesus statue around after the great earthquake of 1650. It's the oldest painting in Cusco. You can see it three naves back from the passageway from the Cathedral to Sagrada Familia. The original statue itself is also housed in the Cathedral, in an alcove on the Triunfo side.
No photography is allowed inside the Cathedral and it is considered respectful to dress appropriately, i.e. no shorts, tank tops, etc. It is open from 10 am to 6 pm. The worshipping time is 6 am to 10 am.
Entrance to the Cathedral is 40 soles. If you also plan to visit San Cristobal Church and the Museo de Arte Religioso (which I'll introduce below), it makes sense to buy the Boleto Religioso (also called Boleto Integral), which includes entrance to all three for 50 soles.
Church of the Society of Jesus
On the south side of the Plaza de Armas is another large church, the Jesuit-built Church of the Society of Jesus, or Iglesia de la Companía de Jesús.
The Jesuits built this church with an even more impressive façade than the Cathedral itself, which caused a rivalry between them the Cusco Archbishop. It is considered one of the most beautiful baroque churches in all of Peru. It was built on top of the palace of Inca Huayna Capac.
Inside, you'll find the largest altar in all of Peru, standing 21 m (69 ft) tall and built of cedar. In the nave to the left of the altar, you can follow some stairs down into the crypt.
Next, head back towards the entrance and watch for the tiny entrance on the east side to a narrow, rickety staircase going up. This will take you to the high choir on the second floor, for a view looking down on the main hall. There are also two windows for looking out at the Plaza de Armas. Pictures are only allowed from these two windows but nowhere else inside.
Entrance to the church is 10 soles and it is open 9 to 11:45 AM (every day) and 1 to 5:45 PM (weekdays only).
Selfie with Baby Alpacas
Spend any amount of time in the Plaza de Armas, especially in front of the Cathedral, and you'll notice many ladies who bring baby alpacas around to pose for pictures with tourists.
Yes, it's a super touristy thing to do, and you may have ethical objections, which is understandable. But who doesn't want a picture with a cute baby alpaca?
A couple soles is a reasonable donation to give for taking a few pictures. They may try to ask for more, but this is what locals would give.
San Francisco Convent and Museum
Moving away from the Plaza de Armas, there are two lovely smaller squares to the west of it: Plaza Recocijo & Plaza San Francisco.
Facing the latter, San Francisco Convent Museum and Catacombs (Museo y Catacumbas del Convento de San Francisco de Asís de Cusco) has one of the best church museums in Cusco. You'll enter the convent and museum building, which is to the south, while the church itself is north of it.
The convent and its library of ancient books are beautiful, but there are two additional reasons to visit. The first is the chance to see arrangements of human bones in the catacombs (but nowhere near as impressive as those in the convent of the same name in Lima – see my recommended Lima itinerary for all the details of that one).
The second reasons is to see the largest painting in South America (9 x 12 meters, or 30 x 40 ft). It shows the family tree of Francis of Assisi. It's in one staircase going up the second floor. Another staircase has another painting almost as large.
Entrance to the convent is 15 soles. Unfortunately, photography is not allowed inside. When I visited, a guide was assigned to me, I suspect mainly to make sure I didn't take any photos. There are far fewer visitors here than at the Cusco Cathedral.
Basilica Menor de la Merced
After Cusco Cathedral and Church of the Society of Jesus, Iglesia de la Merced is the 3rd most important church in Cusco. The church is just south of Plaza Recocijo, on the main road leading from Plaza de Armas to Arco de Santa Clara and San Pedro Market (see below).
The church itself is open 8:30 am to 12 and 2 to 5 PM daily, but closed on Sundays. To the left of the church when facing it, there's also a museum inside Merced Convent. Try to visit between 8 and 11 am when this part is open.
The museum contains several beautiful paintings, a cool palanquin for carrying dead bodies (note the animal handles), a catacomb, and it's most precious object: a 1.2 meter solid gold and bejeweled monstrance (the container that holds communion wafers during church mass). It's in a room at the back – if the door is locked, ask them to open it for you.
Entrance to the church is free, while the convent museum is 20 soles. Photos are not allowed, especially in the monstrance room.
Arco de Santa Clara
This is a lovely arch over the street called Arco de Santa Clara. You can find it by walking about three blocks southwest from the southwestern corner of the plaza, just past Plaza San Francisco. It is just around the corner from San Francisco Convent and Museum.
The arch was built in 1835 to commemorate a short-lived Peru-Bolivia confederation. You'll pass right under the arch on the way to San Pedro Market (see next entry).
San Pedro Market
San Pedro Market (Mercado Central de San Pedro) is Cusco's most famous market. While it is very much a local market, it is the one that tourists are most likely to visit. It is only a 10-minute walk southwest of the Plaza de Armas, one block past Arco Santa Clara.
In the market, you'll find row upon row of stalls selling produce, meats & seafood, Andean cheese, household products, and more. Towards the back is the food court area, if you're looking for a cheap local meal. On Saturday mornings, the market is especially bumping, with vendors spilling out into the streets around it.
I recommend getting one of the delicious freshly blended juices in the market. There are no less than 100 numbered juice stalls – I had mine at stall #97! They have English menus, or you can just point at whatever fruits look tasty that day.
Plaza Tricentenario
We're moving now to the eastern side of Plaza de Armas, where a large number of hotels and restaurants are concentrated. Just up from Plaza de Armas, there's a small square called Plaza Tricentenario which offers a great view of the plaza.
There's a water fountain and walls that you can climb to get good pictures of the square. The Museo Inka (see Museums section below) is right next to the square, while the Museo de Arte Precolombino and Wall of the Seven Snakes are another block in.
Wall of the Seven Snakes
Wall of the Seven Snakes (Muro de las sieste Culebras) is a small but very cool attraction.
Here you can spot several snakes engraved into the stones of an Inca stone wall (I actually counted more than seven, with some on either side of the corner). The wall faces the small Plazoleta de Nazarenas, where you'll also find the excellent Museo de Arte Precolombino.
The small alley formed by the wall with the snakes is named after it (7 Culebras) and is especially cool.
12, 13, and 14 Angled Stones
The 12-angled stone (Piedra de los 12 ángulos) is a famous rock in the outer wall of Archbishop's Palace (which houses the Museo de Arte Religioso – see next section). The rock is so famous that it has its own Wikipedia page and is a symbol of Cusco.
You can find the stone on Calle Hatunrumiyoc. It's pretty easy to find, and you'll often see people around it or photographing it. However, the 13 angled stone and 14 angled stone are less famous and tougher to find, but both are now marked on GoogleMaps.
There are also puma and serpent shapes formed by stones on Choqechaka street, around the corner at the back. It's a bit of a struggle to find them (the below image should help!) Parts of them are sometimes blocked by shop tables.
Catfetín Cat Café
Did you know that there is a cat cafe in Cusco?! Catfetín Cat Café has everything you need in order to be happy. In other words, they have lots of cats! The cafe has a regular cafe room and a separate cat room, where must of the cuties are. To enter the cat room, you just need to make a small donation. Follow their Instagram page to see all the fluffy guys.
Besides the main attraction, the cafe has delicious crepes, juices, desserts, and other items. The staff can speak English. The cafe is just down the street from the next entry. Consider stopping here after your morning visit to Coricancha!
Kusicancha Ruins
A final attraction worth mentioning around Plaza de Armas, this time to the south of it, is the Kusicancha ruins. These are what's left of the palace where Pachacuti, the builder of Machu Picchu was born and raised.
The ruins are not super impressive, but you'll pretty much pass right by them if you're walking from Plaza de Armas to Coricancha. Unfortunately, the gate providing access to them is often locked, but if you can catch a guard, they'll let you in for free. You can still see them from the glass walls around them, especially on the north side.
You can follow the lovely Romeritos lane from there to Coricancha. If you need a morning coffee, Three Monkeys café is nearby ­– the once famous bicycle coffee cart is now permanently parked in the café.
Best Museums
There are so many museums in Cusco. Their quality varies from quite bad to pretty OK. To make things more complicated, only 6 of them are included on the Boleto Turistico (including some of the worst ones), while some of the best ones are not included on the pass.
To figure out which ones are good and which are not, I visited them all (so you don"t have to!) Find which are worth visit and which are not in my Cusco museums article.
I'll summarize the best of them below. Only three of the below are on the Boleto (Regional Historical Museum, Monumento Inca Pachacutec, and Centro Qosqo de Arte Nativo). The rest have separate entrance fees.
Museo de Arte Precolombino
MAP is, in my opinion, the best museum in Cusco. It was the only one that was well organized and felt like a modern museum (most others consist of randomly displayed artifacts inside old Spanish mansions). It is run by the same foundation that manages Larco Museum, arguably the best museum in Lima.
The museum includes galleries on silver, gold, wood, pre-Inca, Inca, Northern Peru, Central Peru, Southern Peru, and more. The artifacts are beautifully displayed in 12 rooms.
The excellent MAP Café in the internal courtyard serves traditional Andean dishes in an upscale setting. The Wall of the Seven Snakes and Plaza de las Nazarenas are right outside. To get to the musem, follow the road uphill to the west of Cusco Cathedral, past Inka Museum (see below) and Plaza Tricentenario.
Entrance is 20 soles. It is not included on the Boleto Turistico. Photography (no flash) is actually allowed, unlike most museums (especially the church ones) in Cusco.
Museum of Monastic Life
My second favorite museum in Cusco was the Museum of Monastic Life (Museo Del Monastério De Santa Catalina De Siena), which is housed in the Santa Catalina Monastery (Monasterio de Santa Catalina de Nuestra Señora de Los Remedios) just southeast of the Plaza de Armas.
Santa Catalina Monastery is a working Dominican Convent. It was built atop Acllahuasi, a so-called "House of Virgins of the Sun" in Inca times.
The museum displays the strictly cloistered life of the nuns, complete with eery statues of them in their study rooms, dining room, sleeping quarters, and even a mortuary room. There's also an excellent collection of Cusco School paintings.
Photography is actually allowed here (no flash). This is the only place I visited in Cusco where photographing the Cusco School paintings is allowed, and the only church museum that allows photos.
Entrance is 8 soles and it is not included on the Boleto Turistico.
Museo Inka
The Museo Inka is considered the best Inca museum in Cusco. It felt dated to me, but was still better than several others.
Like many museums in Cusco, it is housed in a Spanish colonial home built on Inca foundations. In this case, it was the house of Aldrete Maldonado, and often called the Admiral's Palace.
The main highlights include several mummies, a large collection of Inca cheros (ceremonial chicha cups), and a corner column on the second floor that looks like a bearded man from the inside, but a nude woman from the outside.
In busier times, they sometimes have weaving demonstrations in the courtyard. The entrance fee is 20 soles and it is not included on the Boleto Turistico. It is beside Plaza Tricentenario, which I described above, and close to the better Museo de Arte Precolombino.
Museo Machu Picchu Casa Concha
A small but significant museum is Museo Machu Picchu Casa Concha. It was established to house the artifacts taken by Machu Picchu "discoverer" Hirama Bingham in 1911 and returned to Peru by Yale University in 2011.
The artifacts themselves won't blow you away. However, I enjoyed the museum for its black and white images of Hiram Bingham and Machu Picchu at the time he found it. There's also a cool model of Machu Picchu and a couple mummies.
The museum is housed in a colonial building atop the palace of Tupac Yupanqui, son of Pachacuti. Entrance is 20 soles and it is not included on the Boleto Turistico.
It is just one block from the Plaza de Armas and a few steps from the Museum of Monastic Life (see above) and Museo Maximo Laura (see below).
Museum of Religious Art
The Museum of Religious Art (Museo de Arte Religioso) houses some of the best Cusco School paintings in the city. The museum is housed in the Archbishop's Palace, whose outer wall has the famous 12-angled stone.
Here you'll find works from some of the most famous Cusco School artists like Diego Quispe Tito and a whole collection of works depicting the Virgin Mary. There's also a small 18th century chapel inside with a gold-covered baroque altarpiece.
Entrance is 10 soles. If you're also visiting the Cusco Cathedral and San Cristobal Church, it's a little cheaper to buy the Boleto Religioso (Boleto Integral) for 50 soles. Photography is not allowed except in the courtyard.
Regional Historical Museum
In my opinion, only 3 of the 6 museums and cultural attractions on the Boleto Turistico are worth visiting. The Regional Historical Museum is the only one that is a museum, but it is not as good as the other museums listed above.
The museum is housed in (once again) a Spanish house atop Inca foundations. The small collection of displays cover the ancient human, animal, and paleontological history of Cusco. There are a few cool artifacts, paintings, and a replica of the Inca sun disk.
It is located west of the Plaza de Armas, so consider stopping in for 15 minutes on the way to San Francisco Museum & Catacombs or San Pedro Market.
Monumento Inca Pachacutec
The Inca Pachacutec Monument is a 30-meter monument consisting of a statue of Pachacuti (builder of Machu Picchu) atop a stone tower.
The monument is in the middle of a small park and traffic circle. You can enter the stone tower and climb the spiral staircase to the feet of the statue for impressive city views. There are a few small and uninteresting displays inside the tower.
While the monument is included on your Boleto Turistico, it's quite a ways from all other attractions.
From Qoricancha, it's a 20-minute walk along Avenida del Sol to the statue. I actually enjoyed this walk, because it was a chance to get out of the tourist district and see normal life in Cusco. On the way, I made a small detour to Mercado Wanchaq, a very local and non-touristy market.
I recommend walking to the monument, which is slightly downhill the whole way, then taking a taxi back to the historic center.
Centro Qosqo de Arte Nativo
This one is not a museum but a traditional dance center, but I mention it here because it is included on your Boleto Turistico.
The performance starts every night at 7 PM and lasts about one hour. The venue is old, but the dances are worth watching if you're interested in local Quechue and Peruvian culture.
The Center is located just down from Coricancha on Avenida del Sol. Unless you're into bar hopping, you probably don't have much to do in the evening after dinner anyways, so you might as well check it out!
Choco Museo
ChocoMuseo is a chain with two locations in Cusco, another in Ollantaytambo, and two in Lima (the Pisac one is now closed). There are even a few outside of Peru now.
It is more of a chocolate shop than museum. I've been to all of the ones in Peru, and the one is Cusco is actually the closest to a museum, because it has some chocolate sculptures and windows where you catch watch people actually making the chocolates.
Come here mainly to buy all kinds of chocolate products (bars, covered quinoa, liquors, teas, candles, soaps, etc.) or to take part in one of their bean-to-bar chocolate making classes. These classes should be booked online in advance.
Museo Maximo Laura
The final museum that I recommend you consider visiting in Cusco is the small but impressive Museo Maximo Laura. Maximo Laura is a renowned tapestry weaver. The Peruvian government has even designated him a National Living Human Treasure under UNESCO guidelines.
The works displayed in the museum/shop are incredibly intricate and colorful – I really recommend taking a look, even if you don't care about weaving. There's a small donation box inside.
The museum is right next to Museo Machu Picchu Casa Concha and Museum of Monastic Life. Photography seems to be allowed inside.
Other Museums
The other museums which are included on your Boleto Turistico but aren't worth your time (in my personal opinion) include Museo de Arte Popular (in the basement of the place you buy the Boleto), Museum of Contemporary Art (so boring), and Qoricancha Site Museum (currently closed).
For more information about these, see my guide to the Boleto Turistico (coming soon).
San Blas & San Cristobal
One of the best ways to enjoy San Blas, the artisans district up the hill from Plaza de Armas, is to just choose a road leading to it, walk up (steeply up, that is) and explore. You'll uncover surprises like interesting shops, cute cafés, street art, and the higher you go, awesome views.
Still, there are a few sights worth mentioning in San Blas and neighboring San Cristobal.
San Blas Cathedral and Plaza
Templo del San Blas (San Bas Cathedral) and Plaza de San Blas are the focal point of this district. However, when I visited in 2023, San Blad Cathedral was undergoing major renovations, totally closed, and not looking very nice.
The small square beside the cathedral is lovely, but the renovations and many cars parked there are taking away from it for the time being. Once the renos are finished, you can expect entrance to the cathedral to be added back to the Cusco Boleto Religioso as it was before.
Coca Museum
This Museo de Coca is right on San Blas Plaza. The museum is small and quite low budget (for example, display signage was printed off a home computer. There is information about the history and use of coca leaves for medicinal, ceremonial, and narcotic purposes.
The most interesting thing to me was the large collection of products (like Coca Cola!) that do or once did contain coca. They also sell various coca products, like coca candies, coca tea, and even coca beer (I had one but it was not good). Keep in mind that it is most likely illegal to bring any of these back to your country.
Entrance is 10 soles.
Limbus Restobar
Billed as the restaurant with the best view in Cusco, it's hard to disagree when you sit on the outdoor patio at Limbus Restobar.
The food is below average, but at least the beer is good! Their cocktails are also fun and Instagrammable, with some of them coming in unusual containers, with smoke, and so on.
While Limbus is the most popular restaurant in the area, several others nearby have equally good views and are less crowded. Try Aura Restobar, ViewHouse Restobar, or music-focused Black Bird.
I also recommend Samay Wasi hostel nearby. The private room I stayed in had a view just as good as Limbus!
San Blas Viewpoint
To enjoy the same views for free, head to Mirador San Blas, just a few steps up and around the corner from Limbus. The large terrace here is a popular spot for local youths and couples (note all the love locks on the fence in the photo above).
While I felt safe here, even at night, others have reported that they didn't. So it might best to avoid going alone at night.
L'atelier Café Concept
One café in San Blas stands out for its particularly unique view. That would be L'atelier Café Concept. The café is at the end of a pretty and very typical San Blas street, Carmen Alto.
If you can manage to score the sweet spot in the café, which is in a niche overlooking the street, you'll enjoy one of the best views to be had in San Blas.
Seven Borquitos Street
Siete Borreguitos is an incredibly picturesque staircase around the meeting point between San Blas and San Cristobal neighborhoods.
Flower pots lining either side have made this into one of Cusco's most famous photography spots among the Instagram masses. Come early if you want to get a shot without other people in it!
If you're walking from Plaza de Armas or San Blas to Sacsayhuaman, then you can walk up this staircase on the way.
Sapantiana Aqueduct
A few steps away from the top of Seven Borquitos Street, you'll cross a small bridge over a stream. Look upstream and you'll see the lovely Acueducto de Sapantiana.
This is a Jesuit-built colonial aqueduct dating to the 17th or 18th century. Carefully, it is possible to walk right up to it.
San Cristobal Church and Plaza
Just a few minutes from the bottom of Seven Borquitos Street, you can follow a road that connects to San Cristobal Church and Plaza. You could do this as a small detour if walking up to (or down from) Sacsayhuaman.
San Cristobal is one of Cusco's most recognizable churches – you can easily spot it from the Plaza de Armas or other places in the city. It is perched high up on the valley wall, just below Sacsayhuaman.
The plaza offers one of the best views of Cusco. I was unlucky to have rain when I was there, but then very lucky to enjoy a stunning rainbow after it ended.
The interior of the church is nothing special, but the climb up the bell tower offers an even more commanding view. If you plan to do this, then get the Boleto Religioso (Boleto Integral) when you visit Cusco Cathedral, which also works here.
Nearby, Escaleras Calle Armargura is considered one of the prettiest staircases in the area.
Christo Blanco
You can't miss the giant white Jesus statue looking over Cusco. He's visible from Plaza de Armas, including at night when he's lit up.
The statue stands at the same elevation as Sacsayhuaman, but east of the ruins. From the main entrance and parking lot of Sacasayhuaman located here, there's a walking path leading to the Jesus statue, which only takes 5 to 10 minutes.
Beside the statue, there are three large green crosses, not to be confused with the cross at Sacsayhuaman that is visible from the Plaza. From Christo Blanco, you could also walk to Q'enqo ruins (see below).
Ruins around Cusco
Besides Sacsayhuaman, there are many other ruins in the Cusco region. Here I'll just cover the main ones.
It makes sense to visit Sacsayhuaman, Q'enqo, Puka Pukara, and Tambomachay in a day trip, as they all lie north of Cusco. All four are included on your Boleto Turistico, or you can get a partial ticket that only includes those four.
If you're feeling adventurous, you could also add some smaller ruins like Temple of the Moon, Zona X, and others, as well as the popular weaving center, Manos de la Comunidad, on the same day trip.
You could devote another day to visiting the ruins east of Cusco: Tipon, Pikillacta, Rumicolca, plus the "Sistine Chapel of the Americas", Saint Peter the Apostle of Andahuaylillas. Tipon and Pikillacta are on your Boleto, while the other two spots are free. You can visit these on a half-day tour.
A third day could be devoted to doing a Sacred Valley day tour like this one or this one. These very popular tours include the ruins of Pisac, Ollantaytambo, and Moray. I really loved these ruins and towns, so I highly recommend spending some days in each of them instead of just speeding through on a day trip.
To find out how to plan the above day trips without taking a tour, see my guide to visiting the ruins around Cusco.
Q'enqo
After Sacsayhuaman, Q'enqo is the next closest major ruins to Cusco. You can walk between them via Christo Blanco (the white Jesus statue) in about 25 minutes.
Q'enqo is quite a bit smaller than Sacsayhuaman, so you only need about 15 minutes to visit it. This was an Inca ceremonial site. It is believed that llama blood was poured at the top of the site, and the way it flowed down through channels could predict the harvest.
The highlight of Q'enqo for me was the cave in the middle of the site which contains a couple stone altars or beds.
Temple of the Moon
The Templo de la Luna (Temple of the Moon) is a remote set of ruins surrounded by farmland and eucalyptus forest above Q'enqo. You'll need to walk about 15 minutes slightly uphill from Q'enqo to get there.
Your reward is that you'll likely be the only one there. The ruins are built on and in front of a stone mound rising from the plain. From there, you could continue walking 25 minutes to the next spot.
Zona X
Zona X, or Lanlakuyoc, is another remote and seldom visited archaeological site. In fact, countless visitors pass right by it without realizing, as it is just off the road between Sacsayhuaman and Puca Pucara/Tambomachay.
This site is not a ruin but rather a collection of tunnels and carves that have been caves out. Some of the tunnels are surprisingly long and narrow – you'll definitely need a flashlight.
However, Zona X is not considered safe for two reasons. First, some of the caves have steep drop off points inside them. Second, muggings have been reported in this area. If you decide to go, be careful, and don't visit alone (I did and was fine, but it's still best to be aware of the risk).
Use this AllTrails map to find the area, but once you're there, you're not likely to stick to the trail. Note that instead of starting from the highway, as the map indicates, turn down the road that heads to Sacsayhuaman, then you'll see an entrance path on the right. If you try to enter from the highway, there's barbed wire and a small piece of private land blocking the way.
Puka Pukara
Puka Pukara (or Puca Pucara) is also known as the Red Fort for the slightly red color of its stones, especially around sunset.
Not much is known about this fort, except that probably protected the valley, which it has a commanding view over.
It only takes about 15 minutes to visit this site, which is included on your Boleto Turistico. From there, you can walk to Tambomachay, just five minutes further up the highway. The best view of the Puka Pukara ruins is actually from the highway between the two sites.
Tambomachay
Tambomachay, also called the "Inca's Bath", is just five minutes' walk to the north of Puka Pukara. The main attraction here is a set of aqueducts and fountains thought to have been a ceremonial bathing location.
Upon arriving, you'll need to walk about 20 minutes (slightly uphill) to the site. The ruin is relatively small, so it only takes a few minutes to see, but you can make your visit longer by doing a small or longer loop trail around it (see the dotted lines on the AllTrails entry).
Some people start their day by driving up to Tambomachay first, then working their way back to Cusco via Puka Pukara, Q'enko, and Sacsayhuaman. With a driver, consider going further to Cochahuasi and Awana Kancha (see "other day trips" section below), or even as far as Pisac, then back to Cusco.
Pisac Ruins
Pisac is the easternmost town in the Sacred Valley and the one closest to Cusco (or furthest from Machu Picchu).
Sitting high above the town are some of the most impressive ruins in the Sacred Valley. See my detailed guide to visiting Pisac ruins and other things to do in Pisac.
Many people visit the Pisac ruins as part of a Sacred Valley day tour from Cusco. I actually spend my first 4 days in Peru in Pisac to acclimatize and enjoy the area. I loved it, but Ollantaytambo was even better.
Pisac ruins, as well as Ollantaytambo ruins, Chinchero ruins, and Moray ruins, are included on the Boleto Turistico. You can also get a partial Boleto that only includes these four sites.
Ollantaytambo Ruins
The ruins at Ollantaytambo are the second most important in the region after Machu Picchu itself. It was there that the Incas staged their only successful defeat of the Spanish.
The ruins are right beside town so they are easy to access. I absolutely loved Ollantaytambo, more than Cusco, actually! Many people also visit the ruins as part of a Sacred Valley day tour, which is really too bad.
I highly recommend staying there for as long as you can. It's also the perfect staging point for the Inca Trail, as the trains pass through town and the hike starts a short drive away from it.
See my guide to visiting Ollantaytambo ruins and other things to do in Ollantaytambo.
Moray Ruins & Maras Salt Mines
Moray is a unique Inca site consisting of a collecting of round depressions in the ground lined with circular terraces, with the deepest one going down 30 meters (98 ft).
The Incas used these for agricultural experimentation, as there is a 15 degree temperature difference between the highest and lowest terrace. You can view the terraces from just inside the site or walk around the whole site in about 30 minutes.
Nearby, the Maras Salt Mines, or Salineras, are another incredibly impressive site. Here the Incas built hundreds of salt terraces to harvest salt from a natural spring. Local families still use the terraces today.
You can buy delicious salts, including smoked and flavored ones, and salted chocolates. Just a heads up that some countries have limits for how much salt you can carry (for Canada it is only 350 ml) so I could only buy a few small packs.
Most Sacred Valley tours include a stop at both of these sites. Moray is on the Boleto Turistico, while Maray Salt Mines has an entrance fee of 10 soles.
The agricultural, high mountain plateau area around Moray and Maras is incredibly beautiful. There are views of towering mountains all around, including the sacred Mt. Veronika. My incredible stay at Mountain View Maras was one of the highlights of my Peru trip.
Chinchero Ruins
Chinchero is a weaving village in the highlands on the way from Ollantaytambo back to Cusco, about 30 minutes' drive from Moray.
Sacred Valley tours like this one include a stop in Chinchero, which will often involve watching a weaving demonstration. I saw one here on my own and it was the best demonstration of several I saw in Peru. I bought several textiles there.
Chinchero is also known for its Sunday local market, which takes place near the Chinchero ruins. The ruins include a whitewashed Spanish church built atop the summer palace of Inca Tupac Yupanqui and some impressive terraces.
If you've got the time, there's an excellent 2-hour return hike from the ruins to Poc Poc Waterfall (Catarata Poc Poc). The hike is mostly downhill, so the return is the hard part. The waterfall spills into an incredibly beautiful valley.
Tipón
Tipón is one of the more difficult to reach ruins included on your Boleto Turistico. Far fewer tourists make it here, but that is one of the biggest reasons to go.
I actually loved Tipón. The site showcases the Inca's incredible ability to control water through a series of irrigation canals and fountains. It's in a stunning location and I was the only person there when I visited. It took me around 45 minutes to do the loop around the ruins.
Tipón is a 45-minute drive east of Cusco. It makes sense to combine it with the following 3 spots as a half-day to full day trip. I paid $60 for a driver with Taxidatum, which I highly recommend. You can message them for a quote for drives anywhere in Cusco, the Sacred Valley, or in Lima.
Pikillacta & Rumicolca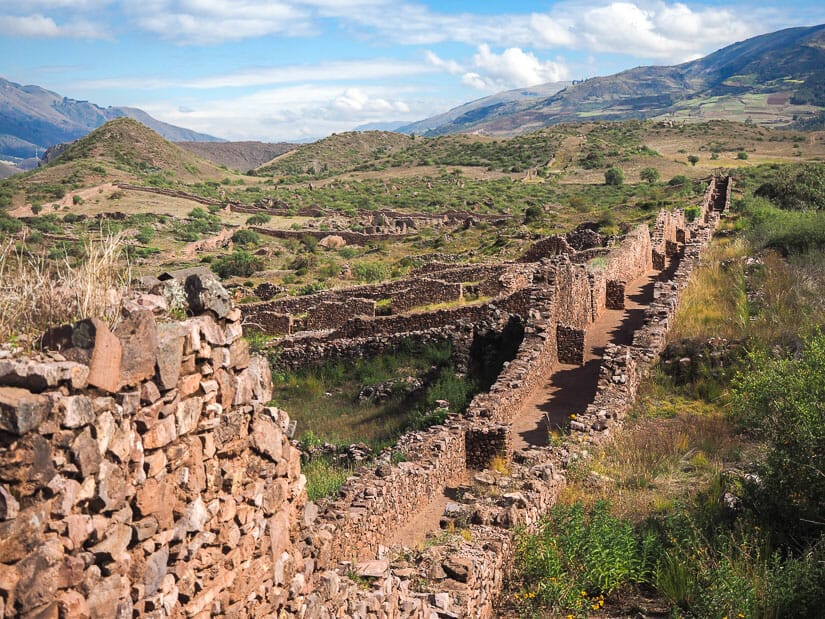 Pikillacta is an expansive pre-Inca site 20 minutes' drive past Tipón. It was constructed by the Wari people. The biggest highlight for me was the sheer size of the site, including its ultra-long walls and passageways.
I spent around 30 minutes here. I first visited some ruins in the middle, then did a walk from the midway point of the back outer wall back to the entrance.
Just a few minutes past the entrance to Pikillacta, but on the opposite side of the road, is Rumicolca. This was possibly first built by the Wari people then expanded by the Inca and used as a checkpoint into the city.
What you see in the picture above is most of it, so it only takes a few minutes to visit. Entrance is free.
Saint Peter the Apostle of Andahuaylillas
This one is not a ruins but a church. But if you make it as far as Rumicolca, then it only makes sense to drive another 20 minutes to Saint Peter the Apostle of Andahuaylillas, also called the "Sistine Chapel of the Americas".
As the nickname suggests, the interior of this church is totally covered in intricate paintings and patterns. Unfortunately no photos are allowed, but you can buy a postcard or take a photo of the large photo of the church interior outside.
Other Cusco Day Trips
Besides the three day trips I described above (ruins to the north of Cusco, Sacred Valley day trip, and ruins to the east of Cusco), here are a few more more possible day trips you'll want to consider making.
Rainbow Mountain
Rainbow Mountain (also called Vinicunca and Montaña de Siete Colores) is the single most popular non-ruins day trip from Cusco. This colorful mountaintop first appeared after snow covering it melted in the mid-2010s.
Visiting Rainbow Mountain is a full-day trip involve a very early start, 7 hours of driving (return), and a 3-hour return hike. It's very popular and touristy, and not as vibrantly colorful as in all the Photoshopped images you've seen, but most visitors still enjoy it.
Note that Rainbow Mountain is very high 5,200 meters (17,060 feet), so you wouldn't want to go here until you are fully acclimatized.
Lake Humantay
Another popular nautral attraction you can visit as a day trip from Cusco is Lake Humantay. This is another long, full day trip, in this case to a stunning alpine lake.
Tours also tend to leave very early, although it is only a four-hike return drive and 3-hour hike.
Cochahuasi and Awana
Cochahuasi is an animal rescue and rehabilitation center on the road between Cusco and Pisac. Some Sacred Valley day tours stop in here on the way to Pisac.
When I visited, I saw Andean bears, a puma, small mountain cat, parrots, coati, and more. I also got to witness a condor flying over my head and pet lots of llamas.
Awana Kancha is just a few minutes past Cochahuasi. This is another weaving center, similar to Manos de la Comunidad.
You can see all four of Peru's camelids here, weaving demonstrations, displays of yarn, and so on. A small donation is expected. The items on sale in the shop here are high quality but pricey.
If you want to visit these places on your own, you can take any bus or colectivo traveling between Cusco and Pisac.
Machu Picchu
Although I don't recommend it, you can even visit Machu Picchu as a day trip from Cusco. I don't recommend it because it is better to spend some time in the Sacred Valley first, especially Ollantaytambo, do the Inca Trail to Machu Picchu, or sleep in Aguas Calientes the night before you visit Machu Picchu.
The main reason is that if you do a day trip to Machu Picchu from Cusco, you'll be arriving there at the absolute busiest time of the day. By hiking in or sleeping in Aguas Calientes the night before, you can get there first thing in the morning, before the masses of tourists.
If you must do it as a day trip, this will involve taking the train from Poroy (just outside of Cusco) or Ollantaytambo to Aguas Calientes (3 hrs 15 min / 1 hr 30 min), then a bus from Aguas Calientes to Machu Picchu (20 minutes). See my Aguas Calientes guide and guide to the Machu Picchu circuits for all the details.
Well, that brings us to the end of my Cusco guide. Thank you if you've made it this far! If I've missed any fun things to do in Cusco, please let me know in the comments below!