Dear reader: This article contains links to products and services that I may be compensated for, at no extra cost to you.
One of my biggest surprises in Peru was just how incredible the food is. Even in the small Sacred Valley towns where I started my trip (see my favorite restaurants in Pisac and in Ollantaytambo), the food was exceptional.
Moving on to Cusco, it only got better. I came to realize that 3-star quality of food & service, but for the price of a budget eatery in my country, is the norm here. Almost every meal I had was picture-worthy and bursting with flavors, colors, and textures.
Besides the many ruins around Cusco, food was a major focus of my trip. Thus, I did a huge amount of research and review-reading before my trip, plus a full week of on-the-ground tasting, to come up with this list of where to eat in Cusco.
I've also included sections on the best dessert shops, cafes, and bars/breweries in Cusco at the end. Also don't miss my guide to Cusco's top attractions.
Top Places to Eat in Cusco
The following Cusco restaurants were my personal favorites, each for different reasons, and in no particular order. They are mostly in the mid-range to high-end category, so if you're looking for low budget restaurants in Cusco, this list won't be for you.
Green Point Vegan Restaurant
I didn't want to choose favorites here, but if I had to choose one single meal in Cusco that I enjoyed the most, it was at Green Point Vegan Restaurant!
The food at this all-vegan restaurant (and brewery!) is anything but bland. My Cusco Grill Platter was exploding with flavors. The plate was overflowing with grilled corn, oyster mushroom skewers, potatoes, and deep fried pepper stuffed with veggie ground meat. It also came with a salad and Salsa Huancaína (spicy cheese sauce).
Vegetarians and vegans should come here to enjoy vegetarian versions of classic Peruvian dishes like limo saltado and ceviche, plus a variety of other health Western foods.
The setting at Green Point is one of the best. The glass roof and tons of plants give the feeling of being outside. the serving staff are always smiling and attentive, despite being very busy.
Last but not least, Jacob's Brewery is on site, so you can enjoy freshly crafted brews along with your healthy eats.
Also read my guides to the Cusco Tourist Pass and Cusco Religious Circuit ticket!
Yaku Peruvian Restaurant
Yaku is in a very casual setting. At first glance, it doesn't look much different than any other traveler's restaurant. But the food here actually blew me away.
To start, I has the Choclo al Horno (Baked Sweet Corn). The corn, which has huge kernels, was baked right in the husk and served with delicious Andean cheese. It also came with uchucata sauce (made from Huacatay leaves) and pico de gallo. I've never enjoyed a cob of corn this much!
I followed that with a Tiradito de Altura – tiradito being slices of fish (in this case trout) served in leche de tigre or "tiger's milk sauce". I must admit that I saw pictures of this mesmerizing dish on social media before my trip and went to Yaku specifically just to try it.
This dish is an experience for the senses. There's so much going on in one plate, including crunchy seaweed, avocado and sweet potato mouse, popped quinoa, fried trout skin, edible leaves and flowers, beans, little seaweed balls that pop in your mouth, corn kernels, and more. Each bite was intriguing!
Honestly, this is the kind of dish I'd expect to find in one of those fine dining places that you have wait months to get into.
The waiter also took the time to introduce every ingredient in near perfect English. Yet, my whole meal, including both dishes I described and a mint lemonade, was only around US$20!
Ceviche Seafood Kitchen
One of my finest meals in Cusco was at Ceviche Seafood Kitchen (also called Ceviche Meat & Wine Co.) This upscale restaurant is bright and modern, with professional and welcoming staff. It is conveniently located right at the northwestern corner of the Plaza de Armas, with a few tables offering plaza views.
Most dishes I saw being served at Ceviche Seafood Kitchen were picture worthy. Personally, I went for their signature and most popular menu item: El Trio. It includes 3 classic dishes: ceviche, seafood risotto, and fried seafoods.
This combination is nothing new, and I've actually seen the same thing at other restaurants in Peru. It was nevertheless perfectly executed, and is a great intro to Peruvian cuisine if you've just arrived in the country.
Whether you go for this or one of their other ceviche or causa dishes, I recommend you order a glass of their Intipalka Chardonnay or Tacama Blanco de Blancos Sauvignon Blanc to go with it. Both of these Peru-made white wines are excellent. The restaurant's desserts are also delectable.
Limo
Limo is another upscale restaurant right on the Plaza de Armas, just a few steps away from Ceviche Seafood Kitchen. This was actually my priciest meal in Cusco, but I regret nothing.
Limo does fine Nikkei (Japanese-Peruvian cuisine). The restaurant itself has touches of zen, whether you sit on the covered balcony or inside. The menu covers creative sushi, sashimi, and other seafood dishes. I especially liked the kataifi scallops as well as the volcan rolls topped with flambéd cheese sauce.
The cocktails at Limo are also memorable. I recommend the Limo cocktail, a spicy & sweet concoction that includes pisco, ginger cordial, passion fruit, and fresh chili pepper.
Cicciolina
If you're looking for the perfect place to have a date night in Cusco, go for Cicciolina. This Italian-Peruvian joint is the kind of place with white tablecloths and super professional staff, but still casual enough that you don't necessarily have to pack formal attire from home just to dine there.
The décor is rural and agricultural but in a modern, ambient setting. If you're lucky, you can score one of the tables in a nook with a window like I did.
I stuck to Peruvian food here, going for their ceviche served atop causa with avocado.
While I try to stick to local dishes when I travel, in retrospect, I wish I'd tried their gnocchi, made with local yellow potatoes, which reviewers seem to rave about. They've also got beetroot ravioli, seafood risotto, Ossobuco, pasta, and alpaca steak.
The restaurant was just down the street from where I stayed in Cusco.
Kusykay
I've seen more than a few reviews citing Kusykay as vistors' top meal in Cusco or even Peru, so of course it was on my must-try list.
Kusykay bills itself as "Peruvian craft food", making use of local, organic ingredients from the Cusco region. The atmosphere is casual, with lovely indigenous-themed paintings on the walls and hanging plants, but still nicer than your average traveler's restaurant.
The food itself is worth of a five-star restaurant. The dishes are artfully presented. I went for the Trucha Andina (Andean trout) with broccoli puree, elderberry sauce, and grilled vegetatables.
They've got local craft beers by Mundo Quechua Cusco on tap, plus some interesting takes on the Pisco Sour, like their chicha morada (purple rice), maracuyá (a kind of passion fruit), and white cacao ones.
My server was very friendly and even gave me free tea samples (coca and muña, both good for symptoms of altitude sickness) to take with me.
Limbus Restobar
The last restaurant in Cusco that I highly recommend is Limbus Restobar. For this one, the food is nothing special, while the drinks are fun. But what you should really come here for is the epic view.
Limbus Restobar is located at the upper end of San Blas, the so-called "bohemian" district up on the hill overlooking Cusco. You can walk there in a mere 10 minutes from the Plaza de Armas, but that is going to be 10 minutes of mostly steep, uphill stairs. Or you can just stay at this hostel nearby like I did!
For food, you can expect burgers, fried foods, and a few typical local dishes. As for drinks, the menu gets more exciting. Several drinks come in over-the-top containers, with billows of smoke, and the like ­– very Instagrammable. Personally, I went for a smoked old-fashioned.
The view looking down on Cusco is incredible, so make sure you get a seat on the outdoor patio.
Other notable mentions
I am only one mere human, so I did not try every single restaurant in Cusco, or even close to it. Some restaurants that I bookmarked for their positive reviews and delicious looking food, but I never made it to, include:
Jack's Café: local expats swear by this restaurant's Western comfort food and huge portions
Chicha por Gaston Acurio: Cusco restaurant by Peru's most famous chef
Inka Grill: known for its grilled meats and huge candle at the front entrance
Morena: highly rated upscale dining with plaza views
La Rabona: popular bakery in the main tourist area east of the Plaza de Armas
Qura: hipster food like acai bowls, avocado toast, healthy and vegan friendly
MAP Café: fancy eatery inside the Museo de Arte Precolombino (see my Cusco museums guide)
KION: for Chifa (Peruvian Chinese) fare
Aura Restobar/ViewHouse Restobar/Black Bird: three alternatives to Limbus Restobar in San Blas, all with equally good views
Yunkas: Nicely presented organic Peruvian dishes in San Cristobal
Best Dessert Shops
While most restaurants I cover above also have excellent desserts, here are a few dessert-only restaurants in Cusco worth seeking out.
Qucharitas
To see where local foodie Instagrammers go to get their dessert shots, check on Qucharitas. The kitty umbrellas are the first thing you'll notice, but further in, there's a lovely internal courtyard in a historic home, complete with fountain and plants.
Sit first then start planning your ice cream order. From the menu, you'll need to choose the size, base ice cream (vegan options available), flavor to be added (there's a long list including passion fruit, lemongrass, eucalyptus, avocado, pisco, lucuma), toppings (crushed Oreos, candies, fudge), and cone type.
Be warned that even the small one is huge for one person! There are other local desserts on offer, too. The shop is on "Gringo Alley", which, ironically, didn't seem as touristy to me as many other streets around the Plaza de Armas.
Picarones Ruinas
This simple, local shop at the bottom of San Blas offers nothing but picarones, or "Peruvian donuts". If you haven't tried this staple Peruvian dessert yet, here's your chance.
Picarones are made from deep fried squash and sweet potato doused in chancana (sugar sauce). They are chewy and extremely delicious. One order (6 soles) comes with four of them – practically a meal if you're visiting alone like I was. And if you're Spanish isn't great, and you ask for one, they'll give you a whole order.
Best Cafés
There are lots of great cafes in Cusco, but here are a few that really stood out for me.
Catfetín Cat Café
Catfetín Cat Café is a legit cat cafe in Cusco. Besides the tasty and photogenic cat-themed foods like crepes and other savoury or sweet snacks, they've got a whole room filled with felines. If you get attached, any of them are available for adoption.
The cafe is conveniently located between Plaza de Armas and Corincancha. To find it, enter into the internal courtyard then take the stairs up to the second floor.
L'atelier Café Concept
Of the several cafés in San Blas, L'atelier Café Concept is notable for its unique view. If you can manage to score their hottest seat, in a small niche at the front, you'll enjoy a gorgeous view looking down Carmen Alto Street, one of the district's main lanes. There are only a few other tables inside, so good luck!
On the menu, you'll find numerous teas, coffees, and dessert options, including several vegan ones. They've also got juices, beers, and wines. I loved their tarta de limón.
Café Ricchary
The best coffee I had while in Cusco was at this hole-in-the-wall family-run café. The family produces the coffee and cacao they use, so you'll be supporting local farmers if you stop here.
The café is tiny but very cute and welcoming. It's about four blocks southwest of the southwestern corner of the Plaza de Armas, just after the Arco de Santa Clara (a beautiful arch over the street) and just before Mercado San Pedro, the city's most famous market.
Three Monkeys
Old blogs about Cusco always mention this famous little bicycle coffee cart. It used to appear in locations all over the city. You had to follow their Instagram to find out where they would be parked each day.
When I visited in 2023, I found that Three Monkeys is now in a permanent location. It's pretty convenient, though, about halfway between the main tourist area east of Plaza de Armas and Qorikancha – consider stopping there for a coffee on the way to this famous attraction).
When you enter the café's front door, the famous coffee cart is just inside the front door, and they still make the coffee on top of it. But now you can sit in proper chairs inside or take your coffee to go.
Best Breweries and Bars
This isn't going to be a comprehensive list of bars in Cusco – that would need to be a whole other article of its own. I just want to mention a few bars and breweries in Cusco that I really enjoyed.
Museo del Pisco
The single best cocktail I had in all of Peru (and yes, I had MANY good ones) was at Museo del Pisco in Cusco.
This is not a museum but a pisco bar. As you would expect, they have a long list of pisco-based cocktails, including all the classics and many variations of the sour and chilcano.
Like any serious bar in Peru, they've also got their own "macerados", or pisco infused with various ingredients, in rows of colorful bottles behind the bar. These include flavors like coca, eucalyptus, fig, purple corn, and maracuyá. Any of these can be enjoyed in pisco sour form.
The bar was, quite conveniently, right outside my hotel in Cusco 🙂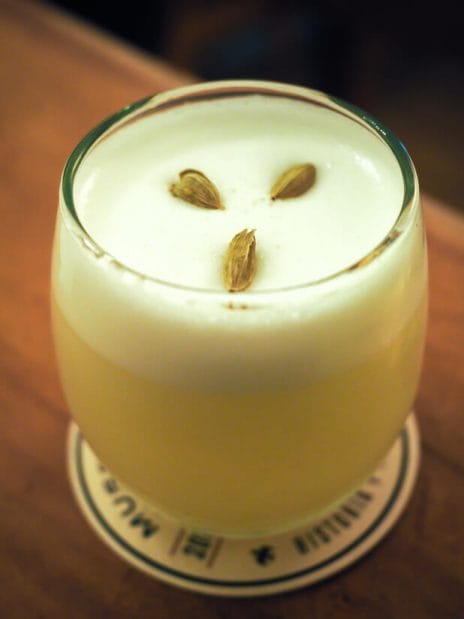 So what was my favorite one? It was a pisco sour made with one of their macerados, a cardamom-infused pisco. I LOVE cardamom, and this was a cardamom flavor bomb.
Museo del Pisco also has locations in Lima and Ica. Read about the Lima one in my Lima itinerary guide.
Cerveceria del Valley Sagrado
The Sacred Valley Brewery is a must visit brewery in the region, with locations in Pisac, Lima, Cusco, and their main facility in Pachar (near Ollantaytambo).
I've been to them all. Each one is super cozy but with a totally different feel. I would say that their Cusco location in the most pub-like. There are several different areas inside, so take a walk before deciding where to sit – usually you socialize around the bar or find a quieter or more private corner in another room.
As for the beer itself, the Inti Punku IPA and Apu Veronika Double IPA are my favorites. Like most bars in the region, your beer will come with a bowl of salty fried corn kernels, a perfect accompaniment to beer. Start munching on them and you won't be able to stop.
Cholos Craft Beers
As a craft beer lover, I also paid a visit to Cholos Craft Beers. This is not a brewery but a small brewpub (they serve beers from various local breweries), with over a dozen options on tap (but with quite a few of them out when I visited).
Cholos is small and cozy, and probably a great place to meet other travelers or expats in normal times. Unfortunately, when I visited during the downturn in tourism after the early 2023 protests, I was the only one in there.
Still, the beers were great and I'd recommend it to any beer lover. It's in the tourist area east of the Plaza de Armas, just around the corner from the famous 12-angled stone, and in the same building as Cicciolina restaurant.
Calle de Medio
I would consider it practically a mandatory Cusco experience to enjoy a pisco sour while overlooking the Plaza de Armas. I recommend doing this at Calle de Medio.
This restaurant-bar's patio has an excellent view almost directly opposite the Cusco Cathedral. Try to visit in the late afternoon for the best light and large crowds for people watching in the square, but nighttime is also atmospheric and just as busy in the square.
The establishment also has a surprisingly large and cozy interior, should you do decide to stick around for something to eat.
Did I miss your favorite restaurant in Cusco? Let me know in the comments below!