Dear reader: This article contains links to products and services that I may be compensated for, at no extra cost to you.
When visiting Cusco and the Sacred Valley, you will most likely need to purchase the Cusco Tourist Pass, or "Boleto Turistico".
This pass is not just recommended for saving money but it's actually the only way that you can enter some of the top things to do and ruins in the Cusco region. In total the pass includes 16 attractions (minus one, which is currently closed). These consist mainly of ruins but also a few cultural attractions and museums in Cusco.
It's easy enough to Google what's included on the pass. However, are all the sights on the pass actually worth visiting? The answer is no. I personally visited all of them for writing this article, so that you don't have to. Below, I will introduce each of the sights and why you may or may not want to bother with each one.
Because this pass is only valid for 10 days, with partial options for only 2 days, understanding how this pass works may actually impact how you plan your Cusco and Sacred Valley itinerary. If you're staying in the region longer, perhaps for hiking the Inca Trail in the middle, you maybe even have to buy the pass twice like I did.
Boleto Turistico Fast Facts
How much is the full pass? 130 soles (36 USD)
How long is it valid for? 10 days
What are the 16 attractions included on the full pass? Museum of Contemporary Art, Regional Historical Museum, Museum of Popular Art, Centro Qosqo de Arte Nativo, Inca Pachacutec Monument, Qoricancha Site Museum (currently closed), Tipón, Pikillacta, Sacasayhuaman, Q'enqo, Puca Pucara, Tambomachay, Pisc ruins, Ollantaytambo ruins, Moray, Chinchero ruins.

I'll describe each of these attractions in the "16 Attractions" section below.
Where can I buy the pass online? Here on Viator but it will be more expensive.
Where can I buy the pass in person? Purchase your Boleto Turistico at the Tourism Office in Cusco. You can also buy it at some of the major ruins included. Online sources say that you can buy the pass at almost all the sights, but when I tried in 2023, I found that the museums in Cusco and some of the ruins outside of the city don't sell them anymore. Best to buy from the office first!
How much are the 3 partial passes? 70 soles
How long are they valid for? 2 days each
What's included on partial pass 1? Four ruins just north of Cusco: Sacasayhuaman, Q'enqo, Puca Pucara, Tambomachay
What's included on partial pass 2? Six attractions in the city and 2 ruins: Museum of Contemporary Art, Regional Historical Museum, Museum of Popular Art, Centro Qosqo de Arte Nativo, Onca Pachacutec Monument, Qoricancha Site Museum (currently closed), Tipón, Pikillacta
What's included on partial pass 3? The four Sacred Valley ruins of Moray, Chinchero, Pisac, and Ollantaytambo
Where can I buy the partial passes? Buy Circuit 1 and Circuit 3 pass at any of the ruins included. For Circuit 2, get it at the Tourism Office.
What is the Boleto Religioso? There's another small and less complicated pass called the Cusco Religious Circuit Ticket. Learn about it in my separate guide to the Boleto Religioso.
The 16 Attractions
Just because they are on your ticket, doesn't mean you should visit every attraction on the pass. Some of the attractions in Cusco city are especially not worth the time.
The ruins east of Cusco are excellent but not easy to reach. The ruins north of Cusco and in the Sacred Valley are extremely worth it.
City Center Attractions
Of the six attractions right in Cusco's city center, three are barely worth your time, two are, and one is currently closed. To read about museums in Cusco that are actually worth your time (but not included in the pass), see my Cusco museums guide.
1. Museum of Popular Art (not worth it)
I put this museum first because it is in the basement of the Tourism Office where you buy the pass. In my opinion, it's not even worth walking down the stairs for this small and boring museum.
The museum features one room of kitschy figurines and folk art, another with a few black and white photographs of the city, and another showing a Spanish-only video. Sorry if I offend anyone's taste, but that was my impression.
2. Museum of Contemporary Art (not worth it)
This is the second museum included on the pass that is not even worth five minutes of your time. It hardly qualifies as a museum. It consists of two rooms of very small rotating exhibits just inside a municipal government building.
When I visited, neither one was really good or interesting. There's also a small courtyard with fountain inside, but you can't even get a decent picture of it because there are lots of government workers hanging out or passing through. Several other better museums have similar courtyards.
3. Regional Historical Museum (barely worth it)
The Regional Historical Museum is better than the above two, but I still wouldn't put it in the top-5 museums in Cusco.
Like several others, the museum is housed in a Spanish palace built on top of Inca foundations. It covers the animal and human history of the Cusco region. There are a few cool ancient animals, a random assortment of Inca artifacts, and a few impressive paintings.
Since you have the pass anyways, I would say hit this museum if you have time, but don't be sad if you miss it. It's a couple blocks west of Plaza de Armas, so you could visit it on the way to the San Francisco Museum and Catacombs (not included on your Tourist Pass, but worth visiting) or San Pedro Market.
4. Centro Qosqo de Arte Nativo (worth it)
Centro Qosqo de Arte Nativo is a folk music and dance performance venue. A one-hour performance takes place every evening at 7 PM. At peak tourist times, it's best to get there at least 30 minutes early.
Yes, the venue is a little dated, but the traditional dances and live music are authentic and entertaining. This is a good way to experience local Quechua culture and do something besides seeing churches and ruins.
The venue is on Avenida del Sol, a major thoroughfare leading south from Plaza de Armas. It's just across from Coricancha, one of the city's top attractions (not included on the tourist pass).
You probably don't have much else to do in the evening during your Cusco visit, besides bar hopping if you're into that, so I feel this is a worthwhile addition to your itinerary.
5. Inca Pachacutec Monument (worth it but far away)
Monumento Inca Pachacutec is a 30-meter monument consisting of a statue of Pachacutec (builder of Machu Picchu) on top of a tall stone tower. It stands in a small park and traffic circle.
You can climb up a spiral staircase inside the tower to the base of the statue. There are some boring displays on the way up. The view from the top is impressive. The park at the base also has a few statues and Nazca line-like formations.
The only problem is that this attraction is a ways from the historic/tourist center of Cusco. You can walk there in about 25 minutes from Plaza de Armas, or 20 minutes from Coricancha. I actually enjoyed this walk because it was nice to get out of the tourist district and see the normal streets and daily life of Cusco.
I suggest walking there (slightly downhill most of the way) then catching a taxi back to the Plaza.
6. Qoricancha Site Museum (closed)
This entry is a pass fail, as it is currently closed. To be clear, the famous Coricancha attraction, which consists of the Inca Sun Temple with Spanish Santo Domingo church built on top of it, is still open.
Qoricancha Site Museum was a small museum across the Sacred Garden from the main Coricancha site. You can still see the staircase along Avenida del Sol which once went down into the museum. I have no idea if or when this museum will ever be reopened.
Ruins East of Cusco
There are two impressive ruins included on the pass about one hour's drive east of Cusco. However, they are some of the least visited because they are not easy to reach. One option is this tour on Viator.
To get to them, I got a private driver on Taxidatum. I paid US$60 for a half day trip. Besides the two ruins, I also visited Rumicolca ruins (free) and Saint Peter the Apostle of Andahuaylillas, the "Sistine Chapel of the Americas". I left early in the morning (7 AM) and was able to get back to Cusco in time for lunch.
As a full day trip, you could do the same, then add the four ruins in the following section in the afternoon.
7. Tipón
Tipón Archaeological Site was one of my favorite ruins around Cusco. The ruins showcase the amazing irrigation and water management skills of the Incas. The high mountain setting is also gorgeous.
My favorite part about these ruins was that I had them all to myself during my early morning visit. I spent around 45 minutes doing the main loop around them.
The ruins are a 45-minute drive east of Cusco. There is no public transportation to them and they are up a steep mountain road.
8. Pikillacta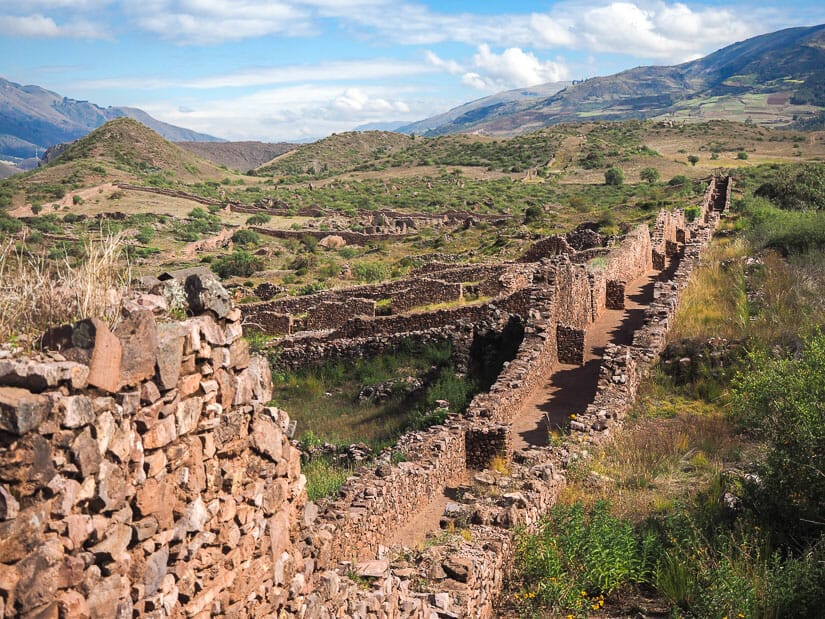 Pikillacta is not an Inca but a Wari civilization site just 20 minutes' drive past Tipón. The site is enormous, with the major highlight being the sheer length of the ancient lanes and city walls there.
Once again, I had these ruins all to myself. After being dropped off in the middle, I spent about 30 minutes walking around one half of the outer wall back to where I started.
If you arrange a half-day trip like I did, then definitely include Rumicolca, a smaller archaeological site just past Pikillacta, and Saint Peter the Apostle of Andahuaylillas, a church that is filled with paintings and decorations.
Ruins North of Cusco
There are several ruins on the high plateau just north of Cusco. The four big ones are included on your tourist pass. You can easily visit them in a half day tour like this or with a private driver.
It also possible to do it yourself with a combination of colectivos and walking, as I did. One option would be to ride a colectivo to Tambomachay (the furthest one), then walk back to Cusco via the other three.
What I did was walk from Cusco to Sacasayhuaman first (to beat the crowds), ride a colectivo from there to Tambomachay, then walk back to Cusco via the other two. I also visited a few smaller ruins on the way. Find the details in my Cusco ruins guide.
9. Sacasayhuaman
Sacsayhuaman is the most famous and important ruin in the Cusco city area. This large fortress and ceremonial site overlooks the city and protects its northern entrance.
The site is especially known for its unbelievable large stones and zigzag walls. You need at least a couple hours to fully explore the site and you shouldn't miss it.
10. Q'enqo
Directly east of Sacasayhuaman is the much smaller Q'enqo site. This was a primary ceremonial Inca site where llama's blood was poured at the top. The way it would flow down channels through the site predicted the upcoming harvest.
It only takes about 15 minutes to explore these ruins, or double that if you want to visit another lower section. The highlight for me was the cave/tunnel in the middle of the ruins, with a couple ceremonial altars or beds.
You can walk from Sacasayhuaman to Q'enqo in about 30 minutes via Christo Blanco (the large white Jesus statue visible from Cusco).
11. Puca Pucara
Puca Pucarais a small fort with a commanding view of the valley beside it. Not so much is know about the ruins. It is nicknamed the "Red Fort" after the slightly red color of its stone, especially around sunset.
It only takes about 15 minutes to visit the ruins. For the best picture of the ruins (see the image I shot above), walk up the highway to Tambomachay, just five minutes away, and view from ruins from the road.
12. Tambomachay
The pretty ruins of Tambomachay are a one minute drive past Puca Pucara on the highway to Pisac, but on the opposite side of the road. When you arrive, you'll need to walk about 15 minutes up to the beautiful façade with water fountains pouring out of it.
There are a few small trails around the ruins for views looking down on them. Since this is the furthest ruin from Cusco in this section of ruins, it makes sense to start there then work your way back to Sacsayhuaman and Cusco.
Ruins in the Sacred Valley
The final four ruins, in the Sacred Valley, are some of the largest and most significant ones, but also furthest from Cusco.
Many people bag these ruins in one long Sacred Valley day tour like this one. However, if you have time in your itinerary, I highly recommend spending as many days as possible in the Sacred Valley.
13. Pisac ruins
Many Sacred Valley tours visit Pisac first as it is the closest to Cusco. Pisac town is famous for its Sunday market and restaurants, while the ruins area perched well above town.
I was very impressed by the Pisac ruins. The setting is awesome and the ruins are sprawling. You can either do a shorter visit (1 to 2 hours) or hike through more ruins all way back to town (3-4 hours).
See my full guide to visiting Pisac's ruins, where to eat in Pisac, and other things to do in Pisac.
14. Ollantaytambo ruins
The ruins beside Ollantaytambo are considered to be second in importance only to Machu Picchu itself. They are the site of the only successful defeat of Spanish forces by the Incas. Ollantaytambo is also an access point to the Inca Trail and the last train stop before Aguas Calientes at the base of Machu Picchu.
The ruins take a couple hours to visit. I absolutely loved Ollantaytambo and there are several other free ruins around town. I stayed there for four days but easily could have stayed longer.
See my guides to visiting Ollantaytambo ruins, where to eat in Ollantaytambo, and other things to do in Ollantaytambo.
15. Moray
After visiting Pisac and Ollantaytambo, most tours circle back to Cusco visa Moray. These unique ruins consists of 30-meter (98-feet) deep depressions lines with circular terraces.
The Incas used these as agricultural testing grounds, as there is a large temperature difference between the upper and lower terraces.
You can enjoy the best views of the terraces right from the entrance, or do a 30-minute lopp walk about them.
Most tours will also stop at the extremely impressive Maras Salt Mines (Salineras) nearby. These are not included on the pass and cost 10 soles to enter.
My stay at Mountain View Maras in this area was one of the highlights of my Peru trip.
16. Chinchero Ruins
The last Cusco Tourist Pass sight before getting back to Cusco is the Chinchero archaeological site. Chinchero is a small weaving village, so many tours also include a stop at a weaving center, where you can see demonstrations (better than ones I saw elsewhere) and shop.
The ruins at Chinchero, which is what you need the pass for, include a beautiful area of terraces and a Spanish church built atop the summer resort of Inca Yupanqui, son of Pachacutec.
If you've got the time, there's also an excellent 2-hour return hike to Poc Poc Waterfall starting from the ruins. The hike goes downhill, so the return is challenging.
Cusco Attractions NOT Included on the Pass
One gripe you'll probably have with the Cusco Tourist Pass is that it can't be used at some of the most famous Cusco attractions. So besides paying for the pass, you'll still have to purchase separate entrance tickets for these places. Why make a city attractions pass and then leave out half of the good ones?
Here's a list of some worthwhile sights and museums in Cusco that are NOT included on the Tourist Pass, plus their entrance fees. See my Cusco guide for an introduction to each of them.
Coricancha (20 soles)
Cusco Cathedral (40 soles)
Church of the Society of Jesus (10 soles)
Museo de Arte Precolumbino (20 soles)
Museum of Monastic Life in Santa Catalina Monastery (8 soles)
Museo de Arte Religioso (10 soles)
San Francisco Convent and Museum (15 soles)
Basilica Menor de la Merced (20 soles)
Museo Inka (20 soles)
Museo Machu Picchu Casa Concha (20 soles)
Coca Museo (10 soles)
Is the Boleto Turistico Worth the Money?
This is not so much a question about whether the pass is worth the money. What you really need to ask is, do you want to visit any of those sights? If the answer is yes, then you have to buy the pass.
However, considering what you get with this pass, it is absolutely worth the money. For less than the price of a single ticket to Machu Picchu (152 soles), you're gaining access to more than half a dozen of the most incredible Inca ruins in existence.
What you shouldn't do, though, is try to visit every single attraction on this pass just because you paid for it. This is especially true about the attractions in the Cusco city center. Several of the museums and churches I mentioned in the previous section are better than the ones included on the pass.
Also see my guide to the Machu Picchu Circuits, another complicated matter you'll probably need to figure out for your trip.