Dear reader: This article contains links to products and services that I may be compensated for, at no extra cost to you.
Kotor, Montenegro is an finely preserved medieval town in a secluded corner of the visually stunning Bay of Kotor. It is a top attraction in the young Balkan nation of Montenegro in Southeastern Europe and protected UNESCO World Heritage Site. There's no denying it's a tourist magnet, but few can resist its charm once they step food in Stari Grad, the Old Town of Kotor.
While most visitors come as a stop on a cruise or as a day trip from Dubrovnik in neighboring Croatia, there are enough compelling things to do in Kotor to justify staying for at least a few nights. If you only visit for a couple hours, you'll wish you had more time to linger and soak up its fairy tale-like atmosphere.
There are also some great day trip possibilities from Kotor, justifying an even longer stay. You can even go as far as making a day trip to Ostrog Monastery, one of the most impressive sights in the Balkans.
Kotor is also the perfect home base for further exploration of the Bay of Kotor, such as the unbelievably beautiful village of Perast, and it is possible to make day trips further afield to other enchanting Montenegrin destinations, and even across the border in Croatia. No matter how long or short you are in the country, it is an essential stop on your Montenegro itinerary.
In this Kotor guide I'm going to list the top Kotor attractions and what to see in Kotor in one day or more. I'll also cover where to stay in Kotor, plus some ideas for Kotor day trips at the end of the article.
If you're visiting with little ones like we did, see my article on visiting Kotor with kids.
You can also read about our trip to nearby Dubrovnik, Skradin, and other great places to visit in Croatia with kids.
AWESOME DEALS

A boat tour like this one is the best way to experience the Bay of Kotor.

An audio guide is included on the Bay of Kotor Hop-On-Hop-Off bus, which is a fun way to reach nearby Perast and other attractions on the Bay of Kotor.

To get to Kotor, find the best flight deals on Kiwi, a flight hacking website.

If you plan to rent a car, we had a great experience with this car booking site.
A Brief History of Kotor
The Old Town of Kotor dates back to Roman times, first being mentioned in 168 BC. Occupying a strategic position on the Adriatic Sea, it has been fortified since the Middle Ages.
Over the centuries, the town has been occupied by Illyrians, Serbians, Hungarians, Venetians, Austrians, and the French. The town has also been subjected to numerous earthquakes, with notable ones in 1537, 1563, 1667, 1729, and 1979.
Montenegro was subsequently a part of Yugoslavia, and finally achieved independence in 2006.
The Old Town of Kotor and its ancient city walls climbing up the slopes of Saint John's Mountain toward Mount Lovcen (1749 m) have been preserved as a UNESCO World Heritage Site since 1979, but it wasn't until the 2000s that it started catching on in a big way as a tourist destination.
The best way to experience Kotor's rich history is by entering though one of the three main gates and exploring the Old City's ancient cobblestone streets, walking along the Old City walls, and stepping in to its stone churches.
Where to Stay in Kotor
Spending the night in Kotor means you get to enjoy crowd-free streets and a more romantic vibe in the evening when all the cruise ship tourists have cleared.
If the noise will bother you (the streets of Kotor Old Town are so narrow that even talking from the streets, not to mention music from the restaurants and bars, funnels up to every window), consider staying in a guesthouse in a quiet corner of the Old City.
A good example is La Dolce Vita Apartments (see on Booking / Agoda), or somewhere just outside of the Old City, such as Apartments Ana (see on Booking / Agoda) near the River Gate.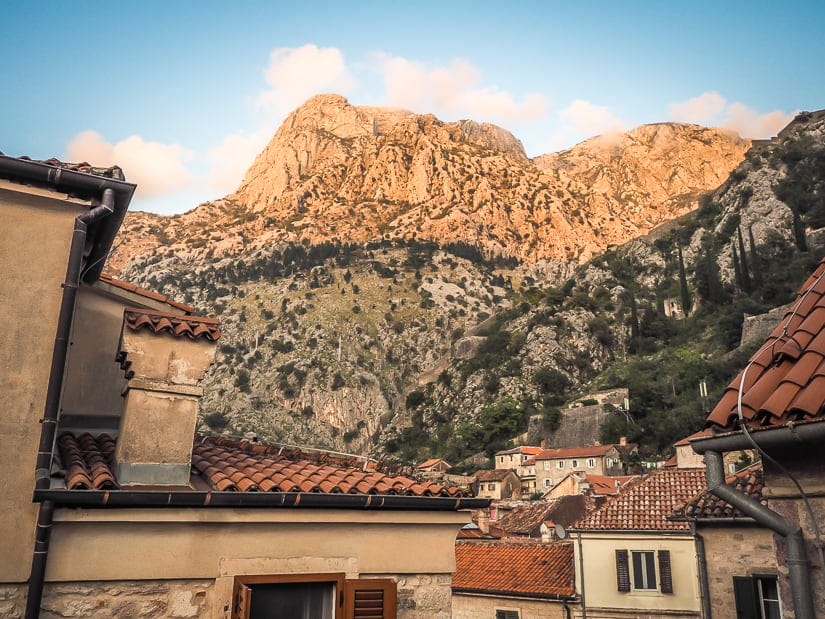 When we visited in October, we stayed in this Airbnb situated in the middle of the Old City. We had an extremely cute rooftop balcony with a stunning view of Kotor rooftops and parts of the Old City walls snaking up the mountain to Kotor Fortress. It was the cheapest apartment we stayed at during our 10-week trip across Europe!
At night, we could hear people talking on the streets below and some light music, but it wasn't too bad, and our kids slept fine. The church bells did wake us up early in the morning though.
Search here for other great deals on hotels in Kotor.
When to Visit Kotor
In summertime Kotor and other famous places in Montenegro like Budva are packed and have a party vibe, with bars pumping music until the middle of the night. The weather can also be unbearable hot for sightseeing.
We strongly recommend visiting in the shoulder seasons of late spring or early autumn. We went in October, and the weather was absolutely gorgeous; it was perfectly clear every day and just hot enough to go swimming, and only a hint chilly at night.
However, by mid- to late-October, some things start shutting down for the season, and if you visit Kotor or other places in Montenegro in winter, you may find many things closed and the the weather rainy and cold, but at least you'll be some of the few tourists in town!
Also see my related article on visiting Lake Bled in October and November.
Top Things to Do in Kotor
The following places to see in Kotor are listed roughly in order of what you absolutely must see while in town. Also be sure to pick up a detailed map of the Old Town from the Kotor Tourist Information Center, which is located just outside the Sea Gate (the main entrance to the Old Town).
Explore Stari Grad (Kotor Old Town) on Foot
You'll most likely begin your Kotor experience by entering through one of Kotor Old City's three main gates: the River Gate (dating to 1540) in the north, South Gate (Gurdić Bastion, 13th to 18th century), or the main Sea Gate (1555) on the western side.
Most people enter via the Sea Gate, and its impossible not to be smitten by Kotor's glistening cobblestone streets and medieval edifices from the moment you walk in.
To the left is the Main Square (Trg od Oružja) of Stari Grad, while right in front of you you'll see the impressive Clock Tower (1602).
From there, choose a direction, start walking, and get lost in Star Grad's unforgettably charming maze of streets. The Old Town is surprisingly small, so even if you get a little disoriented, just keep going, and you'll eventually stumble upon one of Kotor's top attractions and realize where you are.
If you've got limited time, then I'd suggest joining a walking tour to cover the main sights. This one-hour walking tour is budget-friendly and has small groups, while this private 90-minute tour is more comprehensive.
Cathedral of Saint Tryphon (Kotor Cathedral)
The Cathedral of Saint Tryphon (1166, on the site of a church dating to 809) is the most impressive of Stari Grad's dozen or so churches, cathedrals, and monasteries. It is the most popular thing to see in Kotor, and one of the most well-known Cathedrals in Montenegro.
Kotor Cathedral is one of only two Roman Catholic cathedrals in Montenegro (most of them are Christian Orthodox). It was built in honor of Saint Tryphon, the patron saint of the city.
The Cathedral features a gorgeous Romanesque interior and two Baroque bell towers that were added after an earthquake in 1667. It was badly damaged by another earthquake in 1979, but extensively repaired in 2016, which is why you can see both 1166 and 2016 on the front. Watch for the gilded-silver bas-relief screen on the altar, considered the most important treasure.
The cathedral is only a few minute's walk from the Sea Gate at the southeastern end of town; looking at a map, the streets may appear complicated, but you'll be surprised how you just walk in that general direction, and the roads seem to lead you there.
The 2€ entrance includes access to the Sacral Art Museum, a treasury of valuable relics on the second floor, including precious silver items, 14th century frescoes, and other artworks. From the second floor balcony you can also enjoy an impressive view of the square below.
The Cathedral of Saint Tryphon opening hours are 8:00 a.m. to 7:00 p.m., with more limited hours in winter. It didn't open until 9 a.m. when we visited in October, and in January/February, it may close as early as 1 p.m.
Church of Saint Nicholas and other Kotor Churches
The second most impressive religious structure in the city is the Serbian Orthodox Church of St. Nicholas (1909, on the site of a church dating to the 17th century). The church fronts St. Luke's Square at the northwestern end of the Old Town.
The church's front façade is topped with two bell towers with black domes and golden crosses, while a large Serbian flag hangs down. The most striking feature as you enter are the huge frescoes adorning the walls. Many visitors enjoy the mystical atmosphere of the church.
In the same square sits smaller St. Luke's Church (1195), with its distinctive round top. Its worth a quick look, but like several other Kotor churches, there is a souvenir stall inside, which unfortunately takes away from the experience.
Other places of worship in town worth a look are the Franciscan Monastery of Saint Claire (18th century, just south of the Church of Saint Nicholas), Saint Michael's Church (18th century, across from the Kotor Cars Museum (see #7 below), Church of Saint Mary (1221, in front of the entrance to the Kotor Fortress hike (see #4 below), and the Monastery of Saint Francis (17th century, at the southeast end of town).
Hike to Kotor Fortress
The hike to Saint John's Fortress, or Castle of San Giovanni, is one the most enticing things to do in Kotor. 1355 steps follow a section of Old City walls steeply up the hill next to the Old Town, providing absolutely epic views of the Bay of Kotor. Around the halfway point, you'll pass the Church of Our Lady of Remedy, visible in the image below.
It only takes about 45-minutes going up, but a tiring 45 minutes, and 30 to come back down. Most people spend two hours or more in total with all the picture stops and time at the top. Do this hike in the morning if you can for the best sunlight, otherwise you'll be shooting pictures into the sun.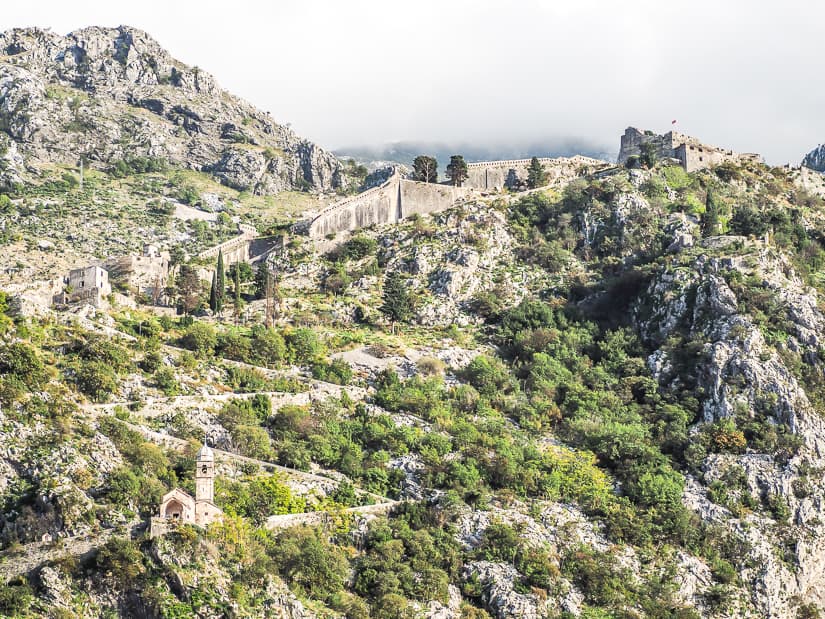 Note that there is a charge of 8€ (8 a.m. to 8 p.m., May to October) to do the hike, payable at the entrance to the hike in the northeast corner of the Old City near the Church of St. Mary Collegiate/Rd. to the Fort of St. Ivan. Go earlier or later (or out of season) to avoid the entrance fee; the walls are open 24 hours!
A good (and free!) alternative to the main trail to Saint John's Fortress is the Ladder of Kotor (or "Ladder of Cattaro"), a series of switchbacks up the hill that begins just north of the Old Town. The hike is free to enter (and free of crowds!) and connects to the Kotor Fortress part way up.
If these hikes aren't wild enough for you, then you can even cycle down the mountain while you enjoy the incredible views!
The Old City Walls and Bastions
Kotor's Old City is encircled by walls, facing the waterfront in the south, Scurda River in the west and snaking up Mount Lovcen to Kotor Fortress to the east (see #4 above).
The walls are crumbling in many sections, so it is not possible to walk all the way around the Old City on the walls like visitors can do in Dubrovnik a few hours to the north in Croatia.
However, there are still several section of the wall that visitors can easily access right in the Old Town, including Gurdić Bastion (South Gate), Korner Bastion (on the south side), Valier Bastion (also on the south side, above the Sea Gate), Kampana Tower and Citadel at the southwest corner, and Bembo Bastion (currently a performance stage, with Bastian Restaurant (Бастион 1 on GoogleMaps) occupying the park below, near the River/North Gate).
Its important to take care when walking on wall, as some sections are in decay or have steep drops with no fence.
Kotor Farmer's Market
We showed up at the local Kotor Market ("Маркат" on GoogleMaps) to expect only fruit and vegetables, but were pleasantly surprised to find so much more. We ended up leaving with armfuls of groceries and treats.
Besides cheap produce, you can find olives, rings of dried figs, local fruit wines (raspberry, blackberry, pomegranate) and rakija (distilled fruit liquor), fish, prosciutto and other cured meats, and a selection of cheeses. The verdant green pesto cheese we bought was possibly the most delicious cheese I've ever had!
The market is set up under a section of the Old City wall. To find it, exit the Old City from the Sea Gate, turn left, and walk 100 meters around a corner of the wall. It's open 7 a.m. to 1 p.m. (best visited in the morning). It's labelled "Kotor Food Market" on GoogleMaps.
Kotor Cats Museum
One thing you will instantly notice about Kotor is the presence of a large number of cats. They are everywhere, lounging in the sun, accepting strokes from passersby, and mooching for food on restaurant patios.
Locals and visitors alike seem to have a soft spot for the cats and are well taken care of (as far as strays go), judging by the dishes and piles of cat food everywhere.
The Kotor Cats Museum is, as the name suggests, devoted to the cats of Kotor. Mostly the museum is a collection of paintings and souvenirs about cats, and the small entrance fee goes towards helping the city's strays.
After being closed for a few years, the museum is open again (high season only), though it doesn't actually house as many cats as it used to.
Cat lovers can also check out the Cats of Kotor shop cat-related jewelry and other items that are prettier than the usual cat souvenirs you see in all the other shops.
Kotor Bazaar
Also built into a section of the Old City wall, in between Saint Claire Church and Saint Nicholas Church, the Kotor Bazaar is nothing but a collection of souvenir and trinket stalls, but it's worth a quick look.
Head to the back and look up for an impressive view of the crumbling remains of a 16th century Dominican Monastery.
Dining in Kotor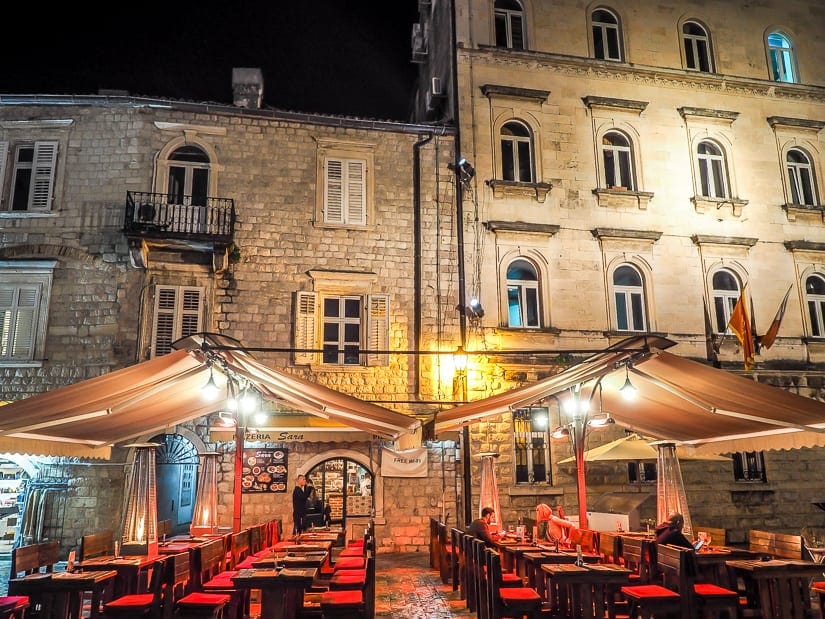 The numerous tourist-oriented restaurants in Kotor's Old City feature inviting outdoor seating in the town's many squares and small lanes. Menus feature Italian and Montenegrin fare, heavy on seafood.
These restaurants are particularly romantic after the sun goes down. When we visited in October, evenings were becoming a little chilly, but fiery heaters placed between tables only added to the ambience.
I would personally recommend Cesarica Restaurant, which is tucked away in a quiet little alley and is known for the Montenegrin specialty of squid stuffed with shrimp and a side of blitva (chard with crushed potatoes and olive oil).
You can of course also find gelato stalls throughout town, and they are half the price of what you'd pay in nearby Dubrovnik, Croatia.
Food lovers can also consider this guided walking tour that includes sitting down to enjoy a local snack with wine.
Sampling Montenegrin Wine and Beer
Montenegro produces some excellent wines, and it would be a crime to visit and not try some. I would recommend Old Winery Wine Bar at the northeast end of town near the entrance to the Kotor Fortress Hike.
The small wine bar with street side chairs features dozens of wines from Montenegro and Serbia on its menu. I tried the sampler deal which features a Chardonnay and two red wines for 16€, including a plate of cheese, olives, nuts, dried fruit, and prosciutto.
The rose wine I also tried was excellent, as was the bar's food. We spotted other tables enjoying enormous plates of charcuterie to pair with wine.
For a bottle of local Montenegrin wine at a fraction of the price, try the couple of Mini Markets at the center of the Old City, or even better (and to stock up on groceries), head to the supermarket in Shopping Centre Kamelija just north of the Old Town or Idea Supermarket just south of the Old Town.
For pivo (beer) lovers, there are a handful of pubs in town, while most restaurants also serve draught Niksicko beer, Montenegro's main brew. If you're lucky, you can find the tamno (dark) version and (not so bitter) IPA. The grocery stores out of town carry both, but they are tough to find in the Old Town.
Kotor Beach
What would a holiday be without spending some time tanning on the beach? Kotor's main beach is located a five minute walk north of the Old Town, past the Port of Kotor and Park Slobode.
The beach is mostly pebbles and has paid sun loungers in summer plus a free section. The sizeable swimming area is roped off to offer protection from the many passing boats (nobody wants to get run over by an enormous cruise ship, right?)
Kotor Maritime Museum
Although I personally wouldn't consider it a must-see, history buffs will enjoy the Maritime Museum in Kotor's Old Town. The small museum covers the maritime history and culture of the area.
Entrance is 4€ (children 1.5€, very young children free). See the museum's official website for the opening hours by season.
Boka (Bay of Kotor) Cruise
One of the most popular (and worthwhile) things to do in Kotor is to cruise the incredibly picturesque Bay of Kotor on a motorboat.
Options abound, but this highly rated choice includes a visit to Our Lady on the Rocks in Perast and swimming in the magnificent Blue Cave.
If you've got kids, they'll have fun on this half-submarine Kotor Bay cruise like ours did, but heads up that we didn't see any fish through the glass bottom. It was too foggy.
Kayaking or Stand-Up Paddle Boarding
For a more environmentally friendly way to explore the Bay of Kotor try paddling around in a kayak or riding a SUP (stand-up paddle board).
To rent a kayak (or bicycle), try Kotor Bay Tours or go for a guided kayak tour.
For stand-up paddle boarding, here is a recommended 2.5-hour tour.
View the Old City Walls at Night
While looking down at the Bay of Kotor from Kotor Fortress is a remarkable experience, looking up at the mountain walls at night when they are lit up is also very special. The lights come on around dusk and make the wall more visible that it is in the daytime, when it is camouflaged.
The best spot to view the lit up city walls is from the waterfront area outside of Gurdic Bastion (South Gate). Just exit the gate and cross the road to the parking lot on the other side. If you follow the parking lot to the end, you'll reach popular, upscale Restaurant Galion, whose patio has the best night view in town.
Day trips from Kotor
Kotor is also a convenient base for doing day trips to surrounding areas. Here are some of the best day trips from Kotor.
Perast
Perast is an extremely pretty village on the bay of Kotor that is second only to Kotor in popularity. It's only 20 minutes away by bus, so it can easily be done as a half-day trip from Kotor. You can read my guide to Perast here.
The village is tiny but has a rich naval history, occupying a strategic entrance facing the only water entrance into the Bay of Kotor. It only takes 10 minutes to walk across town, but there are over a dozen and just as many palaces, picture postcard views, and several romantic restaurants at the water's edge.
Most special of all, Perast faces two tiny islets, a natural one that is off limits to tourists, and an artificial one, Our Lady of the Rocks, housing a small church. Boats run from Perast for 5€ return.
To get to Perast from Kotor, take the Blue Line bus from the main road just north of the Kotor Old City, hop in a taxi (20-25€ one-way), or try the Kotor Hop-on-Hop-Off Bus, which also stops at other scenic points on the Bay of Kotor.
White Water Rafting Tara Canyon
The Tara Canyon 3.5 hours north of Kotor features the country's best white water rafting. The typical route is from Brstnovica to Šćepan Polje, which is 18 kilometers and takes two to three hours.
A typical tour like this one is a full-day adventure that includes navigating thrilling rapids, lunch at a riverside restaurant, stopping to admire Piva Monastery, and more.
Budva
Budva is one of the most popular cities on the coast of Montenegro. Beach lovers flock to Budva in summer to hit the beach and party. The city also boasts a well-preserved Old City with 2500+ years of history, occupying a rocky peninsula jutting out from one end of the bay.
If you've got enough time in Montenegro, you may want to devote several days to Budva, but it can easily be done as a day trip from Kotor as it is only 45 minutes away by bus. Catch any Podgorica-bound bus from Kotor Main Bus Station, five minutes' walk south of Kotor Old Town. Budva is also included on this day tour from Kotor, which also stops in a popular Sveti Stefan and Perast.
Ostrog Monastery
While it is easier to make a day trip from Podgorica to Ostrog Monastery, it is also possible from Kotor; I did it myself!
If you're willing to rent a car in Montenegro, you could drive there yourself in just over two hours, but be careful on the winding roads! By public transportation (which is what I did), you have to catch a bus from Kotor to Podgorica (2-2.5 hours), then a train from Podgorica to Ostrog (45 minutes), and finally walk uphill to the monastery (2 hours return, not counting time at the monastery). See all the details in my guide to making a day trip from Kotor to Ostrog Monastery.
To save all that trouble, you can also join an Ostrog Monastery day tour from Kotor, which includes stops at several other scenic attractions.
Day trip to Dubrovnik
Dubrovnik is Kotor's larger, more expensive, more crowded, and more popular sister a few hours north on the Adriatic coast in southern Croatia. If Dubrovnik is not already on your travel itinerary, you can still squeeze in a day trip from Kotor if that is your home base for your trip.
Expect to spend 2-2.5 hours getting there on a bus, or join a hassle-free day-tour from Kotor to Dubrovnik.
Thank you if you made it this far, and I hope I've helped you figure out what to do in Kotor to make the best of your visit! Please don't hesitate to comment below if you have any questions!
I never travel without a good guidebook! Here are a few highly recommended ones, plus a beautiful puzzle featuring Kotor!