Dear reader: This article contains links to products and services that I may be compensated for, at no extra cost to you.
The tiny village of Skradin in Croatia is the kind of place most travelers pass through to get somewhere else (in this case Krka National Park), but once they see it, they vow to someday return and stay.
That's the impression we picked up of Skradin while planning our family trip to Croatia, so we decided to book a few nights in this quiet, picturesque riverside village on our way from Mostar, Bosnia and Herzegovina to Plitvice Lakes in the north of Croatia.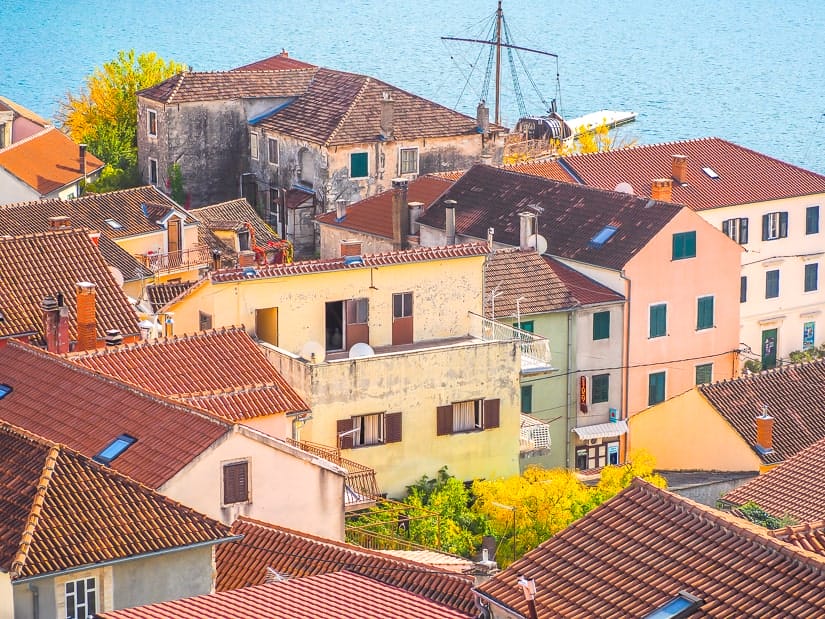 Skradin is 55 kilometers northeast of Split and 11 kilometers north of Sibenik, two very popular destinations on the Dalmatian Coast. The town lies on the Krka River, at a point in the river that is so wide, it almost makes Skradin feel like a seaside town.
The town is the gateway to Krka National Park, one of Croatia's premier scenic attractions. Travelers typically take a 25-minute ferry ride upstream from Skradin to access Slapovi Krke, a stunningly beautiful cluster of waterfalls in Krka National Park, of which Skradinski Buk is the most well-known.
Moreover, Skradin is surrounded by vineyards and wineries, including the highly acclaimed Bibich Winery in nearby Plastovo village, which I'll cover below as well.
The town of Skradin is built in a V shape pointing toward the waterfront on either side of a fortress-topped hill, with the west side of the V facing an attractive inlet and marina that is a popular stopping point for yachts in summer. The town is famously the favorite place in the world of Bill Gates, as reported by Forbes magazine.
This article aims to provide a comprehensive Skradin guide, including the best things to do in Skradin, where to stay in Skradin, where to eat in Skradin, visiting Skradin with kids, places to visit around Skradin, and more tips for planning your stay like a billionaire boss.
Skradin Essentials
– Skradin gets totally overrun with tourists in the summer high season, most of whom are day trippers en route to Krka National Park. You can enjoy some peace if you stay overnight, and consider visiting in the shoulder season like we did (May-June or September-October). In winter, the region gets unpleasantly wet and cool, and most establishments shut down for the season.
– If you decide to do a day trip to Skradin and not stay overnight, this is a highly recommended day tour from Split which includes admission to Krka and a visit to Sibenik. See here to learn about the main things to do in Sibenik! Here's another one that includes swimming time.
– To get to most of the sights in the "things to do around Skradin" section below, you'll need to have your own wheels. We rented a car here on RentalCars and the whole process was very smooth.
A Brief History of Skradin
Skradin has a rich, ancient history. The area has been settled for at least 5500 years, and Skradin town itself dates to 33 BC.
Skradin further developed under the Roman empire, and in the 10th century the town was fortified. In the 13th and 14th centuries, it was the capital of the Šubić bans (rulers), who built the fortress on the hill in the center of town.
Later, like other parts of Croatia, Skradin was occupied by the Ottomans, Venetians, French, and Austrio-Hungarians. Over time Skradin went into decline as power shifted to nearby Šibenik, until the present-day tourism boom put it on the map again.
Read all about our travels across Italy with kids here.
Just under 4000 people live permanently in Skradin today. As a holiday town, the population swells in the summer tourist season, but it is very quiet for the rest of the year.
Incidentally, Skradin was also the site of the first power plant in Europe, opened in 1895, the same year that Tesla opened the world's first one on Niagara Falls in Canada.
Why We Loved Skradin
Skradin is overflowing with charm. From the moment we spotted the village looking down from the highway rest stop beside Sibenik Bridge (see the "things to do around Skradin" section below), we were smitten by its beauty.
We visited Skradin in October, well past the main tourist season. The leaves were already changing colors and falling to the ground, and we were some of the few tourists in town. We stayed on the marina side of town a few hundred meters up from where the ferries depart for Krka, and where the best accommodations lie (see the "where to stay in Skradin" section below).
If you visit Skradin in autumn, you won't quite be able to swim, but you'll enjoy a crowd-free visit, cheaper entrance fees to Krka National Park, and you can have some of the best restaurants in Skradin pretty much all to yourself.
If you're visiting at this time of year, then you may also want to check out my articles on Lake Bled in autumn, Salzburg in autumn, and our visit to Innsbruck, where we finally saw snow.
From the elevated balcony of the excellent apartment we stayed at in Skradin (see on Booking / Agoda), we looked over pomegranate and jujube trees to the picturesque marina where huge swans floated about.
A few minute's walk brought us to the tiny town center, with its 18th and 19th-century pastel-colored homes. Walking up the other side of town along a colorful corridor of residences brought us into what felt like a very local neighborhood.
The town was so small that it took very little time to cover the main sites, forcing us to simply take it easy and soak up the laid-back atmosphere.
Meanwhile, the hills around the town are covered with olive trees and vineyards (including the very famous Bibich winery, see more below), making Skradin the perfect home base for winery hopping as well as visiting the numerous attractions of Krka National Park.
Visiting Skradin with Kids
My wife and I visited Skaradin and several other cities in Croatia with our 4 and 5 year-old. While there are no child-specific attractions in town, Skradin's tiny size makes it extremely manageable with kids. Even the hike to the fortress only takes about 10 minutes with young children, and mine had no trouble tackling it.
Our kids' favorite parts of Skradin were the huge swans floating about in the marina, taking the ferry to Krka National Park, and the playground near the Marina. For those visiting in summer, there's also a picturesque pebble beach a few minutes' walk east of town.
To read more about our travels in the region, see my articles on visiting Dubrovnik, Kotor and, Amalfi Coast with our kids!
Where to Stay in Skradin
The most enticing apartments and hotels in Skradin are those facing the marina, a few hundred meters up the inlet from the town center. Four choices immediately stood out to us as we were planning our trip, as follows (starting with the closest to the town center).
Apartments Formenti (see on Booking / Agoda / Tripadvisor)
Despite other tempting options, this is where we decided to stay in the end, and it is the cheapest of the bunch. This simple, beautiful home contains 3 or 4 large apartments with balconies facing the marina. The yard is filled with pomegranate and jujube trees. The host Dino was very welcoming and provided a lot of local advice.
Our favorite part of our stay was sitting out on the large balcony and taking in the view.
Want an apartment with a pool? This spot just next to ours was, as far we could tell, then only hotel in Skradin with a swimming pool.
Apartment Nina (see on Booking / Agoda / Tripadvisor)
Further up the road beyond the inlet, the rooms at Apartment Nina have incredible, large balconies overlooking the great outdoors, and the apartment interiors look gorgeous as well. It's only a few minutes' walk into town, but with our young kids, we decided against it for that reason. For those seeking the quietest and most natural location, but still very close to town, this is it!
Things to Do in Skradin
Here are some of the favorite things we enjoyed doing and places to visit in Skradin, besides of course the famous waterfalls!
Stroll along Skradin Marina
Skradin's small but picturesque Marina is the most beautiful part of town, and perfect for a lazy stroll. It doesn't take long to cover, but you'll surely be enticed by one of its waterside restaurants or cafés.
In summer, the section of road from the marina to the bus stop is lined with stalls selling fast food and local goods such as honey, wine, fruits, nuts, figs, olive oil, fast food, ice cream, and more.
Wine and Dine at a Waterfront Eatery
Like in any waterfront Mediterranean town, one of the best things to do in Skradin is to choose a cafe or restaurant patio with a good view and while away the time over an espresso, glass of wine, or a prolongued meal.
Besides the multiple restaurants with marina views in Skradin (see the "Where to Eat in Skradin" section below), also watch for the wine garden (marked simply "Wine Garden" on GoogleMaps, summer only), Mate Vino (another wine-focused bar), and a wine & spirits shop called Ambasada By Bibich (pictured above), which stocks wine bottles from Bibich, the region's most famous winery.
Don't rely entirely on GoogleMaps when visiting Skradin; we found that several shops listed on GoogleMaps simply didn't exist, and for the ones that did, the opening hours were often wrong.
Admire the Church of the Blessed Virgin Mary
The Church of the Blessed Virgin Mary (Crkva Male Gospe, maked as "KATOLIČKA CRKVA" on GoogleMaps) sits at the tiny town center of Skradin. The baroque church dates to the 18th century and was built on the base of an older church which was destroyed by the Turks.
If you're lucky enough to find it open during your visit (we didn't), take a peek inside and watch for what is supposedly a very beautiful 18th-century pipe organ.
Ascend Clock Tower Campanile
The Skradin Clock Tower, dating to 1872, is Skradin's most iconic sight and is easily visible when viewing Skradin from afar. Unusually, it is built into the base of the nearby hill instead of right beside the church.
At the time of our visit (October 2019) it was under renovation and completely covered (the image I've used here is a stock photo). Hopefully by the time you read this or visit Skradin, it will be open again! In the past, it was possible to climb up inside to the top for a small fee. The clock tower is not even marked on Googlemaps, but it's very close to the above church, and it's a tall landmark, so you can't miss it.
Watch for the pair of 9th century stone sarcophagi from a nearby cemetery at the base of the bell tower, located just to the right of what you can see in the above image.
Have a Picnic in Skradin Park
In between the Church of the Blessed Virgin Mary, the main parking lot, and an area of mangroves on the waterfront, a large park and playground offers a pleasant respite for visitors to Skradin with children, or anyone looking for a place to have a picnic.
If you need to stock up on drinks or food supplies, there is a small supermarket beside Pizzeria Paulonija a couple minutes away.
Bask in the Croatian Sun on Skradin Beach
A few minutes' walk east of Skradin bus stop and the main parking lot, Skradin Beach is a lovely stretch of pebbles along the river. The water is very clear here, and it's the perfect place to lounge in the sun in summer. There's also some permanent umbrellas and a small playground for kids.
At the peak of summer, there are some food and ice cream stalls set up beside the beach, as well as the informal Skradinka Beach Bar.
When I visited in late October, the water was too chilly for swimming, and the only beachgoers were a couple of swans.
Learn about Rare Yugoslavian Antique Cars at Old Timer Museum
Old Timer Museum Scardona Park is an antique car museum a few minutes' walk east of Skradin Beach and is connected to Scardona Park Luxury Accommodation. The museum, once called the Ferdinand Budicki Exhibition in Zagreb, has now found a new home in Skradin.
The museum and hotel occupy what used to be a brick factory; you can see the smokestack with the words "Scardona" on it when riding the ferry to Krka, Scardona being the old name of Skradin.
The museum, previously also called the "Museum of Historical Vehicles and Industrial Heritage," contains a private collection of 30 or so mint condition antique cars and documents 120 years of automobile history in Croatia. Some of the most interesting include a 1970s ambulance car from Dubrovnik, several miniature Russian, Eastern European, and former Yugoslavian cars, and what is purportedly the oldest truck in Croatia.
The knowledgeable attendant took the time to give me a very detailed tour when I visited, including a look at a room full of other quirky antiques such as an experimental pre-CD record player for cars, a 1970s driver's training machine, and some antique children's bicycles.
Climb to the Fortress of Turina (Utvrda Turina)
The small Fortress of Turina atop the hill at the center of Skradin dates to Medieval times. It was constructed during the rule of Pavao Šubić (1273 – 1312) on the site of an ancient city.
To reach what's left of the fort, simply walk uphill from anywhere in town; we spotted about three or four different paths leading up to it during our stay. The easiest one to find begins right beside the Clock Tower Campanile. The walk up takes less than 10 minutes.
There isn't much to see up there, but you can enjoy a pretty fine view of the town.
Sample Skradin Cake (Skradinska Torta)
If you're a foodie or into baking, you may have even heard of Skradin before, thanks to the local specialty Skradin cake (or Skradinski torta/Skradin torta). The chocolately cake is typically spiced with cinnamon and orange or lemon zest, and sometimes even contains rose liqueur and/or prosecco, such as in this recipe.
Most restaurants and bakeries in town stock the famous cake. We got ours (pictured above) from Slatka Radionica Sweet Workshop, which was a ways up the eastern side of town. The cake is delicious and worth seeking out!
Uncover More Skradin Churches
For church aficionados, there are two more notable churches in town. The Church of St. Jerome (Crkva Sv. Jere na groblju Skradin) is between the main parking lot and Skradin Beach, and is the location of the town cemetery. You can't miss it along the highway toward Krka National park, just out of Skradin town.
Walking up the eastern side of town along Ul. dr. Franje Tudmana, the Church of St. Spiridon (Hram Svetog Spiridona) is a Serbian Orthodox church dating to 1878 with an exterior more striking than the Church of the Blessed Virgin Mary in the tourist center of town.
Places to Visit Around Skradin
From the famous waterfalls of Krka to some lesser known spots, these were our favorite places to visit around Skradin.
Krka National Park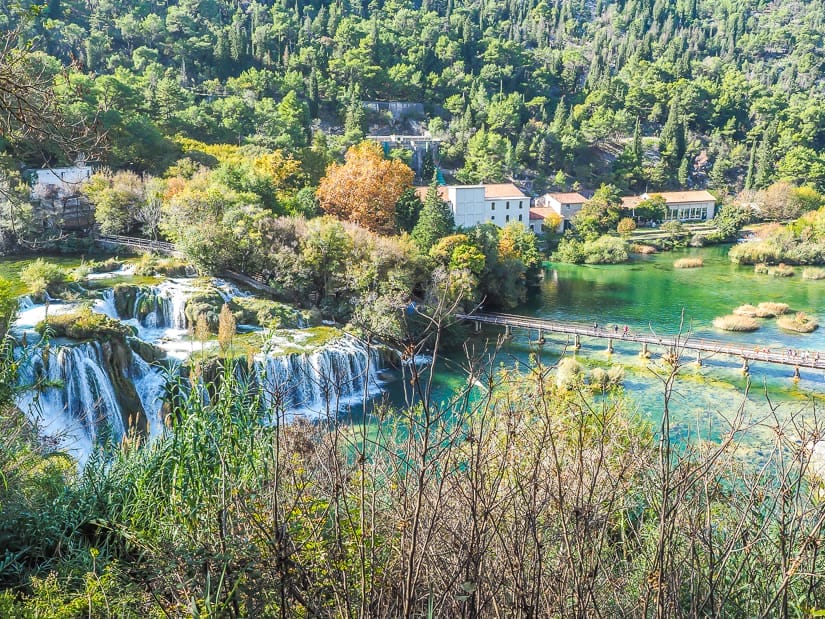 Whether you are staying overnight in Skradin or just stopping for an hour or two, chances are you did so in order to visit Krka National Park, one of the most popular of Croatia's eight national parks.
Krka National Park encompasses a stunning and ecologically rich portion of the Krka river, which originates near Croatia's border with Bosnia and Herzegovina.
The most popular attractions in the park include Skradinski buk, a large pool of extremely clear water with many waterfalls flowing into it, Visovac Monastery on Visovac Island, Roški Slap, another beautiful waterfall furthest away from Skradin, and Krka Monastery.
The easiest way to access Krka if you aren't driving is to take the 25-minute ferry ride from Skradin to Skradinski buk, where you can embark on an easy, 60-90-minute circuit walk that takes in numerous waterfall views.
From there, you can also take a longer boat ride to Visovac and Roški Slap. If you are driving, you can drive directly to the above two places, with a short hike involved to reach Roški Slap.
You can also rent a bike in Skradin for 50 kn per day and ride to Skradinski Buk or even further to Vasovic and Roski Slap.
The Krka National Park Ticket Office in Skradin is located just before the Marina, about five minutes on foot from the Skradin bus stop and main parking lot. Ferries depart roughly every hour, and the price is included in the park entrance fee.
The park entrance fee and ferry departure times vary according to the month of your visit, with the earliest ones leaving around 8:00 in summer and 9:00 a.m. in winter. See the entrance fees by month and ferry times.
Bibich Winery, Plastovo
Bibich already had a reputation for its impeccable Croatian wines and equally impressive delicacies to pair with them (including huge pots of the local specialty, Skradin risotto, or Skradinski rizot, which is slow-cooked for a whole day) before Anthony Bourdain featured Bibich on his show and catapulted it to international fame.
The winery has been in the same family for around 500 years; at least that's what the present owner, Alen Bibich, told us as we were sampling one of multiple glasses of wine while we chatted with him.
The winery is located in the hilly, rural village of Plastovo, only 15 minutes' drive from Skradin. Getting from Skradin to Plastovo will bring you a through a highly picturesque countryside region. The tasting room and its large outdoor terrace is the kind of place that makes you just want to stay and indulge on wine until you can't stand, like Bourdain did on his show.
We visited on one of the last days of the season before they closed for winter (usually at the end of October or beginning of November). They had told me in advance that the kitchen would be closed, but they still managed to serve us some mouthwatering hors d'oeuvres to go with our wine tasting sets.
The wine sampling sets included a basic set, a red wine focused one, a white one, and a local set, which features only wines made from indigenous grapes specific to the region, such as Debit wine and Babić (I strongly recommend this set!) The prices ranged from a very reasonable 58 to 170 kunas.
If you're visiting in summer, you'll absolutely need to book in advance, like several months in advance. Lucky for us, we were the only ones there during out visit. Besides having the chance to chat with Alen Bibich, the staff at Bibich was so kind as to take our kids out for a walk to see donkeys while my wife and I enjoyed our wines.
If you don't have a chance to make it up the Bibich tasting room in Plastovo, all hope is not lost. You can also pick up bottles of Bibich wine from one of the wine shops in Skradin or have a glass in one of the wine-focused bars. There's even a dedicated Bibich wine shop on the east end of town which is marked on GoogleMaps, and possibly another one on the Marina; both are marked on GoogleMaps but weren't open at the time of our visit (they may only open in summer).
Odmorište Krka (Krka Rest Stop)
If you're driving from destinations to the south (such as Dubrovnik, Split, or Sibenik) to Skradin, then you can't miss the rest stop on the toll highway E65/A1 just before it crosses the breathtaking Sibenik Bridge (also known as Krka Bridge). The rest stop is called Odmorište Krka or Krka Rest Stop.
The rest stop includes Belvedere restaurant, a cafeteria, and small supermarket, but the real reason to stop here is for the unbeatable view of Krka Bridge and looking down on Skradin. This is also where I shot the cover photo of this article. This spot can, to no surprise, be very busy in summer.
Bribirska Glavica
Only 15 kilometers (a 20-minute drive) from Skradin lies one of the most important archaeological sites in Croatia, Bribirska Glavica. The site is spread out over the peak of a 300-meter hill with a commanding view of the surrounding countryside. Some have even called this the Croatian version of Troy, yet its totally unmanned and free to visit.
There are multiple layers of ruins and periods represented, ranging from the first century AD to the site's peak in the 13th to 14th centuries, when the Šubić family ruled over Croatia. There is supposedly a small museum, which wasn't open when we visited, but there are signs indicating the names and ages of the various sections.
For us, visiting with our two young kids, we felt like real explorers, as we were the only ones in the entire area during our visit. It felt very off-the-beaten-track (for example, a herd of sheep blocked the small gravel road as we were driving up there), making us feel very glad we had rented a car in Croatia.
Elsewhere in Europe, you'd have to pay an arm and a leg, and be surrounded by other tourists, to visit similar archaeological sites!
History lovers will also love the ancient walled cities of Kotor, Montenegro!
Dubrava Falconry Center (Sokolarski Centar)
18 kilometers (a 25-minute-drive) south of Skradin, the Dubrava Falconry Center (simply marked "Falconry Center" on GoogleMaps) is well worth the short detour from the E65 before reaching Skradin. We went for our kids, but even we were very impressed by the center—it really exceeded our expectations.
We arrived just in time for an hour-long demonstration by a man who is intimately familiar with the dozen or so birds of prey on site.
In the talk, which he conducted in both English and Croatian, he introduced us in vivid detail to both a Eurasian eagle owl (an incredibly beautiful animal!) and a hawk. We got to feel the owl (with our faces only, as they don't like hands), watch both of the birds eat an entire chick, and my son even got to hold the hawk, with suitable protection of course.
The falcon center is open April 1 to November 1, and the demonstrations take place hourly from 10 a.m. to 3 p.m. (last one at 4 p.m. in summer). The fee is 50 kuna for adults and 40 kuna for kids age 5+. There's also a small cafe on site.
Double check to make sure that the center is opening before planning your trip.
Where to Eat in Skradin
Whether you're just passing through or staying for a while, you'll want to try some of the great restaurants in Skradin! Local specialties include Skradin torta (see "things to do in Skradin" section above), Skradin slow-cooked risotto, and a whole lot of seafood and wine.
The top rated restaurant in Skradin is Konoba Dalmatino, just across the square from the Church of the Blessed Virgin Mary. Reservations are a must in summer, and there's even a small play area for kids. Note that the restaurant was closed and undergoing extensive rennovations when we visited in October 2019.
The restaurants and bar-cafes lining the Skradin Marina offer the best views and atmosphere in town. The pick of the bunch right on the waterfront is Konoba Evala. Our personal favorite restaurant in Skradin during our visit was Restauran Skala, which is accessed from the waterfront path but the restaurant is found slightly up the hill and in a home overlooking the marina, if you can score one of the seats with a view.
When we visited, we enjoyed seafood risotto, an enormous platter of calamari, and pasta with clams. We had the restaurant to ourselves (yay shoulder season!), and they even brought out a bin of toys for our kids to play with. And the best part of all? The incredible olive oil made in-house.
If you've got wheels and love wine, make sure to visit Bibich winery out of town, but you'll need to book WAY in advance in summer.
There is one small grocery store in the tourist section of Skradin; you'll find it on the small road that leads from the Marina to the Church of the Blessed Virgin Mary.
How to Get to Skradin
Getting to Skradin by public transportation involves catching a bus from any of the following cities: Šibenik (the nearest), Split, Zadar, or Zagreb. You can find more information here on getting to Skradin, including links to the bus schedules for each of the above cities.
The bus stop in Skradin is located about 200 meters east of the Skradin Marina, and the office for buying tickets to Krka National Park is in between (watch for the large glass building as you approach the town, just before Church of the Blessed Virgin Mary).
Skradin is just a stop in between cities; buses don't start or end there, so the buses may not arrive on schedule, especially in the busy summer season.
If you're traveling around Croatia, I strongly recommend renting a car. We had a great deal renting a car for our Croatian family road trip here on RentalCars, and we recommend it!
Getting from Skradin to Krka National Park
The ferry ride from Skradin to Skradinski Buk in Krka National Park takes 25 minutes. Find the departure times by season here.
Well, that brings us to the end of this Skradin guide. I hope you've found more than enough information for planning the perfet Skradin trip. Let me know in the comments below how it goes!