Dear reader: This article contains links to products and services that I may be compensated for, at no extra cost to you.
The medieval walled city of Kotor in Montenegro is one of the great gems of the Adriatic coast in southeastern Europe. To put it bluntly, we loved visiting Kotor with our kids. Montenegro was the 4th out of 11 countries we're visiting on our current trip, and it was our kids' favorite thus far.
According to the kids themselves, they loved Kotor and Perast the most because they had so many cats, which they really did. But as parents we could tell that it was more than just that.
Kotor proved to be a perfect family destination for several reasons: a good balance between stunning scenery and fairy tale-like attractions, a very compact and easily walkable Old Town, a few kid-specific things to do which I'll cover below, cheap gelato, budget-friendly apartments to choose from, and a challenging but doable hike with epic views.
If you're visiting Montenegro with kids, whether traveling independently or taking a cruise with your family, then surely you'll be spending some time in Kotor's UNESCO designated Old Town. In this article I'll cover everything you need to know about visiting Kotor with kids.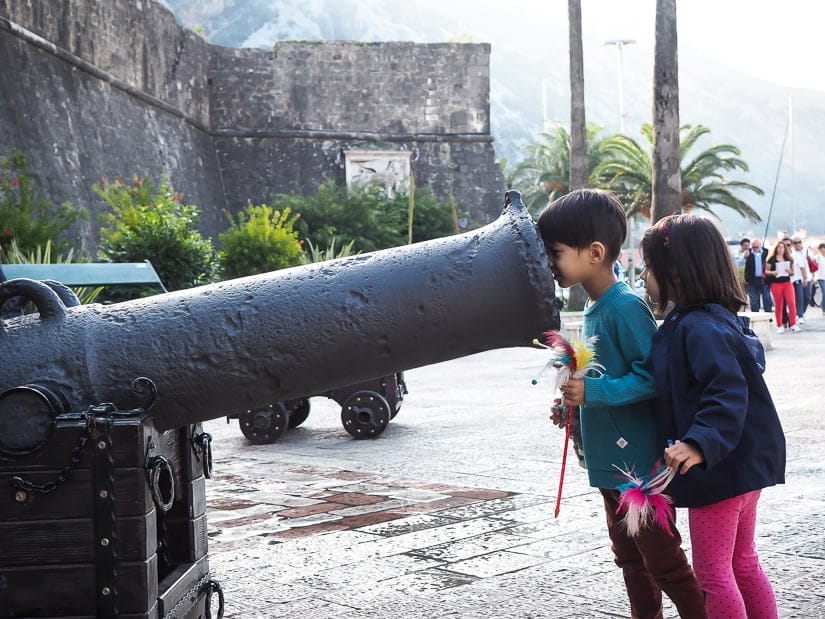 I'll also cover how to visit nearby Perast with kids, which I would highly recommend spending a few days in instead of just visiting as a day trip from Kotor. You really can't miss Kotor, but we actually liked Perast even more!
For a more general introduction to Kotor's history and its top attractions, please consult my guide to Kotor, which includes ideas for day trips. If you're planing to visit Dubrovnik, Croatia on the same trip, which is only a few hours away, then you can read all about it in my guides to visiting Dubrovnik with kids and the best places to visit in Croatia with kids!
General Tips for Visiting Kotor with Kids
– There are almost no stairs (unless you climb up to Kotor Fortress), but the streets are made of bumpy cobblestone. For visitors with younger children, consider leaving the stroller at home and/or opting for a good baby carrier instead.
– The Old City is small enough to cover in its entirety on foot, even for the little ones, and luckily there are no cars allowed!
– A fun way to visit Perast and other scenic stops on the Bay of Kotor with kids is by riding on the Kotor Hop-On-Hop-Off Bus, which even includes an audio guide.
– If possible, avoid visiting Kotor in summer, when the heat can be oppressive and crowds can clog the old city's narrow lanes. The shoulder season is ideal (we loved it in October, even though it still got very busy in the midday). Avoid winter, though, when it can be rainy, cold, and many businesses are closed.
– Choose a good apartment to escape to in the heat of the day. See my recommendations for where to stay in Kotor with kids at the end of the article!
– I'd suggest spending at least two nights in Kotor with children. We actually stayed for three, because I spent one whole day doing a day-trip from Kotor to Ostrog Monastery on my own, which I wouldn't really recommend with kids as it requires a two-hour return hike, unless you go on a guided day tour.
Getting to Kotor with Kids
Most people visit Kotor as a stop on a cruise, by traveling to Kotor from Dubrovnik in neighboring Croatia, or by flying into the capital of Montenegro, Podgorica.
We flew in to Podgorica on a super cheap flight from Naples after we traveled around Italy with our kids. We scored the flight on kiwi.com, but since the capital didn't seem to have a whole lot to do with kids, we decided to head straight to Kotor. We booked a taxi in advance via Montenegro Tour Operator, and it only cost 48 euros for the 1.5-hour drive. The driver was also really polite and professional.
We arrived at Podgorica in the early evening and wanted to get to Kotor as quickly as possible to get the kids to bed, but even if you are arriving in the daytime, I would still recommending booking the private transfer. It barely costs more for a whole family, considering that you have to take a taxi from the airport to the bus station before you even get on the Kotor bus. As a word of warning for kids who experience carsickness, the drive from Podgorica to Kotor was very winding.
If you do go by bus, a taxi from the airport to the bus station will cost you 10€, and one-way tickets from Podgorica to Kotor are 6.50€ (kids 5-10 50% off, students 25% off). You can book your tickets online at Busticket4.me and expect the whole journey, from landing at the airport to arriving in Kotor, to take 3-4 hours.
We also used Montenegro Tour Operator for a private transfer from Perast to our next stop, Dubrovnik in Croatia for 98 euros, which again wasn't much more than if we had taken the bus, and saved us the trouble of hauling our luggage and kids onto a bus.
The bus from Kotor to Dubrovnik (or Dubrovnik to Kotor) takes about 2 hours and 15 minutes and costs 18€ (kids 2-7 50% off, students 25% off), if you do decide to take it.
While we wouldn't recommend rushing like this with kids, it is even possible to visit Kotor as a day trip from Dubrovnik.

For another popular day trip from Dubrovnik, consider visiting Mostar in Bosnia and Herzegovina.
Things to do in Kotor with Kids
Here are 10 ideas for your Kotor itinerary with kids, and they are exactly what we did during our time there. I tried to balance things that are fun for kids but also allow Mom and Dad to see the best of what Kotor has to offer.
I would recommend covering the Old Town attractions on your first morning, then spending the afternoon on the beach or cruising the Bay of Kotor. If you decide to hike up to the Kotor Fortress, do this early in the morning before you check out on your last day.
Exploring Kotor's Stari Grad (Old Town)
Whether the kids like it or not, this is why you came to Kotor, right? Kids of any age should still be able to appreciate the charm of this town straight from a fairy tale, with its glimmering cobblestone streets, medieval architecture, and small lanes to explore.
Luckily the Old Town is very small. You'll still probably get disoriented a few times, but that is part of the fun, and if you just keep going, you always end up back at a main square or landmark.
Our kids did enjoy wandering, especially early in the morning when they were full of energy, it wasn't too hot out yet, and the streets were almost entirely empty.
Things start opening up around 8 a.m. (summer) or 9 a.m. (off-season), and by noon the town becomes so packed with tour groups (especially when a cruise ship docks at the port and unloads its passengers), so it's a really smart idea to explore early and do something more restful in the afternoon.
If you prefer to let a local show your family around, consider joining a small group tour or hiring a private guide.
Meeting the Famous Cats of Kotor
A few weeks before Montenegro, we were in Istanbul with our kids and couldn't believe how many cats there were. Until we came to Kotor.
The Old Town of Kotor is overrun with stray cats. They can be seen everywhere, lounging in the town's squares, receiving strokes from pedestrians, and mooching for food at tables. The people and shops of Kotor seem to all help out feeding the cats, and you can see feeders and water dishes everywhere.
I even read somewhere that, according to legend, cats saved the city of Kotor in the Austro-Hungarian war, but I can't confirm that 🙂
Our kids love cats. We even bought them each a feathered cat teaser in Istanbul, which came in handy in Kotor, too! Going anywhere in the Old City involved constant stops to tease and pet cats.
If you want to help out the cats of Kotor, don't miss the Kotor Cats Museum, which features a collection of cat paintings, souvenirs, and a few resident felines. The small entrance fee goes toward helping the city's strays. After being closed for a few years, Kotor Cats Museum is finally open again.
Cat lovers should also check out the shop Cats of Kotor, which has some nice cat-themed jewelry and souvenirs. The original shop is near the entrance to the Kotor Fortress hike, and we spotted a second one in a small lane in the center of the Old Town.
One downside of all the cats in the already jam-packed Old Town is that much of the town smells like cat pee. Just a little heads up about that…
We also loved visiting Amalfi Coast, Italy with our kids!
Visiting Kotor's Churches with Kids
If your kids can handle some sightseeing, there are some historic attractions in town you won't want to miss.
The top attraction in Kotor is the Cathedral of Saint Tryphon (Kotor Cathedral), which opens at 8 a.m. (9 a.m. when we visited in October). Entrance is 2€ for adults and free for young kids (a specific age limit was not indicated, like at many other places we visited in Montenegro, but they always let our kids in free).
The fee includes entrance to a treasury of significant artworks on the second floor. My kids haven't learned about Christianity yet, so the vivid images of Jesus on the cross got them asking a lot of questions.
We were the only ones in the church when we visited first thing in the morning. The kids' favorite part was lighting candles for a small donation, and looking down on the square below from the church's second floor.
The Church of Saint Nicholas is the second most popular church in Kotor and definitely worth a look as well; the kids may find it a little "spookier" than the first.
Climbing on the Kotor Old City Walls
Stari Grad (Kotor Old Town) is a walled city. There are three entrances to the Old Town: the Sea Gate is where most people enter, while there's also an entrance at the north and south ends.
The Old City walls run along the west (ocean) and north (river) side of the town, while to the east the walls snake up Mount Lovcen to Kotor Foretress (see #5 below).
While its not possible to walk around the whole Old Town along the walls like you can do in Dubrovnik, there are several parts where you can climb stairs up to it. The safest one to visit with kids is at Kampana Tower and Citadel (pictured above) in the southwest corner of the city.
For other spots, including Gurdic Basion (South Gate), Valier Bastion (above the Sea Gate), and around the north gate, the stairs going up and sections of wall you can walk on are crumbling in some areas, and in some places there are vertical drops with no fence. Take extreme caution if you are visiting with kids, especially toddlers, or give these sections a miss altogether.
If you make it to the North Gate, be sure to cross the bridge over the river, from where you can see a great view of the mountains, Old City walls, and the Scurda River below is full of fish.
Hiking to Kotor Fortress
One of the must-do things in Kotor, even with kids, is climbing up the 1355 steps to Kotor Fortress (Saint John's Fortress). The trails zigzags steeply up from the northeast corner of the Old Town, following the Old City walls up Mount Lovcen.
The entrance fee is 8€ (May to October, 8 a.m. to 8 p.m.), young kids free. If you get there before 8 a.m., you can hike up for free. Another free alternative is the super zigzagging Ladder of Kotor hike, which also connects to Kotor Fortress near the top. Doing the hike in the morning is recommended for the best angle of sunlight, and before the day gets too hot.
So is it the hike to Kotor Fortress suitable for kids? I honestly wasn't sure if mine would make it, but we wanted to try. The kids did awesomely well, and only started asking to be carried when we were nearly at the top.
We saw several other parents with young kids who seemed to be doing fine too, but we did see one mother with a daughter (perhaps age 5) who was in tears and begging to not have to continue. So it will all depend on your kids, and what they can handle!
Even if you don't make it all the way to the top, you don't have to hike up very high before the views over the Old Town and Bay of Kotor become incredible, and there are numerous spots to stop and take pictures. You won't be massively missing out on anything if you don't make it all the way to the fortress!
Kid-Friendly Bay of Kotor Cruise
Kotor sits on a secluded corner of the Bay of Kotor (also called "Boka"). The bay is much larger than what you can see from Kotor, and it is dotted with picturesque villages and churches, including two on tiny islets in front of the village of Perast.
For our cruise, we went for the semi-submarine ride on the Bay of Kotor, entirely for the kids. We booked our tickets on GetYourGuide, and the process to book and show up for the activity was extremely simple and went smoothly.
We were the only ones on our colorful "submarine", so this was a great deal for what turned out to be a private cruise! It was only an hour long (just right for the kids). We didn't make it as far as Perast, which was fine since we were going to stay there next.
The captain was great with the kids; he did this thing where he poked their nose and made the boat honk at the same time, and they couldn't get enough of it. He also let both of them steer the boat for some time (the kids were really in control, he wasn't even near the steering wheel!)
Our only complaint: we didn't see any fish! We have no idea why, as the bay seems to be teeming with them, and the windows were clean. So overall, I'd say that this was a fun way to enjoy a cruise on the Bay of Kotor with young kids compared to riding on one of the typical motorboats, and the kids had fun going down and playing in the underwater part of the ship, but don't go expecting expecting a kind of marine life-spotting cruise!
If your kids are older, then I'd recommend a motorboat tour like this one, which includes stopping at Our Lady of the Rocks (the floating church in front of Perast) and swimming in the magnificent Blue Cave.
Older children or teenagers may also enjoy a guided kayak tour or stand-up paddle boarding on the Bay of Kotor.
Playground at Park Slobode
Just north of Kotor's Old Town and Kotor Port (where enormous cruise ships dock almost every day) is Park Slobode. In all honesty the park and the playground are nothing special, but it could be a way for those traveling to Kotor with toddlers to escape from the Old City and get some fresh air and space for a while.
Motorboat tours and our semi-submarine cruise start from the waterfront in the park, just a few steps from the playground, so it only made sense for us to spend a while in the playground while passing by.
To get there, exit the Old City from the Sea Gate, turn right, and walk just past the end of the Old City wall before crossing the street toward the water.
Kotor Beach
If you continue walking about five minutes past Slobode Park, you'll reach the main beach in Kotor. The beach consists mostly of pebbles and has sun loungers for hire in summer as well as a free section.
We never made it to the beach during our stay, but we rode right by it on our submarine cruise. It is quite long and has a large sectioned-off swimming area.
We did go swimming a few days later in nearby Perast, and the water was quite cold (still just barely swimmable if you're brave enough) in mid-October. In summer, you can expect the beach to be packed.
Kotor Farmer's Market
We were pleasantly surprised by Kotor's Farmer's Market, which is set up under a section of the Old Town wall. To find it just exit the Old Town from the Sea Gate, turn left, and walk 100 meters.
We went there to pick up some local fruit and vegetables for preparing a few meals. But besides that, we ended up leaving with bread, a ton of cheese, olives, raspberry wine, prosciutto, dried figs, and more.
The kids scored lots of free samples, and enjoyed helping to choose the ingredients for our next meal.
Visiting Perast with Kids
As I mentioned at the beginning of the article, we liked tiny Perast even more than Kotor, and here's my guide to Perast. But don't even consider skipping Kotor!
Kotor is the place you must visit in Montenegro. Its Old City is something to behold, and few views are as epic as the one from Kotor Fortress. Having said that, the city is swamped with tourists, noisy, and busy all the time.
I guess that's why we loved chilling out for a few days in Perast so much. The waterfront village is tiny (you can walk from one end to the other in 10 minutes (make that 30+ minutes with kids, with all the stops to pet cats and look at fish).
But there are still several things to see in Perast, including some impressive churches, palaces, and taking a boat ride to Our Lady of the Rocks, an artificial island with a monastery on it. There's also a tiny beach in town, which doubles as Pirates Bar in summer.
But most of all, we loved how Perast was so quiet. I mean absolutely SILENT after all the day-trippers went home. We also loved the fantastic apartment we stayed in, run by a retired Serbian woman.
Our apartment was in a 300-year-old stone house, and each of our rooms had a balcony with a view of the sea. In the back, we dined on a terrace under a kiwi tree. In many ways, our stay in Perast was kind of how we envisioned the perfect laid-back European countryside holiday.
You can search for other accommodation deals in Perast here.
Most people visit Perast for 1-2 hours, we stayed for two nights, and we wished we could chill out there for two weeks.
You can take the Blue Line bus from Kotor directly into Perast village (other buses also cover the route but only stop at the highway above town). However, taking kids + luggage onto a bus is not recommended. We took a metered taxi and it cost just over 20 euros.
Perast is also a stop on the Kotor Hop-On-Hop-Off bus.
Where to Stay in Kotor with Kids
Of course, just like most visitors, we wanted to stay in Stari Grad (the Old Town) for our Kotor visit so that we could be right among the sights. However, the downside of this is that the Old Town is very noisy. Restaurants and bars play music until late at night, and even talking from people on the street below funnels up the narrow lanes between buildings. The town's church bells also ring regularly, starting very early in the morning.
We decided to take a chance anyway and booked this apartment smack in the middle of the city. The apartment had a kitchen and two floors, but the selling point for us was the awesome little balcony overlooking Kotor's signature orange rooftops and even a section of the Old City wall on the mountain.
It was indeed noisy, but not as bad as we expected (summer's are probably much worse). The kids slept though it all, but it was a little harder for us.
I would suggest bringing earplugs, or booking an apartment in a quiet corner of the Old City, such as La Dolce Vita Apartments. I did seriously consider this apartment before choosing ours; it looks really lovely, but is a little pricier.
Still, the apartment we did choose in Kotor ended up being the lowest price we paid for accommodation on our entire two-month trip in Europe, and it was still a good one!
Another quieter option would be to stay just outside the Old Town, such as highly rated Apartment Ana.
Well, I hope you've found all the information you needed here for your family trip to Kotor, Montenegro. I welcome any comments or questions below!
I never travel without a good guidebook! Here are a few highly recommended ones: