Dear reader: This article contains links to products and services that I may be compensated for, at no extra cost to you.
On our recent (2019) trip through the Balkans with our kids, we spent the last few days of October and first few days of November at Lake Bled, without a doubt one of the most beautiful places in Slovenia, as well as nearby less popular (but less touched by tourism) Lake Bohinj.
At first glance, autumn may seem like an undesirable time to visit Lake Bled. September allows visitors to enjoy the final days of summer-like weather minus the intense crowds of July & August.
But is Lake Bled a great place to visit in October? Well, to begin, in October, the lake becomes too chilly to swim. Meanwhile, Lake Bled in November is characterized by gray skies, cold weather, and more rain than any other month of the year. You're definitely going to want to bring a good, packable rain jacket. You'll also want to consider visiting one of these incredible spas in Slovenia while you're there!
Of course I'm not God, and nobody can know what the weather will really be like during your trip. You could luck out and have sunny days in Slovenia in October and November. By late November, you could even be fortunate enough to see some snow, but it doesn't usually fall until later.
We had neither clear skies nor snow during our four days at Lake Bled, but the sun did poke out to shine some light on the gorgeous autumn foliage at our next stop with our kids, Salzburg, Austria (three hours north of Lake Bled by train). At our second stop in Austria, Innsbruck, in mid-November, we finally got some snow.
Snow doesn't generally start falling around Lake Bled until late December or January, giving tourists a reason to come back again. October and especially November are essentially the crappy months between summer, with its associated water activities, and winter in lake Bled, with its associated snow activities (see examples of popular Lake Bled outdoor activities here).
So why did we visit Lake Bled at the worst time of year? Well, since we were visiting 11 countries on our trip, there was no way we could plan it so that we would have perfect weather in every stop along the way. Lake Bled just happened to be right in the middle of our trip, which we planned to begin with summer on the Mediterranean and end with the Christmas markets of Central Europe. The weather had actually been perfect on our trip, right until a few days before we got to Slovenia, while traveling across Italy and then Croatia with our kids.
Although we stayed at Lake Bled for several days, and would recommend doing so, you can see the main sights there fairly quickly, and it is even possible to do it as a day trip from Ljubljana!
Despite the non-ideal weather, October and November at Lake Bled aren't all that bad! On the plus side, rooms are cheaper and easier to come by, there are no tourist crowds, the lake is hauntingly beautiful with fog and clouds around it, and stunning autumn foliage can add some color to your photographs.
The purpose of this article is not to convince you to visit Lake Bled in fall. This is simply my honest review of our experience at this time of the year. I will also cover visiting Bled Castle, Bled Island, Vintgar Gorge, and Lake Bohinj in October and November.
I hope it can help you decide whether you can overlook the downsides of traveling to this magnificent destination at this less than perfect time of year, or you should choose to visit in the summer (or to a lesser degree winter) high seasons and battle the tourist crowds.
Where to Stay in Lake Bled and Lake Bohinj in Autumn
At Lake Bled, we decided to steer clear of the main tourist village on the eastern side of the lake. Instead, we chose House Gabrijel (see their two options here and here on Booking / Agoda / TripAdvsior) on the south side of the lake near where pletnas (row boats) depart to Bled Island.
This cabin was my personal favorite accommodation of our entire trip across Europe. Our cabin overlooked a field with a horse, while the sound of a stream leading out from Lake Bled put us to sleep at night. The kids loved the bunk bed, while the fireplace kept us warm when we needed it (which was not very often actually). Last but not least, the hosts were incredibly hospitable!
The cabin was a short walk from the bus stop to the tourist village, train station, or Lake Bohinj, or it was a 30-minute walk to the tourist village and castle. It was also really close to Restavracija Sova Bled, where we enjoyed a fantantastic (I'm talking like Michelin quality, but at a reasonable price) meal.
For Lake Bohinj, we went with Apartment Alpinea (see on Booking / Agoda) in the tiny tourist center on the eastern side of the lake. It was incredibly peaceful, and the perfect place to spend a few days relaxing while the rains came down outside.
For lake lovers, see my guides to the most beautiful lakes in Jasper and Banff National Park in my home province of Alberta, Canada!
Lake Bled in October
If you have a look at this detailed report of Lake Bled's weather in October, you'll see that the month has an average high temperature of 12°C (53.6°F), with only slightly more rain than in the summer months.
What that means is that in October in Lake Bled, you can expect anything from warm to crisp, slightly cool days, with a more than 50% chance of non-rainy weather. Early October has a better chance of being warm, obviously, while by the end of the month, the region may slip into the typical wet and cold season that tends to dominate November.
But remember that these are just average numbers. In fact, we were monitoring the weather in Lake Bled carefully throughout October before we arrived there, and we found that for many days, the daytime temperatures were reaching above 20 degrees, which, for me at least, would be warm enough to get into the water for a splash.
Overall, I'd say that planning a trip to Lake Bled in October is not a bad idea, so long as you can accept that you most likely won't be swimming or enjoying other typical summer activities. For example, the Castle Swimming Area (Public Lido), which includes waterslides and sun umbrellas, is only open from mid-June to mid-September.
Straza Bled (a hill beside Lake Bled with various activities) reduces its summer tobogganing to weekends only in October before it closes completely in November and most of December, opening again for skiing in late December.
The round-the-lake Tourist Train only runs on weekends in October and stops running entirely after the last day of October. Meanwhile, Vintgar Gorge usually closes its doors to the public sometime in early November (see more on that in the "Vintgar Gorge in autumn" section below).
As for the main tourist things to do at Lake Bled, such as riding a pletna to Bled Island in the middle of the lake and visiting cliff-top Bled Castle on the side of the lake, these are still in full swing in October, and will have far fewer tourists than in summer (though you may be surprised to find there are still quite a few).
If you happen to be visiting Lake Bled on Halloween like we did, there was even a Halloween children's activity at Bled Castle all day on October 31st, and the decorations and jack-o-lanterns were still up when we visited the castle the next day.
Lake Bled in November
As I've already mentioned above, the weather in November in Lake Bled can be outright bad. On our first day of exploring when we arrived, we felt COLD. It's that kind of wet cold that really gets under your skin, even though the temperature was still well above zero.
During our stay at the beginning of November, it was around 7-12°C (44.6 to 53.6°F) in the daytime, and nearly freezing at night. We never saw blue sky, not even a patch of it (with one exception, for a few seconds, just before we got on the bus to leave the lake), and it rained on and off for two out of four days that we were at Lake Bled.
Sounds pretty awful right? To be completely honest, though, it wasn't too bad for us. We didn't expect to have good weather during our trip to Slovenia, nor were we disappointed when that is exactly what happened.
Moreover, because our Europe trip was nearly two months in total, and for the first month until Slovenia we had AMAZING weather everywhere we went, we weren't terribly bothered by a few days of poor weather. If anything, it forced us to just chill out for a couple days instead of exhausting ourselves trying to see everything every day.
We even rode a pletna (see more on that below) to Bled Island on one of those rainy days, and it was fine. The pletnas are covered, we had good umbrellas, and it never rained very hard.
On the plus side, if you visit Lake Bled in November, you can get good deals on rooms, nowhere you go will be very busy, and you'll won't have that crappy feeling of being one along a million other tourists visiting a touristy attraction at the same time.
If you are traveling a long distance ONLY to see Lake Bled on your trip, then you may want to consider another time of the year.
Another plus of visiting Lake Bled in fall is that you will get to experience some stunning autumn foliage. A lot of the tress leaves were already changing colors and beginning to fall at the end of October and beginning of November, so that is pretty much the perfect time if that's what you're looking for.
If only we'd had some blue skies to accentuate those gorgeous colors in our photos!
In terms of photography, I'm not gonna lie to you; most of the photos you'll take of Lake Bled, Bled Castle, and Bled Island are gonna look like crap in the gray, wet weather that is the norm for November. I shot hundreds during our stay, and hand-picked the best of the best for this article, not to mention that they are edited to look better.
For reference, here is one photo I took that is completely unedited, except for some softening to counter the graininess that comes from shooting in low light.
Scenery never looks as beautiful or striking when the sky is overcast, but you may be able to pull off some cool, spookier shots of the lake and surrounding forested hills covered in fog and clouds, like I tried to do in the shot below. Unfortunately, though, those scenes often look more haunting and beautiful with the naked eye than on film.
Just don't expect to be able to take photos of Lake Bled in November like you see in all the postcards. If getting amazing photos of the lake is the main purpose of your trip, come in summer and brave the crowds, or stick to October and pray for luck if you are set on visiting Lake Bled in autumn.
Bled Castle in October and November
In summer, Bled Castle is open from 8:00 a.m. to 9:00 p.m., while in October (as well as April, May, June, and September), it closes one hour earlier at 8:00 p.m. In November (along with December to March), it is only open from 8:00 a.m. to 6 p.m., since it gets darker much earlier in winter.
The entrance fee for Bled Castle remains the same throughout the year, which is 11€ for adults, 7€ for students, 5€ for children under 14 (and each set of parents gets one child free).
When we visited Bled Castle, the weather was overcast but not raining. The view was still impressive, but my photos were nothing special.
We still enjoyed seeing the castle itself and the various activities they have up there, which are not weather dependent. Our favorite was bottling our own wine to take home, which included an elaborate series of steps that a monk guided us through, and was actually really fun for our kids!
Bled Castle Restaurant, which is arguably the best restaurant at Lake Bled, is open throughout the year, but when we visited, only the indoor section was open, not the patio with lake views, because it was too cold to want to sit outside. On the plus side, it should definitely be easier to get a spot in this highly rated restaurant at this time of year, but reservations are still recommended because tour groups can still fill it up at anytime.
The Bled Castle Café outdoor patio (pictured below) was still open, but few visitors were sitting at it because the wind up there made it quite cold.
Bled Island in October and November
In early October, which is the tail end of the main tourist season in Lake Bled, pletnas still depart regularly as usual from three piers on the lake: at Spa Park near the Tourist Information Center in the tourist village on the east side of the lake, at Velika Zaka (a beach and campsite on the western side of the lake), and Mlino on the southern side of the lake.
However, by late October and November, we found that pletna services were greatly reduced. None were leaving from the campsite, which was totally closed for the season, and very few (or none at all?) seemed to be running from the tourist village.
The only ones that still seemed to be running were from Mlino which, lucky for us, was where our accommodation was located. And even then, we had to sit and wait for a while for the pletna operator to gather enough passengers to make the ride worth it.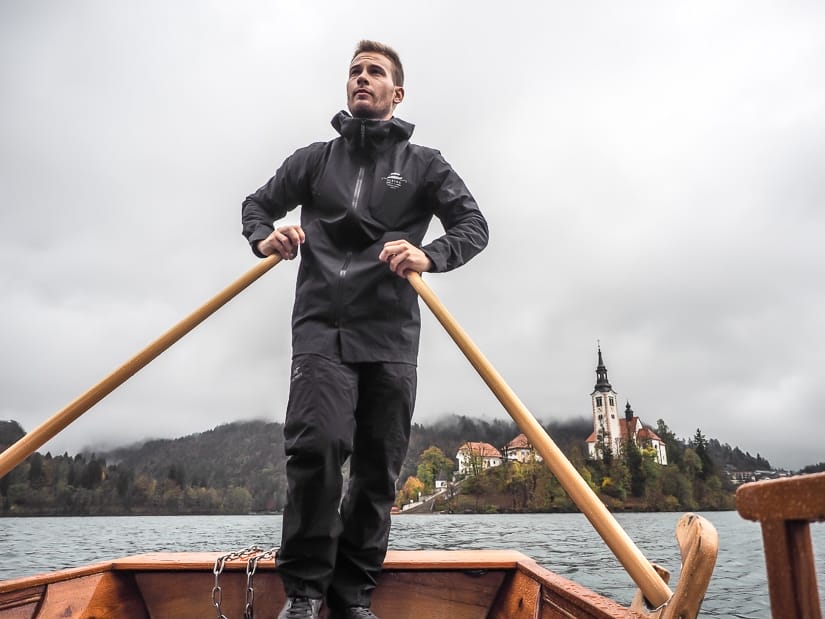 The current price for a return trip to Bled Island is 15€ per adult. We paid 7€ for our 5-year-old, and our 4-year-old was free. You can also hire you own rowboat by the hour from various spots on the lake and row to island on your own. We actually might have considered this option if it hadn't been raining on the day we went to the island.
If going by pletna, the captain leaves you at Bled Island for 40 minutes, but it really only takes 20 minutes to see the church, ring its bell, climb the Bell Tower, and take a peek at the gift shop. If the weather is poor, you can also warm up with a coffee (or something stronger) in the café.
Call me weird, but I loved the ride over in light rain. The approach to the island was awesome with the clouds behind it, and the view looking out at the mist-shrouded mountains surrounding the lake was equally inspiring.
Despite sharing our pletna with a tour group, we had the Bled Island church to ourselves when we visited, which was also special. I'd imagine in summer you have to wait in a long line to ring the bell.
Vintgar Gorge in October and November
Vintgar Gorge is a narrow, dramatic gorge with an easy, 2-hour return hike along boardwalks running through it. It is located three kilometers (1 hour walk or 15 minutes by car) from Lake Bled, and one of the most popular things to do around Lake Bled.
All the information I found online indicated that Vintgar Gorge closes at the end of October. I also read that after that, you could still walk through it, and not even have to pay. That is what we expected when we showed up in the first week of November.
However, we were surprised to find that it was still open (and we had to pay, 10€ per adult, 1€ per child, under 5 free). According to the ticket attendant, the closing date every year is not set; so long as the weather is not freezing and enough people keep showing up, they stay open. It can close anywhere from late October to late-November, depending on the weather.
I'm fairly certain that the Vintgar Gorge shuttle bus does stop running at the end of October though, but you can double check by contacting via the above link, or go there on foot or by taxi like we did.
It is important to note that once Vintgar Gorge does close, unlike what others have noted in the past, it really does close now. There will be a locked gate that is totally impassable (we saw it ourselves), not to mention the fact that it is closed at this time for a reason.
Ice on the trail makes it dangerous to walk on, and important repairs are done in winter, which means that people could be working on the trails and/or the fences that protect visitors from falling rocks could be under repair or even missing. In short, don't try to visit Vintgar Gorge in winter.
Since we arrived shortly after the opening time of 9 a.m. (it opens at 7 in summer, 8 in shoulder season), we had the trail mostly to ourselves at first. By the time we walked out, though, there was a surprisingly flow of traffic that we had to squeeze past on the narrow walkway; I can't even imagine what it's like in summer.
Lake Bohinj in October and November
Lake Bohinj is Lake Bled's less popular (and many would say, more beautiful) cousin. It is 45 minutes from Lake Bled by bus, so it is easily done as a day trip from Lake Bled.
Just like everything I said about Lake Bled above, you'll have a better chance of decent weather and views in early October, but by late October and all of November, cloudy skies and cold weather typically prevail, with a much higher chance of rain.
We decided to spend two nights at Lake Bohinj in November. Mainly we just didn't want touristy Lake Bled to be our only experience of Slovenia, and we had heard that Lake Bohinj was more stunning and untouched by tourism.
There are a few popular things to do at Lake Bohinj, such as taking the cable Vogel Cable Car to Vogel Ski Center or hiking to Slap Savica waterfall, both on the western side of the lake, not to mention all the outdoor activities available.
In October and especially November, these activities are quite limited. It's too cold to swim or do other water sports in the lake, but it's too early to ski. The hike to Slap Savica is still open, but note that it can be slippery if the ground freezes. You can also still take the cable car up to enjoy the view over the lake and access a number of hikes in the ski hill area, but make sure you do a little bit of planning before going up there.
We actually had awful weather for our two-night stay at Lake Bohinj. It was chilly and rained almost non-stop for our entire stay. Luckily we had booked this very comfy and homely lodge, and were perfectly OK with spending some time indoors relaxing and watching the rain and mist-covered mountains from our lodge's covered balcony.
Fortunately, we hadn't planned on doing much there anyway. We just wanted to see the lake! When we first arrived at the small collection of lodges and amenities on the eastern side of the lake, we only found one restaurant open for lunch, the restaurant at Hotel Jezero (a few more were open for dinner, notably Foksner, an excellent hamburger & beer joint). There's also a information center and supermarket.
In the middle of our lunch, the sun actually broke through the clouds for 20 minutes, and suddenly the lake became five times more beautiful. I ran out of the restaurant in the middle of the meal to take the photos you see here.
The next day, our one full day at Lake Bled, we stayed in nearly all day, which wasn't all that bad; it was a welcome rest in our otherwise very busy trip.
Well, I hope this article has helped you decided whether or not to visit Lake Bled in October and November. Is it a bad idea? Surely you'll now be able to answer that question for yourself.
Here are the top Slovenia guidebooks, plus some beautiful Lake Bled artwork and a puzzle!