Dear reader: This article contains links to products and services that I may be compensated for, at no extra cost to you.
Visiting Oman with kids marked a special and transitional moment in our family's life. Our kids were born and raised in Taiwan, but at the age of 4 and 5, in autumn of 2019, we moved permanently to Canada, where I grew up.
After selling our house and getting rid of all our things in Taiwan, we decided to take the opportunity to go traveling in Europe for 10 weeks on the way back to Canada, something we'd both dreamed of doing since before getting married. Besides, there are so many reasons why it is important to travel with kids!
Oman was the first stop on our trip before moving on to Istanbul and then Amalfi Coast in Italy with our kids. I had used Aeroplan points (Canada's version of Air Miles) to cover all of our flights. Stopping somewhere in the Middle East or Arabian Peninsula required far fewer points than Europe, and we could complete the journey from Oman to Europe on a budget airline.
As I researched countries that I hadn't been to yet, Oman immediately stood out as special, and the more I read about it and began to plan our Oman itinerary with kids, the more it sounded really suitable for family travel.
This small Arabian nation with an even smaller population boasts mesmerizing desert landscapes, natural wonders such as sinkholes you can swim in, and wildlife including sea turtles and dolphins. It is clean, safe, and the Omani people are gentle, soft-spoken, and polite.
The capital city, Muscat is modern and clean. Your Muscat city tour may include excellent museums, malls with playcenters, and kid-friendly attractions, yet the city retains a traditional Arabian look and distinct lack of skyrises (by order of the Sultan Qaboos bin Said al Said, who the people all seem to love), not to mention one of the most beautiful mosques in the world. Oman is pleasantly off-the-beaten-track, but that is changing quickly as more and more people find out about it.
I must admit I was smitten by Oman right from the start, and I couldn't wait to experience it with my wife and kids. I knew they would love it, and in the end we all enjoyed it even more than I could have hoped for. Also, since most people don't know anything about Oman, I looked forward to writing this post and sharing as much as I could of the country with my readers, family, and friends.
We spent six nights in Oman, so obviously we didn't stray too far from the capital. We still saw a lot and got a good taste of the country, but of course there is a lot we didn't have time to see. We stayed in two different hotels, one budget and one upscale. You can read about the latter in my review of the Grand Hyatt Muscat.
Below I'll cover my recommendations for the best family-friendly hotels in Muscat, based on my extensive research as I planned our trip, how to get to Oman, things to do with kids in Oman, how to plan an Oman 5 day itinerary, where to eat with kids in Muscat, and places that we didn't have time to see but will next time.
Oman with Kids Essentials
– If you visit for a short time, you can see the best of Muscat on this half-day city tour.
– You can easily arrange your visa on the Oman e-visa site before arrival. You can use one account to arrange a visa for each family member (including kids, same price as adults)
– Summer is simply too hot to visit Oman, while winter has pleasant weather and is the high season. We visited in the shoulder season (October), and it was still VERY hot, so we took an extended midday break in our room every day. Check Oman's weather by month here.
– Many things are closed if you visit during Ramadan. Here are the Ramadan dates for upcoming years. Some shops, restaurants, and attractions are closed on Fridays as well, but most malls remain open.
– There are no dress restrictions for young kids (under 7) in Oman, even when visiting mosques. My wife Emily played it safe and wore a scarf on her head at first, then quickly realized it wasn't necessary. Dress modestly, but there's no need to overdo it. When visiting a mosque, though, women must cover their head, shoulders, arms to the wrist, and legs to the ankles, and men should avoid shorts and tank tops.
Why We Chose (and Loved) Oman with Kids
I've been to nearly 10 countries in the Middle East, including UAE and a stopover in Doha, Qatar in the Arabian Peninsula, on my own before having kids. I really enjoyed them all and found the people to be the friendliest and most hospitable I'd encountered anywhere in the world, but for this trip I wanted to go somewhere I hadn't been yet.
Oman seemed to provide the perfect balance of fascinating traditional culture and modern conveniences that make family travel easier. It's super safe, and even after our trip as I write this, my wife and I remain perplexed at just how polite and kind to our kids the people were.
The capital Muscat is a historically rich city sandwiched between mountains and the sea. It has a traditional, ancient look (I pretty much fell in love when I saw images of the row of buildings and mosques lining the Corniche, with arid, desert hills in the background), but everything is efficient and well organized.
The only obstacles I could see, and they weren't major ones for us, is that Oman is not super cheap, and the city of Muscat is extremely spread out so it's not very easy to get around (I'll explained how we tackled that below).
On our first day in Muscat, several things stood out; the brand new Muscat International Airport is a gorgeous structure, inside and out, the Omani people are really polite, cars stop for you when you want to cross the road, and the streets are clean. We also soon noticed that all the people we were dealing with in shops, restaurants, and so on were all men, but that is pretty standard in this part of the world.
Nevertheless, Emily also noticed that she wasn't getting any creepiness or stares from men, much different than other countries we've traveled to (for example, in India, yet about half the population of Oman is of Indian descent). Overall, we felt incredibly safe and welcome the entire week we were in Oman.
Another thing we noticed is how intensely they blast the air conditioning in Oman. And we are coming from Taiwan, a sub-tropical, hot, humid, AC loving nation. But the Omanis turn their AC a few notches stronger than what we are used to, so the contrast between the sweltering outdoors and freezing indoors was even more extreme.
The Omani people loved our kids. They were regularly saying hello and asking them questions, and passersby would often pat them on the head. This is something to be aware of if you don't like people touching your kids, but for us we could tell that it was just something that they do and only mean good by it.
At the end of our Oman visit, when we flew from Oman to Turkey, the plane was full of families with young kids. The parents let their kids play and run up and down the aisle throughout the flight, and we noticed that random passengers would just grab other people's kids and hold them for a while, talk to them, or play with them. One male flight attendant even took our kids for a while to play with them. It's impossible to imagine all this happening in a Western country!
I've said this many times before but I'll repeat it again; the majority of people in all the Muslim countries I've been to are family-oriented, hospitable, kindhearted, and passionately welcoming to guests. Oman is no exception!
Read about our travels in Taiwan, Croatia, and Austria with kids!
Getting to Muscat, Oman
We decided to go to Oman as a stopover between Taiwan (I cover Taiwan extensively on this website; start with my Taiwan guide if you want to know more) and Europe.
From Oman, we took advantage of the Oman-based budget airline Salam Air to complete our trip, flying to Istanbul to start our European adventure. Our flight from Muscat to Istanbul was only 4 hours and 40 minutes.
Salam Air also offers connections to Nepal, Egypt, and Dubai (where you could find a greater number of connections to anywhere), and various other Middle Eastern and Arabian destinations.
A number of major airlines fly into Muscat, including Lufthansa, Qatar, and Emirates. It is also possible to travel overland from Dubai/UAE to Muscat by bus, taking about six hours in total.
Our hotel was able to provide pick-up from the airport for us; if yours doesn't, you can arrange your airport transfer here.
Getting Around Muscat
Many people suggest renting a car for visiting Oman, especially if you plan to travel much beyond the capital, Muscat. Even Muscat is extremely spread out, not easy to get around, and taxis are quite expensive.
We only did one day trip out of the city and stayed in two hotels near most of the sights we wanted to visit, so we decided not to rent a car. If you decide to, use this link to find the best car rental deals on RentalCars.
Note that cars seats are mandatory for children under 4.
Another option is to try the Muscat Hop-On-Hop-Off bus, but it has a limited number of stops and doesn't hit all the main sights.
We found one very useful public bus was the #4, which travels from the Muttrah Corniche past Riyam Park to Old Muscat, where several major attractions are found. The bus costs 200 baisa (kids free) and comes every 20 minutes or so.
Where to Stay in Muscat with Kids
Wrapping my head around the layout of Muscat and figuring out where to stay was a challenge at first. The city stretches over 70 kilometers along the coast, with the airport in the far west. The different neighborhoods of Muscat are so separated that they feel like different cities, and you have to drive on a large highway for several minutes between them.
Heading east from the airport, you'll pass Qurum (Qurm), an upscale area with several malls, embassies, luxury hotels, and the city's best beach, then Muttrah and Old Muscat, home to some of the most famous sights, and finally more ports, beaches, and upscale hotels in the far east of the city. The inland district of Ruwi is a transportation hub and home to Little India and a few budget accommodations, but it isn't close to any major attractions.
Muscat abounds in upper mid-range and luxury hotels (according to Grand Hyatt, where we stayed for 2 nights, in Muscat "beauty has an address." So if you have a higher budget, you are going to be spoiled for choices.
Luxury Hotels in Muscat
There is cluster of luxury hotels around Qurum Beach (roughly in the center of the city on the coast), including:
Grand Hyatt (see on Booking / Agoda / TripAdvisor) where we stayed for two nights! See my review here.
Crowne Plaza (see on Booking / Agoda / TripAdvisor) on Qurum Beach
Intercontinental (see on Booking / Agoda / TripAdvisor) for reasonable prices
Kempinski (see on Booking / Agoda / TripAdvisor) a newer choice, right beside the airport
Chedi Oman (see on Booking / Agoda / TripAdvisor) for ultra, ultra luxury
In the far east of Muscat, there are two more notable luxury accommodations that are isolated from the city on private beaches:
Al Bustan Palace (see on Booking / Agoda / TripAdvisor) ultra upscale, and
Shangri-La's Barr Al Jissah Resort (see on Booking / Agoda / TripAdvisors), which is made up two hotels, one of them being the super kid-friendly Al-Waha Hotel (if you can afford it!)
Budget Hotels in Muscat
On the budget end, Muscat has far fewer options. For budget travelers, the inland neighborhood of Ruwi has a few choices, and is convenient for those planning to catch buses out of the city, since the bus station is there.
One notable exception is Naseem Hotel (see on Booking / Agoda / TripAdvisor) right on the Corniche in Muttrah, where we stayed for four nights (see "Where we stayed in Muscat" below)
Serviced Apartments in Muscat
One great option for families would be serviced apartments. I think these would be perfect if you decide to rent a car for your stay (which we didn't), otherwise most of them would be a little difficult to get to without taking many expensive taxis.
Here are some apartments that we seriously considered before we decided not to rent a car. The first three are under USD100 per night, and all except the first have a pool.
Farah Hotel Apartments (see on Booking / Agoda / TripAdvisor) The most budget-friendly choice, very close to Sultan Qaboos Grand Mosque.

Somerset Panorama Muscat (see on Booking / Agoda / TripAdvisor) Also budget friendly and has a pool.

Coral Muscat Hotel and Apartments (see on Booking / Agoda / TripAdvisor) Right in the center of the city near Qurum Natural Park

Millennium Executive Apartments Muscat (see on Booking / Agoda / read reviews) A little pricier than the others but also classier and has a pool and right above the Grand Mall.
Where We Stayed in Muscat
With so many tempting luxury venues, we decided to compromise by spending four nights of our trip in a budget hotel, and the final two nights in a luxury hotel. These are the ones we chose:
For the first four nights, we stayed at Naseem Hotel (see on Booking / Agoda / TripAdvisor) in Mutrah. The hotel is extremely conveniently located right on the Corniche, a few steps from the Mutrah Fish Market and Mutrah Souq, with views of Port Sultan Qaboos (Muttrah Port) from some rooms, where you can even see the sultan's two giant yachts moored most of the time.
We found this location extremely convenient, as we were able to walk to most of the places we wanted to visit in our first few days in Muscat. There were also some excellent restaurants only a few minutes from our hotel, including Bait al Luban Omani Restaurant (see our day 2 below), Aroos Al Bahar – Fishers Grilled (see our day 3 below), and the Marina Hotel restaurant, the only place in the area you could get a beer.
Naseem Hotel's rooms are basic and the air conditioners are really loud. It was still perfectly fine for us. But where the hotel shines is its staff and customer service. The hotel's manager helped us to arrange everything before we arrived, including airport pickup, dolphin watching tour, and desert day trip. The staff were extremely courteous and welcoming, insisted on carrying our luggage to our room, gave us local tips for the area, and we could order tea or coffee to our room 24 hours a day.
For our final two nights, we carefully chose Grand Hyatt Muscat (see on Booking / Agoda / TripAdvisor) for many reasons. First, we wanted a luxury stay but not one that was ridiculously expensive (which a few of the others are). Second, the hotel is right on the best beach Muscat, not to mention its huge outdoor pool with a "lazy river" (which the kids LOVED) and a swim-up bar.
Disclosure: after narrowing it down to Grand Hyatt, I collaborated with the hotel, writing a review of our stay in exchange for a media rate.
Third, Grand Hyatt is convenient located near several kids' attractions in Qurum and neighboring area, such as the Natural History Museum, Muscat Grand Mall and adjacent Oman Avenues Mall (which has an indoor children's amusement park), Sultan Qaboos Grand Mosque (the city's most impressive mosque), and it is closer to the airport than other districts.
Staying at the Grand Hyatt Muscat was like staying in an Arabian palace. All of us were wowing as we drove up to it. The huge main lobby is the stuff of Arabian legends, where luxury meets desert tents and palm trees. The kids didn't believe me at first, but the centerpiece horseman statue spins really, really slowly. You can't see it spinning, but it was facing a different direction every time we passed by.
Every Friday, the Grand Hyatt holds the best Friday brunch in the city, including kids' activities and a bouncing castle. We planned our trip perfect, since Friday was our day to stay at the resort all day, and also the day when most attractions in the city are closed.
You can find all the details and dozens of pics from our stay in my Grand Hyatt Muscat with kids review.
Day 1: Exploring Muttrah
We woke up very early on our first day in Muscat due to a little jet lag, which turned out to be a blessing as the heat didn't take long to get intense.
We started our day at Mutrah Fish Market, only a few minutes from our hotel. The stunning building was designed by Norway and US-based Snøhetta and completed in 2017. It sits near an older fish market dating to the 1960s.
The structure's flowing parts contrast gorgeously against the blue sky, and are in striking harmony with the city's white architecture in the background.
Coming in from the street, we first entered powerfully air-conditioned fruit and vegetable section of market. There we were greeted warmly by elderly Omanis, eager to share samples of dates with us, the best dates we've ever tried!
The indoor produce market connects to the covered fish market section. The Muttra Fish Market opening time is 7 a.m. to 6 p.m. When we arrived at 7:30, things were just getting going and loads of fishing were coming in on boats.
Our kids are pretty accustomed to wet markets and seeing meat and weird sea creatures on display, as they've grown up in Taiwan. This market is very clean, with hardly a smell (as far as fish markets go). It's not huge and there really isn't much to see, but photographers will enjoy the opportunity to catch some great people and market shots.
Our favorite section was outside the back end of the market, where the boats arrive and unload their morning's catch. I loved it because the light, building and people were giving me incredible photo opportunities.
But for the kids, it was all about the cats. We spent a solid 30 minutes there as they watched and laughed at the hordes of cats who lingered around the boats, waiting for scraps. At the end, we had to pull them away.
By 8:30 a.m., we were already too hot, and had bags of dates and fruit from the market, so we did a rest stop at our hotel before braving out in the heat again to check out Mutrah Souq, only a five-minute walk from our hotel, and one of Muscat's top attractions.
The entrance to Mutrah Souq on the Corniche is impossible to miss, with its staircase and dome at the entrance, right at what appeared to be the only pedestrian crosswalk in the entire neighbourhood. The kids were excited to find that at high tide, the water splashes right under the staircase at the entrance of the market.
The market is said to be one of the world's oldest, with a maze-like network of lanes, yet it is very clean and lacks the chaos or energy of other markets I've been to. There were hardly any other visitors when we went, but that could all change when a cruise ship docks in the port. My favorite part of the market was the beautiful wooden roofs with mosaic decorations.
We didn't spend a lot of time in the market. The kids didn't really care, and we weren't in the mood to buy anything as Oman was the first stop on our 10-week trip. Still, we spent about 30 minutes strolling, getting a little lost on purpose, and then finding out way back out. The vendors would all invite us to see their things as walked by, but they were never rude, shouting, or too pushy.
We had lunch at Fast Food N' Juice Centre right at the entrance to the market. It featured pretty standard Middle Eastern fare like hummus, falafel, fries, and shawarma, but it was the first meal of our trip, and we all enjoyed it. The kids were happy to find egg sandwiches, something they always eat from 7-Eleven in Taiwan. Something I'd never tried before was kunafa, a sweet desert made of thin noodles with cheese inside. It was really yummy!
After that, we had an extended siesta in the room to avoid the midday heat. Around 4:00 we caught bus #4 (200 baisa, kids free) from right in front of our hotel to Riyam Park (5 minutes by bus, 30 minutes on foot, 45 minutes on foot with kids) down the coast.
Riyam Park is the location of the iconic Riyam Incense Burner, a large ornamental lookout tower (which I tried to walk up to when we arrived but the path was closed). The Incense Burner demarcates Mutrah Port for ships coming in, and is visible from the Corniche.
Just below the incense burner is the small and slightly run down Riyam Amusement Park. The times may vary, but when we visited it was open 4 p.m. to 9 p.m., but nobody was there besides us until about 5:30, just before the sun went down. We were there on a Monday, so it is surely busier on weekends.
The park has a ticket system in place for its 20 or so rides, ranging from 200 baisa ($0.50) to 1 rial ($2.5). There were rides suitable for very young kids, like a small roller coaster and merry-go-round, to the more terrifying Mini Pendulum, which seemed to attract a lot of local young women.
Right beside the amusement park, we found an excellent playground, with three-story slides, rope ladders, and kids' rock climbing. The highway runs right past the playground and amusement park, but you can only get to them from the entrances to Riyam Park at the south end, or at the north end behind the incense burner in the below shot. If you make the mistake of walking around the outside of the park along the highway, there's a few spots you can hop over the fence to the playground like we did 🙂
Riyam Park itself is a well-manicured oasis of calm, backed by Muscat's signature dry hills, which make it very scenic. At the end of our visit, we walked through the park and all the way back to our hotel.
As we walked through the park, stars were beginning to appear in the sky, birds were squawking in the tress above, and prayer call was filling the night from a nearby mosque; it was all quite a surreal experience! Seeing and walking past the Mutrah Fort, which sits majestically above Muttrah and is lit up at night, was also quite spectacular.
We got a simple dinner from a falafel stand for only 1 rial, making us realize that our lunch (10 rials) had been quite pricey.
The kids were completely drained and begging to be carried by the end, but all in all it was a fantastic first day of not only Oman but our entire trip.
Day 2: Desert Day Tour
We wanted to do one day-trip from Muscat during our stay. While there were several tempting options (see "Things we'll save for next time" at the end of the article), I decided we couldn't miss a visit to Bimmah Sinkhole and Wadi Shab, mainly because we love swimming, and it was so hot during our stay.
We arranged a driver for this trip through Naseem Hotel, where we stayed, but you can also visit these two attractions on this GetYourGuide day trip from Muscat.
Bimmah Sinkhole is one of those stupidly beautiful natural wonders that you see on Instagram and wonder how much it has been photoshopped. Well, photoshopped or not, the sinkhole was every bit as beautiful as we could have imagined. As we left Muscat quite early (7 a.m.), there were only two other visitors at the sinkhole while we were there (which, ironically, I have photoshopped out of the above photo).
The locals say that the sinkhole was formed when a shooting star hit the Earth (the kids loved that explanation), but what's more likely is that water from the ocean 600 meters away eroded below and a layer sank down. The pool of turquoise water is 50 by 70 meters wide and 20 meters deep, but you don't even see it until you get right up to the wall built around it. The sinkhole is a 1.5-hour drive from Muscat.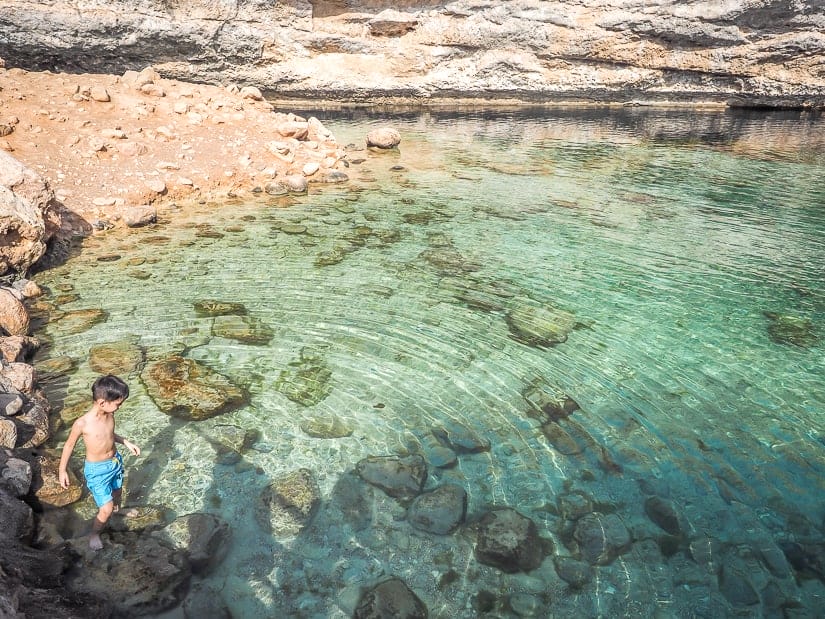 The two biggest surprises for us and the kids were that the water is salty, and it is full of tiny little finish that nibble your skin, just like the ones in hot spring spas in Taiwan where we live. The fish are so slow that you can easily catch them.
In a classic traveling-with-kids moment, Lavender had to use the toilet as soon as we got down to the water, but luckily there is a bathroom/changing room at the parking lot, five minute's walk from the sinkhole. There is also a small playground on site, but there are no food or drink stalls.
After we swam in the sinkhole, we continued another 20 minutes to Wadi Shab, which is becoming one of the country's tourist hot spots as international tourism in Oman continues to increase. At least that's what it seemed to us, as there were dozens of tourist vehicles and tour mini-buses in the parking lot by the time we finished our visit.
Wadi Shab is a highly picturesque wadi (ravine/valley) that cuts a narrow gorge into the dry rocky hills. A 45-minute walk (1 hour+ with kids) brings visitors to an inviting series of blue-green pools that they can swim through to reach underwater cave and waterfall, but you have to be able to swim quite far to do that.
Arriving at Wadi Shab, there was a small food and drink truck, and we paid OMR1 each (kids free) for a short boat ride to the start of the hike across the river. Although we'd purposely left Muscat very early, our driver had insisted on one detour and on doing Bimmah Sinkhole first, so it was already about 10 a.m. and extremely hot when we started out on the hike.
We honestly weren't sure how far we'd be able to make it.
Besides the heat, the first three-quarters of the hike was really easy and suitable for kids. It was almost all flat, and was extremely picturesque. However, with kids, after 45 minutes we still weren't near the end, and the heat had become overbearing for all of us. We decided to stop at a pretty little pool where the kids and Emily could swim, while I ran ahead to the end of the hike.
It took me another 15 minutes (walking at Dad speed) to complete the hike to the final pools. It turned out our decision had been smart, as the final 15 minutes was quite a bit harder (or at least it would have been for my kids), involving some scrambling over large boulders, and the path was not always clear.
The end point, where people get in the water and start swimming to the underwater cave, was not even much more beautiful than many other parts of the hike, so I would say you only have to make it to the end if you plan to do some swimming there.
I think if we had gone in winter, we could have all made it, but the whole hike probably would have taken us three hours return and even then would have been a bit much for our kids (age 4 and 5). Therefore, I would say that the complete hike is only suitable for kids 7 and up, and when the weather is not too hot, unless you are a family that often goes hiking.
Our kids did surprisingly well and only struggled towards the end of the return walk. It was actually me who suffered mild heatstroke (I'm bad with heat). I have no regrets, but if I had known how tough (heat-wise) it would be at this time of year, I might have skipped out on Wadi Shab in our plans, or really insisted that our drive take us there first on our day trip.
In the end, like most places we visited in Oman, our kids noticed and loved the cats the most, both at the boat dock when we first departed, and in the small food truck restaurant where we devoured eggs sandwiches and several bottles of ice cold water at the end of the hike.
Back in Muscat and after a little recovery time in our room, we treated ourselves to dinner at Bait al Luban Omani Restaurant, a two-minute walk from our hotel. This is the restaurant I had been most excited about trying in Oman. The restaurant serves traditional Omani food (which, apparently, is not so easy to find in Oman, as it is mostly served in homes) and overlooks the Muttrah Port and Corniche.
Bait al Luban means "House of Frankincense," and the water at the table is even flavored with frankincense. We chose the traditional seating on cushions inside, which was fun for the kids. Emily had shuwa, meat that is slow cooked for six hours, while I had tuna in coconut milk with cardamom and cinnamon. The spiced milk tea was also excellent, as was our dessert.
Day 3: Dolphin Watching
We woke up on our third day to find out that our early morning dolphin watching tour was postponed to later in the morning, and then postponed again to a sunset cruise. Looking out at the port from our hotel indeed confirmed that the sea was a little rough, and we had a good time watching people unexpectedly get splash by waves as they walked along the Corniche.
To pass the morning, we visited Bait al Baranda, a small and lesser known museum that just happened to be located about 15 meters from the back of our hotel. The museum can't compete with the top museums in Muscat, such as the National Museum of Oman and Natural History Museum (see the "things we'll save for next time" section below).
Still, popping in to Bait al Baranda was a given for us due to the nearby location, and knowing that there was a dinosaur skeleton inside was enough to make my two dinosaur-loving kids desperately want to go. The museum is housed in a lovely 19th-century home with an interesting history, first as a residence, then clinic, British Council classroom, and finally museum.
The museum covers the geology, prehistory, history, and traditional culture of Oman, and only takes about 30 minutes to visit. Entry is 1 OMR (adults), children 500 baisa, and under 4 not allowed (they would probably let you if you tried, judging by our other experiences with such things in Oman). The clerk was so kind as to let our kids in for free even though they should have paid.
After visiting the museum, we had lunch at Aroos Al Bahar – Fishers Grilled, a grilled seafood restaurant right across from the Muttrah Fish Market and next door to Bait al Luban, where we'd eaten the night before. This restaurant was comparatively humble in appearance and a little grotty around the edges. The inside was run down and smelled like fish, as they display the seafoods on a table inside, and then young workers blasted electronic music throughout our meal, which at least got our kids excited and dancing while we waited for our food.
Decor aside, the food at Aroos Al Bahar was excellent. We ordered two portions of fish, which they coated in spices and grilled up with red onions. The fish was accompanied by giant flat breads, delicious hummus, spiced rice, and a large salad, all included in the price.
After escaping the heat in our hotel room for the afternoon, we were finally picked up around 4 for our dolphin watching sunset tour. The kids had been excited about this for months before leaving Taiwan, as they know about dolphins from a character called ming ming is a Korean cartoon they used to watch.
Our boat launched from Marina Bandar Al Rowdha in eastern Muscat, a picturesque marina full of expensive yachts and site of the popular seafood restaurant Marlin's Restaurant overlooking it. The kids loved spotting sea urchins and jellyfish as we waited to get on the boat.
Lavender, who gets motion sickness, passed out in my lap soon after we began, and Sage tried his best to be patient and wait for a dolphin sighting. There were no signs of dolphins as we rode up and down the coast; it felt like more of a tour spotting all the enormous luxury resorts along the coast.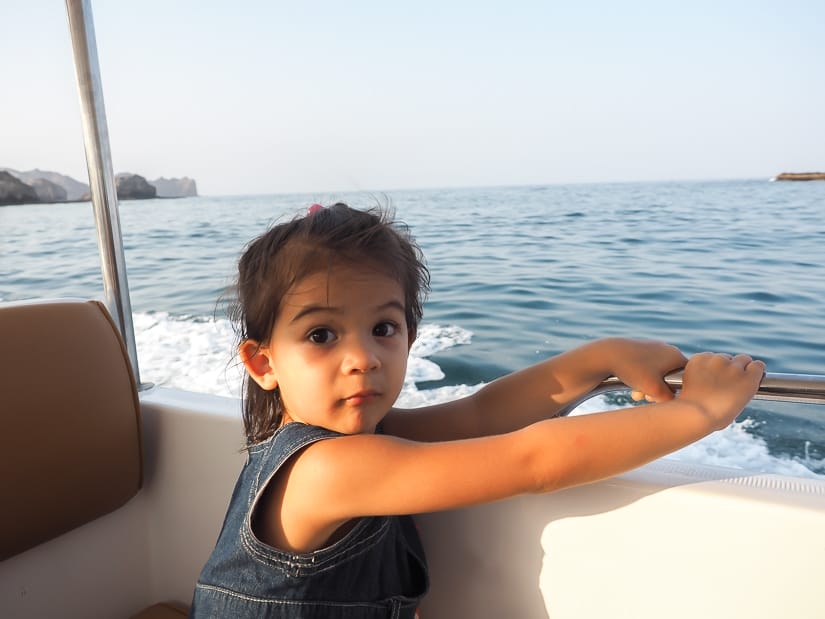 Finally we reached a sunset point and Lavender woke up to see the sun go down. Just as I was beginning to remind the kids that we weren't guaranteed to see dolphins (and trying to mask my own disappointment), the captain of our boat spotted a large pod of them!
We and the four other passengers ran to the front of the small boat to watch the pod surround us, and some of them passed right by the boat, while others jumped out of the water in the distance. Lavender said, "This is the first time I've seen real-life ming mings!"
I didn't get any pictures because I was too busy holding up Lavender to see them. But our dolphin tour was made a success at the last possible minute, just before we turned around and headed back to the harbor.
We booked our dolphin watching tour through our hotel, but you can also book the same two-hour dolphine watching tour here, or opt for a three-hour tour that includes snorkeling.
Day 4: Sultan Qaboos Grand Mosque
On our fourth day, we checked out of Naseem Hotel early in the morning and checked in to Grand Hyatt Muscat in a completely different part of the city. Grand Hyatt sits among a cluster of luxury hotels, international embassies, and attractions in Qurm district, one of the most upscale areas in the city.
We unexpectedly were able to check in to our room at Grand Hyatt when we arrived at 8 a.m., so we put our things in our room then went ahead with our original plan of spending the morning checking out some nearby sights.
We first went by taxi to Sultan Qaboos Grand Mosque, the most impressive mosque in the country and one of the most beautiful in the world. In fact, this mosque is one of the main reasons I was personally looking forward to visiting Oman.
This enormous, modern mosque was commissioned by Sultan Qaboos bin Said al Said to celebrate his 30th year of reign. The mosque was completed in 2001. The stunning sandstone structure can accommodate 20,000 worshipers and is open to non-Muslim visitors from 8 to 11 am Saturday to Thursday.
Even though Emily had worn clothing to cover her shoulders and legs, it wasn't enough, as she should have worn full sleeves, so she had to rent a black abaya for 2 OMR. Emily said the clothing was comfortable at first, but after wearing it for an hour, she found it overbearingly hot.
The approach to the mosque took us through beautiful landscaped gardens and water fountains, then the Women's Prayer Hall. The courtyards around the Main Prayer Hall were especially beautiful, with the interplay of light and shadows, smooth reflecting surfaces, and gorgeous white sandstone contrasted with the deep blue sky above.
Reaching the Main Prayer Hall, we saw signs that children under 10 are not allowed, so I went in first while Emily waited outside with the kids. However, inside, one of the local attendants approached me and asked if I wanted a free tour. I told him I didn't have time because my kids were waiting outside, upon which he told me that I could actually bring them in!
Before fetching Emily and the kids, I took the chance to photograph the enormous (14 meter, 8.5 ton) Italian designed Swarovski crystal chandelier, which hangs in a stunning 50-meter dome, as well as the 70 by 60-meter hand-woven carpet. Both are second largest in the world, as Abu Dhabi had to go and outdo Oman by making even larger ones for their mosque.
The hall is one of the most beautiful rooms I've ever stood in, and I literally said "wow" when I first entered.
The kids were very well-behaved as we brought them in (after multiple reminders), and Sage even sat and said some prayers without us asking him to (he's used to visiting temples in Taiwan). Usually he prays for things like Transformers…
I could have easily spent another hour or two photographing the mosque, but it was time to move on, and I was already more than satisfied that our whole family had got to enter and experience such an impressive house of worship.
Next, we had enough energy and time for one more attraction, and gave the kids the choice of several, all located in the general vicinity of the Grand Hyatt: the indoor amusement park at Oman Avenues Mall (the largest shopping mall in Oman), the Children's Museum, which features interactive displays in domed buildings, Marah Land (the outdoor amusement park at Qurum Park), or the Natural History Museum.
The kids went with the latter, the Muscat Natural History Museum, mainly because I had told them there was a full-sized skeleton of a Mosasaurus (a large swimming dinosaur) inside. It turned out I had misunderstood the photos (what do I look like, a zoologist?); it's actually a plaster skeleton of a sperm whale. Nevertheless, the kids still loved it and the other Omani animal and geology displays.
The museum is quite small and a little dated (we covered it in well under an hour), so I'd only really recommend it if you're staying in the area like we were and your kids want to see that kind of thing.
After that we spent the rest of the day making use of the facilities time at the Grand Hyatt.
Day 5: Beach and Pool
After four long (but very enjoyable) days of sightseeing, we treated ourselves to an entire day of relaxing and playing at Grand Hyatt's beach and pool. The kids LOVED the "lazy river"; we lost count of how many times we floated down it around 25. The kids can now say they've had their first "swim-up bar" experience
The public beach in front of Grand Hyatt is an extension of Qurum Beach, the best beach in Muscat. We found the expansive beach had silky soft said and was practically devoid of people in the daytime on Thursday after we checked in. In the late afternoon, there were loads of hermit crabs rolling around in the surf.
By coincidence, our day 5 was a Friday, which is when the Grand Hyatt hosts an epic Friday brunch, the most popular one in the city. We didn't indulge, as we'd already enjoyed a buffet breakfast that morning in the same restaurant, but the kids were able to make good use of the children's bouncing room, games, and snacks that were available as a part of the buffet experience.
On Friday afternoon, when most people have a day off, the beach in front of our hotel was jam packed with locals, a complete change from the day before. For our final meal, we actually ate outside of the hotel, trying the food at a small shisha (water pipe) restaurant called Candle Cafe overlooking the beach right next to the Grand Hyatt.
I didn't indulge because I was with the kids, but the sweet smell from the shishas was really nice, and the food in the restaurant was excellent (and cheap, compared to the Grand Hyatt), if a little slow.
Things We'll Save for Next Time
We saw a lot into our visit to Oman with children, but of course we couldn't see everything in less than a week. Here are some of the things that we considered, and should absolutely be added if you have more time:
1. Visit one of the forts
There are incredible forts all over Oman, and we saw several even in Muscat, such as the enormous Muttrah Fort which looms over the port, and seems to hover in the sky when lit up at night.
The most popular fort to visit as a day trip from Muscat is Nizwa fort. I think any kids would love exploring these desert "sandcastles," and we almost chose this before we decided on our day trip to Wadi Shab and Bimmah Sinkhole in the end (swimming will always win in our family). Another fort that is suitable for kids is Jabrin Fort.
Here is a recommended day tour to Nizwa Fort.
2. Jebel Shams, the grand Canyon of Oman
Besides Wadi Shab/Bimmah Sinkhole and Nizwa Fort, another popular day trip from Muscat is Jebel Shams, the Grand Canyon of Taiwan. I would have loved to see it myself, but it was further from the city than other options, and I don't think my kids are old enough to really appreciate it.
Here's a popular full-day tour to Jebel Shams.
3. Sea Turtles Sanctuary at Ras Al Jinz
Visting Oman with kids, of course we wanted to experience some wildlife. Going to see the sea turtles nesting at Ras Al Jinz was very tempting, but it was a bit too far for a day trip (2.5 hours each way), and you have to stay up past our kids' bedtime to see it. In the end we chose the dolphin watching boat trip right in Oman instead.
You can visit Ras Al Jinz and see sea turtles on this 2-day Oman tour or this 4-day Oman tour.
4. More Kid-Friendly attractions in Muscat
We thought just under a week would be enough to see the best family-friendly attractions in Oman, but we left feeling we'd just scratched the surface. These are some of the things we didn't have time to do:
– The sights of Old Muscat (National Museum of Oman (the country's best, and an exquisite museum from what I've read), Bait Al Zubair Museum (with model Omani villages)
– One of the many children's play centers or amusement parks, such as Marah Land or Funtazmo in Oman Avenues Mall, or the playground that looks like a fort at Qurum Natural Park
– The Children's Museum in Qurum
5. Stay at Al Waha section of Shangri-La Barr Al Jissah Resort & Spa
It was beyond our budget, but the Al Waha section of the Muscat Shangri-La, which sits in an exceptionally beautiful and isolated cove & private beach in eastern Muscat, is the most kid-friendly hotel in Muscat. There's a long list of children's activities and facilities on offer, so someday if we can afford it, then we'd love to stay there!
All the more reason for us to come to Oman again someday!
Disclosure: We received a media rate for our stay at the Grand Hyatt, but as always, all views expressed are my own.
I never travel without a good guidebook! Here are our favorite Oman guidebooks: