Dear reader: This article contains links to products and services that I may be compensated for, at no extra cost to you.
In 2013, my wife and I had an unforgettable honeymoon in Italy. Our favorite place by a long shot was Cinque Terre (here are 20 reasons we loved it).
Six years later, we returned to Italy with our kids this time and choose to visit the equally impressive Amalfi Coast with our kids! Our Amalfi Coast visit was part of a larger two-month trip in the world that began in Oman and Istanbul, and was followed by our journey across Croatia and into Central Europe!
Cinque Terre and Amalfi coast share many similarities: both are a collection of impossibly picturesque villages hugging the coast, with pastel-colored houses clinging precariously to cliffs. Both claim to have invented limoncello, attract hordes of tourists, and are the kind of place you see one photo of and instantly decide that you will go there someday. Now that we've stayed in both, I've written this detailed comparison of Amalfi Coast vs. Cinque Terre for those trying to decide between them.
Just like choosing between Cinque Terre and Amalfi Coast, it also wasn't easy to decide which Amalfi Coast village we should stay in. Some are definitely more kid-friendly than others, but we wanted to choose a place that would make us happy too.
In the end we chose Cetara, one of the lesser known Amalfi Coast villages, for reasons I'll explain below, but we also visited several other villages as easy day-trips during our stay. See my guide to Cetara for all the info on how to plan a trip there.
In this article, I'm going to describe each of the main Amalfi Coast villages, and why each of them is or isn't suitable for kids. I'll also give suggestions for the best family-friendly hotels in each one, mainly in the budget to mid-range category, in other words, the kinds of places we would personally stay.
My recommendations are based on reviews from other travelers with kids, and my extensive research in preparation for our trip. If you're planning a trip around the country with kids, then also be sure to check out my guide to the best places to visit in Italy with kids.
Is Amalfi Coast Child-Friendly?
The question "Is Amalfi coast family friendly?" came up a lot in my research for our trip. At first glance, it doesn't seem to be.
Positano (pictured above) may be one of the most beautiful villages in Italy. But to even imagine hauling kids up all those steps made me feel tired. But with such beautiful views and many things to do in Positano, it was certainly still tempting!
I would stay that Amalfi Coast is not the most family friendly destination, especially for people with young kids. And perhaps leave your stroller at home, as it won't be much use for you there.
There are almost no kid-specific attractions in Amalfi Coast, it can get extremely crowded, and kids prone to carsickness would never survive a bus ride along the notoriously narrow and winding Amalfi Drive connecting the villages without puking (one of ours only lasted 15 minutes). The good news: there's also a ferry!
But should this stop you from visiting Amalfi coast with kids? Of course not! With a little advance planning, and by choosing the ideal village, you can enjoy a fabulous family trip to Amalfi coast just like we did. If you follow the tips in this article, you should be able to have a bump (and puke)-free trip to Amalfi Coast with children!
Our kids loved the Amalfi Coast. Some of their favorite things were the gelato, running around in piazzas (public squares), exploring the mazes of staircases (we called them dragon tunnels), trying to befriend local kids, the ferry rides, collecting cool rocks on the pebble beaches, and the food.
We also enjoyed our brief stop in Naples, even though it has a reputation of not being safe. We would only say to be careful with taxis, as we had a bad experience both times we took one there.
Time Saving (and fun-enhacing) Tips for Amalfi Coast

– Order a pocket WiFi device before you arrive in Italy or Europe. Works for multiple devices.

– If you want to visit multiple Amalfi coast villages, see this recommended Amalfi Coast road trip itinerary.

– Short on time? Consider this very popular and well-rated day tour from Naples to Amalfi Coast, which includes Positano, Amalfi, and Ravello.

– If you plan on visiting nearby Pompeii before or after your Amalfi Coast trip, make things easier by joining a Pompeii tour from Naples or this one from Sorrento, the gateway to Amalfi Coast. If you go there on your own, make sure to get an online ticket to skip the lines, and considering letting an archaeologist show you around.

– If you're staying in Naples before you visit the Amalfi coast, your kids may love learning how to make pizza in a two-hour class.

– There are also great cooking classes available on the Amalfi Coast in Sorrento, Positano, and Amalfi. What better way to introduce your kids to Italian culture?
When to Visit Amalfi Coast with Kids
Summer is the peak tourist season on the Amalfi Coast and when the area experiences huge crowds and hosts many events. Besides the masses of international visitors, Napoletanos themselves descend en masse to Amalfi Coast in summer.
Of course this will also be the most expensive time to visit, the hardest time to find rooms in hotels, and the weather can be uncomfortably hot. For all these reasons, we would personally avoid visiting Amalfi Coast in summer, especially with kids.
The best time to visit Amalfi Coast with kids is the shoulder seasons. April, May, and June are ideal, with many flowers blooming and seawater just warm enough to swim.
In autumn, the summer crowds and most intense heats tapers off in September. We visited at the beginning of October and the weather was fantastic and totally clear for our whole stay. It was hot enough to make us want to swim in the daytime, and only slightly cool in the evening. The water was a little chilly, but plenty of people were still going in, and it was perfect for sun tanning for hours on the beach.
Winter is the least appealing time for a family trip to Amalfi Coast. You won't be able to swim, it may be rainy and chilly, and many establishments are closed.
See more detailed monthly information here on when to visit Amalfi Coast.
How to Get to Amalfi Coast with Kids
Amalfi Coast lies 20 kilometers south of Naples in Southern Italy, with Mt. Vesuvius in between. How you will get to Amalfi coast depends on various factors, including where you are coming from, where you will stay on the coast, when you are visiting, and how much you want to pay.
There are two main access points to Amalfi Coast: the resort town of Sorrento on the Bay of Naples in the west, and a medium-sized city called Salerno at the eastern end of the coast. The Amalfi Coast itself is about 40 kilometers in length, with the following main villages from west to east: Positano, Praiano, Amalfi, Atrani, Ravello (which sits atop the cliffs), Minori, Maiori, Cetara, Vietri Sul Mare, and Salerno.
If you decide to rent a car in Italy, we recommend RentalCars. We had a smooth, problem-free rental experience with them.

To find the best flight deals, try this flight hacking website. It allows you to search from multiple nearby airports, find cheap flights from where to are to destinations you hadn't even considered, and more.
Coming from Naples, the most convenient way to get to either Sorrento or Salerno is by local train, which takes about 60-75 minutes (Sorrento) or 35 to 90 minutes (Salerno), depending on which train you get. If you plan to spend some time in the capital before heading to Amalfi Coast, here's a detailed three day itinerary for Rome.
There are also buses to both Sorrento and Salerno from Capodichino airport in Naples, or you can save the trouble and get dropped off right at your hotel with this shared airport transfer service.
There is also a year-round ferry from Moro Beverello Port in Naples to Sorrento, and a direct ferry from Naples to Positano in summer only. From Sorrento, you can transfer to a bus or ferry to Positano or Amalfi, but most ferries only run May to October. See the ferry schedule and prices here.
From Salerno, there TravelMar operates ferries to Cetara, Maiori, Minori, or Amalfi (the town), May to October, or you can catch the SITA bus to any of the towns. The ferries cost around 5€ per ride (4€ for children, under 4 free). See the full schedule and exact prices here.
Amalfi town is roughly in the center of the Amalfi coast, and Sita buses and ferries all end here, so if you are planning to go past Amalfi coming from either direction, you'll have to transfer there.
If you are arriving at Leonardo da Vinci (Fiumicino) Airport International Airport in Rome and going directly to Amalfi Coast, we did the same. This was a challenge in our planning, because we arrived in the early afternoon and wanted to make it all the way to the Amalfi Coast and get the kids to bed at a decent time.
From the airport, we caught the Leonardo Express train to Rome Termini and transferred to a direct Frecce high-speed from Rome to Salerno. From Salerno, we transferred to a SITA bus to reach Cetara, where we stayed on the Amalfi Coast.
The reason this was challenging is because we heard that getting through Rome's airport is notoriously slow, taking up to three hours. We wanted to book our train to Salerno to take advantage of the cheaper advance prices and make sure we got on the fastest possible train, but by committing to a time, we ran the risk of missing our train if we ended up being delayed at the airport.
In the end, I left a window of four hours from our arrival at the airport to our train boarding time at Rome Termini. It turned out that arriving and getting through the airport was way faster than we expected, so by the time we arrived at Roma Termini, we had two hours to kill before we got on our train.
If you aren't in a rush like we were, it would be best to just show up at Roma Termini and get on the next train to Salerno (or to Naples if you want to transfer to Sorrento).
But for us, it was worth spending a little more for the faster train to get our kids there and to bed as early as possible, and the train was still reasonably priced because we bought the tickets well in advance. If you've got extra time, then surely spend a few days exploring all the great things to do in Rome with kids!
Note that children three and under ride free on these trains, while 4-16 get a child rate that is usually 50% off. If you buy reserved seats in advance, you don't need to validate them there, but usually if you buy them at the station, you need to validate before boarding the train.
If money isn't a major factor for you, consider getting a private transfer from Rome directly to Amalfi Coast and enjoy a worry-free trip.
Riding the Amalfi Coast buses with Kids
SITA runs buses from Sorrento to Amalfi (and all the towns in between), taking 1.5 hours (€6.80), and from Amalfi to Salerno (and all towns in between), taking one hour and 15 minutes (€3.40).
When we road for 30 minutes from Salerno train station to Cetara, it cost us €1.5 per adult and €1.2 per large piece of luggage. Under 6 ride free (maximum one child per adult, and provided they share the seat with the parent).
To ride the bus, you should buy a ticket at the nearest newsstand or tourist stand before boarding. They are usually labeled with a Sita Bus sign. If you plan to plan to ride the buses a lot, you can get a 24-hour or three day pass (€6.80/€16). Regular tickets are valid for 90 minutes after being validated on the bus. The buses run about once every 30 minutes, and less in winter.
We don't recommend riding these buses with kids, especially in summer or peak times, and especially if your kids tend to get carsick. Amalfi Drive is extremely winding, drivers are notoriously impatient, and the buses are almost always packed to the gills, even outside of the summer season. In summer, you may not even be able to get on when it comes.
We took Sita buses three times during our trip. The first was when we arrived, from Salerno train station to Cetara. It was only a 30-minute ride, and we did get seats, but my daughter almost puked.
The second and third time was a short half-day trip we did from Cetara to Vietri Sul Mare, only 15 minutes each way. We didn't get seats, and my son DID puke.
Therefore, it's an easy call to make if you are visiting Amalfi Coast with kids: take the ferries instead of buses if you can, and try to stay in a town that has ferry access. This is one of the reasons we chose to stay in Cetara: the ferry ride to Salerno (which of course we took when we left) was only 15 minutes, and not bumpy at all.
Where to Stay on Amalfi Coast with Kids
The toughest choice you may have to make on your family trip to Amalfi coast is which village to stay in. Some of the most popular places to stay on Amalfi Coast (like Positano) are the least kid-friendly due to their vertical nature and huge amount of steep stairs. But with so many different choices, from the resorts of Sorrento to the tiny villages like Cetara, there is still something for every family in Amalfi Coast.
In my opinion and based on reading the experiences of other family travelers, the best places to stay on Amalfi Coast with children are Sorrento (for easy access and selection of resorts), Amalfi (for the most things to do), Maiori (for the longest beach and flattest town), and Cetara.
Besides the family friendly Amalfi Coast hotels I recommend in each section below, you can also find many great apartment rentals, which usually come with the advantage of having your own kitchen.
We chose to stay in Cetara for reasons that I will explain in detail below, but we also visited Amalfi town, Erchie (a tiny beach town beside Cetara), and Vietri Sul Mare (a pottery town) as half-day trips during our stay.
For each of the towns & villages below, I'll describe why they are good (or not so good) for kids. I've arranged them from east to west, so you'll find the most popular villages toward the end.
If you are staying in Naples before or after your trip, we had a fantastic stay at this apartment. It is located near the airport, which is perfect if you are just arriving or departing. The owners were exceptionally kind, the gorgeous (and huge!) apartment was filled with loving touches, and there were two huge patios for our kids to play on, one overlooking a beautiful courtyard garden.

Also, Pizzeria Carminiello (an off-the-beaten-track pizzeria that is considered one of the best in Naples) was a short walk away.
Salerno with Kids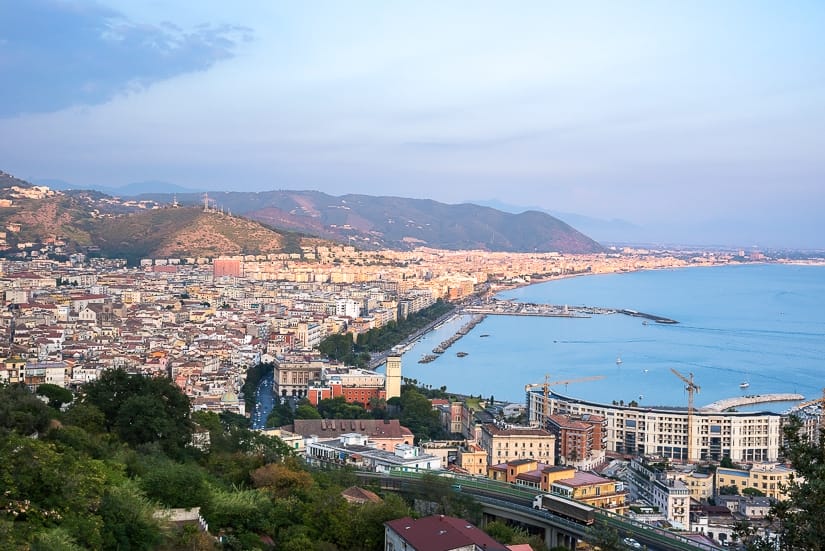 The port city of Salerno is the capital of the province of the same name. It sits on the Gulf of Salerno, and is the main eastern access point to the Amalfi Coast.
It is likely that you may pass through Salerno, but unlikely that you will actually stay there. We found it had a picturesque waterfront, and the kids enjoyed seeing all the huge ships, cranes, and other activity on the loading dock.
If you take the train from Naples to Salerno, be sure to watch out the window when approaching Salerno, as you can see the whole harbor and dock from above.
The Salerno train station is only a five-minute walk from the ferry dock (make that 10 minutes for slow kids) for ferries to Amalfi Coast. You don't need to book ferry tickets in advance, but be sure to check the schedule before booking your train tickets, as there are a limited number of sailings per day.
If you catch the SITA bus to the coast, the bus stops just outside the train station, and you can buy tickets from the travel agency near the bus stop outside.
If you do need to stay in Salerno for whatever reason, you find the best hotel deals in Salerno here.
Vietri Sul Mare with Kids
Vietri Sul Mare is the first stop on the Amalfi Coast if you're coming from Salerno like we did. It is only a few kilometers from Salerno and is on the regional (slow) train line from Naples to Salerno.
The town is known throughout Italy for its ceramics, and is famous for its majolica, or bright earthenware pottery. There are dozens of shops in town, especially in the streets around the train station and Sita bus stop.
Our kids were interested in the pottery, but did get bored fairly quickly after looking in multiple shops. We promised them a gelato to let us keep looking until we found what we wanted. A lot of the pottery shop merchandise got repetitive (so many Amalfi lemons…), but we found a few gems. My favorite shop was Figulus La Ceramica di Vietri, which had some really innovative and cute ceramics, for example tiles of Mt. Vesuvius erupting, with real chunks of stone embedded in the fume of ash.
We ended up having the gelato we had promised to the kids and some really excellent pastries at Cafe' Pasticceria Russo near the bus and train station. We also noted that the gelato was less than half the price it had cost in other more touristy Amalfi Coast towns.
Besides pottery shops, Vietri sul Mare has a few large beaches and some good restaurants, so it could be worth an overnight stay for some, and is certainly easy and convenient to reach.
For young kids, though, the city is a little spread out and is steep in areas if you venture far from the train/bus station, so it's not ideal. Personally, we were glad we visited, but it doesn't feel far enough along the Amalfi Coast to want to base ourselves there for an extended stay.
Family-friendly Hotels in Vietri Sul Mare
La Casetta di Francesco (see on Booking / TripAdvisor) is a solid budget choice for families, with cooking and laundry facilities and access to a hot tub. It's right in the center of town near the bus stop and among the pottery shops.
Cetara with Kids
After much research and consideration, I chose Cetara for our week-long family trip to Amalfi Coast. You can read my extremely detailed guide to Cetara to find out exactly why we chose and loved it so much.
To sum it up here, Cetara is practically unknown to most foreign visitors. It is famous around Italy and the world for its seafood, especially red tuna, anchovies, and an ancient (like Roman period ancient) sauce made from the drippings of anchovies. It is the most traditional Amalfi Coast village. These are the things that appealed to Emily and I.
For the kids, the best thing about Cetara was that is really small, and we were able to score an excellent deal on a really cute apartment (see below) that was 10 steps from Cetara's little beach. Also, at only 30 minutes in by bus or 15 by ferry, it is very easy to get to, but far enough away to feel isolated.
Cetara occupies a valley and does slope gently uphill, but you don't have to walk far to reach anything as most things are at the bottom of the village near the water. And there were still at least some interesting narrow lanes and staircases, which our kids loved exploring.
While other Amalfi Coast villages are even flatter (notably Maiori), we felt Cetara looked more beautiful and characteristically Amalfi Coast.
Family-friendly Hotels in Cetara
Marinella Casa Vacanze (see on Booking / Agoda) is where we stayed for our whole Amalfi Coast family trip. This cute, newly renovated apartment in an ancient building is RIGHT on the pedestrian-only seaside promenade, with the beach a few steps away.

The kids loved the bunk beds and colorful bedroom lights, and we made great use of the little kitchen. And the price? Even below our already low budget. The only downside was that the apartment was tiny, but we just had to work with the space we had.
Maiori with Kids
Maiori is one of the most family-friendly places to stay on the Amalfi Coast because it is almost totally flat, with a large selection of properties that are all right next to the beach.
The beach is the real draw here; at nearly a kilometer, it is the longest on the Amalfi coast, and one of the few that is sandy, not rocky! This also means you would have more space on the beach. Most beaches on the Amalfi Coast get completely packed in summer, and even in October in Cetara, we felt we had to constantly try to keep our kids quiet so as not to annoy all the locals tanning in the sun around us.
Besides the beach, Maiori village has a long coastal promenade and a castle. Maiori doesn't see the same tourist masses as Amalfi and Positano do, so if you prefer to escape the crowds and enjoy a convenient, beach-focused holiday with young kids, this may be the best spot for you!
Family-friendly Hotels in Maiori
Casa Elena (see on Booking / Agoda) has two-bedroom simple apartments right across from the beach and friendly hosts.

La Via Del Mare (see on Booking / Agoda) also features holiday homes right beside the beach and perfect for families.
Minori with Kids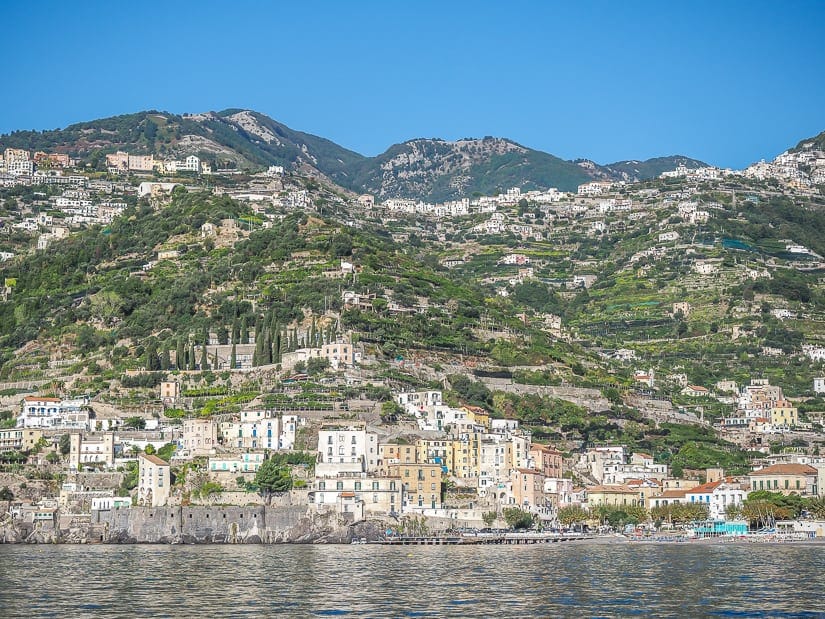 Minori is a small, lesser known, and quiet village on the Amalfi Coast. It is often lumped together with Maiori because they are so close together and in the same bay.
Minori has a small beach and is home to the ancient ruins of Villa Marittima Romana. It has been famous for centuries for its pasta and has an annual food festival called Gusta Minori.
Minori may appeal those who like to get a little off-the-beaten-track, love food, history, and/or want to be near but not right in Amalfi. It is relatively flat, but with kids, you may want to consider nearby Maiori, which has similar positive features but a much longer beach.
Family-friendly Hotels in Minori
La Loggia (see on Booking/ TripAdvisor) is right on the beach and comes with a kitchen and balcony with a great view of the sea.
Ravello with Kids
Ravello is a tiny, beautiful village perched on a mountaintop overlooking the coast between Amalfi and Minori. It is known for its stunning gardens with incredible views, such as Villa Cimbrone and Villa Rufolo.
For kids, the gardens are great for exploring and are pleasantly crowd-free. While most people visit for an hour or two by bus from Amalfi (20 minutes), some families may like it enough to spend the night.
Although it is certainly worth the trip, and some people may even find the views and romantic vibe worth savoring for several days, I wouldn't choose Ravello as a base for exploring Amalfi Coast because, well, it's not right on the coast!
If you don't care so much about that, the fact that several decently priced accommodations features pools with incredible sea views will surely make up for it.
Family-friendly Hotels in Ravello
Gala Residence Ravello (see on Booking / Agoda / TripAdvisor) has a pool with a phenomenal view and two-bedroom houses for rent at decent prices.

Hotel Graal (see on Booking / Agoda / read reviews) also makes great use of the views from its pool and offers family rooms with balconies that also have a view.
Atrani with Kids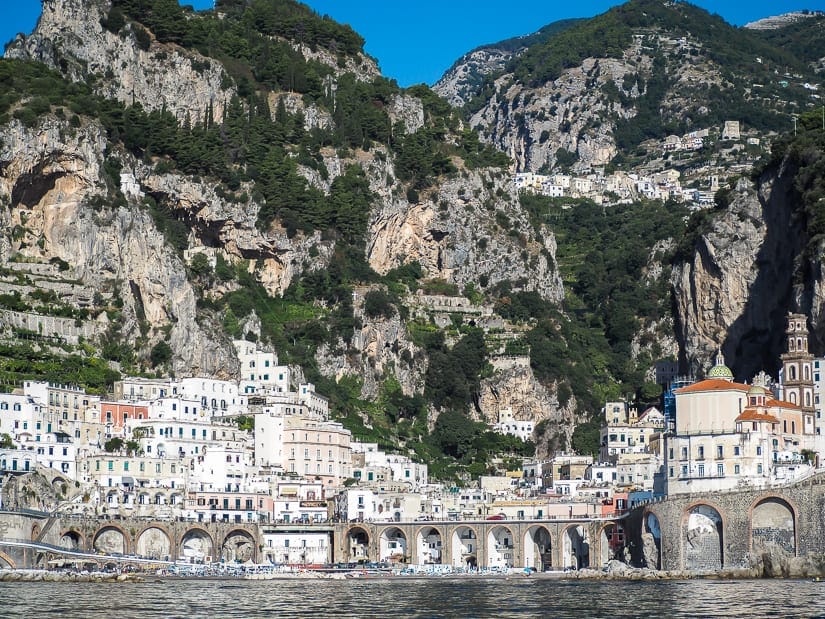 Atrani is a less crowded alternative to the very popular Amalfi, which is just around the corner. There is a large beach here that is a mixture of sand and rock, but be prepared to find it totally taken over by sun loungers in summer; you'll have to pay €20 for two sun loungers and an umbrella.
While we didn't personally visit Atrani, researching other reviews made it seem appealing to me if I were visiting without kids. If your family is the adventurous type (perhaps with kids who aren't too young), and you like to be close to action but not right in it, then Atrani may appeal to you.
But with young kids, it would be rather inconvenient because the ferry doesn't stop there; you have to either walk 15 minutes from Amalfi (with luggage and kids? I don't think so…) or ride the horribly packed Sita bus for a few stops. Therefore, it's about as far as you could possible get from either end of Amalfi Coast. On top of that, the town looks quite vertical, which most certainly means lots of steps.
So is Atrani family-friendly? I would say not, for the above reasons. But it did look really incredible when we passed by on our ferry ride to Amalfi (see the photo I snapped from the ferry above), with its picturesque row of arches holding up the highway through town. If you've stayed in Atrani with children or without, please tell me about your stay in the comments below!
Family-friendly hotels in Atrani
If you do decide to stay in Atrani, then G&G Amalfi Coast (see on Booking) is as close as you could get to the beach. The rooms offer sea views and bunk beds for the kids.

Another choice that is only a short walk up into the town and overlooking a traditional square is La Finestra Sul Borgo (see on Booking / Agoda), which has everything a family could need for an extended stay, including large kitchen, washing machine, and a secret hidden room up a ladder that kids would love.
Amalfi with Kids
Amalfi town is smack in the middle of the Amalfi Coast and lends the area its name. Because it is larger, Amalfi offers a livelier atmosphere and more things to see and keep you and your kids occupied.
Compared to its more popular and upscale sister Positano, Amalfi is flatter, making it more child-friendly. It is every bit as touristy, but decidedly less posh, and with far fewer stairs to cover. And while Positano has the iconic postcard Amalfi Coast view, Amalfi is not far behind and is also extremely beautiful in its own right, with pastel structures clinging precariously to cliffs all around the town.
The lively streets of Amalfi feature ample shopping, historic architecture, lovely squares & fountains, and the stunning Amalfi Cathedral (Cathedral of Saint Andrew the Apostle), the most beautiful cathedral on the Amalfi Coast.
We did a day trip to Amalfi specifically because I wanted to see the Cathedral, but also to take the kids to the Museum of Paper (Museo della Carta) 10 minutes walk up road. While there is a distinct lack of kid-friendly attractions in Amalfi Coast, this is definitely one of them!
For only €4.50 per adult (€2.50 age 5-18, under 5 free), we got a 30-minute tour of what is purported to be the oldest paper making factory in Europe! The tour was informative but also fun for kids; the underground facilities are a little spooky, while Sage got to try his hand at making paper in the traditional way.
The museum's surroundings are really lovely, with cliffs above and a creek flowing right through it. After, we had lunch at Ristorante Il Mulino a few steps away. The food was excellent and reasonably priced; it's far enough up the road that few tourists make it up there.
So is there any downside to Amalfi with children? Well, it gets really, really crowded. Even when we visited in October, it was a bit much in some of the narrow lanes. I've also read reviews saying that it has more of a party vibe in summer and can be noisy.
For us, we were really glad we visited, but it was extremely touristy (and one medium sized gelato cost us 8€!). Going there only further made us appreciate our little apartment in Cetara, where we felt like we were the only tourists in town.
Amalfi is also the starting point for popular cruises to Capri with the option to stop at Blue Grotto.
Family-friendly Hotels in Amalfi
Hotel Fontana (see on Booking / Agoda / TripAdvisor) has an unbeatable location right in the center of town, close to the sea and bus stop.

Albergo L'Antico Convitto (see on Booking / Agoda / TripAdvisor) offers super friendly service, large family suites and a very convenient location.
Praiano with Kids
Praiano is a small, somewhat spread out, and lesser-known alternative to Positano. However, it has the same issue as Positano, which is lots of stairs.
On the plus side, Praiano is much quieter, has a few great beaches, and a laid back vibe. It's also known for great sunsets, receives sunlight for most of the day, and is home to the beautiful Church of San Gennaro, pictured above.
Like Atrani is to Amalfi, Praiano might be a good choice for those who want to be close to Positano, but not necessarily stay in it.
Family-friendly Hotels in Praiano
Hotel Margherita (see on Booking / Agoda / read reviews) is a fantastic choice with pool, great food, balconies with sea views, and it doesn't require walking up steps to reach from the main road.
Positano with Kids
As I mentioned above, Positano is the most popular town on the Amalfi Coast (the photo above should give you a pretty good idea) but perhaps the least child friendly, especially for younger kids, due to so many steep stairs.
It is also perhaps the most expensive town, so you'll have to pay more to be closer to the water, and be ready to be surrounded by people, and what some may describe as a snooty vibe. Also, since there are many bars and night clubs, it could be noisier at night.
Still, Positano is unimaginably beautiful. The city boasts the most iconic views on the Amalfi Coast, and I admit that we were also tempted to stay here.
Positano has a large sandy beach and several more to choose from within easy reach. It's also a fairly convenient choice due to more ferry options than some other stops along the coast, and it is the closest main stop to Sorrento.
If your heart is set on Positano but you've got kids, it can still be done. There are articles out there by families who love Positano and return to it regularly. So long as you know what you're in for!
From Positano, there is a popular day trip to beautiful Capri island and the mesmerizing Blue Grotto. For more information on this gorgeous island, see the highlights of Capri in this post.
Family-friendly Hotels in Positano
Casa Malu (see on Booking / Agoda / TripAdvisor) is in a convenient location on the main street and close to a bus stop. Apartments come with a large terrace for the kids to play on.

Hotel Eden Roc Suites (see on Booking / Agoda / read reviews) is a classier option with a pool (rare) and also parking (also rare). Suites have epic views of Positano, and some suites come with private hot tubs with ocean views.
Sorrento with Kids
Sorrento is is a cliff-top resort town with views of Mt. Vesuvius and the island of Capri. It is very popular among families, both domestic and foreign.
Sorrento is not technically on the Amalfi Coast, but I include it here because it is the main access point to the Amalfi Coast (with various transportation connections), it is closest to Naples (and Mt. Vesuvius), and it has some great family friendly hotels (hello swimming pools!)
Because of these conveniences, some people choose to stay in Sorrento and make day trips to Amalfi Coast or Pompeii/Naples.
It's also worth noting that some people who've stayed there with kids say it's a busy city with lots of traffic and hills, so it's not ideal for exploring with kids. But if you just want a resort escape that is super easy to reach from Naples, and with lots of day trip possibilities, this may be for you.
If you're staying in Sorrento, consider taking a private tour in a Mercedes to Positano, Amalfi, and Ravello to save the trouble of taking the local buses or ferries between each spot. A real time saver!
Family-friendly Hotels in Sorrento
All of the below hotels feature swimming pools—perfect for the little ones!

Hotel Antiche Mura (see on Booking / Agoda / TripAdvisor) is a charming spot only five minutes' walk from the bus and train station.

Imperial Hotel Tramontano (see on Booking / Agoda / read reviews) offers epic views of the Bay of Naples and a private lift down to the water.

Artis Domus Relais & Spa (see on Booking / Agoda / read reviews) is a good budget-friendly choice.
Well, I hope this article has helped you in planning your family trip to Amalfi Coast with kids. If you have any question, please feel free to ask in the comments below!
I never travel without a good guidebook! Here are the top Italy and Amalfi Coast guidebooks: