Dear reader: This article contains links to products and services that I may be compensated for, at no extra cost to you.
By Rohit Agarwal of Trans India Travels
You may worship a certain god or follow a certain religion, but when it comes to spirituality, no religion is different. Spiritualism comes from your soul, and the philosophies of every religion, no matter how different, will all help you reach out to your soul. India is a land of a countless number of religions, and pilgrimage sites are found vastly all across the country.
What better place than here if you're looking for a spiritual awakening? This is the country of extensive culture and deep religious beliefs. Pilgrimage sites in India are of major importance to to the people of this country, and if you wish to return home with a fresh, awakened self, take a look at the few such pilgrimage sites you should visit.
Related – See my guides to the best pilgrimages in the world for travelers and the most popular European pilgrimages.
1. Bodh Gaya
One of the most prominent pilgrimage locations of India, Bodh Gaya is the home of the Mahabodhi Temple, containing the Bodhi Tree, under which the Buddha attained nirvana (enlightenment).
This temple finds itself looking over the meditating monks, whom you can either join, which will, without a doubt, make you feel rejuvenated and alive, or you can traverse through the temple grounds and find peace within.
The Bodhi Tree will provide you with a spiritual awareness like no other, and the larger than life Buddha statue is sure to leave you spellbound.
2. Basilica of Bom Jesus, Goa
This World Heritage Site is revered due to the relics of St. Francis Xavier, and is one great model of baroque architecture. The silver casket that contains St. Francis Xavier's body is placed in the mausoleum gifted by the Grand Duke of Tuscany.
Not only is this 408 year old Basilica significant to Christians, it is also a great place for spiritual seekers. Tourists are found in a large number in Goa every year, and this church has attracted many of those.
You can truly admire the peacefulness that this church offers, and the beautiful architecture on the outside as well as inside, which is also adorned with paintings by famous artists. Even as a tourist, you can visit this church for its impeccable design.
3. Haridwar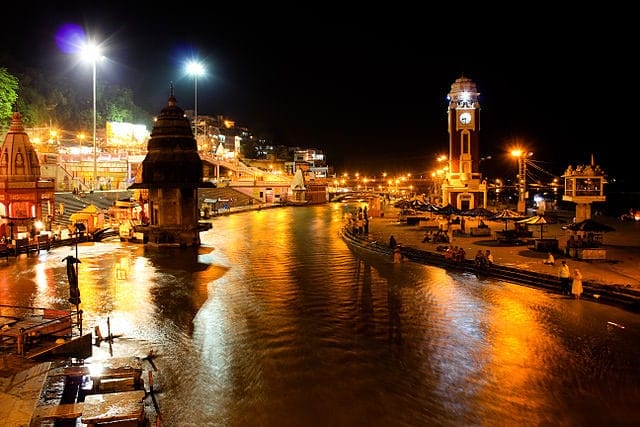 Chants to worship the holy Ganges, chimes and hymns echoing all across the place, Haridwar is the town of Gods. People wash away their sins in the sacred river of Ganges, amidst the beautiful, albeit crowded city of Haridwar in Uttarakhand.
From here, devotees and pilgrims embark upon their journey to Chaar Dhaam. Haridwar is one of the sapta puri, or seven holy pilgrimage sites of India, and amidst the ambience of this growing, developing but spiritually awakening city of Haridwar, you can have the experience of enriching your soulfulness.
Practice yoga in the quaint ashrams, walk across the ghats of Ganges, or just explore the unexplored spots; it's sure to take you on a calming journey.
4. Ajmer Sharif Dargah, Ajmer
Ajmer is famous for its historical architecture, marvelous bazaars and old, quaint looking homes scattered through the city. Being one of the most historically coveted cities, Ajmer houses the prestigious Khwaja Moinuddin Chisti Dargah, which has attracted not only sufi devotees but spiritual seekers from all over the world.
It consists of three main gates, one of them being the Shahjahani Gate, which was built by Emperor Shah Jahan of the Mughal dynasty. The Kalandars—friends of Garib Nawas arrive from Delhi on the day of Urs—death anniversary of Moinuddin Chisti, which is known to be the major attraction during that time.
This Dargah is known to fulfill wishes of those who come and pay their respects, and it has attracted people from other religions as well.
5. Haji Ali Dargah, Mumbai
Amidst the bustling city of Mumbai is the shrine of Pir Haji Ali Shah Bukhari; in the waters of Worli Bay. The Indo-Islamic architecture is sure to leave you entranced.
The beauty of this Dargah is unmatched, and a visit to the shrine will only awaken you more, as you walk through the elaborate carvings and inscriptions. Its popularity in India is quite wide-spread, and it is one you surely shouldn't miss.
As a spiritual seeker, it will bring out the best in you, and take you through a journey of meeting yourself, just like the other such pilgrimage destinations.
6. Tirupati
The spiritual capital of Andhra Pradesh, Tirupati is the abode of one of the most significant Hindu gods, Vishnu, attracting a large number of devotees all through the year. The forever crowded Tirumala Venkateswara Temple is a must visit if you're a spiritual seeker.
Tirupati is also one of the quietest cities of Andhra, with a number of universities and colleges of great importance. For your experience of reaching out to yourself, Tirupati is a place you don't want to avoid.
7. The Golden Temple, Amritsar
The ever-illuminated city of Amritsar is an alluring one, and the dome of the Golden Temple shines brightly above. More commonly referred to as the Golden Temple, Harmandar Sahib was built by Guru Arjan Singh—the fifth Guru of the Sikh religion, who also established the Adi Granth in this temple.
The temple has four entrances, amidst the surrounding of a beautiful lake, which is considered as holy water or Amrit. Inscriptions and intricate carvings in and around the temple make it even more enthralling a sight. Take a dip in the Sarovar and pay your respects in the temple, listen to the Gurbani and leave with an energized, serene feeling throughout your mind, body and soul.
8. Char Dham
Last but certainly not least, Char Dham or "four abodes" is a set of four pilgrimage destinations in India: Badrinath in the north, Puri in the east, Rameswaram in the south, and the magnificent temple of Shree Dwarkadhish in Dwarka in the west. Hindus believe that they should visit all four Char Dhams in their lifetime.
The Badrinath pilgrimage itself in fact consists of a collection of four pilgrimage sites in Uttarakhand: Yamunotri, Gangotri, Kedarnath, and Badrinath. Walking to all four of these magnificent pilgrimage spots is the ultimate endeavor.
You don't have to be an ardent devotee to visit the aforementioned pilgrimage sites in India, because if you can find your spirituality within you in the vicinity of these places, you've acquired the essence of it anyway. So don't hesitate in spending your time in one of these brilliantly calming destinations.
About the author
Rohit's interest lies in everything that would intrigue a tourist, and through this interest of his, he pens down his experiences on TransIndiaTravels.com for us to see.