Dear reader: This article contains links to products and services that I may be compensated for, at no extra cost to you.
Looking back at our unforgettable honeymoon in Italy, the Cinque Terre portion of it was definitely the highlight. If you are considering having a honeymoon in Cinque Terre, or even just going there for a romantic getaway, then you will definitely not be disappointed.
Cinque Terre, or "Five Lands" is a rugged coastal region in Liguria, Northern Italy. It is composed of five charming, cliff-hugging villages of pastel-colored homes. A single railway line and network of hiking trails connect the villages, and the whole region is a national park and UNESCO World Heritage Site.
Often compared to Amalfi Coast in Southern Italy but with a less touristy vibe (see all the differences between Cinque Terre and Amalfi Coast here), Cinque Terre is one of the most stunning, quintessential Italian destinations.
A Cinque Terre honeymoon is the way to go if you want to combine the mountains and sea, delicious local Italian food (the area is the possible birthplace of pesto sauce, focaccia bread, and limoncello!) and reasonable prices, a chilled out vibe and lots of things to do, and romantic vistas in every direction that you look.
Of the 50+ countries I've been to, I would honestly say that Cinque Terre is one of the top-5 places I've ever been, and it is surely one of the best places to visit in Italy and top summer destinations in Europe. That's why I've decided to put together this list of reasons why my wife and I loved Cinque Terre.
Edit: 6 years after going to Cinque Terre for our honeymoon, we returned to Italy again, but this time with two kids! Here's my detailed guide to traveling around Italy with kids.
This time, we stayed in Cetara, a small fishing village on the Amalfi Coast. See here for my detailed guide to Cetara neighboring Erchie on the Amalfi Coast, as well as how to travel to Amalfi Coast with kids.
Cinque Terre Romantic Tips:

– You can visit Cinque terre on a day tour from Florence or from Milan, but to truly soak up the region's immense beauty, you need to stay for sunset from one of the villages and retire to a room overlooking the sea.

– For something really special, hop on a sunset boat tour, take a private wine tour.

– Consider visiting in the shoulder season (late spring) like we did, or in autumn, when the weather is perfect, to avoid the summer tourist crowds.

– Search here for the best guesthouses in Cinque Terre.
Why Our Cinque Terre Honeymoon was Perfect
1. Cinque Terre is just really, really pretty.
The pictures say it all here. But no matter how many times you look at those (often heavily processed) picture postcard views of Cinque Terre, the truth is that you will still be blown away by its beauty and grandeur from the moment your arrive.
We chose to stay in the village of Manarola, because it seemed to us to be the most beautiful of the five villages. The view of Manarola from across the bay is probably the most iconic shot of Cinque Terre.
We stayed at simple Vandiris Hotel (read reviews / see prices) in Manarola because we wanted seclusion, a sea view from our balcony, and a budget friendly-price.
2. Each of the five village has its own personality.
Whether you want to spend your honeymoon hiking and exploring, or sitting on your balcony overlooking the Ligurian sea and drinking wine (we did a combination of both), there is a Cinque Terre village for you. Also, each of the villages is beautiful in its own way, so you really can't go wrong!
Traveling from north to south, the first village, Monterosso, is best for beach lovers and people who can't handle too many stairs.
Vernazza is also relatively flat and has a livelier vibe. It's the most popular village and it's got a cute little church on the waterfront.
Corniglia is on top of a cliff so it doesn't have access to the water, but it offers expansive views and is the starting point for a great hike to Manarola, which has been called one of the best hikes in all of Europe.
Manarola was our choice village because it seemed to be the prettiest and most romantic.
We also almost chose Riomaggiore for the same reasons as Manarola, and were glad that we at least visited the fifth village one day. Some people say Manarola has good bars and better budget-priced accommodations.
3. There are no cars.
No traffic? Yes, please!
We loved the fact that all the roads in Cinque Terre were traffic free. The lack of noise from cars makes it much easier to relax and soak up the romantic atmosphere of the five villages.
In fact, getting lost in the little cobblestone alleyways and staircases leading up from the waterfront in the different villages was one of our favorite things to do in Cinque Terre.
The train travels from Levanto to the north through each of the five villages to La Spezia to the south of Cinque Terre. It passes through once or twice per hour, so you don't have to worry about times.
Exploring Cinque Terre on foot or by train makes it feel like much more of an adventure!
4. It's not too touristy.
OK, so Cinque Terre is still touristy, and apparently tourist numbers have increased since we went a few years ago.
But coming from Venice as we did, Cinque Terre felt worlds (or universes) apart. The vibe was way calmer and we only saw a few tour groups. It felt more like a backpacker's destination than a tourist center.
All the restaurants where we ate felt very local to us, and the prices of meals and our accommodation were very reasonable for what we got.
The is really quite surprising considering how beautiful Cinque Terre is, but let's just hope it stays like this.
I should also point out that we visited in May, which is probably much less crowded that visiting in summer.
5. The incredible angles
While exploring Cinque Terre, we often found ourselves stopped in our tracks and staring upward. That's because the villages are so vertical, many of the best views can be found looking straight up (or down!)
The whole area is truly a photographer's dream, no matter whether you are into photographic nature or architecture. There are countless amazing photo spots in Cinque Terre!
6. The pastel colors
Like the Amalfi Coast in Southern Italy, the homes of the Cinque Terre villages are painted in a rainbow of pastel colors. We loved the individual colors up close, but also the kaleidoscope they formed when viewed from afar.
One of the most beautiful moments of our trip was seeing the colorful walls of Riomaggiore glow under the late afternoon rays before sunset. The feeling was nothing short of magical.
7. Amazing hikes
As much as I like to chill out on a holiday, I still can't resist a good hike. My wife would have happily stuck to the former, but was glad that I forced her to do the incredible walk from Manarola, where we stayed, to the neighboring village of Corniglia.
The walk first took us through vineyards and lemon orchards in the upper reaches of Manarola, before ascending through farmland and tiny villages to a mountaintop church, after which we had our first jaw-dropping views of Corniglia far below.
In fact, all five villages are connected by the Sentiero Azzurro or "Azure Trail," but at the time of writing, the section between Manarola and Riomaggiore was damaged, although it was still possible to walk a steeper, more difficult route.
See here for more information on hiking in Cinque Terre.
8. Drinking Limoncello while looking at lemon orchards
If you love lemonade, then you have to try Italy's boozy version: limoncello. The drink originates in Southern Italy but is found all over Italy, and is often called limoncino in the north.
Made from lemon zest steeped in grappa (distilled grape liquor), the refreshing spirit is sweet, tart, and packs a punch.
What better way to enjoy this lemon spirit than while overlooking lemon orchards growing in and around many of Cinque Terre's villages?
The bottles of Limoncello sold in tourist shops in Cinque Terre are also quite photogenic and make lovely gifts, if you can manage to get them all the way back home without drinking them.
9. Staying in a room overlooking the sea
Isn't a room with a sea view what we all want on a holiday, and especially on a honeymoon? The good news is that in Cinque Terre, due to the vertical nature of the villages, this is not hard to find, and you won't have to spend a fortune for it.
Our simple room at Vandiris (read reviews / see prices) was perched hundreds of meters above the sea, looking straight out at the horizon. We spend many hours of our trip just chilling on our bed or on the balcony gazing out.
Find the a room in Cinque Terre that best suits your budget in this guide to where to stay in Cinque Terre.
10. Awe-Inspiring Sunsets
The sunsets alone are reason enough to have your honeymoon in Cinque Terre. No matter which village you are in, make your way to the harbor front for sunset.
Don't leave it to the last minute, either, as the setting sun begins lighting the walls in the villages up with gorgeous colors about 1-2 hours before it actually sets.
We particularly enjoyed the sunset in Riomaggiore and the village where we stayed, Manarola. Most villages have rocky areas close the water that are great spots for taking in the sunset.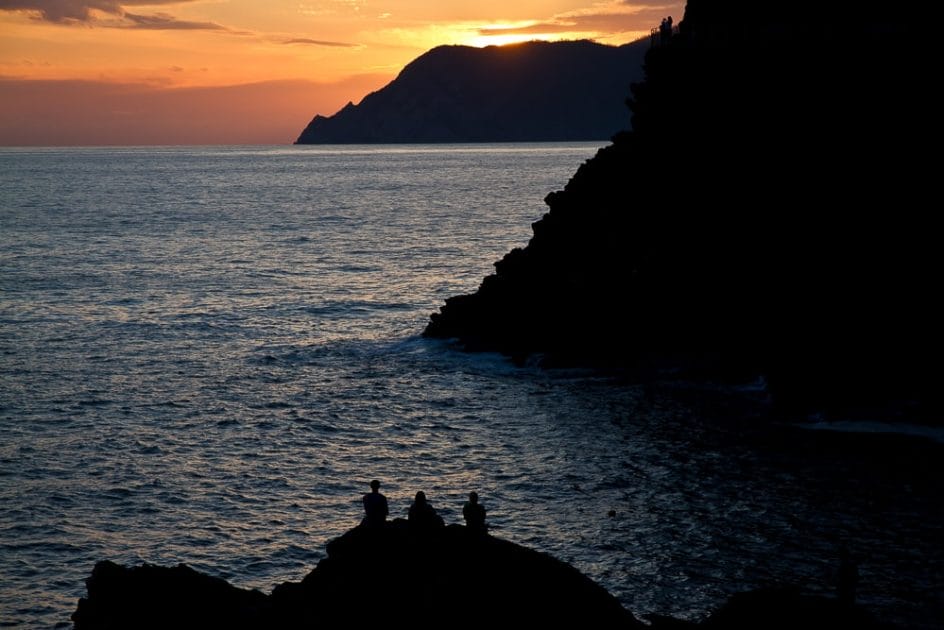 11. Welcome to the homeland of pesto.
If you and your soon-to-be lover-for-life enjoy pesto as much as we do, then you are in for a real treat. This rich sauce made of basil, garlic, pine nuts, cheese, and olive oil originates in the Liguria region where Cinque Terre in located, and is featured prominently in local shops and restaurants.
We really enjoyed pesto lasagna for one meal, but our favorite was the slices of focaccia and other breads lathered in a thick layer of pesto sauce in local bakeries. The focaccia with pesto was so good that I even ran back to town through a tunnel to buy one last slice before we left and nearly missed our train out of Cinque Terre.
12. There are cats everywhere.
Who doesn't love spotting a frisky feline lazing in the sun and posing for shots with a beautiful background like Cinque Terre offers? We also spotted several furballs like this one guarding souvenir shops in town.
Here's a whole post on the cats of Cinque Terre!
13. Simple, authentic cuisine in local trattoria
My wife and I are Italian food lovers, and after some terrible dining experiences on the Venice part of our Italy honeymoon, we instantly fell in love with the food in Cinque Terre.
For out first meal after we arrived in Manarola, we stepped into a simple trattoria by the harbor called La Scogliera and loved it so much that we returned many times during our stay.
While we hadn't been to many other places in Italy so we can't really compare, the food in this restaurant was as good as we'd hoped for, the vibe was local, and the prices were reasonable.
14. Fresh seafood
This is connected to the last point, but we are also seafood lovers, and for us nothing beats having delicious roasted seafood while sitting right beside a pretty harbor.
Even the takeaway calamari that we got one day was the best we'd ever had.
15. Eating in a cave restaurant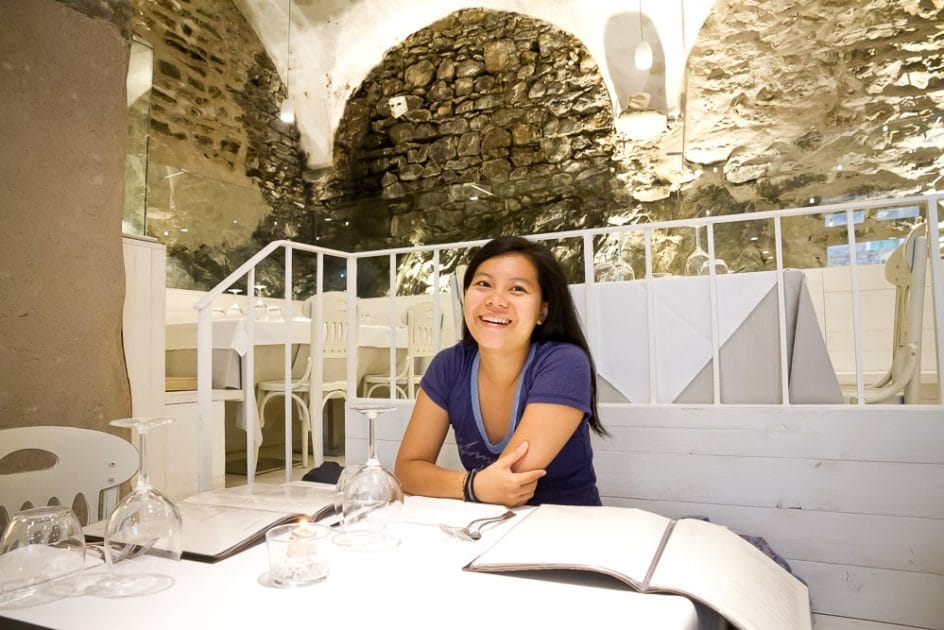 Besides chasing Cinque Terre's most gorgeous sunset, another reason we went to Riomaggiore one late afternoon was to dine at Dau Cila, which we had read was Cinque Terre's best restaurant.
Dau Cila is just off the harbor, but we actually chose to sit inside, as the interior feels like a cave. Everything about the meal was perfect, from cavernous atmosphere and presentation to the food itself.
While we obviously haven't tried all the restaurants in Cinque Terre, we can confirm that this one is definitely worth the trip.
16. Gelato everywhere
This goes for traveling just about anywhere in Italy, but eating gelato every day (or two, or three times as day) was still one of the highlights of visiting Cinque Terre for me.
The gelato we had after walking in the sun from Manarola to Corniglia was particularly satisfying and memorable.
17. Glimpses of everyday life
Sometimes when you are traveling in popular European destination like Italy, you start to feel like you are surrounded by tourists all the time.
To be clear, Italy is definitely a touristic destination, but we were still able to enjoy glimpses of local life, such as this farmer we encountered above Manarola who was more than happy to pose for photos.
18. The fine details
While the incredible village panoramas get all the attention from photographers, we found just as much beauty to appreciate in the smaller details in Cinque Terre, from painted window sills and door handles to shop signs and street addresses.
19. Diversity of flora and fauna
Thanks to its designation as a national park in 1999, Cinque Terre's landscape remains relatively untouched and is home to a wide variety of plants and wildlife.
Birds you may spot include herring gull, the peregrine, and the raven. If you are lucky enough you could see a weasel, mole, badger, fox, frog, salamander or even boar. Common plants include fig trees, fennel, capers, strawberry, and juniper.
20. The smell of the sea everywhere you go
Take a deep breath and try to imagine the salty breeze of the Ligurian sea. That's what it's like to be anywhere in Cinque Terre, the perfect accompaniment to an idyllic honeymoon!
I never travel without a good guidebook! I recommend the following for visiting Italy and Cinque Terre, plus a beautiful Cinque Terre artwork!