Dear reader: This article contains links to products and services that I may be compensated for, at no extra cost to you.
Hikers doing Japan's Kumano Kodo walk, a network of trails that follow a pilgrimage route going back over 1000 years in Wakayama prefecture south of Osaka and Nagoya, are rewarded with a plethora of hot spring baths along the trail.
After tramping up and down forested trails all day long, one of the best things to do in Wakayama is relieving your sore muscles in one of the piping hot, mineral infused Wakayama hot springs, especially if you are visiting Japan in winter.
Wakayama onsens are ancient and secluded, and the tiny hot spring village of Yunomine onsen, an important stop on the Kumano Kodo pilgrimage, is the world's only UNESCO World Heritage Site hot spring. After tramping up and down forested trails all day long, nothing could be better than relieving sore muscles in a pool of piping hot, mineral infused water.
Traveling around Japan and want to save money? You can find excellent deals and discounts on Klook for activities, transportation, tickets, and more. Create an account here and you'll get a 350-yen voucher.
The Wakayama hot springs I list below are conveniently located towards the end of the hike, at least for those doing the main Kumano Kodo trail from west to east, starting near Tanabe on the west coast of the peninsula and ending in either Hongu, Shingu, or Katsuura on the east coast, usually taking 3 or 4 days in total.
Even if you don't hike the Kumano Kodo, you can catch a bus into the area like I did and visit most or all of the hot springs on this list in 2-4 days. Wakayama's onsens and the Kumano Sanzan temples are worth the trip, and there are plenty of day hike options in the area.
Personally, I prefer staying in one spot and doing short day hikes from there. Tiny, traditional Yunomine onsen provided the perfect base, from which I visited the first four springs on this list, all on foot. The last hot spring on this list is a 2-3 hour bus ride away. Yunomine onsen is right on the Kumano Kodo, so I was even able to do one easy section of the legendary pilgrimage.
Visitors from Asia should definitely consider this 5-Day Osaka-Kumano-Wakayama area JR pass or this 7-day pass which covers a larger area.
I also LOVED soaking in onsens when I did a temple stay in Koyasan in winter, which was much colder than Wakayama.
1. Tsuboyu Onsen (Yunomine Onsen)
ancient, UNESCO private hot spring
Built right on top of the river at the center of the tiny hot spring village of Yunomine, this little shack housing a 1-2 person hot spring is a UNESCO World Heritage Site, the only one in the world in fact. The village of Yunomine actually features 2 other public hot springs and about a dozen traditional onsen inns, but Tsuboyu onsen is by far the most famous.
For centuries pilgrims have purified themselves after hiking the Kumano Kodo and before going to worship at the Kumano Hongu Taisha Shrine 1.5 hours away on foot. Legend also tells of a 15th century prince who was brought here to be cured by its healing waters.
To have this ancient Tsuboyu onsen all to yourself or with a partner for 30 minutes, you need to buy a vending machine token and exchange it for a number at the local public bath window, then wait for your turn. The full instructions are detailed on this site.
Despite its fame among locals, I never noticed a line for the spring while I was staying in town, and I only had to wait about half an hour for my turn. Just downstream from Tsuboyu is where people go to cook eggs in the hot river, and here you'll also find Yunomine onsen's bus stop, tiny village temple, and the only shops in town, which were often closed.
If you plan to stay in Yunomine onsen, Ryokan Adumaya (see on Agoda / TripAdvisor / Booking) is a great choice for a traditional ryokan (Japanese inn) experience with private onsen on site and meals included. It is located right by the bus stop. Another great (and cheaper) choice is J-Hoppers (see #4 below).
2. Wataze (Watarase)
scenic outdoor hot spring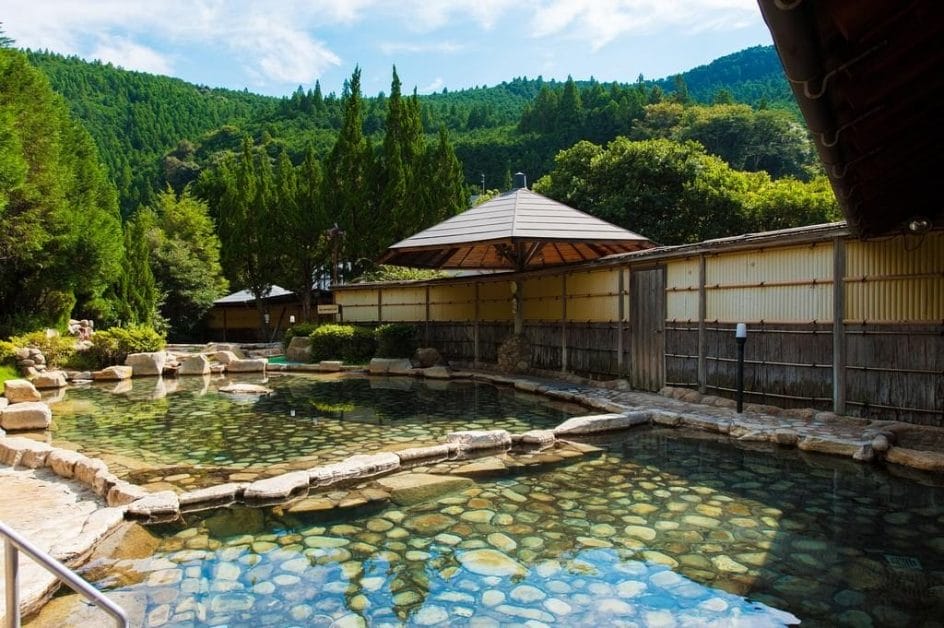 From where I was staying in Yunomine onsen, it was an easy 1-hour stroll along a country road to Wataze hot spring, which is basically just one big hotel called Watarase Onsen (see on Agoda / TripAdvisor / Booking) in a pretty valley that is known for having the largest rotemburo (outdoor hot spring) in Western Japan, according to the Tanabe Tourism website. It is said to have exceptional quality and a very high volume of water.
I actually didn't stop for a soak at this one because I was more interested in moving on to Kawayu hot spring (see #3). I also wasn't sure if they were going to be OK with my tattoos, and didn't want to bother trying . My experience in Japan was that most traditional public onsens still enforce this old rule. But note that all the other hot springs on my list are OK for people with tattoos!
(edit: according to one reader, tattoos are not allowed at Watarase, but people with tattoos can use the private rooms for 1600¥/hour)
Love hot springs? Also see my article introducing the 20 best hot springs in Taiwan!
3. Senninburo, Kawayu Hot Spring
huge river hot spring
Another 30 minutes walk past Wataze is another famous Wakayama onsen at Kawayu, called Senninburo, which means "sage bath," (sometimes incorrectly translated as "1000-person bath", mentioned by one of my kind readers!) Kawayu's hot spring is in tiny tourist town built along the river, where in the winter months only they block off a large section which fills with hot water that percolates up through the gravel bed.
In the summer, visitors can dig holes that will fill up with hot water along the riverside to make their own mini hot spring bath.
I felt so lucky when I visited, having the enormous hot spring (almost) entirely to myself; there was only one elderly Japanese guy, barley visible through the mist on the right-side picture below.
This public spring is mixed sex and most people wear bathing suits, but some locals and tourists alike go nude. They put up a makeshift wall so drivers on the main road can't see bathers changing. You can also use the changing room across the street.
There are also several decent places to stay in Kawayu. A top choice is Kawayu is Kameya Ryokan (see on Agoda / Tripadvisor / Booking), which is near Sennenburo and offers river views from traditional tatami rooms .
4. J-Hoppers Kumano Yunomine
Awesome hostel with private-use outdoor onsen
Yes, I am going to put the onsen at the hostel where I stayed on my list. In fact, each of the dozen or so traditional ryokans or guesthouses in the tiny village of Yunomine onsen has its own private bath.
I had intended to stay in one of those guesthouses, but the prices were fairly steep and many of the reviews were poor. In the end I decided to save some money and stay in a dorm at J-Hoppers Kumano Yunomine (see on Agoda / Tripadvisor / Booking) even though I usually avoid staying in hostels.
This hostel is about as good as they come. The dorm was super private; I felt like I was staying in my own miniature bedroom. They offer free cooked rice, coffee, and tea, friendly staff, beer and sake for sale, and best of all: two indoor and one outdoor onsen baths that you can use privately for as long as you want.
The water is even the same as at the famous Tsuboyu onsen. I finished every day during my stay in the outdoor bath with a beer in my hand, looking up at the hillside where the Kumano Kodo trail winds up, passing literally right beside the hostel.
For hikers who complete the full Kumano Kodo trail, they will likely end up in the harbor town of Katsuura or nearby Nachi after visiting Nachi Waterfall and Nachi Taisha temple, one of the three Kumano Sanzan, from where they will catch a train out of the region.
I decided to spend a night in this harbor town to avoid rushing. There isn't much to see in town, with one exception: the ginormous Hotel Urashima (see on Agoda / TripAdvisore / Booking), occupying an entire peninsula sticking out into the bay, features amazing Bokido Bath cave onsen, easily the most unique and impressive of Wakayama's onsens, where visitors can bathe inside several different caves facing the sea. You can get to the hotel by taking a free five-minute ferry.  
The bad news is that tattoos are definitely not allowed; I tried. The good news is that (if you don't mind splurging, I think I spent about US$30), you can get your own private wooden tub for an hour facing the sea in a pretty little cove.
If you want to stay the night in Katsuura like I did, Onsen Minshuku Kosakaya (see on Agoda / TripAdvisor / Booking) is the best (and possibly only affordable) place to stay in town. I found it to be a very friendly, traditional Japanese guesthouse that includes gourmet, lovingly prepared multi-course feasts that show off the amazingly fresh seafood that the harbor town is famous for.
I never travel without a guidebook! I recommend these: