Dear reader: This article contains links to products and services that I may be compensated for, at no extra cost to you.
Many vacationers cruise right through Chilliwack on the Trans Canada, in a rush to get into (or out of) Vancouver. In fact, some even consider it a part of Greater Vancouver, although it is technically a city of its own.
In the Halqemeylem language of the Stó:lō, the people who originated inhabited the yet unceded area, Tcil'Qe'uk (from which "Chilliwack" is derived) means "Land of Many Streams."
Founded a century and a half ago, this laid-back city of over 100,000 has surprisingly a lot going for it. Excellent eats and creative shops in the revitalized historic town centre, hiking and wildlife spotting, stunning mountain-backed lakes (Cultus Lake being the star), and breweries surrounded by Fraser Valley farmland – there are more than enough fun things to do in Chilliwack to stop over or even plan a dedicated trip to the city.
I've been visiting the Fraser Valley almost annually since I was a kid, as my father grew up there and grandmother still lives there, in neighbouring Abbotsford (see my favourite things to do in Abbotsford). Follow along as I introduce our favourite places to visit in Chilliwack, BC!
Where to Stay in Chilliwack
If you decide to spend the night in Chilliwack with kids, I recommend Hampton Inn Hilton (see on Booking / Agoda / TripAdvisor) for its waterslide pool or Coast Chilliwack Hotel by APA (see on Booking / Agoda / TripAdvisor), which is more central and also has a pool but no slides.
For a gorgeous room with an incredible view, try Mountain View Two Bedroom Suite (see on Booking / Agoda) on Chilliwack Mountain.
Chilliwack Town Centre Attractions
The historic town center of Chilliwack lies north of Highway 1, accessed via Vedder Road Exit 119. Yale Road is the main thoroughfare, referring to the historic Old Yale Road which ran from Vancouver to the gold rush town of Yale in the late 1800s.
Several of the best Chilliwack attractions described below are within walking distance of the intersection of Yale and Young Roads, where you'll see the below Chilliwack Clock Tower. If driving, you can park beside Central Community Park and explore on foot.
Chilliwack Art Trail
The Chilliwack city center is blessed with over 30 murals, with an emphasis on indigenous culture and local wildlife.
Taking a self-guided tour of these artworks couldn't be any easier thanks to this super handy interactive map of Chilliwack's murals prepared by Tourism Chilliwack.
As you can see from the map, most of them are in a cluster around Yale and Young Roads. The map includes a detailed description of each mural, plus details for following the artists on social media.
Chilliwack Heritage Buildings Tour
While you're at it, you can also admire some of the well-preserved historic buildings in the Chilliwack town center. These include old fire halls, stores, hotels, and more dating to the late 1800s, when the area developed into a thriving business district.
This equally handy walking tour of Chilliwack's historic sights provides all the info you could possibly hope for. You can download the pdf right onto your phone, and it covers pretty much the same area where most of the art murals are located. Thanks to the Heritage Chilliwack Society for preparing this!
District 1881
A section of the most beautifully restored heritage buildings in the area, right at Yale and Young, has been dubbed District 1881. There, a collection of enticing businesses occupy what used to be the CHWK Building and Woolworth Building, with picturesque Woolly Dog Alley Running Between them.
If you're only in town for a short time, make this your go-to place for shopping and dining. There you'll find the likes of Spruce Collective, Uptown Grill, Hunni's Chilliwack, Local Space, Refinery House, plus the below four entries that we especially loved, all in one spot!
There's also a coworking space on site, and plans to extend the project to neighbouring buildings. Exciting!
Smoking Gun Coffee Roasters
For your caffeine fix, I recommend Smoking Gun Coffee Roasters. Just opened in 2021, the café was originally operated out of Ravens Brewery in Abbotsford.
Smoking Gun roasts their own beans in small batches and works with small coffee producers. The café is bright and inviting, and the historic red brick building setting is evocative.
Field House Brewing Co. & Other Breweries
How excited I was to find that my favourite brewery from Abbotsford has now branched into Chilliwack, too! Field House Brewing Co. operates from a prime spot in District 1881, with a patio running along Woolly Dog Alley.
The interior is cozy, too, complete with warming fireplace and a tiny brewing area squeezed into the back corner. And the beers? Excellent as always, but a few standouts for us this time were the Zambian Cold Brew Coffee Golden Ale (brewed in collaboration with Smoking Gun next door!) and the Sabro Citra Coconut IPA. Our kids were warmly welcome in the brewery, which is always appreciated.
We never made it to Bricklayer Brewing (also in District 1881 and highly rated) or Flashback Brewing (only a block away). Next time!
Bow & Stern
Just like Fieldhouse, Bow & Stern started out in Abbotsford and now has this brand-new location in Chilliwack. And as seafood lovers, we are obsessed with Bow & Stern!
We do our research as foodies, and Bow & Stern offers as far as we know the best seafood in the Fraser Valley. Crab, lobster, fresh oysters, seafood burgers, hot and cold seafood platters; they've got it all.
We find the Abby location more bright and modern, while this one more atmospheric and romantic. They've done an awesome job with the interior of the historic building. If you're like us, you won't miss the happy hour (2-5 or 9 to close), with deals on beer and wine, and $1.50 oysters.
Bow & Stern is right between Bricklayer and Field House breweries (how convenient!) The exterior has one of the best murals in town.
Anita's Bread and Pastries
One more business I'm going to rave about before moving away from District 1881 is Anita's Bakery. You can't miss it at the end of Woolly Dog Alley, on the left, with its bright orange exterior.
This small and super welcoming bakery features a selection of handmade pastries, sourdough breads, and more. On my visit I enjoyed a blueberry lemon scone garnish with lavender petals. Not only tasty but also pretty! There's also coffee to go.
The baked items are prepared by Anita's Organic Mill on Sumas Road south of the highway. Anita's also used to have an organic grocery store just off Highway 1, which is still there but now operates as Local Harvest (we'll get to that below).
The Book Man
The Book Man is one the largest used bookstores in the entire province, with a location here and in Abbotsford. The Chilliwack branch is just a few steps down Wellington Ave from District 1881, which you'll pass by anyways if you're doing the mural or historical tour.
There are loads of books on offer here, new and used, plus other cool gifts (the Totoro display was especially tempting!) so come prepared to drop some dollars. But most importantly: yes, there is a cat on site. And yes, we loved him. In fact, The Book Man has a cat adoption program. Any kitties you see in the kitty area in the window (visible from the street) are up for adoption. Simply inquire within!
Dickens Sweets and British Museum
Did you know that Chilliwack has an all-British corner store, museum, and afternoon tea shop? Well, now you do!
Dickens Sweets and British Museum has been adding a touch of British class to Chilliwack since the year 2000. A visit includes the chance to buy all manner of imported British treats, drinks, and groceries, a full candy shop, baking section with more novelty cake pans than I've ever seen, and a museum of antique items, including a whole gallery dedicated to the Titanic.
For a truly special experience, try the afternoon teashop at the back with a few besties.
Chilliwack Museum and Archives
The small Chilliwack Museum operates out of the old Chilliwack City Hall. Dating to 1912, the classical-styled building is totally unique for the time and is now recognized as a National Historic Site.
The museum covers Chilliwack's natural and human history, and admission is only $3 (kids under 12 free, family $7.50). It's located on Yale Road, a short walk south of District 1881.
Chilliwack Landing and Townsend Park
Chilliwack Landing is the recreational heart of Chilliwack. There you can find the Chilliwack Cultural Centre (including a theatre, art classes, small art gallery, and more), Chilliwack Coliseum, Chilliwack Curling Club, Chilliwack Archives, a spray park, skate park, and the Chilliwack Landing Leisure Centre (swimming pool).
Sports fans will also gravitate to the huge Townsend Park, with facilities for soccer, baseball, tennis, and more. In late March to early April, the cherry blossoms in the park make for an incredible sight.
Places to Visit Around Chilliwack
After a few worthwhile sights east, north, and west of the city centre, the below section will mostly cover the part of Chilliwack south of the Highway 1, including the very popular Cultus Lake.
Kent's Ice Cream Co.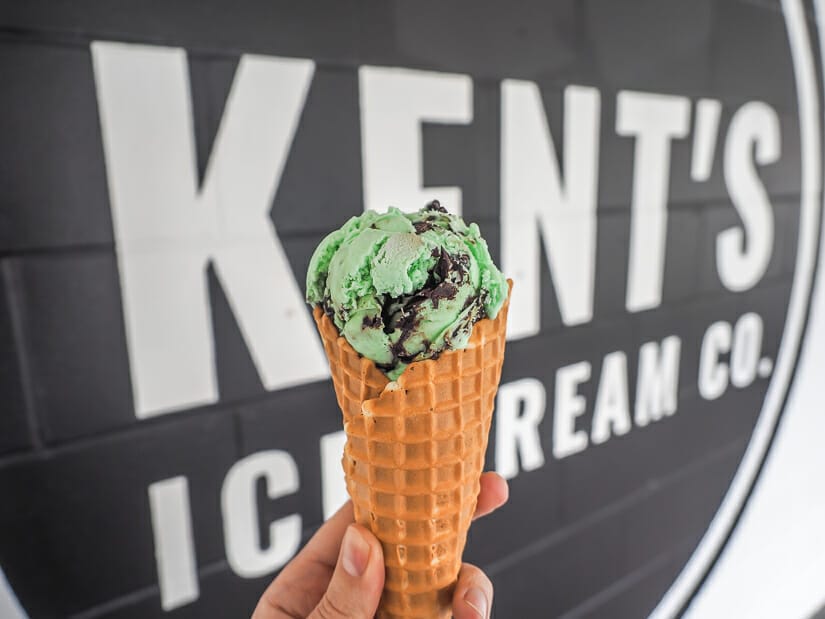 Kent's Ice Cream can best be described as a local institution. With ice cream provided by Vancouver Island-based Islands Farms, the shop serves waffle cones of creamy deliciousness to a constantly rotating line of customers.
There's ample parking on site, but when we visited on a weekday afternoon, not even in summer, it was already busy, so do come expecting to wait a little. They've also got a freezer full of craft sodas, Pop Shoppe, and the like.
Brightside Eggs Market
For a totally different, or let's say "modern" farm experience in Chilliwack, drop by this "egg vending machine"! Brightside Eggs, a poultry farm located south of Highway 1 in Sardis community, has a dedicated self-service building on site where you can buy fresh eggs and a variety of other farm items, with no staff on site.
The way it works is you choose whatever you want from the screen, pay by credit card, then the lockers containing those items open up until you take the item. You can inspect the items through the little windows and decide exactly which locker number you want before paying. Besides eggs, they have meat, frozen items like ice cream and pre-made soups, jams, and more.
This was a fun and novel experience that we really enjoyed. Don't be surprised to find that items are a little more expensive than average (think $7 for a regular carton of eggs), but you're also paying for the experience. It's open 8 am to 8 pm daily.
Farmhouse Brewing
Farmhouse Brewing in South Sumas is hands down our favourite brewery in Chilliwack. The beers are excellent, but it's the farmhouse location that really sets it apart. You can enjoy farm and mountain views as you enjoy your brews, whether you sit inside, beside a fireplace in the semi-covered area, or at a picnic table on the large patio outside.
On top of that, the brewery dishes out some of the best pizza we've ever had in Canada. It's Italian style, with perfectly soft and bubbly crust, prepared in a traditional stone oven.
Some beers that really stood out for us were the deeply hued lavender black current beer and Helping Hands hazy wheat, prepared in collaboration with other local breweries and companies, and with proceeds going towards victims of the 2021 Fraser Valley floods. Heads up: this brewery is very popular, so parking or getting a spot inside or out can be an issue at peak times!
Old Yale Brewing
Just down the road from Farmhouse Brewing is another great one, Old Yale Brewing. Old Yale holds the title for Chilliwack's first and longest running brewery, and most likely to be found in liquor stores further afield.
The silver Airstream trailer kitchen on the outdoor patio is a nice touch in summer, while they've done a particularly nice job with the interior. The mountain mural on the wall inside and Adirondack chairs make it feel like you're actually enjoying a mountain view.
Beer highlights for us here were the peach tea radler, honey lager, and Himalayan salted porter, while the Moon Dance mango wheat seems to be one of their most popular.
Local Harvest
Local Harvest is a large market and garden focused on organic goods. It is just off Highway 1 at the Lickman Road exit, at what used to be called Anita's Organic Mill Store (Anita's still supplies the organic groceries sold in the store, while Local harvest runs a bakery in it).
The conveniently located market sells a variety of organic flours and grains, produce, gifts, baked items, coffees and teas, and more. The focus is on ethical farming, and they have weekly boxes available for order, filled with whatever's in season.
Hillkeep Regional Park on Chilliwack Mountain
One of the best ways to start a tour of Chilliwack is to drive up its namesake Chilliwack Mountain and take in the view looking down on Highway 1 and the farms in the south and southwest of Chilliwack.
After a winding drive to the top, there's a small parking lot from where you can enjoy two easy hikes: a 2 km (20-30 min) loop through the forest with limited views of the Fraser River through the trees, or a shorter and even easier (15 min return) walk to a lookout point over Chilliwack (pictured above). From the parking lot, take the trail going down to the right for the loop, and to the wider path to the left for the lookout. Either one is suitable for those visiting Chilliwack with kids.
For the lookout, coming on a clear day is ideal, with a great view of Mount Cheam and other peaks to the southwest. You can also see where Cultus Lake sits at the base of the mountains, though you can't quite see the lake itself.
Island 22 Regional Park
Another great spot for enjoying the outdoors within short drive of Chilliwack city center is Island 22 Regional Park. The park runs along the Fraser River, with lovely views looking across to the mountains on the other side.
The highlights of this park include picnic tables along the river, an actual sandy beach on the river, a popular off-leash area for dog owners, an equestrian park for horse riding, and a dedicated BMX/bike park in the woods. As the signs at the park stay, the park gate closes at sunset, so don't get locked inside!
Cultus Lake
Cultus Lake is undoubtedly Chilliwack's most popular and well-known attraction. The highly scenic lake is the perfect temperature for swimming and other water activities, though its high level of development may turn some off. The lake is especially busy in summer.
The best spot to enjoy the lake is at Cultus Lake Provincial Park, which has a fine beach, dock, and kayaks/canoes available for rent. Another fun spot to enjoy the lake is at Cultus Lake Marina at the northern end of the lake, where you can walk out onto various docks to enjoy the views.
There are also multiple campgrounds around the lake and a huge number of hiking trails, especially in the hills and mountains to the west of the lake.
Cultus Lake Adventure Park and Waterpark
The Cultus Lake Adventure Park amusement park and Cultus Lake Waterpark at the north end of Cultus Lake form a family-oriented tourist village, complete with food trailers, ice cream shacks, and more. There's a summer carnival vibe; families with kids may love it, while others may avoid it like the plague.
Vedder Park and Rotary Trail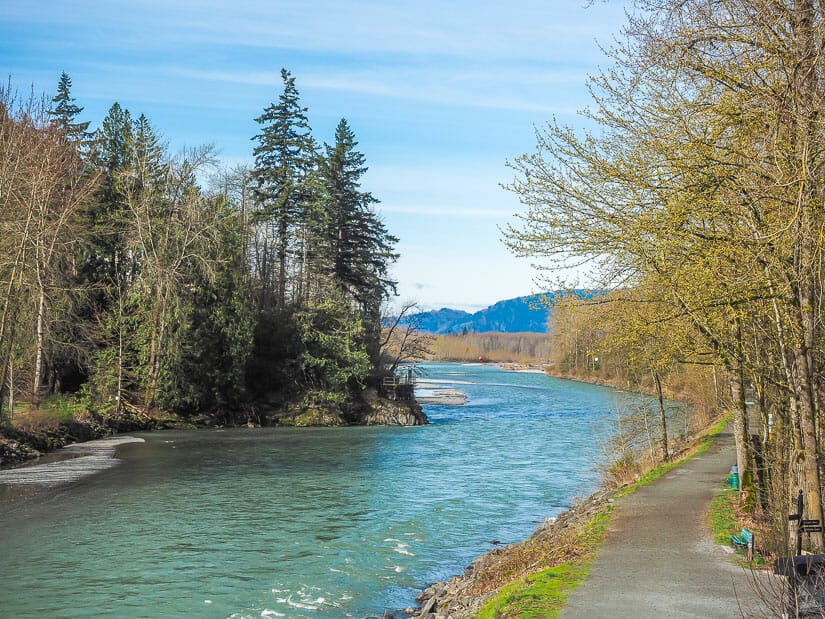 Vedder Park is listed as Chilliwack's top-rated attraction on TripAdvisor. The park is located on Chilliwack River, right where the road to Cultus Lake crosses Vedder Bridge.
The park is super popular among locals for its lovely riverside multi-use trail. The trails are a part of the expansive Vedder Greenway, which extends as far as Great Blue Heron Nature Reserve (see below), and are a part of the Trans Canada Trail.
Vedder Park also features a good playground for kids, called Mt. Cheam Rotary Playground, an off-leash area, and the ruins of Vedder Bridge, dating to 1910. If you follow the trail up to Vedder Bridge, there's a cool indigenous canoe and paddle artwork in the traffic circle on the north side of the bridge.
Chilliwack River Provincial Park
From the traffic circle mentioned in the last entry, you can drive 10 minutes east to reach the less crowded Chilliwack River Provincial Park. The park preserves an old channel of the Chilliwack River which has been developed into a spawning ground for salmon and trout.
A walking trail leads down to Chilliwack River and some popular fishing spots, but much of the trail along the river has been destroyed by the 2021 flood.
To reach the park, watch for the sign for "Thomson Regional Park" and park there. It also serves as the parking lot for Chilliwack River Provincial Park.
Great Blue Heron Nature Reserve
Yet another worthwhile natural spot along Chilliwack River is Great Blue Heron Nature Reserve. The reserve preserves a 325-acre floodplain that is a breeding ground for Pacific Great Blue Herons, which you have a good chance of seeing (when we visited, one flew right over our heads). Other wildlife, including painted turtles and bald eagles, live in the reserve.
There are five scenic trails through the reserve, or you can choose just any path and get lost like we did. There is also a tall lookout tower and an information centre/gift shop on site.
Bridal Veil Falls
Technically just outside of Chilliwack, Bridal Veil Falls is one of the most popular sights in the area. Highway 1 passes right by it between Hope and Chilliwack (you can spot part of the waterfall as you're driving by).
Bridal Veils Provincial Park has walking paths to various viewpoints of the falls. At the base of the falls, Bridal Veils Waterpark is popular in summer, and there are a few RV parks on site.
Across the highway from the falls, Cheam Lake Wetlands Regional Park is a lesser known spot where you can explore a scenic wetlands area.
Chilliwack Lake
Chilliwack Lake is well outside of Chilliwack proper, though I include it here because it takes the city's name and a is a worthwhile day trip from Chilliwack. Also called Sxótsaqel, or "sacred lake" in the Halq'eméylem language, it is about 1 hour's drive southeast of Chilliwack, or 45 minutes east of Vedder Park. The lake is the source of Chilliwack River.
The quiet lake and large provincial park around it are a popular spot for camping, fishing, boating, hiking, and birdwatching.
Harrison Hot Spring
Harrison Hot Springs is the closest hot spring resort to Chilliwack, only 30 minutes away by car to the north. The lake-side town is especially popular in summer, but its hot springs are perfect for a dip year-round.
The cheapest place for a soak is Harrison Hot Springs Public Pool, while Harrison Hot Springs Resort and Spa has the best pools in town.
Chilliwack Events and other Things to Do
For even more ideas, here are some other Chilliwack attractions, events, and things to do in town.
Farmer's Markets
There are a variety of produce and farmer's markets in Chilliwack, with some operating year-round. These include:
Chilliwack Wineries
There are a couple of wineries in Chilliwack:
Abbotsford is better known for its wineries, including Ripples (right next to Chilliwack) and three excellent ones in Mt. Lehman Road area. See my Abbotsford guide for all the details.
Other Chilliwack Restaurants and Cafés
Chilliwack Parks
Besides the parks I've already metioned above (Townsend, Vedder, Island 22, Hillkeep), you can try:
Salish park: close to the city centre beside the library, with a pond
Central Community Park: water fountain to play in and summer events
Sardis Park: large pond with lots of geese, ducks, even turtles
Yarrow Pioneer Park: skatepark and a small Friday market
Chilliwack Events & Flower Festivals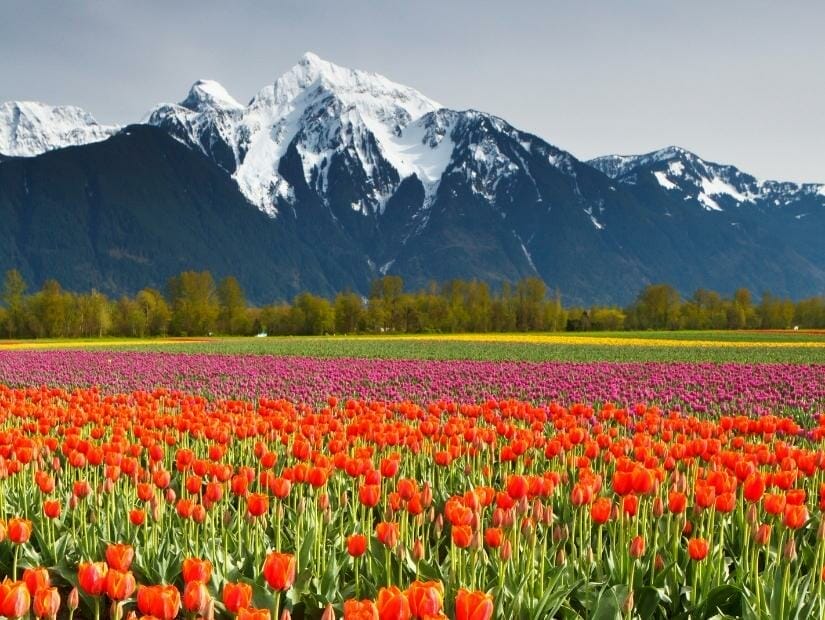 Here are some fun annual events in Chilliwack to mark on your calendar:
Other Chilliwack Activities and Attractions
Chilliwack Corn Maze is fun to get lost in during late summer
Greendale Lavender Company: A beautiful lavender farm south of Chilliwack Corn Maze, summer only
Go Bananas: Chilliwack's main indoor playcentre, just off Highway 1
There are several golf courses in Chilliwack, including Cheam Mountain right off the highway, Chilliwack Golf Club and Royalwood west of town, Kinkora in Sardis, and Cultus Lake Golf Club
Exit Chilliwack Escape Room
Sniperz Paintball along the Fraser River
Well, I hope you found more than enough ideas for enjoying your time in Chilliwack, British Columbia! Let me know in the comments below if I've missed your favourite thing to do in Chilliwack!