Dear reader: This article contains links to products and services that I may be compensated for, at no extra cost to you.
As a coastal city and South Korea's largest port, Busan is unsurprisingly blessed with some pretty wicked coastal scenery. And I mean the awesome, poetry-inspiring, mind-blowing (not evil) kind of 'wicked' 😛
Taejongdae Resort Park in on the southern Busan coast features some of the best and most accessible coastal bluffs and lookout points in the city.
Thalassophiles (ocean lovers, that is) will definitely want to add Taejongdae to their Busan list, along with the city's three famous walkways over the sea (read my 50 favorite things to do in Busan to find out where those are!)
Most of Taejongdae Park consists of evergreen forest, where a couple of Busan's best temples can be found, but most visitors head directly to the Taejongdae Observatory and Yeongdo Lighthouse for the famed coastal views.
See here to find out how to fit Taejongdae Park into your Busan itinerary!
Best Taejongdae tours

– Taejongdae is included on this popular coastal tour of Busan, which also makes a stop at Haedong Yonggungsa, Busan's temple by the sea. Get ₩3833 off the tour price if you sign up for Klook first with my referral code.

– This comprehensive Busan day tour stops in a Taejongdae, as well as Gamcheon Culture Village, another top Busan attraction
Taejongdae is undeniably touristy, so it's not for everyone. If you don't like crowds, just try to come on a weekday. Don't let the name fool you, though. It's not a "resort" but rather a large nature park occupying the southern end of Yeongdo Island.
14-km2 Yeongdo-gu ("Yeong Island district") forms a natural protective barrier to the Busan Port, so ships can regularly be seen sailing around either side of the island to enter the port.
It only takes about 40 minutes by bus to reach Taejongdae from popular Nampo neighborhood on the adjacent mainland. See the end of the article for information on how to get to Taejongdae and other interesting things to do on Yeongdo.
Yeongdo is also where my favorite hotel in Busan is located. Read my La Valse Hotel review here, or see it here on Agoda / Booking / Klook / Tripadvisor. You can also consult my detailed guide on where to stay in Busan for other options across the city.
History of Taejongdae Park
Taejongdae Resort Park is named after King Taejong Muyeol (CE 604 – 661), the 29th king of the Silla Kingdom, one of the Three Kingdoms of ancient Korea. After the three kingdoms were united, the king supposedly loved to practice archery in the park area.
The park was officially established in 1967, and is one of Busan's 28 designated monuments.
Arriving at Taejongdae Resort Park
All buses to Taejongdae terminate at the top of Taejong-ro (Taejong road), just before a large traffic circle and the official entrance to Taejongdae Resort Park.
Both sides of Taejong-ro are lined with restaurants and shops with the emphasis on (surprise, surprise) seafood, and somewhat catered to larger groups, but there are a few simple noodle shops as well.
To reach Taejongdae Park, continue uphill the past the traffic circle and tourist information center, in the same direction that your bus had been heading. It's about a 10-minute walk to the park entrance.
It's free to enter Taejongdae Park, which is open 4 a.m. (5 a.m. in winter) to midnight. Many visitors opt to ride the "Danubi Train" along the 4.3-kilometer loop road around the park.
"Danubi" means "admiring the scenery" in Korean. These cute, colorful (and some might say tacky) "trains" on wheels stop of three of the parks best sights. An adult ticket, which includes all three stops, costs 3000 won (youths 2000, kids 1500), and is good for three hours (you'll have to pay 500 won more for each 30 minutes after that).
The train ticket office is open from 9 a.m. to 5:30 p.m., but the last train may set off an hour or two before closing time. The trains may not run during rainy or icy conditions.
In summer, the train comes every 20 minutes or so, but in winter you may have to wait longer. Also, it's never too busy on weekdays, but on weekends or holidays there can be lines and you may have to take note of the number on your ticket and watch the signboard for your train. This means you could have to wait an hour or more for the train, and you may want to consider walking instead.
You can easily walk the loop road for free, allowing you to enjoy a few sights that the train doesn't stop at, such as Gumyeongsa Temple (which it used to stop at) and South Port View Point, which offers fine views looking towards Songdo (Song Island). Both of these are located between the train starting point and the train's first stop.
The most famous sights and views are, however, from the three main train stops. So for my visit, which was on a rather hot day, I happily hopped on the choo-choo train with the other tourists to get around the park.
Read about Busan's most colorful attraction in my post on Gamcheon Culture Village.
The Taejongdae Tourist Loop
The first stop on the train, 1.7 kilometers in, is the large Taejongdae Observation Deck. The three-story observation deck offers expansive views over the South Sea, with Tea Kettle Island and its lighthouse clearly visible.
On a clear day, Japan's Tsushima Island can even be seen in the distance.
There's also a statue of a mother and her children here, meant to remind people thinking about tossing themselves off the cliff that they are loved.
From the Observation Deck, it's only another 200 meters to the second stop, Yeongdo Lighthouse, so don't bother waiting for the train unless you really need it. It only takes a few minutes on foot.
From the Yongdo Lighthouse stop, a stepped trail descends somewhat steeply through the forest, so the elderly or people with physical difficulties should take caution.
The trail descends to the "Light Beyond Limitation" statue by Korean artist Ji Sul Won Kyung-Lee, which is the most iconic symbol of Taejongdae. The statues blue ring symbolizes the ocean and sky, red the Earth, and the silver point the light casting out from the lighthouse.
Yeongdo Lighthouse itself perches majestically on the coast, as lighthouses tend to do. There's a small gallery and café inside, but most visitors make their way past the lighthouse, following the cliff-hugging trail to Mangbuseok Rock (also called Sinseon Rock).
Sinseon Rock unfortunately had been closed for years now because it is no longer safe to walk on. According to many reviews I've read, climbing down onto the large rock table, which sits 200 meters above the sea, was the best part of visiting Taejongdae.
If Sinseon Rock does open again in the future, please comment below and let me know so I can update this article!
According to the Taejongdae Resort Park brochure, Sinseon means "place where faeries play". In the middle of Siseon Rock stands a human-shaped natural stone tower called Mangbu Rock, which is why it is also called Mangbuseok Rock.
Legend has it that a local woman stood on the rock after her husband was taken away by Japanese invaders, and she waited so long that she turned to stone.
On the other side of Yeongdo Lighthouse, a trail that is still open leads right down to a rocky platform right beside the shore, where there area few tents set up selling very local raw seafood dishes (think items like raw sea cucumbers and sea pineapples, called meongge in Korean).
This side of Yeongdo Lighthouse also offers stunning views of a pebble beach, coastal bluffs, and Busan city in the distance.
Now comes the hard part, walking back up the stairs to the train stop. The third and final stop, 500 meters away, is Taejongsa Temple.
This serene forest temple is known to house a Buddha relic and two sacred fig trees donated from Sri Lanka. See more details in my guide to the best temples in Busan.
Taejongsa temple is a five-minute walk from the train stop down a forest path, while a different path leads to a Korean War Memorial.
From Taejongsa Temple, it's 1300 meters back to the park entrance. If you visit the park and only want to visit Taejongsa temple, then make sure to walk the loop in a clockwise direction (not counter-clockwise like the train does) from the entrance.
Enjoy temples? See my guides to the Beomeosa temple stay, Busan's temply by the sea, a remote temple with cliff carvings, and the best temple in Busan to experience the lantern festival.
Where to Eat at Taejongdae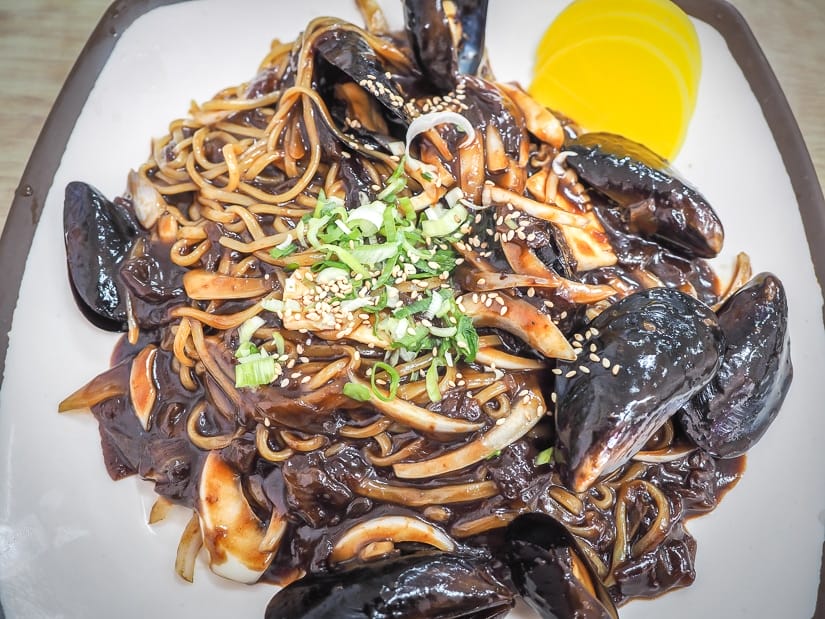 If you just want a snack or drink, there is a tourist shop at the park entrance where the Danubi train starts, as well as several food and drink stalls at the Taejongdae Observatory.
As I mentioned above, there is also a small café in the lighthouse (which may or may not be open when you visit), and fresh local seafood for sale on the rocks at the bottom of the staircase behind the lighthouse.
The best place to have a full meal is from the many restaurants lining the road where the bus stops visitors off.
Serious seafood lovers should head down to Gamji Beach, where dozens of seafood stalls serve up fresh seafood dishes in tents overlooking the sea. It's best to come with a group (I couldn't justify the price of even one dish as a solo visitor).
How to get to Taejongdae Resort Park
The best way to get to Taejongdae Park is by bus from Nampo subway station exit 6. Buses 8, 30, and 113 all go there and take about 40 minutes.
To return, simply take any of the same buses from the other side of the road (many of the buses seem to wait in a large parking lot before setting out. You can also take bus 101 to and from Busan Station, which takes 5-10 minutes longer.
An easier way to visit is by taking a tour that includes Taejongdae.
Other Things to Do on Yeongdo Island
Gamji beach (described above in the where to eat section) is also the starting point of a lesser-known coastal walk called the Gamji Coastal Trail.
About midway up the western side of Yeongdo Island, there's another walkway called the Jeoryeong Coastal Trail, which includes a famous lookout point called 75 Square.
On the Eastern side of Yeongdo Island, the National Maritime Museum is an excellent and beautiful designed museum devoted to the sea which is often overlooked by visitors to Busan. The buses to Taejongdae go slightly near, but not right past it. To get there directly, take bus 66 or 186 from Nampo station exit 1. Note than the National Maritime Museum is currently closed for major renovations.
At the northern end of Yeongdo Island, Yeongdo Bridge, which is the oldest bascule bridge in Korea, connects the island to famous Nampo district on the mainland, where you'll find famous attractions like Jagalchi Fish Market, Gukje Market, BIFF Sqaure, etc.
This urbanized end of Yeongdo Island has my favorite hotel in Busan, La Valse Hotel (see my non-sponsored La Valse review here). My room and the rooftop of La Valse offered epic views of the Busan Port and all of Busan City. Midi Hotel is a cheaper option next to La Valse Hotel that offers the same awesome views.
From Yeongdo Bridge or La Valse Hotel, it's a 10-minute walk to the headquarters of Samjin Eomuk, the most famous eomuk (fish cake) chain store in Busan. The headquarters even includes make-your-own eomuk classes and an eomuk museum.
Read more about these and many other Busan attractions in my guide to the top-50 things to do in Busan.