Dear reader: This article contains links to products and services that I may be compensated for, at no extra cost to you.
We visited Prague with our two young kids (age 4 & 5) in late November, toward the end of our two-month trip in Central Europe. Our Prague stop was sandwiched between a great week in Bavaria and a visit to stunning Cesky Krumlov in southern Czech Republic before we moved on to Vienna and Budapest. The latter city was our personal favorite!
I'm going to be completely honest here and say that November is probably one of the worst times to visit Prague, despite the fact that it is widely considered one of the most beautiful cities in Eastern Europe. For our entire stay it was quite cold, and the sky was never anything but gray. We could tell the city was gorgeous, but some sunlight or blue sky would have made a world of difference.
We were too early for the Christmas markets, which were set to open on November 30, and there wasn't any snow yet, some of the things that make Prague one of the most popular cities in Europe for a winter break.
Yet despite the poor weather during our November visit, being Prague, there was still a ton of tourists there. I can't even imagine what it's like in summer!
The saving grace of this city for us was the sheer number of things to do in Prague with kids. Some of them were not ideal for winter, such as the many parks and green spaces in the city center. Still, we were spoiled for choices when it came to indoor options. Therefore, being aware of the weather and tourist seasons is one of several things you should know before visiting the Czech Republic. Another notable point was the excellent beer and food (yes, I put beer first) we enjoyed, including some great vegan restaurants in Prague.
You will find loads of things to do with kids in Prague, no matter what age your kids are. If your kids are younger than mine, you can find more ideas in this guide to visiting Prague a baby. There are also numerous day trip possibilities from Prague; if your kids are older and brave enough, you could even take them to spooky Sedlec Ossuary, the skeleton-filled "Bone Church".
As usual, we managed to appease the children's need to play, plus see the main tourist sights that we wanted to see, without planning days that were too busy. Our strategy was to devote mornings, when kids had the most energy, to the typical attractions, then rewarding them with kid-friendly activities of their choice in the afternoon.
We spent a total of four nights in Prague, which we felt was just the right amount, although there seems to be enough family-friendly things to do in Prague to pass a childhood there and never get bored.
In this article, I'm going to cover in great detail how we spent our three days in Prague with kids. Our Prague itinerary with kids packs in what we felt to be the city's most appealing sights for mom and dad and the most entertaining kid-friendly activities in non-ideal weather.
Where to Stay in Prague with Kids
As we were arriving at and departing from Prague's main train station, Praha Hlavní Nádraží, it only made sense for us to stay near the train station.
We chose to stay in an apartment run by Ruterra Apartments. The exact apartment we stayed in no longer seems to be available, but the apartment finding agency hires out this similar one. The hosts run a business managing apartments, so everything was super efficient and organized, from speedy check-in at their office downstairs to custom-designed maps and recommendations.
From our apartment, it was a 10-minute walk to the center of the Old Town, where several of the city's most famous attractions are located. Meanwhile, a quick hop on the tram or metro brought us to everywhere else we wanted to visit on our trip.
The apartment itself was modern, clean, had everything we needed, and was in a very quiet building.
You can search for other hotels deals in Prague here.
Getting into Prague

If you are arriving or departing Prague from the Prague International Airport (Václav Havel Airport Prague), then take advantage of this airport shared transfer service.

If you're planning to drive to your next destination, we had a good experience renting a car here, while this website is one of the best ways to find cheap flight deals within Europe.
Our Prague Itinerary with Kids: Day 1
As usual, we started our first day in Prague by exploring the Old Town's main sights to get a feel for the city, before getting to the kid-specific activities.
Following the walking map provided by our apartment hosts, we started at the art nouveau Jerusalem Synagogue, which was just down the street from our apartment. From there, we made our way to the Old Town via a number of other striking structures, including Henry's Tower (Jindřišská věž), Old Powder Tower (Prašná brána), and Municipal House (Obecní dům).
This brought us to the impressive Old Town Square (Staroměstské náměstí), an expansive square surrounded by picturesque buildings and churches. The Church of Our Lady before Týn lies to the east, while St. Nicholas' Church (Staré Město) dominates the northwest side of the square.
At the southwestern side, the Prague Astronomical Clock (Pražský orloj) faces south from the façade of the Old Town Hall. Dating to 1410, it is the oldest astronomical clock in the world. Every hour on the hour, numerous figures perform a spectacle around the clock; the event draws great crowds, even in the off-season.
Our kids were quite fascinated by it, but we had to lift them up to get a view. Its worth reading up on the interesting symbolism behind all the clock's components and characters to fully appreciate it.
You can actually enter the Old Town Hall with this online deal.
The Old Town Square and the streets around it, especially those leading toward Charles Bridge, are tourist-central in Prague. While the shops quickly got repetitive, there were plenty to distract and tempt the kids, such as marionette shops, waffle shops, ice cream shops, and candy shops.
We didn't make it long before we caved in and let the kids try a trdelník or "tunnel cake". The cakes are popular in a number of Central European countries (with disputed origins) and are the staple tourist treat in Prague. To make them, dough is wrapped around a stick and grilled over a fire before being topped with sugar and crushed walnuts, but shops in Prague add any kind of topping imaginable.
Like our pictures? See the small mirrorless camera we always use when traveling with kids.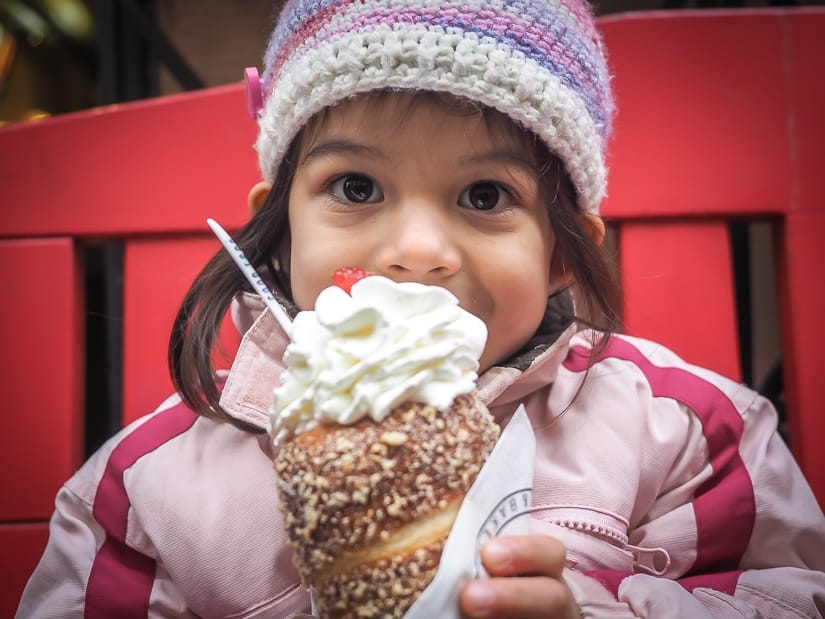 Next, we made our way to Charles Bridge (Karlův most), the most famous tourist attraction, and one of the most popular film locations in Prague.
This beautiful stone bridge dates to 1357 and is one of the reasons that Prague rose to prominence. 30 impressive baroque statues line either side of the bridge, and the views of Prague from either side are unbeatable.
We were surprised to find that even in late November, the bridge was completely packed with tourists. By the time we walked across the bridge, the kids were completely done with sightseeing, so we headed back to our apartment for a rest.
Later in the afternoon, we gave the kids a choice of activities and they went with the Prague Lego Museum, the largest of its kind in the world. The museum showcases some 3000 models, including famous structures of the world and scenes of Prague. The detailed model of Charles Bridge is quite impressive!
For our kids, who quickly grew bored with looking at models, there was a large playroom filled with lego bricks (including the larger sized ones for toddlers), where our kids played with legos for a solid hour before we had to drag them out.
The Lego Museum is open 10:00 a.m. to 8:00 p.m. daily, with an entrance fee of 650 CZK per family, or 250 per adult and 180 per kid. You can also book your ticket online to get a small discount.
We could have walked from our apartment, but it was an easy few minute's ride by streetcar. Národní třída metro station is also nearby.
After visiting the museum, we stopped to peer at the unusual Head of Franz Kafka (Otočná hlava) statue, which is made of mirrors (I had seen pictures of it before, but didn't realized they moved!) The statue was mesmerizing, for us and the kids alike; we stood there for quite some time watching it! There was a small Christmas market set up in the square beside it too.
The kids miraculously still had energy after all of this, so we finished off our day by walking across Wenceslas Square (Václavské náměstí, the country's most important square) to kid-friendly Výtopna Railway Restaurant.
The main reason to come here is because any drink you order will be delivered to your table on a model train. The kids were absolutely thrilled by it and couldn't sit still the whole time we were there.
At some tables, the trains rode right onto the customers' table, while at ours they stopped beside the table. The kids only had a few seconds to grab them before the train left again. This was the only time my kids have ever encouraged me to finish my beer faster so we could order more!
If you enjoy this article, also see my guides to Austria and Croatia, and Italy with children!
Our Prague Itinerary with Kids: Day 2
Despite the chilly weather, we devoted the morning of our second day in Prague with kids to parks. The city is said to have no less than 200 parks and green spaces, making it one of the world's greenest urban centers.
We started off by taking the streetcar from our apartment to aptly-named Children's Island (Dětský ostrov), a long thin island connected to the west bank of the Vltava River by a small bridge.
As you might expect, the island has a large children's playground, as well as basketball court and other sports facilities. For mom and dad, we enjoyed the fine views across the river, and the island offers the perfect vantage point for seeing Dancing House (Tančící dům), a landmark building that looks like it has been squished.
Next, we visited nearby Střelecký Island, which is often described as romantic and has a great playground of its own, before heading to the more famous Kampa Island in Mala Strana, the popular tourist district on the western side of the river.
It's hard to tell Kampa Island is even an island; it is only considered one because a canal called Devil's Stream (Čertovka) was dug out around it. The island is home to several famous attractions, parks, and artworks, not to mention that Charles Bridge runs right over the northern end of it before connecting to the mainland.
First arriving at the park, we spent some time letting the kids harass pigeons, ducks, and swans by the riverfront. Next we crossed a large green area before stumbling upon the peculiar Giant Crawling Babies by Czech sculptor David Černý. The kids were pretty amused that they could see the babies' butts.
Finally we crossed the canal at a point with a picturesque water wheel, called Water Mill with Gremlin on GoogleMaps, to reach Lennon Wall, another of Prague's most famous attractions.
The wall has been covered with John Lennon-inspired graffiti since the 1980s, when it was used to voice dissatisfaction with the communist government and share messages of peace. The artwork is constantly changing; for example it currently includes a memorial to the Hong Kong activist who was died during the protests.
After an extended lunch break, we once again handed the reigns over to the kids, and their choice this time was without hesitation the Dino Park Praha. Our kids are huge dinosaur fans, so this was an absolute must for them for our time in Prague.
This modest sized dinosaur theme park is located on the roof of the Gallery Harfa Shopping Centre, accessible from Českomoravská metro station. This kids got to spot most of their favorites in life size, some of which moved and made noises.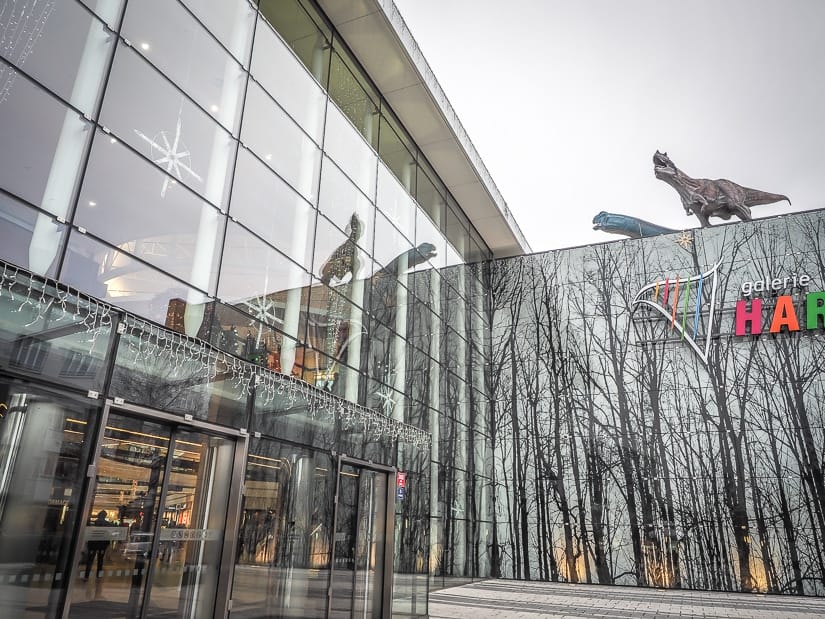 Other facilities included a playground, virtual reality headsets that were pretty fun for all of us (have you ever been attacked by a T-rex?), and a sand pit where kids can play paleontologists and dig up a dino skeleton.
Our Prague Itinerary with Kids: Day 3
We devoted our final morning in Prague to visiting Prague Castle (Pražský hrad), which claims the title for largest castle in the world.
Pro-tip: Instead of walking uphill from Malá Strana district to the castle, we strongly suggest taking tram 22 or 23 to Pražský hrad stop, from where it is a short walk downhill to the castle's northern entrance.
It's free to enter and explore the castle grounds, but if you want to enter any of the buildings you'll need to choose admission plan A, B, or C. We wanted to enter St. Vitus Cathedral, the largest and most important cathedral in the Czech Republic, so we went with plan B (the cathedral is also included in the more expensive plan A).
See here for all the castle plan details and their prices. Note that kids under six are free, and kids 6-16 can be included in the family price.
Skip the lines and get your Plan B tickets directly from a representative who will give you a quick introduction to the castle with this Prague castle ticket deal or join a small group tour.
While the kids had already visited numerous churches and cathedrals on our trip before this one, we were still all impressed by the sheer size of this one, the beautiful artworks within, the stained glass windows, and the huge organ.
Next, we wandered through a small Christmas market east of the cathedral, then took a peek in much smaller St. George's Basilica. Finally, we visited Golden Lane, an extremely cute, narrow street of ancient, tiny homes now converted into souvenir shops and exhibits. Going into some of these old homes really felt like going back in time!
Finally, we exited the castle at the eastern end and walked down through St. Wenceslas Vineyard, said to be one of the oldest vineyards in Czech Republic, and enjoyed the fine views over Prague looking all the way to Charles Bridge and beyond.
We finished our morning tour at Lesser Town Center (Malostranské náměstí, the main square of Mala Strana or "Lesser Town", the western side of Prague). Next to the square sits another huge church, St. Nicholas Church (Kostel sv. Mikuláše), yes, the same English name as the main church on the other side of the river in the Old Town.
We'd had enough of churches by that point, so we instead of visiting this one we stopped at Amorino Café across the street for what was some of the best gelato we've ever had. The café's specialty is a kind of flower made of multiple thin scoops of gelato; you can choose as many flavors as you want, but they recommended 4-5.
The gelato was a little pricey, but all-natural, and in our opinion worth every penny!
By this point, we were pretty tired and ended up relaxing and letting the kids play in our apartment for the rest of our final day in Prague. In the early evening, I took the kids for a walk to Hamleys, an enormous toy store-slash-children's play center near our hotel.
Whether or not you want to buy toys, if you are visiting Prague with young children, you'll probably want to check this place out. From the beautiful carousel (small fee for each kid) and snake shaped slide from the second floor to the ground floor (free) to various play stations and VR center, there were enough things to do inside to spend a solid hour or more there.
Well, I hope this article has helped you decide what to do in Prague with kids! I realize we only just scratched the surface in our three days in Prague, so please let me know in the comments if you feel we missed anything you would consider essential for a family visit to Prague!