Dear reader: This article contains links to products and services that I may be compensated for, at no extra cost to you.
Kyoto blew me away. Japan's ancient capital is a mecca for temple lovers, with so many magnificent historical structures that the city was sparred during WWII campaigns. The city without any doubt deserves a top spot on your Japan travel itinerary.
There are so many things to do in Kyoto that you really need four days to do this city justice. That's why I want to share our Kyoto 4 day itinerary with you (for a shorter visit, here's a recommended 2-day itinerary).
We did this in early December, so this guide can also serve as your Kyoto autumn itinerary, which you could modify according to how many days you have.
Kyoto in autumn is a kaleidoscope of colors, and with so many temples in the city, it can be a little intimidating to even begin planning your itinerary. When we visited, my wife was actually four months pregnant, so my idea was to break it down into four parts of the city, and see the best the city has to offer in the easiest way possible.
Even though I say easy, our days were still long and involved A LOT of walking, since the temples in Kyoto are huge and spread apart, and taxis are so expensive there. So bring good walking shoes! And even after the sun goes down, there are many things to do in Kyoto at night.
Also, note that while many people think it is a super expensive destination, Japan can still be done on a reasonable budget!
At the end I'll also recommend some great places to stay in Kyoto. For a great walking tour that focuses on autumn colors, try this Klook autumn leaf walking tour. This full day UNESCO sites tour takes in all the main sites, and you can try here to rent a kimono to wear in your fall shots! If you've got extra time, I would also recommend making a day trip to Nara to feed the famous deer and see Todaiji, the world's largest wooden temple!
Also be sure to check out my article on viewing cherry blossoms in Osaka and Kyoto, best places to view Mt. Fuji, how to plan a day trip to Mt. Fuji, a day trip to Kamakura, and tech lovers' things to do in Akihabara.
If you're staying in Japan past autumn, then also see my guide to visiting Japan in winter.
Traveling around Japan and like to save money? You can find all kinds of discounts and deals for train passes, activities, entrance tickets and more on Klook. We use it often and highly recommend it! Sign up here and a 350 yen credit will be applied to your account.

For small-group tours, you can also try GetYourGuide.
Kyoto in Autumn: When Exactly to Go
Every November, the leaves of the maple trees planted at many of the city's fantastic temples turn deep red, while other autumn foliage transforms to vibrant reds, oranges, and yellows. Much of the city puts on this autumn attire, and it's truly a sight to behold.
That's why Kyoto in autumn is such a popular time to visit, with the crowds at the peak of the maple season rivaling those of Golden Week and cherry blossom season.
The foliage season in Kyoto actually lasts from about mid-October to mid-December, but November is the usually the best, peaking around mid-November. This can fluctuate according to the weather, so if you are booking your trip early, you have to do a bit of guesswork. If you can book closer to the time, and then check out the up-to-date foliage reports Japan-Guide!
We decided to go slightly after the peak, in the first week of December. Some of the colors were past their prime, with many of the leaves on the ground, not the trees, but it was still breathtakingly gorgeous. Moreover, the flight prices from where we live (Taiwan) were cheaper and the crowds had really tapered off.
Honestly, you can't really go wrong here. Weather you aim for the peak of the season and are prepared to battle the crowds, or the beginning or end of the season when the autumn colors are just appearing/fading but with manageable crowds, you are going to have an amazing experience.
Where to Stay in Kyoto
Since the sights in this Kyoto 4 day itinerary are spread out all over the city, we found it made most sense to stay in the downtown area, and we loved being walking distance from Nishiki Market, Teramachi shopping arcade, many restaurants and several subway and railway stations. It is also a short walk from here to the bridge that takes you across to Gion district.
There are TONS of hotels to choose from in Kyoto, but the following are all in the area where we stayed and are highly rated on booking sites.
Check out this article if you are interested in having a Ryokan experience, including some recommended ryokans in Kyoto.
Hostels
Comicap Kyoto (Capsule Hotel) The large capsules here come with curtains, sockets, lights, slippers, and 24-hour desk, all in an ideal location. (see on Agoda / TripAdvisor / Booking)
Grids Kyoto This popular hostel is a great place to meet people, and they offer mixed, female-only dorms, or private rooms that are a good deal, as well as breakfast options and a bar. (see on Agoda / TripAdvisor / Booking).
Find more of the best hostels in Kyoto here!
Modern style
Hotel M's If you are looking for a modern choice with all the amenities you need, only 1 minute from the subway, and at a bargain price, here it is! (see on Agoda / TripAdvisor / Booking)
Good for families
Resi Stay Nishiki Large family rooms here come with a kitchen, private bathroom and flat screen TV. One of the top rated choices in Kyoto. (see on Agoda / TripAdvisor / Booking)
Sakura Suite A touch classier and also great for kids, rooms here feature river views. (see on Agoda / Tripadvisor / Booking)
Luxury Apartment
Bijuu A gorgeous self-serviced luxury apartment right by Nishiki Market. Check out the bathtub at this place! (see on Agoda / TripAdvisor  / Booking)
You can find even more of the best places to stay in Kyoto here!
How to Plan Your Kyoto Autumn Itinerary
To be honest, most of the main temples that you would visit in any season also happen to feature amazing autumn foliage, so your Kyoto autumn itinerary is going to look pretty similar to any other time of the year. That's why I think that this Kyoto 4 day itinerary is actually suitable for any season.
There are a few notable spots that we thought had especially amazing colors, though, which I will mention in the itinerary below.
Note that by the beginning of December, it was getting pretty chilly in Kyoto. I found that in the daytime, a sweater and a toque (that's Canadian for winter hat) was sufficient, but in the evening I definitely needed a proper winter jacket on top.
Our 4 Day Kyoto Itinerary
As I mentioned above, my wife was pregnant when we visited, so we took a relaxed approach. You could visit more sights than we did, so I'm going to include some spots that we didn't actually visit but you may want to.
You could do these days in any order, and if you only have three days and don't mind to rush a little, you could definitely manage to shave one day off this itinerary, perhaps by combining days 2 and 3. You can also see here for some ideas on cheap things to do in Kyoto with kids.
Day 1: NW Kyoto (Golden Pavilion and Bamboo Grove)
Morning
There is a group of amazing temples in northwest Kyoto, so it makes sense to combine all of them into one visit.
Beat the crowds by starting early at one of Kyoto's most popular sights, Kinkaku-ji (the Golden Pavilion). This iconic sight has become a symbol of Kyoto, and while it feels a touch more touristy than other temples (you kind of follow the flow of tourists around the pond and pavilion), you really can't miss it.
Admission ¥400, 9 am to 5 pm. Take bus 205 from Kyoto Station to Kinkaku-ji-michi stop or bus 59 from Keihan Sanjo electric railway station to Kinkaku-ji-michi stop.
Love temples and spiritual sights? See my articles on the Kumano Kodo pilgrimage, how to stay at a temple in Koyasan, and the Kumano Sanzan (three of Japan's most important shinto shrines).
Next, walk south along Hontsuji Dori (the main road in front of the temple grounds) for 30 minutes to reach Ryoan Ji, or wait for the #59 bus. This temple is famous for its gorgeous rock garden, where you can sit and contemplate the rocks arranged in a sea of pebbles. It's easier to enjoy with fewer people, so also try to come early, though we found visitors generally quiet and respectful.
We also found Ryoan-ji to have some of the most beautiful fall foliage that we saw anywhere in Kyoto, especially on some of the side paths and around Kyoyo-chi pond. There was almost nobody else in these areas when we visited, making it a truly serene experience.
Since Ryoan-ji is open earlier than the Golden Pavillion, you could consider doing them in reverse if you are coming first thing.
Admission ¥500, 8 am to 5:30 pm (March to November), 8:30 am to 5 pm (December to February). The 59 bus from Keihan Sanjo also stops here.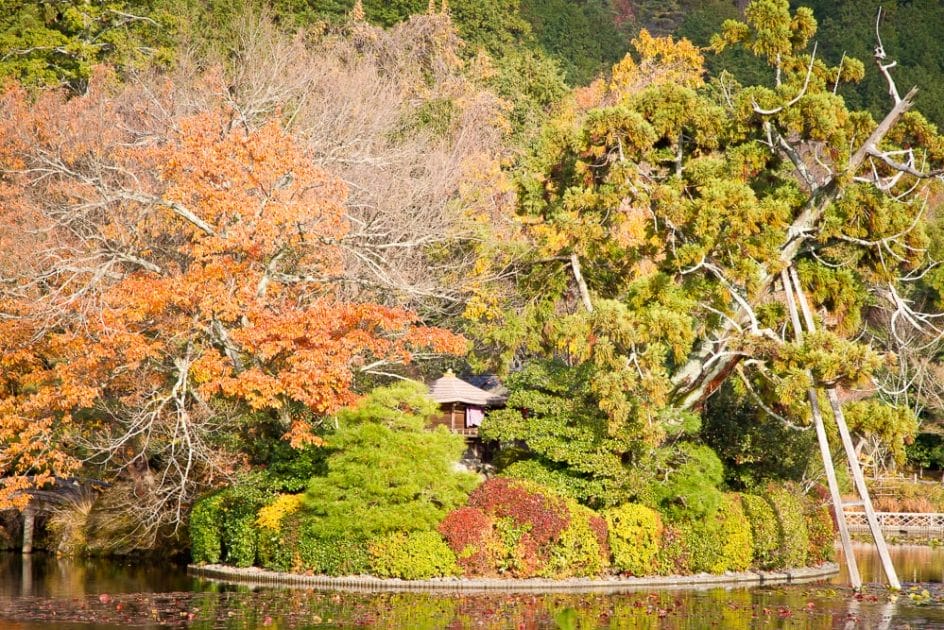 If you've still got energy, you can walk another 10 minutes down the road to a third temple Ninna-ji, and yet another 20 minutes to Myoshin-ji. For us, we were already tired and hungry after seeing Kinkaku-ji and Ryoan-ji, so we splurged on a taxi (¥2000) to Arashiyama (see below) for lunch.
The cheaper way is to take the Keifuku tram from Omuro Ninnanji station to Arashiyama, transferring at Katabiranotsuji Station (20-30 min). This tram also has stops for Myoshin-ji and Ryoan-ji, but the station for Ryoan-ji is quite a ways from the actual temple.
Kiyomizu Dera admission: ¥300, 6am to 6pm. Take bus #260 from Kyoto Station, get off at Kiyomizu-michi stop, then walk 10 minutes uphill.
Afternoon
The area around Arashiyama, including wooden Togetsukyo Bridge, has quite a touristy feel, but we still found its souvenir shops interesting to explore, and there were lots of eating options and cafés to hang out in. The area along the river here is also a prime autumn foliage viewing spot, but when we visited in the first week of December, there weren't many autumn colors left.
The Bamboo Grove, while not much different in autumn than any other season, is an absolute must-see site in Kyoto. While it may not look quite the same as the highly edited photos of it you've probably seen online, it is spectacular nonetheless, and it was surprisingly devoid of people when we visited in the late afternoon.
Remember to stay still and quiet for a while to take in the creaking sounds of the bamboo stalks swaying in the wind. This is one of the top recommended spots for forest bathing in Kyoto.
At the end of the bamboo grove, you can turn left to reach Kameyama-koen (a park) with many trails, and a chance to spot monkeys. That was as far as we made it, but if you want to spend several hours here, you can continue on to the following sights:
Follow a path from the end of the bamboo grove to the right to reach Okochi Sanso, a beautiful garden with views of the city. From there, you can follow a small road and trails to several more temples that are great spots for maple leaves (Jojakko-ji, Rakushisha, Nison-in, Gio-ji, and Adashino Nembutsu-ji.) The latter features an odd collection of thousands of little stones and statues on the ground.
To get back to central Kyoto, take the JR Sagano (Sanin) line to Kyoto Station (15 min), or the Keifuku tram Arashiyama Line to Omiya Station (20 min). Note that the train and tram leave from different stations a few minutes apart on foot.
Day 2: E. Kyoto (Kiyomizu Dera and Gion district)
Morning
The first half of our second day was devoted to amazing Kiyomizu Dera, a huge wooden temple in a gorgeous forest setting that dates all the way back to 780 AD. Along with the Golden Pavilion and Fushimi Inari-taisha (see below), I'd say this is one of the top-three sights in Kyoto.
The temple grounds are actually huge, and we spent a few hours here. You will first enter through two-storied, bright orange Nio-mon gate, then pass by several halls, bell towers, and a lovely pond before getting to the wooden Main Hall.
You can really feel the age of the Main Hall when you are standing on the creaky wooden balcony, taking in the mountainous view with three storied Koyasu Pagoda (photo at the top of this article) poking out from the hills in the distance.
Behind the Main Hall, make a small detour to quirky Jishu shrine, dedicated to love and matchmaking. It is said that if you can walk the 18 meters between two stones with your eyes clothes, you will find your love dreams will be fulfilled. When we were here, we got accosted by a group of young Japanese students who had a homework assignment of surveying foreigners to practice their English.
After that, follow the trail to the classic postcard side view of the Main Hall, then follow the road as it goes down then curves back to reach Otowa Waterfall at the base of the Main Hall, a particularly holy spot for locals.
Related articles: 10 Jaw-Dropping Temples in Busan, South Korea and 15 jaw-dropping temples in Chiang Mai, Thailand.
Afternoon
After visiting Kiyomizu-Dera, we explored the interesting surrounding streets of Higashiyama ward. We couldn't resist getting a matcha ice cream from one of the many shops lining the street on the road leading from the bus stop up to Kiyomizu Dera.
This road feels particularly touristy and you probably sped past it on the way up in your excitement to get to Kiyomizu, but if you need some tacky souvenirs, here's your spot.
On the way down, we veered right and downhill into Sannenzaka, a prettier and more atmospheric shopping street with gorgeously restored old buildings lining the road. You can definitely find some good lunch options along the way. We also found more tasteful souvenirs in some of these shops, so you might want to save your souvenir shopping money for here.
We continued along all the way to Yasaka Shrine (open 24 hrs, free), which wasn't a must-see but was conveniently on our way back to Gion. The shrine in the inner courtyard features hundreds of lanterns, which are supposedly really stunning when lit up at night.
We gave nearby Kodai-ji a pass, but if you have extra time at this point you could stop there before Yasaka.
From there, we walked all the way back to central Kyoto via Gion, the ancient Geisha district. The timing was great, because we were able to enjoy the district in both the fading late afternoon sunlight, and as it was the bars and entertainment venues were coming alive in the early evening.
We saw a few geishas but resisted the urge because it's inappropriate to photograph geishas in Japan. Once it was dark we were able to catch glimpses of geishas entertaining guests through window curtains in some establishments, and I admit to sneaking the photo below.
Make sure you find Shimbashi, said to be one of the prettiest streets in Japan. The feeling I had while walking down it in the dark is indescribable! Here's a popular night walking tour of Gion if you prefer someone to show you around.
Day 3: NE Kyoto (Path of Enlightenment area and Nishiki Market)
Morning
We started our third day near where we had left off at Yasaka Shrine the day before, because there is a whole other cluster of sights in the northeast that are definitely worth the trip.
We started at Heian-jingu, a sprawling temple complex, though we only stopped at the entrance to admire the enormous orange torii gate, and you don't have to pay to see it.
Admission: ¥600 6 am to 5 pm (November to February) to 6 pm (March to October)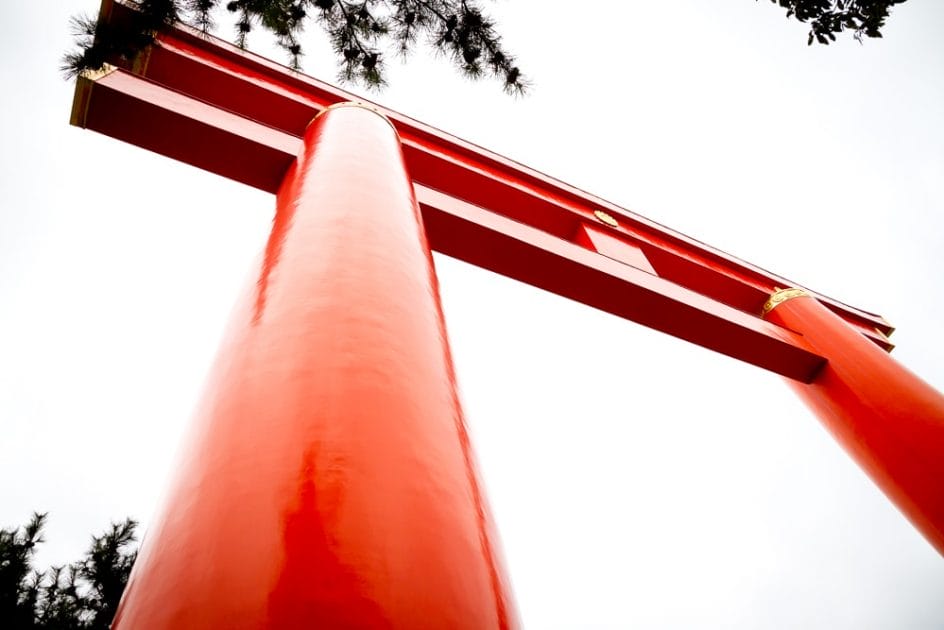 From here, there are several of impressive temples, roughly in this order: Konchi-in, Tenju-An, Nanzen-ji (inlcuing Oku-no-in, a shrine hidden up in the forest behind), and Eikan-do.
I would suggest you look up each one before you decide which to visit; we only explored Eikan-do, which is a particularly famous spot for autumn colors, and we spent quite some time in there photographing the beautiful leaves and taking some videos to remember our trip. We were the only tourists inside.
Eikan-do is very close to the entrance to the Path of Philosophy (Tetsugaku-no-Michi), which to be honest was a bit of a letdown for me. Based on photos I've seen, I think that this would definitely be a highlight during cherry blossom season, since the canal is lined with them.
Still, it's a lovely stroll, and you'll probably want to check it out because it brings you to two other worthwhile forest temples that are also awesome spots for maple leaves: Honen-in and Ginkaku-ji (the Silver Pavilion). The latter is one of the most popular temples in Kyoto and can be quite busy at peak times.
Honen-In: free, 6 am to 4 pm
Ginkaku-ji: ¥600 8:30 am to 5 pm (March to November), 9 am to 4:40 pm (December to February)
Afternoon
At the end of the Path of Philosophy, we had lunch at highly recommended Omen, which specializes in white noodles that you dip into a hot broth and is in a beautiful traditional house. There can be a line at peak times.
From here, we took the #5 bus from Ginkaku-ji-michi stop back to central Kyoto, where we strolled through Nishiki Market (9am to 5pm, some shops closed Wednesdays). This market is not so much about eating or shopping, but rather gazing at and photographing all the interesting seafoods and pickled products artfully on display.
It's also a great place if you are templed-out or happen to have a rainy day, though you probably won't spend more than about an hour here.
Serious foodies may want to consider this Nishiki Market tour.
There are tons of restaurants in the area around Nishiki Market. Our hotel was actually nearby (see hotel suggestions at the end), so in our four days there, we tried kaisendon (slices of sashimi on top of rice, you'll see the huge signs!), conveyor belt sushi, unadon (eel on rice), ramen, okonomiyaki, and more.
We didn't even bother to look up recommended restaurants because it's the kind of place where you can just wander and see what you can find.
Day 4: S Kyoto (Fushimi-Inari Taisha)
Morning
In the south of the city, Fushimi-Inari Taisha, featuring trails that go up a mountain through thousands of reddish-orange gates, is easily a half-day trip even though it's not that far away, and while it's hard to choose, I would probably say it was my favorite place in all of Kyoto.
The shrine is dedicated to the god of rice and sake, and it is the headquarters of over 30,000 inari shrines across Japan. The paths lead four kilometers up the mountain, and you will won't be able to put your camera down the whole time because it's impossible not to take amazing photos here.
There's more tacky stuff on sale here, but I do love my miniature wooden orange gate that is now on display in my living room.
Admission: free, early morning until late evening. Take the Keihan line from Keihan Sanjo station to Fushimi-Inari Station (10 minutes) or the local JR Nara line from Kyoto Station to Inari Station (5 minutes). From either station, you need to walk about half a kilometer to the east to reach the shrine.
Related articles: Hiking to the cave temples of Lion's Head Mountain in Taiwan and the Buddhist cliff carvings at Seokbulsa, South Korea.
Afternoon
You have a few options for your last afternoon. My wife wanted to do some shopping, so we went to Teramachi Shopping Arcade, two long parallel covered streets of shops, where you can find just about anything.
Teramachi is connected to Nishiki Market, and Teramachi is included in this Nishiki Market tour.
While Nishiki runs east to west (parallel to, and one block north of Shijo-Dori), Teramachi runs from Sanjo Dori in the north to Shijo-Dori in the south. Teramachi Shopping Arcade even had a cute little temple inside of it. It's not easy to miss!
There are also a couple of large department stores on Shijo-Dori if you are looking for more upscale shopping. The department stores all have a floor or section that sell all kinds of funky Japanese cookies and treats, which make good gifts. The banana shaped cookies are especially popular among Taiwanese tourists (I live in Taiwan! See my guide to the top 50 attractions in Taiwan).
If shopping doesn't interest you, maybe you'll want to check out some of the major sites that we skipped, such as the Kyoto Tower at Kyoto Station for city views, Museum of Kyoto, Imperial Palace Park, or Nijo-di (castle).
Other interesting ideas include experiencing a Japanese tea ceremony, taking a cycling tour, or learning how to make sushi.
Well, I hope you've found some useful information here for planning your 4-day Kyoto itinerary and visiting Kyoto in autumn. Let me know how it goes!