Dear reader: This article contains links to products and services that I may be compensated for, at no extra cost to you.
Mostar, nicknamed the "City of Sunshine" for its high frequency of sunny days, is one of the most fascinating places to visit in Bosnia and Herzegovina, and an essential stop on any Balkans road trip.
Mostar has a rich history characterized by the peaceful coexistence of three peoples: Muslim Bosniaks, Orthodox Serbs, and Catholic Croats. The city is most well-known for its iconic UNESCO-designated Old Bridge, or Stari Most, from which local divers plunge into the icy Neretva river below. The bridge lends the city its name, Mostar, or "Bridge Keeper," and many of the top things to do in Mostar center on Stari Most.
After the breakup of Yugoslavia in the early 1990s, Mostar was dragged into the brutal Croat-Bosniak war, claiming the lives of 2000 Mostar residents and leaving much of the Old City, including Stari Most, in ruins.
While scars are visible everywhere today and some tensions remain, the Old City has undergone extensive reparations, and an international effort saw the rebuilding of Stari Most, which officially reopened on 23 July 2004.
To learn more about how the city was affected by the Bosnian War, join this Mostar War tour led by a guide who personally endured the siege of Mostar.
Prior to COVID-19, Bosnia and Herzegovina was undergoing one of the fastest tourism growth rates in the world, and Mostar in particular was seeing an influx of daytrippers and overnight visitors from Croatia, with the extremely popular destinations of Dubrovnik and Split only a few hours away. Those who make the trip quickly realize that it is one of the most underrated places to visit in Europe.
Mostar has a lot going for it, from its charming Old City and unbeatable bridge views to its ancient mosques and eclectic mix of people. It is more budget-friendly than neighboring Croatia, and offers visitors a taste of southeastern European Muslim culture and the opportunity to gain a deeper understanding of the worst tragedy in the Europe since WWII. Last but not least, the region's cuisine and locally produced wine & beer is nothing short of exceptional.
Like so many others, we visited Mostar as a side trip on our Croatia family trip. After stops in Istanbul, Italy, Kotor, Perast, and Dubrovnik, we rented a car on RentalCars.com and drove from Dubrovnik to Mostar, after that continuing to our trip across Croatia then on to Austria with our kids.
Mostar and the other places we saw outside of the city in Bosnia and Herzegovina proved to be one of our favorite parts of our trip. We made good use of our time there and saw a lot, the best of which I have summarized in this detailed list of what to do in Mostar, plus five more ideas for day trips or things you could visit while traveling to or from Croatia.
Mostar Essentials
– It's possible to visit Mostar on one of these highly-rated day trips from Dubrovnik or from Split, including a stop at Kravice Waterfall, or this option from the capital of Bosnia and Herzegovina, Sarajevo.
– However, if you want to see more of Mostar's attractions on this list, or do any of the Mostar day trips I recommend at the end, then you should consider staying for a night or two and, if possible, renting a car.
– Mostar is also included on this 3-day best of Bosnia tour.
– When searching for a place to stay in Mostar, you'll want to be right in the Old City, where almost all of the interesting attractions are located. We stayed at budget-friendly Apartments Old Bridge (see on Booking / Agoda / TripAdvisor), which was only a 2-minute walk from Stari Most.
– For more choices, find the best deals on accommodation in Mostar here.
The Best Things to Do in Mostar
The following are the top Mostar attractions and other things to do. Quick movers can cover most if not all of them in one full day, but if you want to do any of the day trips at the end, I'd definitely recommend adding at least one more day.
Stari Most (Old Bridge)
Stari Most is the focal point of Mostar's Old Town, and it tops the list of things to see in Mostar. The bridge is a gorgeous example of Balkan Islamic architecture, and one of the country's most iconic sights.
The bridge was commissioned by the Ottoman ruler Suleiman the Magnificent in 1557, when Mostar was a frontier town of the empire. It replaced an earlier wooden suspension bridge which swayed so much that people were scared to cross it.
In 1566, the 30-meter-long, 4-meter-wide, 24-meter tall hump-backed stone bridge was completed, using a mortar that some believe consisted of egg whites. So important was the bridge in the city's development that the name Mostar means "bridge keeper."
On November 9, 1993, the bridge was almost entirely destroyed by Croat forces in the Croat-Bosniak War. In a project funded by a number of organizations, including UNESO and the World Bank, the bridge was fully restored to its former glory, official reopening on July 23, 2004. The bridge and the area around it acquired UNESCO World Heritage Site status in 2005. It is one of three UNESCO sites in Bosnia and Herzegovina, another of which is also a bridge.
Today the bridge connects two distinct areas of the city: the Catholic Croat side west of the Neretva River, and the Muslim Bosniak side to the east. Simply walking across the bridge is an experience in and of itself. The views on either side are stunning. The bridge's surface is noticeably smooth and slippery, with ridges designed to stop your foot from slipping at each step.
View the Bridge from Afar
There are numerous places from which you can admire the bridge from completely different angles. North of the bridge, the best places to see Stari Most include the restaurant patios on either side of the river, the Old Bazaar (see below) on the eastern side, and Koski Mehmed Pasha Mosque (see below), especially from its minaret.
South of the bridge, the best views of Stari Most are from riverbank and steps right below it on the western side, and from Lučki most, the next bridge to the south. To look right down on the bridge from above, try the Stari Most Museum (see below).
Read more about the best spots to photograph Stari Most here.
To learn more about the bridge and the ancient streets around it, go on a private walking tour with a local guide.
Stari Most Bridge Divers
A big part of the Stari Most experience today is watching members of the local diving club plunge from the side of it to the freezing river 24 meters below. Jumping from the bridge is a local rite of passage that goes back 500 years, and there is an annual diving competition.
It's impossible to miss the bridge divers; the handsome young men are usually straddling the side of the bridge in tiny bathing suits, shouting for donations for their next jump.
Before jumping, they'll make a lot of noise for attention. After, their partners will collect more donations from onlookers both on the bridge and at the riverbank below.
If you want to jump from the bridge, it can be done. Just approach one of the guys (or their office on the west end of the bridge). You'll need to pay a fee of 25 euros, and do a smaller jump to prove you have the guts to do it. If you're not quite brave enough to dive off the bridge, you could at least consider ziplining by Mostar Bridge instead!
Read more about the Mostar bridge divers here.
Old Bridge Museum (Muzej Stari Most)
It's easy to miss it with all the tourist souvenir stalls set up around it, but the entrance to the Stari Most Museum is at the eastern end of the bridge.
The museum consists of three sections. Section A occupies the six-story tower at the end of the bridge. There are a few displays inside, but mainly the point of going up is to get a bird's-eye view of Stari Most.
For section B, head out the exit and follow the signs left, which lead to an underground archaeological excavation area that few visiting tourists even realize is there. Section C, the "labyrinth" section, leads through a corridor with displays and images detailing the history, destruction, and restoration of the bridge.
Finally, you may be a little surprised when you exit onto a section of the Old Town Bazaar a ways north up the road. Entrance to the museum is 5€/10KM/40kuna and it is open 10 a.m. to 6 p.m. on weekends and till 8 p.m. on weekdays.
Mostar Old Bazaar (Bazar Kujundžiluk)
Bazar Kujundžiluk is an Ottoman-era market on either side of Stari Most that today consists of tourist-oriented shops & restaurants. The cobblestone streets and ancient edifices are picturesque but jam-packed with visitors in the high season. Souvenirs range from textiles and the usual tourist trinkets to some beautiful lanterns, traditional teaware, and ceramics.
The pedestrian market street stretches west from the western side of the bridge on Onešćukova street, with a more relaxed lane (Jusovina) containing several great restaurants branching off to the south and leading to the Crooked Bridge (see below).
On the eastern side of the bridge, the market street veers north after the bridge and follows the river up past Koski Mehmed Pasha Mosque. The northern section contains multiple artisan shops, in particular bronze working, and becomes less touristy as you continue north.
Most of the restaurants where you'll probably eat are found on these streets, as well as multiple enticing gelato stalls (we found the ice cream wasn't as good as what we had in Croatia and Italy, although it was much cheaper).
Halebija Tower
The tower on the western side of Stari Most is a beautiful landmark. When we visited, it housed a war photo museum (see photo above) which no longer seems to be there.
The tower now seems to house a small Bosnian coffee house and a few souvenir shops. When open, the second floor offers a unique view looking down on the bridge.
Koski-Mehmed Pasha Mosque
A few minutes' walk north of Stari Most on the Muslim (east) side of the river, Koski-Mehmed Pasha Mosque (Koski Mehmed-Pašina Džamija) is the most popular mosque in the Old City. This comes as no surprise, as the mosque offers fantastic views of the bridge, not to mention that the mosque looks spectacular when viewed from the bridge.
The mosque is exemplary of Ottoman mosque architecture in Bosnia and Herzegovina and dates to 1618. Today it is totally given over to tourism and is not a functioning mosque.
You can enter the courtyard in front of the mosque to have a look at the exterior, but to enter it or access the Stari Most viewing areas at the side, you'll need to pay an entrance fee of 3€/6KM/24kuna.
To access the minaret as well the mosque, which involves squeezing past other tourists as you ascend a narrow, spiraling staircase to the top, you'll need to pay double the above fee. It's worth it for the view, but take note of where the sun is before you bother; if you're shooting into the sun, your Stari Most pictures won't turn out well.
The mosque is open daily 9:00 a.m. to 8:30 p.m. (summer) and 11:00 a.m. to 5:00 p.m. (October to March).
Karađoz Beg Mosque
Five minutes' walk north of Koskin-Mehmed Pasha's mosque, there is another mosque worth visiting: Karađoz Beg Mosque (Karađozbegova džamija).
Unlike the latter, Karađoz Beg is a working mosque, which means that you won't be able to enter when prayers are taking place. Karađoz Beg Mosque dates to 1557 and is one of the largest mosques in Bosnia and Herzegovina (it's still quite small compared to mosques in other parts of the world though).
The mosque also charges an entrance fee (2.5€/5KM/20kuna, double if you want to climb the minaret as well). The minaret offers stunning views in all directions, but you can't see much of Stari Most from this one.
When I visited on my own, I only paid to enter the mosque (not the minaret), but the kind attendant let me go up to the minaret without paying when nobody was looking.
As I was leaving, I also met a welcoming, 26-year-old imam (Muslim priest) from the mosque. We chatted for a while, and he gave me an armful of fresh oranges to take with me when I left. This is the kind of hospitality I've grown accustomed to when traveling in Muslim countries!
Museum Of War And Genocide Victims
If you visit just one museum Mostar, this should be the one. The museum covers the history and atrocities of the Bosnia War of 1992-1995, which was part of the break up of Yugoslavia.
With over 600 concentration camps, 200,000 casualties, and many more raped, injured, or missing, this war was the worst in Europe's history since WWII.
The museum is run by victims of the war. It includes detailed exhibits on the history and causes of the conflict, many personal stories and relics from the atrocities, and video footage of the destruction of Stari Most. Some displays are graphic and may not be suitable for young children.
The museum's entrance is right across from Karađoz Bey Mosque. Entrance is 5€/10KM/40kuna, with a discount for students, and it is open 9 a.m. to 9 p.m. You can also buy your tickets online here.
A few other small museums on the way to the Museum of War and Genocide Victims include Herzegovina Museum (Muzej Hercegovine) and BosnaSeum.
Biscevic House and Muslibegovic House
If you are interested in Mostar's Ottoman history, it's worth popping in to one of its beautiful Turkish homes for a look.
Biscevic House (Bišćevića kuća) is only a one-minute walk from Karađoz Bey Mosque and the Genocide Museum. The house dates to 1635, and while there isn't much to see inside besides a few objects on display, the gorgeous living room on the second floor overlooks the Neretva river, and sitting it is like stepping back in history.
A few minutes away on foot, Muslibegovic House (Muslibegovića kuća) is another finely preserved example. Today it houses a small museum (essentially just a few rooms of the house that you can look at), and has been converted into this hotel.
Both houses have an entry fee of a couple euros. Although I wouldn't consider these homes "unmissable" Mostar attractions, as the title of my article suggests, I include them for those who are interested in better understanding the history and Turkish influences in Mostar.
Abandoned Buildings and Sniper Tower
It's not difficult in Mostar to find ruins of the war. There are reminders everywhere, from bullet holes in walls to abandoned buildings.
One such building that has became a miniature attraction is the "Sniper Building" (find it here on GoogleMaps). The building really was used by snipers during the siege of Mostar. Today you can find your way in and look down on Mostar as a sniper would have. There's also cool street art in the building.
Crooked Bridge (Kriva ćuprija)
Crooked Bridge is the miniature version of Stari Most, built eight years before it to test out the design. It was rebuilt in 2001 and being destroyed by flooding.
The bridge spans the Radobolja River (barely a creek when we visited), which flows into the Neretva near Stari Most. It's a few steps south of the Old Bazaar on the western side of Stari Most, and connects to Jusovina, a walking street with several laid-back restaurants.
The bridge and its surroundings are quite pretty, and since it's only a minute away from the Old Bazaar, it's an obvious add-on to your stroll through the Old Bazaar. Also try walking through the area after sunset, when the small valley and its restaurants take on more romantic atmosphere.
Restaurants with an Old Bridge View
After a day that mostly focuses on Stari Most bridge and the sights around it, why not finish with a meal and drink overlooking the bridge? There are several restaurant patios on either side of the river offering fantastic views of the bridge.
The restaurants are all on the north side of the bridge (unfortunately, not the side the divers jump from), with a larger collection on the west of the river. Terrace Lagero Restaurant is the one that is recommended in most articles about Mostar, so we purposely tried a different one, Bella Vista, which is right beside it.
The food was decent although nothing so special, but we felt the patio there had an even better view than the one at Lagero. Although it seems to now be closed, there are at least a couple restaurants in a row here, so take you pick!
Across the river on the eastern side, the highly visible terrace at Teresa bar and restaurant definitely has the most elevated view; you can find the entrance on Maršala Tita road, right in front of the apartment where we stayed actually.
It's worth noting, as well, that some of the best restaurants in Mostar actually don't have a river/Stari Most view. Tima-Irma is the best rated restaurant in town. It is known for its huge portions at reasonable prices, and is only a one-minute walk west of the bridge in the Old Bazaar.
We loved our meal at Hindi Han in a quiet spot near the Crooked Bridge, where I enjoyed trout and my wife enjoyed an enormous platter or various grilled meats. Our kids' favorite part was the army of cats that showed up during our meal, reminding us of the huge number of cats we saw on our family trips to Kotor in Montenegro, Oman, and Turkey.
Best Coffee in Mostar at Café de Alma
You can find traditional Bosnian coffee at most restaurants in the Old Bazaar area, but what sets Cafe de Alma apart is that it is they only café where the beans are freshly roasted and ground in house, and the fact that the barista will come out and show you how the coffee is prepared and explain what the subtle differences between Turkish and Bosnian coffee are.
What's more, Café de Alma is located right off the Old Bazaar on the west side of the river, but it's tucked away in a small, quiet lane behind the Tabačica Mosque (Hadži-Kurtova Džamija), providing the perfect little retreat from the busyness of the main street.
Besides the excellent coffee (Bosnian-style only!), they serve pomegranate, elderflower, and rose juice. The café is open 10 a.m. to 5 p.m. and is closed on Mondays.
Turkish Hammam
Unfortunately you can't actually take a bath at the Turkish Hammam ("Hamam Museum" or Cejvan Ćehajin Hamam), which is a few steps away from Café de Alma. But history buffs can take note that this 16th century Ottoman bath is one of the few remaining examples in the whole country.
The bathhouse now houses a very small museum of Turkish bathhouse culture and a gift shop. Unfortunately, when I last updated this article, the museum seems to be closed, but stay tuned!
Mostar Peace Bell Tower, Franciscan Monastery
If you have any doubts about which side of the Neretva river is the Christian one, the 107.2-meter bell tower, or Mostar Peace Bell Tower (Mostarski Zvonik Mira) at the huge Franciscan Monastery should help.
The Bell Tower is the tallest structure in the city, and visitors can ascend it for a 360-degree panoramic view. To reach the 75-meter observation floor, you can take an elevator up 45 meters (3€/6KM/24kuna), then walk up the remaining 30 meters.
The monastery is only five minutes' walk past the western entrance of the Old Bazaar. It is usually open 9 a.m. to 5 p.m. daily.
Bruce Lee Monument
Why is their a Bruce Lee statue in Mostar? I'm afraid I don't have an answer for you, but it's there! The statue can be found in Park Zrinjevac, which locals call "Big Park", located about 10 minutes' walk north of the Peace Bell Tower. It is labelled "Bruce Lee Bronze Monument" on GoogleMaps.
If you make the walk up there, also visit Spanish Square (Španjolski trg) beside the park, which has some historic and abandoned buildings and monuments to the deceased.
Bosnian Craft Beer
To find out what's going on in the local craft beer scene, enjoy a few pints at Craft Beer Garden Imaimože, a few steps from the western entrance to the Old Bazaar. They also offer wine, rakija, snacks, board games, and great vibes.
North of the tourist area, there's also a good selection of craft beers at Pub Beer ti&ja.
Best Day Trips from Mostar
Blagaj Tekija
The ancient Dervish monastery (tekija) of Blagaj, a village 20 minute's drive southeast of Mostar, is one Bosnia and Herzegovina's most impressive sights.
The monastery dates to 1520 and sits beside a high-volume, blue-water karstic spring on the Buna river, at the base of a mighty cliff. The monastery itself contains several prayer rooms with Persian carpets, creaking wooden floors, and even a little domed hammam (bath).
The picture-postcard view of the monastery is from across the Buna river, where in summer boats will also take visitors into the cave from which the spring flows. Romantic restaurant patios line either side of the river, with side canals flowing right through them.
The Blagaj Tekija entrance fee is 2.5€ (under 12 free).
If this site is of interest of you, then you may also want to check out my article on Ostrog Monastery, an impressive Serbian Orthodox place of worship built into the cliffs in central Montenegro.
Getting from Mostar to Blagaj Tekija
Buses #10, 11, or 12 run a limited number of times per day from the Spanish Square in Mostar to Blagaj Tekija and take 30-45 minutes. Alternatively, you could hire a taxi to take you there and wait for you. We drove and paid 2€ to park on site in October; that amount may rise in summer.
Blagaj Tekija is included on this day tour from Mostar.
Počitelj
Počitelj is a beautiful little historic village on the Neretva river downstream from Mostar, and is a popular stopover for those traveling from Dubrovnik or other destinations in Croatia to Mostar.
Like many others, we also stopped there on our drive from Dubrovnik to Mostar. As soon as we stepped out of the car, we saw the beautiful fort dominating the town, and heard the prayer call from Šišman Ibrahim-Immersed (Hajji Alija mosque) Mosque, which dates to 1563.
Walking up past the mosque to the fort on the hill is the main thing to do in town. We were just having a rest stop and lunch with out kids, but we did walk up to the mosque to have a look. Počitelj is also known for its fruit juices, and the pomegranate juice we tried was so delicious that we bought several more to go.
Počitelj is also included in the day tour mentioned for Blagaj Tekija above.
Getting from Mostar to Počitelj
Počitelj is 40 minute's drive south of Mostar. Here's a guide for getting from Mostar to Počitelj.
Kravice (Kravica) Waterfall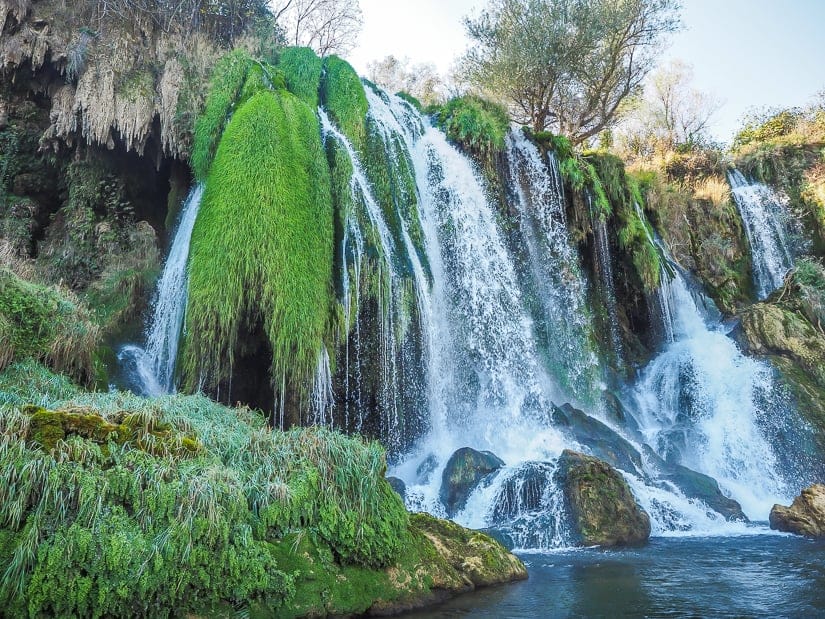 Often compared to Krka Waterfall in neighboring Croatia, Kravice is the most famous waterfall in Bosnia and Herzegovina. The karstic waterfall is 25 meters at the highest point and a staggering 120-meters wide, rather like a cluster of waterfalls spilling into the same pool.
Visit in summer to swim below the falls (it's now roped off so you can't swim right up to them) or to have a beer from one of the stands set up beside the base of the falls.
When we visited in late October, the water was very chilly but I still went for a quick dip. We also paid a local boatman 10 euros (5 per adult, kids free) to paddle us right up to the base of the falls. It was worth the small fee to get up so close to the falls, with the mist spraying in our faces!
The entrance fee to Kravice is 5€/4€/3€ (summer/June & September/October to May), and the walking trail to the waterfall takes 10 minutes. There's also a smaller waterfall downstream.
Getting from Mostar to Kravice Waterfall
Kravice waterfall is a 30-minute drive west of Počitelj, so it makes sense to combine them if you've got your own wheels. Note that for Počitelj, you'd want to cross the Croatian border at Metković if coming from Dubrovnik, while Kravice is closer to the Bijača, especially if you're heading north in Croatia from there like we did.
You can cover all three of the above (Blagaj Tekija, Počitelj, and Kravice Waterfall) on this small-group day-tour from Mostar!
West Herzegovina Wine and Food Tour
Our visit to Mostar in Bosnia and Herzegovina was a detour on our Croatia trip, but in the couple days we were there, we fell in love with Bosnian wine and were mesmerized by the attractive vineyards along our drive from Dubrovnik to Mostar. We also loved the food that we ate in Mostar, which was heavy on grilled fish & meats, with some delicious cheeses as appetizers.
If we went back again, we'd love to try this full-day wine and food tour which departs from Mostar and ventures into the countryside of West Herzegovina. The tour includes tasting various cheeses, meats, and wines made from local Zilavka and Blatina grapes.
Day trip from Mostar to Dubrovnik
While many people do Mostar as a day trip from more popular Dubrovnik, it is of course also possible to do it the other day around. If you're squeezing all of Dubrovnik into a one-day trip from Mostar, it's advisable to get a private transfer from Mostar to Dubrovnik to avoid wasting time dealing with buses.
For more information on this super popular city, read about how we tackled Dubrovnik with two kids and mostly managed to avoid the crowds. Also feel free to peruse my guides to other cities we've visited in the region, including Skradin, Perast, Kotor, Lake Bled, and Cetara.
Well, I hope I've managed to convince you that there enough unique things to do in Mostar, Montenegro that you can't miss this alluring city on your Balkan adventure! Please don't hesitate to leave any thoughts or questions in the comments section below!
Here are some recommended books and guidebooks for Mostar and Bosnia & Herzegovina: